Art, Opening: New spaces emerge as isolation ends
Posted July 14th, 2021 by Russ White
As we come out of COVID hibernation, we discover there are a boatload of new art spaces to visit in the Twin Cities
It's been pleasantly awkward trying to remember how to socialize these past two months, as vaccines, masking, and distancing have bought us more freedom to move around and mingle again out in the real world. The social anxiety built up from fifteen months spent muted in a Zoom call thankfully seems to be commonly shared, and we're all getting our sea legs back at the same time. So much has happened since last Spring — living through heartbreaks and victories, isolation and mass actions — traveling through what Arundhati Roy called "a portal" and now out almost to the other side, at least here in the Twin Cities.
And now, on the other side of lockdown and despite what you might expect, there are a ton of new places to visit. Compiled here is a list of new and relocated galleries, community spaces, and artist-run curatorial projects, creating opportunities to show and share artwork in backyards, basements, and vestibules. Anything to get us back together, looking at weird objects and funny pictures, opening up our eyes and our brains and our hearts (and sometimes even our wallets) to something new. What struck me the most in all of these projects, especially in the scrappier venues, was the hunger not just to see each other off-screen but to actively make space for each other's work and well-being.
Many places encourage masks but don't require them, but tuck one in your pocket just in case, and buckle up for a gallery crawl in three parts.
Part 1. What's New: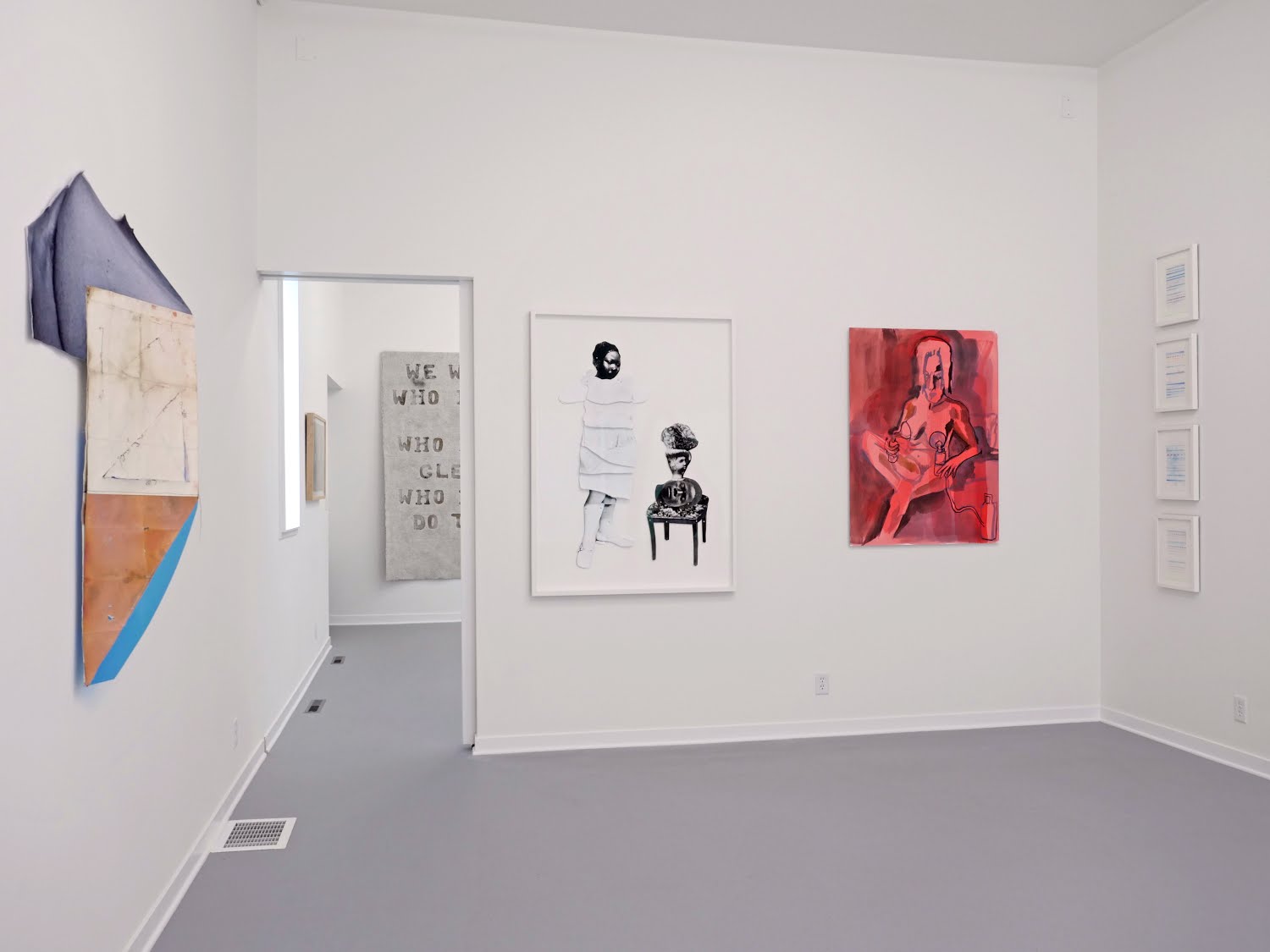 Installation view of A glitter of seas. Left to right: works by Sheilah Restack, Julie Buffalohead, Allison Baker, Frida Orupabo, Camille Henrot, and Sarah Irvin. Image courtesy of the gallery.
◼︎
Dreamsong
A new gallery in Northeast, at the corner of 13th Ave and 4th St, Dreamsong is a beautiful white walled space with two main showrooms, a small courtyard, and a large screening room for films and videos.
Currently on view is A glitter of seas, a group show curated by Dreamsong co-owner Rebecca Heidenburg, featuring a variety of impactful work around the subject of maternity from fifteen artists. Be sure to stop into the screening room for the delightfully strange short video by Laurel Nakadate. And check Dreamsong's website for a full schedule of film screenings, readings, and events. A glitter of seas is on view through August 8th.
1237 4th Street NE, Minneapolis • Open Wed-Thurs 11am-5pm, Fri-Sat 12-6pm, and by appointment
https://dreamsong.art • IG @dreamsong.art
---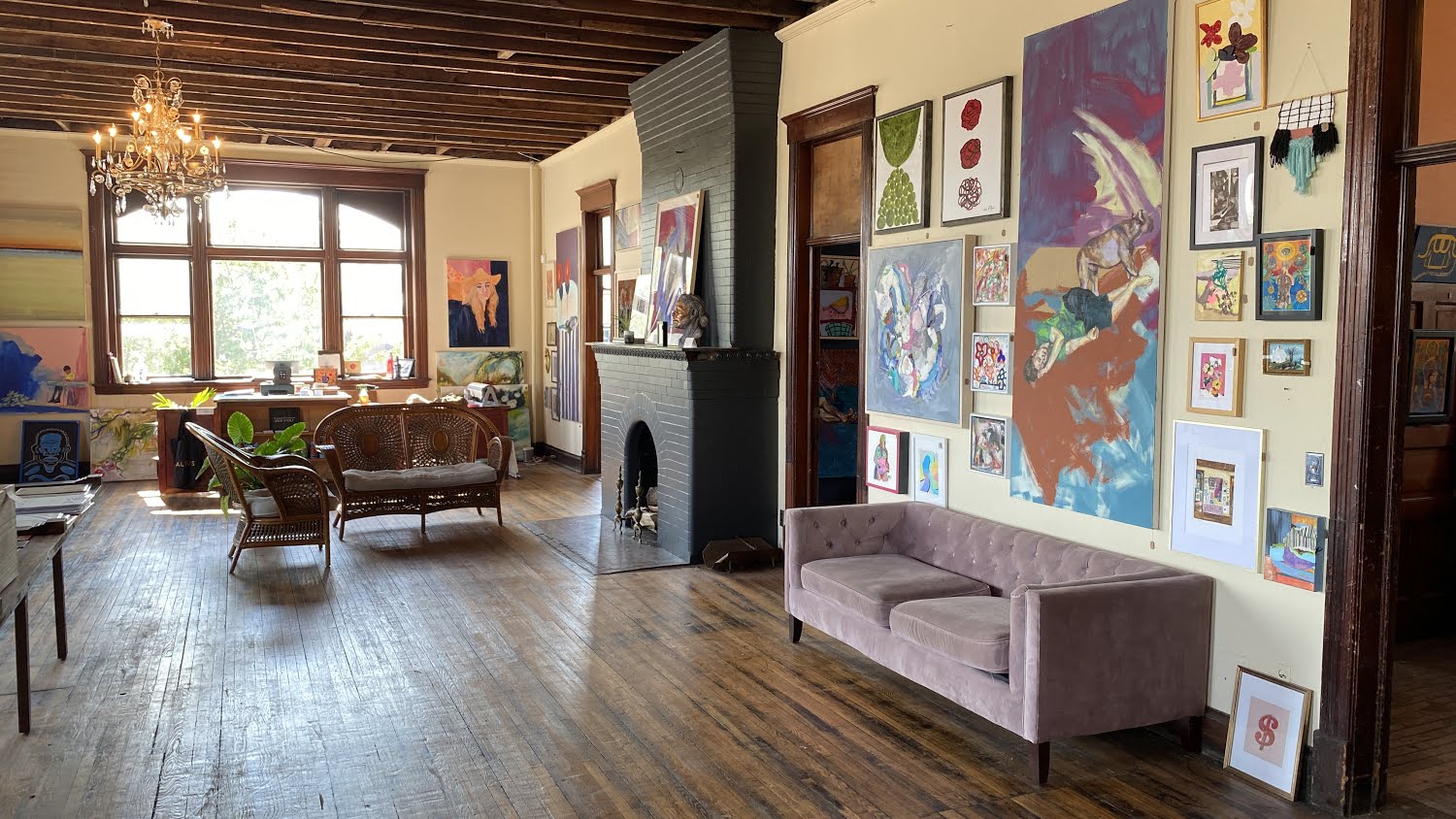 ◼︎
Walrus
This place is a trip. Located in the historic Turret Building in North Minneapolis, Walrus is a consignment shop for contemporary artwork and vintage posters, all of which are hung salon-style, from the old wooden floors up to the old wooden rafters. You will likely recognize some of your favorite hometown artists on the walls (and in the walk-in safe), and you will surely find some new treasures to bring home with you as well. They're also about to introduce an in-house print-on-demand service to accommodate more of their collectors' size and budget needs. It's an art gallery that has the vibe of a record store, the style of a high-end boutique, and the coziness of your grandmother's house, if that makes any sense.
Walrus also hosts plenty of events hosted by professional artists, so stayed tuned to their social media for up-to-date schedules.
4400 Lyndale Ave N, Minneapolis • Hours: Thurs by appointment, Fri-Sat 11am-6pm, Sun 11am-4pm
www.walrus.style • IG @walrus.style
---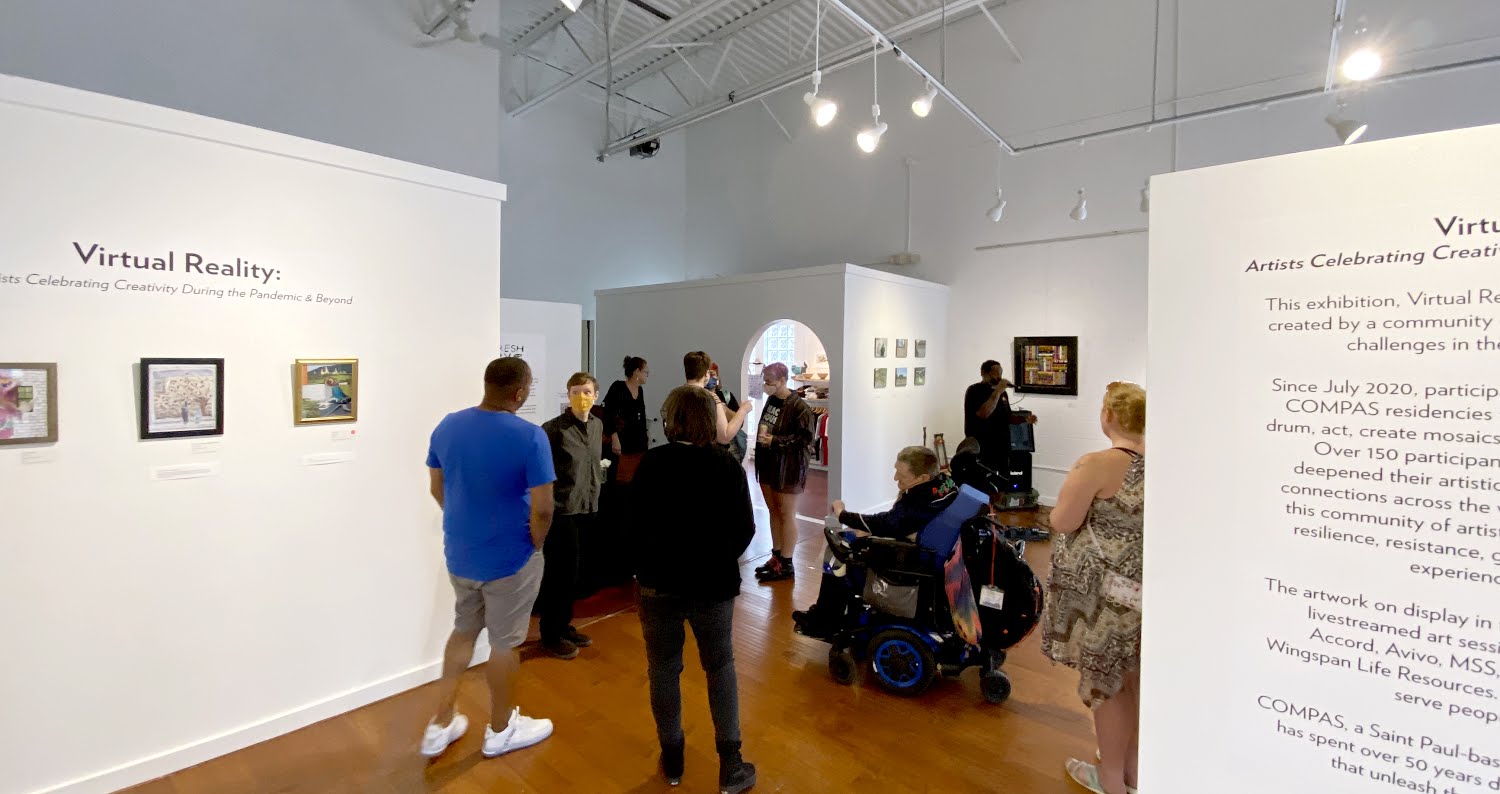 At the opening of Fresh Eye Gallery's first exhibition, with MC Carnage the Executioner at right providing the entertainment.
◼︎
Fresh Eye Gallery
If contemporary art feels too exclusive or inaccessible for you, Fresh Eye Gallery will feel like a breath of fresh air. Operated by the nonprofit MSS, Fresh Eye is "a nonprofit gallery dedicated to showcasing artwork by emerging and mid-career artists, of all backgrounds and experience, and of all abilities," says Lauren Hughes, Director of Arts Development. Fresh Eye prioritizes highlighting work from marginalized artists and artists who are supported by progressive art studios — including their own studio called Fresh Eye Arts.
They just opened their doors in Kingfield (right next to The Lowbrow and Revival) with an inaugural group exhibition featuring work created during livestream art classes over the past year, on view through July 31st. Titled Virtual Reality, it's a great way to welcome us back to IRL art events — with a big focus on community, to boot. Their next show, creature comforts, opens August 4th.
Be sure to check out the gift shop in the back for some great and affordable art, apparel, and gifts. Bonus points: they also have a dope logo.
4238 Nicollet Ave S, Minneapolis • Hours: Wed - Fri 11am-6pm, Sat 11am-3pm
www.fresheyegallery.com/ • IG @fresheyegallery
---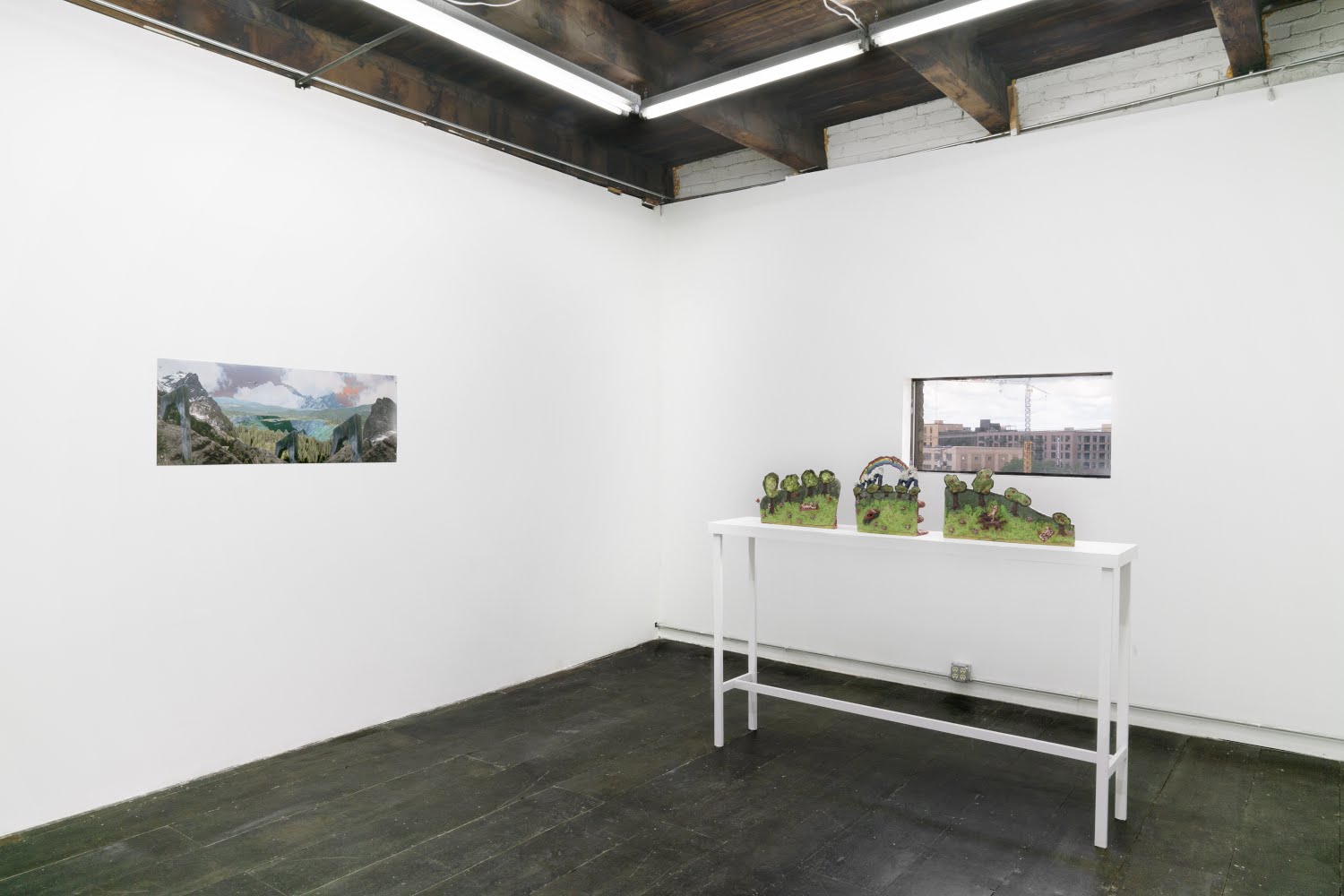 Work by Meagan Marsh Pine (left) and Chase Barney at PAPA Projects. Image courtesy of the gallery.
◼︎
PAPA Projects
Up on the fourth floor of the E.L. Bindery Building in Saint Paul, tucked in between the studios of seven local artists, is one beautiful exhibition room that is home to PAPA Projects. The brainchild of artists Jaysen Hohlen and Wyatt Lasky, PAPA Projects is all about being resourceful and experimental, a spot for artists to try out new work and get killer documentation in the process.
Like many artist-run ventures, PAPA is staying nimble, described by the organizers as "nomadic." "What is really nice about being an artist-facilitated space is that we have flexibility to keep doing what we want where we want to do it," says Hohlen. "But this is home base for now." The gallery has hosted five shows since April and has one more lined up before a summer break: Weekend at Sigmar's by Jay Heikes, opening July 16th, 7-9pm. A note on accessibility: the only way up is to climb up four flights on a spiral staircase, which is fun in its own way.
708 Vandalia St, 4th Floor, Saint Paul • Open Sundays and Wednesdays 12-6pm or by appointment
papaprojects.net • IG @papa_projects
---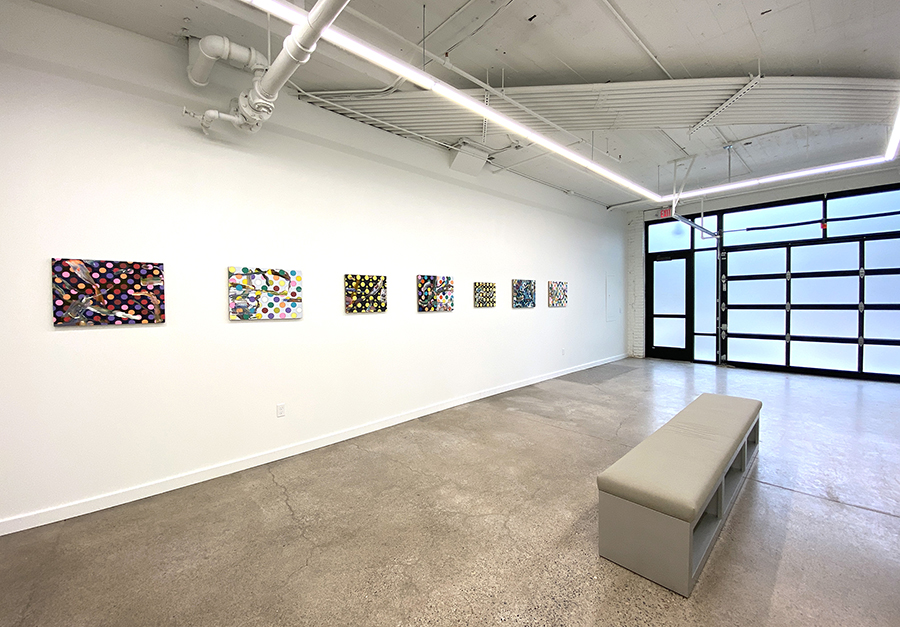 Installation view of Lester Monzon's paintings.
◼︎
The Orange Advisory: TOA Presents
One of the newest spaces on this list is just opening its doors this month in Northeast. TOA Presents will be a flexible exhibition space, what owner Rob Sherer describes as "a brick and mortar extension of The Orange Advisory's art consulting practice, furthering its commitment to supporting emerging and mid-career artists."
More than that, though, TOA Presents plans to act as a residency program for national and international galleries — a cool concept for cultural exchange that will be interesting to watch develop. The gallery's July launch features paintings by LA-based Lester Monzon and ceramics by San Diego-based John Oliver Lewis, followed by residencies in August and September from François Ghebaly Gallery and Philip Martin Gallery.
Open by appointment with public hours to be announced.
www.theorangeadvisory.com • IG @toapresents and @theorangeadvisory
---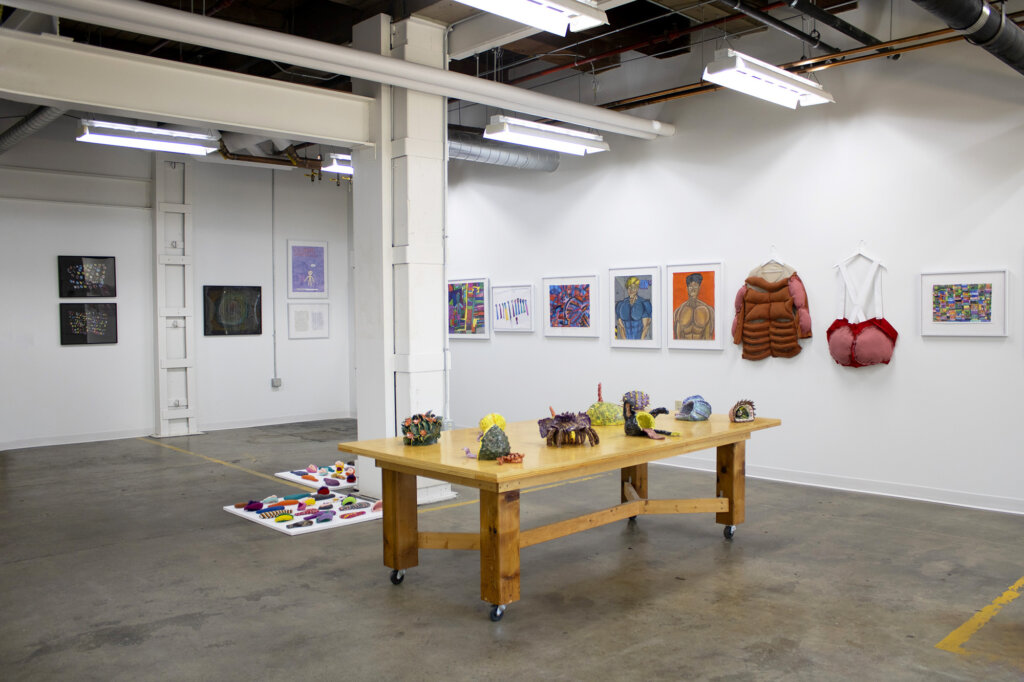 Installation view of BOOTY BODY at Interact Gallery. Image courtesy of Interact.
◼︎
Interact Gallery
Another brand new spot, this exhibition space in the Can Can Wonderland building is run by Interact Center for Visual and Performing Arts, a nonprofit program that has been facilitating the creation of art that challenges perceptions of disability since 1996. The new space opens this month with a group show called BOOTY BODY, featuring fiber art, bookmaking, ceramics, drawing, and painting by twenty artists.
BOOTY BODY is on view now through August 18th, and you can read more about Interact in this article from 2019. Side note: they, too, also have a dope logo.
755 Prior Avenue North, Suite #002D, Saint Paul • Open by appointment Mon - Wed 9am-5pm
To schedule a visit, email gallery@interactcenter.com or sign up at calendly.com/interact-gallery
interactcenter.org • IG @interactcenterarts
---
Part 2. New Galleries, the Work from Home edition: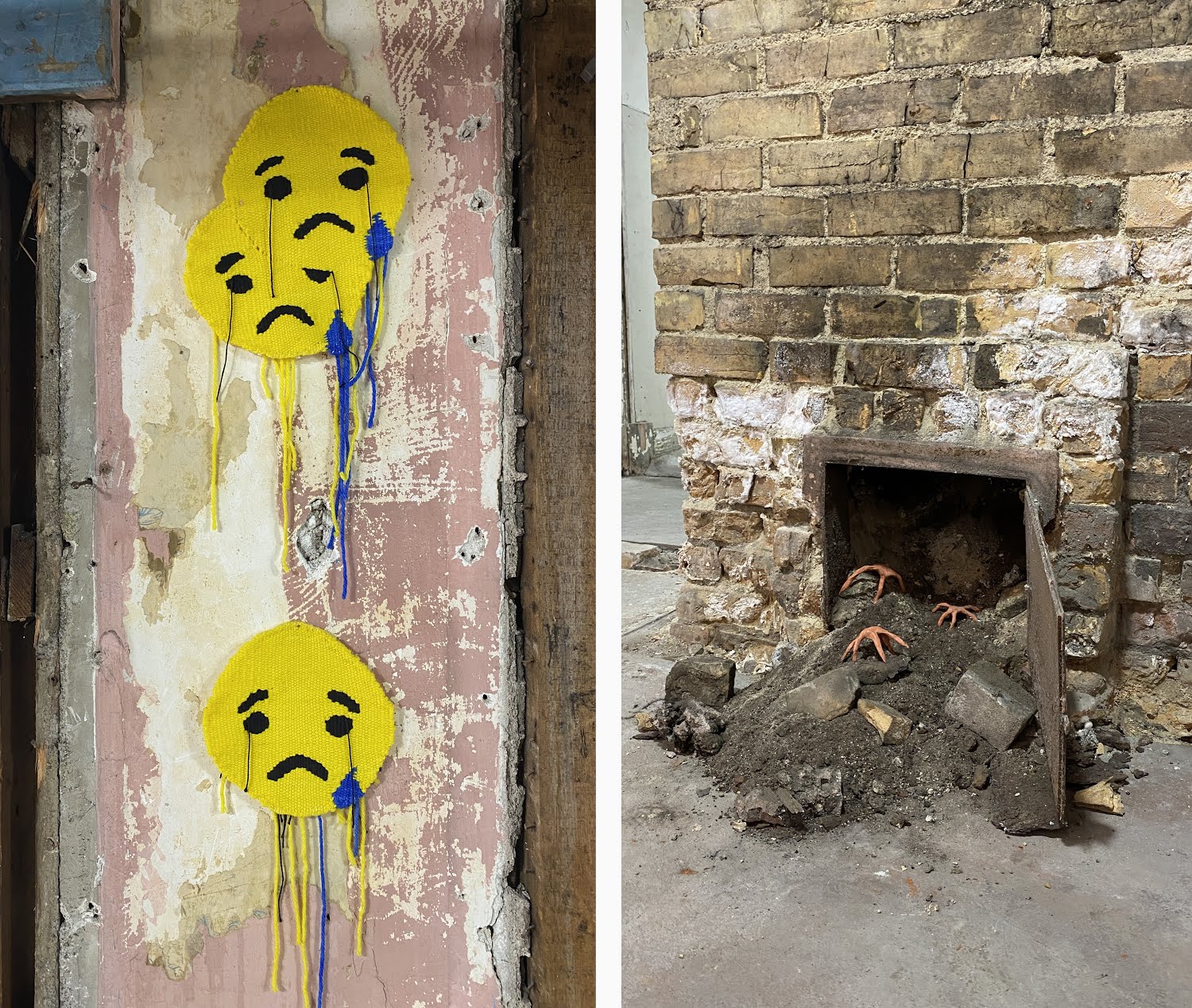 Left: Kayla Mattes, Daily Tears; right: Kieran Myles-Andrés Tverbakk, Untitled
◼︎
homeroom
With so many of us stuck working from home this past sixteen months, I guess it's no wonder that curators would start doing the same. After closing their Saint Paul location, Waiting Room Art moved online, hosting virtual exhibitions and art sales during the extended lockdowns. As soon as gallery director Kristina Johnson (KJ) got vaccinated, she began reaching out to artists and had a wild idea: why not put on exhibitions in her creepy, hundred-year-old basement?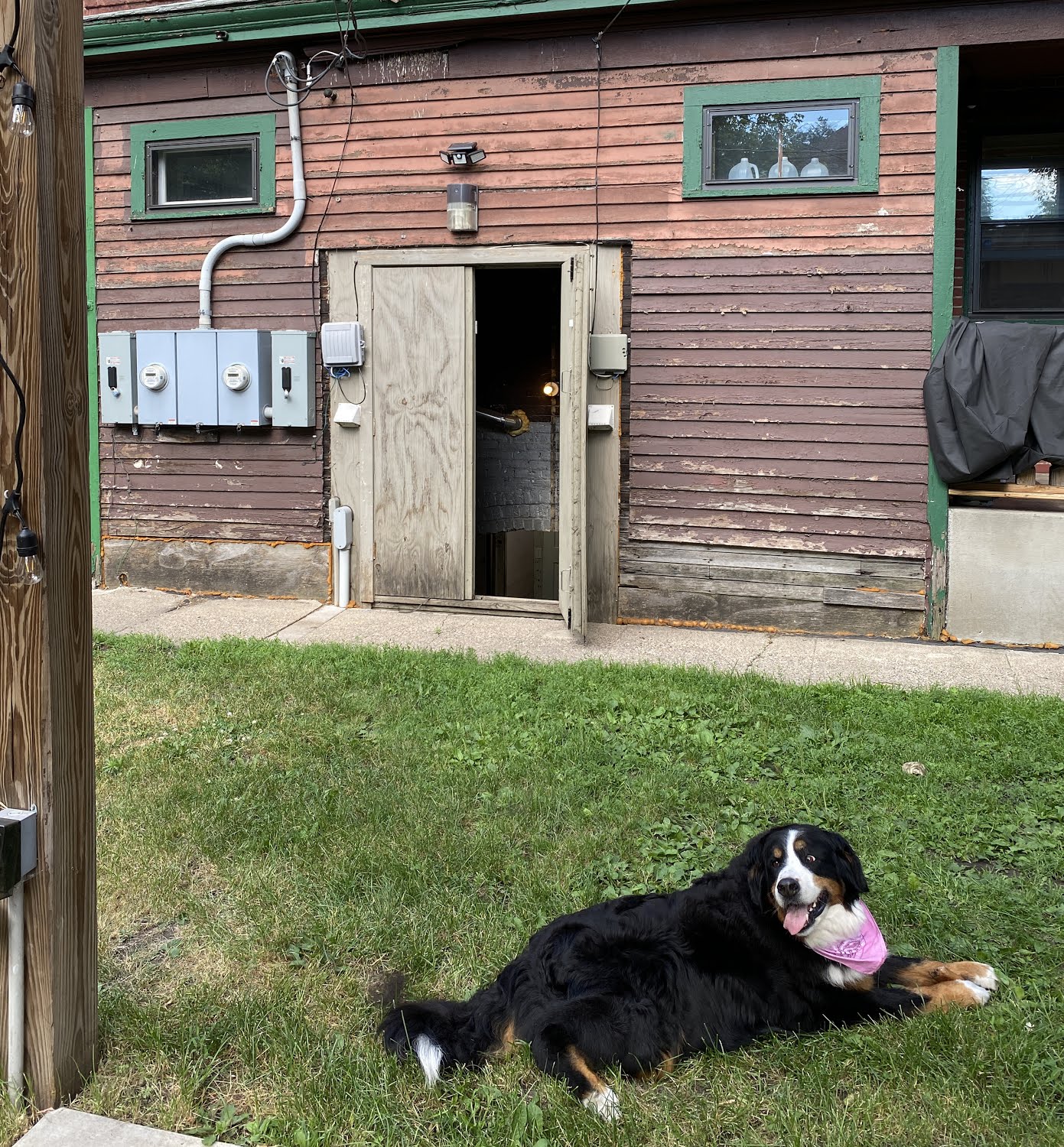 Sure, this is a gallery entrance, why not? There's art down there, I promise.
Artworks activate the peeling paint and stone foundations, hide behind the furnace and water heater, and underscore the importance of space and setting in how art is viewed. "If anything," says KJ, "it makes the shared experience more intimate… So far the audience response is one of interest and engagement which is exciting and invigorating after a year of such uncertainty."
Enter through the cellar doors in back, where you'll likely be greeted by Elsie, the neighbor's Bernese Mountain Dog. The next show, I forgot my day, curated by John Herbert, opens July 30th from 5-9pm and runs through August 29th.
1900 Columbus Ave (walk down the driveway around back) • Hours: Sat & Sun 2-5pm or by appointment
waitingroomart.com • IG @waitingroomart
---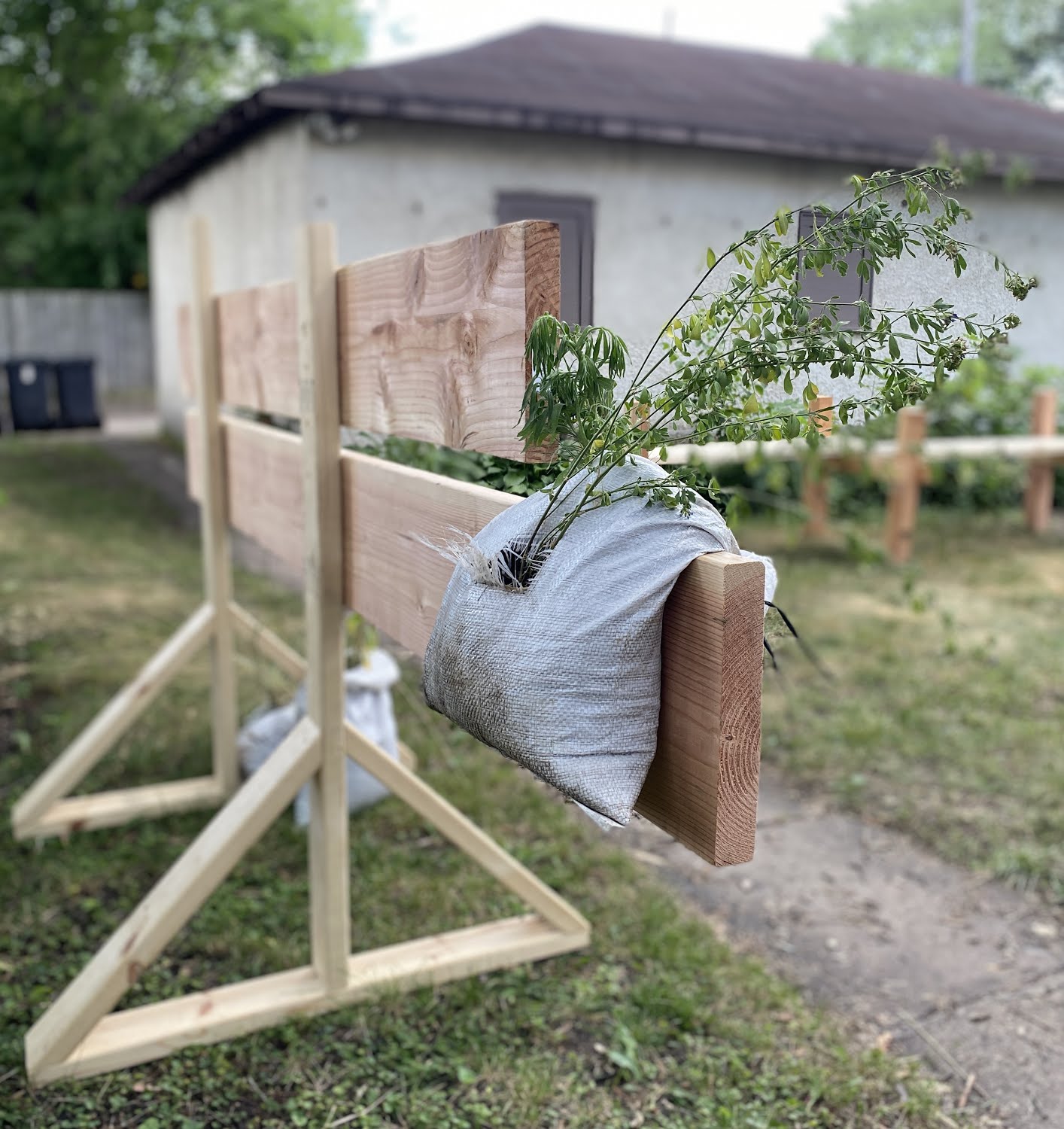 Work by Tom Bierlein in the Normal Residential Purposes backyard.
◼︎
Normal Residential Purposes
Another domestic artspace, Normal Residential Purposes began right before the pandemic as an indoor apartment gallery, an exercise in skirting one's lease (hence the title). After COVID brought everything to a halt, resident-curators Mike Curran and Miranda Harris moved things out to the backyard, hosting art installations between the duplex and the garage. Most recently, Tom Bierlein re-sited soil, plants, and rubble from the 35-W expansion project. It might sound a little weird, but grab a beer from the cooler and suddenly you're at a backyard party, talking with strangers about art and gardening and everything else.
"I work in habitat restoration along the Mississippi River in my day job," says Curran, "so I've gotten to know many local ecosystems really intimately. To extend those ecological connections to the shows I organize has been particularly meaningful. I also like it when art feels lived in, and there's something special about having your neighbor take out the trash while you're installing. It's all a bit scrappy and messy and weather-dependent, but that's part of the charm."
Next up is have a good time, opening July 31st, featuring work by KJ from homeroom.
3121 E 25th St, Minneapolis • have a good time will be on view July 31st and August 1st from 7-10pm
normalresidentialpurposes.cargo.site
---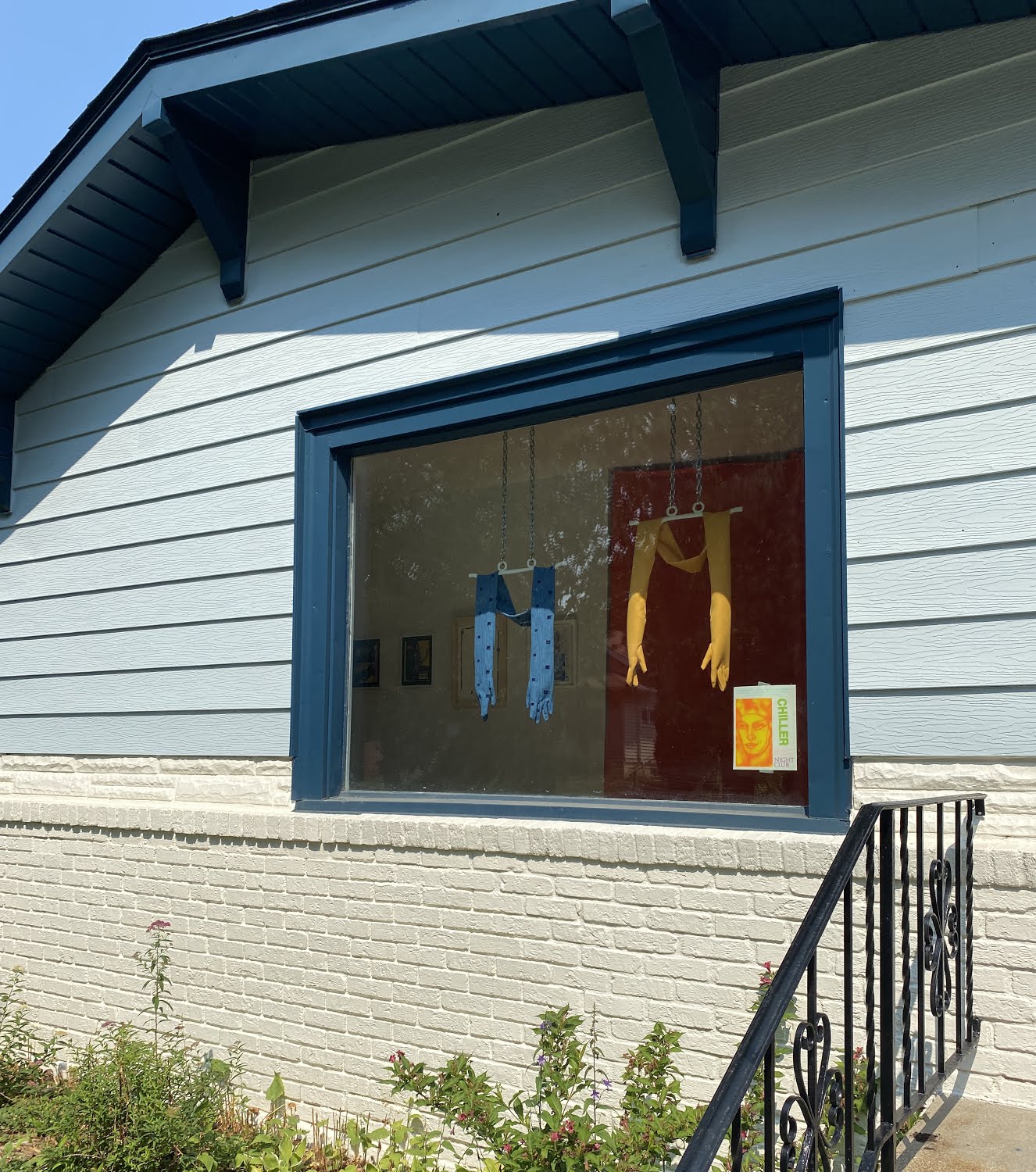 The front picture window of an unassuming single family home, somewhere in South Minneapolis, featuring work by Churou Wang.
◼︎
Night Club
We've been in the basement and the backyard, but now we're being invited right in through the front door to Night Club, a new space in the front room of Lee Noble's and Emma Beatrez's South Minneapolis home. Originally started as an experimental student art club at MCAD, Night Club has morphed into a curatorial project that takes place in a small nook between a huge picture window and a long orange curtain dividing off the rest of the house. Like the other domestic galleries, the setting activates the work (and the viewer) in a different way. As Noble ponders, "Where does the house stop and where does the gallery begin?"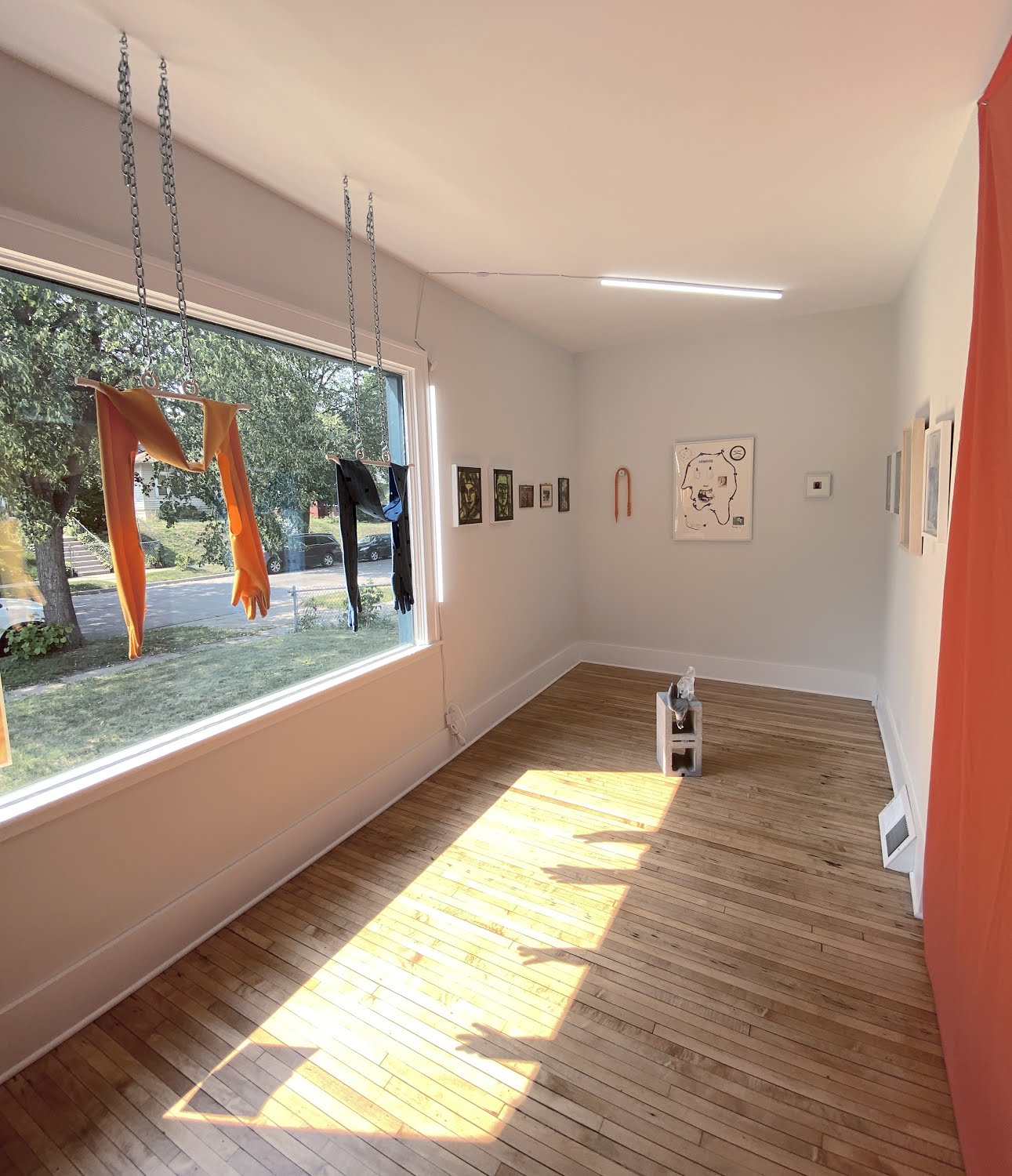 It's a fun experience, looking at strangers' art in a stranger's house, (even being in someone else's house is a fresh thrill these days) and Beatrez and Noble are gracious hosts. Shoot them an email or a DM on Instagram to schedule an appointment; currently on view is Chiller, a group exhibition on view through July 31st.
Open by appointment only (but during the day is fine)
Email nightclub.at.night@gmail.com or DM on IG @nightclub_at_night
---
And Finally, The Movers and The Shaking-It-Uppers: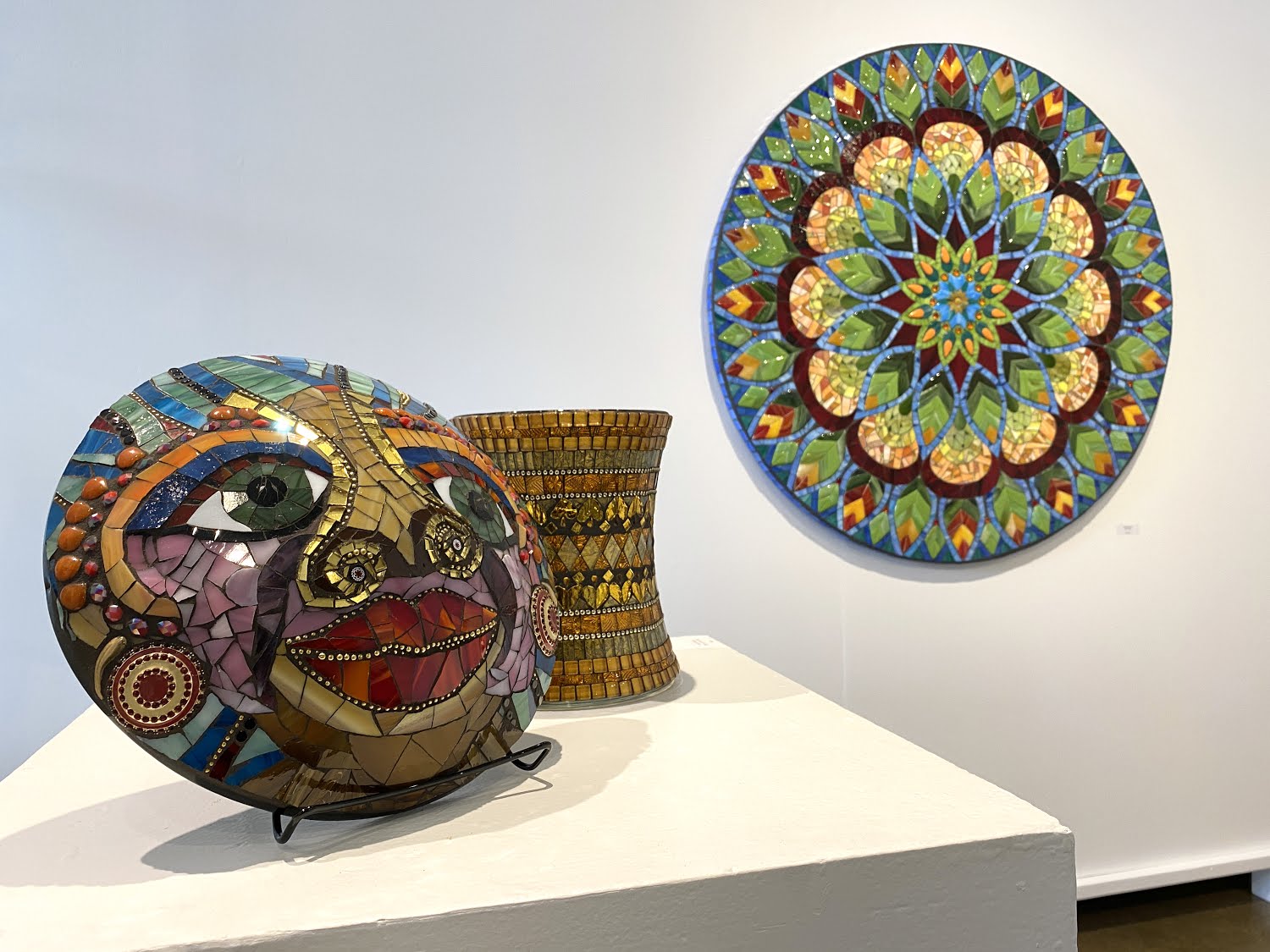 Work by (from left) Rachel Arntson, Susan Mathis, and Debra Dsouza as part of Contemporary Glass Mosaics on view at Foci MCGA.
◼︎
Foci Minnesota Center for Glass Arts
Some spaces faced serious transitions over the past year and a half, given the choice of riding out the storm, jumping ship, or moving online. Foci MCGA chose a fourth option: use the down-time to move to a bigger, better space. Moving from their home at 2010 Artblok to their new spot in Seward, the nonprofit glass studio is now ADA accessible and has more space for classes and programming.
The Center reopened this past September at a reduced capacity, which Program Coordinator Emily McBride says actually helped. "Being limited in the number of classes, renters, and students we could have at a time allowed us to have more space and time to unpack, organize, and work out the kinks in the new space," she says. Foci also has a gallery space, currently showing Contemporary Glass Mosaics, on view through September 6th.
2213 Snelling Ave, Minneapolis • Hours: Tues - Thurs 10-6, Fri - Mon 10-4
mnglassart.org • IG @focimcga
---

Art installed at Douglas Flanders & Associates' new Edina location. Image courtesy of the gallery.
◼︎
Douglas Flanders & Associates
The longtime commercial gallerist has been a presence in the Twin Cities art scene since the '70s, and in 2020, of all years, he expanded to a second location at 50th & France as well. Check out the full story of DF&A's expansion in this article we wrote back in the fall: https://www.mplsart.com/written/2020/11/four-decades-in-longtime-gallerist-branches-out
Currently on view is #streetart, a group show at their Lake Street location, through July 31st.
818 West Lake Street, Minneapolis • Hours: Tues - Sat 11am-5pm
5025 France Ave S, Minneapolis • Hours: Tues - Sat 11am-6pm
www.flandersart.com • IG @douglasflanders_art_consulting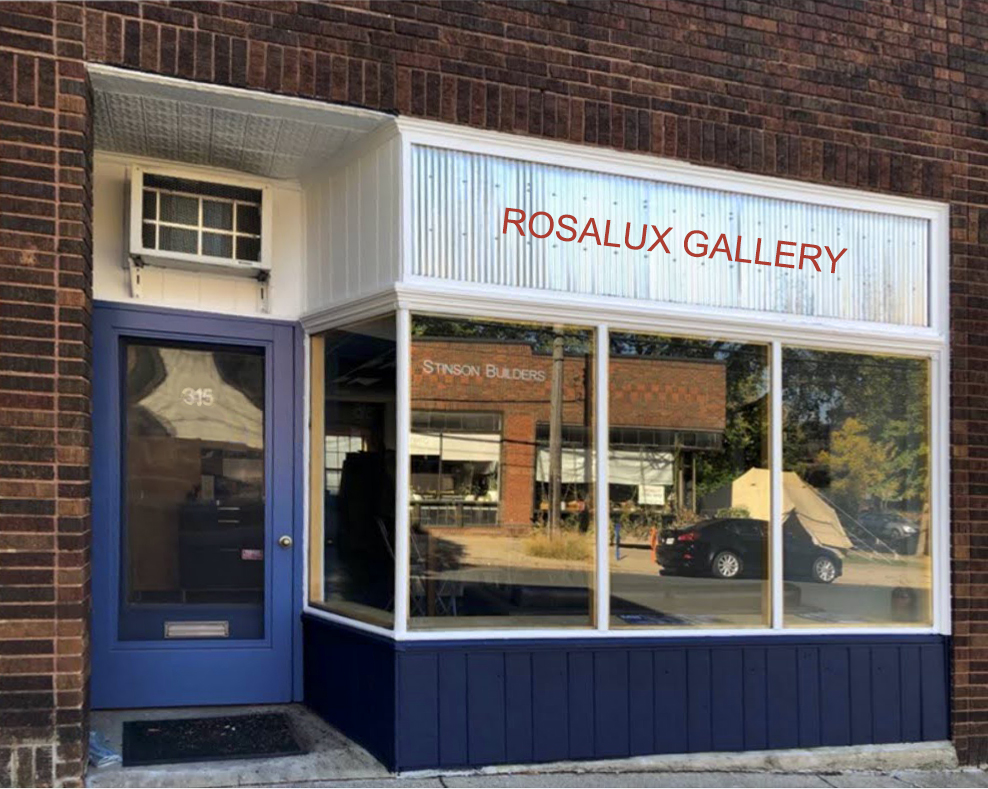 Storefront mock-up courtesy of Rosalux Gallery.
◼︎
Rosalux Gallery
The long-running artist co-op moved entirely online last June, leaving their physical space in Northeast behind to focus on promoting their members' work and curating virtual group exhibitions that doubled as collectable artist books. Now, like the stubborn phoenix that they are, Rosalux is reopening on August 7th in a brand new location — their fifth, if you're keeping count.
Founding member Terrence Payne says the pandemic was an opportunity for the group of 24 artists to reevaluate their goals and focus their programming. "Our new spot is a storefront in South Minneapolis," he says, "and we are pretty excited about how the quieter neighborhood vibe along with the more visible and accessible space might help us to create a more intimate bond with the community we have been building up over the past twenty years."
Analog, their first show back opens August 7th, 6-10pm, address to be announced soon. Masks required for entry.
www.rosaluxgallery.com • IG @rosalux_gallery
---
Phew! These artists and curators been busy, y'all. Did I miss anyone? Let me know at russ@mplsart.com. Now get out there (and be safe) and go see some art!
All images taken by the author except where noted. Banner image: interior view of Walrus.
Editor's note: this article has been updated to reflect a change in personnel at Walrus.
---
We can't do it
without you.
Help keep independent arts journalism alive in the Twin Cities.