Four Decades In, Longtime Gallerist Branches Out
Posted November 11th, 2020 by Bridget Kranz
Douglas Flanders & Associates, long a fixture in Minneapolis, has big plans for their expansion to a second location in Edina
This article is sponsored by Flanders and Associates

As a fixture in Minneapolis since 1972, it's inevitable that gallerist Doug Flanders has made his mark on the city – through people he has met and conversations he has been a part of, as much as the physical spaces he has occupied.
Representing local artists, as well as dealing in work from the estates of historic figures like Pablo Picasso, Flanders attracts clients from across the country and the world. But while a significant portion of his business comes from outside the state, Douglas Flanders & Associates has continued to operate out of his hometown. Now, for the first time, the gallery is expanding its local brick-and-mortar operations to a second location in Edina.
With a collection that has grown from 150 pieces to over 15,000 during four decades in business, square footage was a major impetus in expanding from their current location near the intersection of Lake and Bryant. It was something that Flanders and Gallery Manager Jefferson Fee had been discussing for months, before a client proposed a property that she owned along France Avenue.
"When she mentioned the space, I looked across the room at Doug and my eyes just lit up," recalls Fee. "Doug has always maintained a location within one to three miles of downtown, but the reason we're excited about this space is that it's almost three times the square footage we have now."
Gallery staffers got to work this summer converting the interior, which formerly housed General Sports, and are now planning to open before the Thanksgiving holiday — although a fair number of shoppers have already wandered into the new space.
"We had a couple who just moved here from Japan; they saw our sign in the window. They came over and bought two to three pieces already, and we're not even open yet," says Flanders. "I think it's going to be a really good place to be."
Going forward, Fee hopes the other retail spaces and restaurants that populate the 50th & France area will bring in more foot traffic. While the location on Lake Street will now become the gallery's primary venue for exhibitions, most of the inventory will be rehoused in Edina.
While Flanders frequently sells to museums, businesses, and even other galleries, residential buyers continue to be a significant part of the local market — and interior design showcases like the Parade of Homes Twin Cities are part of what has kept Flanders in Minneapolis over the years.
"We really get to know people through that, who then come into the gallery and buy a piece or two," he says. "One year, one of the homes was sold to a doctor moving here from San Francisco and he bought all of the art that was in the house. That was a $200,000 sale back in the 1970s."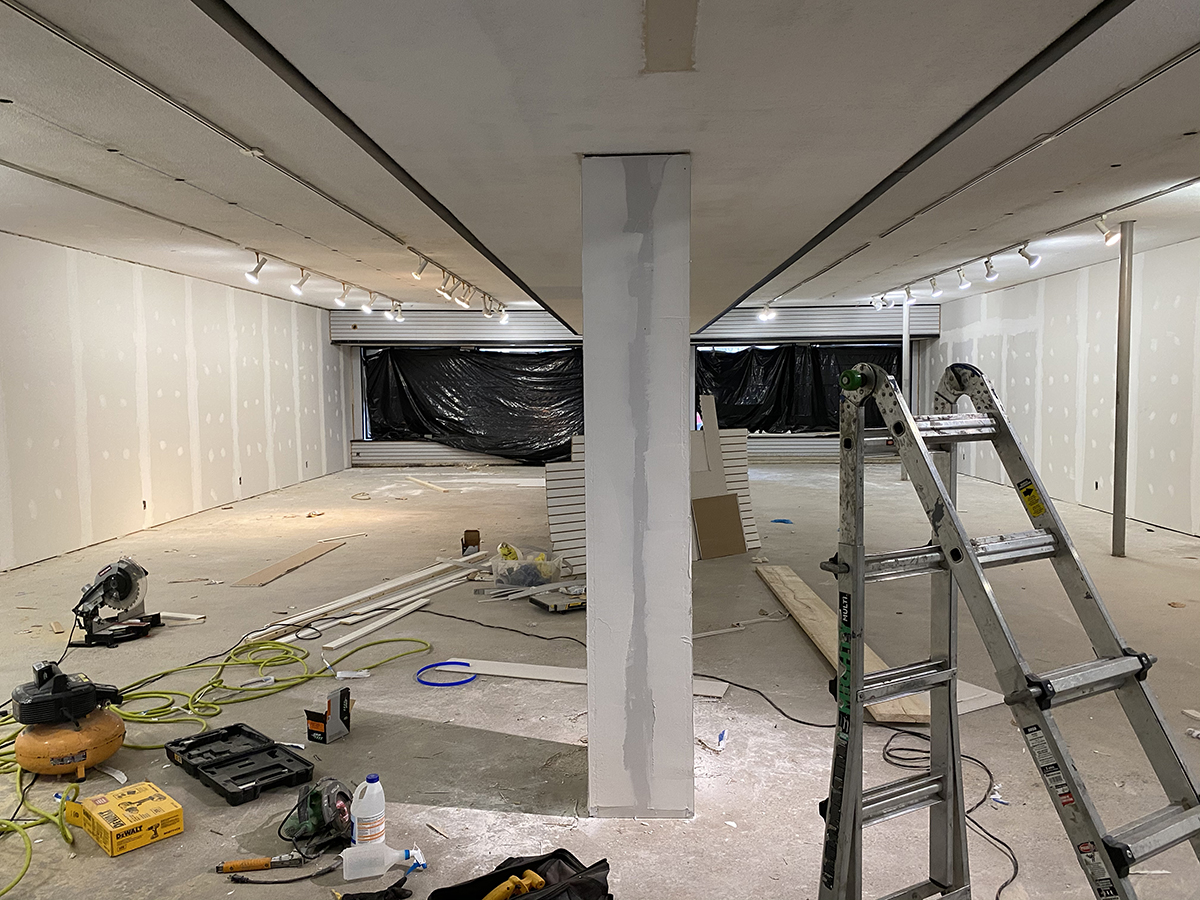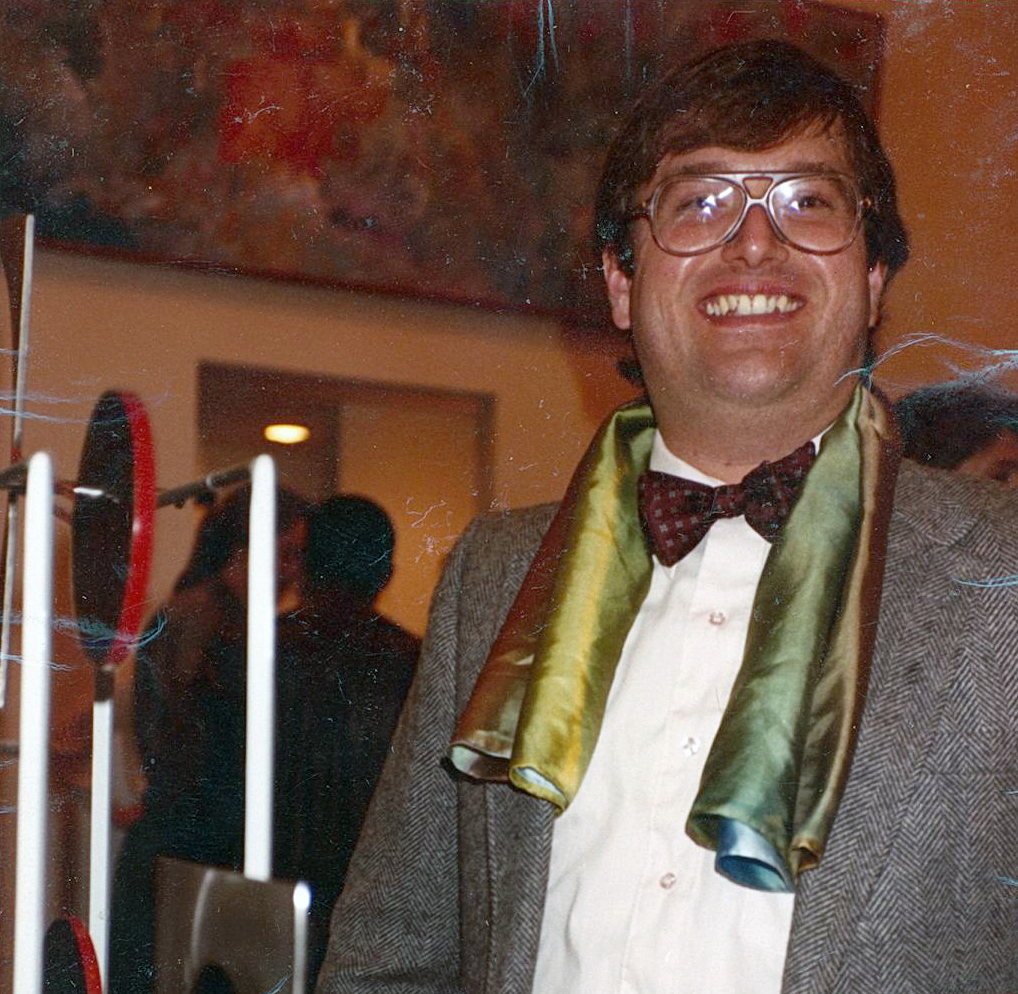 Top: The new space on France Ave, still under construction earlier this summer. The gallery plans to open to the public officially this month. Bottom: Flanders in his element at an opening, circa 1980.
Starting small, selling to other galleries
While Flanders has had plenty of practice interior decorating over the years, his artistic eye was developed even at a young age by his grandmother. Many of his earliest memories are of accompanying her to museums, both at home and abroad. As Flanders recalls, she was a painter herself, who wore "long, dark dresses and white gloves, carried a cane," and was able to share her own technical knowledge about the work they were viewing.
After dropping out of the University of Minnesota, Flanders began his professional career with gallerist and pop art specialist Denise René in New York. In order to strike out on his own, he then decided to leave the crowded East Coast market and set up shop back home in Minnesota.
"My basic inventory was my own art collection. The first show that we did was of Georgia O'Keeffe paintings and watercolors, and we had busloads of visitors," he recalls. "We had teachers bringing their fifth-graders, we had university students, we had groups of senior citizens."
Despite not selling a single piece during the show, he later took some of the works to auction and was able to reinvest that money in growing his collection. As he tried to feel out what local clients wanted, Flanders visited graduate programs and bought pieces from artists like Eric Fischl, Susan Rothenberg, and Julian Schnabel. For work that didn't sell locally, he would go through rolls of film trying to get a few good pictures of his inventory to mail out.
A major source of income during these early years was other galleries in different parts of the country. Flanders would connect with fellow gallerists during art fairs, then promptly send them a letter and envelope full of slides as soon as he got home. Forty years later, he says these contacts are still some of his closest clients and friends. Additionally, a robust network of colleagues and former clients helps Flanders keep track of the work he sells and potentially facilitate future transactions.
"A lot of pieces we sold back in the 1970s and 1980s — the people who bought that work are passing on, and a lot of it is coming back to resell," he notes. "I just got a call from a woman I've known for a long time down in Florida, looking for a Jim Dine sculpture we had about 20 years ago. She wanted to know if it was still available, so now I'm contacting the owners to see if they want to sell."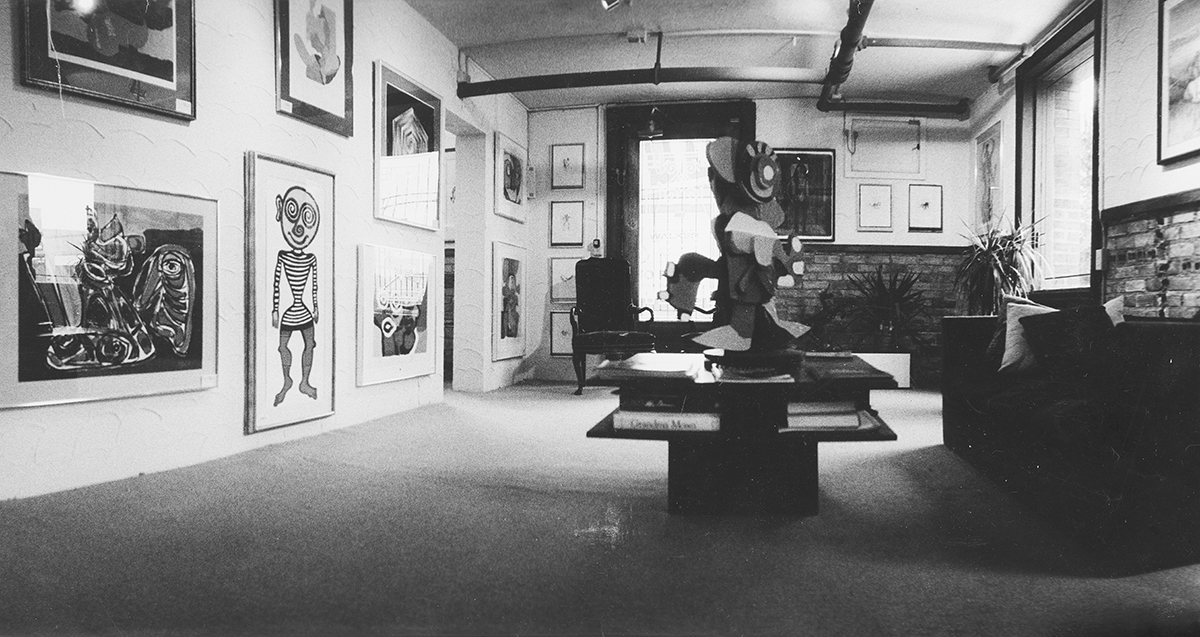 Flanders's first gallery in Minneapolis in the early '70s at 12th and Harmon Place, now the site of a Bucca di Beppo.
Library planned for new location
Even as their collection has grown, both Flanders and Fee say there is a story behind almost every piece at the gallery — and, despite many clients looking for an investment, Flanders says he wants clients to prioritize choosing a piece they'll enjoy living with. To this end, the other key feature of the new Edina location is a library.
"We want to create a space for people to sit down, thumb through art books, and get ideas about what they're looking for — as well as learn about the various artists we represent," says Fee. "First and foremost, we like to find out what people like — what captures your mind and your heart? Collecting doesn't have to mean five figures on a price tag. The value is the quality of the art, and what works for one person may not work for another," he adds. "We'll go out of our way to find anything and everything for anyone's art desires."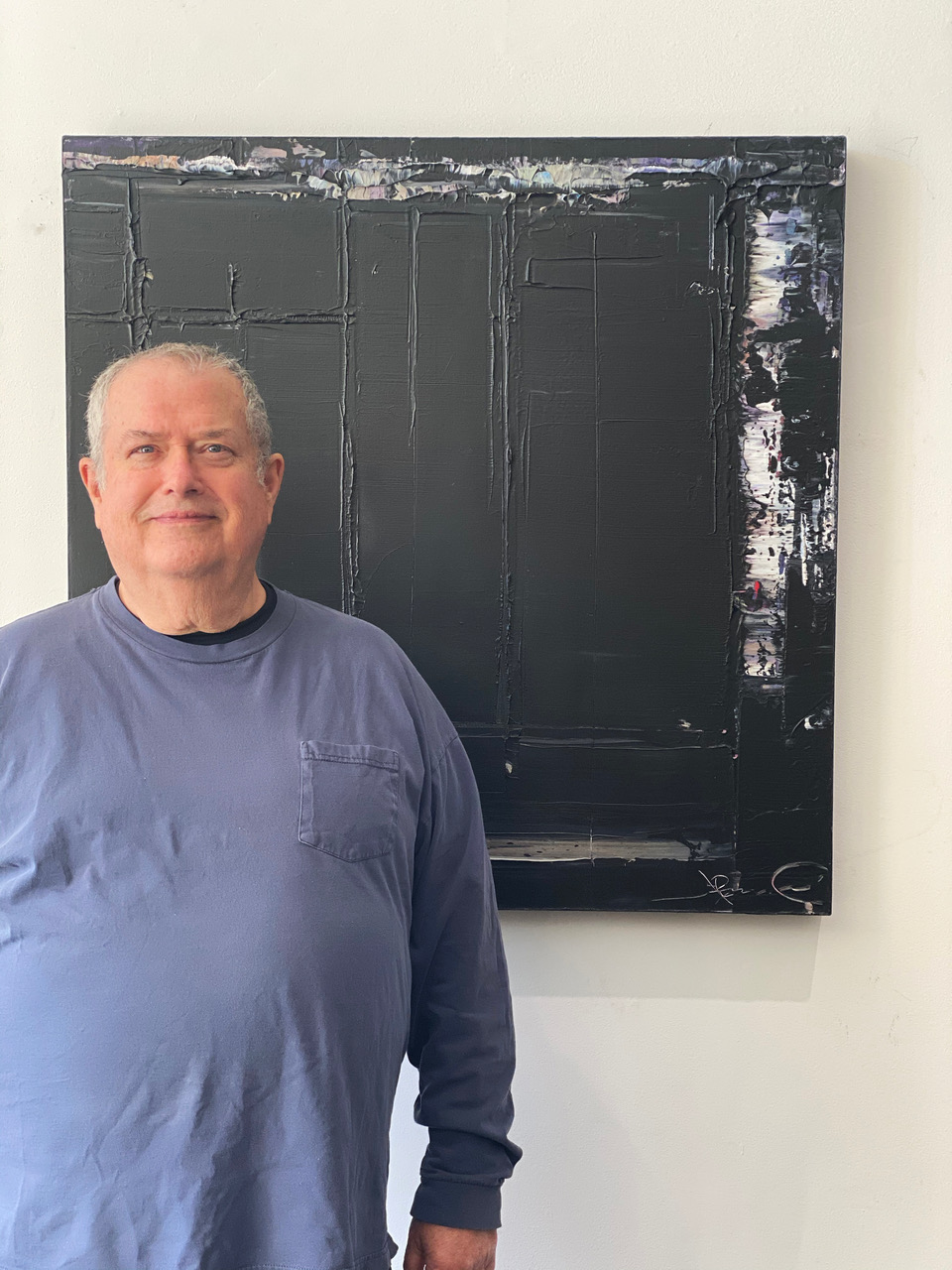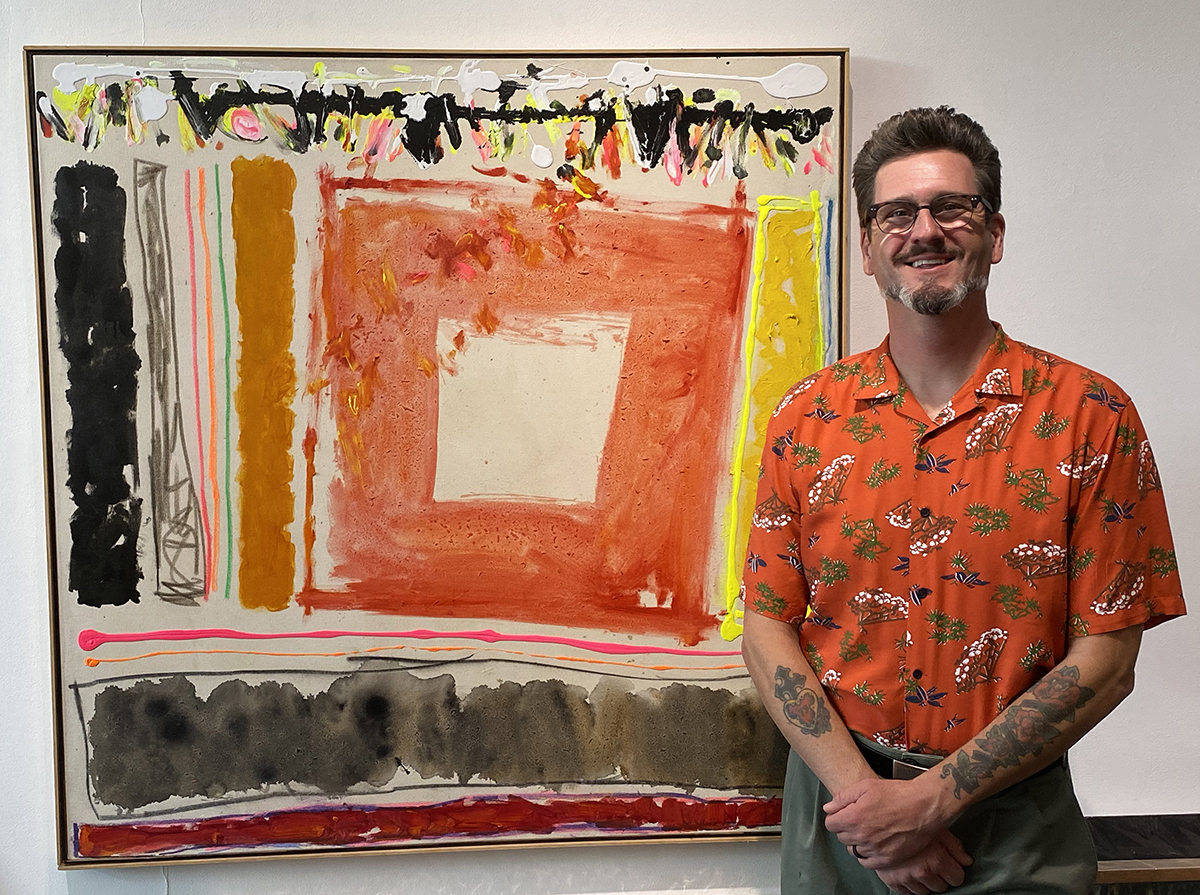 Top: Douglas Flanders today, with a painting by James Leonard. Bottom: Jefferson Fee next to work by New York-based artist Joyce Weinstein.
Douglas Flanders & Associates Fine Arts Gallery + Consultants will be opening their second location this month, at 5025 France Ave S in Edina, and are still open at their existing space at 818 W Lake St in Minneapolis.
Check out flandersart.com for more info, and please wear a mask if you intend to visit in person.
All photos are courtesy of the gallery.
EDITOR'S NOTE: This article has been updated slightly since publication to reflect the evolving vision DF&A has for their new space.
---
We can't do it
without you.
Help keep independent arts journalism alive in the Twin Cities.