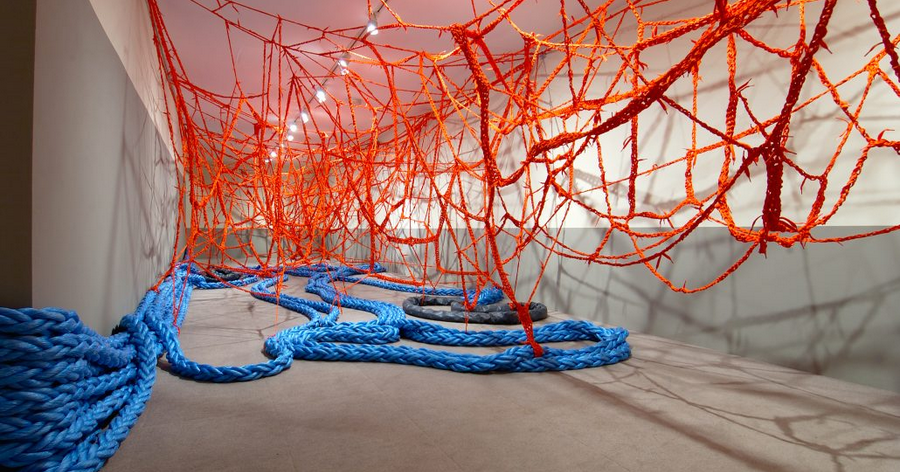 Sheila Pepe | Softly…Before the Supreme Court
The M has commissioned New York-based artist Sheila Pepe to create a site-responsive installation for the museum's Sculpture Court. Event Website

Showing

Dec 2nd - Apr 7th, 2019
Minnesota Museum of American Art
350 Robert St N
St Paul
( map )
Pepe is an artist and educator known for large-scale, ephemeral works made from domestic and industrial materials through a process she calls "improvisational crochet." Since the mid-1990s, Pepe has used lesbian feminist and craft traditions to investigate systems of power in institutions of art and education.

Softly…Before the Supreme Court is a reference to architect Cass Gilbert, who designed the Endicott building which houses the new M, the U.S. Supreme Court in Washington D.C., and other nationally significant sites. Pepe's looping, drooping lines and crocheted shapes are a response to the gravity and hard geometries of the room – a soft, gestural rejoinder to two landmark buildings by one of America's most famous architects

This exhibition, Wave Line, and 100 Years and Counting will open Dec 1st at the The M's Grand (Re)Opening party.

Image Credit: Sheila Pepe, Mind the Gap, 2005. Shoelaces, nautical towline, and paint, 8 x 10 x 60 feet. Installed at University Gallery, University of Massachusetts, Amherst. Photo: D.J. Harris