The collaboration gave apprentices hands-on experience in creative careers, culminating in a Minnesota-designed capsule collection highlighting local talent and craftsmanship
Aaron Seymour-Anderson says there's "alchemy" in a new partnership between Juxtaposition Arts and Red Wing Shoes.
Seymour-Anderson, a former JXTALabs apprentice and current Head of Brand and Creative at Red Wing, helped connect the two organizations. But as the idea for a JXTA-designed capsule collection – featuring a reimagined Red Wing Heritage boot and a custom hoodie – began taking shape over the last two years, it became clear there was more tying them together.
"We both have a strong history of championing craft and craftspeople," says Seymour-Anderson. "One thing that's celebrated through this collaboration is the idea of legacies that are shaped by the community, whether that be in Red Wing or North Minneapolis."
The products of this collaboration launched Wednesday morning and promptly sold out, with all proceeds going to support JXTA programming. (For those who missed the drop, there will be a few boots, hoodies, and a screen-printed apron that will be auctioned off at the grand opening of the new JXTA campus in May.)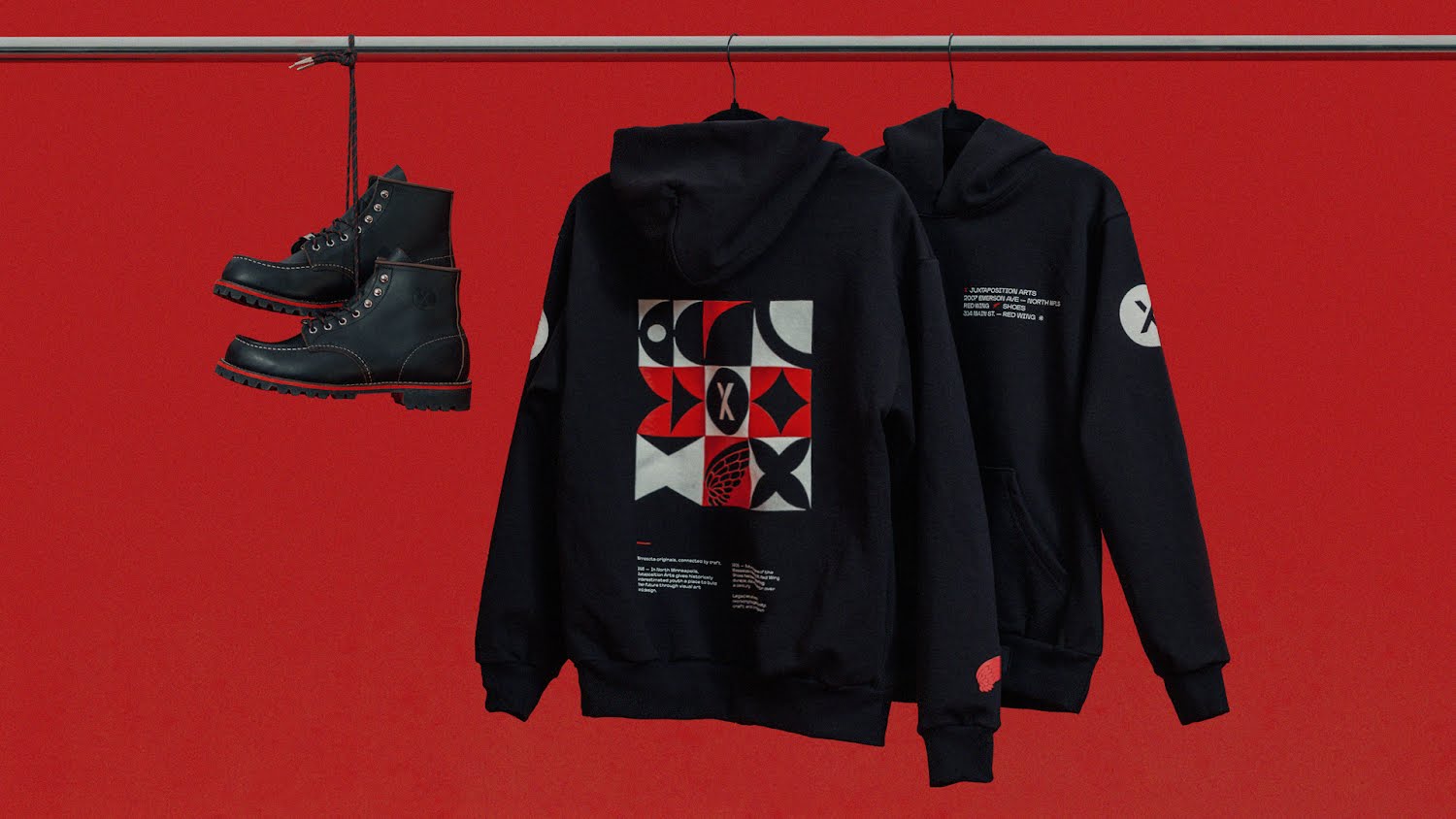 The capsule collection, which sold out within hours. Photo by Bobby Rogers.
From design decisions to business decisions
The collection includes a pair of limited-edition Red Wing boots and a hooded sweatshirt, both designed by four current JXTALabs apprentices with support from mentors at both organizations. Along the way, apprentices worked alongside creative professionals in many different fields – from product design to marketing – and brought a fresh eye to a classic Minnesota brand.
Apprentices started with the Red Wing Heritage Classic Moc, then made decisions around color, sole, hardware, material, and more to create their unique vision.
"We showed them how we manufacture, how we cut leather, how we stitch it," says Seymour-Anderson. "They led the design and made all of the design decisions."
The boots are black, embossed with the JXTA logo, and apprentices chose a thick rubber lug sole to differentiate the design from the classic silhouette. Another key decision was adding a red pinstripe around the top of the sole – a "heartstring," says apprentice Essence Enwere, symbolizing the partnership between the two organizations.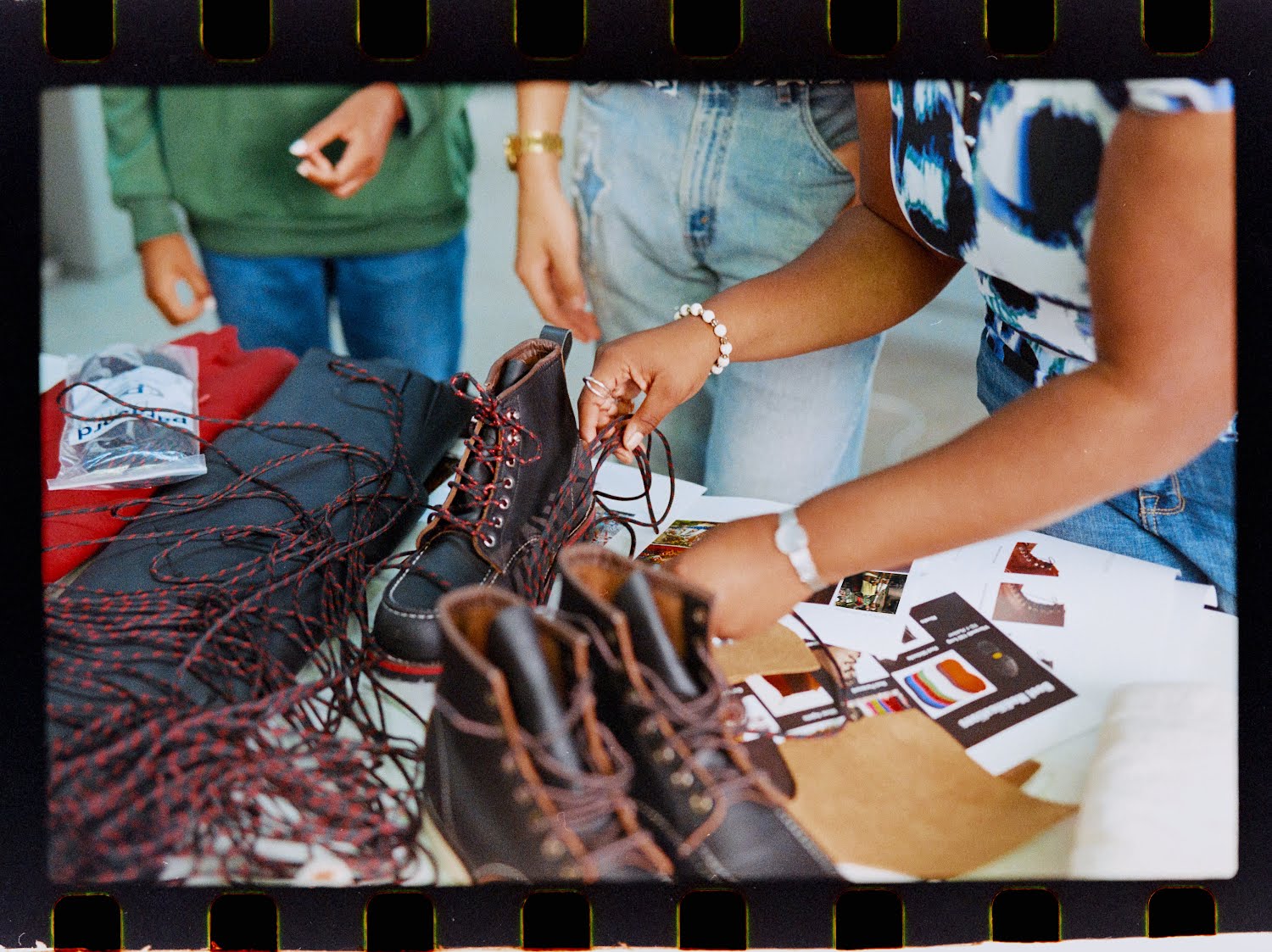 Throughout the eight-months-long process of designing and producing the boot, apprentices came with design ideas, participated in group critiques, and made changes based on feedback – a standard process for art classes, but focused in this instance on product design.
At one point, the boot had a pull tab at the top of the heel. During critique, Enwere pointed out that the tab reminded them too much of another famous boot brand and Red Wing competitor. The group decided to remove it.
"This is the first time they designed a boot, and beyond the aesthetics and design, they're making business decisions," Seymour-Anderson says.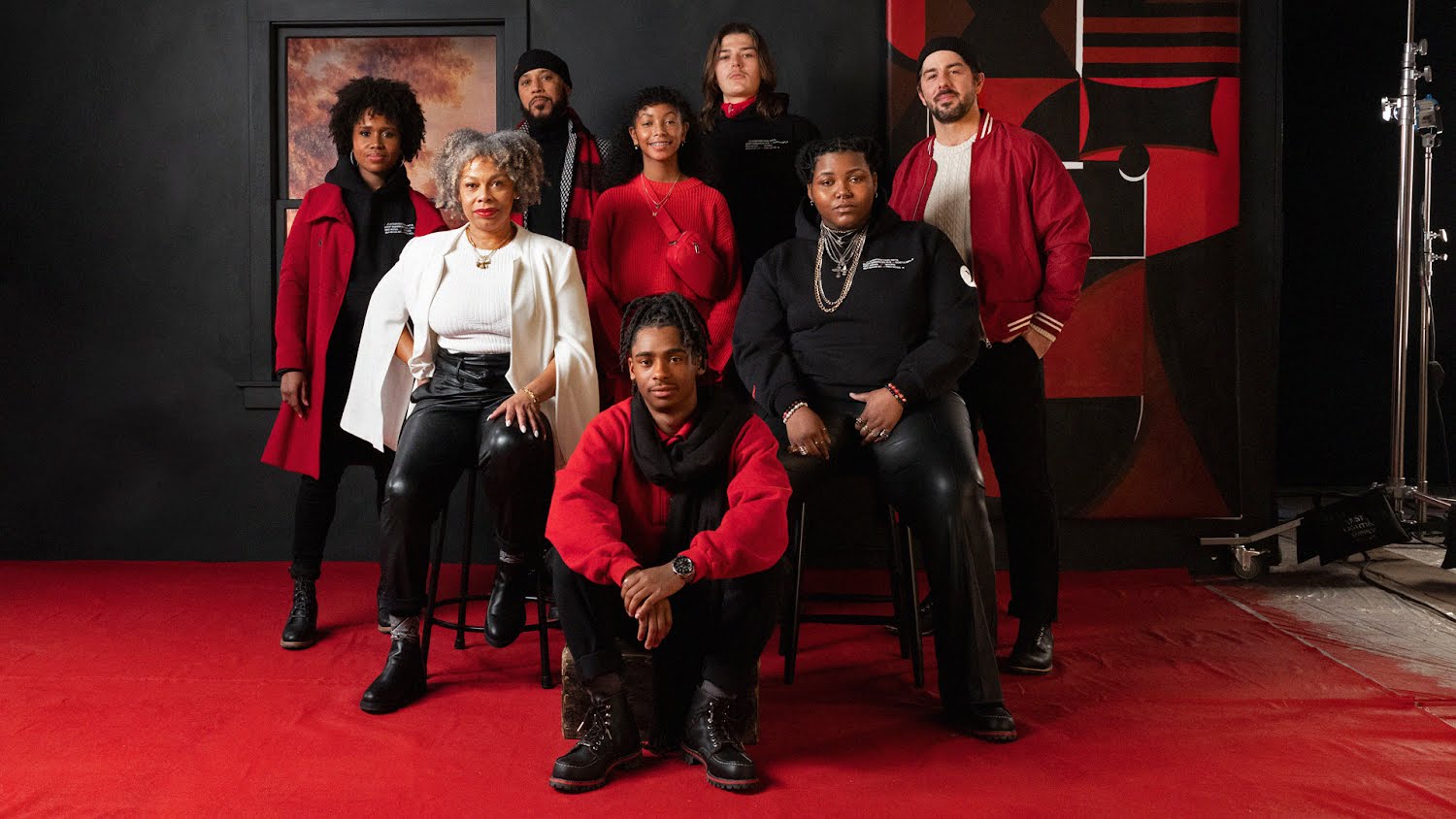 The JXTA side of the collaboration, from left: Nadia Nibbs, DeAnna Cummings, Roger Cummings, Ciojwe, Isaiah Hunter (sitting), Milo Olim, Essence Enwere, and Drew Peterson. Photo by Bobby Rogers.
Exposing apprentices to a complete product design and launch
Apprentices in JXTALabs often complete commissions for local businesses or do design work for JXTA itself. Apprenticeships are paid positions, and labs earn revenue through client work. But this collaboration was a unique chance for apprentices to get fully involved in design and marketing work, from start to finish, at a Minnesota-based company.
Roger Cummings, founder and Chief Cultural Producer at JXTA, highlighted this as one of the reasons he wanted to participate in the partnership.
"It was important to be able to show apprentices, this is what a marketing director does, this is what a creative director does," says Cummings. "They saw this whole team of people working alongside them on the collection and each one had unique expertise.
"Young artists don't know what they don't know," he adds. "I didn't know these jobs existed when I was in school making art. As I gained work experience, I saw that there were all these jobs where people were getting paid to draw."
After the boot was designed and in production, the apprentices also assisted with the marketing campaign – working behind and in front of the camera on photo shoots, copywriting, and conceptualizing how they wanted to describe and advertise the capsule they had created.
Sparking new interests for apprentices
The project brought new career ideas to Enwere, who is currently earning their Bachelor of Fine Arts degree in graphic design from the University of Minnesota.
"A lot of my focus at JXTA for many years was t-shirt design," says Enwere. "Through this collaboration, I was able to take my design capabilities and thinking into the 3D realm, and realize, 'I can do product design.'"
Enwere has spent over six years as a JXTALabs apprentice, most recently in the graphic design lab, where they've learned a fair amount about brand development and identity through past client projects.
This creative study of branding came to bear on the capsule collection, when Enwere and the other apprentices worked to seamlessly combine JXTA and Red Wing branding elements for the shoe and sweatshirt that visually represented their collaboration.
Highlighting local talent
Another benefit of the project, Cummings adds, was to showcase the work of young creatives in Minneapolis and encourage Minnesota-based companies to partner with local talent.
"We have an abundance of creative commercial arts jobs because we have an abundance of corporations, from General Mills to Best Buy to Target – all of these places have large creative departments," says Cummings. "These collaborations are a way of showing that there's talent in the city and in North Minneapolis, and with young people who approach art and design very differently."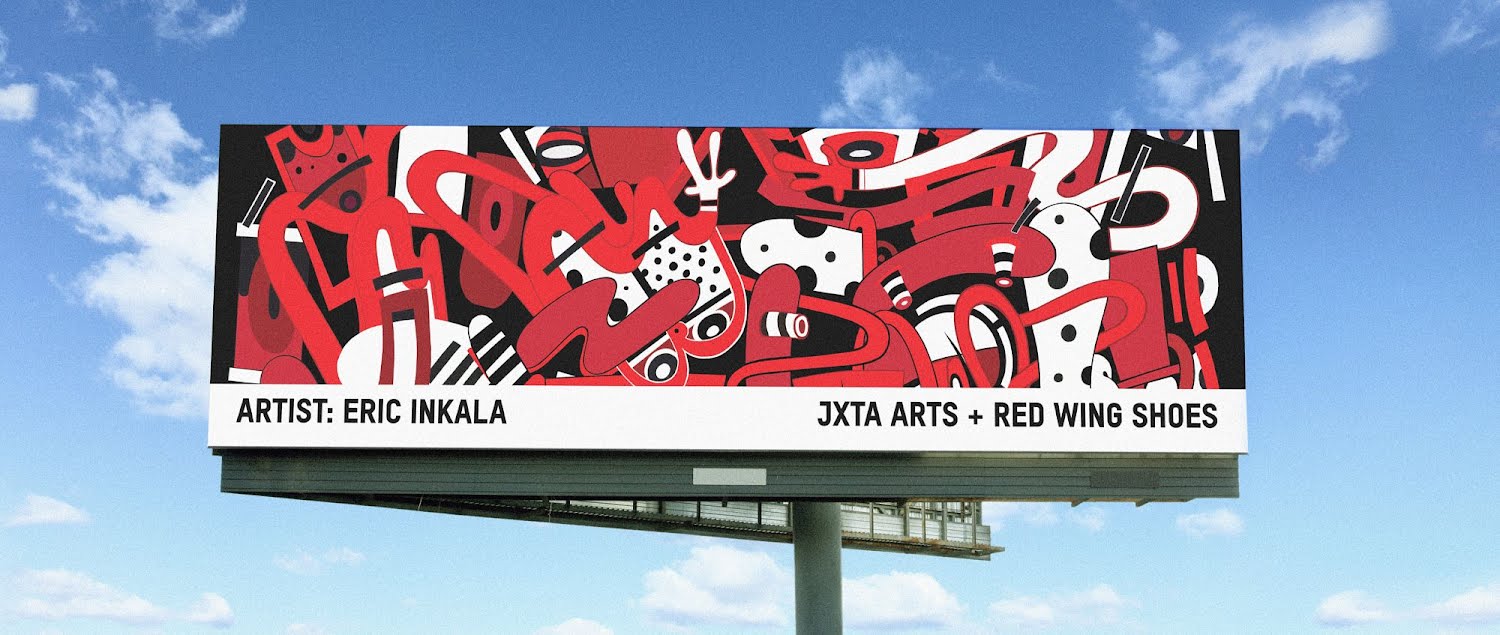 Billboard mock-up featuring work by Eric Inkala. The seven billboards are spaced across town, with a map of their locations here.
To promote the collaboration, JXTA and Red Wing teamed up with artists, JXTA alumni, and friends – including Enwere, The Bureau, Drew Peterson, Eric Inkala, Lindsay Splichal, Tia-Simone Gardner, and Gary Stranger – to design and produce a series of billboards that went up around the Twin Cities earlier this week. It's a somewhat nontraditional, art-first approach to advertising, which plays into how JXTA apprentices approached the capsule design process.
"In design, as in marketing, it's important to start with the art," says Cummings. "We want to show people the value we add as artists to projects of all kinds."
"It's a product at the end of the day, it's a boot that we're selling, but it's more than that," adds Enwere. "It's about all the work that we put into it. We took all of our experiences and tossed them into this boot. That's what makes this collection so beautiful." ◼︎
For more about the collaboration and the apprentices involved, visit redwingshoes.com/jxta.html. For more about Juxtaposition Arts, visit their website, follow them on Instagram @jxta_arts. Read more about JXTA's new construction here.
All images are courtesy of Red Wing Heritage.