With a celebration planned for September 17th, the Northside art and design org is putting their capitol campaign funds to work for their community
Juxtaposition Arts (JXTA), the North Minneapolis arts organization where young people are paid to be artists and designers, is ready to break ground on its new arts campus September 17, bringing to life a vision that goes back over a decade.
In the past three years, the project has been kicked into high gear, after structural issues on two of its buildings became severe enough that a demolition was in order. JXTA set up a skate park in the intervening time period, which will continue to act not only as a place to skate but as a forum for town halls, small groups, and community gatherings while the new building on Broadway Avenue is erected.
According to Gabrielle Grier, who became JXTA's Managing Director a year ago, JXTA's new transition follows the organization's status as the epicenter of art and design in the Twin Cities.
"I think it is incredibly important that JXTA is the only Black-owned and -led art and design organization of our size in our region," says Grier. "That is essential for the BIPOC community, and for everyone else as well."
JXTA Managing Director Gabrielle Grier. Photo by David Sherman - NBA Photographer.
In the economy coming out of the pandemic, JXTA's focus on non-traditional forms of learning and incorporating different creative processes is needed more than ever, Grier says. "COVID has informed us that we have to be creative beings. There's no other way that this works."
JXTA's new three-and-a-half story building will take up 17,000 square feet, with an additional terrace, and will feature LED lighting displays, Grier says. It will house space for each of JXTA's labs, where young people are paid a living wage to work creatively, and there will also be a wood shop and an outdoor classroom. "It mimics the same appeal as a pavilion space where young people will be able to take their work outside," Grier says of the outdoor space. "The same feel that you get on a college campus."
Grier is looking forward to how the new building will impact the sensory and physical infrastructure for people that interact with North Minneapolis. "I am mostly excited for being able to extend and support the beautification of North Minneapolis," Grier says. "I also think how incredibly important it's going to be for young people to walk by and know that this is an extension of a space that they live, and for JXTA to now be in one building and for people to know where to go."
Grier's relationship with JXTA began peripherally back when she was a teenager. Having grown up in Brooklyn Center and then Plymouth, she was involved in organizing while she was in high school doing block parties and talent shows, where she encountered the organization. Then, in her 20s, she became involved with the FLOW Northside Arts Crawl. After she finished her master's degree program at the University of Minnesota, she began teaching in JXTA's contemporary art lab, and she helped build the organization's ceramics program.
A potter by trade, these days Grier is more involved with running JXTA than working with clay. "I would say I'm an artist through and through," she says, "even if that means everything from strategy to throwing pots."
Grier assumed her role as managing director in August of 2020, when North Minneapolis was still reeling from the unrest that erupted following the murder of George Floyd, on top of the havoc that Covid was bringing to the community. Being able to navigate all that was happening was all part of what JXTA is all about.
"It is an exemplar of the work that JXTA does, in the essence that things are extremely nuanced," Grier says. "The same way that JXTA bridges graphic design, environmental design, architecture, and contemporary art — like painting and drawing — and finds a way for them to speak together, I would say that was the same essence in which I showed up to this role."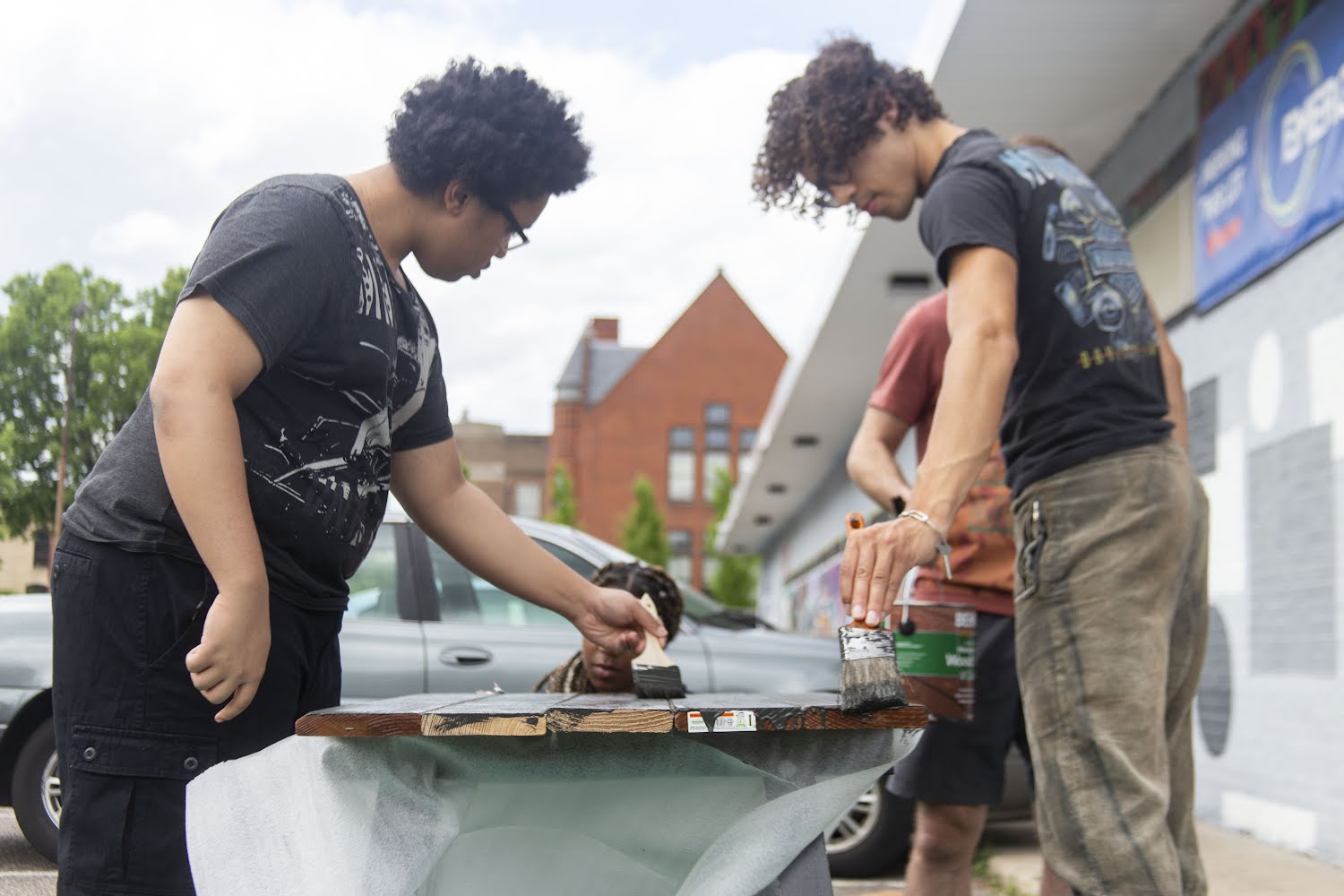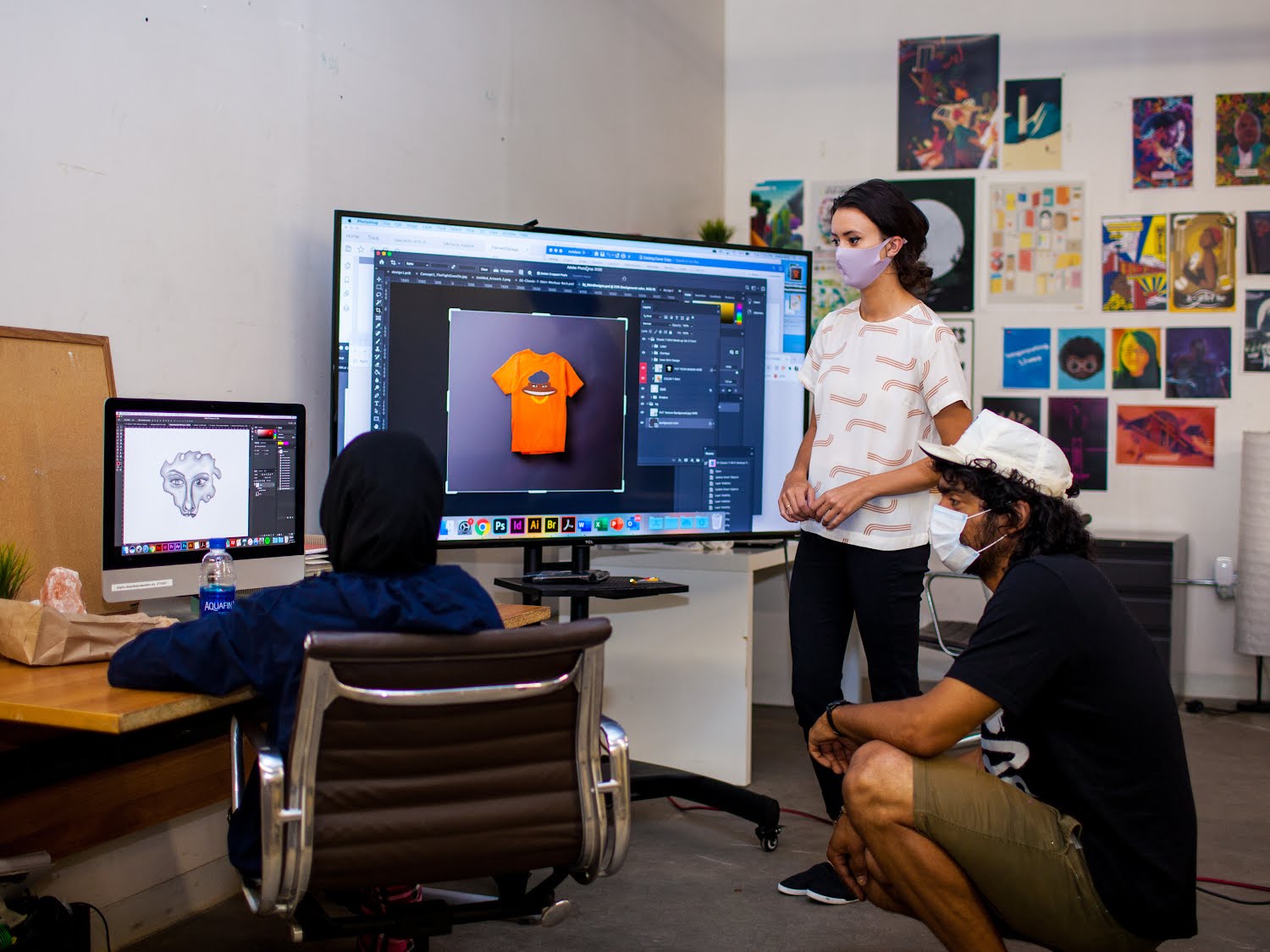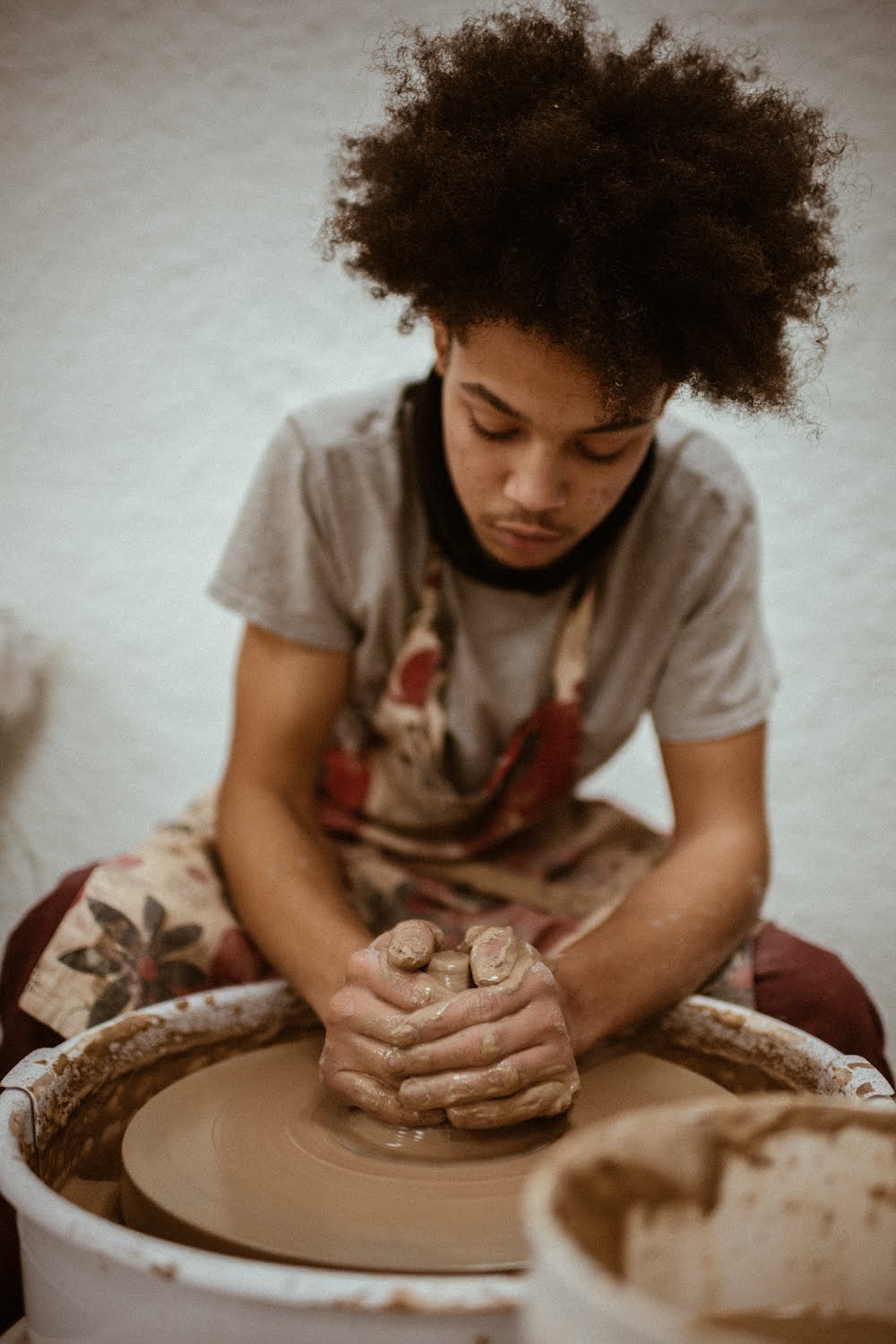 Apprentices and teachers at work across JXTA's disciplinary spectrum. Photos courtesy of Juxtaposition Arts.
The biggest challenge Grier has noticed in her tenure is knowing the worth and value of the organization, feeling the support from the community, and at the same time trying to move people about the importance of what JXTA is trying to do, Grier says.
"There are ways that we have to talk about and express the need for the build, rather than it just being something that is rightfully so," she says. "Having to be in a conversation with folks about the relevance of the work on one end, while also simultaneously being completely supported by community and by funders and by corporate folks about how important JXTA is, and sitting inside of that juxtaposition — no pun intended — I think is, is a part of the challenge."
The groundbreaking ceremony and thank you party takes place September 17, with the building demolition taking place the first week in October. JXTA plans to continue construction through the winter, spring, and early summer. "We anticipate that we will be sitting inside our new building in August of 2022," Grier says.
In the meantime, JXTA still has about $400,000 to raise toward the project. The organization has also launched a $5 million legacy campaign that supports the first two years of program needs, as well as the needs of the inaugural year. ◼︎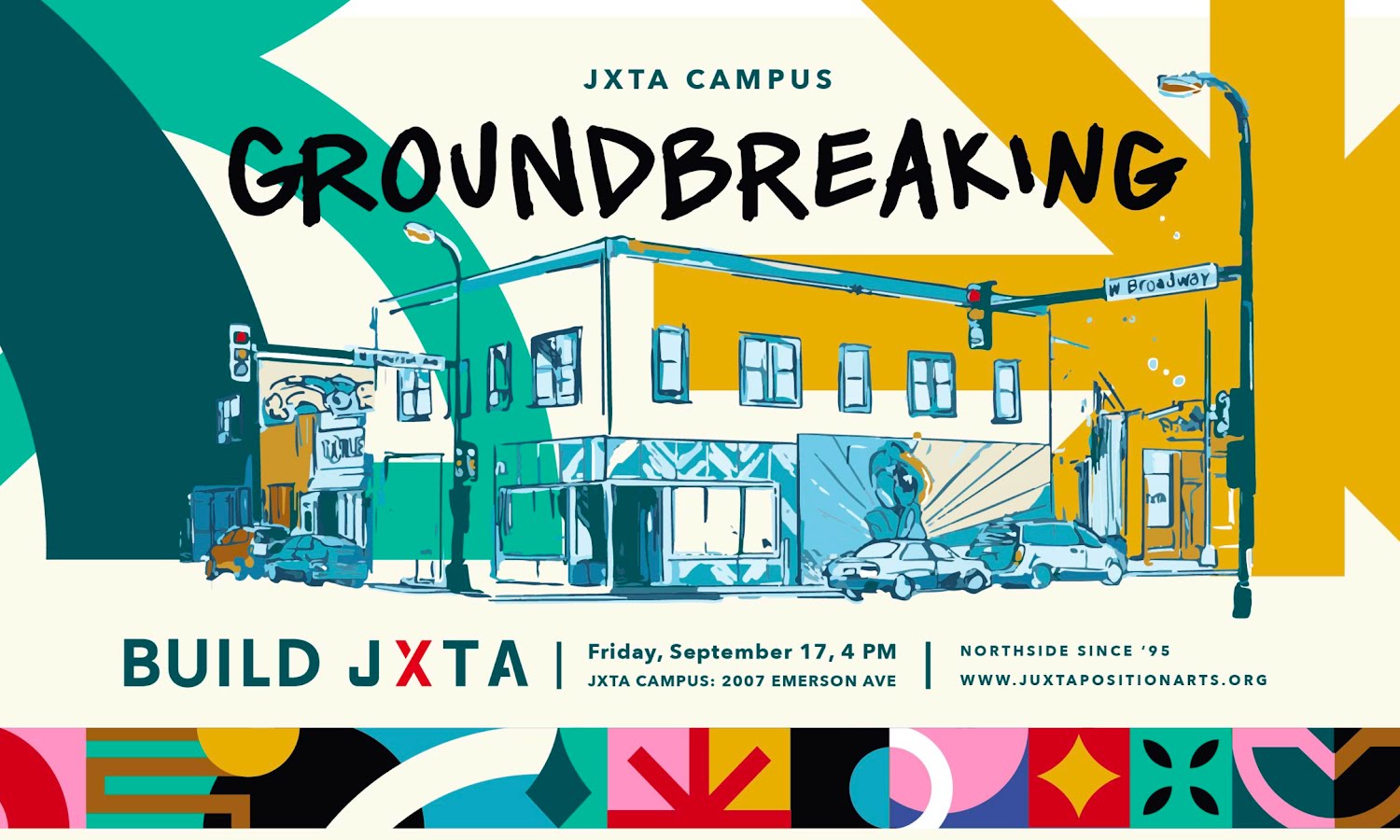 The groundbreaking ceremony takes place Friday, September 17th, at 4pm at 2007 Emerson Avenue North in Minneapolis.
For more info, visit juxtapositionarts.org or follow them on Instagram @jxta_arts. To donate to their capital campaign, click here.
Banner image: rendering by 4RM+ULA Architects​. All images courtesy of Juxtaposition Arts.