A La.dy.like Debut: Two artists build community with a new collaboration
Posted July 28th, 2022 by Bridget Kranz
Artists Andrea Bagdon and Spencer Gillespie make their mark on St. Paul with an introductory show in Lowertown, with a closing reception July 31
Artists Andrea Bagdon (she/her) and Spencer Gillespie (she/they) are bringing their unique take on what it means to be 'ladylike' to Lowertown St. Paul – and they're inviting others to do the same.
The pair met in graduate school at Colorado State University and bonded over their shared Midwestern roots (Bagdon is from St. Paul; Gillespie is from Wisconsin). They also gravitated toward similar artistic themes around gender and identity – Gillespie primarily through paint, Bagdon through paint and experimental video.
After moving to St. Paul last year, the pair wanted to introduce themselves to the local art community and create a new platform for femme-identifying artists to explore and share what their gender means to them.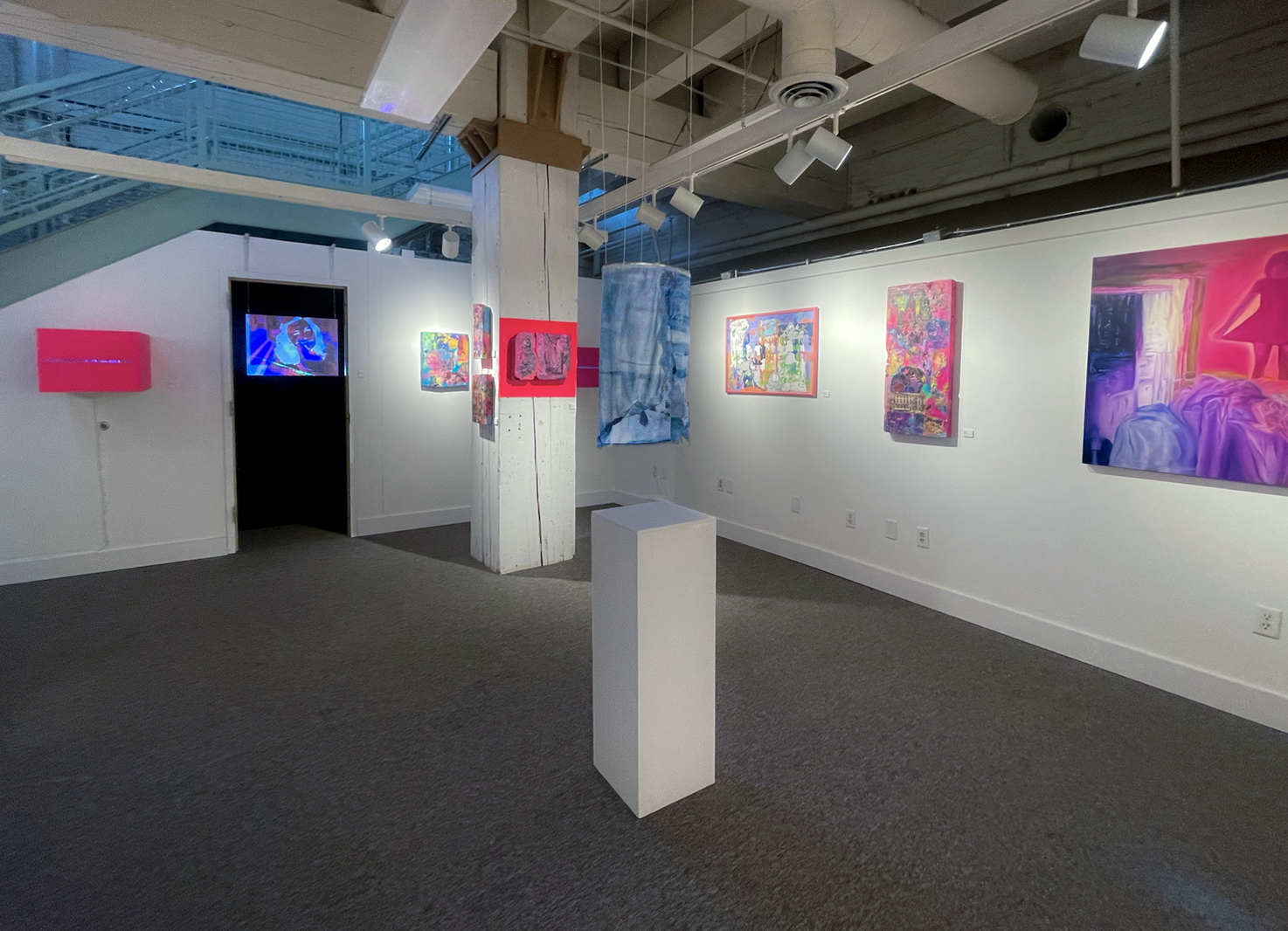 Installation view of la.dy.like at Lowertown Underground Artists Gallery. All images courtesy of the artists.
An introduction, and an ongoing collaboration
La.dy.like is the name of Bagdon and Gillespie's debut exhibition, up through July 31 at Lowertown Underground Artists Gallery. It's also the name of their ongoing collaboration, which is open for other female-identifying artists to join.
"We've had the idea to create something around the theme of being 'ladylike' for a while, and it's always been this tongue-in-cheek thing," says Bagdon. "We find that term silly and interesting at the same time. It was created by a man, and it's almost never used as a compliment. It's always used as something to be better at."
Bagdon and Gillespie began expanding their research, looking into pop culture and history for imagery around what we're told it means to be ladylike – then exploring and subverting these ideas within their work.
"We see la.dy.like as a collaboration that we'll have projects within, and other artists can join that," says Gillespie. "We wanted to title this first show with the name of the collaboration as a kind of introduction."
Bagdon and Gillespie have already seen strong interest from other artists looking to get involved. La.dy.like has two other shows on the docket, likely for next year, and is hoping to host talks and workshops in addition to exhibitions. To help with all of this, they recently applied for and received fiscal sponsorship from Springboard for the Arts. Does the momentum feel overwhelming?
"Overwhelmed is a good word, but we're also excited. We've been talking about these things for years," says Gillespie. "It's exciting to be able to put this idea into a space where others can see it and say, 'I've been thinking about that, too, let's keep it going.'"
Andrea Bagdon, Negotiations.
Moving beyond a still life
Both the introductory show and la.dy.like's goals for the future draw on the history of feminist art. Bagdon began her artistic career as a representational painter – a traditionally male-dominated medium – before beginning to explore experimental video.
"Experimental video has its own canon with feminist roots," says Bagdon. "There were many feminist video collections that would host workshops for other women, teaching them how to use equipment, and would often share authorship of their work."
Both Bagdon's paintings and video work are on display at the current exhibition, including pieces done in partnership with Gillespie. Sharing of knowledge and authorship helped inform la.dy.like's ethos, including their goal to host workshops and the fact that many pieces in this introductory show are collaborations.
The two artists' mediums of video and painting make an interesting mix, both as a show and an introduction to historic gender roles in art.
The history of experimental video, Bagdon explains, was a stark contrast to the history of Western representational painting. In paintings, women were strictly "in front of the camera," a still unmoving object at the center of the work that Bagdon describes as in some cases "hardly different in purpose than a vase of flowers."
In the show's film and painted works, la.dy.like challenges this idea of woman as a stationary still life. Female-identifying actors move around in stilted poses on video screens, placed at the back of a box and visible only through a slit, like you're peeking through blinds to view them. Images and people overlap with each other, sometimes ghostlike. Bagdon's paintings also portray multiple feminine figures.
"I wanted to portray figures that had solidarity but also ephemerality. That's where the layering comes in," says Bagdon. "Those images are there, but they're no longer a central object because there are so many of them."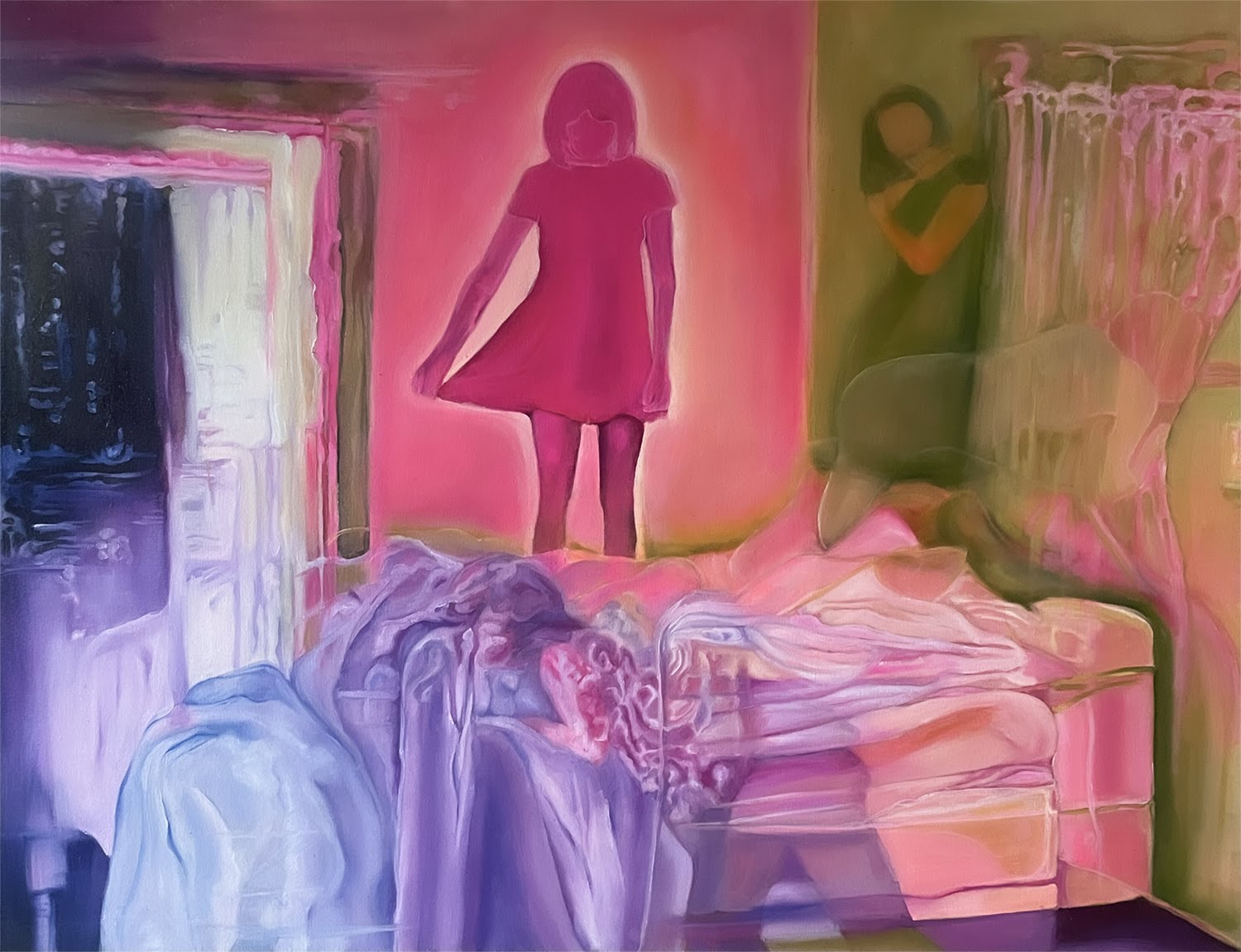 Andrea Bagdon, Echoes and Specters.
Building identity through mark-making
Gillespie's paintings are also built up through layering and sometimes obfuscation. She says she's always been most interested in the process of art, the messy mark making. What she found through her research is that even those most basic fundamentals were historically gendered – certain gestures were categorized as masculine or feminine.
"I started to question, where do I fit in with that?" says Gillespie. "When I look back at the art I'm making, that's my identity – it's what I'm making in the process. Every piece I make, down to the marks on the canvas, all of it is very personal to me."
Gillespie also does a lot of writing on her canvases, with some of the text getting covered up throughout her process. This ties in nicely with the digital elements of the exhibition, which show distorted text around the definition of "ladylike," in addition to fragmented and glitchy imagery around what society has told us it means to be ladylike.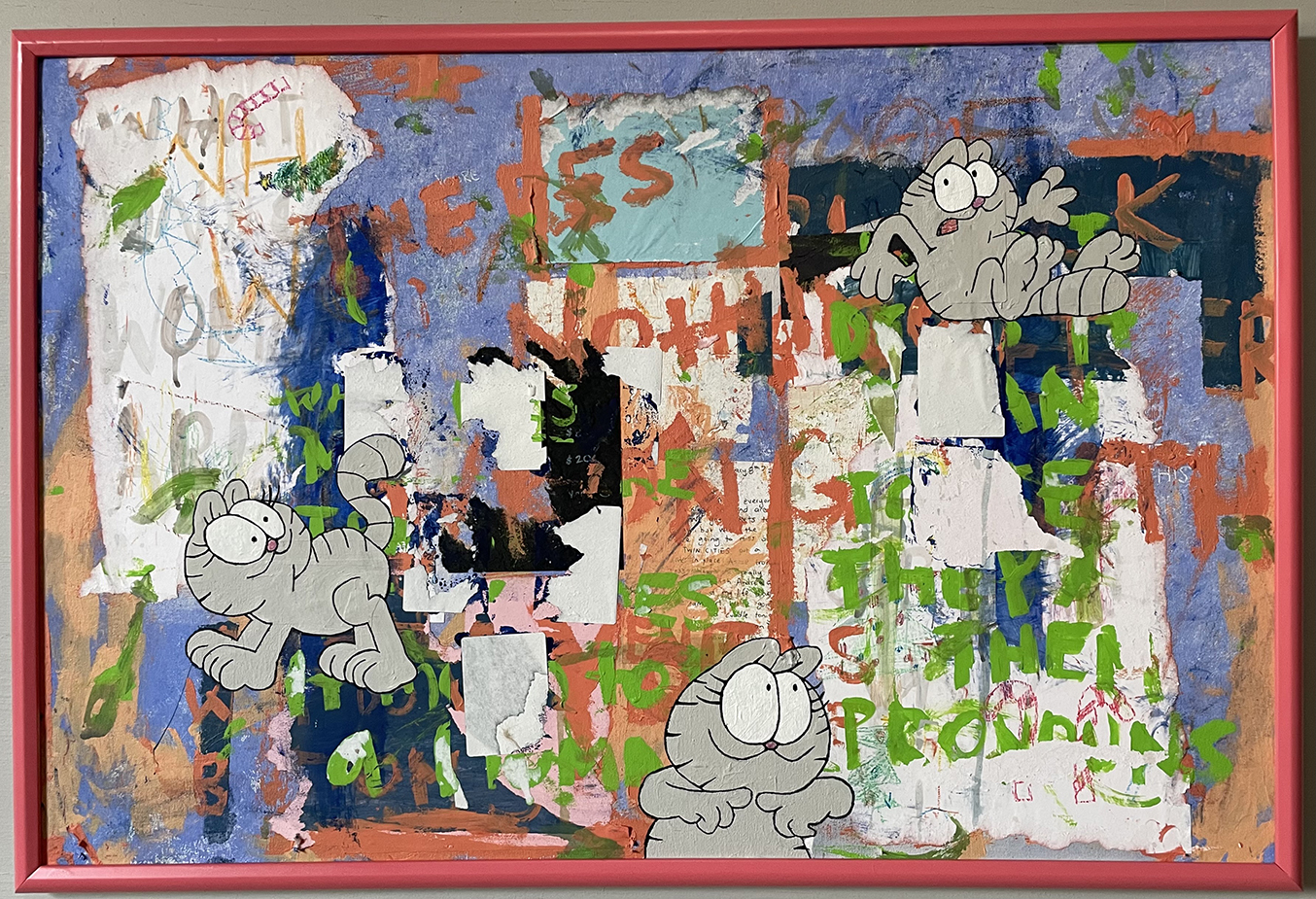 Spencer Gillespie, Cultural Nerms.
"It's supposed to make you feel disoriented and question some of these things," says Gillespie. "At the same time, we don't want to tell someone how to be. Our art is just a reflection of what we're thinking. You can pick out things to consider, but then you yourself are going to have to reflect on it."
La.dy.like is an ongoing project through which artists will be able to reflect on their own personal relationship to gender and share those thoughts with viewers, who can reflect in turn. Because, as Gillespie adds, "We're not going to tell you what it means." ◼︎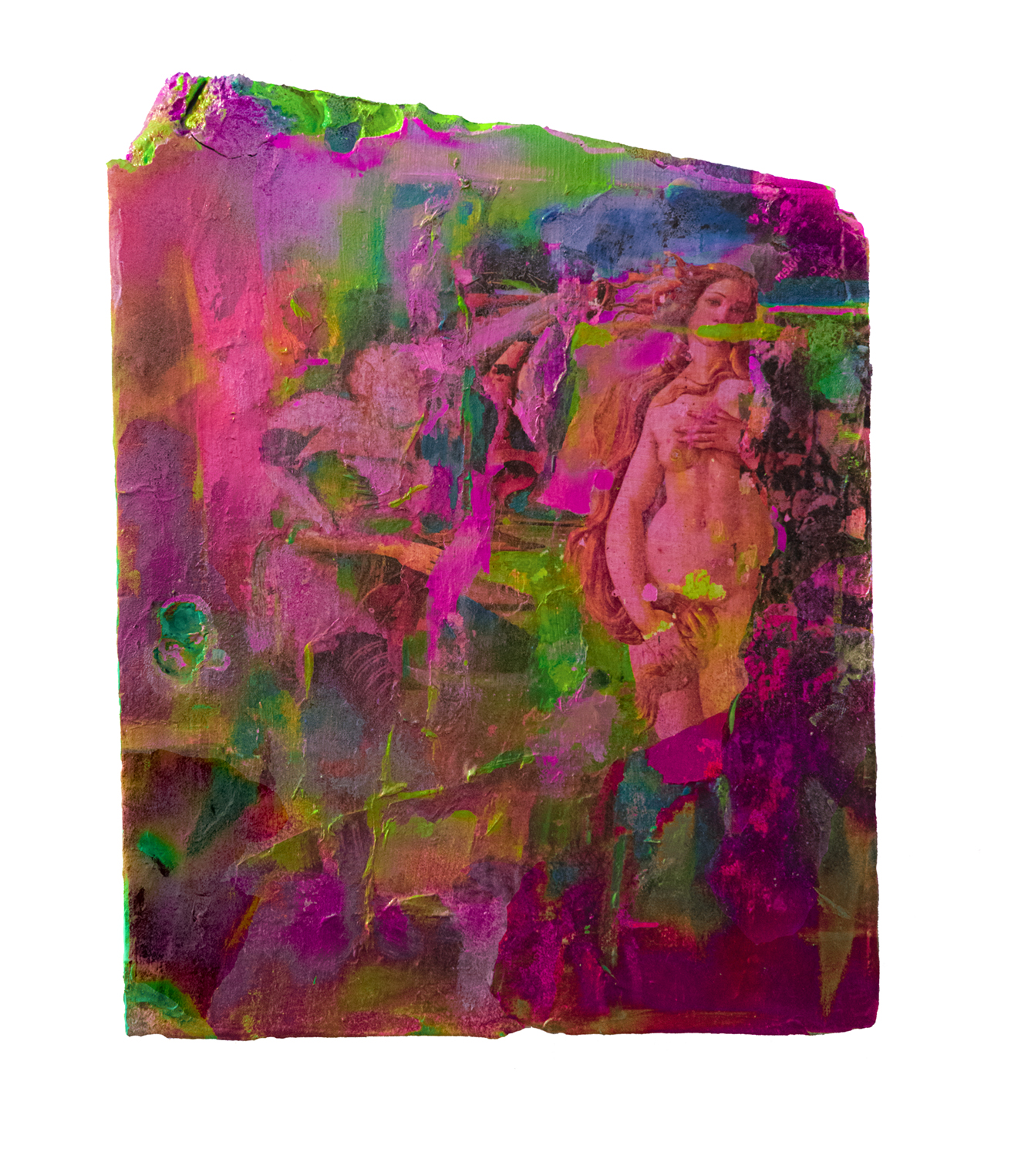 La.dy.like, Relic No. 10.
La.dy.like will have a closing reception 6 to 9 pm on Sunday, July 31, at Lowertown Underground Artists Gallery, 308 Prince Street, B100 in St. Paul. Regular gallery hours are 10 am to 2 pm, weekends only.

For more information on the collaboration and to keep up with future events, visit www.ladylikeart.com. For more information on the individual artists' work, visit www.mercurialstudio.com (Andrea Bagdon) and www.spencergillespie.com (Spencer Gillespie).
---
We can't do it
without you.
Help keep independent arts journalism alive in the Twin Cities.