Another participant in the 2021 Sketchbook Project, the painter and performance artist talks about her process, her inspiration, and what we can learn from the past
We at MPLSART are excited to unveil the results of the 2021 Sketchbook Project!
Following the success of the 2020 Sketchbook Project, which was started as a way to connect and support artists during the pandemic, this second iteration features an entirely new roster of 70 local artists, who contributed 120 pages of original work to a series of five sketchbooks that traveled around the Twin Cities throughout 2021. The sketchbooks have been compiled into a beautiful 88 page limited edition hardcover book available exclusively via a Kickstarter Presale is now live. All net-proceeds from the sale of the book will be directly distributed to the participating artists.
As we gear up for the Kickstarter, the related exhibition at Gamut Gallery in March, and the auctioning of the original sketchbooks by Revere Auctions in April, we wanted to spend the next few weeks introducing you to some of the amazing artists who contributed to the project in 2021. You can see a full list of participants and timeline of events here, but in the meantime, meet Caitlin Karolczak!
◼︎◼︎◼︎◼︎◼︎◼︎◼︎◼︎◼︎◼︎◼︎◼︎◼︎◼︎◼︎◼︎◼︎◼︎◼︎◼︎◼︎◼︎◼︎◼︎◼︎◼︎◼︎◼︎◼︎◼︎◼︎◼︎◼︎◼︎◼︎◼︎
Caitlin Karolczak (pronounced Ka•Roal•Chek, as the banner on her website explains) has been a fixture of the Northeast Minneapolis arts community for years. Born on Minnesota's Iron Range, she attended the University of MN at 16, where she received a BFA in Fine Arts and a BA in Art History with an emphasis in 19th century medical photography. After founding her studio in NE, Karolczak dove deep into traditional oil painting, developing a practice mining the morose for examples of delicate, complicated beauty, expertly rendered in meticulous, classical painting techniques. Her work has grown to include mixed media experiments as well as installation, sculpture, and performance art, often incorporating objects of biology and antiquity from her personal collection. Her contribution to the MPLSART Sketchbook Project (pictured above) distills these interests beautifully, and it got us talking about sketchbooks, social media, and what we can learn from those who have come and gone.
Russ White: Do you keep a sketchbook going as part of your normal studio practice? If so, how do you use it, and do you ever share it publicly?
Caitlin Karolczak: I don't keep a regular sketchbook. I collect a lot of symbols and imagery as well as "faces" I like from vintage photography, scans from books or auction catalogs, museum image databases etc, and keep all that in a folder on a hard drive. I often print things off for inspiration and have several three ring binders full of this random imagery. To start a painting sometimes I loosely plan it out in Photoshop and start sketching directly on panel or canvas (or whatever surface the painting or drawing will be on). I do sketches and experiments on paper and those tend to just be floating about my studio or in my flat file. I have wanted to practice keeping a sketchbook on my travels, but so far it hasn't consistently happened. I mostly end up taking photographs of things on the road and pulling inspiration from that later.
RW: Was it challenging to make work for the Sketchbook Project, at that scale and knowing it would be part of this public-facing collection?
CK: I've always been a fan of artists that keep sketchbooks. I admire that they can put their ideas down in such a way so I was excited to be a part of something alongside all these different types of artists. The most challenging part for me was knowing I had to limit my mediums, and I didn't have an unlimited supply of surface to keep re-doing it. I couldn't just keep piling paint or pastel on a surface and then remove it, etc. Oftentimes I'll have a really nice simple drawing but then I keep adding to it like a painting when it's not. So I've been trying to keep other artists in mind whose style of drawing I love with a simple yet impactful style. The drawings of Holbein, Jr. or a Japanese artist who I'm aware of because I handled some of his work in the past, Leonard Tsuguharu Foujita, came to mind.
RW: You mix a lot of media and mash up a lot of imagery in your work, mixing the macabre with the mystical, the realistic with the illustrative, the bright with the dark. How planned out is each composition when you start it, and who are these people that you're painting?
CK: In the past I didn't plan out a painting much at all. The end result could have wonderful texture and build up, but it takes forever for me to complete one. Now I work on several paintings at once. Depending on the deadline they will be maybe 50% or more planned out but I still like to work on paintings that I didn't plan much at all in-between so I can have a mental break.
I work from three different sources mostly, as far as people. Myself, antique photos I've collected, as well as imagery from a large vintage gay physique / erotic / porn collection I bought. I like the images from the 1950s the most because it often features beautiful young men in a vulnerable way, more like how women are usually shown. I don't like my subjects to be too sexy or comfortable. This collection is where I got the imagery for my sketchbook piece Desert Poppies. I used myself as a model for my piece Nightshade to be exhibited at Gamut.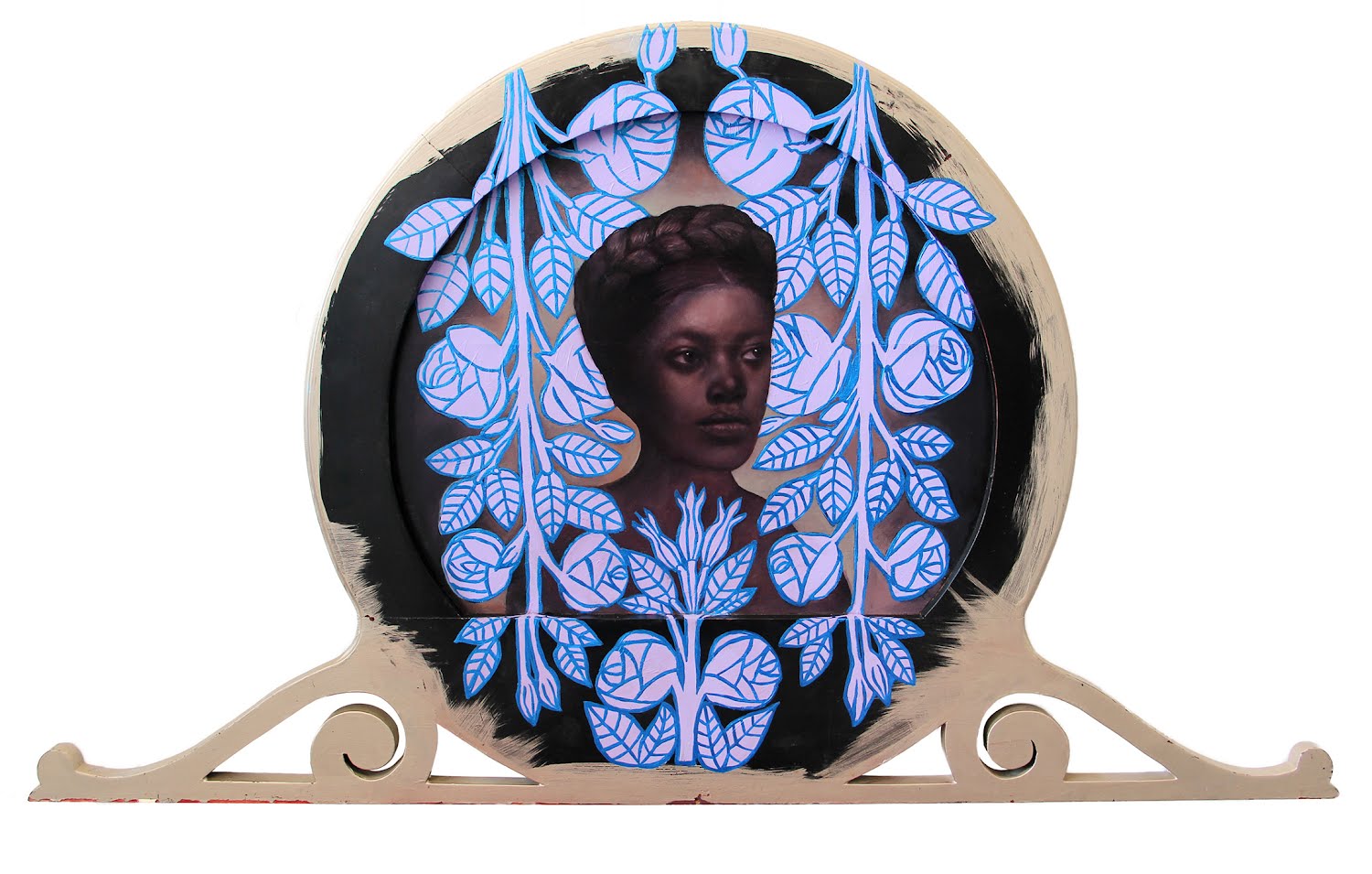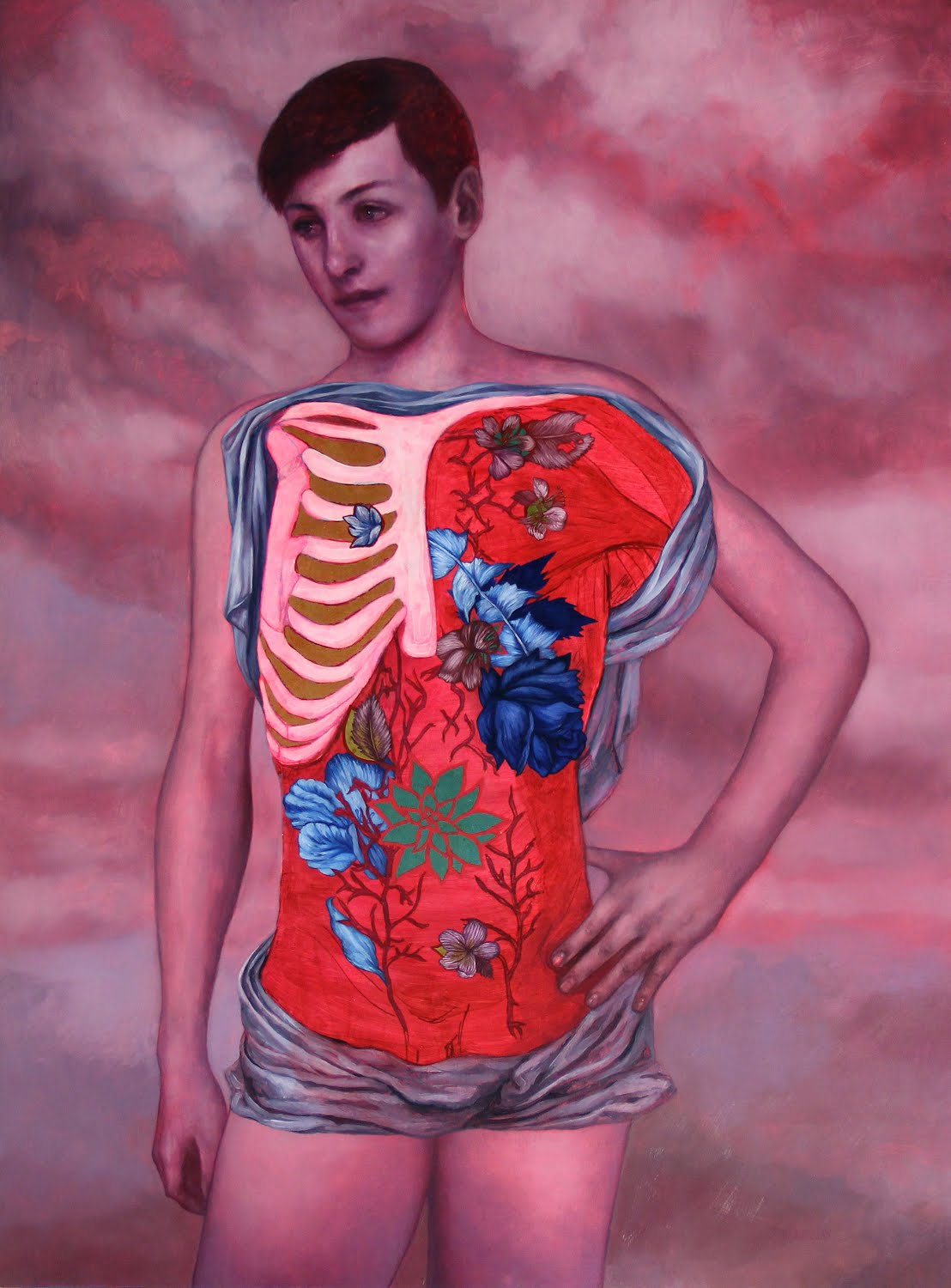 Top: Eve. Bottom: Belle Santé; oil, enamel, & dyed silver leaf on panel, 40 x 30", 2018.
RW: A lot of people have been noticing ways the pandemic has distorted their sense of time — it can feel like time has flattened out, both speeding up or slowing down. Some of that, I think, comes from the lack of resolution we have around many of the crises we face, and some of it also comes from spending so much time on social media, living in a present moment that's constantly updating. But much of your work seems to draw inspiration from the past — from 19th century postmortem portraits, ancient mythology, and antique curios, for example. Your painting process is also typically quite slow and laborious. First off, have you felt pressure lately to speed up in your output to keep pace with contemporary life? And what do you think these old ghosts of the past have to tell us about ourselves today?
CK: Yes, I've definitely felt the pressure to speed up my output. It has not helped with the production of work. I feel like the pressure different entities put on me as far as expectations to be a "successful artist" made me reject it all together, and honestly, the last few years I've purposely not touched certain work. While I've had spurts of production I decided to have some "me time" so that I could experience things beyond the pressure put on my career — something that will never fully define me.
Social media has both been wonderful and horrible. Without it I would not be a professional artist or get side work like appraisals or modeling. For the last decade I have sold almost all of my work exclusively through social media with the sporadic gallery / group show sale here and there. On the negative spectrum, it has to be fed constantly with content so you can stay on people's radar. Images of art get far less likes than "selfies with art". You have to beat the algorithm by playing this game just to be seen and then you get criticized for being vapid. Also… stalkers. I have two different accounts. One just for art and another that's art / lifestyle / everything else. I post embarrassing or crude things on the latter sometimes, and it remains the more popular account….
I love history, archeology, and science. I think imagery from the past is important because it's a deliberate record left by those that came before, a kind of Memento Mori. What was important to this person, and what did they choose to leave behind? All of us are the same at least in one respect because we all die. The knowledge of this keeps our purpose and values in check.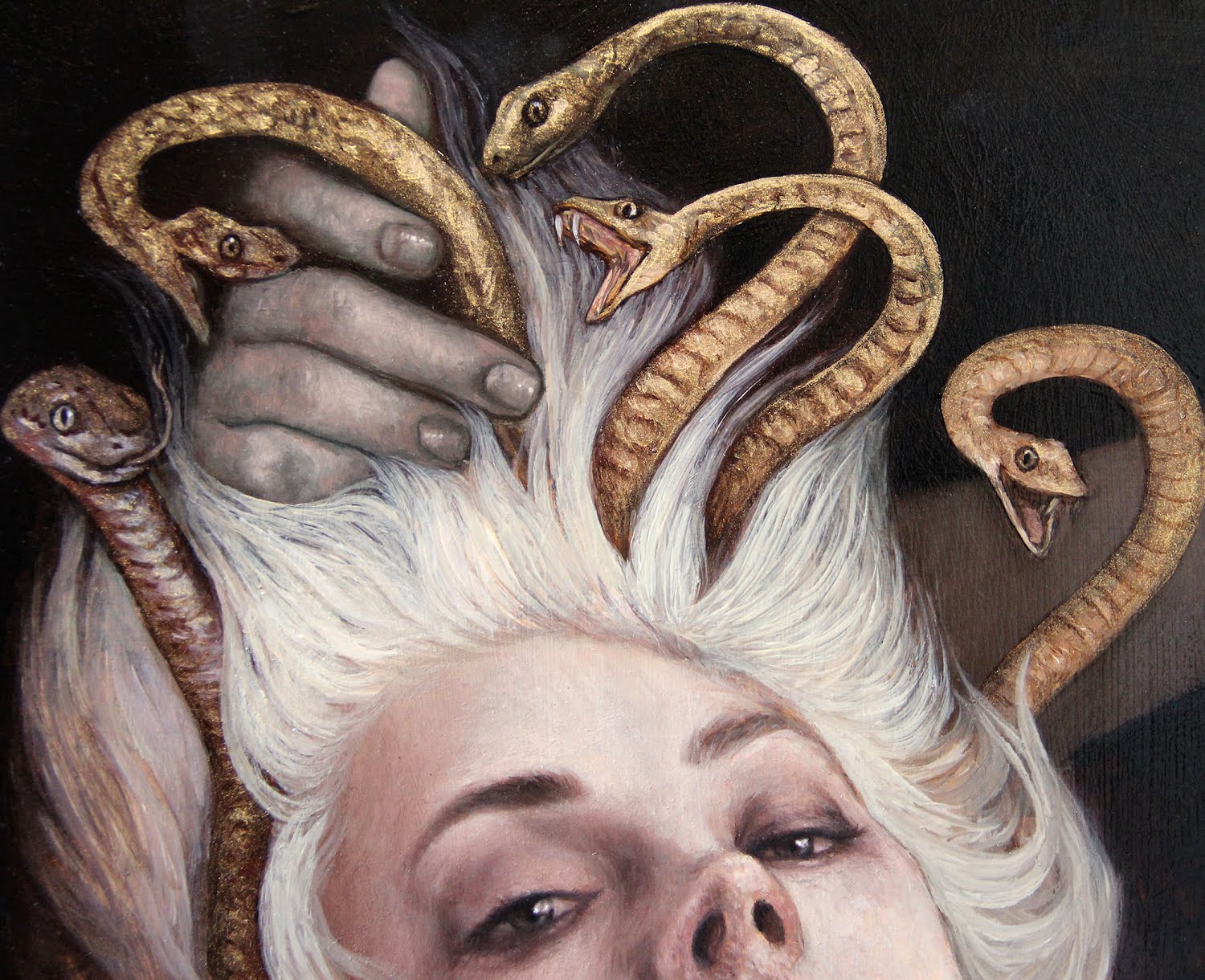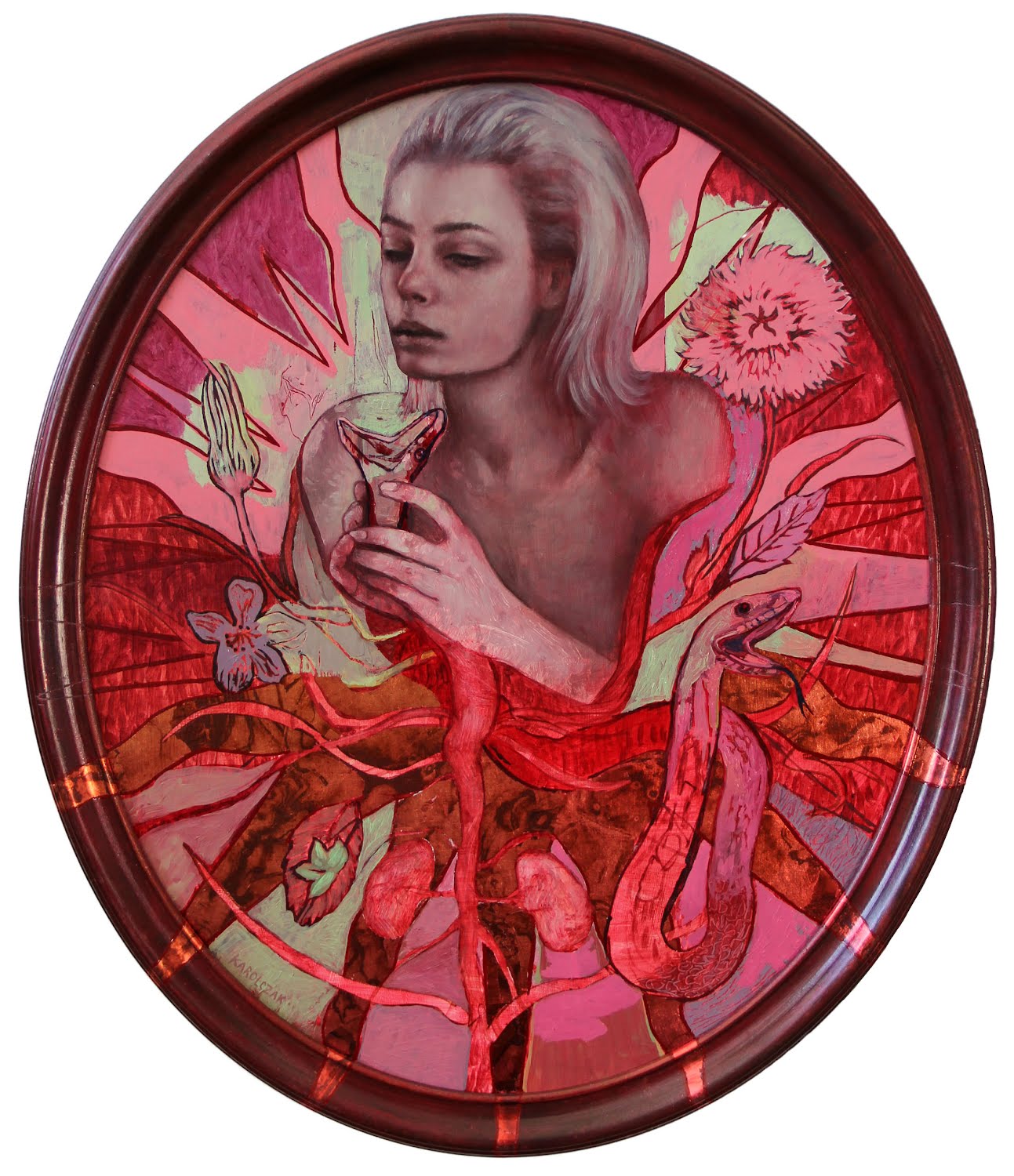 Top: Medusa (detail); oil, enamel, gold pigment, and silver leaf on panel; 30 x 26". Bottom: Armoured Bones.
RW: You've kept a studio in Northeast for years, first at Solar Arts and now at California Building, and you've also worked collaboratively as a performance artist, a model, and a curator at your studio-gallery, Storage Contemporary. Broadly speaking, what are your thoughts on the experience of being an artist in the Twin Cities?
CK: I've actually had a studio in Northeast since 2005. It was in the Bottling House for several years. Then the Solar Arts, and now I've been in the California Building for I think….. 7 years already. It's hard to believe.
There's a lot of great things about the Twin Cities — different communities and many wonderful galleries and museums. The support for artists in the form of grants is much higher than other states (if you can get one which I have not but hope to someday / will keep trying). The studio space WAS affordable but that is changing fast. I count myself as fortunate to have gotten into a space as well as having a landlord that still values artists.
It can, however, be quite isolating sometimes. If you don't fit into a specific genre or type or fad you can feel overlooked. Luckily I have a great support network here and have been able to use my Minneapolis studio as a home base while befriending like minded creatives around the world, and I'm very thankful for that.
Storage Contemporary has been on the back burner the last year but I'm looking forward to hosting at least a couple shows in 2022 with different curators & artists….
RW: What's the best way for people to follow and support your work, and do you have any shows or events coming up that we should look out for?
CK: I regularly post new work and information about my shows on both of my Facebook and Instagram accounts but one of the best ways to stay up to date is by supporting me on Patreon. I post time lapse painting videos, blog posts, events private and public, as well as send physical swag through the mail like prints, original art, and objects.
More sporadically I have a mailing list I send out to occasionally. And while I try to keep my website up to date I also have a small web store there that's updated more often.
I'm of course in the upcoming Sketchbook show at Gamut but also have some other shows. I have work currently in the Made Here Alumni Exhibition at The Best Buy Foundation Gallery inside Hennepin Theatre Trust (Hennepin Theatre Trust will be hosting an Art's Salon in celebration of the exhibition on March 22nd, 6 to 9 pm). A two person show with painter Rachel Bridge at Revolution Gallery in Buffalo, NY, which opens on March 18th. I have a solo show, Imitations of Mortality at the Satanic Temple in Salem, MA, from June – September, 2022 (opening reception is slated for June 4th). Three of my photographs are to be published in the third edition of Il corpo solitario - the self-timer in contemporary photography, published by Rubbettino Editions, Italy. And lastly I'm going to be working with Alice Riot, licensing some artwork and looking into NFTs and the metaverse to see what's possible there….
Facebook: @caitlin.karolczak
Instagram - for everything: @Caitlin_Karolczak, or for only art: @StudioSilenti
My Patreon: https://www.patreon.com/StudioSilenti
My website: studiosilenti.com
My email: StudioSilenti@gmail.com ◼︎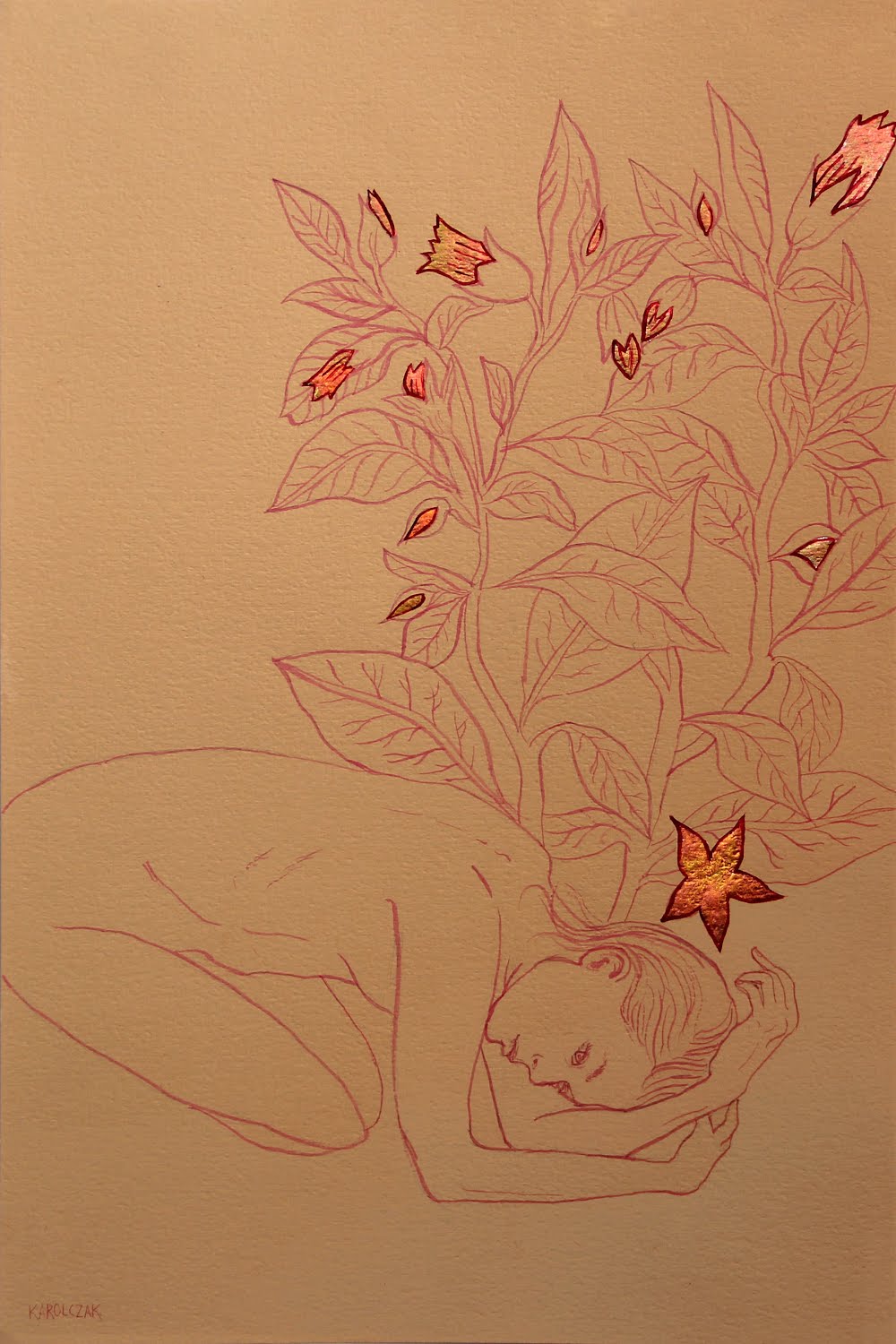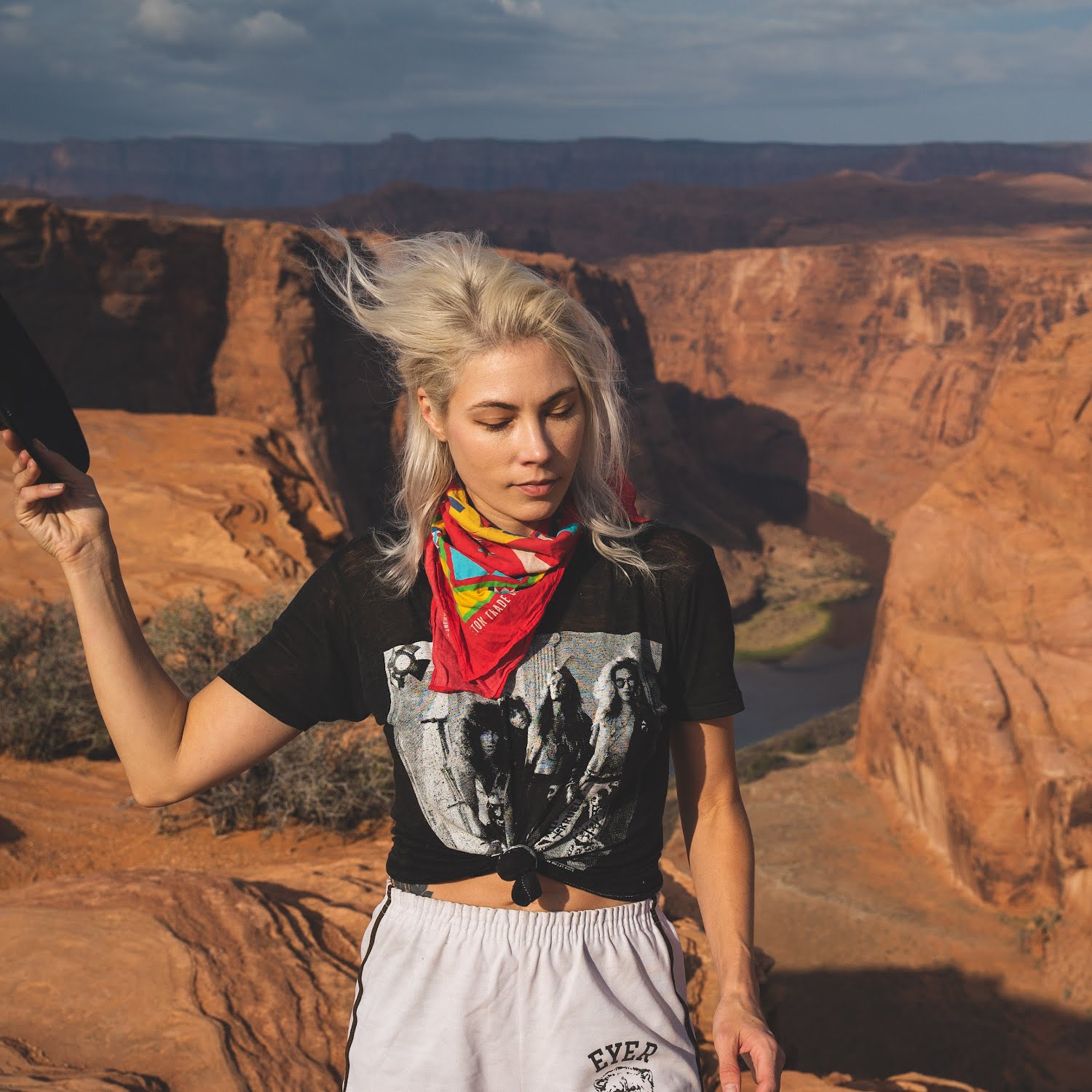 Top: Nightshade, which will be on view at Gamut Gallery starting March 18th. Bottom: the artist. All images courtesy of the artist. Banner image: Desert Poppies, created for the 2021 MPLSART Sketchbook Project.