Ahead of their upcoming Discussion Series, two of the McKnight Foundation's 2017 Artist Fellows talk to us individually about their practices.
The following is the third in a series of articles profiling the eight distinguished artists chosen as 2017 McKnight Fellows, a grant program for mid-career artists that is administered by the Minneapolis College of Art and Design. (Be sure to check out the first and second in this series as well.) These two artists will take part in the McKnight Discussion Series on April 18th, talking publicly about their work with Eugenie Tsai, the John and Barbara Vogelstein Curator of Contemporary Art at the Brooklyn Museum. Russ White caught up with the two artists individually to understand what drives their practices.
•••••••••••••••••

Photo by Rik Sferra.
The last thing David Goldes tells me as I'm leaving his studio is "Don't call me a photographer." It's a fair distinction, although a bit surprising for someone with a workspace full of cameras, light stands, and — yes — photographs. But while most of the artist's works are presented in photographic form, I think it's fair to say that Goldes is not merely a photographer: he is also a draftsman, a sculptor, an electrical engineer, and something of a mad scientist. His primary medium is electricity, usually about 15,000 volts released in short, controlled bursts into his drawings and sculptures and captured, in an instant, by his camera.
The resulting works are an amazing mixture of science experiment and magic trick, beautiful compositions that are literally crackling with energy. If you look closely you can see it: little white arcs jumping from wires to lines of graphite, or sparking through the air and lighting up wood-block structures like a strand of lights. Now more than a decade going, this body of work is one long study in wonder, a series of visual experimentations with natural phenomena that are at once both matter-of-fact and utterly mysterious. We know how an electrical current operates, how to manipulate and control it, even how it operates within our own bodies, allowing us to move, think, and feel. How, we know. But why, not so much. Goldes goes beyond questions even, looking to provide moments of awe more than anything.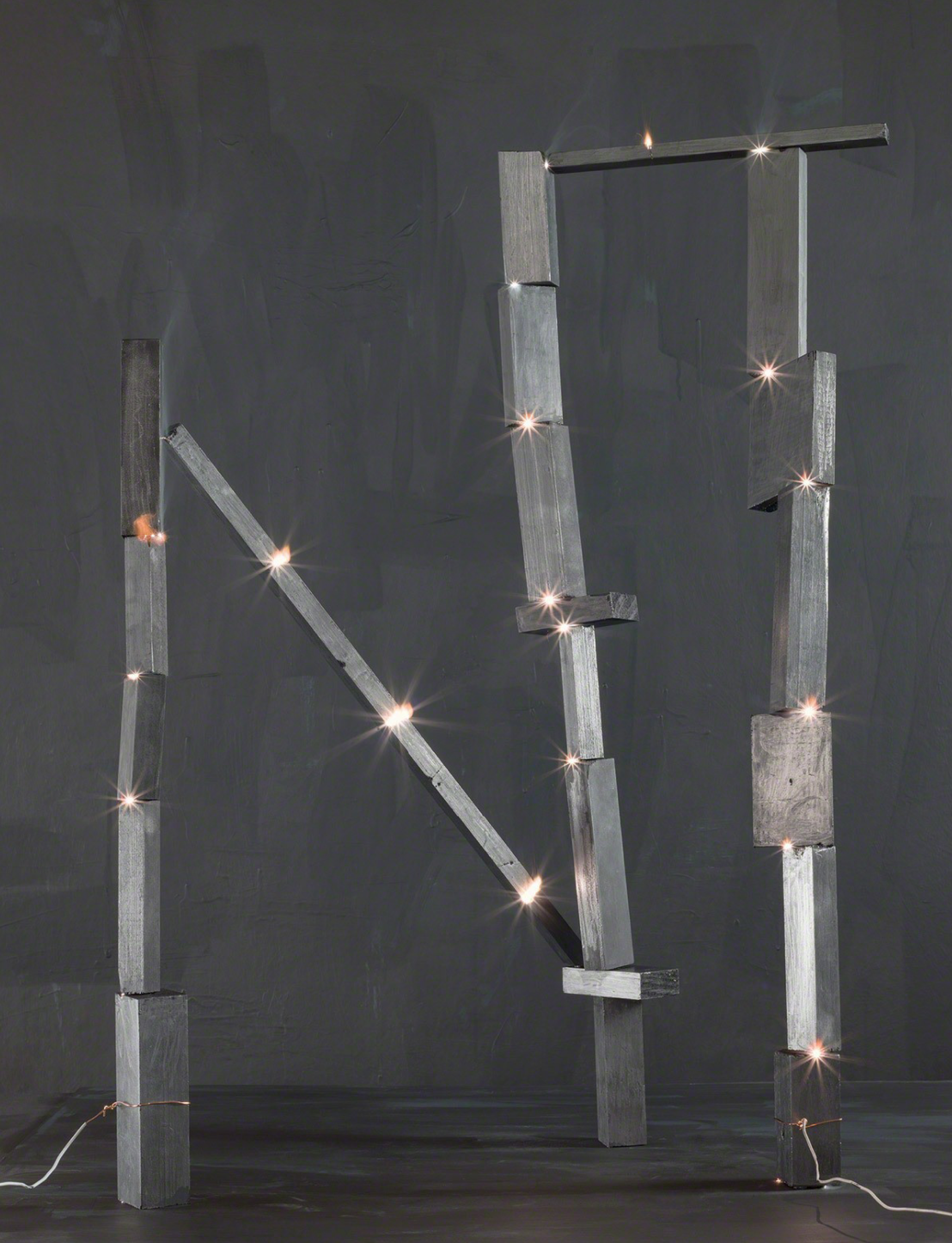 Towers, pigment print, 31 x 24", 2017.
It comes as no surprise that he has a background in science, though, no less than a master's degree in Molecular Genetics from Harvard. ("It was a PhD program that I aborted," he explains with droll self-deprecation, "so they gave me a consolation Master's.") The reason he abandoned the pursuit was not for a lack of curiosity; it was for a different kind of question. "Science asks questions that other people could answer, as opposed to art," he explains. He decided to leave those answers to the scientists and to embark on his own line of inquiry into mystery. "I'm interested not so much in explaining physical phenomena but in how they overlap and make you think about all sorts of things in your life." In a sense, the scientist spends their career looking at the trees; as an artist, Goldes is able to look more at the forest.
Nonetheless, a scientific fascination with physical mechanics remained in Goldes's practice. He has created work investigating and utilizing the physical properties of water, soap, fire, wax, and eventually electricity. Inspired by the work of ground-breaking 19th century experimentalist Michael Faraday, Goldes began recreating and photographing crude variations on early electrical experiments: a massive curved nail that has been turned into a transformer, powering a lightbulb through thin metal wires; cardboard shadowboxes with similarly charged threads dancing away from each other in repulsion; a bizarre set of little helicopter arms whirling on the razor points of X-Acto knives.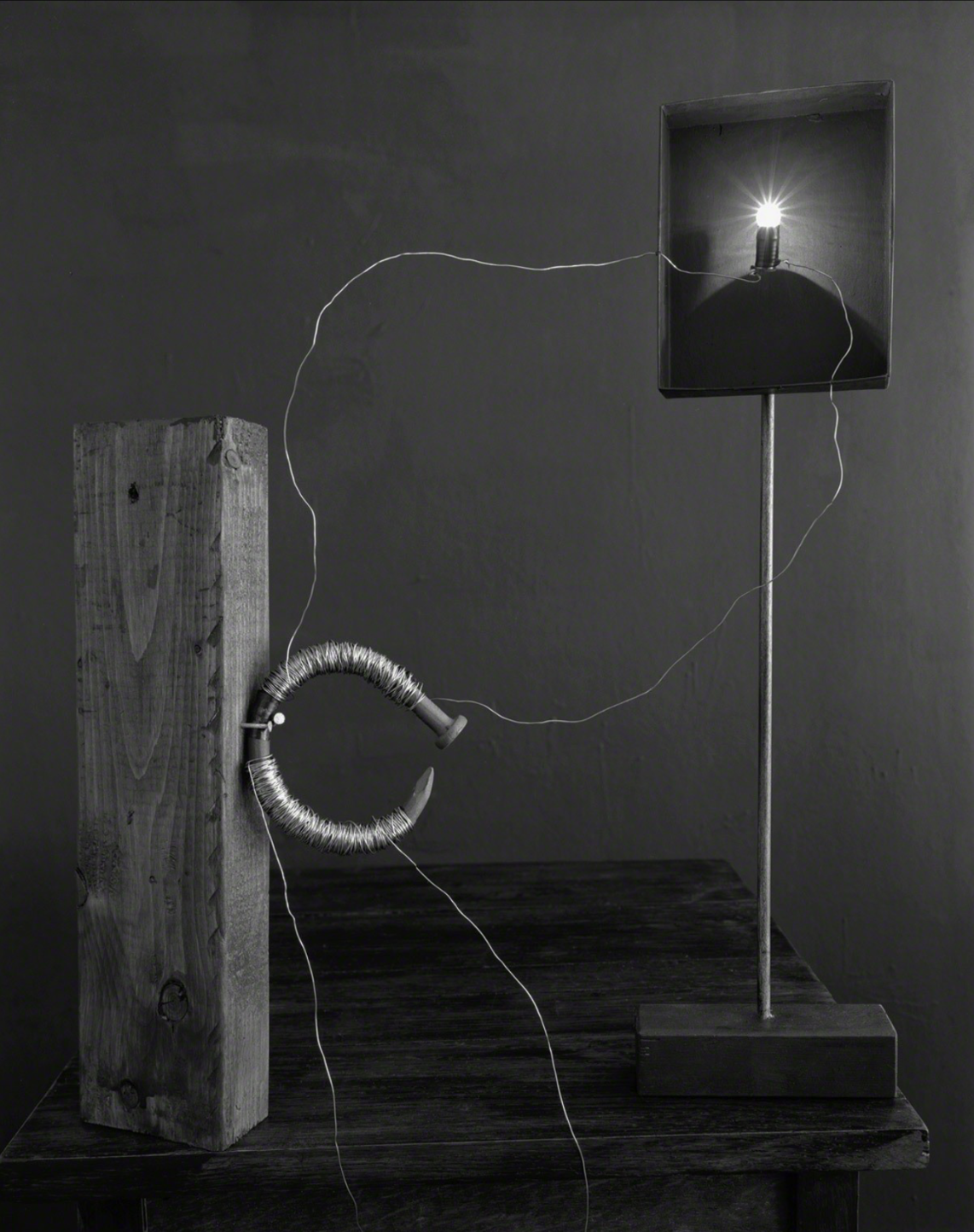 Faraday's Transformer, gelatin silver print, 22 x 17 ", 2012.
The photos are luscious in their grayscale, but the set-ups are scrappy and makeshift, funny little bits of home-made theater. The wires enter and exit at will, kinked and curling like tendrils throughout. In some photos, the wires even hold #2 pencils, a scoop of wood cut out of their sides to reveal the vein of graphite in their middle. It turns out that graphite is a perfect conductor of electricity, and Goldes suddenly saw the potential to bring science and art even closer, expressing a current not just through found objects but through line and form itself.
"It's a certain kind of phenomenon made visible, and photography affords it a kind of performance space," says Goldes of his electrical studies. "In general, photography is a medium of performance." The viewfinder creates a kind of stage, like his cardboard shadowboxes, catching the actors at play. You can feel the energy behind these pieces, the lightning he has captured in the blink of a shutter, especially once he introduces color into his set designs. In a series he calls Snake in the Garden, black wires pump power through line drawings and wireframe sculptures on top of brilliantly colored paper — black lines on red, pink, lime green, orange, aqua blue, and mustard yellow. The simpler the compositions, the more successful. These are Goldes at his most playful: tricking our eye with a bizarre trompe l'oeil, obscuring the difference between electrical wire, drawn line, and molded sculpture. They are part circus performance, part sleight of hand. "What became exciting to me is there's a clash between what you think you see and what is going on," he says. "How do we deal with that?"
The snake in this garden is the electricity, entirely hidden except for the brief arcs of white between line breaks. The pieces are so pretty, you forget the mortal danger coursing through them.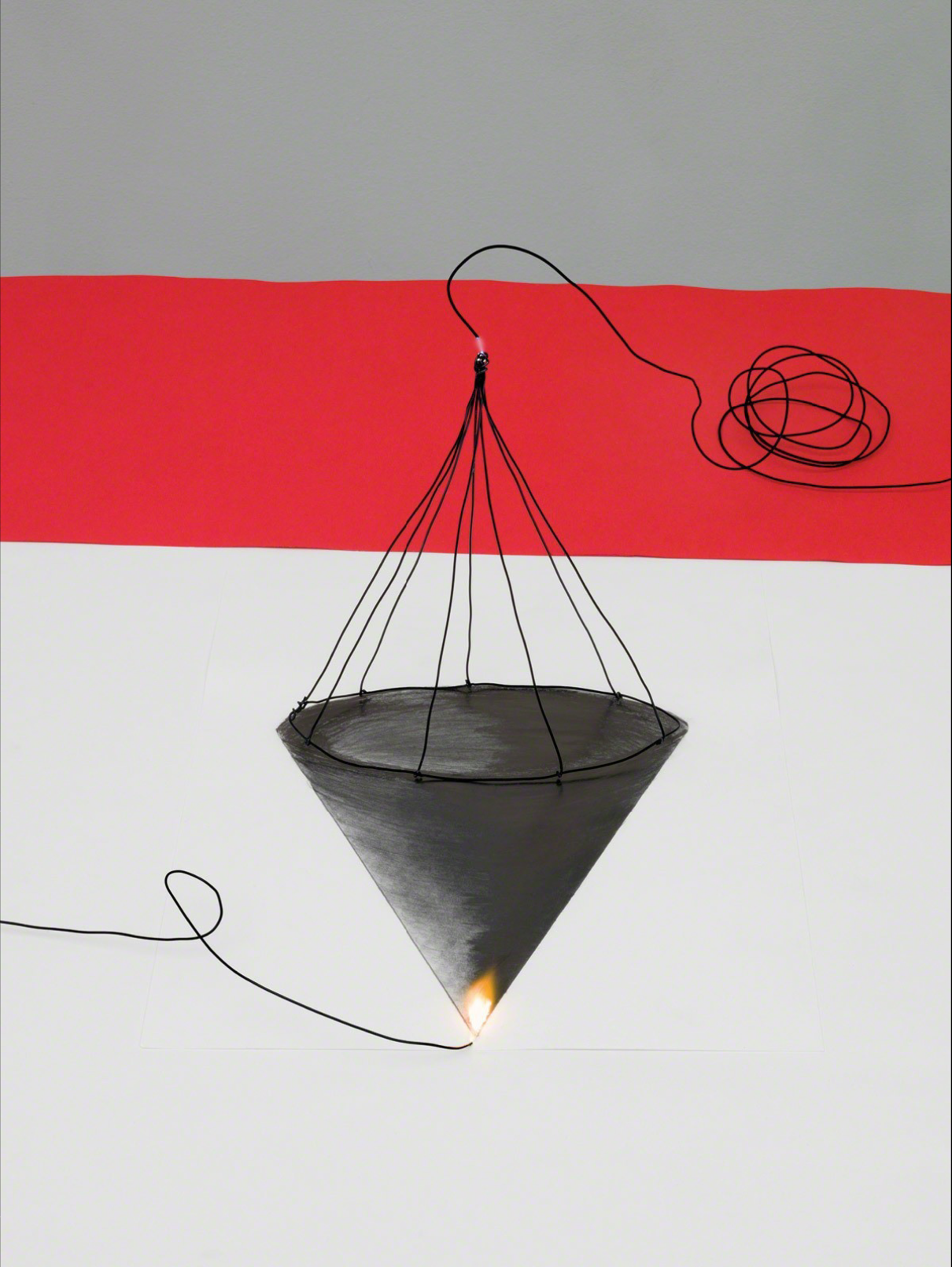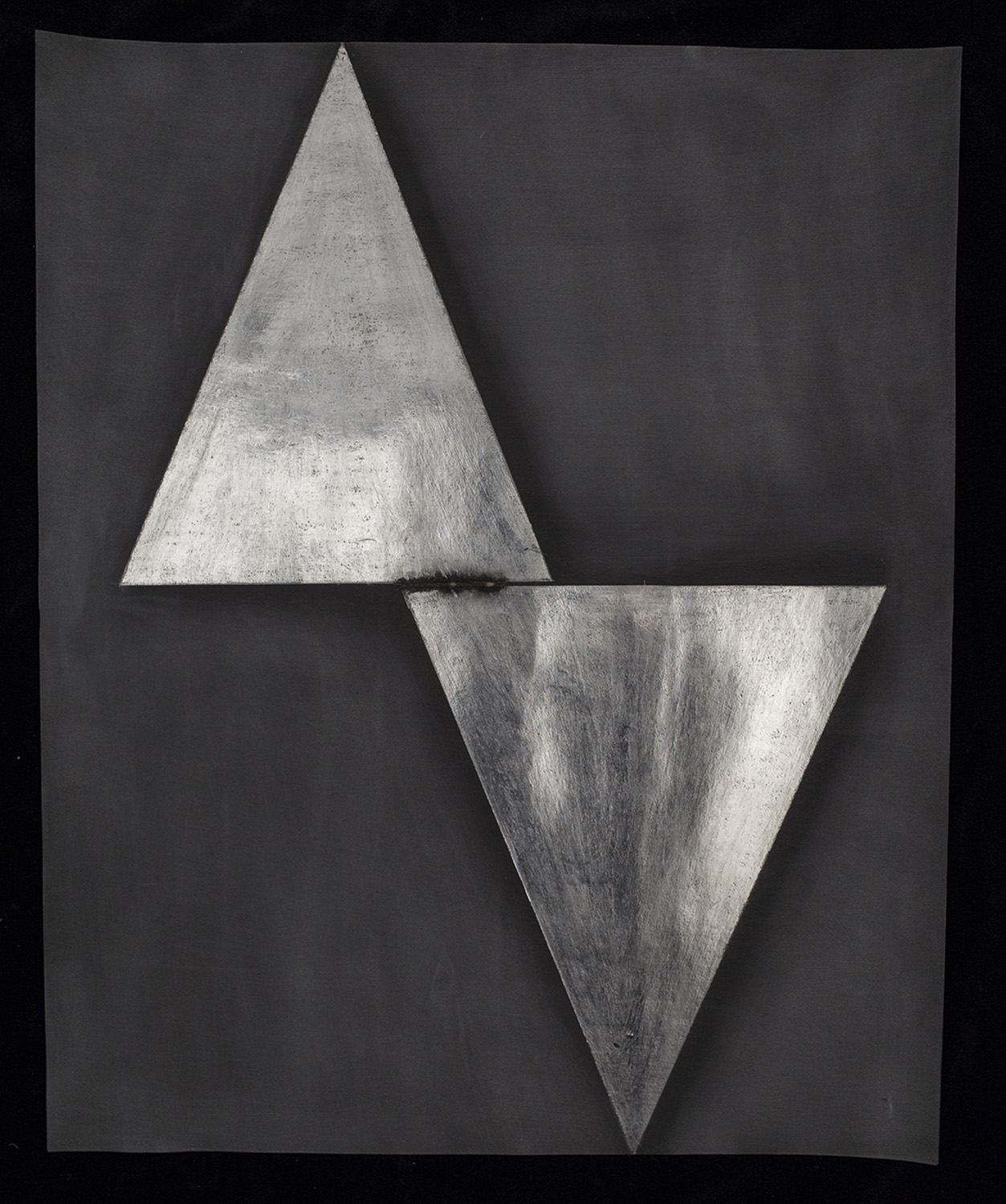 Top: Snake in the Garden #5, pigment print, 32 x 24", 2016. Bottom: Triangular Relationships #4; graphite on black gessoed paper, electrified with 15,000 volts; 17 x 14"; 2016.
At one point in our studio visit he pulls out a thin box and says "I want to show you these." He begins unpacking drawing after drawing, geometric blocks dense with luscious layers of graphite, meticulous and fastidious, each shape completely coated in sheening metallic gray. The backgrounds are all a flatter black: non-conductive gesso that's been scuffed with steel wool. And up close, there they were, scorch marks between the shapes where the current he applied had jumped across miniature chasms between the graphite layers. "I don't make photographs of these," he says, almost scornfully. Not scorn at the drawings — they seem quite precious to him — but at the prospect of photography getting in the way. These drawings are documents unto themselves, pieces he spent countless hours creating and fractions of a second nearly destroying. His photographs, he explains, "started to look very clean. I like that, on the one hand; on the other hand, the violence isn't really there. Roland Barthes's famous dictum is 'A photograph is then and there:' it's always somewhere else, and it's always in the past. I wanted to bring it here and now."
What strikes me is the volume; there are dozens of these, each of the same exacting quality. I ask him what he gets out of this repetition. "I never know what's going to happen," he replies. It's clear that he has some idea, though; after years of these experiments, Goldes is conducting electricity like a train, the current always traveling in a straight line, save when it's surprised by the occasional penny on the tracks.
His interests are elemental. These are stripped-down studies of the very mechanics of our physical world, the work as much of a philosopher as of a prankster with live wires. His work is funny but sedate, experimental but not illustrative. "I'm not making these to teach science," he says, talking about his Faraday photos. "I'm making them for you to think about wonder." At the end of our visit, he shows me some early tests of a new project, exploring how heat bends light, like the way a sidewalk shimmers on a hot summer day. Propane torches sit on a table. Pinned to the wall is a massive backdrop of headache-inducing black and white dots. The umbrella lights stand at the ready. Just another day at the lab.
•••••••••••••••••

Photo by Rik Sferra.
I had been in Terry Gydesen's basement studio for more than an hour before she showed me a photograph without a person in it. That wasn't for a lack of photos either. The walls and tables in her workspace are covered in prints, snapshots, and contact sheets: pictures of her family and friends, a series documenting her ailing parents, as well as moments from her time spent on campaign trails and concert tours over the past thirty years. Paul Wellstone, Jesse Jackson, and Jerry Brown are there, stumping or gladhanding or standing in hotel rooms. She also shot Prince (back when he was simply a symbol) on tour in Europe, tweaking levels at a mixing board, posing in front of a gothic cathedral, and chilling with a cane balanced on the shoulders of his elaborately tailored crop-top suitcoat. You know, normal Prince stuff.
It's a funky mix of history in black and white, some shots mundane, like exhausted volunteers at a campaign office, others monumental, like Jesse Jackson speaking from behind a giant, eagle-shaped pulpit during his 1988 presidential campaign. I think my favorite is of a massive podium bearing the seal of the President of the United States of America; all you can see peeking out above it is the top half of George H.W. Bush's impish little head.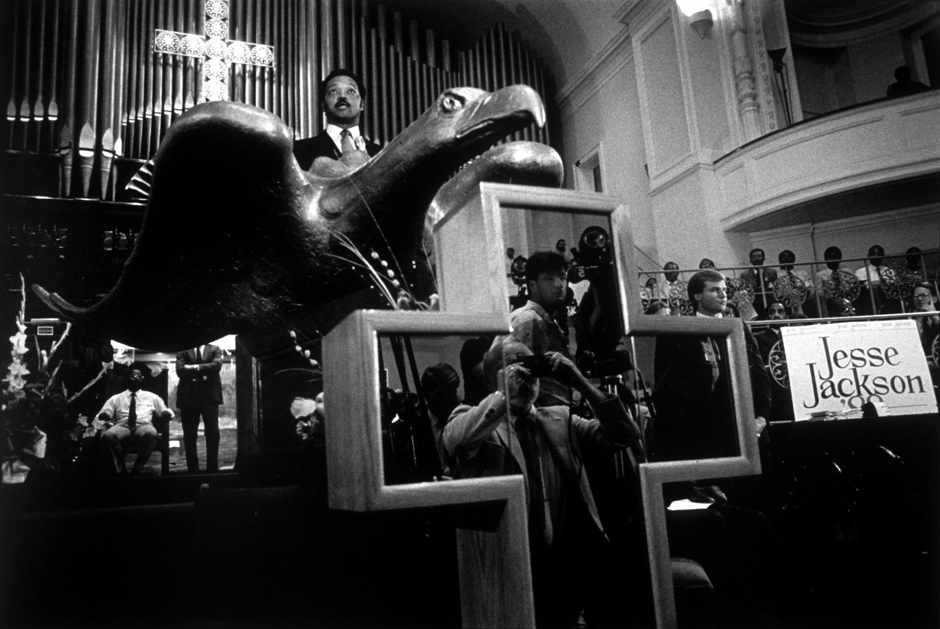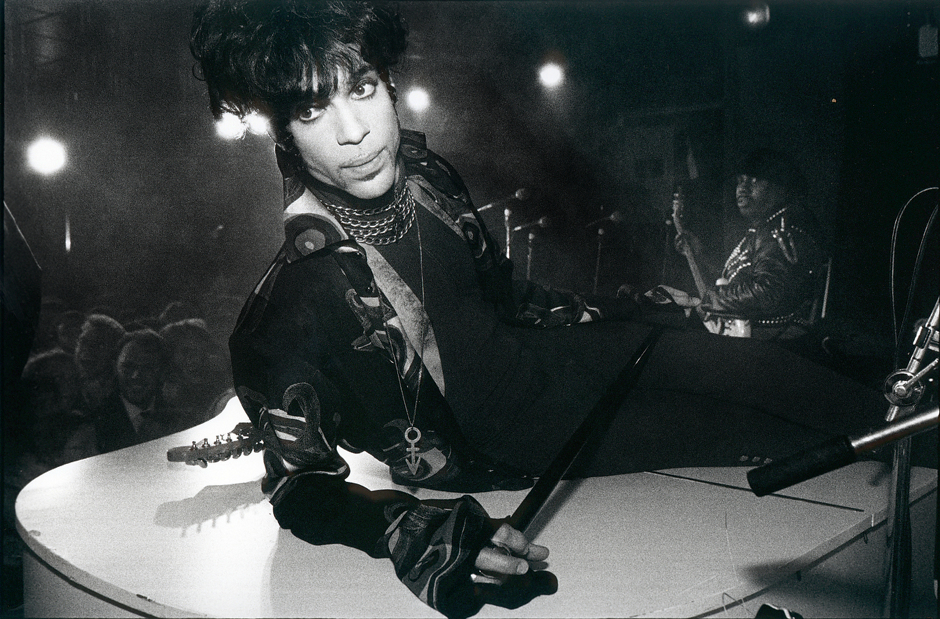 Top: Jesse Jackson at the Lampton Baptist Church, 1988. Bottom: Prince on piano during his 1993 European tour.
But this photo, the one without a person, is of a rock. A giant moss-covered boulder, in fact, on a piece of land north of Duluth that she purchased a few years back. "This is my muse. I fell in love with this rock and bought this rock, which came with 38 acres and a little run-down cabin." She shows me a few other photos, of trees and the stream on her property; tellingly, though, they had been tucked away in a box, not out on display.
"I'm a little torn about this work," she says, pausing. "Because it's like… well, it's landscape." The last word drips with disapproval. "This is what I did when I first started taking pictures was landscape, because I was afraid of taking pictures of people." But the pictures she shows me are still primarily portraits at heart: a portrait of a tree, a portrait of a rock. They are beautiful — peaceful and studied.
I realize now, though, that there was one other person-less photo in her collection: a photo of her parents' mostly empty living room. Little dents are still in the carpet from where their furniture had stood. The emptiness is still fresh, still full in fact, a stale warmth lingering in the space from a life long lived there. It is a sad picture, one of many that make up Gydesen's most recent body of work, a documentation of moving her parents out of their house and into assisted living because of her father's dementia.
Printed large and in color, they are rich with narrative, capturing tender, often difficult moments throughout the process. We see the elder Gydesens — Louie and Darlene, each leaning on their rolling walkers — standing amid their belongings, surveying a life's worth of stuff in boxes and baskets. Touring one of the facilities, the couple is seen on either side of an empty kitchen island, each giving the place their own resigned inspection. Near the end, we stand at the foot of Louie's bed, an oxygen tube snaking along his body to his nose, as Darlene adjusts his blanket and Terry's dog Radar lays at his side. On the wall behind him hangs a painted triptych, an ocean scene reminiscent of the background in an earlier photo in the series: Louie on the porch of his home in Inver Grove Heights, looking out across a lake to the adjacent golf course. It's a bittersweet facsimile that anyone who has gone through this process with their own parents or loved ones will likely recognize.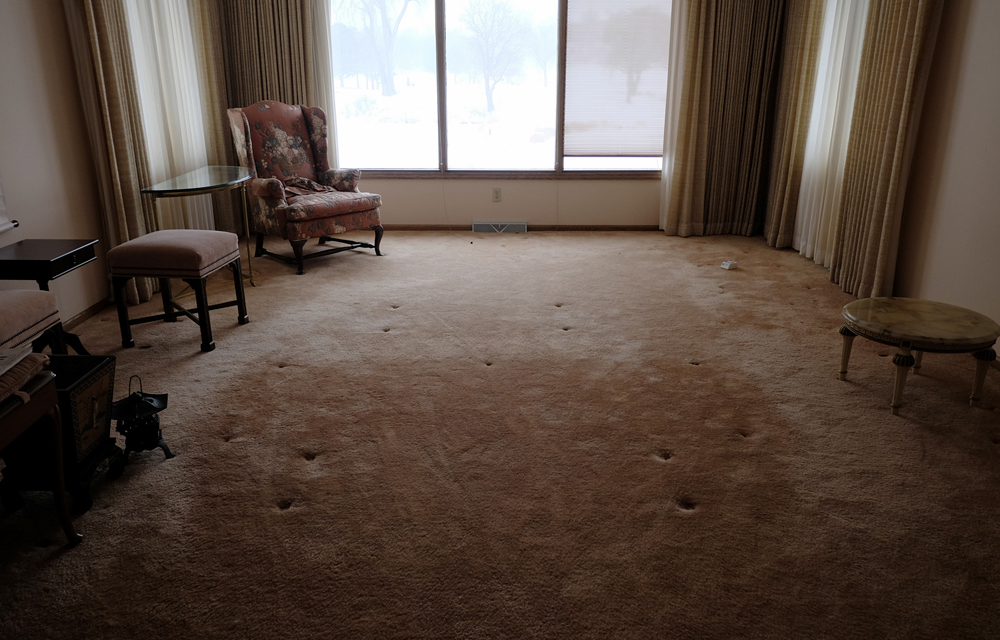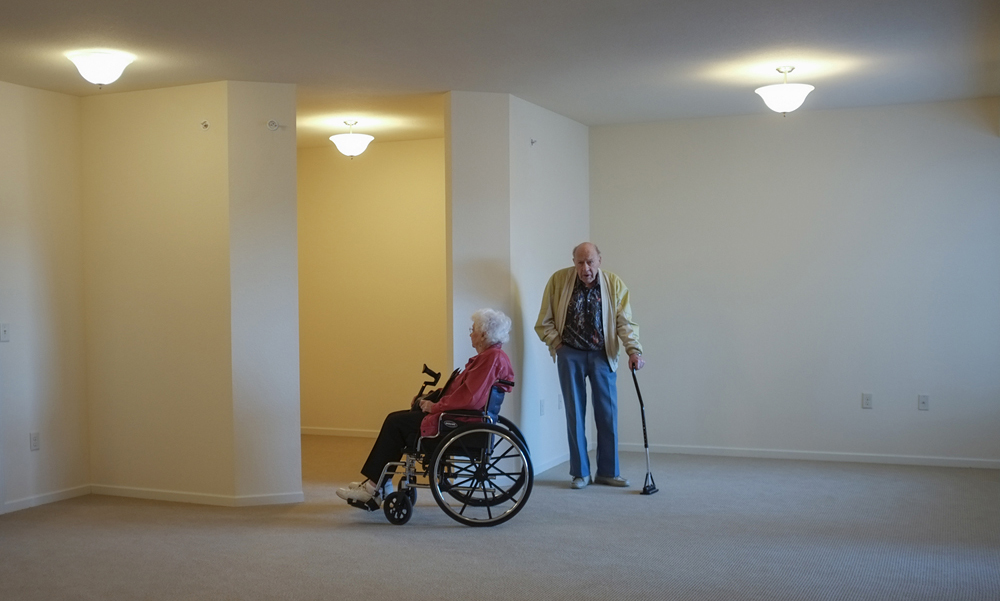 Top: My parents move to assisted living, 2013. Bottom: Tour of the Waters of Edina, 2013.
There is a frankness here, an honest appraisal of the situation, not unlike one of David Hockney's double portraits—a spare but impactful bit of storytelling. But these are brutally personal. Together they become panels in a storyboard, a photo essay showing transition, frustration, acceptance, and grieving. The compositions are often quite beautiful, the subjects standing or sitting at right angles to each other, filling space with their frets or weathering indignity with a heartbreaking calm.
It has now been four years since her father passed away, and Gydesen says the grieving really hit her hard only over the past year or so. "I knew when I was doing this work," she says, "that by focusing on documenting it, it was like a little shield to my emotions."
It's not the only series she has done around death. After starting out her career following Jesse Jackson's 1988 campaign, Gydesen soon followed fellow Minnesotan Paul Wellstone onto the campaign trail in his successful bid for the U.S. Senate. Twelve years later, just weeks ahead of his likely reelection to a third term, Wellstone was killed in a fluke plane crash along with his wife Sheila and six others. Gydesen grabbed her camera and headed for campaign headquarters to document a much more public (and politicized) grieving process.
I wonder where she sees herself in all of this: a participant, a critic, an artist? "The one thread through my work is that I've always thought of myself as a visual historian more than anything," she says, adding that receiving the McKnight has been a huge honor, especially now that the award for photography has been combined with the larger visual arts fellowship. "Documentary photography has always been the poor bastard of the art world. Is it art? I think the way I do it, it certainly is."
She's not wrong. The visual history I get to see in her studio is visceral and present, images with a keen eye for observation and a subtle point of view. It doesn't hurt that she is a self-professed political junkie. She was there in 2004 for the Howard Dean Scream. She recalls hiding her press pass from Bill Clinton's staff so she could roam free and avoid being corralled into "photo jail." She's seen and shot the great American electorate in all its weirdo perversion: the Pat Buchanan bigots, the Ross Perot chuckleheads, a Bill Clinton fan with a miniature American flag sticking out of his pants. There are some true believers mixed in there, too, particularly around Jackson and Wellstone.
It also feels a bit quaint, looking back at pictures from the '80s and '90s, given today's climate. "I'm worried about 2020," Gydesen admits. "We'll see what happens." She is considering heading down to the Iowa county fairs this summer to document the endless stream of Democratic candidates and the voters they will be trying to woo. What might keep her away, though, is her rock.
"As soon as I saw this rock, I was all done. It's just amazing." It's made of basalt, she says, lighting up after all the talk about politics; "it's like a glacial, from-the-beginning-of-time kind of rock." A bit of advice given to her by Larry Fink, a fellow photographer, has helped guide her eye over decades of work as a freelancer in the public sphere: "Just make photos for yourself." My guess is there may be many more person-less portraits to come.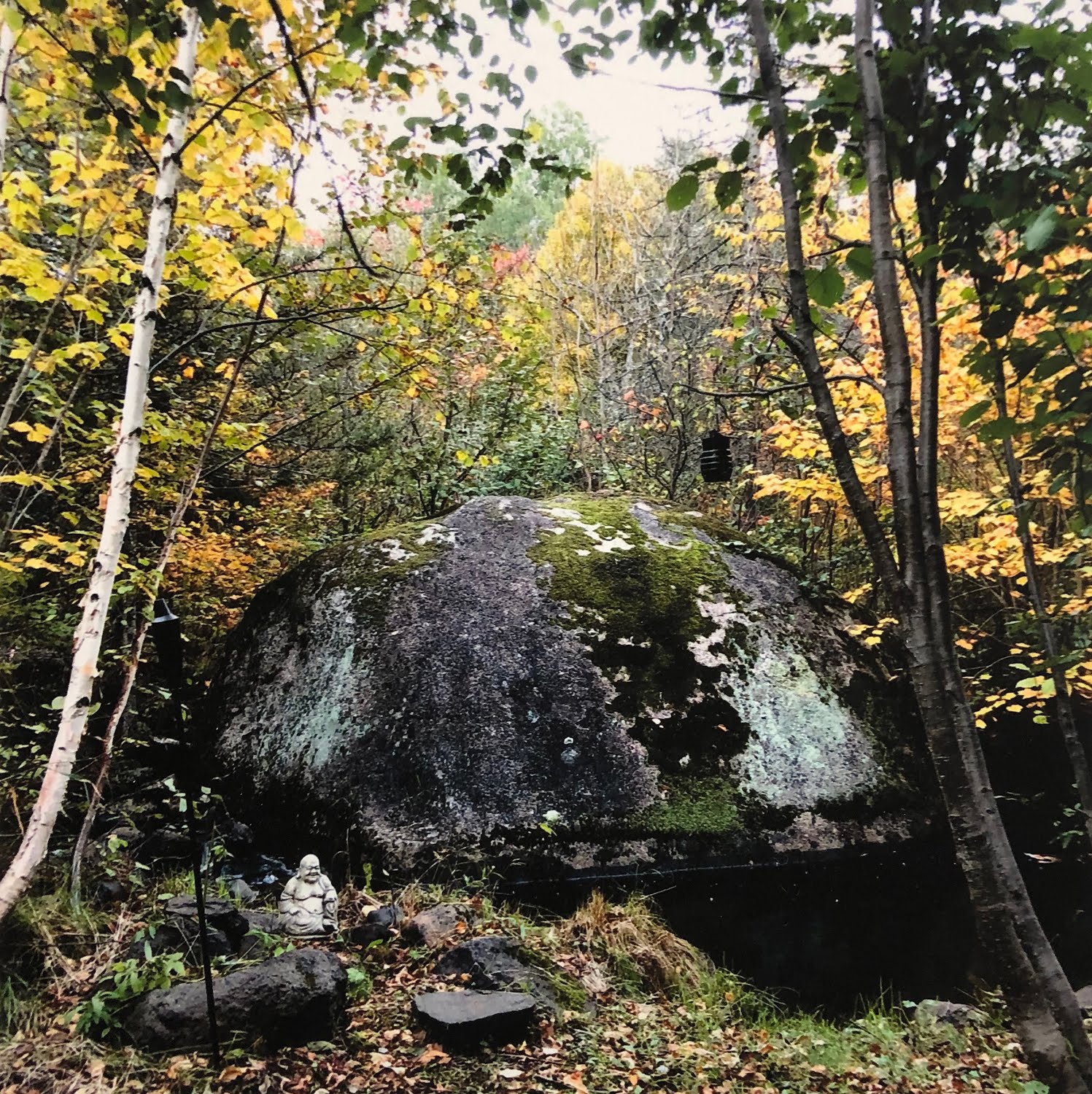 Gydesen's rock in northern Minnesota.
The conversation between these two amazing artists and visiting curator Eugenie Tsai will take place Thursday, April 18th, at 6:30pm in the Pillsbury Auditorium at Mia. For more info and to reserve tickets for this free event, visit their event page.
To see more of David Goldes's work, visit his website. One of his recent drawings, Circuit Drawings: Touching #24, is also currently on view in Growing the Collection: Drawings and Collage, 1960 to Now, at Mia through September 1, 2019.
To see more of Terry Gydesen's work, visit her website.
More information on upcoming McKnight Discussion Series events can be found at mcad.edu. All photos courtesy of the artists unless otherwise noted.