On the Move: Circa Gallery in Transition
Posted August 9th, 2018 by Sheila Regan
After a decade in the North Loop, Circa Gallery puts on one last show before moving online and into the future.
Circa Gallery is saying goodbye to its North Loop location, the latest arts space casualty in a seemingly endless rise of rental costs in Minneapolis. Currently showing Summer Salon II—their last exhibition in their current space—the gallery will go online-only temporarily until a new space is secured, according to new gallery director Krista Anderson-Larson.
The gallery is nearly 30 years old, and has spent the last 10 in the North Loop. The spacious gallery—2800 square feet—will be turned into a Cooks of Crocus Hill, which sells cookery products and offers cooking classes. Circa, meanwhile, is on the hunt for a suitable space somewhere in Minneapolis.
"We are definitely willing to downsize a little bit," Anderson-Larson says. "We've been blessed with that huge space, which has been great for the last 10 years, but we don't necessarily need that much space. We can operate smaller and more cost-effective for the gallery."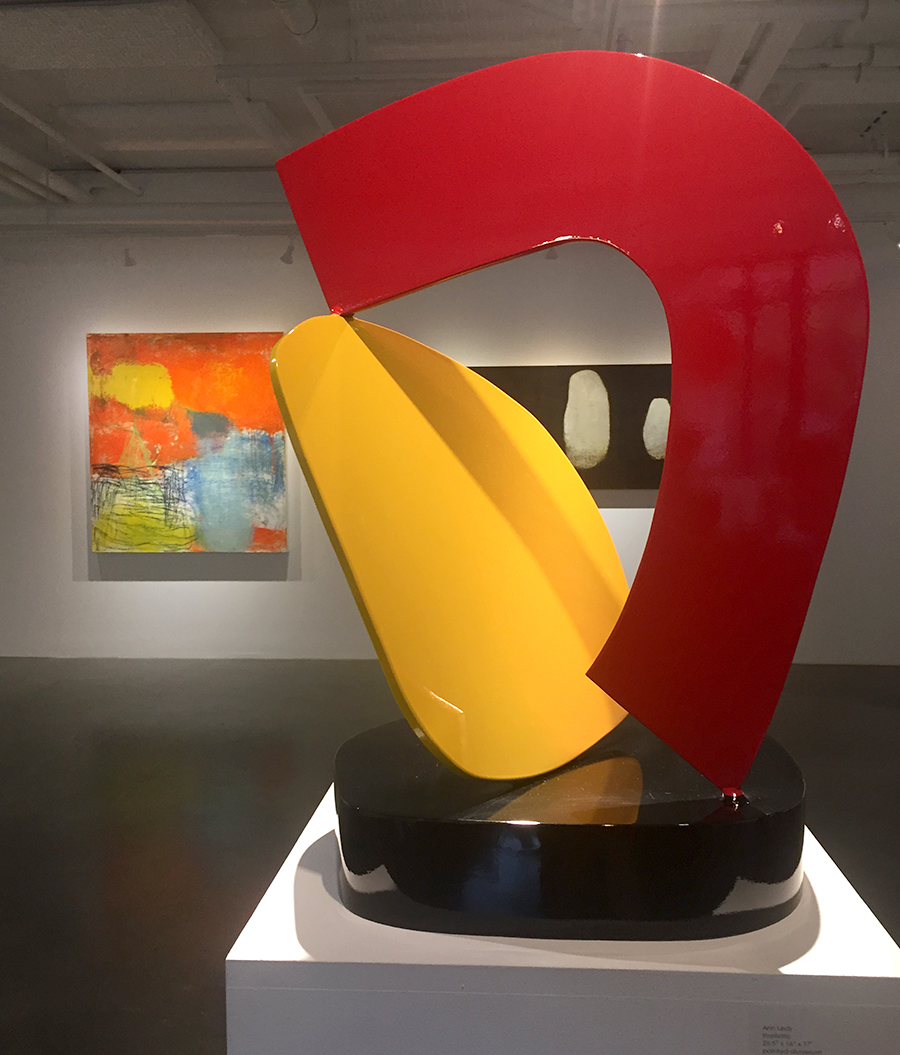 Summer Salon II installation view. Foreground: Ann Ledy, Inspiratio. Background at left: Margaret Fitzgerald, Words by the River. Photo by Sheila Regan.
Right now, Anderson-Larson said the gallery is looking at a lot of bottom retail floors of the many new condos going up. They also hope to find a commercial area, rather than a neighborhood. "We need other retail or restaurants," she says. "I know there are plenty of galleries that are in the middle of neighborhoods that are doing well in the Twin Cities, but they are more nonprofits than commercial spaces." She added that they hope to find someplace close to other galleries to have camaraderie, and also because that way visitors can come to more than one gallery in a single visit.
Anderson-Larson started as an assistant with the gallery in February of 2017. "I was in the assistant role when all this change came about with losing our lease and looking for a new space," she says. The gallery's former director, Teresa Engeltjes, was offered a job she couldn't refuse, while Anderson-Larson stepped into the director role just a few weeks ago. Since then, she's been running the day-to-day operations of the gallery solo, while keeping an eye out for suitable spaces in tandem with the gallery's owner, who prefers to keep a low profile.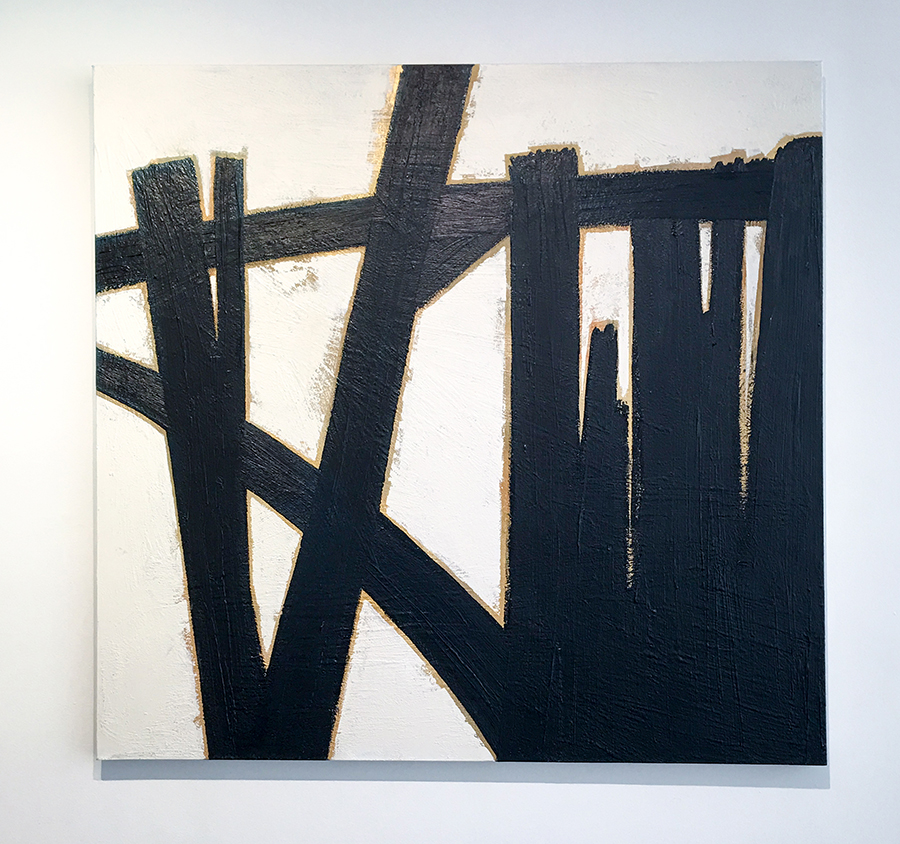 Myke Reilly, Kromera
In the mean time during this limbo period, Circa will be using artsy.net for online sales. "We are a preferred gallery with them now," Anderson-Larson says. "We have been keeping tabs on things with the market and it seems that that's the way that commercial sales are generally trending, for better or worse. We thought it would be better to get ahead on that and get it started… We're hoping it brings Circa more exposure and our artists more exposure, and brings us more to a national level."
As director, Anderson-Larson will be curator of the gallery's roster of artists but doesn't plan to make any changes any time soon. "With all the change that's been happening, it's important to keep that consistency," she says. As far as the general aesthetic of the gallery, she said there's maybe been a slight shift toward more minimalist works over the years. "I believe it's always been contemporary abstract work. I think that's our little niche in the Twin Cities, and we'll continue with that… We do have a couple of abstract landscape painters. They help ease people in who aren't so keen on abstraction."
The gallery has also ventured at times outside of its mostly commercial feel. One memorable show was Ken Steinbach's Under the Rose, which featured found object installations that ended up winning the Circa artist a national prize. Anderson-Larson says she foresees continuing to support Circa artists' experimentations within their practice. For example, Circa artist Lindsy Halleckson has been playing with ideas of sound and built environments for her paintings. "That's something we will be looking to exhibit in the future," Anderson-Larson says.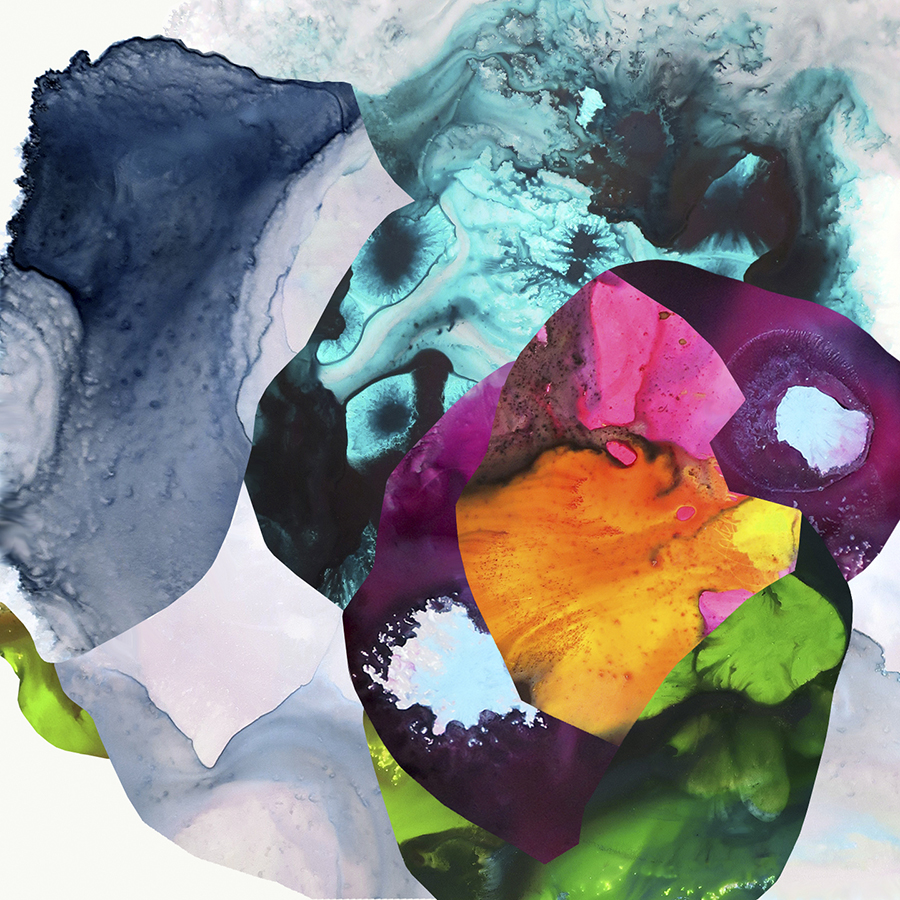 Laura Stack, Fluere 28
Artist Laura Stack, who has two pieces in Summer Salon II, said she finds the gallery's aesthetic to be distinctive in its focus on contemporary abstraction, and that being part of Circa has been a great experience. "Teresa Engeltjes invited me to join Circa two years ago," she says. "It was lovely to realize she had been following my artwork for several years and decided my abstract ink paintings were a good fit for the gallery."
In the Summer Salon II show, Stack shows an ink painting and an ink painting collage from her Fluere and Flux series. Shown together, the two pieces have an amorphous quality, with colorful forms that look something akin to biological material oozing amidst more synthetic shapes. The result is a kind of hybrid between natural and human-made that has a lot of motion and vitality.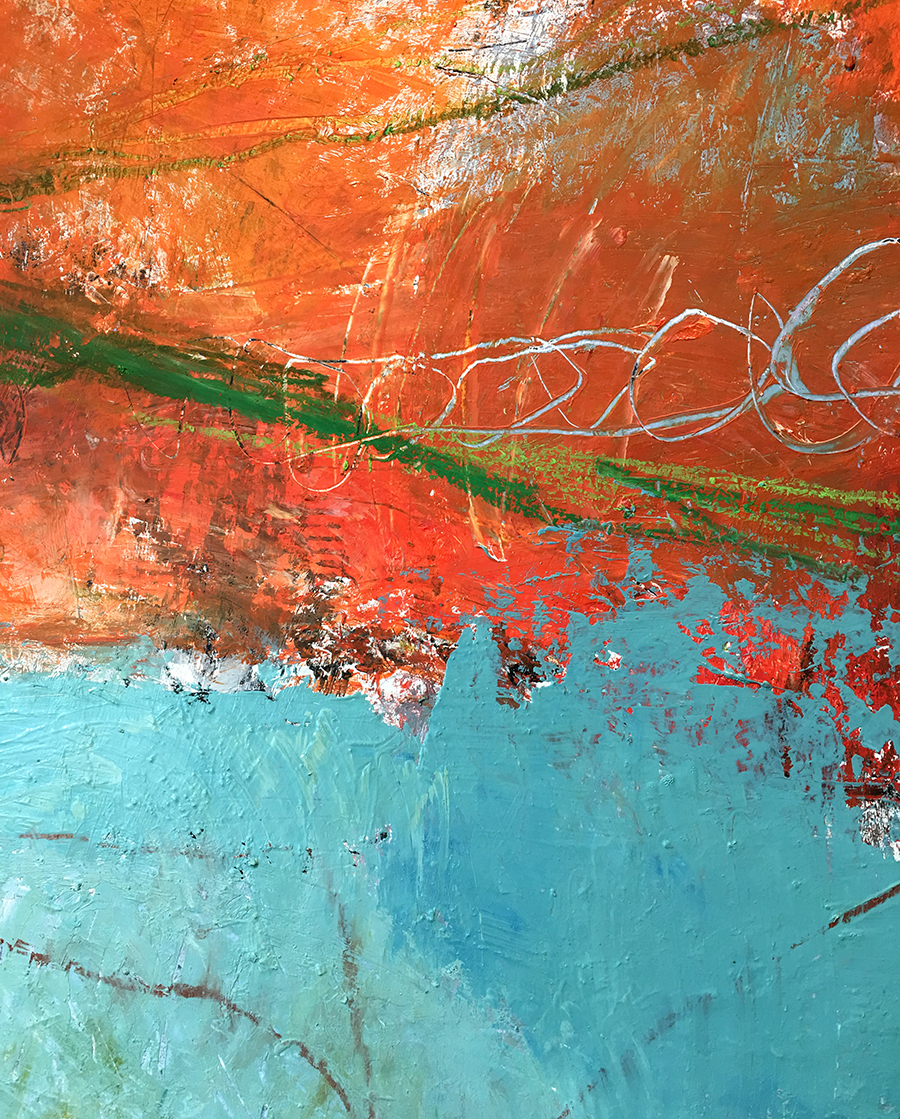 Margaret Fitzgerald, Reach (detail)
Other standout works in the show are Benjamin Cobb's glass sculptures, which have transparent peep-holes amidst the colored shapes, as well as Barbara Kreft's absorbing painting, Neighborhood, which nods to satellite imagery in its overhead view of a bustling residential area, rendered with an illustrative quality.
There are some nice pairings in the show as well. Two of Ann Ledy's bright abstract sculptures, for instance, have a nice symbiosis with Margaret Fitzgerald's scratchy, crayon-like oil pieces. Myke Reilly's sand-on-canvas Kromera also adds a ghostly element to the show, while Carmen Vetter's kiln-formed glass works offer lovely texture.
Anderson-Larson says it was mostly out of town artists for the second Summer Salon. (Summer Salon I happened earlier in the summer and was heavier on local folks, which make up about a third of Circa's artists.) "It was bittersweet of course," she says, "because it's so short and the last one in that space."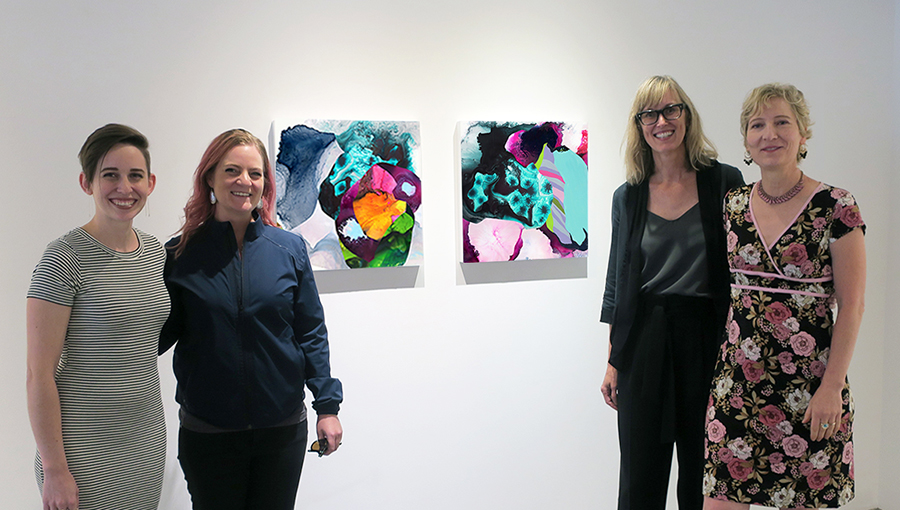 Left to right: Gallery Director Krista Anderson-Larson, Circa artist Lindsy Halleckson, former director Teresa Engeltjes, & Circa artist Laura Stack in front of Fleure 28 and Synbio 2 by Laura Stack. Photo by Sheila Regan.
Summer Salon II is on view through August 18th. Gallery hours are Tuesday – Friday 1-6pm & Saturday and Sunday 11am-4pm. For more info on Circa and their artists, visit their website.
Images courtesy Circa Gallery unless otherwise noted.
We can't do it
without you.
Help keep independent arts journalism alive in the Twin Cities.