Public art project celebrates Native past, present, and future on the lakeshore through a mural at the new Bde Maka Ska Pavilion
The words we use shape our perception – like art, language can shift how we see the world around us. When the name Bde Maka Ska was formally recognized by the state four years ago, it was an acknowledgment of the Dakota placename for a body of water that had later been renamed Lake Calhoun.
Going back to the Dakota name recognized the long history of Native people in the area, as well as the Native community living around and using the lake today. This past – and present – are celebrated through a new mural at the Bde Maka Ska Pavilion, painted by artists in this year's We Are Still Here cohort.
The mural blends Native American symbolism with representations of Native people cycling, running, and canoeing across the lake. It will be unveiled as part of the new pavilion's opening on October 20, and serves as the capstone project for this year's We Are Still Here artists.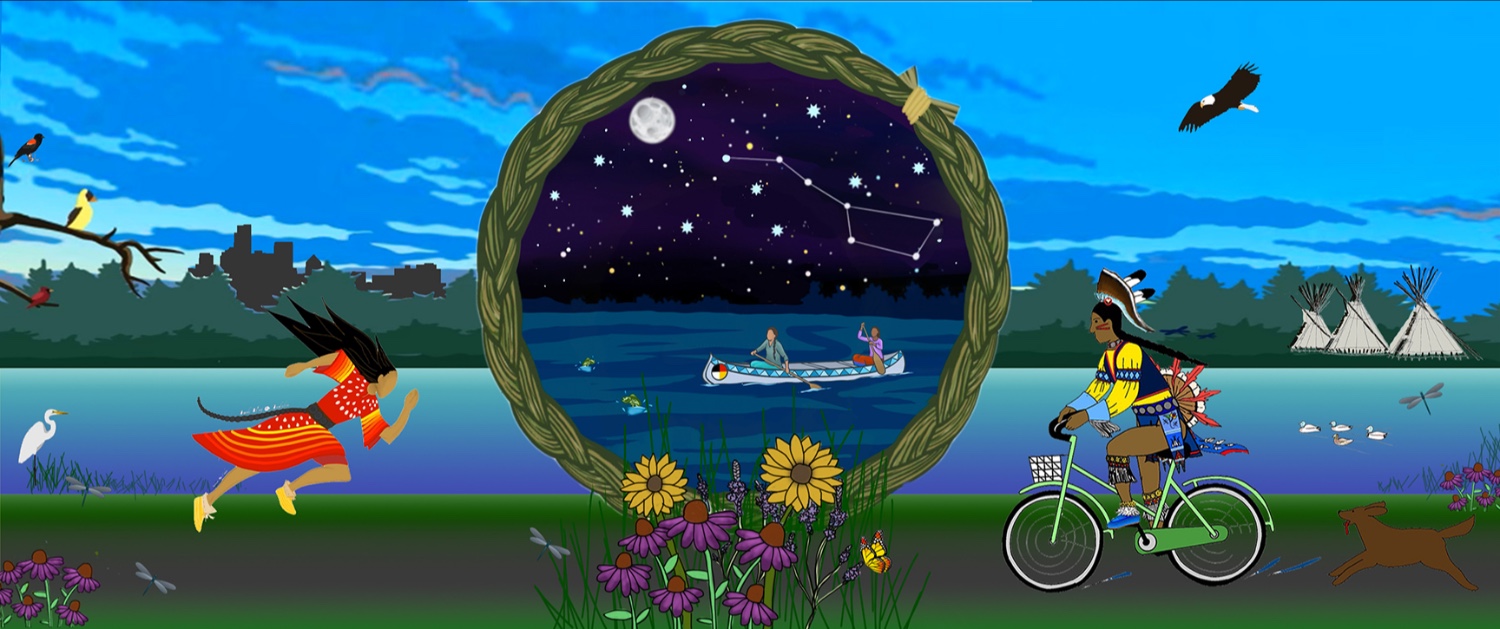 A digital mockup of the mural going in at Bde Maka Ska Pavilion, courtesy of Hennepin Theatre Trust.
What is We Are Still Here?
The We Are Still Here program began in 2020 as a partnership between the Native American Community Development Institute (NACDI) and Hennepin Theatre Trust (HTT), and is currently funded by the McKnight Foundation and through a Minnesota State Arts Board Operating Support grant, thanks to a legislative appropriation from the arts and cultural heritage fund.
Each year, a group of Native artists is selected to work with a mentor in a public art medium. The first We Are Still Here cohort worked in digital art, culminating in a series of billboards displayed in downtown Minneapolis; this year's cohort learned and practiced mural-making.
The objectives of the We Are Still Here program are interconnected: organizers view it as a way to increase Native representation in public art across the Twin Cities, particularly in the Hennepin Theatre District and the American Indian Cultural Corridor, which are connected by a network of historic Dakota trails.
It's also an opportunity for Native artists to network with each other, learn a new medium, and access professional public art opportunities, says Angela Two Stars, a public artist and director of All My Relations Arts, a program of NACDI: "We wanted to give an opportunity in creative placemaking for artists who may not typically work in these media."
Artist Summer Sky Cohen came to this year's cohort with a background in beadwork and clothing design and found a unique connection when it came to painting Native clothing in the Bde Maka Ska mural.
"I did not consider myself an artist, in all my years I had never imagined that my work in traditional 'crafts' was an art," said Cohen. "The coolest thing is being able to paint an entire person and design their clothing and regalia, using my experience in beading and sewing to guide my thoughts."
The opportunity to represent Native stories and Native truth-telling in a public forum was an inspiration for this year's artists: Cohen, Racquel Banaszak, and Jearica Fountain. Throughout the year, the three artists worked with muralist and mentor Thomasina Topbear to learn the process of mural-making, with the Bde Maka Ska mural serving as the group's capstone project.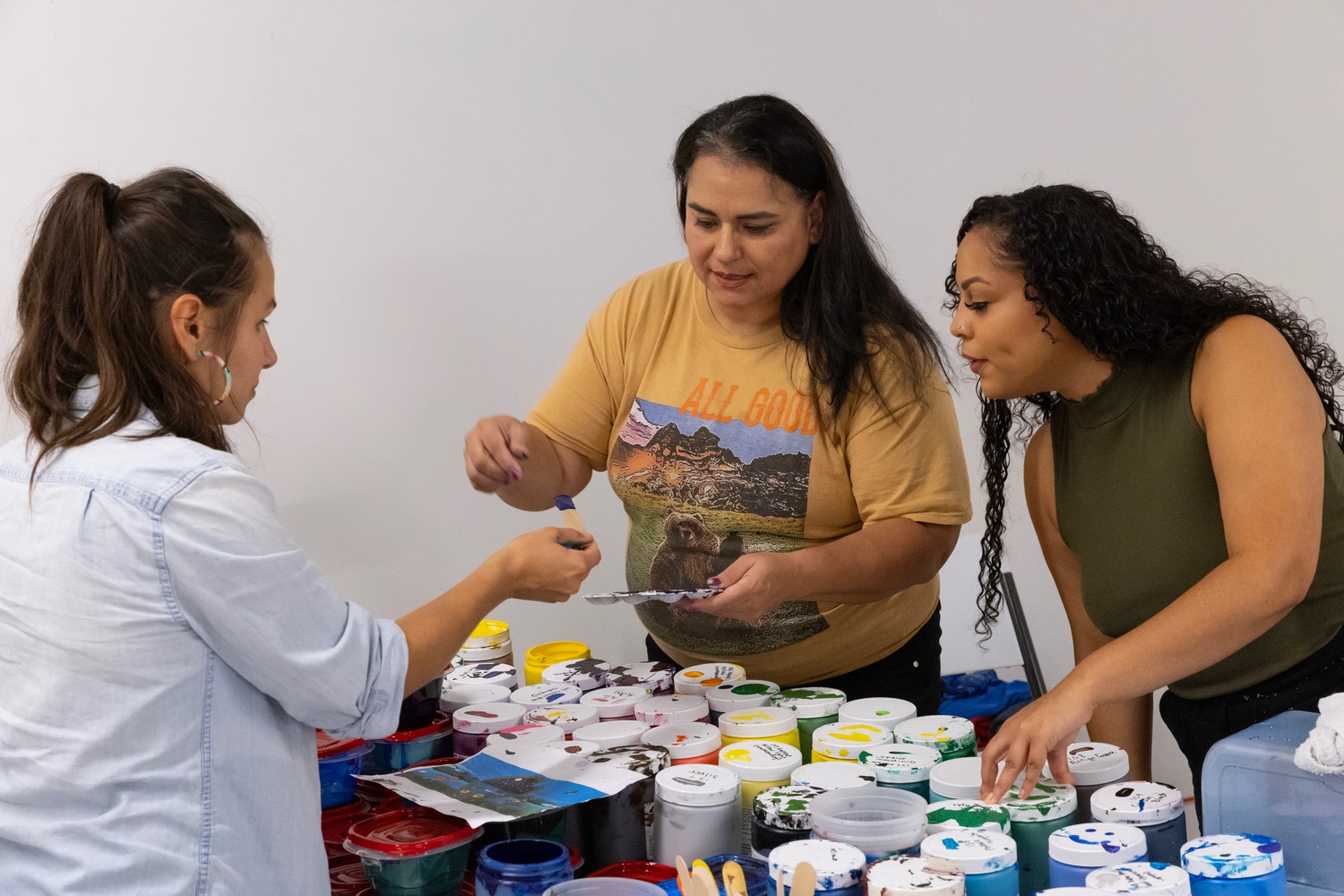 Artists Racquel Banaszak, Summer Sky Cohen, and Jearica Fountain worked collaboratively on the mural. Photo courtesy of Hennepin Theatre Trust.
Representation through art at Bde Maka Ska
When the Minneapolis Park and Recreation Board approached the We Are Still Here collaborative about partnering on the new Bde Maka Ska Pavilion mural, it made sense: this year's artists were learning the craft of mural-making, and Bde Maka Ska sits just off of Hennepin Avenue. It's a site with historic and contemporary meaning for the Native community and a gathering place for people from across the Twin Cities.
On a personal level, it was meaningful for Two Stars and the artists — who represent many different Native communities — to continue creative placemaking efforts at Bde Maka Ska.
"We move through these spaces and never see ourselves or our language represented," said Banaszak. "It's important for non-Native people to recognize that we're still here, and for our community and our children growing up on Native land to see themselves represented and understand that they matter."
The artists sought community feedback before beginning the mural, listening to what Native people in Minneapolis wanted to see represented on the pavilion. Wellness was a recurring theme, said Topbear, including representation of how Native people use the lake for exercise and recreation.
"Visibility — that was the main thing that people said, in different ways. When you're walking around Bde Maka Ska, you're on Native land," said Fountain. "We want our history to be told, but we also want to be acknowledged as still being here in the present."
The mural's imagery has nods to both traditional Native symbolism and recognizable glimpses of contemporary life in Minneapolis. A man in traditional regalia rides a lime-green rental bike, women run and canoe, while a goldfinch — symbolic keeper of the Ojibwe language — looks on.
"Many are unaware of the real live Indians running around, living our traditional lives in a contemporary society," said Cohen. "We run, but you wouldn't know unless we wore our traditional regalia that we were there. We ride bikes, but you would never know that that brown person riding a bike participates in traditional gatherings as well."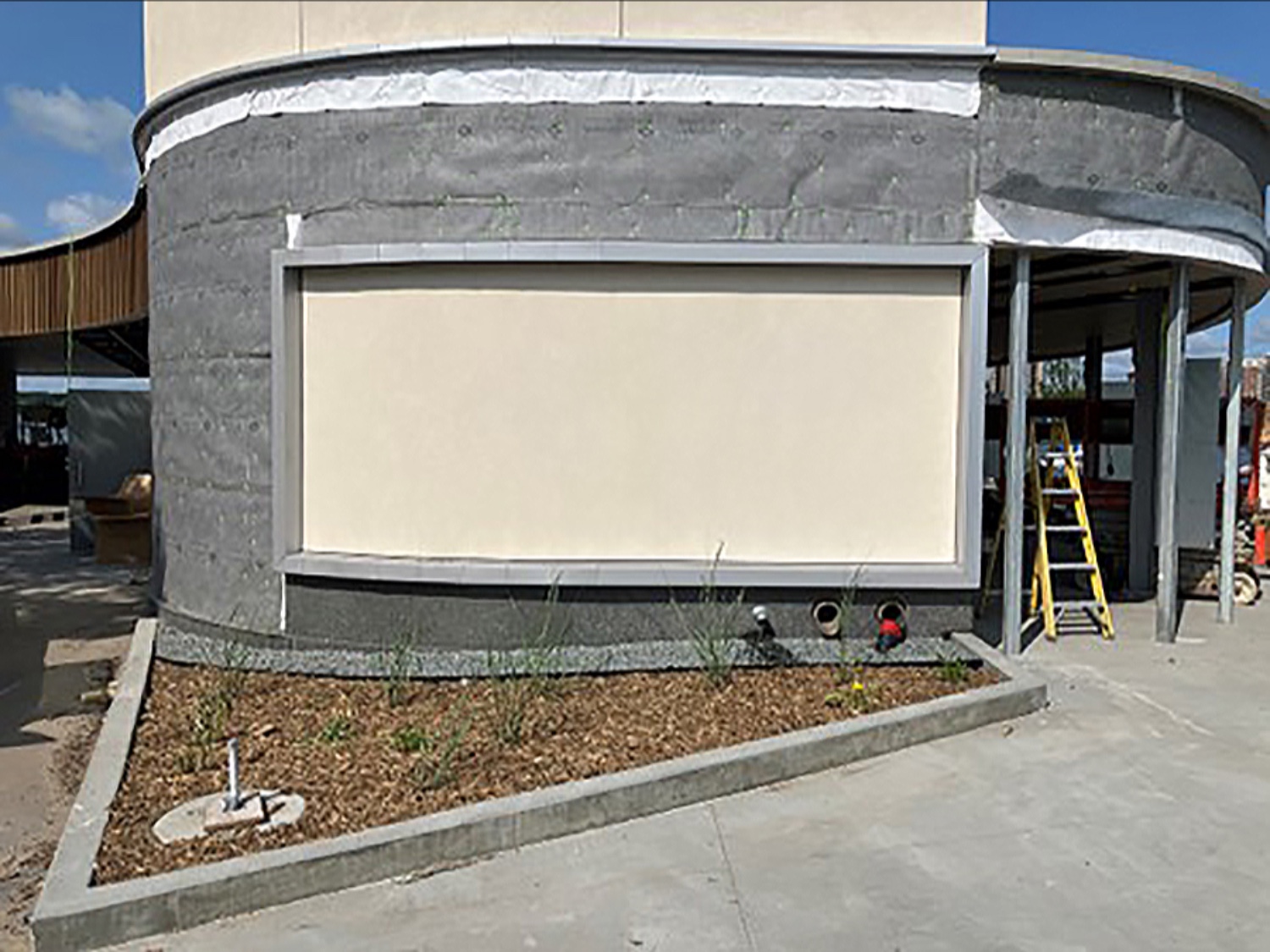 A blank wall at Bde Maka Ska Pavilion awaits the new mural, which will be unveiled on Friday, October 20. This project was made in partnership with the Minneapolis Park and Recreation Board. Photo courtesy of Hennepin Theatre Trust.
Uplifting Native women's voices
Creating the mural was a collaborative effort, both in the process of collecting community ideas and in working as a group to create the finished product. Many in the cohort noted that it was especially meaningful to collaborate and learn from other Native women artists.
"I've never worked with only women, Native American artists," said Fountain. "One day we were all painting together and I was like, 'Wow, I've never been in a room with just Native American women.' We were talking about everything — our history, our art."
Topbear enjoyed the opportunity as a mentor to pass along skills she learned from other women in her life — and to share these with Native artists, to facilitate artistic representation by and for Native people. For their capstone project, she stayed on to help guide the three cohort artists in creating the imagery, allowing the artists themselves to produce the mural.
"Uplifting young women and young women's voices has always been very important to me," said Topbear, who is also a member of Few and Far Women, an international street art group. "It was beautiful to work with all Native women artists, and to be able to show them a skillset that I learned from other women."
"We finally live in a time where we can have a diversity of our own narratives," said Fountain, on the importance of creating Native art in public spaces. "Before it was only television — now it's social media, television, public art, everything."
The mural was created on polytab in downtown Minneapolis, in a vacant retail space temporarily donated to HTT by Ryan Companies. This added yet another public component to the project — passersby could watch the mural come together through the studio's glass walls.
"It turned an empty retail space into something that was alive and vibrant," said Mary Jane Mansfield, public art manager with HTT. "People could walk by and see the mural in progress; there was a didactic in the window with information about the project and the artists."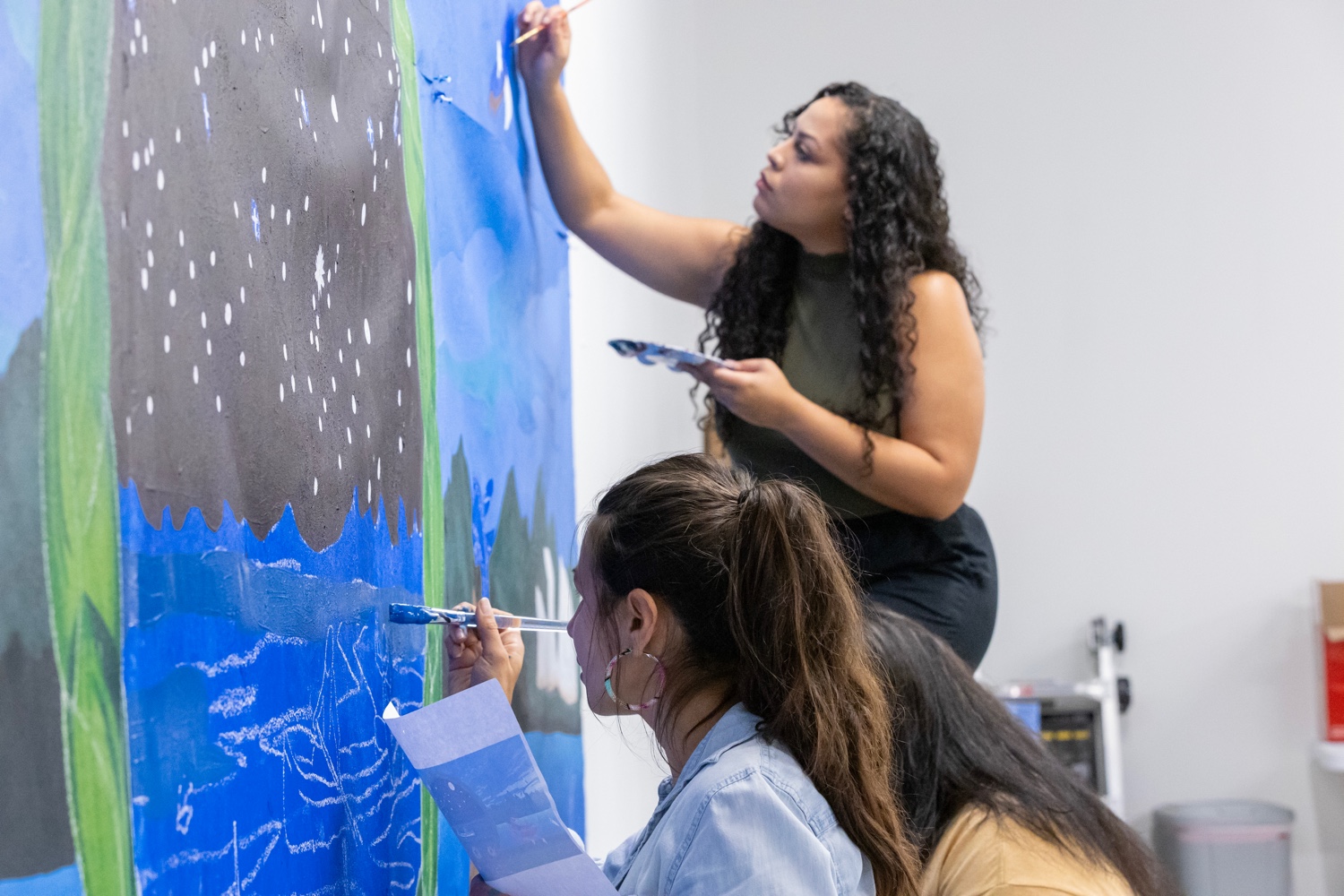 Photo courtesy of Hennepin Theatre Trust.
Looking ahead: Focus on community-engaged art
As this year's artists wrap up their capstone, the We Are Still Here collaborative is preparing to launch its third cohort. This group will be focused on community-engaged art.
"Artists will create work where the community is invited to contribute and be a part of it," said Two Stars. "It's a way we can intentionally engage and bring together our different communities along the American Indian Cultural Corridor and Hennepin Avenue."
In the meantime, this year's artists hope the Bde Maka Ska mural will provide recognition and joy to the Native community for years to come. As Cohen said: "Our energy goes into these pieces. I hope the energy put into this mural helps uplift other Native people." ◼︎
Video courtesy of Hennepin Theatre Trust.
The opening of the new Bde Maka Ska Pavilion will be celebrated at 11 am on Friday, October 20.
For more about Hennepin Theatre Trust, visit their website or follow them on Instagram @hennepintheatretrust. For more about NACDI, visit their website or follow them on Instagram @nacdi.mn.
To learn more about the artists, visit:
Summer Cohen on Instagram @cohensummer and on Facebook @beadsblingbuckskin.
Raquel Banaszak on Instagram @racquel_kwe.
Jearica Fountain on Instagram @jearicafountain and @jearicafountain_designs.