With a residency exhibition currently on view at North Loop's TractorWorks building, the mixed media artist discusses his fascination with the nature of memory, approaches to collaboration, and St. Paul's Creative Enterprise Zone.
Perhaps, it is that I turned 41 within the past few weeks. Perhaps, it is being in the throes of some major life changes. Heck, perhaps it is merely the changing of the seasons. Regardless of the reason, I've been spending a lot of time dawdling about on Memory Lane as of late. The funny thing about Memory Lane is that it changes slightly every time you revisit. There is a condo now on the corner where that cool bar was that you can no longer remember the name of. That place where you had your first exhibition is now a Spirit Halloween... or was it the place next door? Didn't that house over there used to be blue?
A number of years ago, a friend of mine introduced me to the Latin maxim "Omnia mutantur, nos et mutamur in illis," which means "All things change, and we change with them." I'd argue that our own memories are just as subject to change. We are the unreliable narrator of our own experiences — remixed, recontextualized, and reworked like that pile of paintings in the back of the studio I swear I'll finish someday. Or the way another artist's painting can change every time you see it — either because you're noticing something new or because it's changing, maybe even growing, with you.
Over the past several years, I keep running into the mixed media work of Jon Reischl. While his process and subject matter have evolved over time, even seeing the same painting on multiple occasions invokes new details and new feels. For me, his paintings have an almost holographic quality that change depending on your angle of approach and your mindset. It's all the more fitting that he currently has a retrospective residency exhibition on view at the TractorWorks building. In spite of enjoying his work for years, I've only recently been able to get to know the artist and learn more about how he approaches his paintings. I hope you enjoy this abridged version of our conversation.
---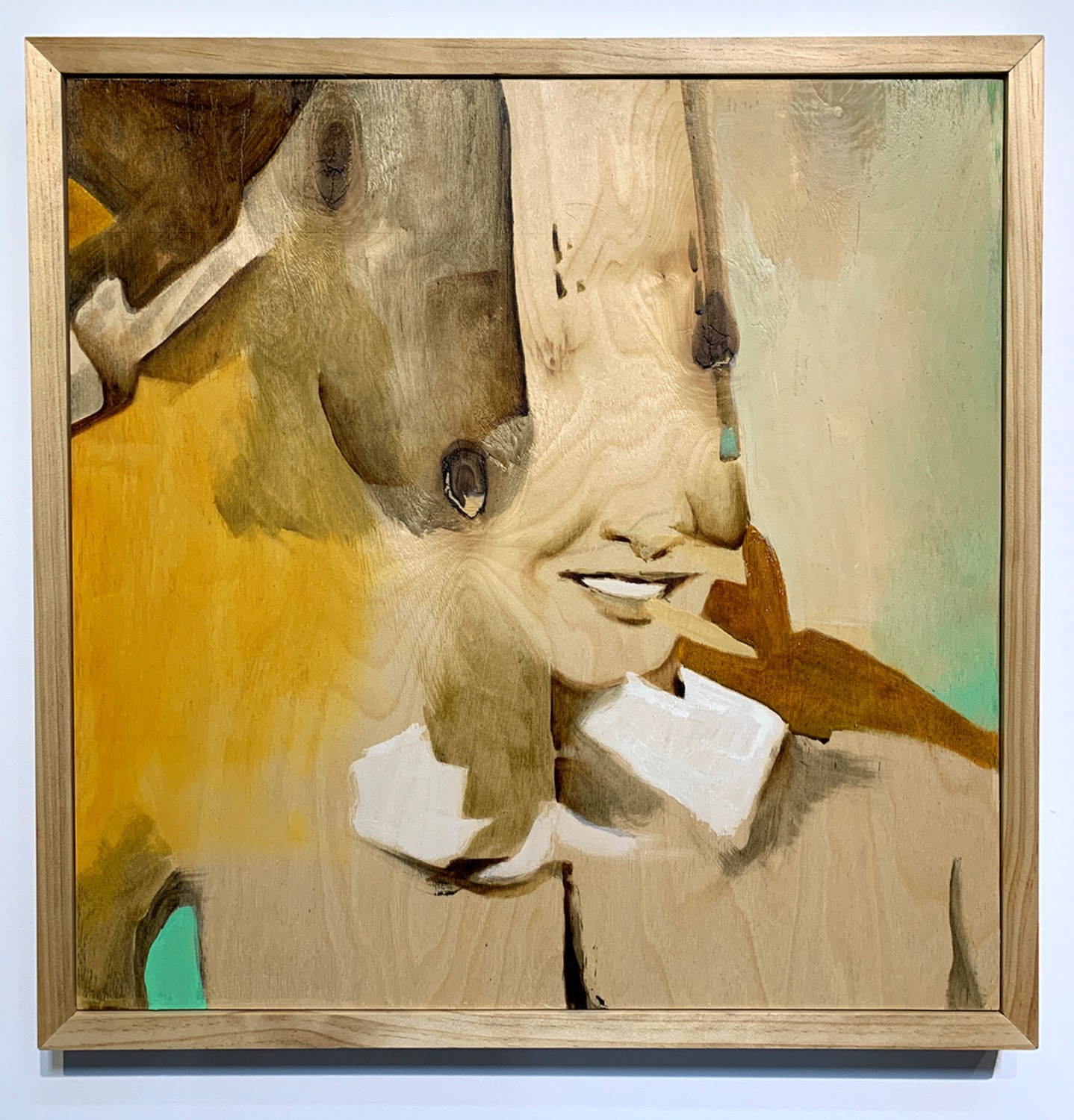 Muleteer, 2023. Oil on wood, 20 x 20".
Jon Reischl is a visual artist and designer specializing in mixed-media and oil painting. He has shown work locally in the Twin Cities and the greater metro area as well as regionally at venues throughout the Midwest. A graduate of St. Paul's College of Visual Arts (RIP), He works out of Rock 9 Art Studio, located in the heart of the Creative Enterprise Zone. Jon lives on St. Paul's East Side with his lovely wife Debra and their trusty beagle.
Blaine Garrett: Your paintings have a very "documentarian" feel to them — full of intimate moments, narrative, and humanity. Could you talk about how you approach your work and what you're trying to communicate to the audience?
Jon Reischl: "Documentarian" is not a word I would have come up with, but I like it. My paintings undeniably feature a lot of figures, faces, and other objective imagery, however I try to avoid making any one of those things the clear subject of the painting. Instead, I superimpose, overlay, and collage images together to obfuscate and abstract while allowing bits and pieces to peek through and reveal themselves. The result is intended to feel something like the act of recollection: a memory forming, fading, and reforming. Meaningful details sear into our consciousness, while the rest of the information blurs into uncertainty, obscurity and, for the romantics, possibility.
Though my approach to art-making and my aesthetics have evolved over the years, one common thread is a fascination with the nature of memory, something I've tried to explore from both humanistic and analytical perspectives. My ongoing series of paintings, Compound Fractures, was initially inspired by the findings of a neurological study that suggested our individual memories are altered in small but significant ways simply through the process of remembering—like a potter's fingers leaving impressions every time they handle their unfired clay. That sense of loss and longing for a thing that is within your grasp but too precious to access is something I wanted to communicate with those paintings.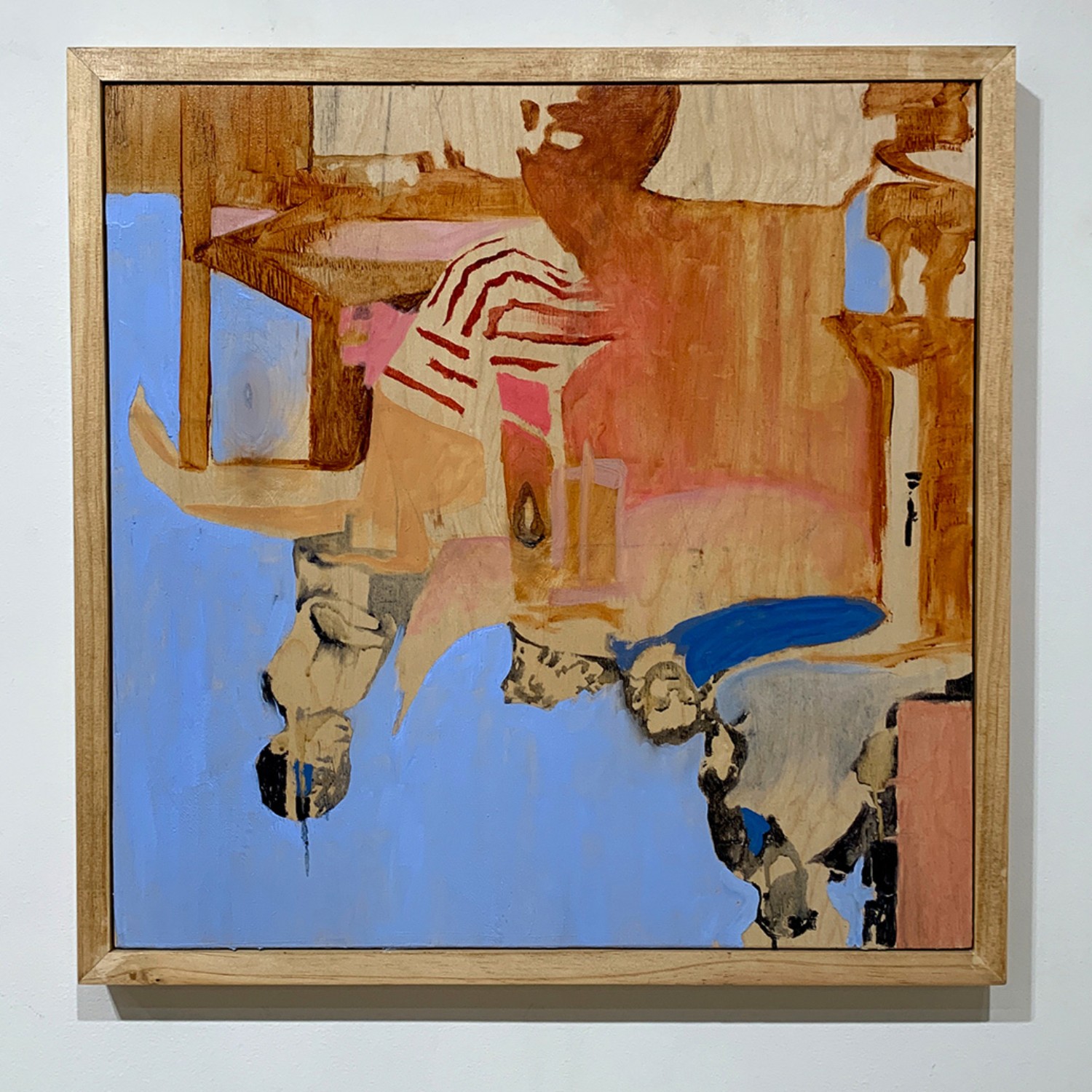 Toodle-Loo, 2022. Oil on wood, 20 x 20".
BG: In what ways does your process complement the content of your work?
JR: I think a lot about process, and it's exciting when aspects of how the work is created mirror the what and why. I remember spending afternoons in the basement of Midway Books scavenging their trove of Life Magazines from the '50s and '60s for source imagery that I'd either imitate or straight up collage into paintings. I've always loved collage — not just the aesthetic, but also the ethic: that it's the product of recycled, repurposed, and reimagined parts. It suggests a history that goes beyond the creation of the work and a legacy of sorts within itself. I struggled with traditional scissors-and-glue collage though, mainly because the size of the source material dictated the size of my work, and I wanted to work increasingly larger.
For a while I was doing a lot with image transfers and photo emulsion screen printing. This allowed me to create monochromatic digital collages, blow them up to whatever size I wanted, and recreate them on a new surface. Both the transfer and screen printing processes are naturally degradative and essentially resulted in a ghost of the original composition, which I'd paint over, at times restoring things that had been lost in the process and other times creating something new, born from the remnants of the collage, which itself is the offspring of disparate parts. The entire process works well as a metaphor for the nature of memory over time, constantly evolving to accommodate new additions and shifting narratives.
Then, for the better part of the last decade, I moved away from direct image transfer altogether, opting instead to work only in oil. In all honesty, this was probably in response to a chronic case of imposter syndrome — I called myself a painter, and used paint in my mixed-media work, but I had this nagging (and admittedly irrational) fear that what I was doing wasn't really painting. So I adjusted my process in a way that would force me to develop those skills a bit further.
However, I still began each piece with a digital collage. That's basically how I sketch and work out compositions. I often use a projector to help translate those compositions to canvas or wood, which still afforded me the opportunity to make decisions and edit on the fly, especially as the introduction of paint adds the dimension of color and a universe of possibilities along with it.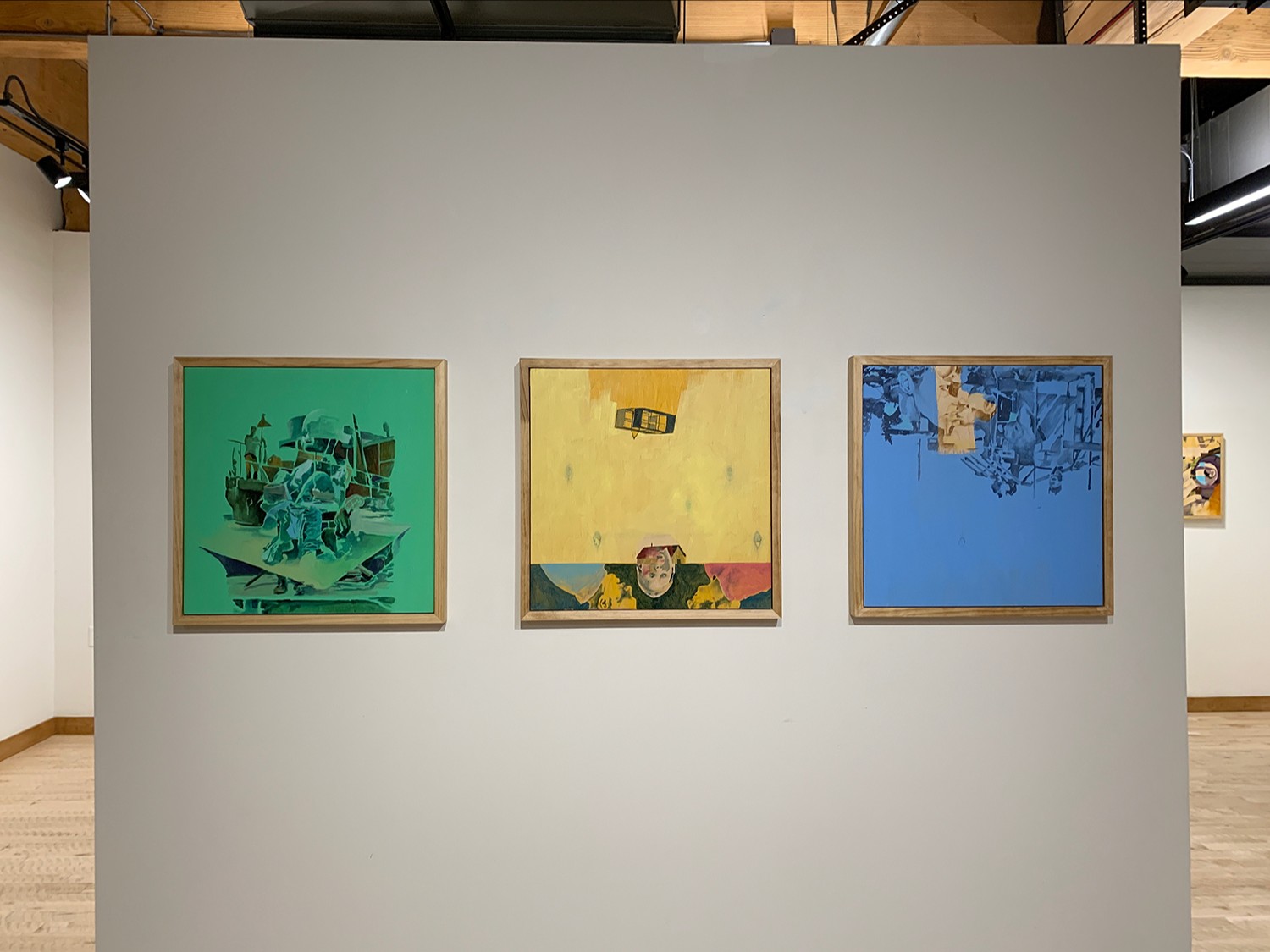 Selections from Souvenirs, 2021. Oil on wood, 20 x 20" each.
BG: You currently have a residency at the TractorWorks building through the end of the year showing both old, new, and in-progress work. How did that come to be and what can the audience expect to see?

JR: That was definitely an "opportunity knocks" scenario. I got a call from my friend Neil Johnston, who had just installed a large show of his paintings in one of the gallery spaces at TractorWorks. His show, by the way, is absolutely incredible and everyone should check it out.
Neil told me there might be a last minute opportunity to display some work in another part of the building, but I needed to be ready to install in a matter of days. I met with Ron Ridgeway, who curates the galleries at TractorWorks, and a week later I was hanging my work. It turns out, there are three distinct gallery spaces in the TractorWorks building: Gallery One, which lines the main entry hall of the building (just beyond the entrance to Bar La Grassa), Gallery 111 is an alcove off a large common space on the main floor, and Gallery 9, a network of hallways and open areas throughout the entire 9th floor.
Unlike most galleries which turn over on a monthly basis, Ron has a really interesting concept where artists are given an extended residency — 4 months for the main floor galleries and a full year for Gallery 9 (where Neil Johnston's work is currently on display). Over the course of the residency, we're encouraged to swap out work and add new pieces as we see fit. This affords us an unusual opportunity to treat an exhibition more like an organism that can take on a life of its own and end up in a different place than it started.
My exhibition is called Souvenirs, and I'm treating it as part retrospective and part prospective. The work in Gallery 1 includes selections from two previous collections going back about 15 years. Whereas Gallery 111 has pieces from a couple projects that are still in development.
BG: I personally love seeing in-progress work. However, it can be very vulnerable for some artists to show work before it is fully hatched. How do you feel about exhibiting your work in the residency before it is completed?
JR: Maybe it's because of my fondness for process and seeing how others do what they do, but I've been pretty open about showing work in-progress for a while now. In fact, in the true spirit of Instagram, #WIP is primarily what I share on that platform. It certainly doesn't hurt that my visual style, even for finished pieces, is somewhat unpolished by design. However, there are risks. I've had people contact me asking if something I posted is still available and I've had to answer, "uh… yes but it looks like this now".
Currently, I have a handful of paintings on display at TractorWorks that are the result of a collaboration with writer Kyle Feldman, where we have basically been prompting each other over the course of several years: I would paint and he would write and then I'd paint something prompted by what he'd just written and he would write something prompted by what I had just painted and so on. We're just starting to wrap up that project, but we're not quite ready to show it in its entirety, so those are really the pieces that feel incomplete to me. It feels like one side of a conversation. However, at the same time, it's great to see them out in the world as a preview and a promise of something else to come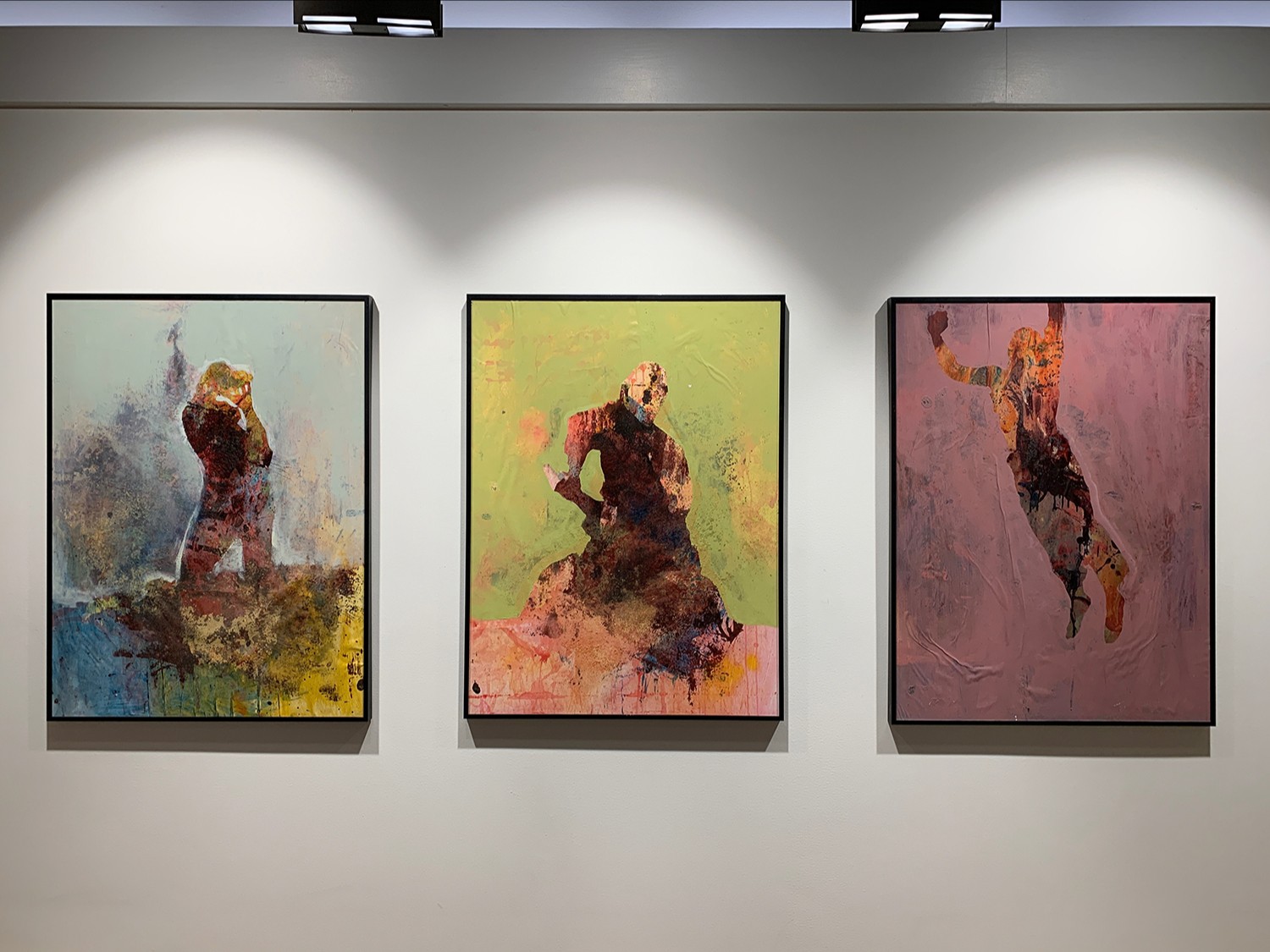 Pass, Cover, Receiver, 2009. Mixed media on paper, triptych 40 x 30" each.
BG: I'm fascinated by the various approaches artists adopt to collaborate with others. Do you have any similar concepts on the horizon?
JR: I have something in the works that I've been stewing on for a long time. It ties back to the thing I said earlier about collage having an internal legacy. I'm working on a series of paintings drawing inspiration from the contents of a stack of scrapbooks that were assembled by my father's aunt. Her collection amounts to a dozen or so volumes made up entirely of news clippings from the St. Cloud Daily Times beginning in the early '40s. There are no personal items, no notes, no obvious criteria for what she chose to preserve; just photos and the headlines and captions they were published with. I had been sitting on them for twenty years, not willing to part with them, but also not knowing what to do with them. That is, until I decided to use them as sources for collage.
I like the idea of building off of her effort and contributing to it in a completely different format. A collaboration separated by generations; a physical manifestation of one person's memories, rearranged, illuminated and projected onto someone else's surface. I've recently returned to using image transfer in conjunction with my oil painting technique and it seems right to apply those methods to these new pieces. I look forward to sharing them, in progress or otherwise. And, I dunno, maybe it's not even up to me to decide when something like this is truly complete.

BG: Could you share a bit about how Rock 9 got started?
JR: Since the late '90s, I've shared studio space with fellow painters Ed Charbonneau and Jeremy Szopinski. Other studiomates have come and gone, but the three of us have remained the core group. About 10 years ago, we decided it was time to give it a name. By then our space was on the top floor of what came to be called Vandalia Tower, and the view through our windows was the sign for our neighbor across the street: the Rock-Tenn Recycling plant. Hence, we became Rock 9. Not long after we branded ourselves, Rock-Tenn changed their name to WestRock. We briefly considered EastRock which was still cartographically accurate, but we'd already made a Rock 9 sign, so, you know how it is. Can't go wasting a perfectly good sign. Also, EastRock sounds like a gated community from The Flintstones.
Come to think of it, the Creative Enterprise Zone was established right around the same time we started calling ourselves Rock 9. This must have been 2013 or so. I remember it was only a few months after our building had been purchased by a fancy developer with grand plans for what would become Vandalia Tower. Everything was getting renamed back then!
We'd already been in that building for about five years at that point. When we first moved in it had everything we were looking for: large spaces, good light, no frills, and a reasonable price per square foot. We knew the moment we saw the renderings for Vandalia Tower that it was only a matter of time before we got priced out. There were way too many frills for the likes of us. Fortunately, that matter of time turned out to be another five years. By then the building had seen close to 100% turnover.
It's a familiar story: once profitable spaces become derelict, artists and makers move in and breathe some life into the place, and their vibrance attracts real estate developers who know there's a market for that Bohemian contact high. Before long the woodworkers and drawing co-ops have been replaced by wellness salons and marketing firms that tout the character and charm of their offices in bulleted lists on their brochures. That sounds bitter. I don't mean it to be. It's a natural cycle and without it, there'd be a lot less opportunities for artists to find affordable spaces large enough to turn around in, even if only for the number of years it takes for the wheel to rotate them out again.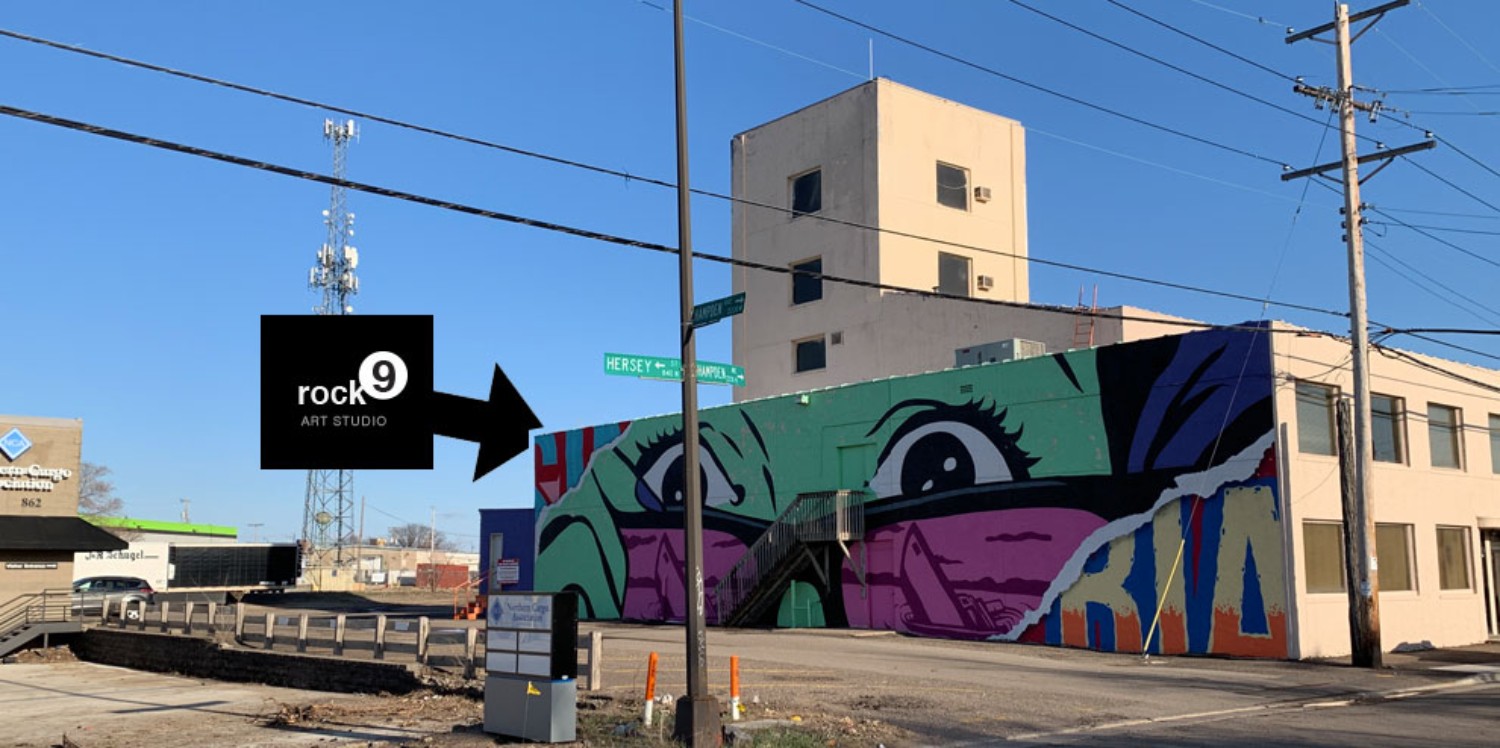 Mural by Biafra Inc. on the Bro-Tex building containing Rock 9 Art Studio
BG: With all the changes to this area over the past few years (the Green Line, breweries, murals, etc), do you anticipate a similar fate for Rock 9's current spot?
JR: I remain optimistic about our current digs. This past May we moved into a warehouse in the Bro-Tex complex, right at the epicenter of the Creative Enterprise Zone. Our new space is large enough where Ed, Jeremy, and I were able to invite back one of our previous studiomates, the brilliant watercolorist Suyao Tian, along with newcomers Geoffrey Laskowski and Rosetown Playhouse. The building boasts multiple exterior murals from ChromaZone, the mural festival which itself began as a joint effort between our new neighbor Burlesque of North America and Forecast Public Art in partnership with the CEZ.
Of all the ways the neighborhood has changed in the time since we've been there, the proliferation of ChromaZone murals is probably my favorite. It's great to see the outsides of these buildings reflecting the energy and creativity happening inside many of them. It really brightens up what might otherwise feel like a fairly lifeless industrial area.
For a long time this part of town felt exactly like what "the Midway" implies: that it was just the long, dim stretch of University Ave you had to pass through to get to Knox Lumber (now Menards) or the Amtrak station. However, it feels different now. It feels like a place where people are doing things with passion and purpose. The murals represent an outgrowth of efforts that have been unassumingly going on behind cinder block walls since before anyone took notice and will probably persist long after that attention shifts elsewhere.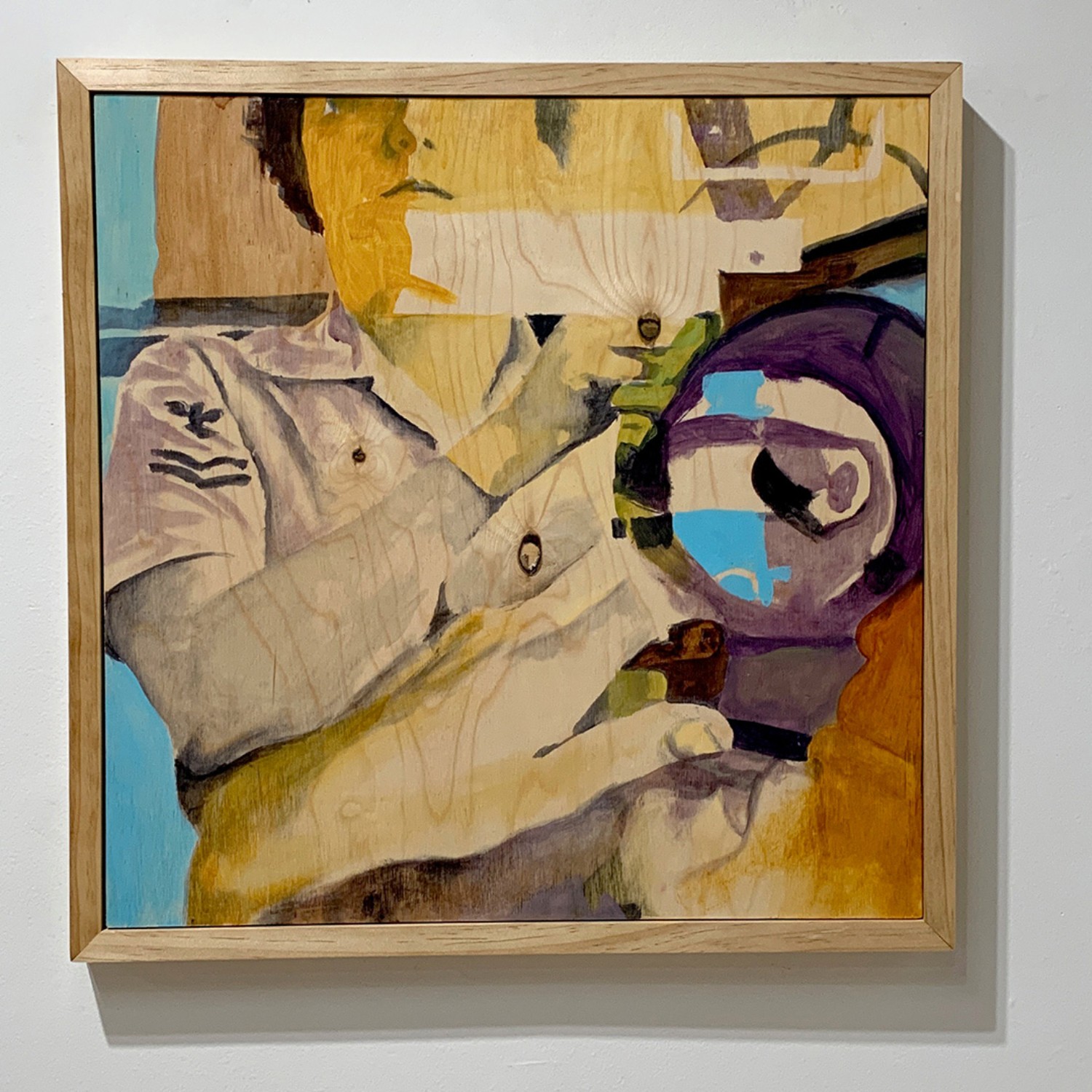 Dispatch, 2022. Oil on wood, 20 x 20".
BG: How can folks best support you and your practice right now?
JR: Come and check out my show at TractorWorks through the end of the year. The building is open Monday through Friday from 7 AM until 6 PM. There will be a reception for Neil Johnston's work on October 5th and one for my work on November 9th. Both events begin at 4 PM and though the doors lock at 6 PM, as long as you're in by 6, you'll still have time to look around and chat us up.
The easiest thing you can do is visit my website at jonreischl.com and if you like what you see, share it with a friend. You can also find my social media and subscribe to my mailing list there.
Rock 9 Art Studio will be having an open studio event October 28th 3 - 8PM. Visit rock9art.com to sign up for our mailing and social media.
I also have a few paintings hanging in the bar area at Tongue in Cheek on Payne Ave in St. Paul. Even if you think my work stinks, you should still support that place and their mission of serving humane, sustainable, phenomenal food on the East Side.


BG: Thanks for taking the time to talk more about your practice with MPLSART!
JR: Thanks for taking an interest and for all the work MPLSART does to keep the Twin Cities arts community abuzz. ◼︎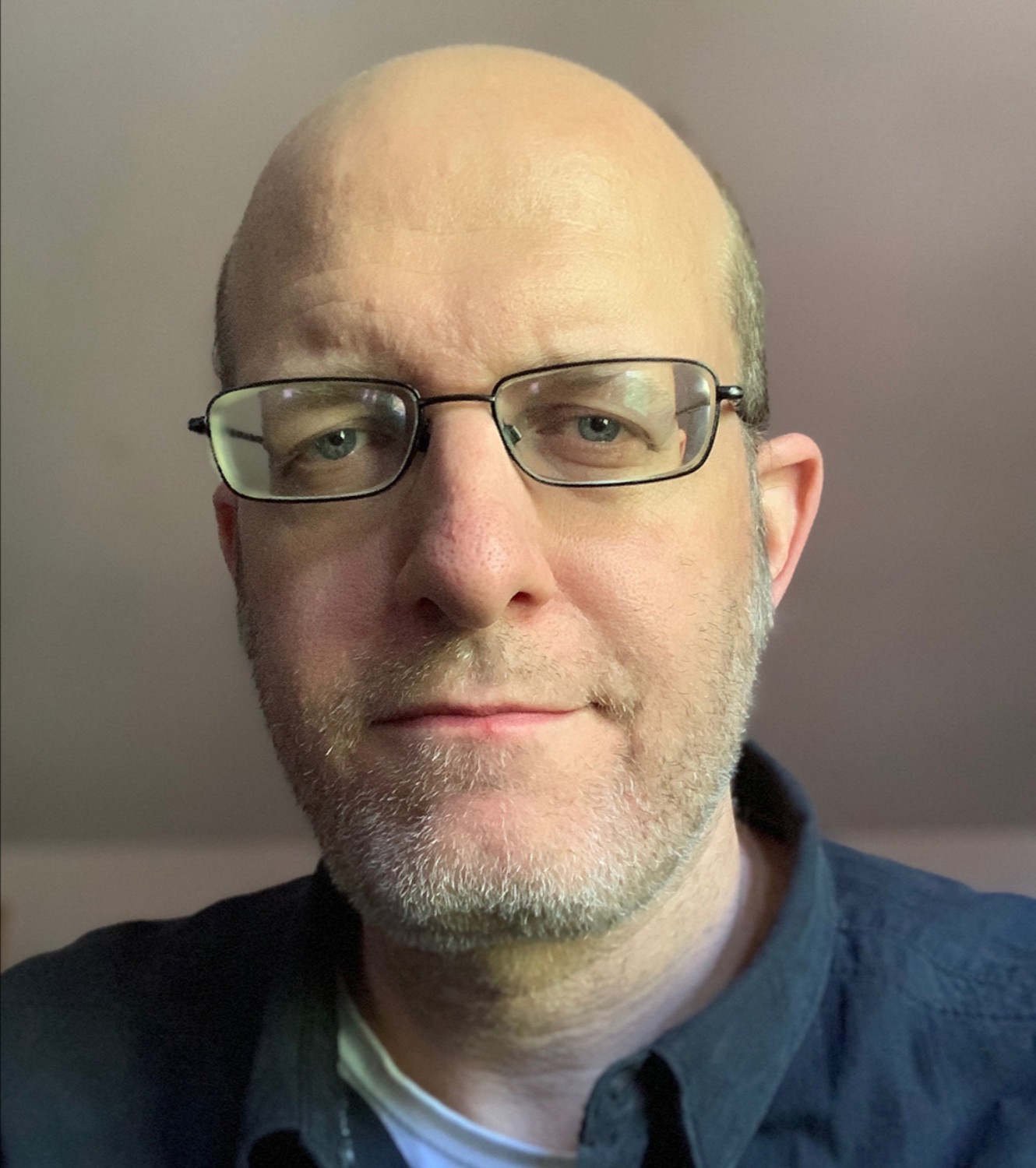 Jon Reischl
For more on Jon's process, watch his segment on MNOriginal from 2013. Also, be sure to check out his TractorWorks exhibition at 800 N Washington Ave and stop by during the November 9th reception.
Stay tuned to MPLSART for open studio events at Rock 9 and be sure to check out the many ChromaZone murals during the Creative Enterprise Zone leg of the Fall St. Paul Arts Crawl October 6th - 8th.
---
This activity is made possible by the voters of Minnesota through a grant from the Metropolitan Regional Arts Council, thanks to a legislative appropriation from the arts and cultural heritage fund.