A solo exhibition of paintings addresses disability, lineage, and identity — as well as the pleasure to be found in paint
There is a painting in Madison Rubenstein's solo exhibition Too Much titled Correcting Flesh and Banishing Ghosts, a phrase that comes from one of their poems showcased alongside their paintings. The title encapsulates the thematic structure of their exhibition — a series of paintings and poems that rub against, and alongside, familial histories, disabled embodiment, and identity.
Rubenstein, who was also recently named one of nine recipients of the 2023 Midwest Award for Artists with Disabilities, invited me to their studio ahead of the exhibition to discuss their new body of work. In our conversation, we talked about how the meaning of the title Too Much lives in the series of the work, as well as embodies much of Rubenstein's personal experiences within their own body. In front of us, as we speak in the studio, is the painting Correcting Flesh and Banishing Ghosts in progress, which features a nude figure standing in the middle of the composition, rendered in a transparent gray tone as the lush wash of pink pigment of the background overtakes them. Two figures float around the lone figure at its legs, one painted in a deep, vibrating red, the other in a soft, dark blue.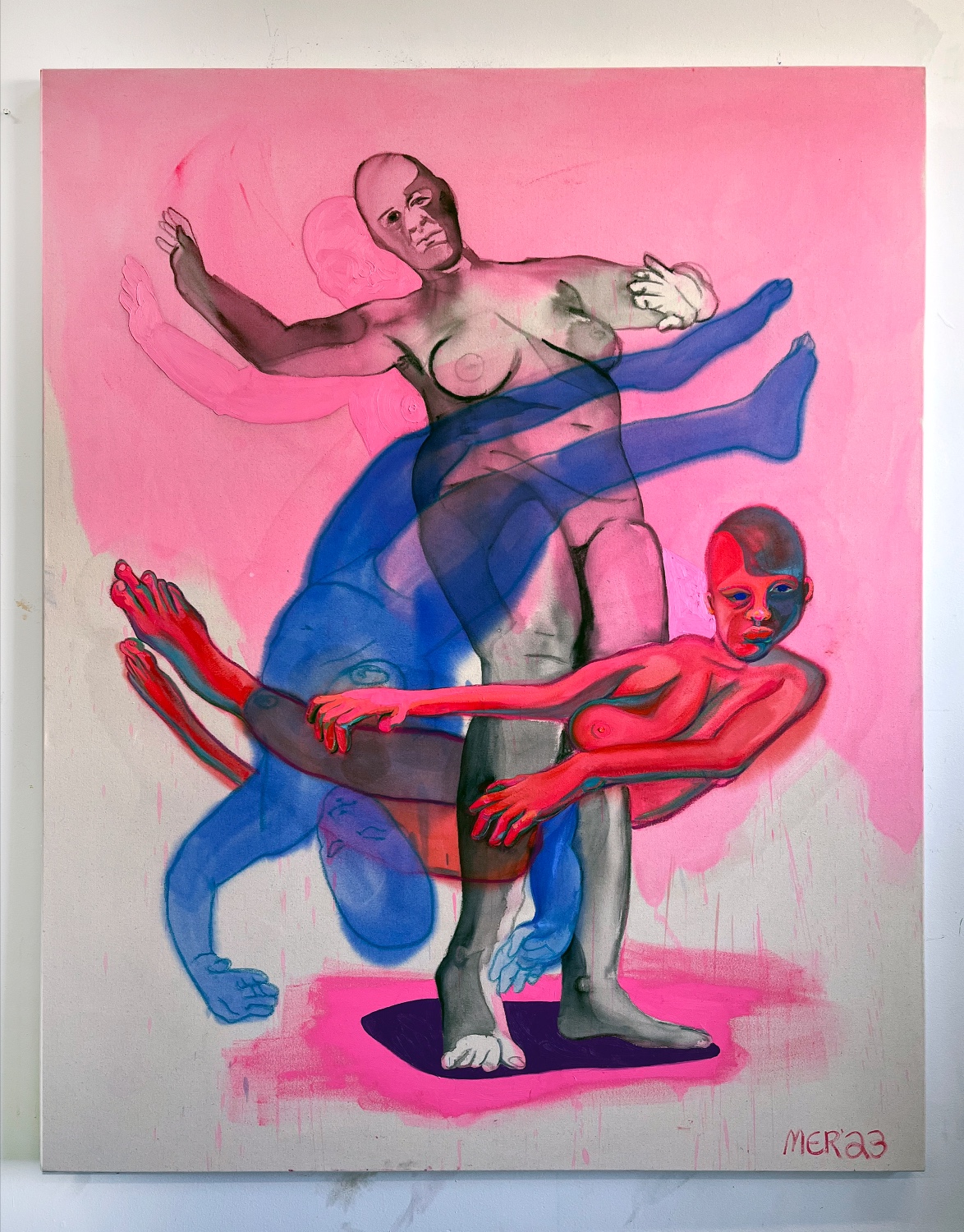 Madison Rubenstein, Correcting Flesh and Banishing Ghosts, oil on canvas.
I am drawn to the way Rubenstein has rendered the figure standing in the middle of the composition, arms splayed out, grasping at nothing but the gentle pink wash that fills the background. The figure's feet are visually planted by a deep violet shadow, but the physical pose of the feet suggest an imbalance that will lead to an inevitable fall. As Rubenstein and I speak, this painting leads our conversation together, its remarkable physicality becoming a visual metaphor for experiences of chronic illness, disability, their Jewish heritage, and identity. The play in this piece between an imminent fall and a ghostly presence that either holds the figure up or threatens to knock them down speaks to the contradictions about which the artist often makes work. We speak about our mutual experiences of chronic illness, the rhythms of flare ups and rest (that often consists of waiting for the next flare up). This rhythm is abstractly represented within this piece — and the others in the show — by the physicality that overtakes the figure.
There is an implication of multiple selves, the fragmentation of the body and self that happens when physical embodiment impacts identity, whether it be in pain, dysphoria, or unconsciousness. The two figures painted in blue and red could suggest other selves or past relatives, even unremembered personal histories — in other words, any ghost that could haunt our present. The main figure, however, is largely transparent, while the red figure is rendered at some parts very solidly. The tension between absence and presence within these figures emphasize this fragmentation, each figure fluctuating between solid and transparent, fading away and emerging. This speaks to the presence of the ghosts in the title of the piece — and perhaps how impossible it can be to banish them.
When we talked about the history of self in their work and how it relates to this show, Rubenstein mentions how their Jewish heritage comes through in the recent body of work. There is a lack of concrete familial history for Rubenstein, which they seek to become in touch with through the representation of their own body and creating space for themself to imagine what that history could be. This is a way of looking into the past to create a reality for yourself — the use of abstraction to imagine something that may not exist in the present. In other works in the exhibition, small bits and pieces of the figure appear in the midst of constricting, jagged, and swallowing forms. The figurative element is overtaken by abstract elements, drowning in excess paint and mark-making.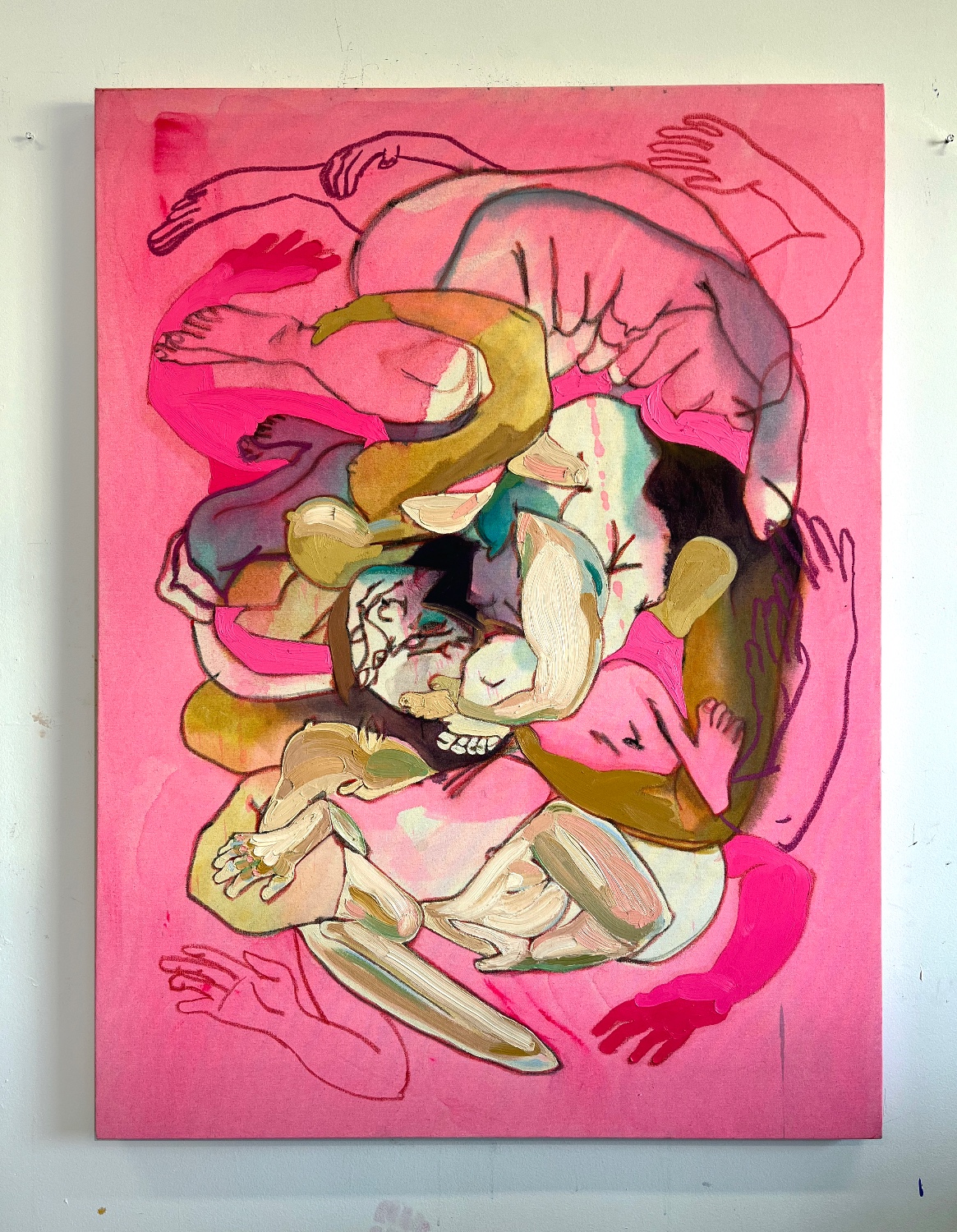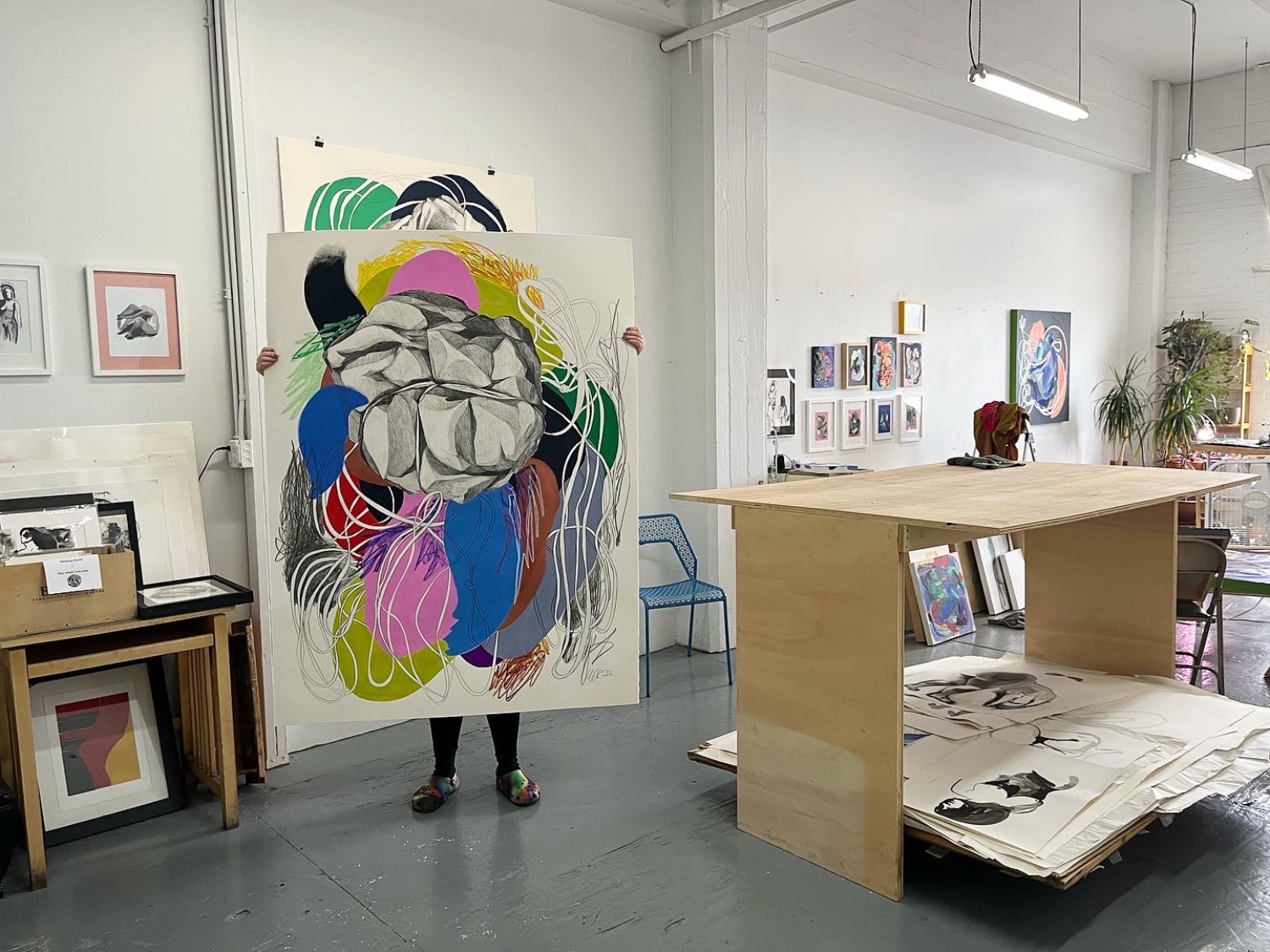 Top: Madison Rubenstein, A Murder of Misunderstandings, oil on canvas. Bottom: The artist in their studio holding Marking Time, gouache, acrylic, and graphite on Arches paper.
The title of the exhibition touches on this feeling of being overwhelmed: Too Much encapsulates the physical experience of illness, but it also reflects upon criticism that one may receive. A request for more time or an accommodation could be labeled as "too much" by an impatient or inconsiderate coworker, friend, or colleague. One could be labeled "too much" for being too loud, too brazen or too anything. It is this phrase that inspired a body of work about celebrating being "too much," and revealing how much work and vulnerability it takes to get there. It takes a huge amount of strength to be the one asking for help, and when that request is met by being called "too much," it can be extremely painful.
The most enlightening thing from our conversation is perhaps the most simple: their color choices, the physicality of their paint, their subject matter — they choose to paint this way because it makes them happy. It provides them with a more livable life. The artistic expression of chronic pain and difficult experiences becomes an essential tool to improve their quality of life. The colors they paint with make them happy, helping to create a visual and emotional language to express experiences for which people often don't have language. Other people will find this joy, too, as I was lucky enough to experience in Rubenstein's studio in front of this painting. When we create from a place of wanting to make our life more enjoyable and livable, from a place of desire and survival, we create work that creates those vital links for other people in our community. ◼︎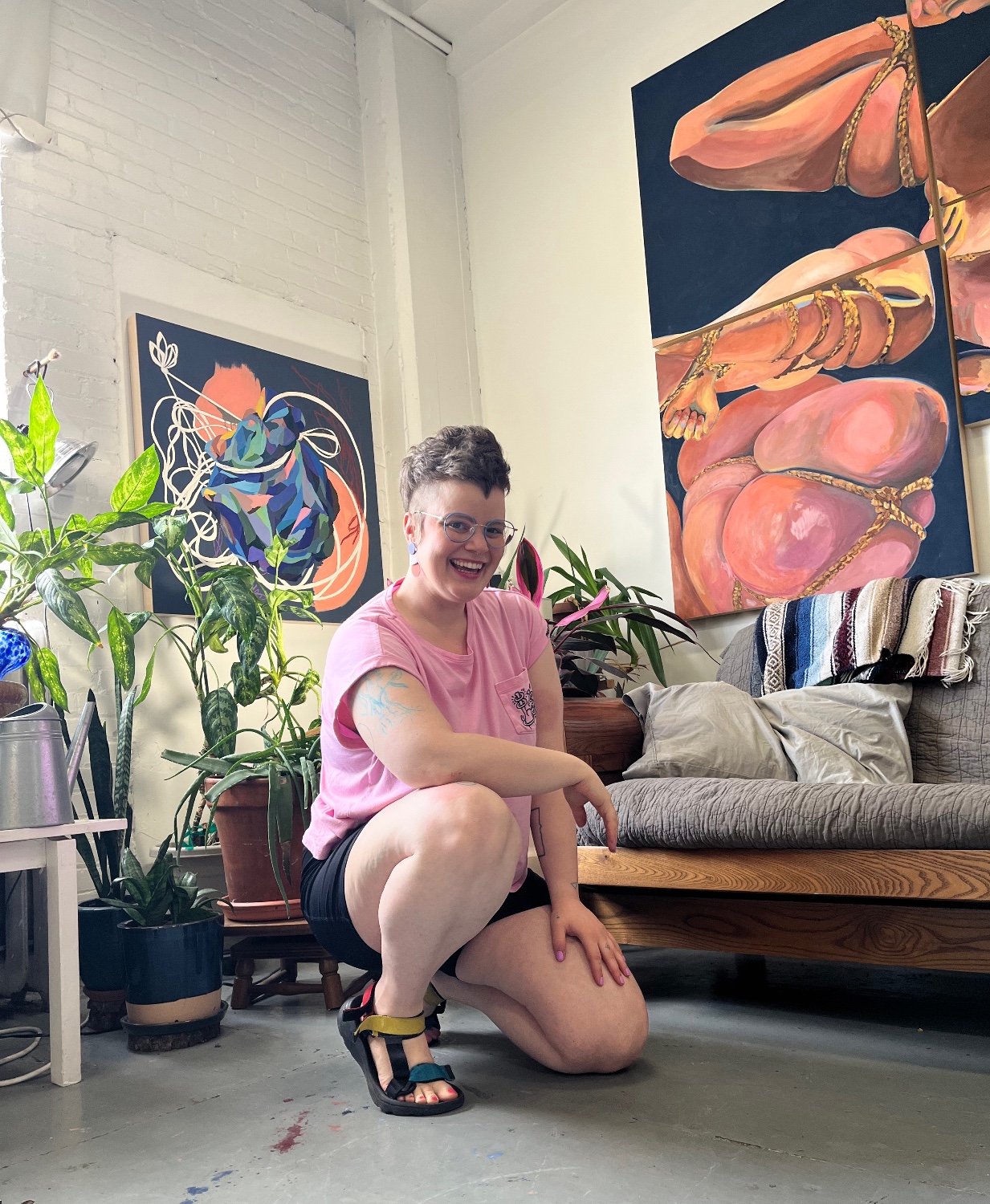 The artist in their studio.
Too Much is on view by appointment at Future Tense Gallery in the California Building (studio #310, operated by artist Eyenga Bokamba) through October 5, with a closing reception that evening from 6 – 8pm.
To see more of the artist's work, visit madisonelyserubenstein.com or follow them on Instagram @_rubenstein.
All images courtesy of the artist.

---
This activity is made possible by the voters of Minnesota through a grant from the Metropolitan Regional Arts Council, thanks to a legislative appropriation from the arts and cultural heritage fund.