The Seward nonprofit offers members access to a plethora of machines and tools — from welding to woodworking to industrial sewing — with an emphasis on giving back and growing together in the workshop.
Twin Cities Maker contains multitudes.
It's a communal, volunteer-run workshop where members pool resources to purchase and maintain tools from table saws to 3D printers. It's an intentional community with no full-time employees, only a culture of members giving back to maintain and improve the space they share.
Physically, it's a network of rooms big and small located inside of a commercial building in the Seward neighborhood. A maze of specialized "shops within the shop," from a woodshop that has the footprint of a house to welding, laser cutting, blacksmithing, CNC, and machine shops. Off the lobby, before entering the heart of the building, there's a 3D lab and an electronics lab. And in the basement lies the "Artifactory," where all other creative endeavors take place, from screenprinting to sewing.
While Twin Cities Maker is now a sprawling workshop, it started as a largely digital community: A group of friends who enjoyed making things and sharing their creations with each other via an online forum and regular coffee shop meetings. The original Twin Cities Maker joined with a similar group, called The Hack Factory, in 2010 to sign a lease on the 26th Street space.
It's been growing ever since.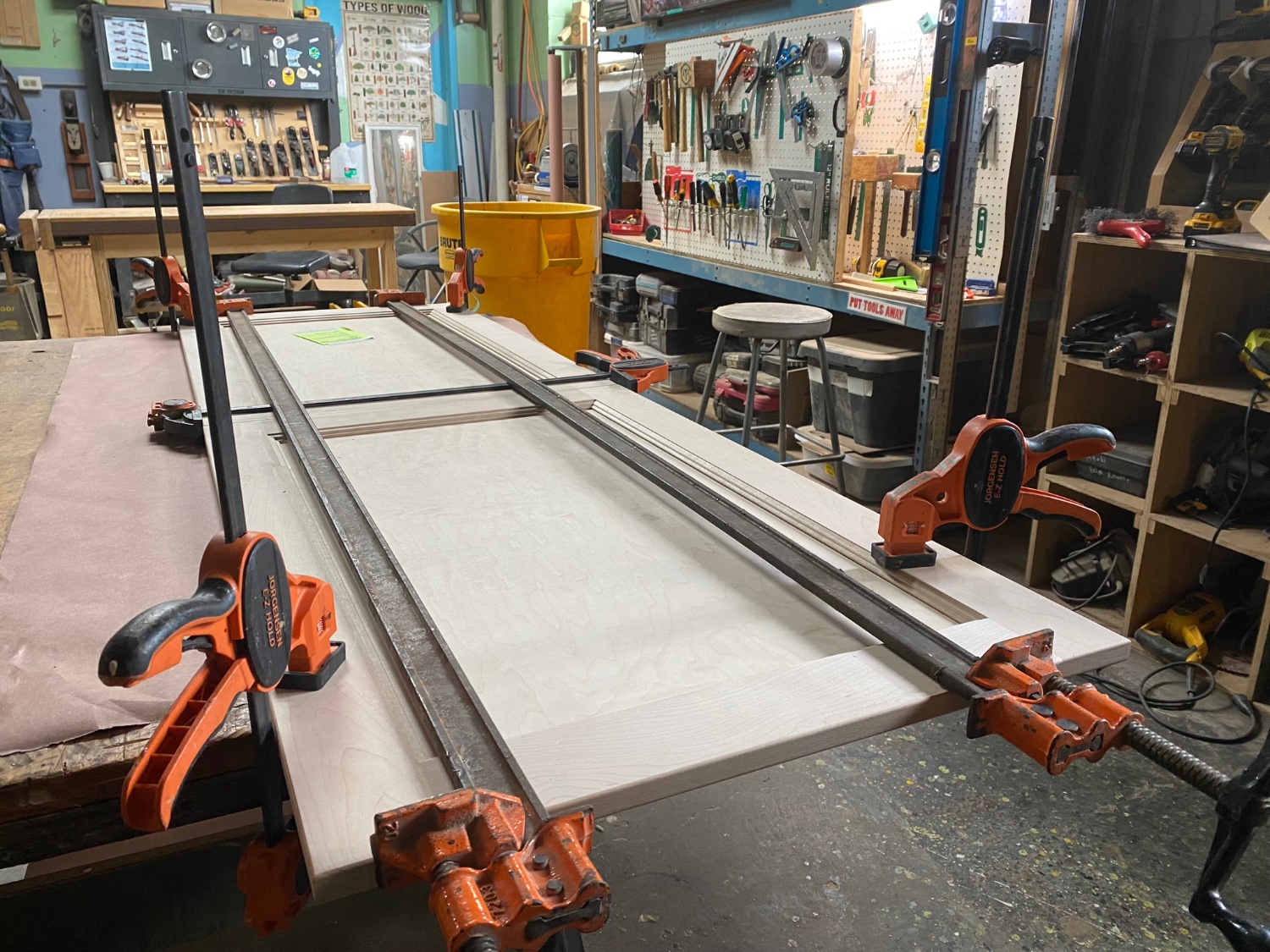 A view of the woodshop. Photo by Bridget Kranz.
Open 361 days a year
Kat Cantner rearranges the furniture in the lobby after a recent quarterly clean-up day.
The Star Trek replica of Captain Kirk's chair is in place, but a few other pieces need moving. There are two mystery boxes of books next to a bookshelf overflowing with yarn. She sends a message on one of Twin Cities Maker's Slack channels, the primary means of communication for the workshop's roughly 450 members, to see where the books came from and where they need to go.
Cantner hosts weekly fiber nights in the lobby's sitting area, complete with couches and a table that people occasionally use as a coworking space. There's also a group of lockpickers who come in and pick locks together on a regular basis, and a "noodling night" for musicians and those who like playing (and making) musical instruments.
Quarterly clean-up days are the only four days a year when Twin Cities Maker is closed to individual use. Members volunteer to come in, tidy up, eat pizza, and work on projects that benefit the shop as a whole. The other 361 days, the workshop is open 24/7 and it's common to see members at all hours of the day and night participating in communal activities or working on their own projects in one of the shops.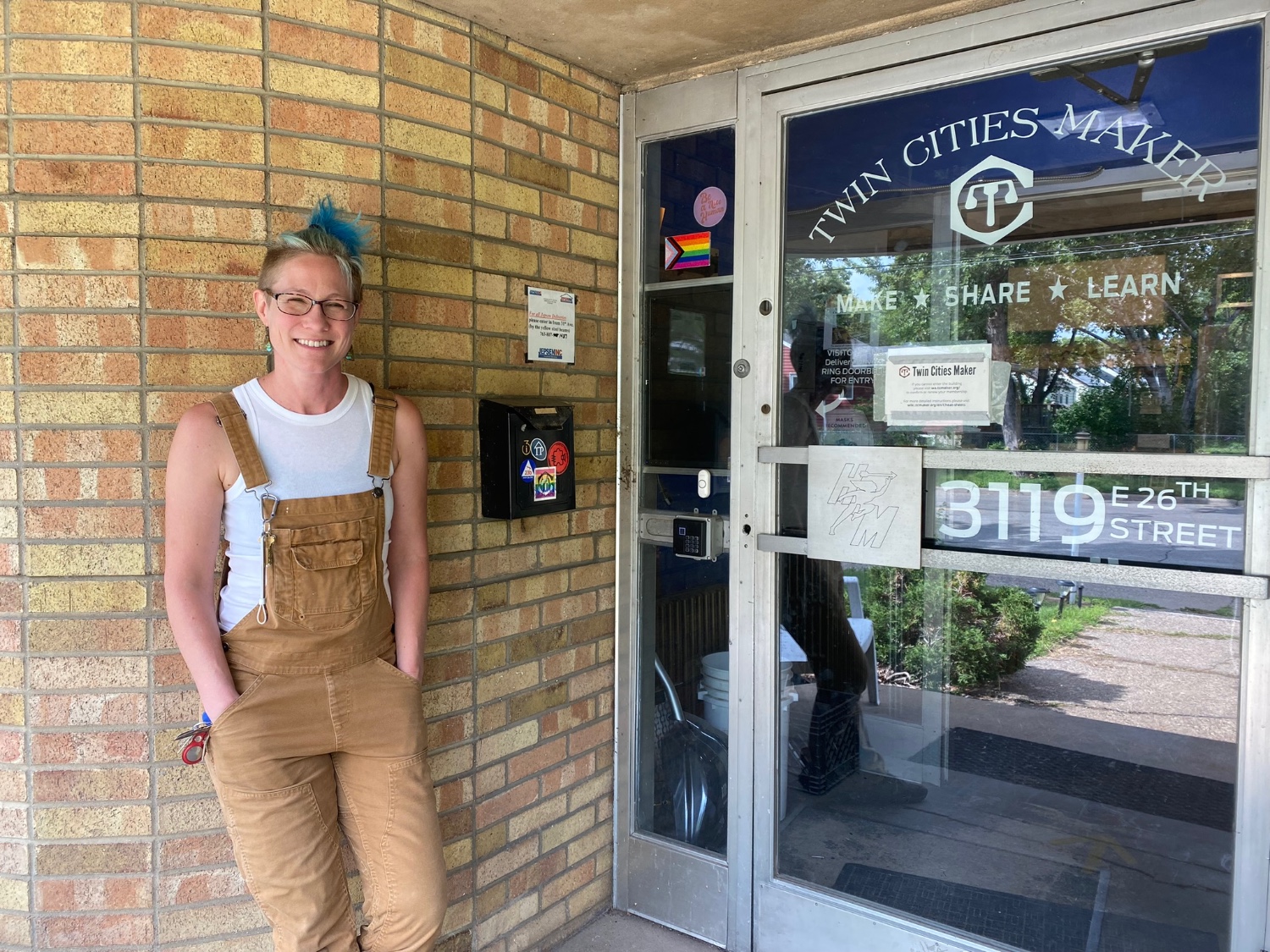 Kat Cantner outside of Twin Cities Maker. Photo by Bridget Kranz.
'Make, share, learn'
Twin Cities Maker started as a group of likeminded enthusiasts, and the focus on community remains with a strong emphasis on giving back to the workshop.
"Members can come and use the shop as much as they want, any time they want," says Cantner, the current president and a board member of Twin Cities Maker. "We just ask that they want to be a part of the community and help out to make sure that it continues to work."
Giving back can look different for different people. Members volunteer to help out during quarterly clean-ups, lead orientations for new employees, and teach classes at Twin Cities Maker - which are open to both members and non-members. The nonprofit is also getting back in the swing of off-site programming after the height of the pandemic.
Every day, members continuously share their time on an informal basis by responding to questions on Slack and in the workshop, and sharing their expertise with others.
"Our motto is make, share, learn," says Cantner. "People don't come here if they have closely-held secrets about their work. We want to share what we're making and teach other people how to make it."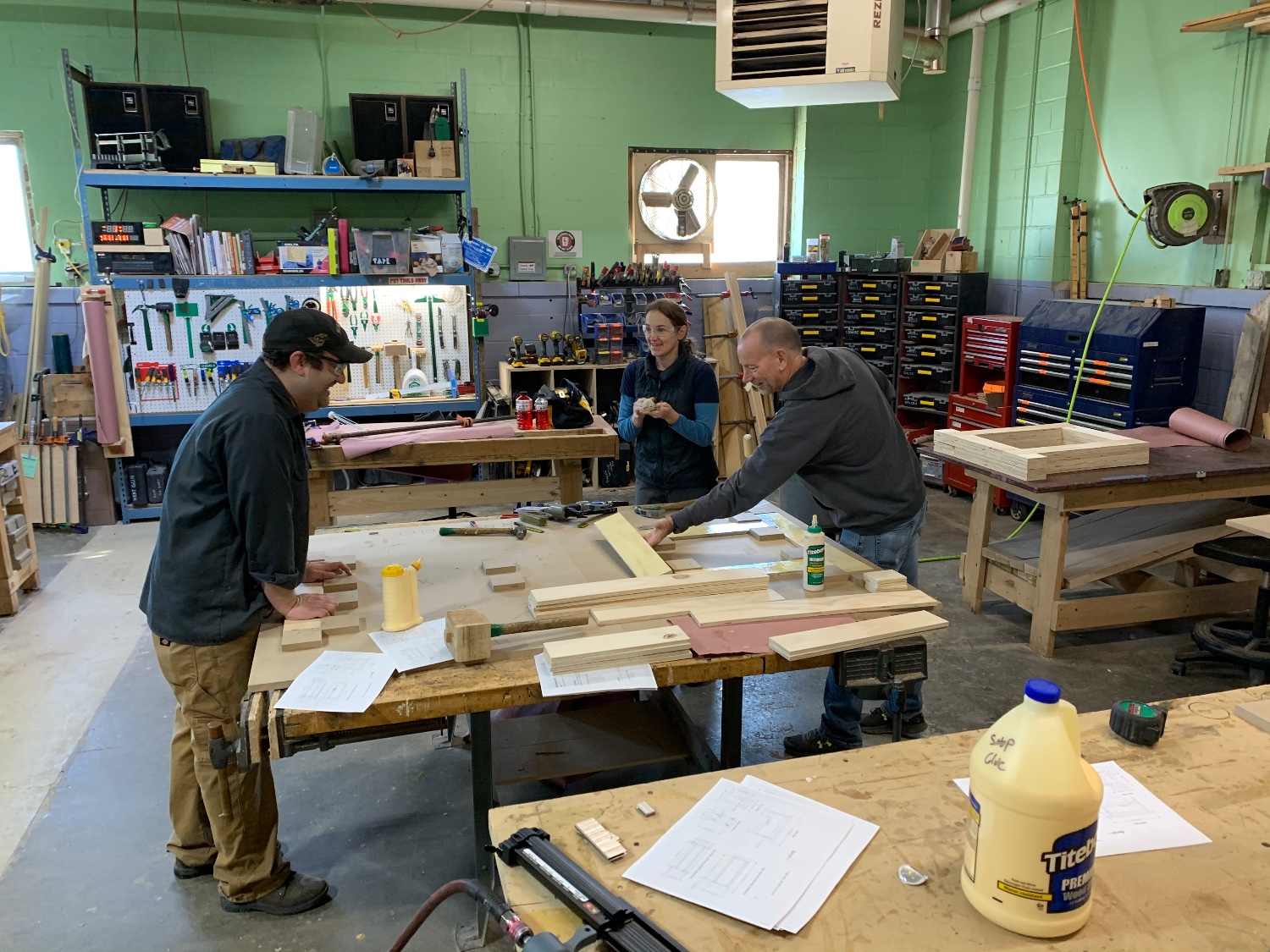 Members working together to build work tables for the woodshop during a Quarterly Cleanup. Photo courtesy of Twin City Maker.
'Everything that happens here, happens because you want it to happen'
Cantner initially joined Twin Cities Maker to grow her welding practice after a class at Saint Paul Community College. After joining, she attended a class in the woodshop and fell in love with woodworking, coming in for regular woodworking nights with the member who had taught her class. Now, she works primarily in the soft room - home to a fleet of sewing, cutting, and spinning equipment - located downstairs in the Artifactory.
The Artifactory is the only space in the workshop that doesn't require further safety training in addition to the standard new member orientation (except for the industrial sewing machine, which is locked and needs special permission to be used).
All of the other shops within Twin Cities Maker have their own safety and training requirements that new members have to meet before being able to use the equipment. For this reason and because of the emphasis on a strong community, it's not the place for people who are looking to use a tool for a one-off project.
"We're a community-run organization, so we can't support people who want to come in, make three cuts and leave," says Cantner, adding that the nonprofit has a strong relationship with Minnesota Tool Library, where members have access to a lending library of over 5,000 tools.
It's important that members are invested in the community not just to assist others through orientations and classes, but because of the fact that there are no employees.
"We tell new members, 'Everything that happens here happens because you want it to happen,'" Cantner says. "No one cleans the toilet, unless you do."
When the industrial sewing machine in the Artifactory stopped working, it was up to Cantner to fix it. Luckily, she had help from other members, including machine shop experts who helped her make a new screw to fit the exact proportions of the vintage machine. It's the same when any machine or tool needs fixing, and it's why accountability and a sense of communal responsibility are so important to keep the shop functioning properly.
As Cantner moves between the soft room and the machine shop, she moves through a type of ecosystem. There's a symbiotic relationship between the two spaces, as evidenced by the story of the screw and by the fact that members who come in to use two very different shops share a responsibility for keeping the larger workshop clean and safe for everyone. They all use the same bathroom, and the ways they find to help each other have made Twin Cities Maker into a largely self-sufficient community.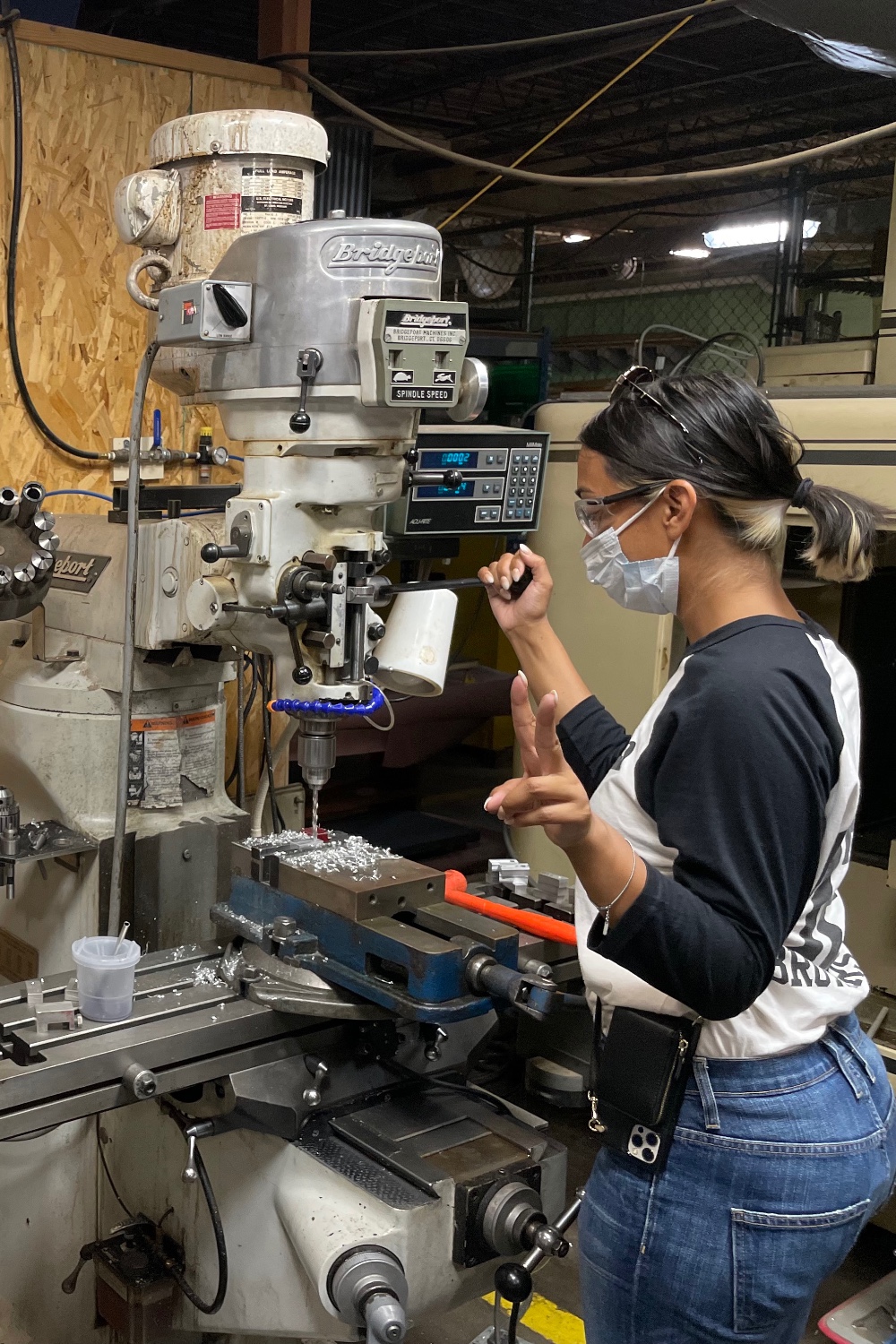 Board member Pi Chowdhury machines some aluminum on the mill.
'We're here and we're a great resource'
Twin Cities Maker's membership and shop footprint have grown exponentially since the workshop started. Emerging from the pandemic, Cantner is focused on reconnecting members through community events in the shop, and on expanding Twin Cities Maker's presence in the neighborhood and beyond.
The workshop frequently partners with groups who could benefit from the space — for example, hosting a school robotics team in the electronics lab — and is looking forward to growing their community programming after the pandemic hiatus.
Cantner also wants new members to feel empowered in engaging deeply with the workshop, from teaching classes to starting new activity nights to joining the board or attending its monthly meetings. As part of an intentional community, members drive the future of the workshop.
"All of the things that happen here happen because of member interest and members wanting them to happen," Cantner says. "We're here and we're a great resource for people who want to be invested long-term." ◼︎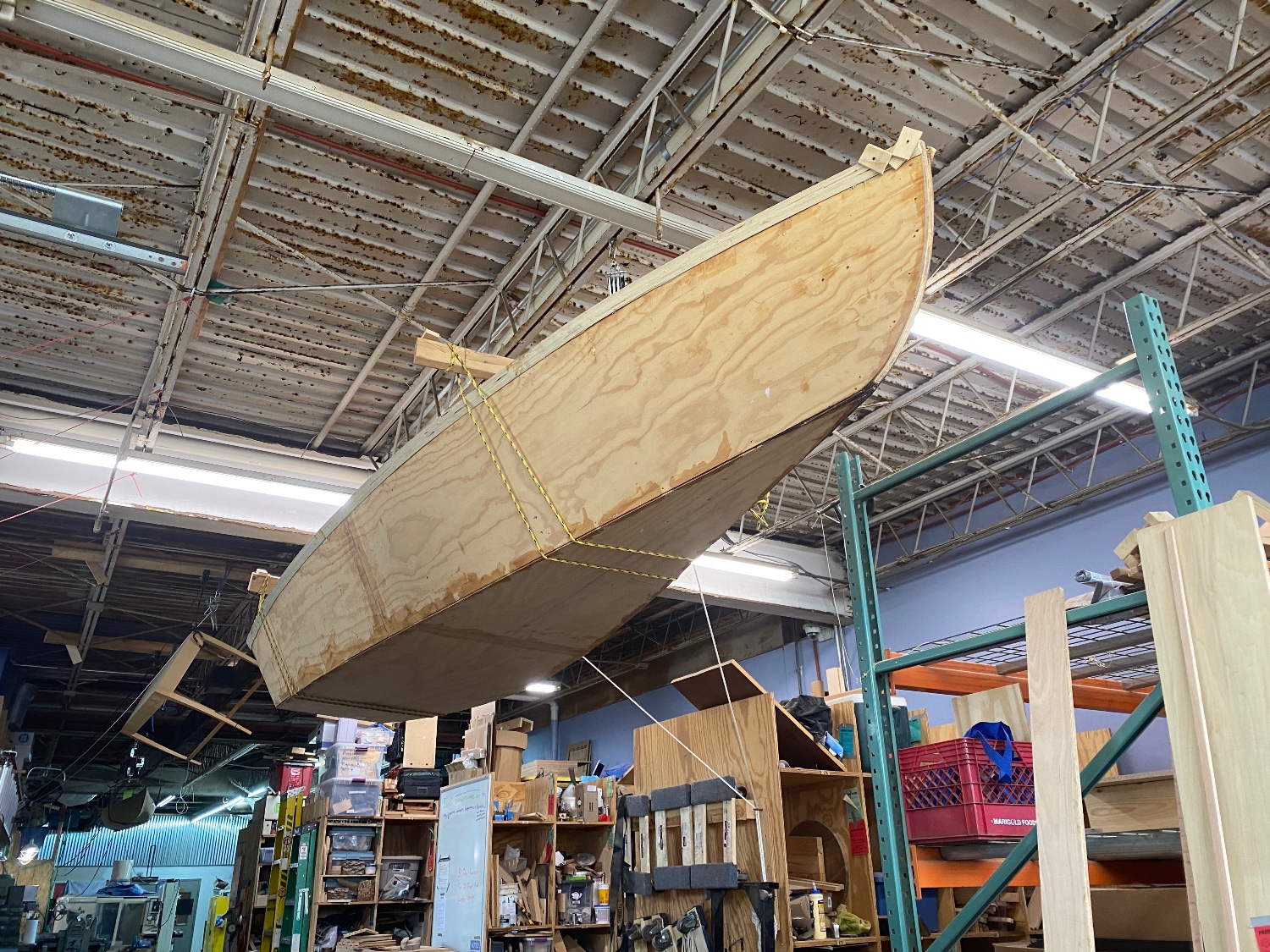 Though member storage is limited, larger projects like this boat build can be accommodated through communication with shop leadership. Photo by Bridget Kranz
Learn more about Twin Cities Maker on their website, on Instagram @twincitiesmaker, or through attending a weekly open house on Wednesday nights from 7 to 9 pm. The workshop is located at 3119 E. 26th Street.