From neon sign-making to fine art exhibitions, Foci Minnesota Center for Glass Arts is focused on providing more ways for the community to access glassmaking (and viewing)
Walking down the hallway at Foci Minnesota Center for Glass Arts is a reverse journey through the glassmaking process.
You're welcomed by Foci's marketplace, with finished pieces for sale from local and visiting artists, as well as perennial favorites like blown glass flowers, olive oil bottles, and paperweights. Adjoining the marketplace, Foci's gallery puts on exhibitions of both local and national artists working in glass. Dotted around the entrance are examples from students in Foci's many glass working classes.
Go further into the building and you'll come to the stained glass studio, then the kilns, and eventually the glassblowing and flameworking studios. While Foci started primarily as a glassblowing center, its focus has shifted over the years to provide more entry points into glass art. When the organization moved to its new space off Franklin Avenue in 2021, it provided an opportunity to expand programming along with a one-level, ADA-accessible space.
Come along for a tour; we'll start at the back.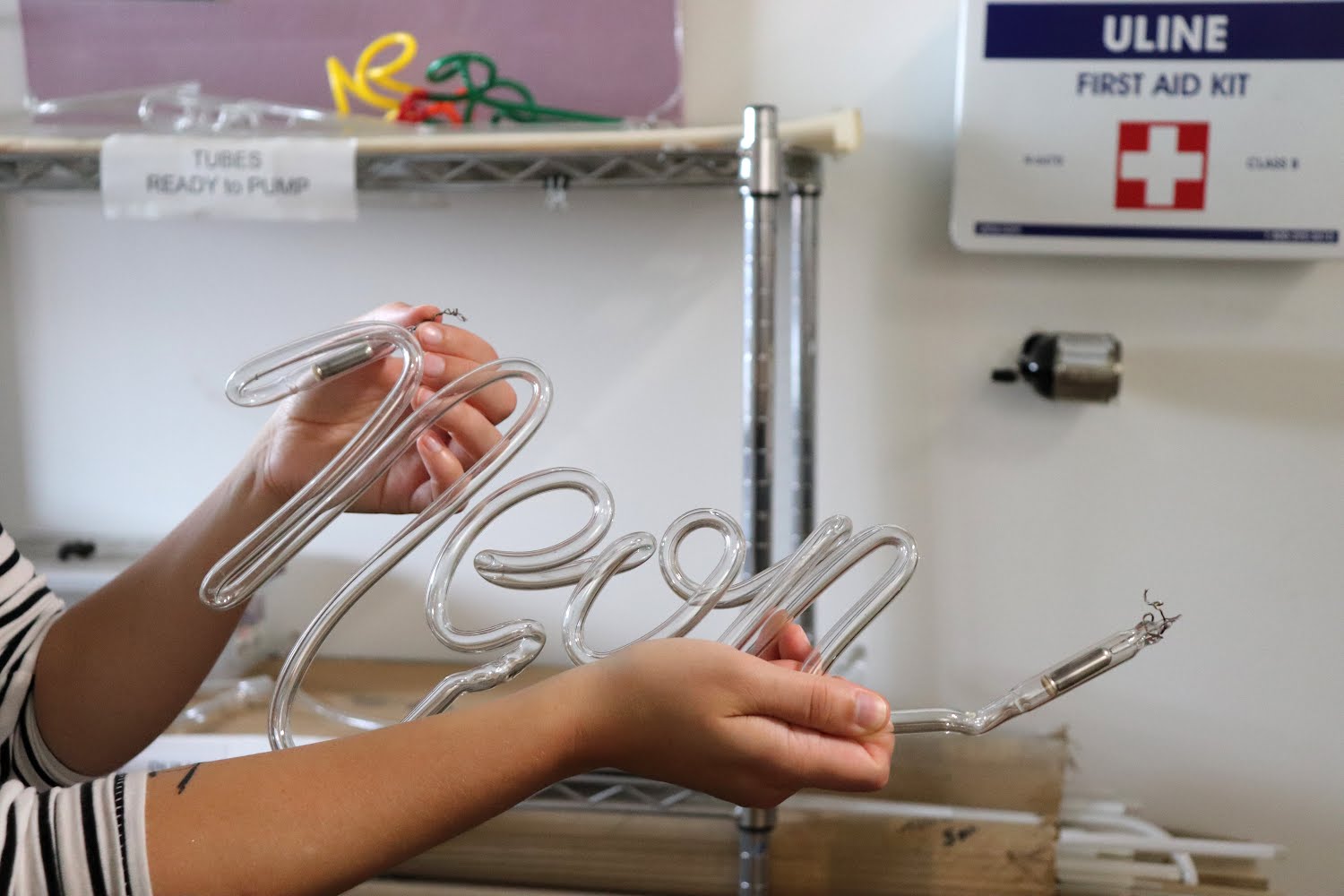 Foci offers neon classes, which teach students how to bend a glass tube to make their own neon sign. All photos by the author.
Find your way into glass (or neon)
The heart of Foci is what you might picture when you think of glass working. Artists who rent out Foci's studio space head back and forth between 2,000-degree furnaces and work benches, dipping pipes into molten glass and blowing air to shape the soft material.
Foci began primarily as a glassblowing center, says Executive Director Anna Lehner, who came on board shortly after the move to Seward in 2021, and it's still an important part of the organization's facility and programming. Artists can rent time in all of Foci's studio spaces to use their equipment – including furnaces, kilns, hand tools, torches for flameworking, and more. Foci also offers a "time trade" program that provides studio time in exchange for volunteer hours.
While glassblowing is still prominent in the new space, the move allowed Foci to introduce new areas of programming. These include stained glass and flameworking, which uses a torch to heat glass for shaping into vessels, beads, sculptures, and more.
"We're focusing on a lot of different areas of glass working to provide people with more ways to access the medium," says Lehner. "Flameworking and stained glass have both been super popular since we added them at our new location. It's really cool to see."
Foci offers one-day discovery classes, in addition to multi-day and multi-week workshops. If you notice the neon "Foci" sign on your way in – that was made in-house, and you can learn how to make your own neon sign as well in one of their neon classes.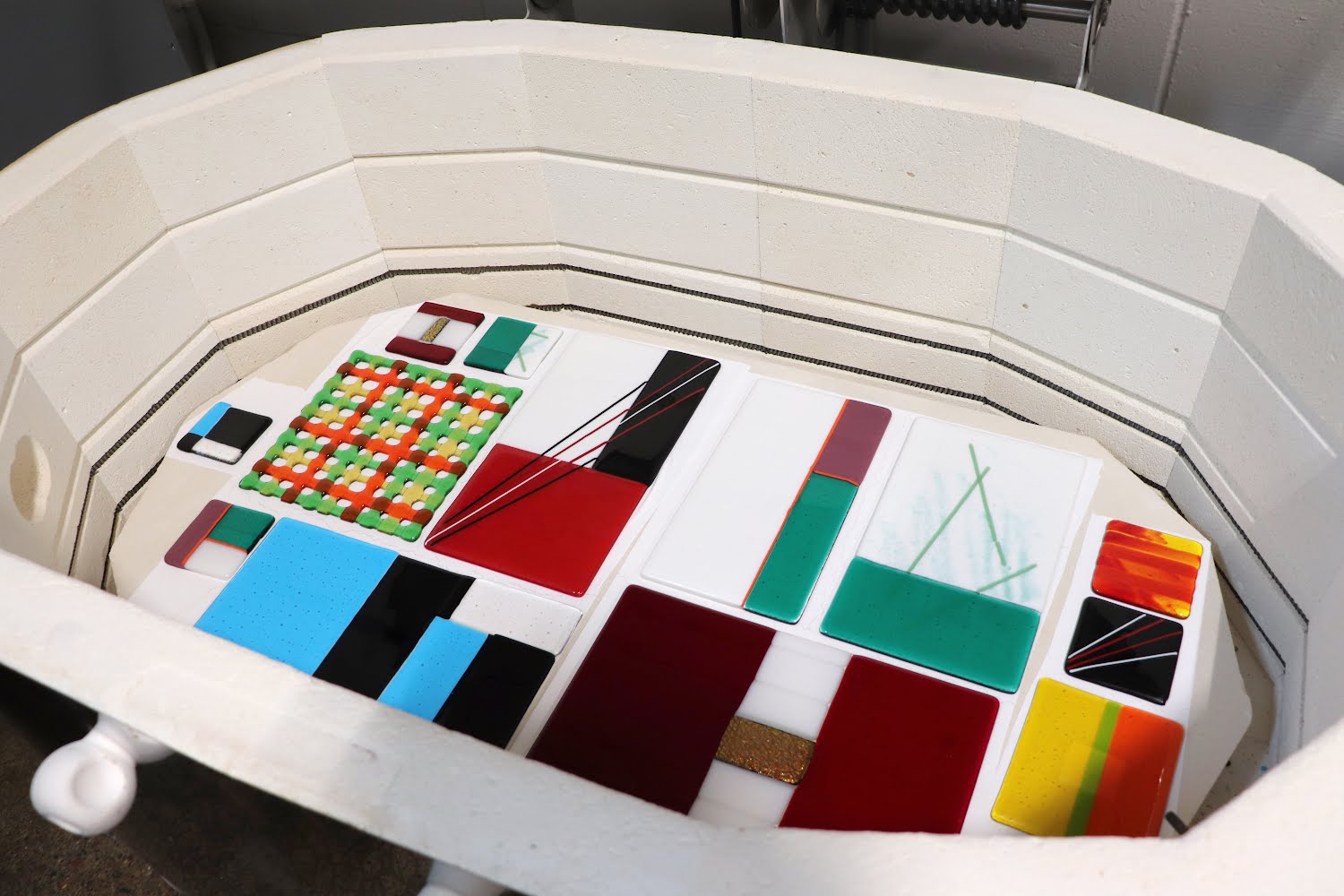 A glass kiln at Foci being used to make fused glass work. Photo by the author.
Fine art, jewelry, housewares in gallery and marketplace
Glass, like many artistic media, has straddled the boundary between fine art and craft over the years, and both fine art and artist-made goods are on view at Foci.
There is a fine art gallery space with shows that rotate every few months. The current exhibition, called Power of Place, is a solo show by Wisconsin-based artist Carolyn Spears. The show features several pieces made with hot glass and ice, inspired by the glacial landscape of the Midwest. Foci is unique as Minnesota's only glass arts center, and it's one of a relatively small group nationwide. It's important to find a balance, Lehner says, between showcasing local and visiting artists.
"We typically bring in two to three visiting artists every year and have them lead a workshop while they're here," says Lehner. "It's a great way of networking between the artists working in our studio, local glass artists and community members, and artists from all over the country."
The gallery is a chance to showcase glass work from further afield and to shine the spotlight on local glass artists. Next door, the marketplace features primarily local and regional work, with occasional pieces from visiting artists. The selection varies from housewares to display pieces to jewelry, and there are also several items produced by Foci staff, including popular glass objects like vases, oil bottles, paperweights, and flowers.
Emily McBride, gallery and marketplace coordinator, sees these spaces as a resource for both new and experienced glass artists.
"We want to display a broad spectrum of what's possible with glass. We have a lot of people coming in to take our classes, and it's great to be able to show them a wide range of processes and examples of artists using those techniques in their work," says McBride. "We're a shop and a gallery, but we're also a resource."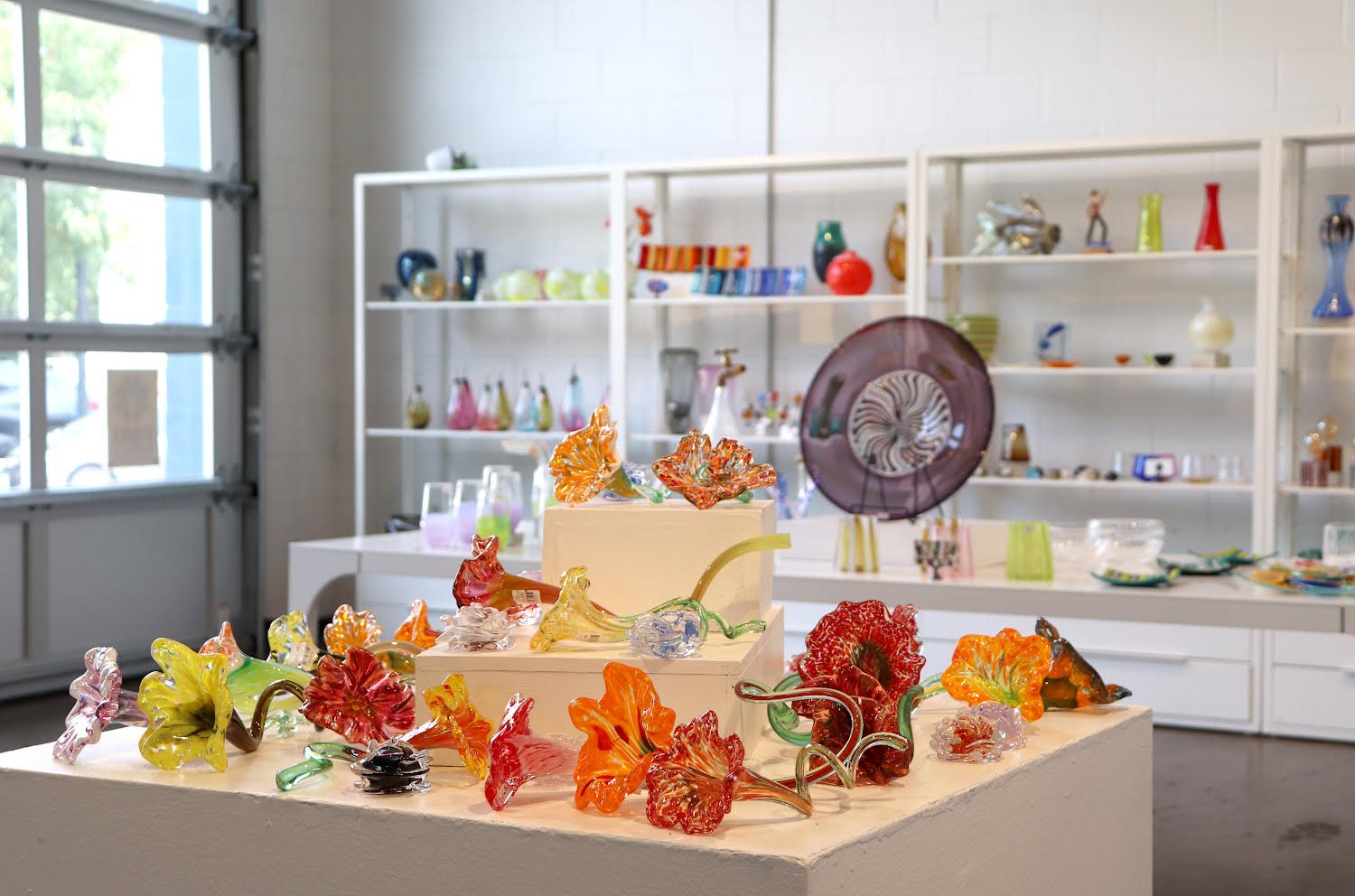 Glass flowers are among the works for sale in Foci's marketplace, open to the public daily from 11am — 6pm. Photo by the author.
Glasswork for all
The past two years have seen Foci expand and introduce new studio spaces and avenues into working with glass. What's next? Lehner says the focus is on accessibility, and the potential for collaboration with the many other arts organizations based in Seward.
"Accessibility and inclusion are at the forefront of what I picture for the future of Foci," says Lehner. "One way we're working to make glass more accessible and to make Foci a more inclusive space is through our scholarship program." Foci's core classes all have one full-tuition scholarship with priority placement for applicants who are Black, Indigenous, or People of Color (BIPOC).
Looking around the Seward neighborhood and beyond, Lehner is also excited by the opportunities for collaboration with other arts organizations, as well as area schools and businesses. Foci has already hosted shared classes – a mold making and glass slumping class in partnership with Northern Clay Center and a glass working and choreography project in partnership with Threads.
"We overlap a lot with the other arts organizations in Seward; we don't have to remain in our silos," says Lehner. "Neighborhood events also help bring us together as organizations and allow people to see the variety of arts programming that exists in our community." ◼︎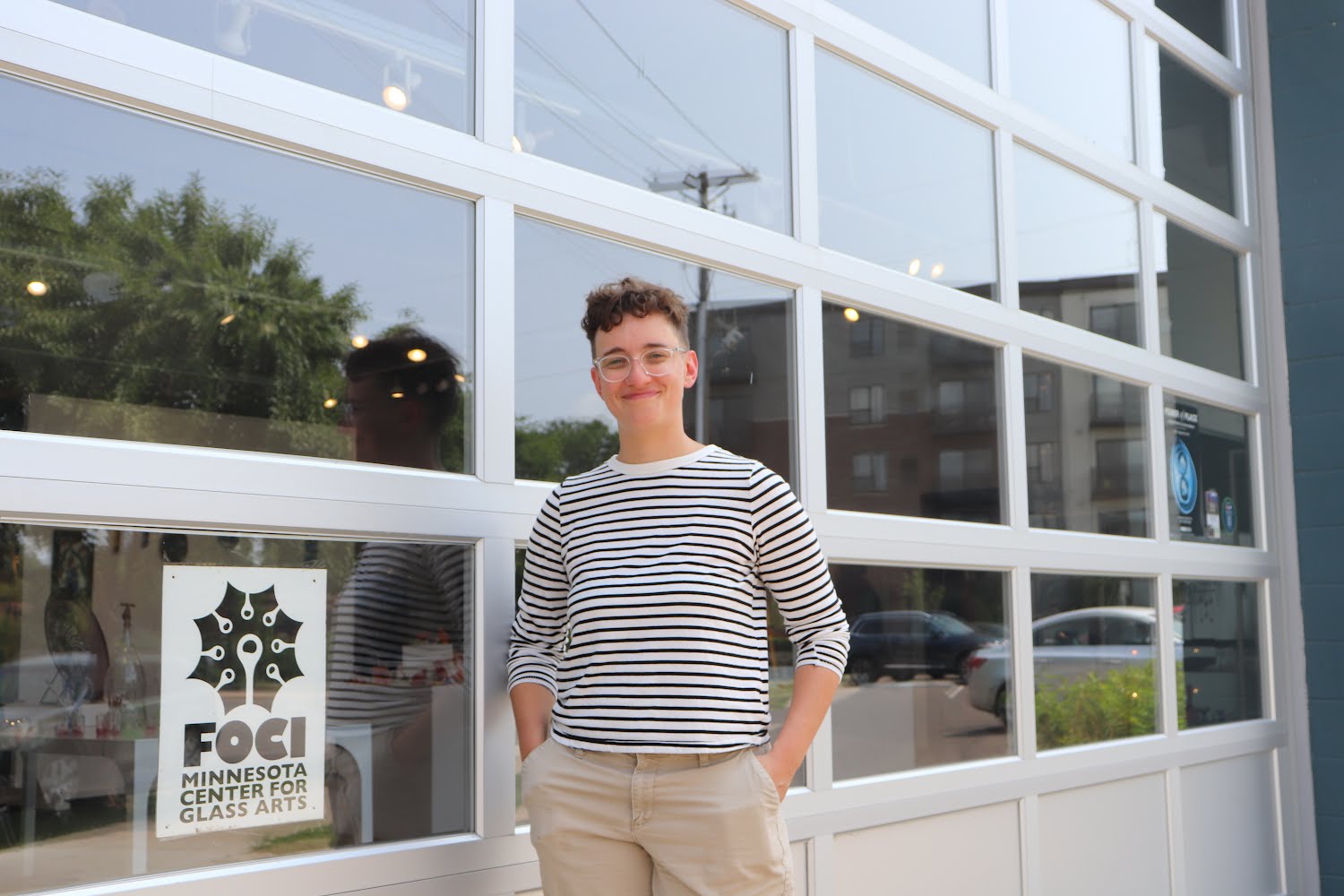 Glass artist and educator Anna Lehner came on board as Foci's executive director in 2021.
Foci Minnesota Center for Glass Art's gallery and marketplace are open to the public seven days a week, from 11am to 6 pm. For more information on Foci's programming, including classes, studio rental, and exhibitions, visit their website or follow them on Instagram @focimcga.
Headed to the Minnesota State Fair this summer? Foci will have an outpost at the West End Market.
Banner image: Artist Jenn Justad works blowing glass in the Foci studio. Photo by the author.