Hennepin Theatre Trust is seeking to showcase visual art alongside its theatrical offerings, growing an already robust arts district along Hennepin Avenue
Going for dinner and a show in downtown Minneapolis? Add some visual art to the mix and visit Christopher E. Harrison's new exhibition at the Hennepin Theatre Trust's Best Buy Foundation Gallery, next door to the Orpheum Theater.
On view beginning March 17, Harrison's show focuses on a new series of portraits inspired in large part by the events of the past three years, including both the pandemic and the death of George Floyd. For people who have seen Harrison's public art installations or abstract work, the figurative work will be a departure, although the subjects exist in abstracted environments.
"Most of my practice has been abstraction, but I felt that I needed to portray people to make a more human and concrete connection," says Harrison.
With the theater district still recovering from the effects of the pandemic, Hennepin Theatre Trust is positioning visual art as a compliment to performances on Hennepin Avenue, and it has four gallery spaces to work with in addition to its public art programs.
"We want to get people into our gallery spaces," says Public Art Manager Tanya Gravening, who approached Harrison about a solo show late last year. "We're a place people go to experience the arts, and it's important that they see visual art as well."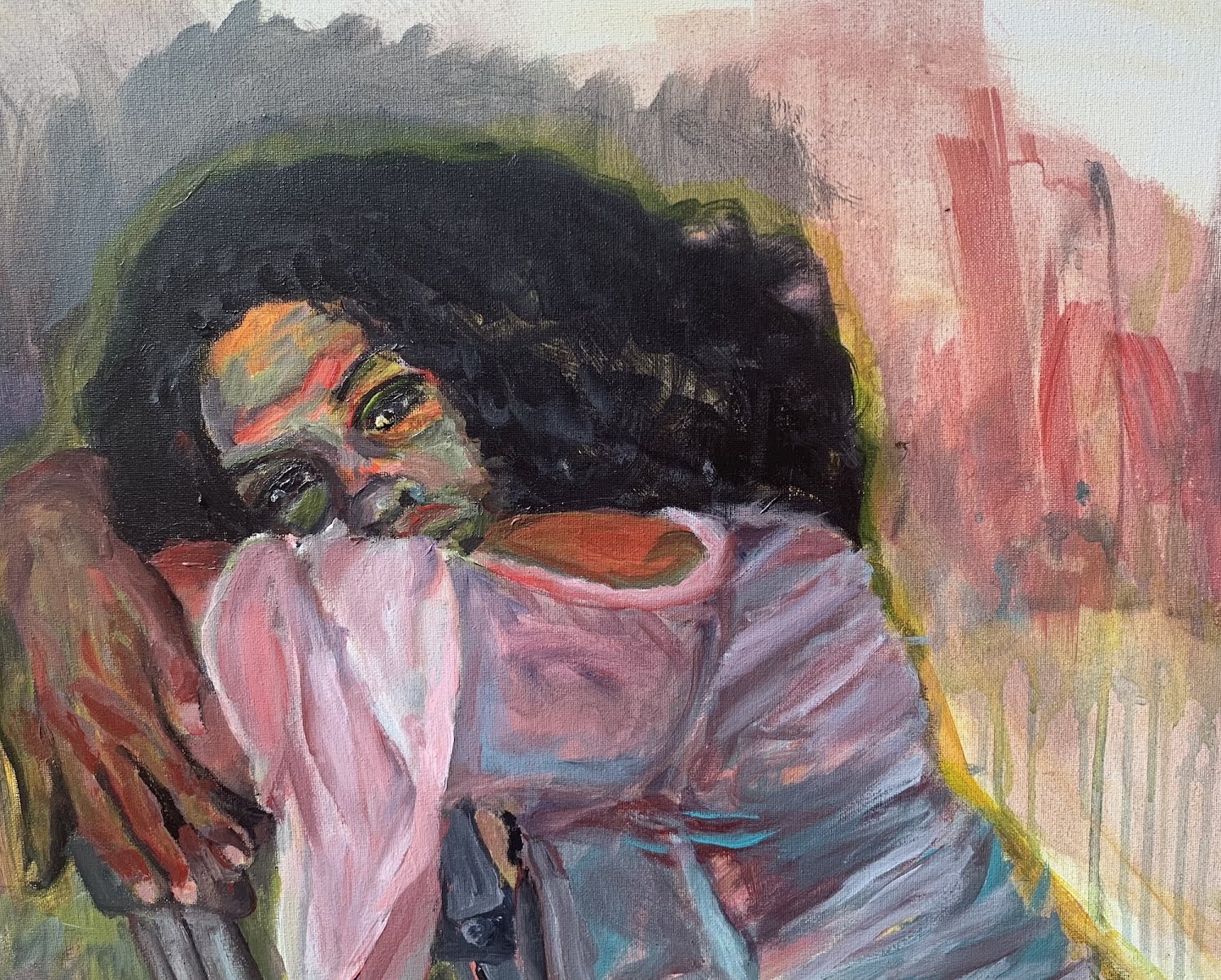 Christopher E. Harrison, Wonder, acrylic on canvas, 2021.
A new portrait series, "undefined environments"
Harrison's portraiture series is fitting for the theater district – he puts the spotlight on individual emotion within his new paintings and drawings, expressed by vivid faces, hands, and postures. While figurative painting is a new area of exploration for Harrison, the backgrounds of his portraits still deal in abstraction. The figures exist in imagined spaces that, in some cases, seem to extend from their own bodies — as in the case of Angst, where symbols surround the figure's head or Siren, where circles radiate out from a person singing.
There were a few reasons for keeping the backgrounds abstract, says Harrison, including heightening the sense of isolation, or spotlight, around the figures in his work.
"There's the idea of Black people either feeling isolated due to lack of support, or focused on because of police brutality," says Harrison. "These undefined environments that the portraits exist in are a metaphor for the chaos and uncertainty that Black people have to exist in on an everyday basis."
Harrison had connected with Hennepin Theatre Trust through previous work, including public art installations like Made Here, which put art in vacant storefront windows. Last year, the trust put together a show of Made Here alumni work, including one of Harrison's new portraits. Soon after, Gravening approached him about the possibility of doing a solo show.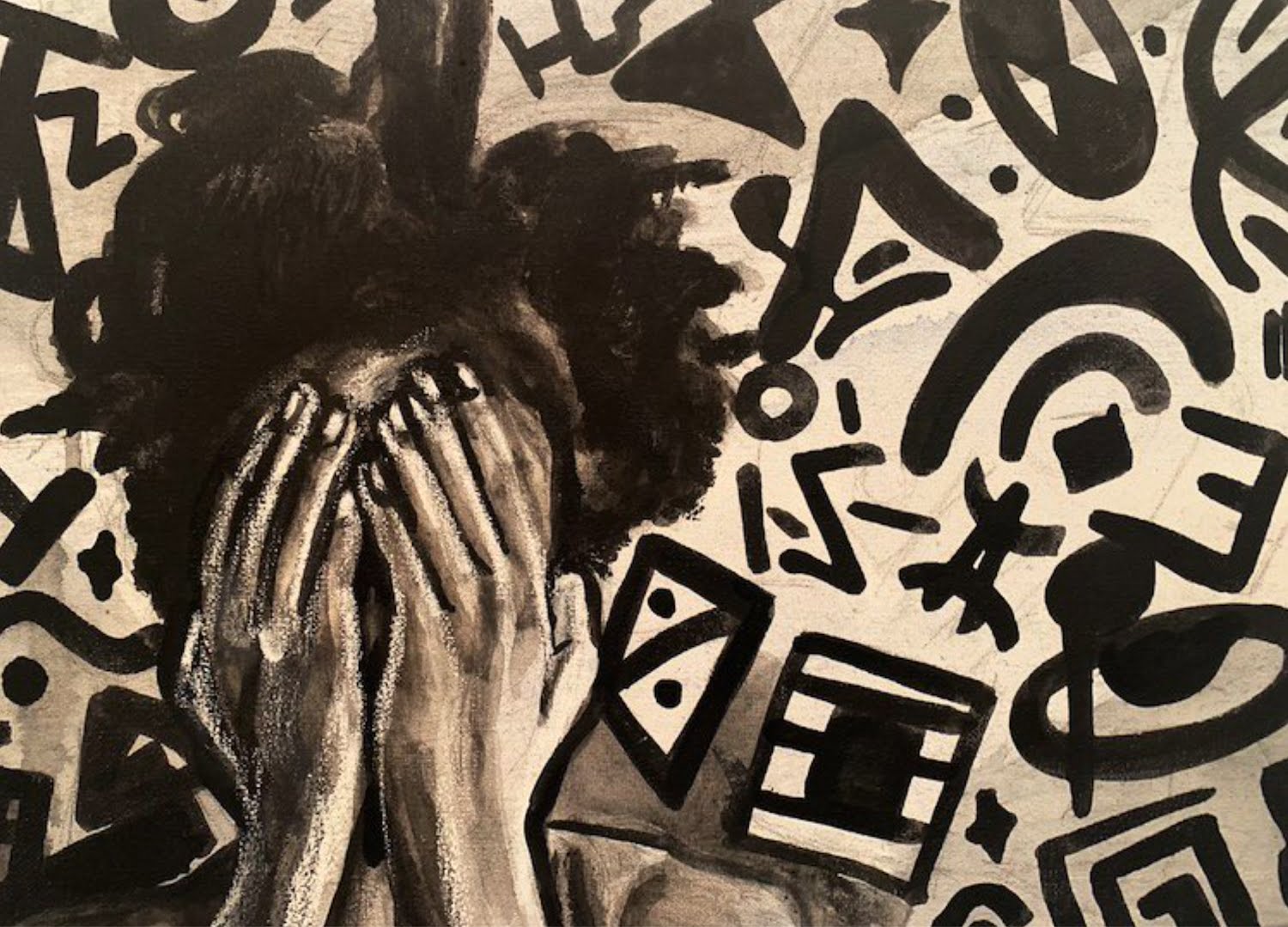 Christopher E. Harrison, Angst, ink on canvas, 2023.
Expanding the arts on Hennepin
Gravening started with Hennepin Theatre Trust at the beginning of the pandemic and began working downtown in the summer of 2020. At the time, the theater district was struggling on multiple fronts: cancelled events and restaurant closures to minimize crowds, plus construction along Hennepin Avenue and the perception that downtown was a ghost town.
"It really kind of wiped-out Hennepin," says Gravening. Now, as people are returning for performances, there's an opportunity to make visual art a larger part of their visit.
"Downtown needs to have a stronger art force again — a lot of it went away during the pandemic," she says. "Being a nonprofit, we can play a role in bringing it back, and we have a built-in audience that is coming to Hennepin for performances."
The Best Buy Foundation Gallery, which hosts four shows a year, is one of four exhibition spaces operated by Hennepin Theatre Trust. The other three include: City Place Lofts, City Center, and the Jack Links Legends Lounge (located in the same building as the Best Buy Foundation Gallery).
City Place Lofts (730 Hennepin Avenue) is a place for Hennepin Theatre Trust to showcase digital reproductions or posters of artists' work in the windows at sidewalk level, and the trust partners with Minneapolis Community College to showcase student work in the skyway at City Center (615 Hennepin Avenue).
The Jack Links Legends Lounge, in the same building as the Best Buy Foundation Gallery at 900 Hennepin Avenue, is used to showcase different materials from the Trust's archives, including a current show on the history of vaudeville in Minneapolis.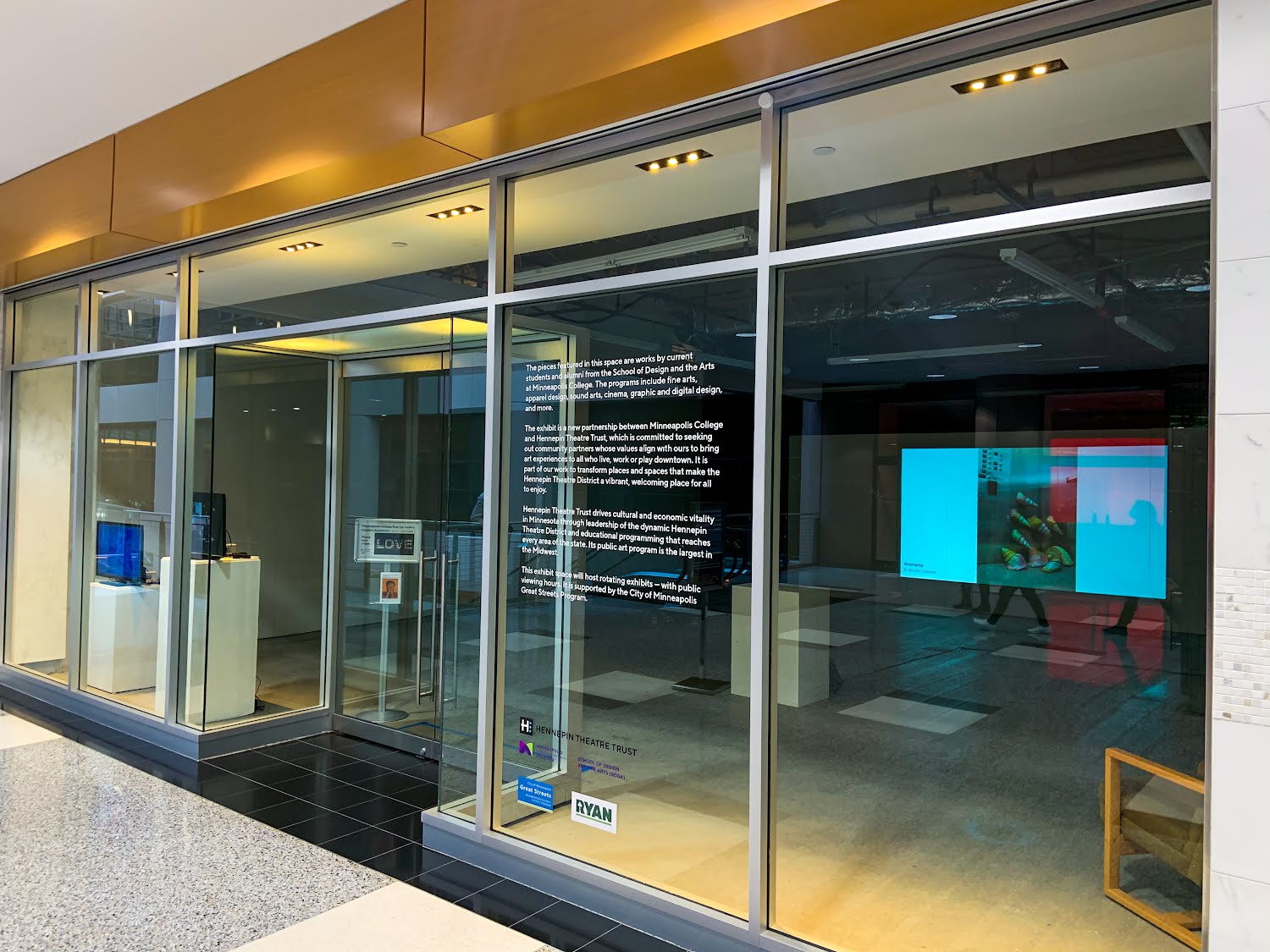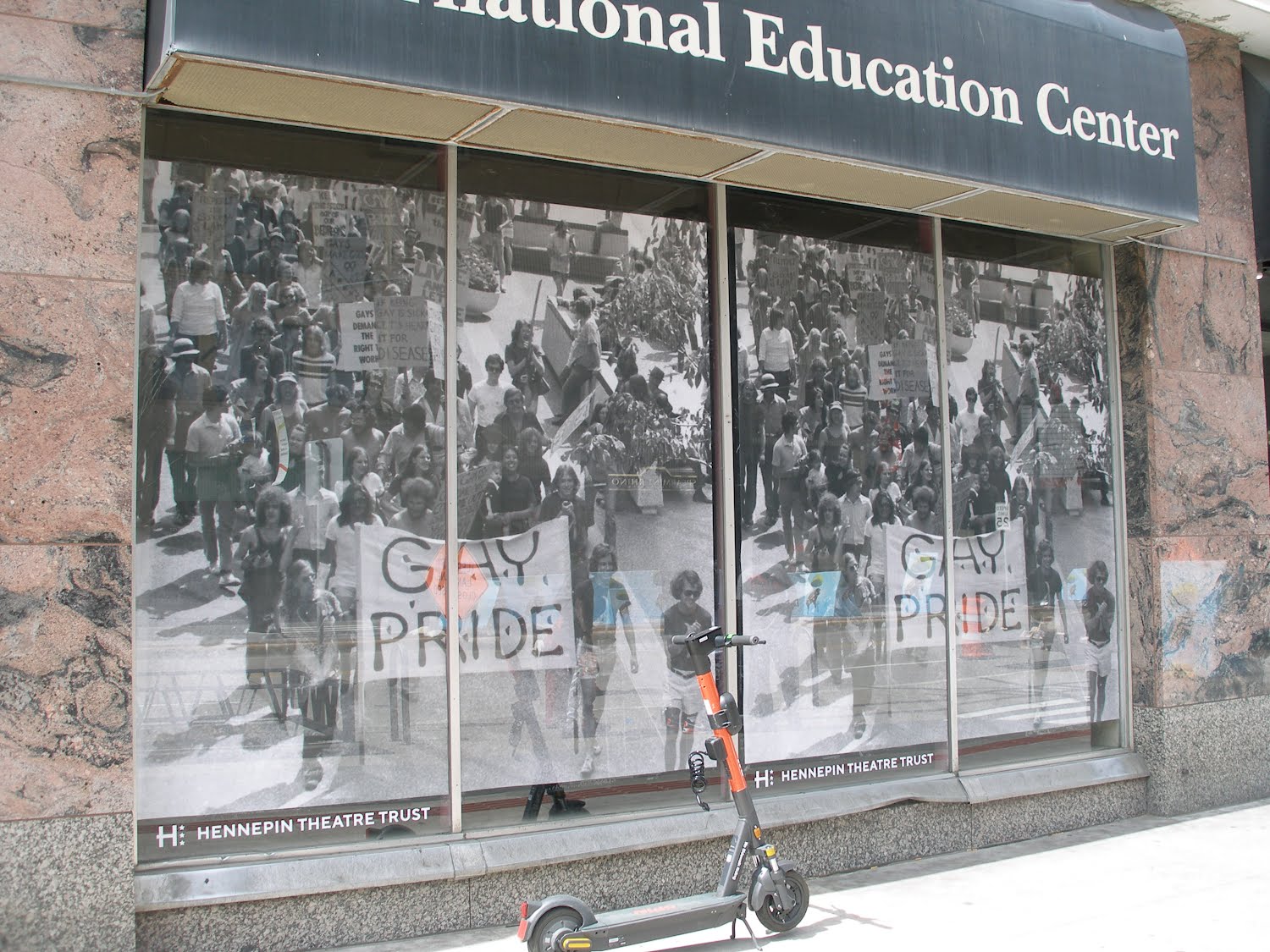 Top: The Best Buy Foundation Gallery featuring the previous exhibition Resilience in conjunction with AVIVO Artworks. Bottom: A 2022 LGBTQIA+ exhibit at the Sidewalk Gallery in windows facing Henneping Ave. Images courtesy of Hennepin Theatre Trust.
Dialoguing with artists, attendees
In addition to having work up in the galleries, Gravening hopes to bring local artists and the public together downtown. The reception for Harrison's show, scheduled for May 25, will be formatted like a salon with several guest artists in attendance.
"It's still a very creative street," says Gravening. "It's a place where people go to experience the arts. We just need a little more visual art, and we need people to know about it, too."
As with watching a performance, Harrison sees visiting the gallery as a chance to form a relationship with the work in front of you, even converse with it and with other viewers in a way that isn't always possible at the theater.
"It's a place to observe and hopefully develop dialogue – between the viewer and the piece, between the work itself, and between viewers," says Harrison. ◼︎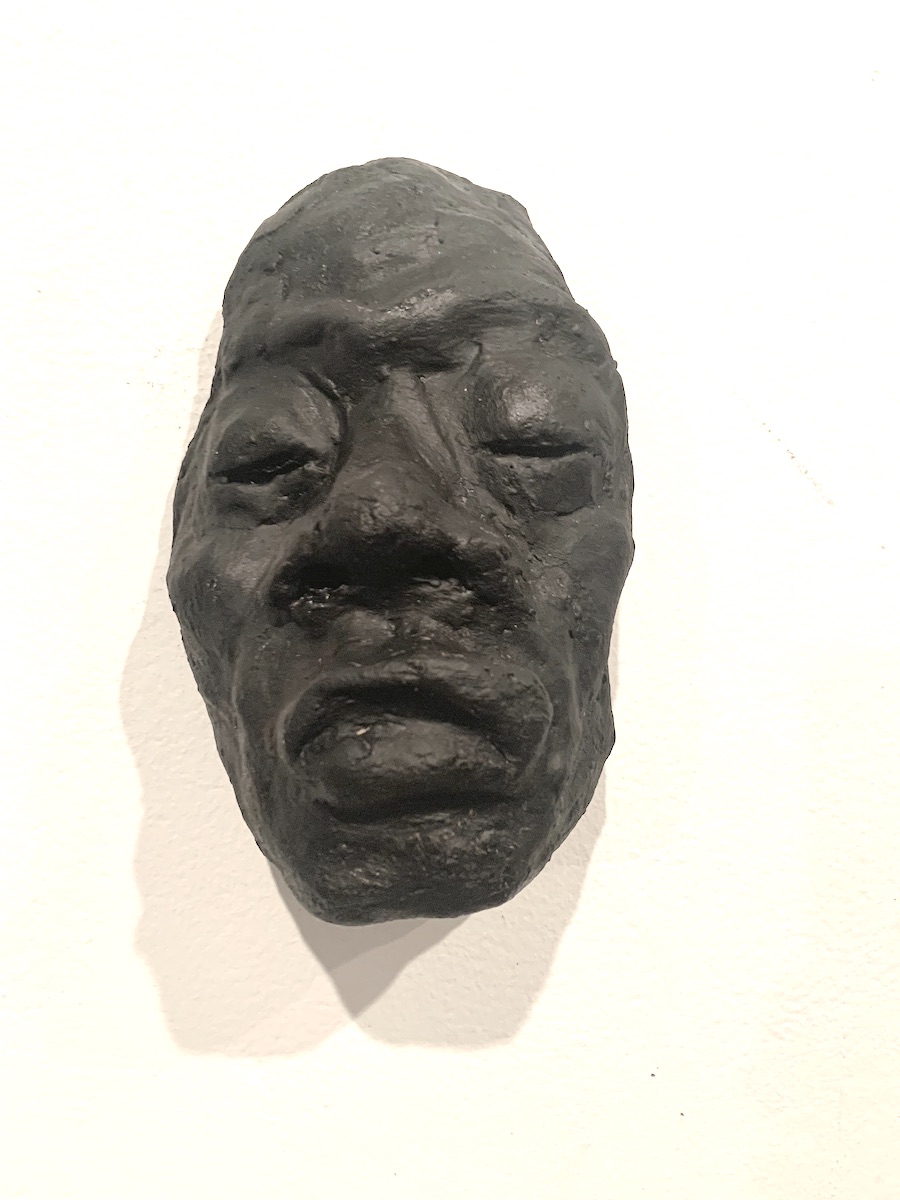 Christopher E. Harrison, Head Mask 5, acrylic on clay, 2021.
Christopher E. Harrison's show will be on view at the Best Buy Foundation Gallery from March 17 to June 25, with a reception and artist's salon open to the public on May 25. You can see more of his work at harrisonartstudio.net or follow him on Instagram @christophereharrisonartist.
The Best Buy Foundation Gallery is open 9 a.m. to 5 p.m. on weekdays, plus before and during the intermission of all Broadway performances at the Orpheum Theater. It's located at 900 Hennepin Avenue.
All images courtesy of the artist unless otherwise noted.