First formed in the 1990s, Art Buddies connects elementary school students across the Twin Cities with creative adults to craft one-of-a-kind projects
Last week I got an Instagram DM from an account I'd heard about in passing from other artists: @artbuddies. They are looking for mentors to work with kids on an upcoming Character Creation project this March, working together to develop personas and costumes from scratch, by hand, and for fun. The young artists use cardboard, fabric, markers, glue, and whatever else they can get their hands on to turn themselves into wizards, mermaids, robots, superheros, you name it – basically a DIY Halloween in the middle of spring. It kinda sounds like a blast.
It also sounds like the kind of thing that might make the world a better place. Citing a 2019 study, the Brookings Institute's Brown Center Chalkboard found that increased arts education among elementary students tends to "positively and significantly affect students' school engagement, college aspirations, and their inclinations to draw upon works of art as a means for empathizing with others." As they so bluntly and accurately put it in their opening sentence, "Engaging with art is essential to the human experience."
My own experience with mentoring young adults has been that I get as much out of the relationship as the mentee (if not more, at times), so I thought I'd reach out to Mari Marks, the Program Director at Art Buddies, to learn more about their program and hopefully encourage other creative folks in the Twin Cities to give mentorship a shot.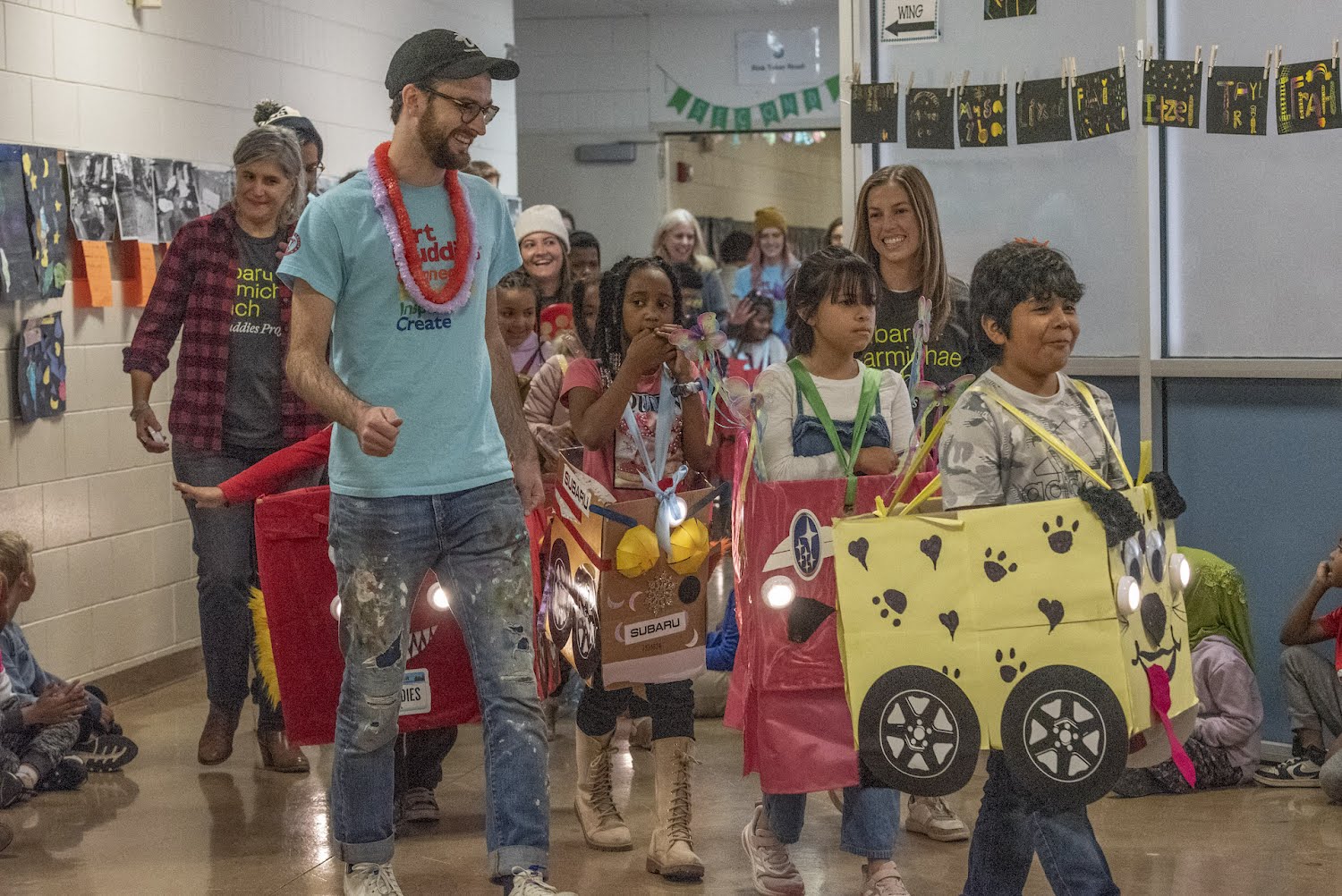 Photo by Karen Kraco.
RW: First off, what is Art Buddies? What communities and age ranges do you serve?
Mari Marks: Art Buddies is a nonprofit organization offering free one to one creative mentorship to elementary students in the Twin Cities. We work with third- through fifth-graders in schools where there are free and reduced lunch rates of 80% or higher.
RW: What kind of projects do the mentors work on with the kids? Are there skill-sets they need to have before volunteering?
MM: During our Character Creation program, mentors and students (buddies) work together to create a "Super Buddy" costume based on the students' values and interests. The student leads the way, each mentor acting as an assistant and cheerleader for their ideas. There are no requirements asked of volunteers; we welcome all who have a positive attitude and enjoy working with children.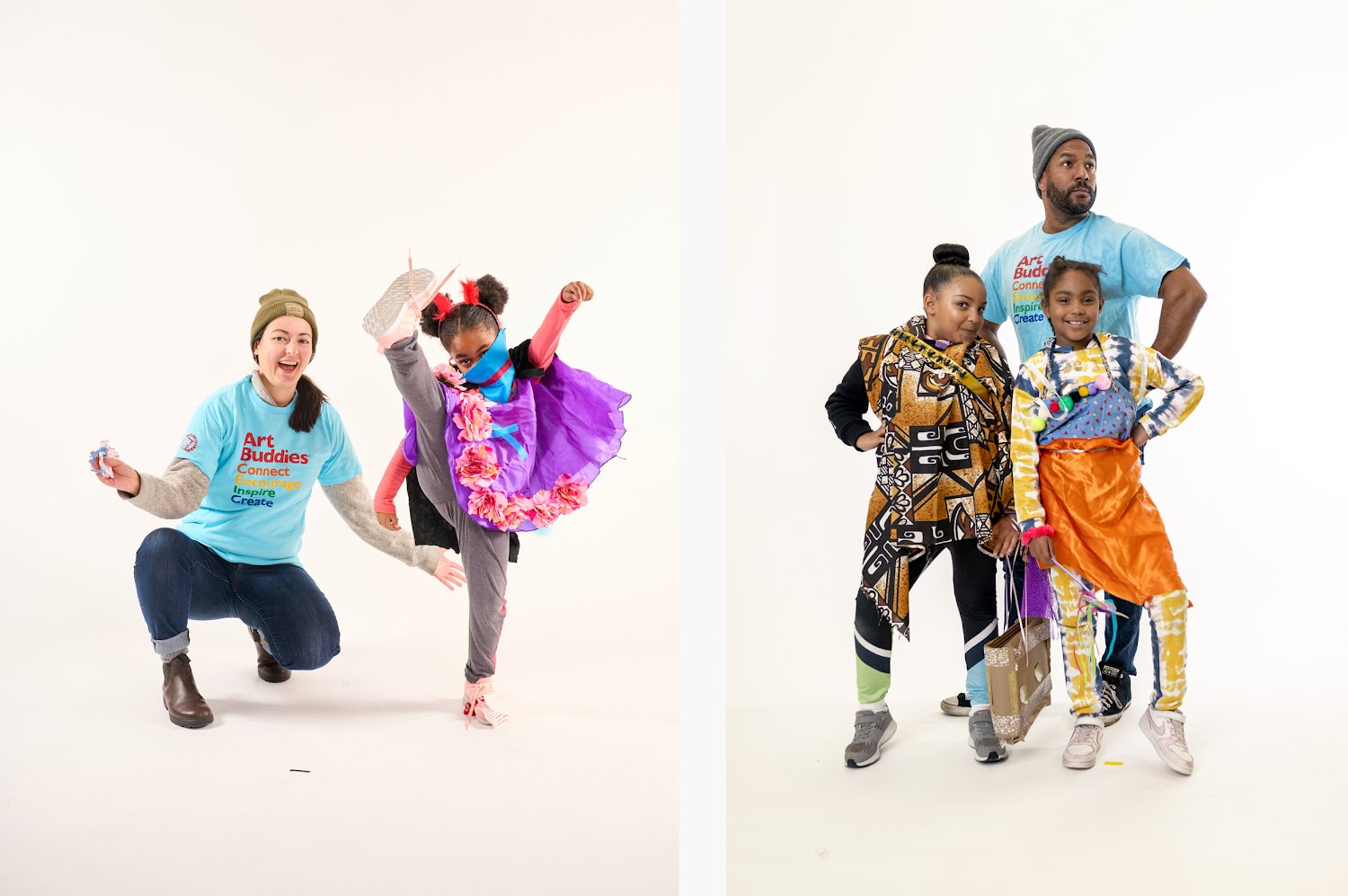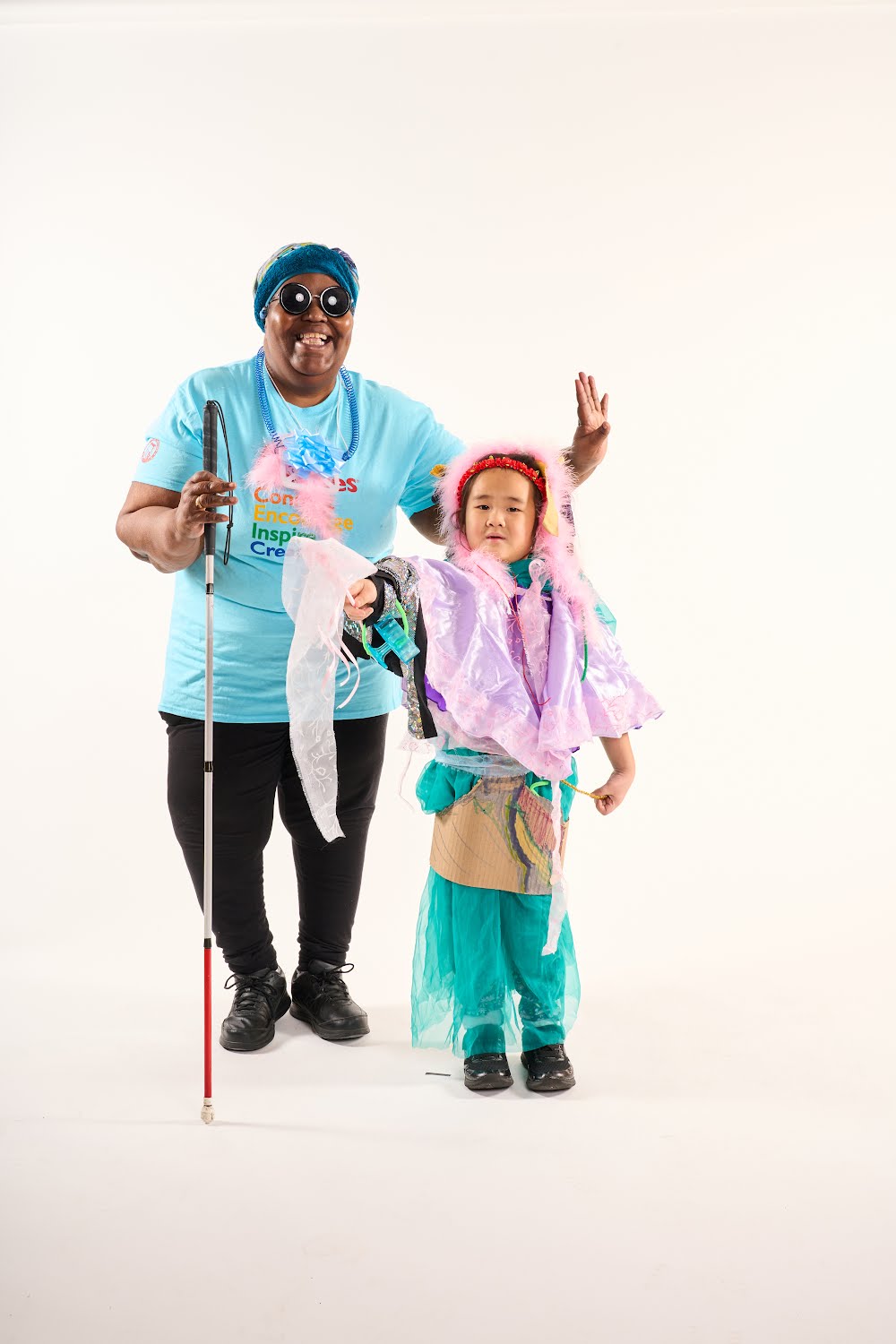 Mentors and mentees model their creations. Photos by Scott Streble (top right) and Jake Armor.
RW: I imagine that the benefits to the kids are obvious – one-on-one attention, learning new skills, seeing a fun project through from start to finish. What do the mentors report getting out of the experience? (It looks like a ton of fun, at the very least.)
MM: Mentors are able to return to their raw imagination, connecting with their buddy as they watch the ideas come to life. Mentoring is a way to share the joy of art with others, give back to the community, and foster creative growth for the future. Many creative individuals appreciate the new ideas and passion they find in the students. Throughout the program there are opportunities to network with other local professionals and creatives.

RW: This program has been around since the '90s. Have you heard back from any of the early mentees who are now all grown up?
MM: We have! Just recently we were posting flyers for our spring programs in Uptown and we ran into Larry White. Larry was a buddy at Whittier International School, and now works in the community. Larry said "In 2006, in third grade I was a participant in Art Buddies. I still remember it to this day and it was one of the best experiences of my life. It was quite impactful and everyone should try it out."

Jesus Barerra, a buddy at Whittier International Elementary School, returned to Art Buddies as a young professional as a Mentor, and now teaches kindergarten at Whittier. With over 30 years under our belt, we have many returning mentors and mentees.

RW: What should people who are interested in volunteering do next?
MM: Go to our website Artbuddies.org/be-a-mentor and sign up! ◼︎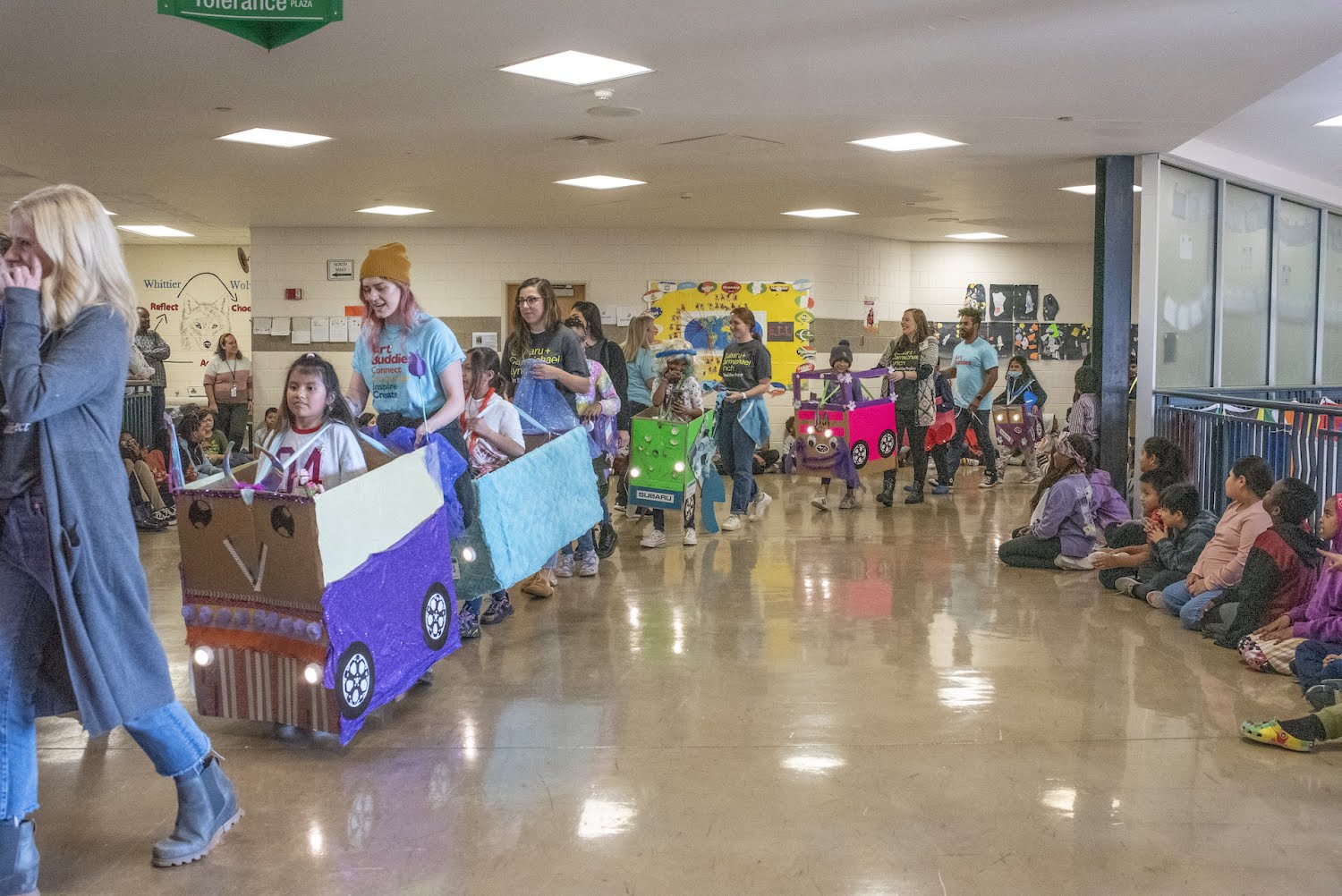 Photo by Karen Kraco.
For more on Art Buddies, visit their website or follow them @artbuddies on Instagram and Facebook.
All images courtesy of Art Buddies.