In their own voices, the "We Are Still Here" Mural Artists speak to the power and impact of the public art mentorship program, a partnership between All My Relations Arts and Hennepin Theatre Trust
The ubiquitous phrase: "Blank walls | Blank minds" is more than just an aesthetic. It's the mindset of street artists, public artists, and mural creators all across the globe. Throughout Minneapolis, vivid contemporary murals can be found at nearly every turn. Instruments for change, cultural agency, and innovative creativity, murals have the power to elevate our communities with messages of hope and healing through thought-provoking visual dialogue, while providing accessibility in the arts.
For the development of the "We Are Still Here" artists cohort, All My Relations Arts (AMRA, a program of the Native American Community Development Institute, NACDI) partnered with Hennepin Theatre Trust to co-develop a 9-month learning cohort featuring three Native American artists. The initiative matches emerging Native artists with established Native arts mentors in an extensive fellowship to create a variety of public art works which promote Native and Indigenous storytelling in the community along Hennepin Avenue, the American Indian Cultural Corridor, and throughout the greater Twin Cities metro area. "We Are Still Here" is an ever-evolving project, a catalyst that weaves Native and Indigenous culture back into Hennepin Avenue, connecting the district's community to arts and cultural experience from its past in profound ways.
Now in its second iteration, the current "We Are Still Here" cohort sets out to explore the practice of murals and public art as an integral mentorship informed by knowledge sharing, led by cohort mentor Thomasina Top Bear. Thomasina explains, "I am excited to be working with this all-Native artist cohort. Community is very important to me and has played a key role in my upbringing. I feel that being a part of any Indigenous community is sharing your resources and knowledge for the betterment of the whole."
As a board member of the international all-female paint crew Few & Far Women and co-founder of City Mischief Murals – an all-BIPOC artist collective centered on healing through art – Thomasina specializes in large-scale murals, and her work can be seen on the sides of buildings throughout the country. She draws influences from her Oceti Sakowin culture while using art to express thoughts on community, social justice, spirituality and togetherness.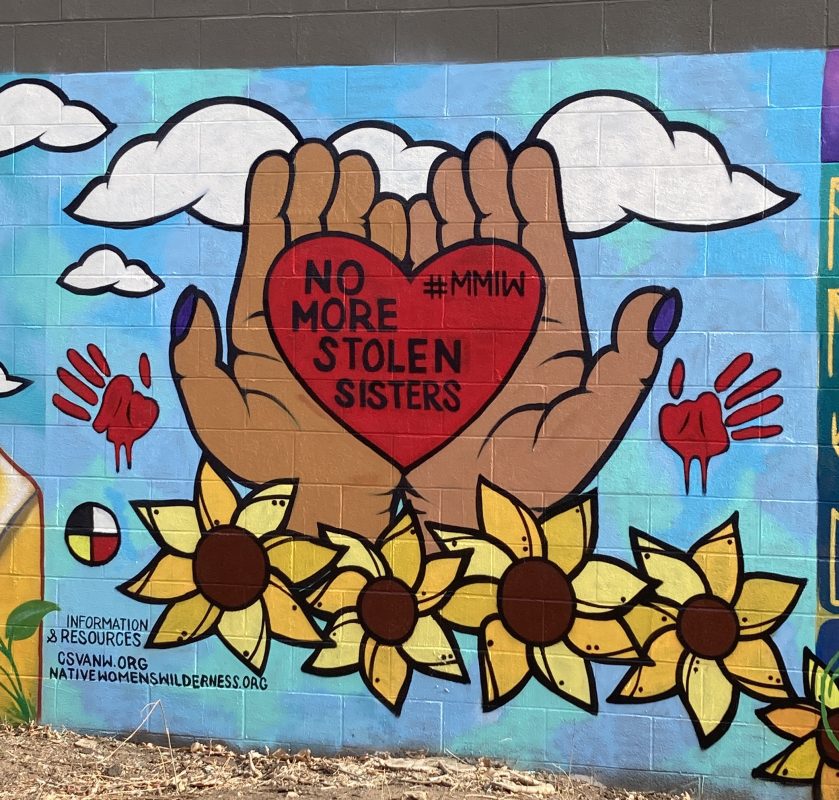 Thomasina Topbear, No More Missing and Murdered Indigenous Women, 2020. Located in Frogtown, Saint Paul, MN.
Through mentorship, the program sets out to give narrative agency and representation to Native artists and create more opportunities for Indigenous artists. "In theory, 'having a seat at the table' should mean the same opportunities are given as everyone else to listen, share, define, create, and prosper," says mural artist cohort member Jearica Fountain. "Unfortunately and often, Indigenous peoples are left out of these tables, because in society's eyes we are invisible. These mentorships figuratively say we are no longer waiting for a seat at the table, but creating tables for Indigenous peoples. It is important for us to carve out opportunities and create tables for us to sit at as Indigenous peoples. There is so much value in a mentorship program such as this in creating change, impact, and opportunities for our people."
The project's first cohort focused on digital art and featured three Indigenous artists (Ray Janis, Sheldon Starr, and Missy Whiteman) who worked closely with mentor artist Jonathan Thunder to create digital designs, full motion animation, projections, and a large scale mural. The "We Are Still Here" (WASH) initiative played a central role in the reopening of Hennepin Avenue by promoting Dakota storytelling and supporting the utilization of new technology in storytelling for Indigenous artists via pilots, prototypes, and final projects along Hennepin Ave – built along a Dakota Bdote trail.
To give context on the origin of the program, AMRA Art Director and WASH curator, Angela Two Stars explains, "I was approached by Joan Vorderbruggen (former Director of Hennepin Theatre District Engagement) in 2019, not long after I started at NACDI as the AMRA director. She pitched the program which would feature Dakota storytelling along Hennepin Ave through an artist cohort led by an experienced mentor. The work would be displayed on digital billboards and I saw the opportunity to expand the number of American Indian artists working in digital mediums. The 'canvas' for the artists for this project was digital billboards along Hennepin Ave through Hennepin Theatre Trust's partnership with Clear Channel Media. Since Hennepin Ave was undergoing construction, the use of digital design was the platform that was available. We were excited to increase the number of Native artists working in digital media and saw this as an opportunity to broaden the learning experiences of the selected artists through a mentorship based learning cohort."
For their final capstone project, the cohort debuted artwork at the Trust's Best Buy Foundation Gallery, which included digital designs displayed previously as billboards. "[WASH Digital Artist Cohort member] Missy Whiteman's Whirlwind piece stood out to me because it was highlighting a sacred site," Angela reflects. "I felt that if audiences understood the significance of sacred sites to Native people, they would be better able to understand and appreciate the needs to preserve these sacred sites. Sheldon Starr created a piece titled Mass Execution which featured the Abraham Lincoln memorial and pointed out Lincoln's legacy to Natives as the president who ordered the largest mass execution in the history of the United States – the 38 +2 hanging of Dakota men in Mankato, MN. This piece sparked engaging conversation between NACDI/AMRA and Hennepin Theatre Trust organizations. It created an opportunity for dialogue about history and the authors of history. The program title, 'We Are Still Here' is a statement of agency. That Native people are still here, we have a voice, we can tell our own stories."


Top: Missy Whiteman, Whirlwind. Bottom: Sheldon Starr, Mass Execution. Images courtesy of All My Relations Arts.
This year's mural artist cohort features local artists Racquel Banaszak, Summer Cohen, and Jearica Fountain, whose wide range of unique artistic backgrounds and media will be incorporated and reimagined through a mural practice.
While large-scale mural art may seem daunting to those not versed in the medium, Racquel Banaszak explains how her practice can be utilized in this program. "A lot of my work is mixed media incorporating drawing (pencil, ink), embroidery on paper, and beadwork. I also create collages featuring historical photographs and landscapes. I studied for a semester at the Ontario College of Art and Design University's Indigenous Visual Culture program. It was a life-changing opportunity where the first time as an art student I was immersed in all things Native from the teachers and curriculum to literary and visual arts. Much of the art I studied combined traditional practices like hide painting, quillwork, and breeding with contemporary practices like photography and drawing. I realized how much incorporating multiple mediums can convey the stories of our ancestors as well as our lived realities. Some of my fondest memories include drawing with my sister as a child, learning how to bead with my aunties around a kitchen table when I was 10, and sewing my children's regalia with my mom. The Twin Cities have a lot of incredible murals. Near my daughter's school there are a number of Native-specific murals that incorporate our languages and highlight issues that continue to impact our communities. I wanted to be a part of this as a way to tell our stories.
"I love creating with my hands. It's both physically and spiritually engaging for me. When I use artistic tools, whether it's a pencil or a paintbrush, the hands-on process of creating murals is an extension of my artistic practices."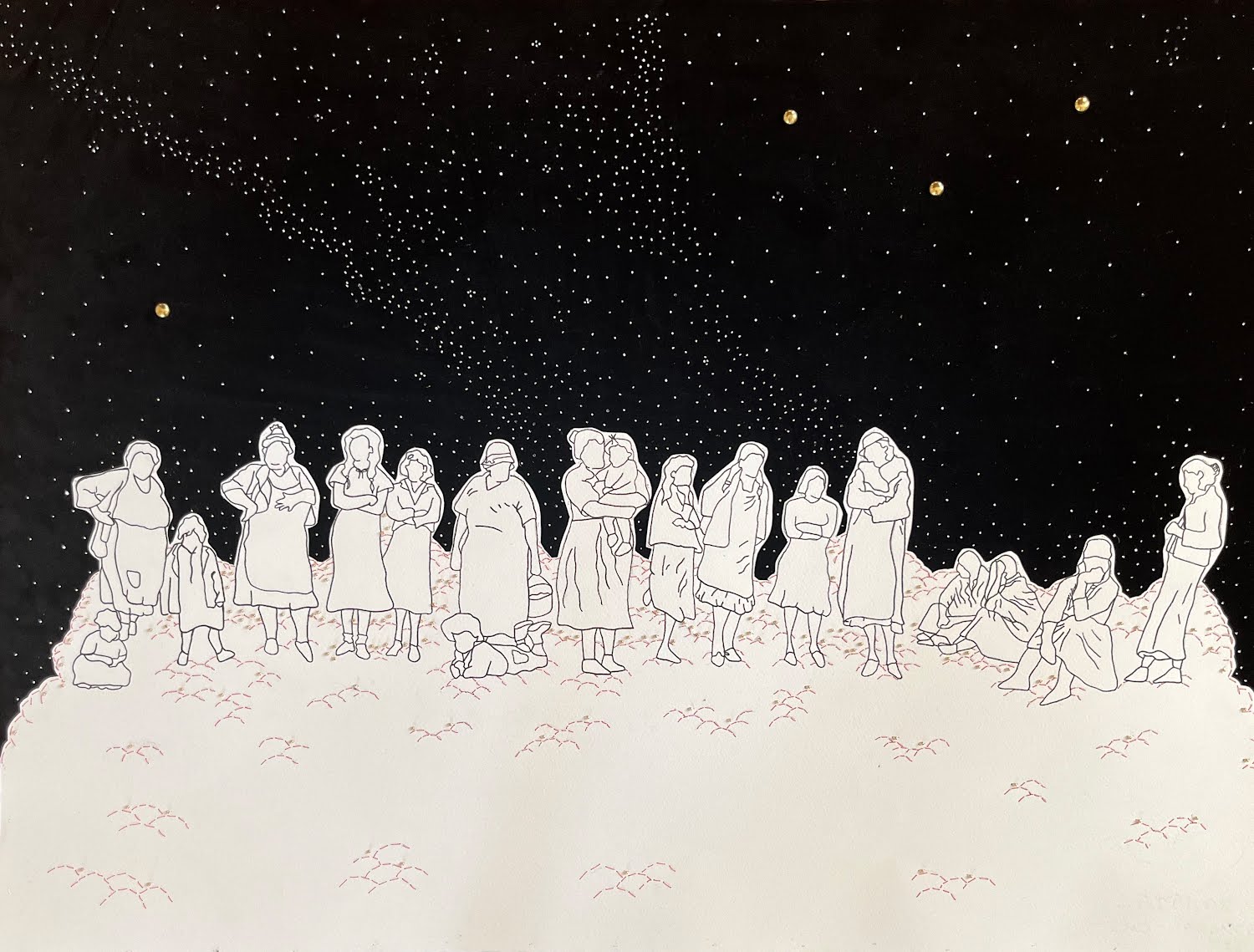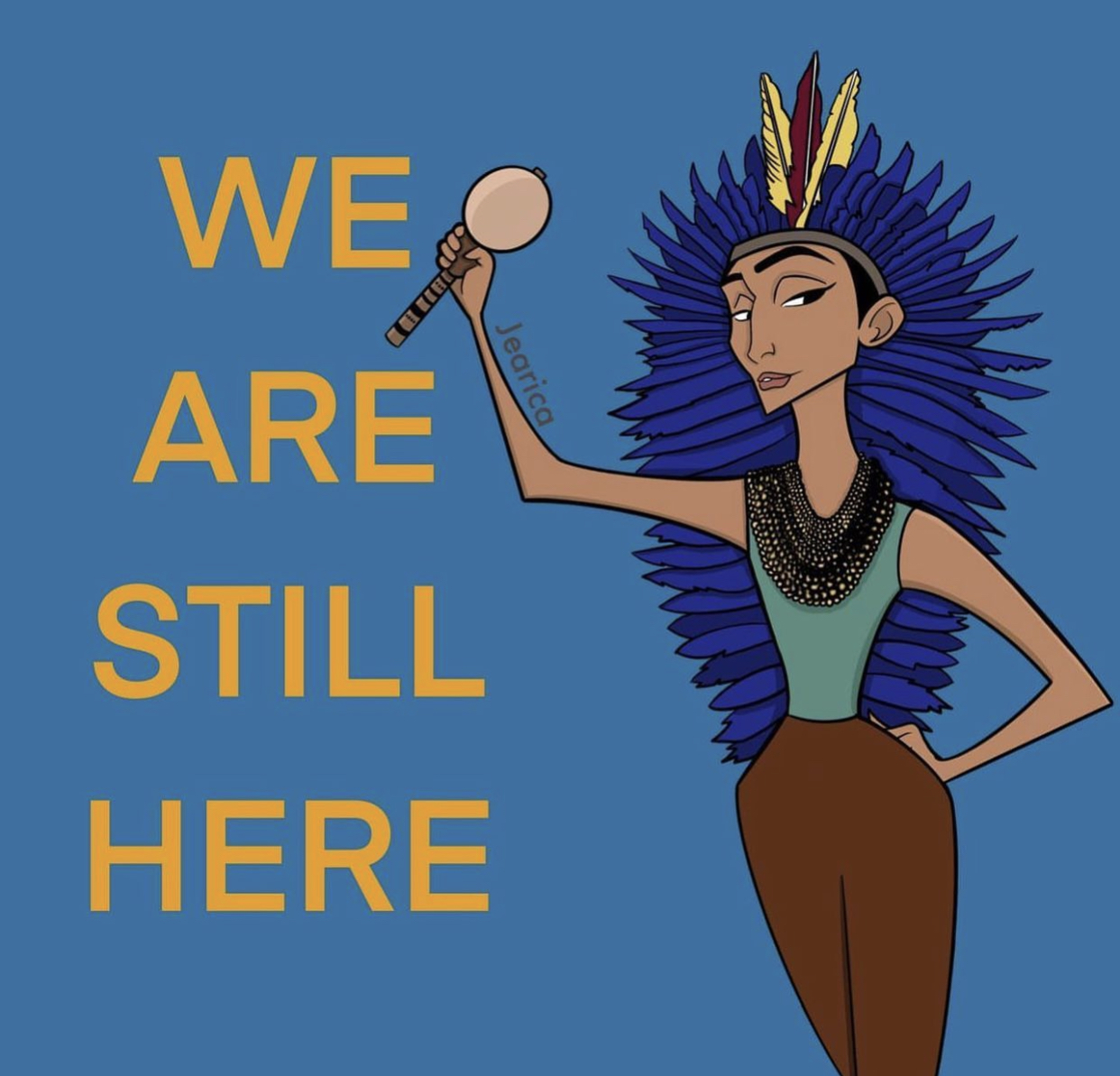 Top: Racquel Banaszak, The All Seeing Ones. Image courtesy of the artist. Bottom: Jearica Fountain, graphic design work. Image courtesy of the artist.
Seeing the WASH fellowship as an opportunity to hone and expand her artistic skill sets, Jearica Fountain explains what prompted her to apply: "I create visual art on a small-scale and wanted to explore an avenue of Native Truth-Telling on a large scale. Native storytelling is so impactful, but when being a part of the telling of the Indigenous experiences I find the best way to make an impact is to take time to stop, listen, and learn. Creating art that shares our experiences is sacred and every time I get the opportunity to learn that is ceremony for myself. At an early age I realized I could create art that conveys a message far better than any words I could articulate could. While being a tool to storytell, educate, and empower, it is also a form of meditation and prayer for myself. I grow closer to one-ness to mother Earth and my ancestors every art piece whether it be a graphic design, mural, painting, or graphic design hybrid painting."
Narrative agency is a vital part of the WASH program as Jearica explains. "Mainstream media often grossly stereotypes elements perceived to be associated with Native American culture and becomes a version of normalized racism. They are not only stereotypical but also dehumanizing and often completely inaccurate. This vastly creates inaccurate understanding of Native peoples contributing directly to discrimination. A lot of research has been done on this subject and the results found that the use of Native American names, mascots, and symbols by non-Natives is a form of ethnic stereotyping, ethnic cleansing, and ethnic genocide, and it promotes misunderstanding and prejudice that contributes to many problems faced by Native Americans today. Racist content so normalized mainstream is so damaging to my people. I realized I wanted to utilize my art to become a story-teller of our accurate history, our contemporary lives, and our trauma so that we can turn a new page in which Indigenous peoples are in the driver's seat of telling our own stories."
A contemporary fashion designer and artist working in traditional Native art, Summer Sky Cohen showcases that mural art can welcome textural components. She describes her background, "I grew up off grid in the upper peninsula and our lifestyle required my family to know a wide range of skills which I call 'Traditional Anishinaabe Ojibwe Life Arts,' including beadwork, sewing, birchbark, black ash, use of animal parts (feathers, fur, hides, skulls, claws etc…). I'm asked to create ceremonial and powwow style regalia. I really believe that my upbringing has allowed me to approach challenges with a different thought process than others. Painting beadwork is something I've thought about doing but never really had the time to focus on learning techniques. Anything can be beaded and I plan to create some beautiful beaded borders. My work now is for individuals but I want to create works that many people can see. I've learned so much about muraling and the muraling community. I'm learning about painting and techniques. I'm also learning about the process of figuring out how to do muraling professionally and as a team. I enjoy these ladies I'm working with. They are such amazing artists. I was intimidated at first as I have never done professional painting, but I'm interested to see how we bring things together."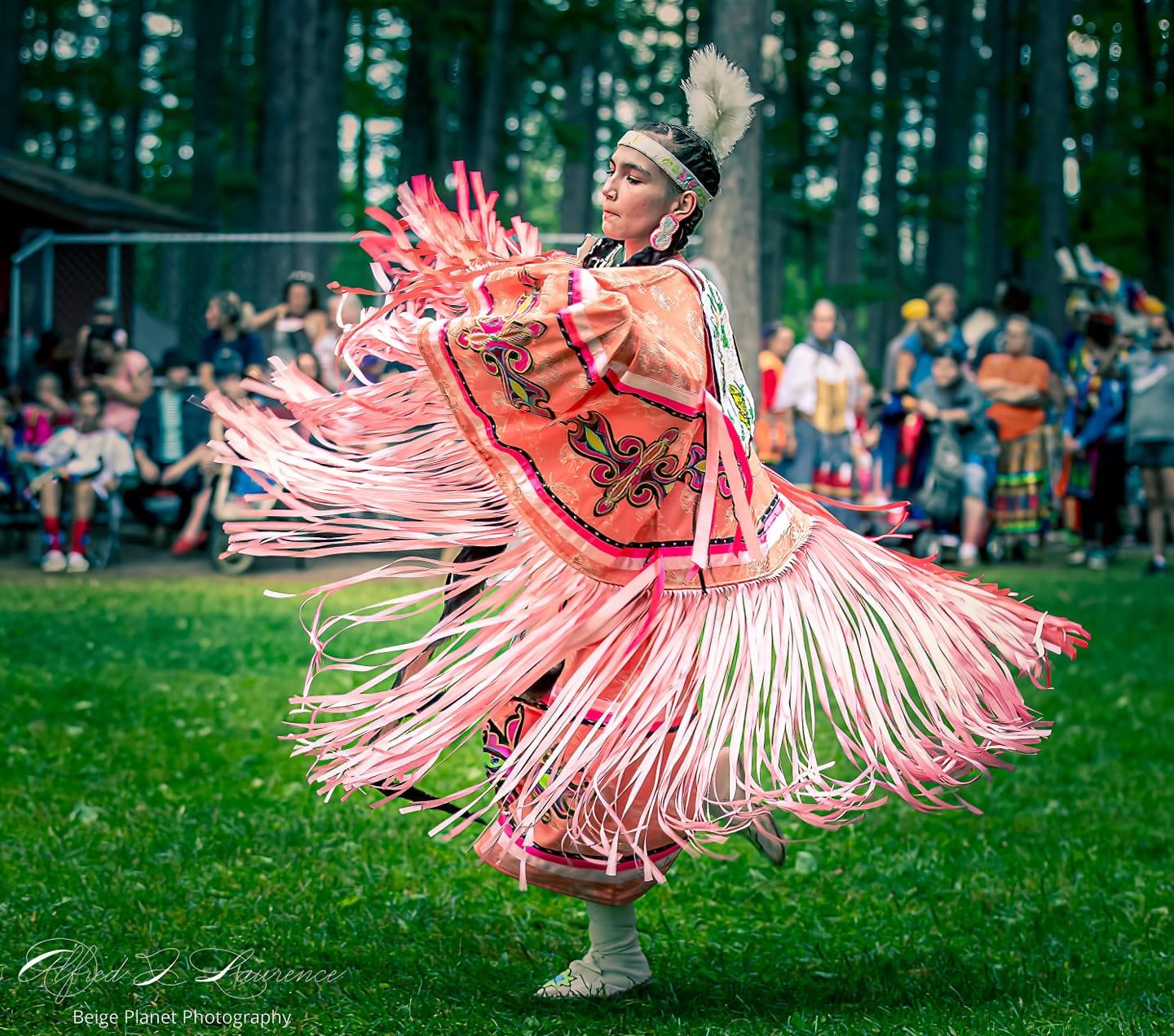 Summer-Sky Cohen, Regalia fashion designs. Image courtesy of the artist.
Acting as much more than just a colorful addition to a cityscape, murals have the power to engage and unite communities, providing a visual thinkpiece and inciting conversations on political issues and inclusion. Art activism is a component upon which Jearica's work is deeply founded. She explains, "Today, contemporary murals have become community centerpieces that bring people together oftentimes celebrating the heritage, culture, and history of their communities. In this way, they empower individuals and families, especially culturally-inclusive murals. They allow for people to see themselves and even their culture in an everyday setting. Murals not only uplift communities, but can attract new local businesses, help bring customers to pre-existing locations, bring foot traffic, and boost the economy of an area. Studies have shown murals related to mental health, homelessness, and other social issues boosted empathy, social trust, and perceptions. It showed that stigma around mental health issues was lowered, and new murals provided a dialogue for activism. Often, the visual effects attract public attention to social issues and act as collective thought spaces, create important conversations, and expand minds. Among many things, while encouraging a dialogue, these community murals empower the communities they are in. One of the most important aspects of a mural is its connection to the community history and values, to bring positivity and empowerment to the community it is in, and provide something beautiful the community can be proud of."
This element of community and systems change was an integral factor in choosing the next medium for the WASH cohort to explore. Angela Two Stars explains, "After the murder of George Floyd by Minneapolis police in 2020, the Twin Cities became the city of murals. Business windows – boarded up by plywood – served as canvas for artists responding to that tragedy and beautified a devastated community. I think that was part of the reason that I was interested in murals as the focused art training for the second cohort group. Murals are often large scale and visible. I think I considered murals as similar to an extension of the billboards that were used in the first cohort. It was an opportunity to increase the number of American Indian artists working in mural design."
Relationship and network building are key components to the fellowship, opening up new opportunities for the cohort in years to come. Alongside mentorship, the program invites guest speakers who have seasoned experience to share with the cohort. From self-taught artists with unique painting techniques to artists whose focus is on cultural work within the Native and broader community, the guest artists will reflect invaluable parts of the Indigenous art community in the Twin Cities and add a roster of connections the cohort can fall back upon throughout their career.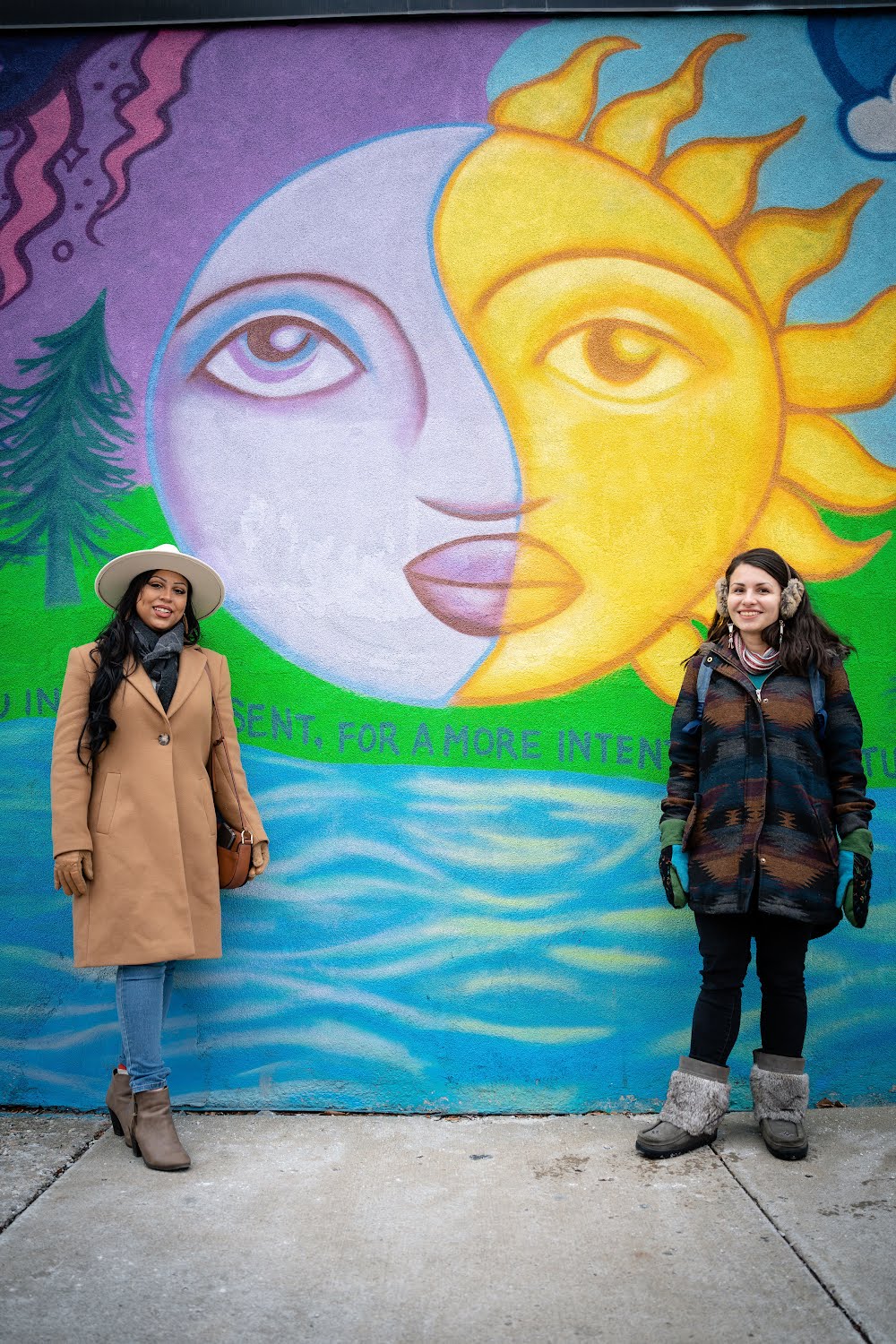 WASH Mural Artist Cohort members Jearica Fountain (L) and Racquel Banaszak (R ) on an HTT sponsored site visit. Photo by Lucas Wells, Wells Film and Photography.
"This cohort is comprised of all-female artists and led by a female mentor," Angela says. "I think that will bring a different perspective to the artwork created and the relationships that develop between the artists, their mentor, and the community. These artists were selected by their artistic merit and the strength of their applications. I'm excited to see how these artists will translate their artistic styles into mural design. One artist works primarily in beadwork and regalia design and I'm excited to see how that translates into her mural designs. What I'm learning about mural artists is that they are their own community. Often, the artists work collaboratively, so it is never just one artist designing and creating the murals you see throughout the city."
In regards to the community aspect, Thomasina explains, "As muralists it's important that we ask the community what they want to see. They're the ones living their everyday lives in these spaces and deserve something that reflects them, their values, and messages that they feel are important. There's various ways to draw community into these projects like workshops, town-hall type meetings, online surveys, interviews. I like to assess what will be the best way for certain neighborhoods to interact since the Twin Cities is so diverse and all communities interact differently."
"One of my favorite components of public art is that it is accessible to all," Angela adds. "You don't need an admission ticket to view public art. There is so much public art in the Twin Cities. Once you start looking, you'll see them everywhere."
Take a drive through Minneapolis and you'll see what Angela is referencing. As a city, we are blessed to have a vast array of murals done by individual artists and local collectives, and the minds of this cohort hope to cover one more blank wall. ◼︎
Currently, the "We Are Still Here" mural artists cohort is using All My Relations Arts gallery as a working studio in the creation of their capstone project. For more information on open studio hours to preview their work, visit allmyrelationsarts.com.