On view through March 3, the exhibition features a mix of graffiti, fashion design, sculpture, and more dating all the way back to Russell's childhood
Peyton Scott Russell is a lot of things: the founder of SPRAYFiNGER, a school for graffiti and creative lettering; the artist behind Prince's gold star at First Ave; and an international kickboxing champ. The North Minneapolis native not only resides here but traced out the city with his own hands. The Peyton Scott Russell Retrospective exhibition at White Bear Center for Arts (WBCA) shows what brought him to be one of the artists who defined the Twin Cities street art scene.
Inside the crisp, white WBCA gallery hang 45 years of work — 124 pieces of art spanning from when the artist was 8 years old to a week before the show's opening. Like many children, Peyton showed a natural inclination towards art since the very beginning. He started creating as a toddler. A miracle in archiving, he has pictures surviving almost 45 years. Paper masks and drawings of superheroes, dragons, and dogs, subjects typical of a teenage boy.
When he was 14, his vision shifted. Inspired by Style Wars, a documentary on hip hop culture in New York — particularly breakdancing and subway graffiti — Peyton was immediately drawn to the art form and within a few days, he was out painting under a bridge in Minneapolis. He's thought to be the first in the Twin Cities to do so. Graffiti helped strike a spark in him that had dulled from practicing traditional art forms. Hanging by the high school illustrations are early photographs of his tagging and graffiti, where he first learned to document his work, according to Sieng Lee, WBCA's artist-in-residence.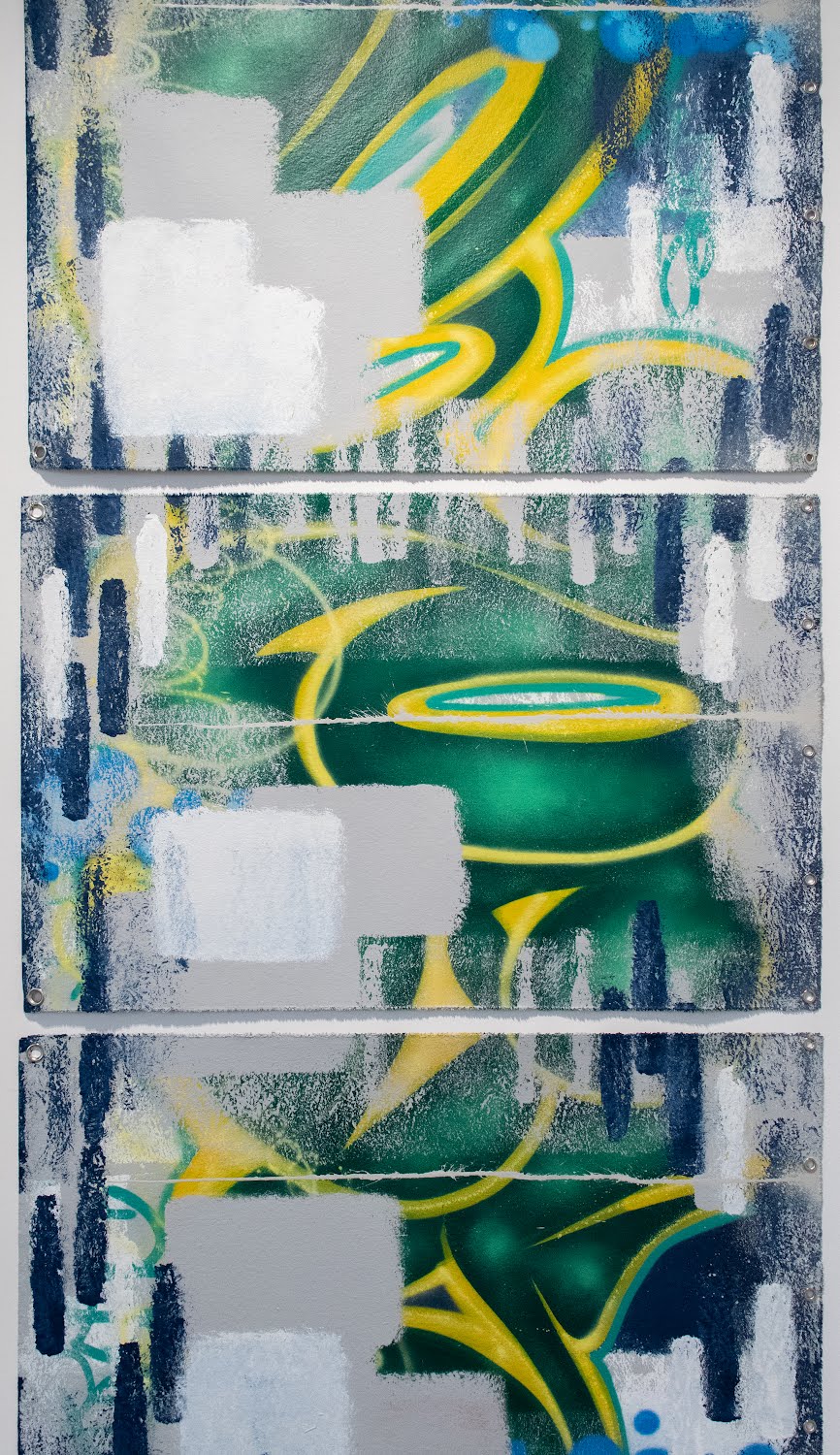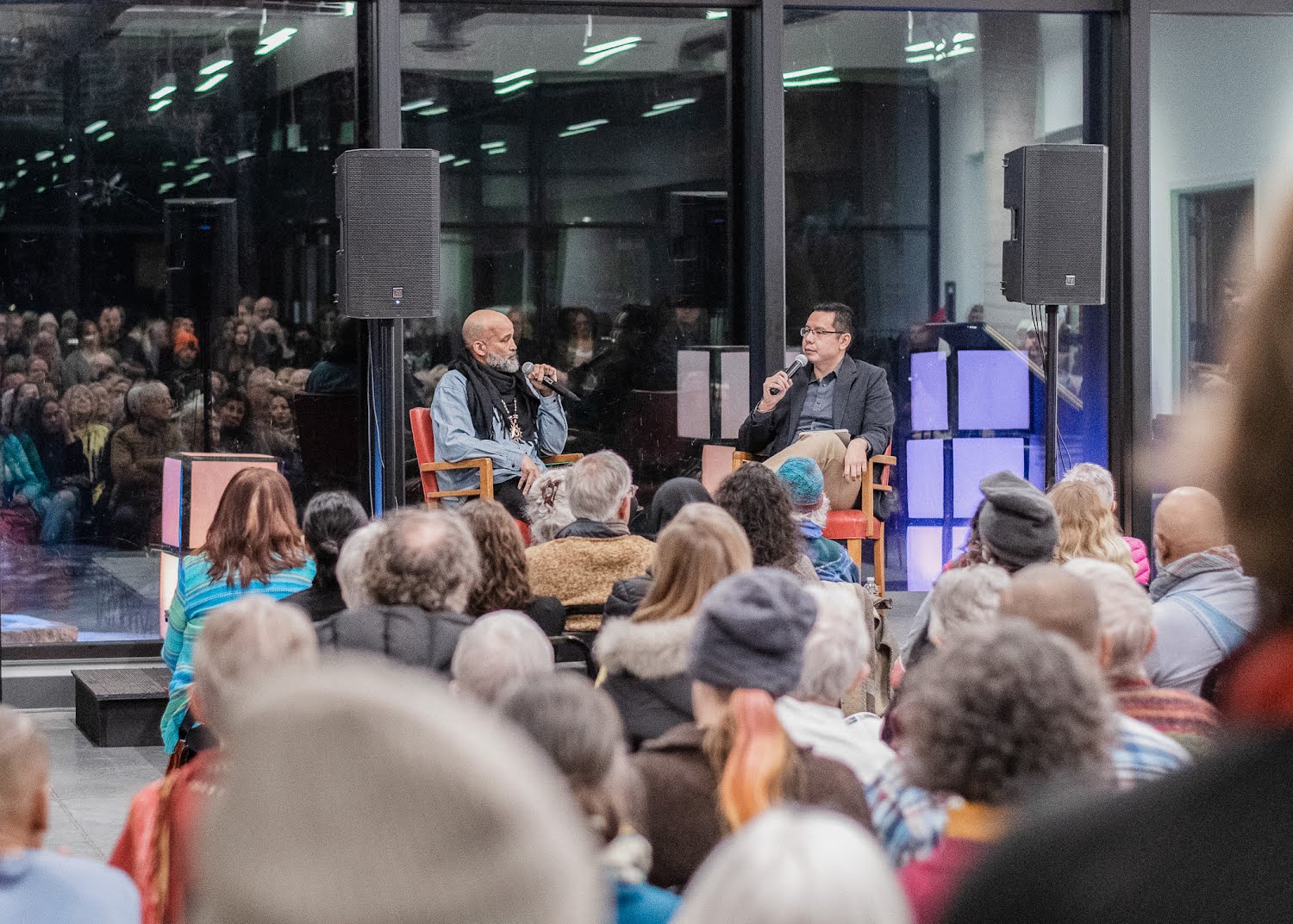 Top: Plein Air Graffiti Series: Green/Yellow/Gray. Bottom: Peyton (left) and artist-in-residence Sieng Lee discuss the exhibition.
A high school portfolio of graffiti and traditional art led Peyton to the School of the Art Institute of Chicago, where he studied printmaking and continued to explore graffiti independently. Peyton's work during this era show screenprinted brush strokes and spray paint splatters, influences from the graffiti work he grew up with and of Pop art similar to the likes of Andy Warhol, including an illustrative photo series of icons featuring the Northside's very own Prince.
Throughout his time in the institution — he graduated in 1991 — and in the three decades since, Peyton has questioned the limits of art and where graffiti belongs in the public sphere. Wondering, if graffiti is a rebellion against the establishment, what does it mean to place it inside of an institution? He's explored a variety of different media but with graffiti being the thread that runs through his entire career, he's had to redefine notions of high and low art.
He explores this through works like his Plein Air Graffiti series that sits in the middle of the gallery. A popular tool of French Expressionists in the 19th century, plein air became synonymous with sophisticated landscape paintings done outdoors. But the term simply means, "in the open air," and Peyton uses this series as a new way to be in the public space merging graffiti and street art. As years have passed, his style has changed while remaining uniquely his own. Originally focused on the decor, color, and technique of graffiti murals, he's shifted his interest to the art of graffiti writing, now studying what he considers to be the true foundation of graffiti: letter structure, construction, and font development.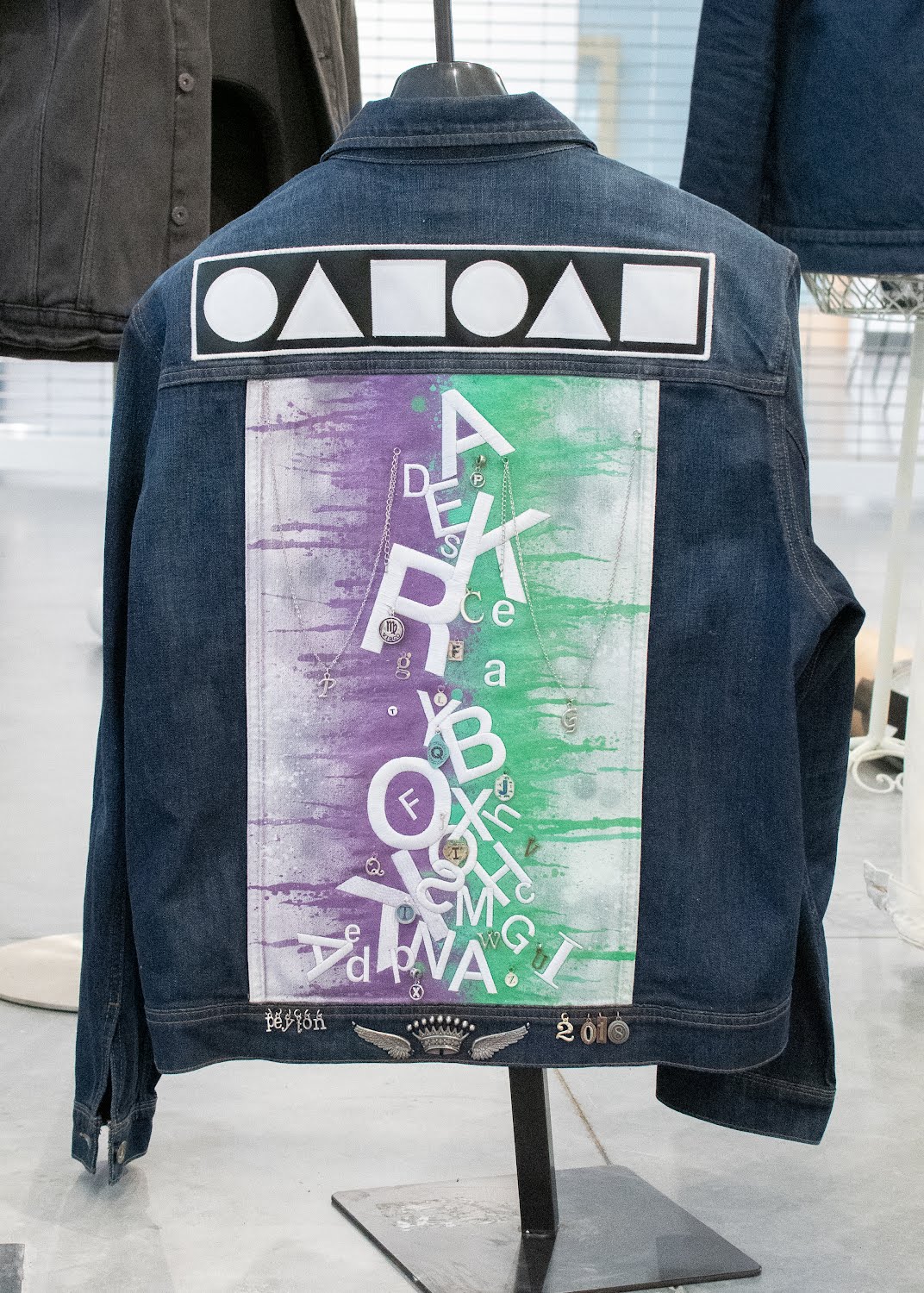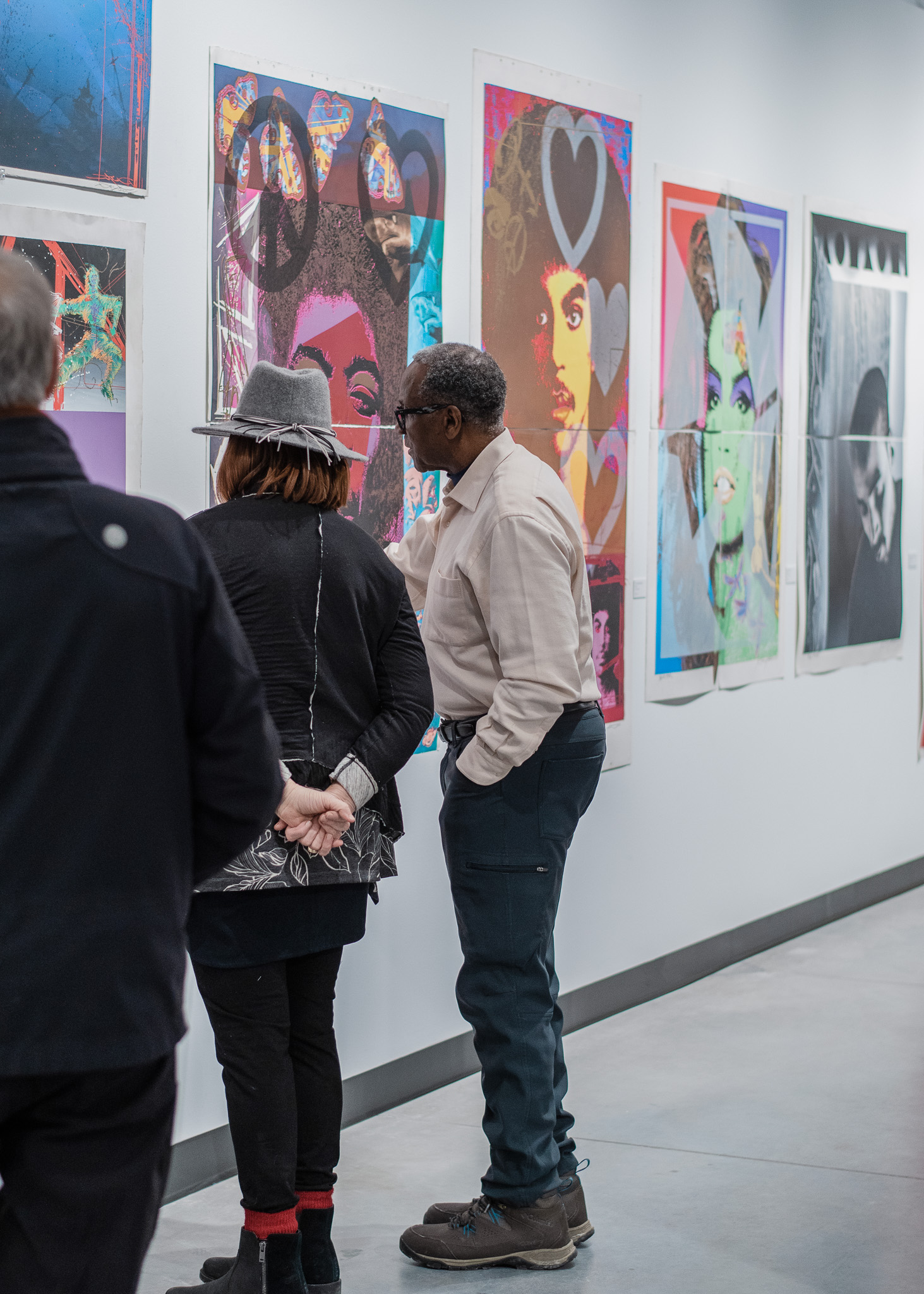 Top: Shapes (Black & White), a 2018 jacket design. Bottom: Visitors at the exhibition's opening reception.
An evolution of his college icons series, his most recent portrait stencils hang in the rightmost side of the gallery. In contrast to "traditional" shows, the installation is devoid of frames and labels with long explanations — a choice that was fully intentional and purposefully raw. His work disrupts and engages, speaking to the youth just as his other ventures do. "It's really how the audience reacts to the work that matters," Lee says.
In the past few years, it's become hard to discuss Peyton without mentioning George Floyd. Likely you've seen it: the 12 foot tall, black & white spray paint portrait of the man, placed mournfully at the site of his murder outside Cup Foods. Originally intended to be an act of anonymous street art, it became one of the most recognized depictions of Floyd and launched Peyton to international recognition. His "Icon of a Revolution" was bolted to the side of a bus stop shelter on George Floyd Square for a year and a half after Floyd's murder before being replaced by a print.
The mural was done as a form of healing, a way for Peyton to use his voice as an artist for protest. He's said that he painted it for the community, and he debated hanging it up in the gallery at all. But here in this way, it can continue to tell its story and service the community away from the effects of weather or the threat of vandals. And now, for a short while, it will hang in the clinical, white walls of WBCA. It's not the highlight of the exhibit at all; you'll have to stay a while to catch a glimpse of the hidden icon. To see it all, you'll have to see it for yourself. ◼︎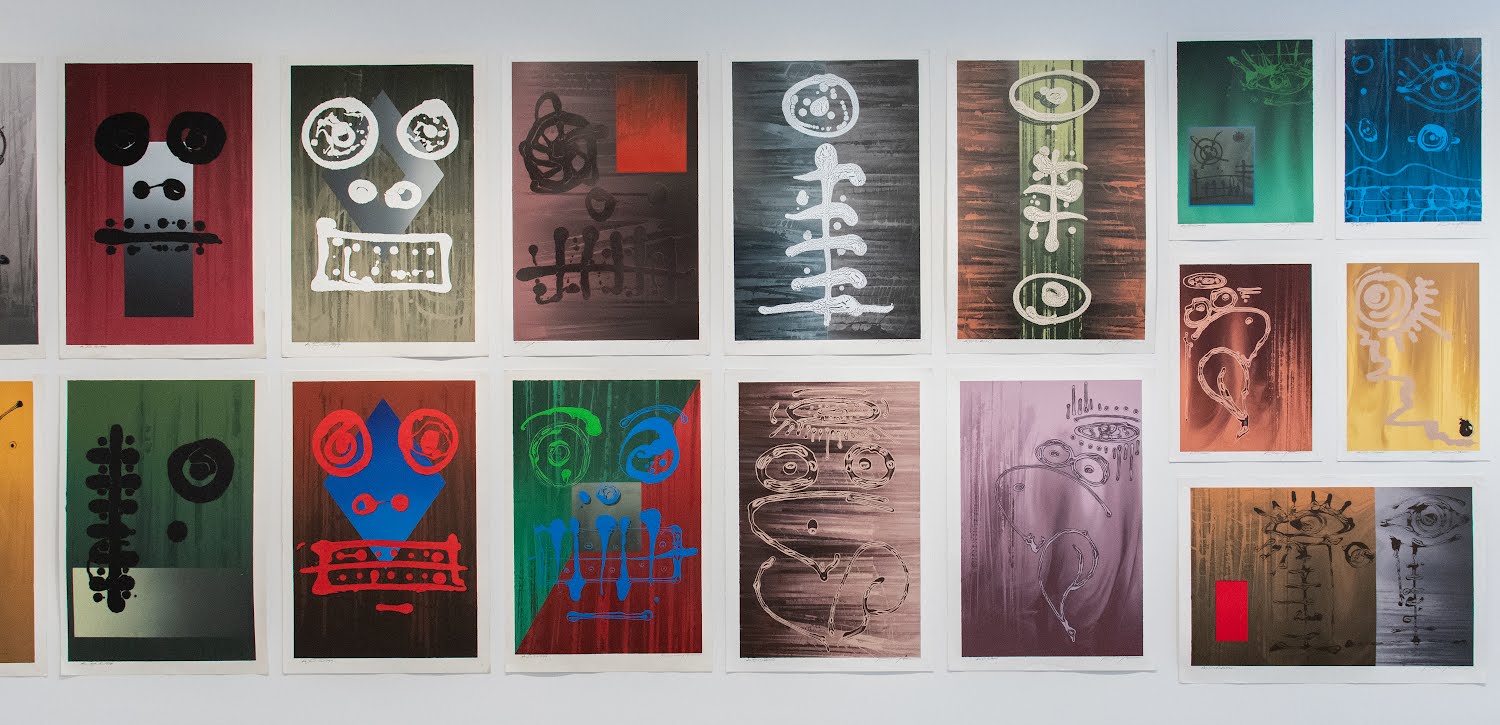 Peyton Scott Russell Retrospective is on view now at the White Bear Center for the Arts' Ford Family Gallery through March 3. There will be a Closing Open House on Thursday, March 2, from 6:30 - 8:30pm.
For more on the artist, visit houseofdaskarone.com or follow him on Instagram @peyton_scott_russell.
All images courtesy of White Bear Center for the Arts.