We sit down for a conversation with the artist and curator to talk about taking printmaking into the 3rd Dimension, AI, and much more
I mostly know Benja Wuest from his years curating exhibitions at Artspace Jackson Flats in Northeast Minneapolis. It wasn't until a few years ago at Otherworldly Art Collective's God's & Monsters group exhibition that I viewed his 3D printed sculptural work. As someone who dabbles at the intersection of art and technology, I found his work very interesting. With a piece being featured in the Otherworldly Art Collective's 2023 Safe Word Erotic Art Show February 3rd and 4th at Squirrel Haus Arts, I thought it was a great time to get to know the artist side of Benja Wuest more.​

Benja Wuest is a Minneapolis artist specializing in tech based art with a concentration in 3D printing. Benja seeks to incorporate digital consciousness into an analog process and bring "cyber culture" to a place of visual cognition and physical conception. Benja's work reflects geometries found in digital media to create work that defines the self and psyche integrated into databases through physically fabricating digital constructs with technology.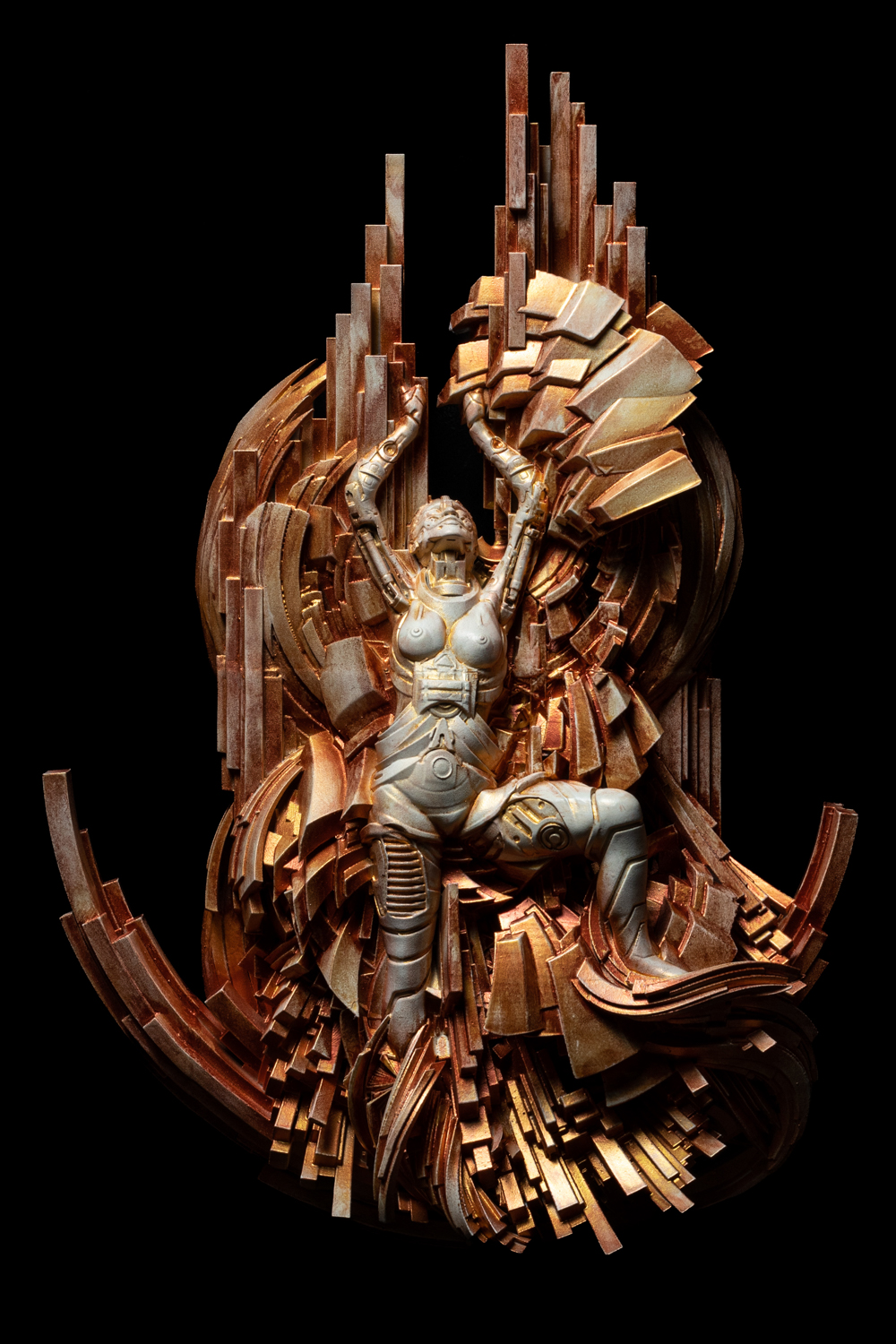 Pixel Runner, 3D printed resin, 13" x 19" x 4", 2022
Blaine Garrett: How did you get your start in the visual arts?
Benja Wuest: Originally I was trained as a painter at UW-Stout. After that, I decided to travel to Japan to live in a monastery and seek out a teacher for traditional sumi-ink zen painting. While living in the temple, I was introduced to three dimensional art forms through the practice of origami. After returning to Minnesota, I continued my studies at the Minneapolis College of Art and Design with a concentration in printing and bookmaking so that I could continue to work with paper to utilize traditional printmaking techniques on my sculptures.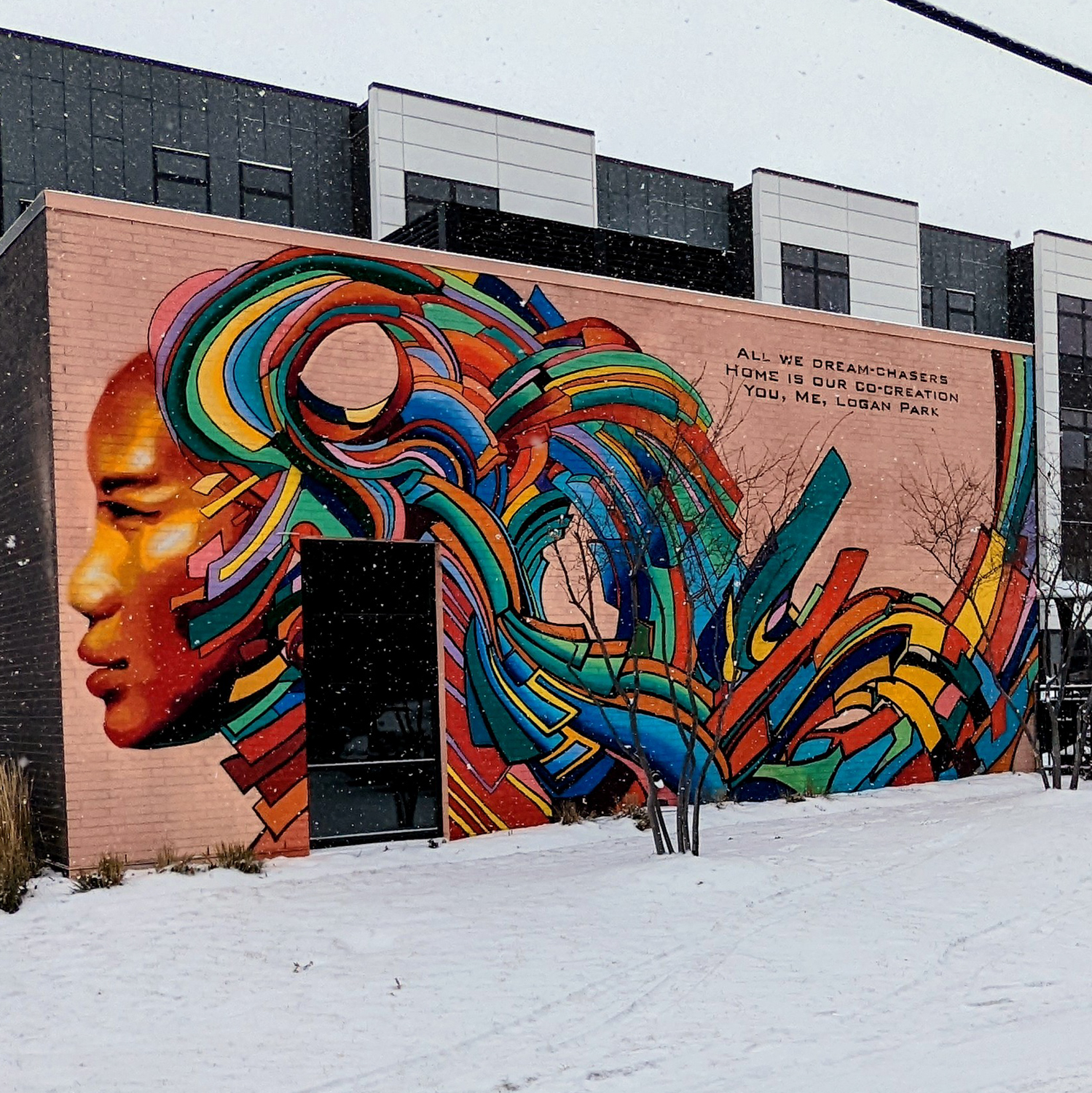 One of Wuest's murals outside Artspace Jackson Flats painted in collaboration with Jess Zottola, 13' x 40', 2021
BG: What inspired you to take up 3D printing?
BW: While utilizing two dimensional printing techniques for three dimensional artwork, I naturally became interested in three dimensional printing. Through building my own printers and being on the forefront of the technology, the subject matter of my work evolved around science, technology, and the digital. In academia, we frequently study artists whose work is about the media or the process of creation so that we can learn how to utilize the tools as well as how particular artists have contributed to the format. I've taken an interest in this concept of "self-aware" art, particularly with my Pixel series which begins with a single square, one cube. Inspired from the glitch art of pixel sorting, a 3D cube is stretched in length and then duplicated and displaced multiple times to create a new shape. This new shape is the new "pixel" that serves as a building block that is then manipulated and duplicated repeatedly to create a larger composition. These pieces in unison create a flow of energy for visual stimuli. Finally, I translate these digital pixels into physical artworks through either 3D printing or painting murals. Also, a lot of my new work centers around robots as a nod to the technology, in particular that of 3D printing and AI which were a part of the process creating the artwork. Though there is theory in my practice, I make sure to not take my work too seriously and enjoy being able to poke fun at myself, contemporary events, and the absurdities of the art world.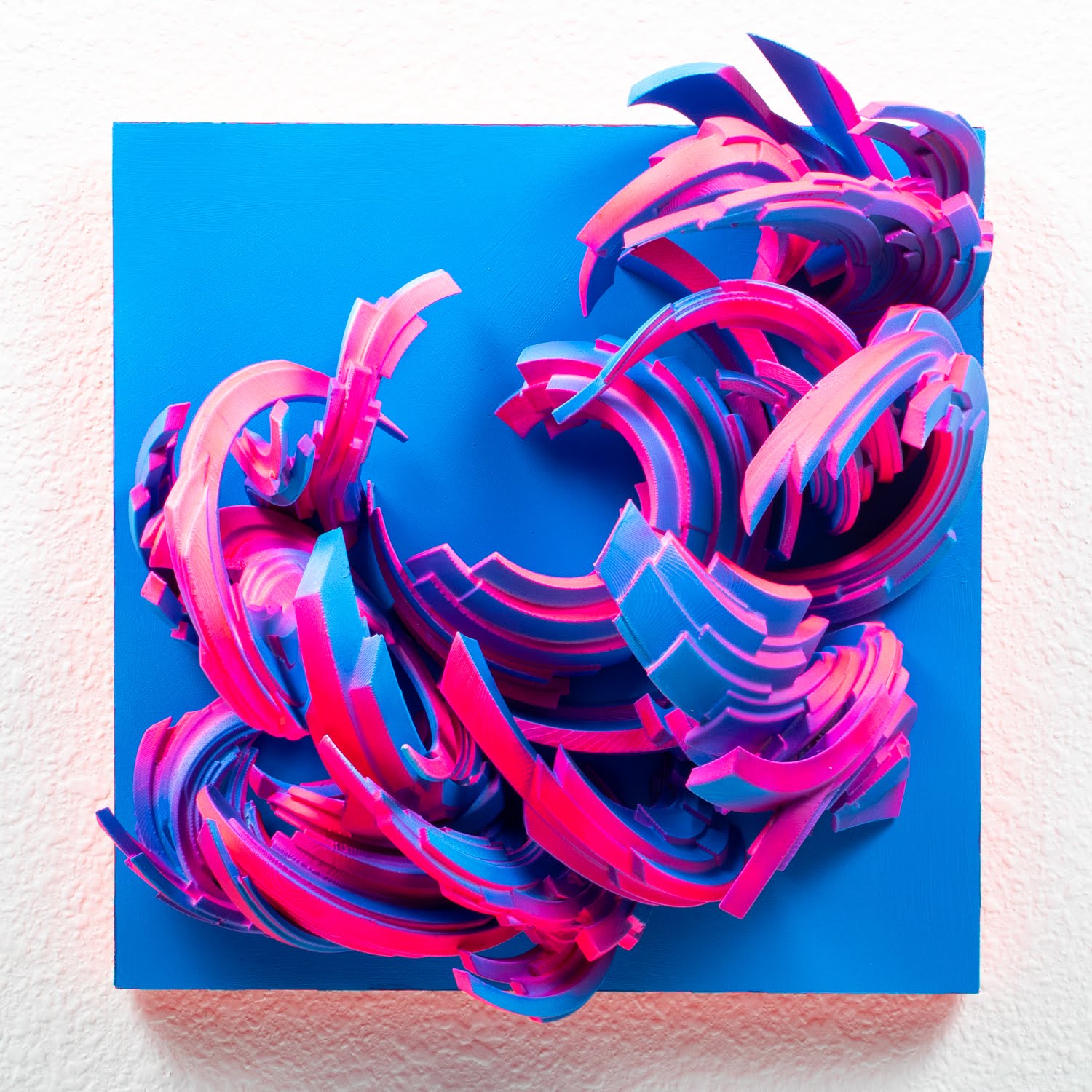 Pixel Chrysanthemum, 3D printed resin, 12" x 12" x 4", 2021
BG: Tell me a bit about your piece for the upcoming Safeword erotic art exhibition.
BW: My piece for Safeword is a part of my Marble Mech series which consists of robots made to look as if they're constructed of ancient crumbling stone. The series speaks to an alternate future's past and the past of this future is created in the present moment. The series also jokes around with the concept of translating robots made of metal into being fabricated in marble. I like playing with this concept as most of my work is composed of resin and plastic but is often designed to look like it was created from different materials. This particular piece, titled Sin.thetic Eve.olution, was a collaboration between myself and Qassandra Kauzlarich who was the model, voice actor, videographer, and is an aerial acrobat (hence the fabric tying the piece together). We wanted to tell the ancient story of Adam and Eve, but this time with ancient robots. Eve.Olution is a discarded and broken pleasure unit with interactive scannable QR codes that unlock videos to her "forbidden fruits." Consequently, we also made a delectable fruit salad afterwards that oddly no one wanted to eat with us.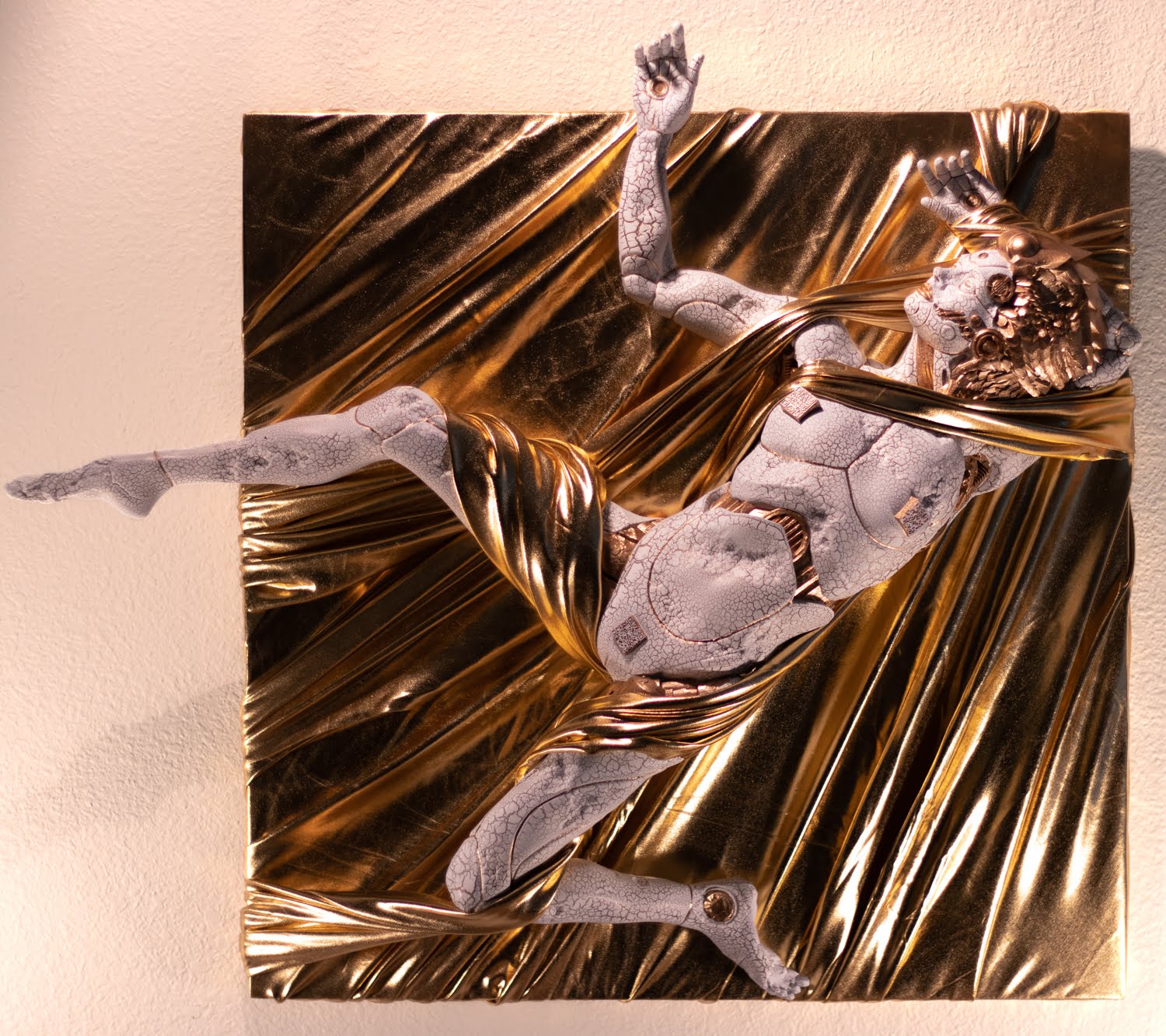 Sin.thetic Eve.olution, 3D printed resin, 24"x 24" x 6", 2023
BG: For such a digital medium, do you think your work translates well to social media?
BW: The purely digital aspects of my work are great for quickly sharing on image-based platform like Instagram. My 3D pieces, however, take a little more work to make discernable on a flat screen. This involves taking a lot of photos of the piece with dynamic lighting to "tell the story" of the piece so it can be visually interpreted quickly in as few photos as possible. I've gotten a lot of practice documenting my work having been trained in photography at MCAD and through the photography program for artists I managed at Artspace Jackson Flats while I was creative director of the gallery. I decided to discontinue the program because modern day cell phone cameras have become immensely more powerful and artists now have the resources to photograph their own works for social media and AI food. Although I am no longer the creative director of that gallery space, I am a part of the wonderful community committee that maintains the space and offers exhibiting opportunities to artists at all stages of their career. That all being said, I do really detest social media but find it a necessary evil as an artist. My sculptures will never truly translate into a couple of pictures and I'd highly encourage any one with an interest in my work to not just give it a double tap but to see the art in person.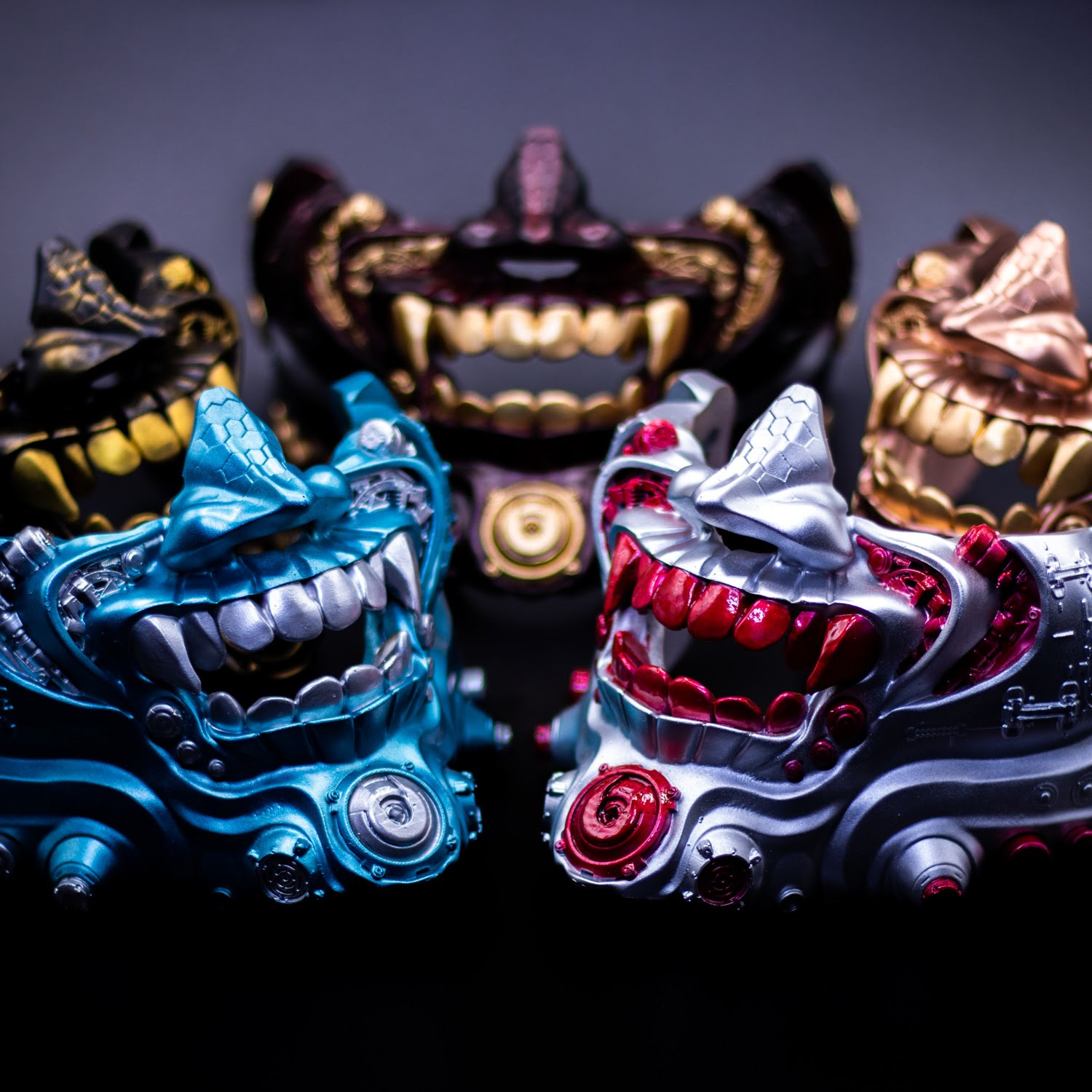 Let them Bleed, 3D printed resin, 2022
Who are some of the artists that have inspired your work along the way?
BW: In 2019, I exhibited in Croatia with a group of international glitch artists. Glitch Art utilizes either digital or analog signal errors to create an aesthetic. The degradation of data often creates beautiful narratives on the functionality of the medium. The Glitch Artists Collective are some immensely talented and brilliant people working, exploring and defining the digital and technological art sphere. I continue to find inspiration with this group on the collective's Facebook page where there are many resources for bending and breaking tech to create art. It was also in Croatia that I was introduced to the Additivist arts movement. Additivism is the idea of combining additive manufacturing with activism to create artworks. The Additivist Cookbook can be a somewhat radical manifesto but many artworks take on contemporary issues as well as addressing the physicality of creating art with machines. Naturally my work fits in well with the collective's ideals and I consider myself to be an Additivist artist.
BG: Where do you see your artistic practice headed in the future?
BW: When technology advances, I advance with it. I am only limited in the tools I use to create. I am very excited for the VR art space and have been working with Brian Skalak and REM5VR to produce tech art exhibits, both with physical works in person and in the online virtual reality space. Currently, VR cannot handle the amount of polygons I use to create my pieces (1M+) but when the technology gets there, I am ready. Another exciting advancement in technology based art is AI. I currently use AI to collaborate with bots on making robots in the concepting phase to quickly iterate on designs for parts. I've also been enjoying feeding the AI my own content, such as the Pixel series, to see how far the pixel can travel in its distortion through the Internet databases. As far as the controversies with AI, I feel it is silly to say that it's going to put anyone out of a job. The drum machine didn't replace the band's drummer, the camera didn't put still life painters out of work and Photoshop didn't devalue a canvas painting. Some traditional sculptors don't like me because I use Zbrush and that's a must for many industries working in 3D today. If you're working in an industry that will grow with the surgence of AI, this is an incredibly powerful tool that is not going anywhere and is only getting stronger. While AI cannot currently really do 3D and I don't see that happening anytime soon due to the databases, I certainly enjoy helping it with my hand. I will add a disclaimer saying that AI, while useful, has a ways to go before being a significant part of my pipeline. Don't hate the player, hate the game.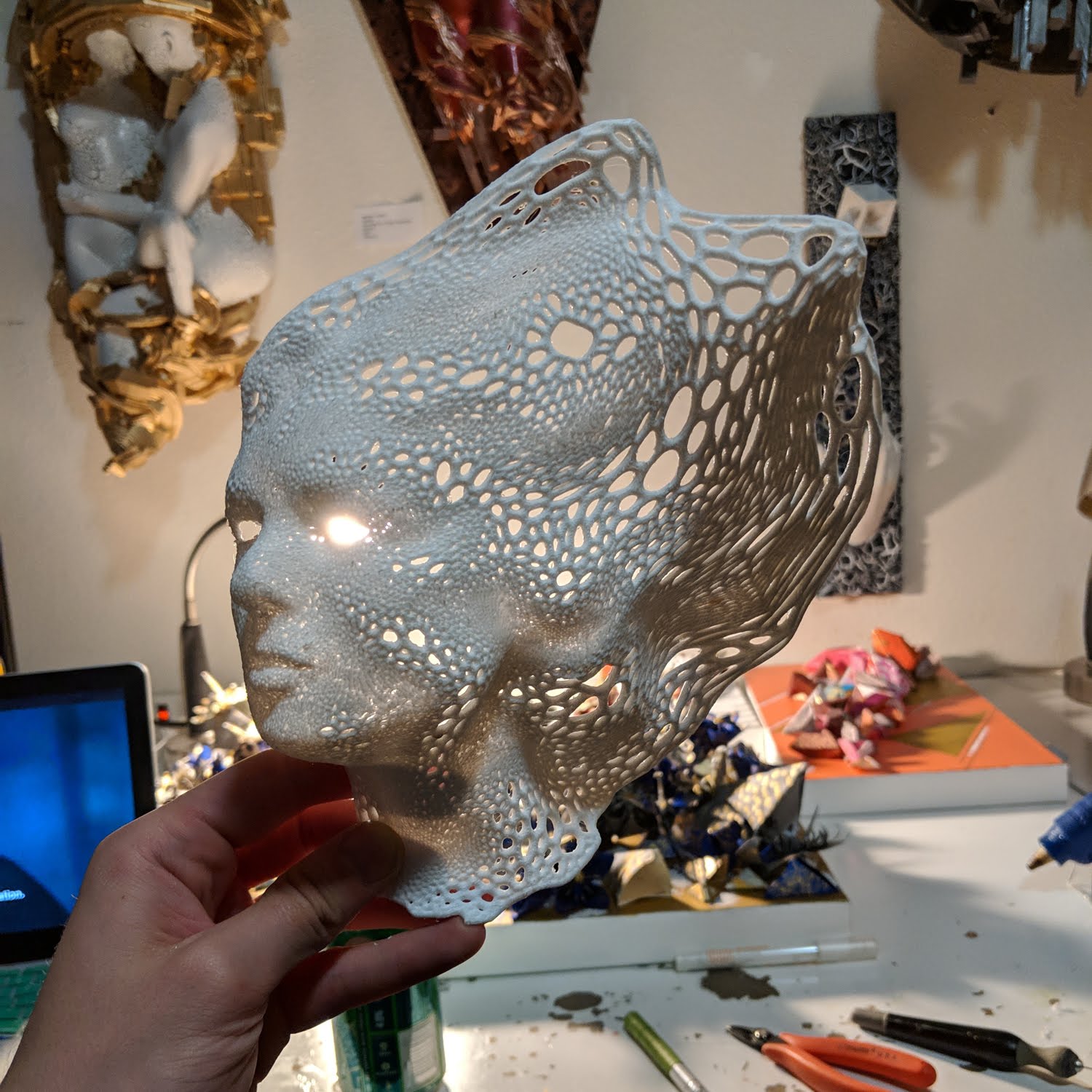 3D printed face utilizing Voronoi generative design, made in collaboration with Jade Huynh
BG: Being at the forefront art and tech, what are your thoughts on NFTs?
BW: I think it's great that digital artists now have a platform where they can actually make money off of their practice. However, I personally do not create NFTs. I feel that the technology is great in theory but in practice it is not to the level of functionality that I feel comfortable working with. I have microchips designed to carry NFTs that I was looking to implant in my robots so that they could carry the metadata, intentions of the work, and an authenticity certification. However, when it came to programming smart contracts and keeping the digital copy in accordance with the physical work on the proper coin, it became very convoluted. In the end, I didn't feel comfortable selling my work implanted with sketchy tech.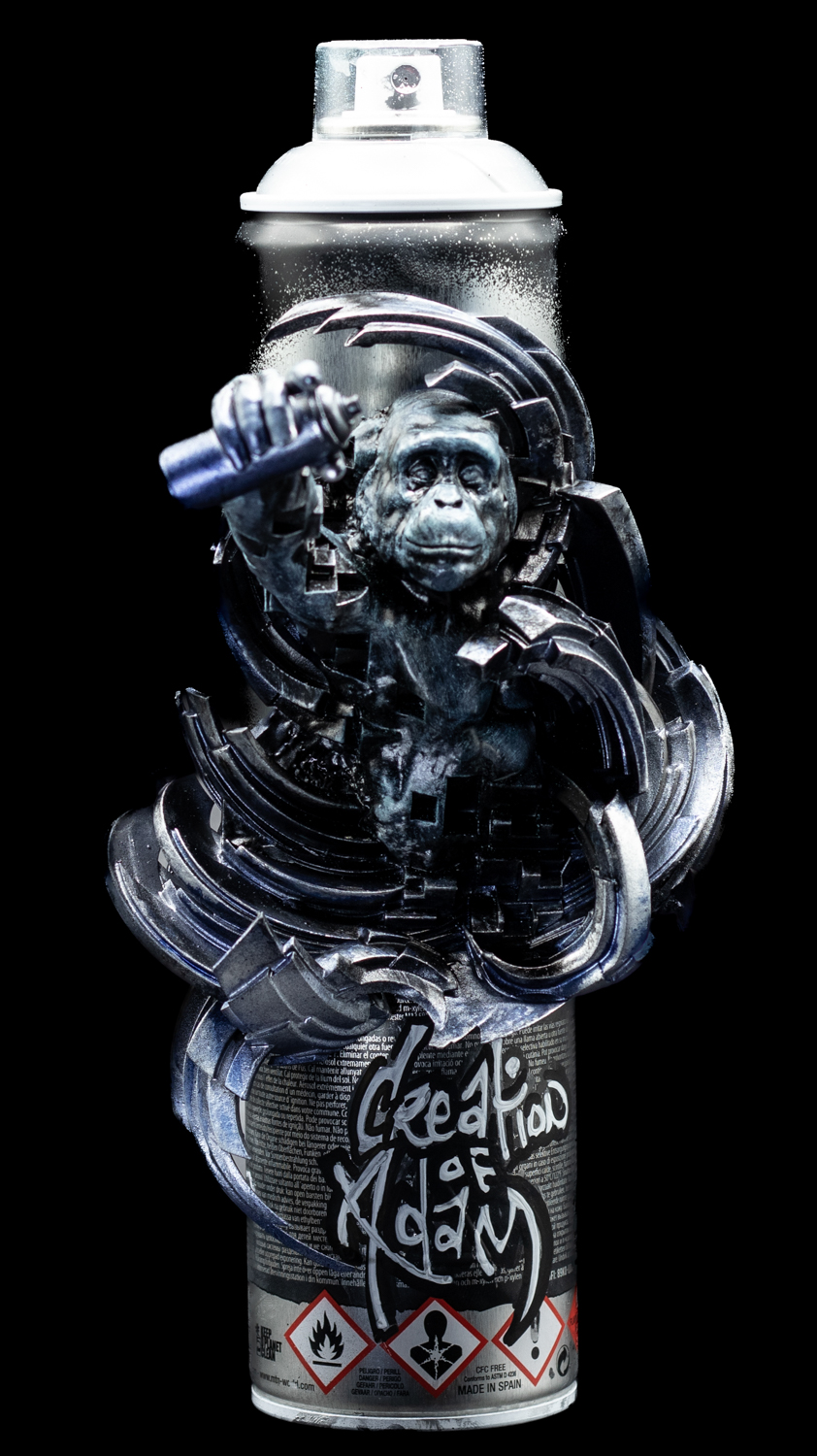 Creation of Adam, 3D printed resin, aerosol can, paint marker, 5" x 11" x 5", 2022
BG: How can folks best support you and your work right now?
BW: While I occasionally do drops on Instagram and have a webstore on my site in the works, the best place to see and purchase originals of my work are from galleries. I consistently stock Gamut Gallery and Rogue Buddha's store with smaller pieces. I also have a number of upcoming exhibitions. Besides Safeword in February, the next chance to catch my work in person is at a show I am also curating called Neon Nightmares. This is a blacklight themed group art show with live music taking place April 15th at Artspace Jackson Flats. I will have work in a mask show curated by Nick Vander Loop in July and a show about robots in August I am co-curating with Erik Andersen. I will also likely be featured in Otherworldly's Unicorn Art show in June and their Gods and Monsters exhibition in October, all of which are happening at Jackson Flats. The best place to stay updated on my work is through my instagram @condensedcloud or at MPLSART.COM

BG: Thanks for taking the time to talk more about your practice with MPLSART.
BW: I've always appreciated working with MPLSART as a curator to connect communities to events but also as a patron of the arts in looking for art exhibitions to attend. I'm grateful for all MPLSART does to keep the scene alive and am glad to be a part of it. ◼︎

You can see more of Benja Wuest's work on Instagram, and on his website. The Safe Word Erotic Art Show, organized by The Otherworldly Art Collective. takes place February 3rd and 4th at Squirrel Haus Arts in Minneapolis. Safeword is a ticketed 21+ event. Tickets may be purchased in advance and a limited number of tickets are available at the door.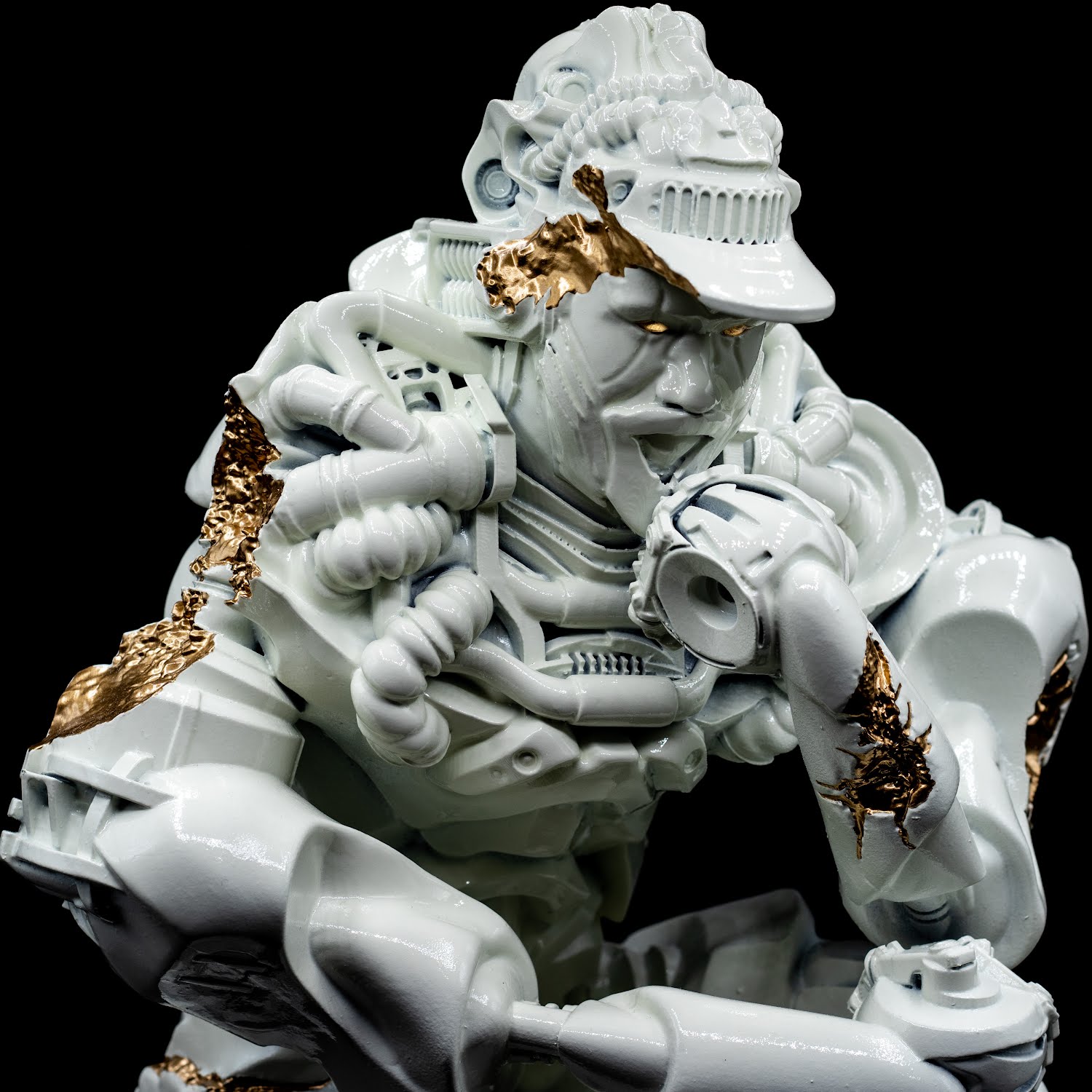 The Thinker, (self portrait), 3D printed resin, 2022