New collection of works by Mexican-American artist Luis Fitch rearranges his familiar iconography to speak about environmental crises at Viewpoint Gallery
Viewpoint Gallery, which opened in the Hamline-Midway neighborhood of Saint Paul in September, is showcasing a new collection of work by Minneapolis-based artist and designer Luis Fitch for its second show.
Dead Serious, on display through November 26, brings Fitch's established iconography to bear on climate change. In this new series, he has rearranged his trademark figures and symbols to touch on environmental hazards from the lack of clean water to the consequences of heat waves on migrant farmworkers.
Creating affordable art through iconography
Fitch calls fine art his hobby, in addition to his day job as a graphic designer and founder of UNO Branding, a Minneapolis-based creative agency specializing in Latinx branding. Fine art is also a passion for him, notably creating accessible works of art that anyone – and especially members of the Latinx community – can own.
To this end, Fitch has created a toolkit of symbols that he can arrange and rearrange to produce new works. This iconography includes varieties of skulls, arms, clothing, flowers, birds, decorative borders, and several other objects. All in all, Fitch estimates he has over 5,000 of these symbols trademarked.
The toolkit is inspired aesthetically by papel picado, or "cut paper," a traditional Mexican folk art that produces graphic contrasts between the colorful paper and the blank spaces that have been cut out. In Dead Serious, black figures and symbols contrast sharply with brightly colored backgrounds. There are at most three colors in any given silkscreen – the background, the black symbols, and white for the skulls' eyes.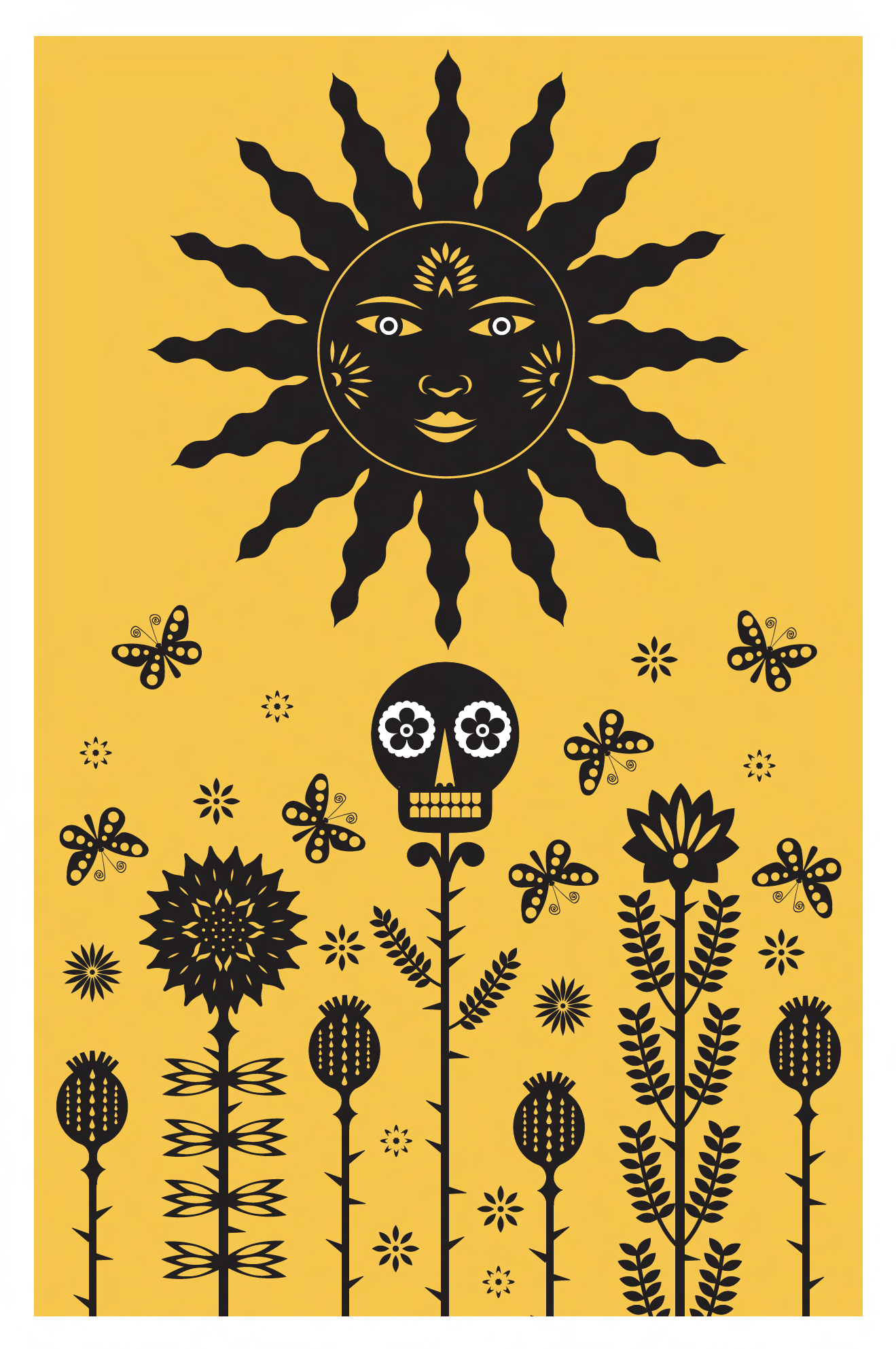 Climate Change, Screenprint on paper, ed of 50, 36 x 24".
The symbols themselves can be arranged and rearranged to create new works of art around varying themes. This established iconography gives Fitch the structure to be able to continue making new works of art in addition to his work with UNO.
"The whole thing started as an experiment to see, when I had some downtime, if I could create art related to my culture that said what I wanted to say," says Fitch. "With this toolbox of images, I can go back to it and create a mural, a t-shirt, a product, or, in this case, an entire collection of affordable art."
Fitch's readily available symbols and his printmaking process allow him to sell his silkscreen editions at what he hopes will be an accessible price point for viewers. Each of the works in Dead Serious is part of a 50-print edition, priced at $200 each.
The toolkit has also created an immediately recognizable style and the chance to follow Fitch's same symbols from show to show, piece to piece, and out in the world, all across town and beyond, where Fitch's posters have been blown up onto billboards and wheat-pasted onto electrical boxes.
"By themselves, all of these symbols have meaning. When you put them together and rearrange them as a group, they can take on different meanings," he says. Fitch adds that his work is designed first and foremost to speak to the Latinx community.
"There are also many instances where, if the viewer is Latino, they'll recognize the meaning behind a specific symbol," he says. For example, Fitch uses marigolds throughout his work. The flower is a staple in Dia de los Muertos, or Day of the Dead, celebrations said to guide souls to their family's home.
Climate change is just one of many societal issues Fitch has addressed using his iconographic toolkit. Exploring and representing this subject matter through bright, graphic work is also a way, Fitch says, to bring these issues into the homes of a diverse audience.
"A lot of people buy my work for pure decoration, and they might learn more about the meaning behind it through interviews or public talks," he says. "They're spreading the news that affects all of us by bringing it into their homes."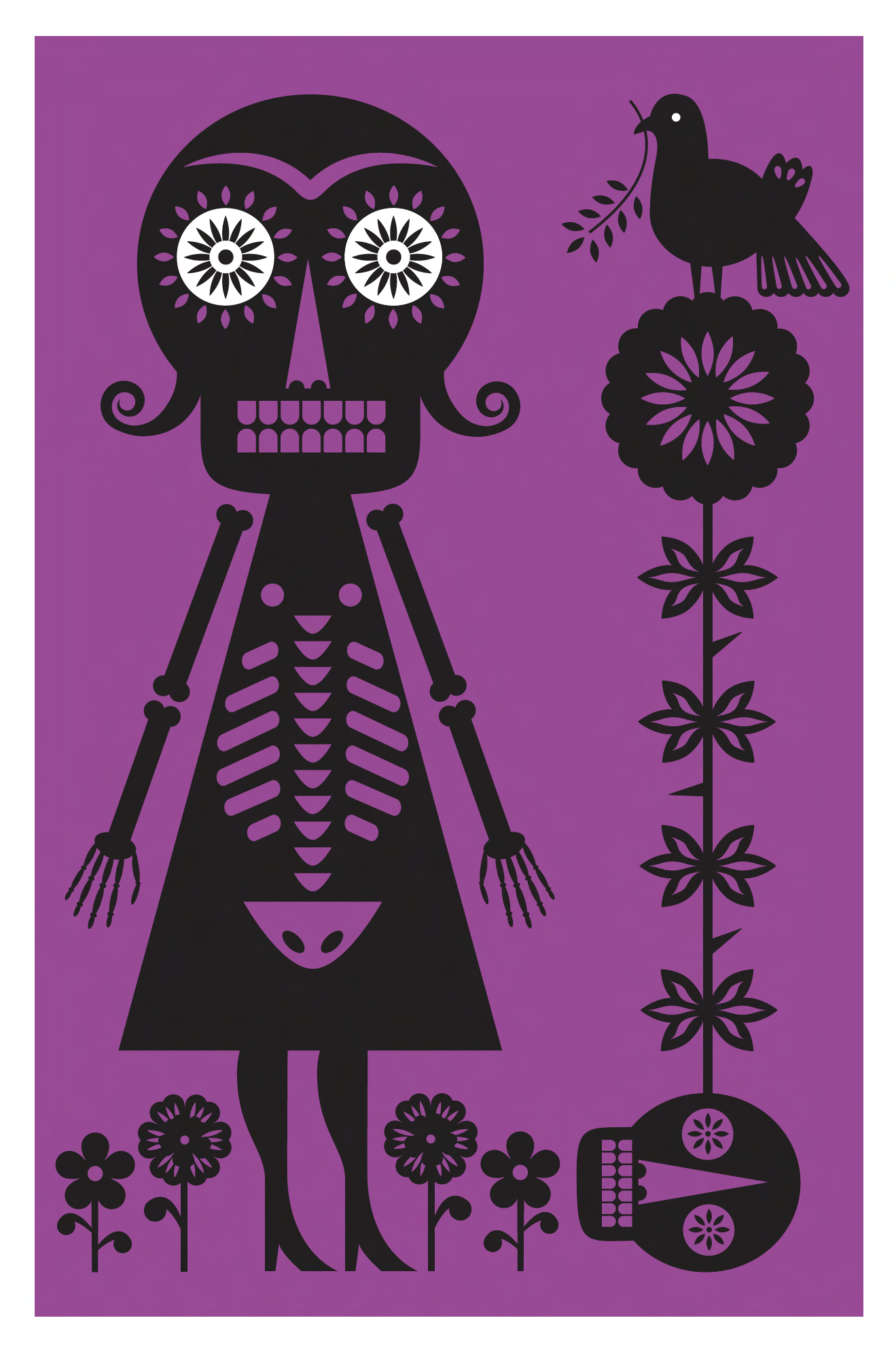 Hot Summer, Screenprint on paper, ed of 50, 36 x 24".
MCAD connection brings Fitch's work to Hamline-Midway
Fitch's career in branding and graphic design led to his connection with Suyao Tian, who opened Viewpoint Gallery down the street from her Saint Paul home in September.
Fitch was Tian's mentor in the MFA program at Minneapolis College of Art and Design, where Tian studied branding before making a post-graduate switch to watercolor painting.
Tian saw that the current gallery space was available while walking her dog through the neighborhood. She initially looked at it as a possible studio space, but soon felt the pull to give back to the neighborhood by turning it into a gallery where her neighbors, friends, and guests from across the Twin Cities could come and view work from both local and national artists – taking over from beloved neighborhood cobbler Gene Hartsock, who was retiring after over three decades running a shoe repair business.
"My mission is to create a gallery that everyone can enjoy and where they feel like they belong," says Tian. "I have two young friends, children in the neighborhood, who come in every couple of days to say hello, and sometimes their grandparents come along. They don't feel weird about stopping in – that's my mission." ◼︎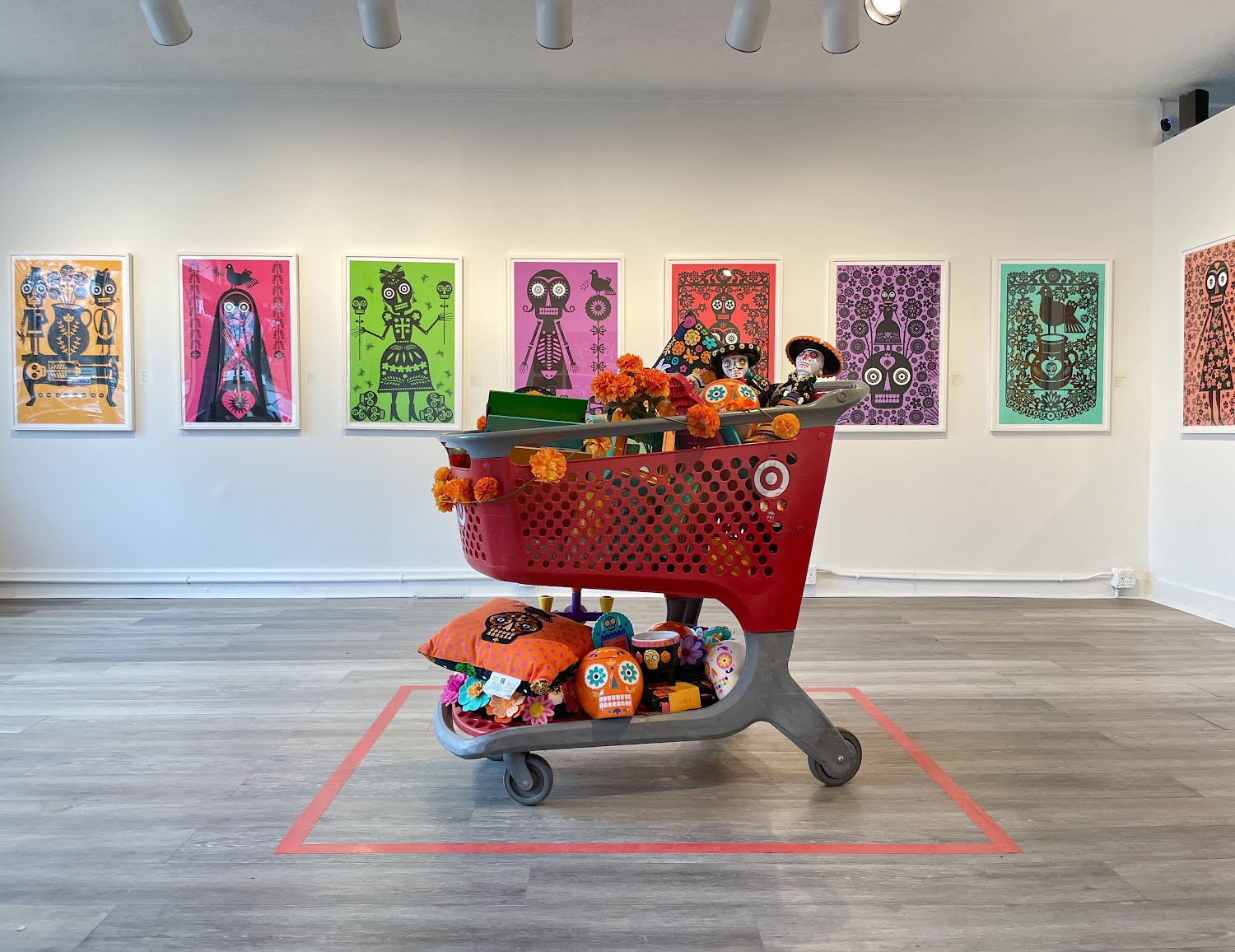 Installation view of Dead Serious, courtesy of Suyao Tian.
Dead Serious is on view through Nov. 26 at Viewpoint Gallery, 591 Hamline Ave. N. in Saint Paul. Gallery hours are Tuesday - Friday 1 - 5pm, Saturday 1 - 6pm, and by appointment Sunday & Monday.
For more on the artist, visit Luis Fitch's website or follow him on Instagram @luisfitch.
Banner image: Facing Nature (detail), Screenprint on paper, ed of 50, 36 x 24".