Working across a multitude of media, Tavera celebrates the profoundly human nuances of her community, her history, and her heritage
This is the third in a series of articles profiling the six distinguished artists chosen as 2020 McKnight Fellows in Visual Arts, a grant program for mid-career artists in Minnesota that is administered by the Minneapolis College of Art and Design. The 2020 cohort includes Eric J. García, Seitu Ken Jones, Catherine Meier, Teo Nguyen, Meg Ojala, and Maria Cristina ("Tina") Tavera.
◼︎◼︎◼︎◼︎◼︎◼︎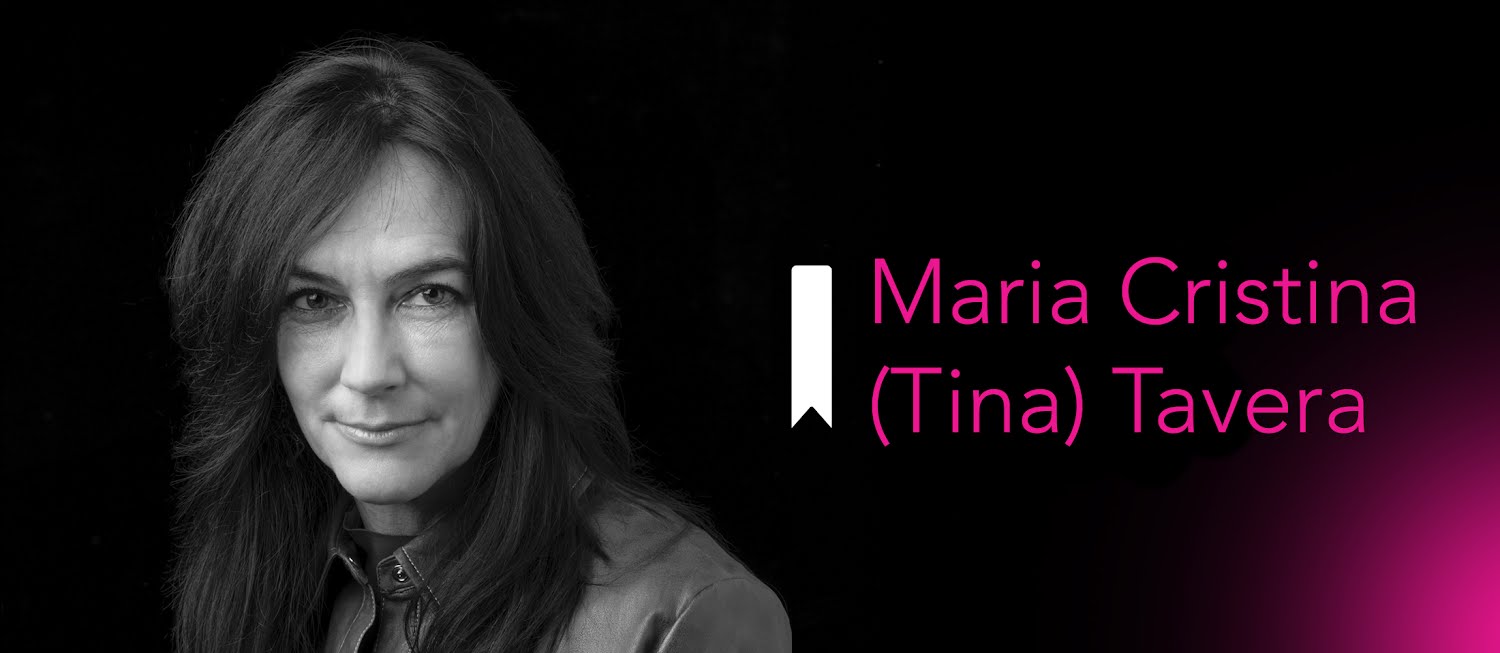 Photo by Rik Sferra
I wonder, if our bodies lasted longer, how our relationship with history would change. On a personal level, what happens within our own lifetimes can stay fresh, like a memory from childhood or a favorite album you suddenly realize is thirty years old. Familiarity has a way of compressing time, of keeping what's past more present.
Socially and politically, however – outside of ourselves – history tends to stand at a distance: decisions made by those long-dead, deeds and doings living in our imagination as grainy old photographs instead of full-color videos. Time becomes a stranger, out of reach beyond our own human lifespan.
Maria Cristina Tavera is working to make that past more familiar. Tavera, who goes by Tina, is quick to laugh and steeped in histories. When we met at her home in Powderhorn, which she shares with fellow artist and husband Xavier Tavera, our conversation ranged from mid-century Mexican pulp comic books to the conquest of the Aztec Empire by Hernán Cortés to stories about her father hitchhiking across the country in the early '60s.
Tavera is a multi-disciplinary artist in every sense of the term. Name a medium, and she has worked with it: screenprinting, drawing, painting, digital, woodcut, chine collé, paper dying, leather tooling, sculpture, installation, public art, textiles, video, and likely some I'm forgetting. She writes, she curates, she is a member of the art collective Grupo Soap del Corazón and a founding member of Serpentina Arts, she serves on the board of Second Shift Studio Space and just joined the board at NE Sculpture Gallery Factory, and she is the Director of TRIO McNair Scholars at Augsburg University, a program preparing students from underserved communities for graduate school in STEM, sociology, and other fields. Her dedication to fostering community is as much a part of her practice as anything; in fact, the two go hand in hand.
"I never studied art," she says. "I can't say I'm self-taught, because I rely on everybody to help guide me in whatever I'm working on. So I'm fortunate that I'm a community-taught artist."
No surprise then at how eclectic her work can be, even within a single installation. "The medium always depends on what the idea is trying to portray," she explains, though central to everything Tavera does is an interest in cultural identity. She has work up now – a collaborative installation with Xavier – in a group show at the National Museum of Mexican Art celebrating Día de Muertos. Instead of a painting or a print, however, the two are exhibiting an ofrenda – an altar – in honor of someone who is very famous but not so well known: Nieves Orozco Field, who modeled for Diego Rivera's widely beloved 1944 painting Nude with Calla Lilies and passed away last year at the age of 98. In Rivera's painting, Orozco Field sits with her back to us, embracing a massive basket of white flowers in a celebration of Mexican labor, Mexican culture, and the beauty of brown skin. It is one of many paintings of calla lilies that Rivera made, often depicting hardworking flower vendors carrying them in large bundles on their backs – a revolutionary twist on the classic still life. Nude with Calla Lilies is so popular, it's even printed on one side of the 500 peso bill, alongside a portrait of Rivera. Frida Kahlo, who had a tumultuous relationship with both her husband and his model, is on the opposite side.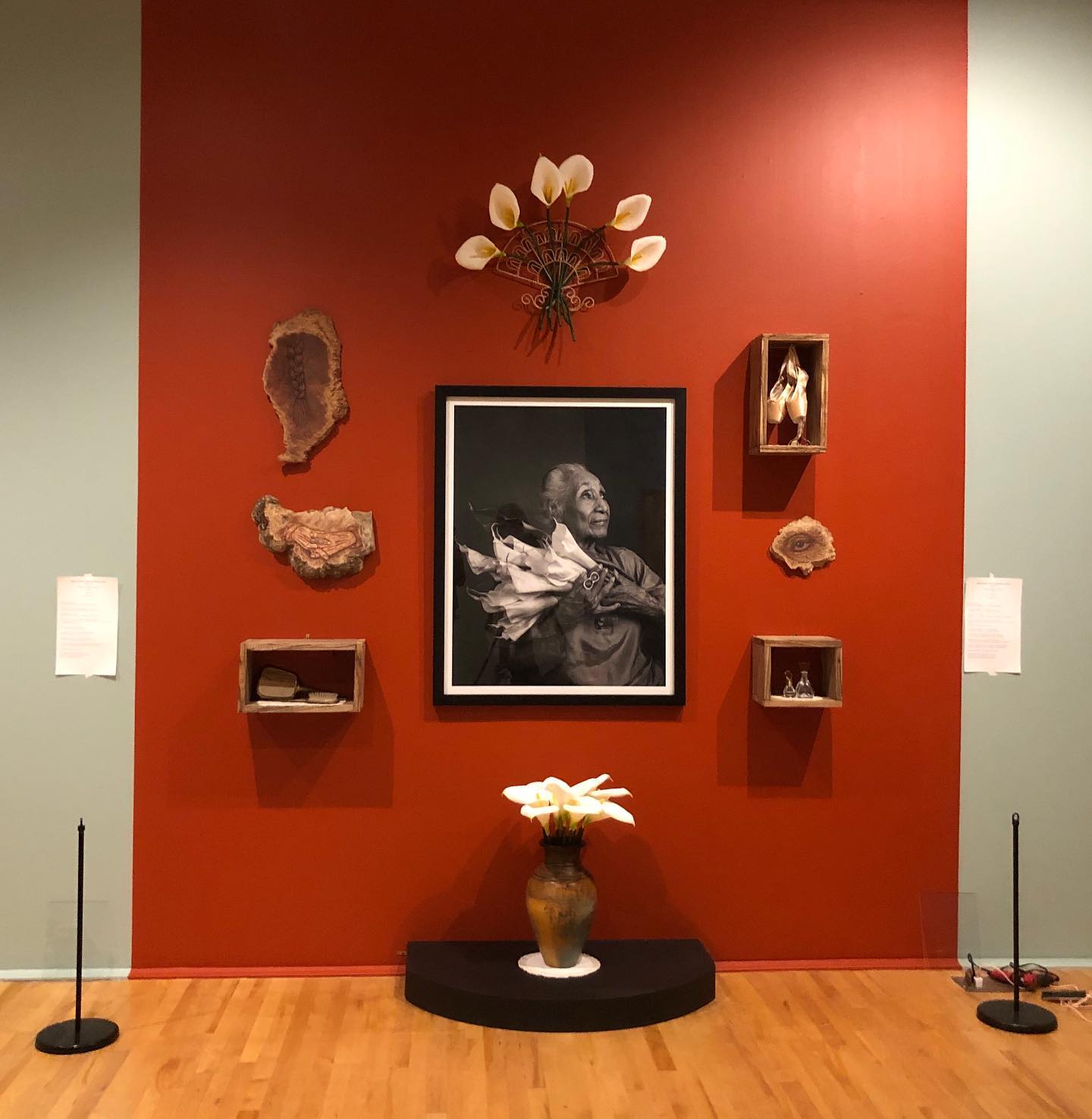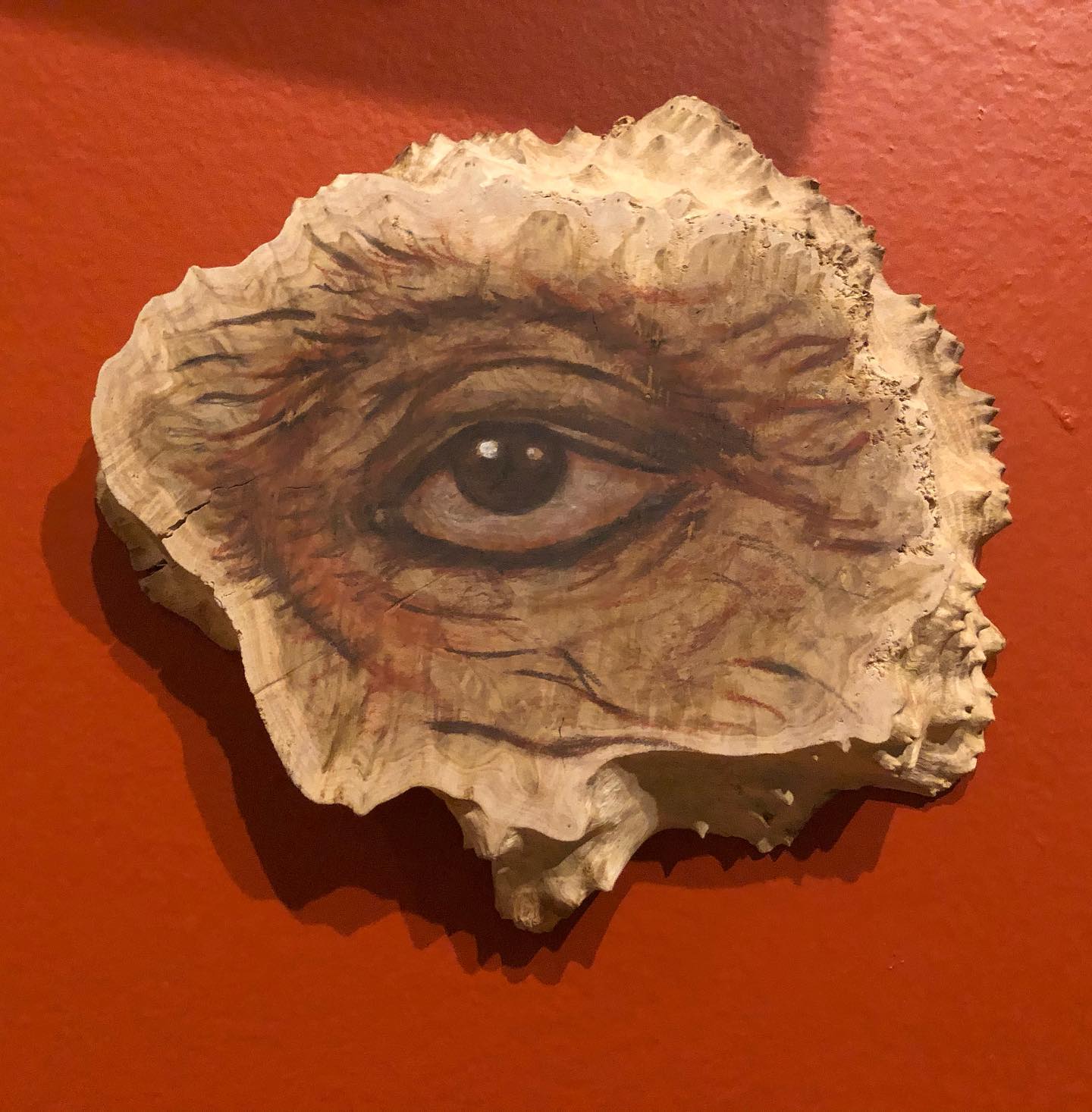 Top: an ofrenda honoring Nieves Orozco Field currently on view at the National Museum of Mexican Art in Chicago. Bottom: a detail of the installation, featuring a hand-painted eye on a wood burl.
In the Taveras' ofrenda, it is Orozco Field whose face is front and center, captured in a beautiful black and white photo taken by Xavier in 2018. It turns out that Orozco Field lived right here in Minneapolis for thirty years, a transplant from Mexico, which made her even more intriguing to Tavera, who grew up in Stillwater but traveled often to visit her mother's family in Mexico City.
"I grew up going between Mexico and Stillwater, which is super Minnesotan, as you can tell by the way I talk," she says with a big laugh. "My aunts and uncles in Mexico are all artisans. Painters, silversmiths, they do woodworking, they do photography, they do everything."
Her particular cultural cocktail – moving often between white and Latinx spaces as the daughter of a Mexican mother and an Irish-American father – remains a central question for her. "I think it's something I dwell on," she says with another laugh. "There's always that dynamic that you're really not one or the other, so what are you? Because I was always trying to prove how Mexican I am, I think a lot of my life revolves around that."
Those dualities, that hybridization, comes through in her work, particularly her printmaking. In one edition, Los Gallos, two yellow and red roosters clash against a comic book dust cloud. One yells "Cockle Doodle Doo!" The other responds "¡Quiquiriqui!" The same cock's crow, heard two separate ways across cultures.
In another, Tavera zooms in on six men's moustachioed mouths, including a Mexican comedian, a Mexican poet, two Mexican actors, and Emiliano Zapata Salazar himself. The sixth, however, is Orlando Bloom, an Englishman, whose moustache has been scribbled onto his lip with a Sharpie. En Busca de Pancho Villa, reads the title: In Search of Pancho Villa. Is a thick moustache all it takes?
"What makes me Mexican in the US?" she asks. "Because once you're here, you're Latinx. That whole thing of where things mesh and where they bond is what drives the printmaking because I can then grab images and ideas and iconography to say what I'm thinking about."
As in our conversation, Tavera brings a lot of wry humor into her work, marrying a Pop sensibility with the aesthetics of punk rock album art and revolutionary agit-prop. She draws on her huge library of source materials – comics, maps, board games, historical paintings, scientific diagrams – to create visual mash-ups that capture the complexity she sees in questions of identity. In one installation of several dozen prints, the papers range in size and orientation and the images run right off the paper where she has painted directly onto the wall. It is a rejection of purity in the printmaking world as well. A recent edition features layers of screenprinted ink, photos that have been applied with chine collé, and hand-dyed clouds of color that vary from print to print. "That's the luxury of being self-taught," she says.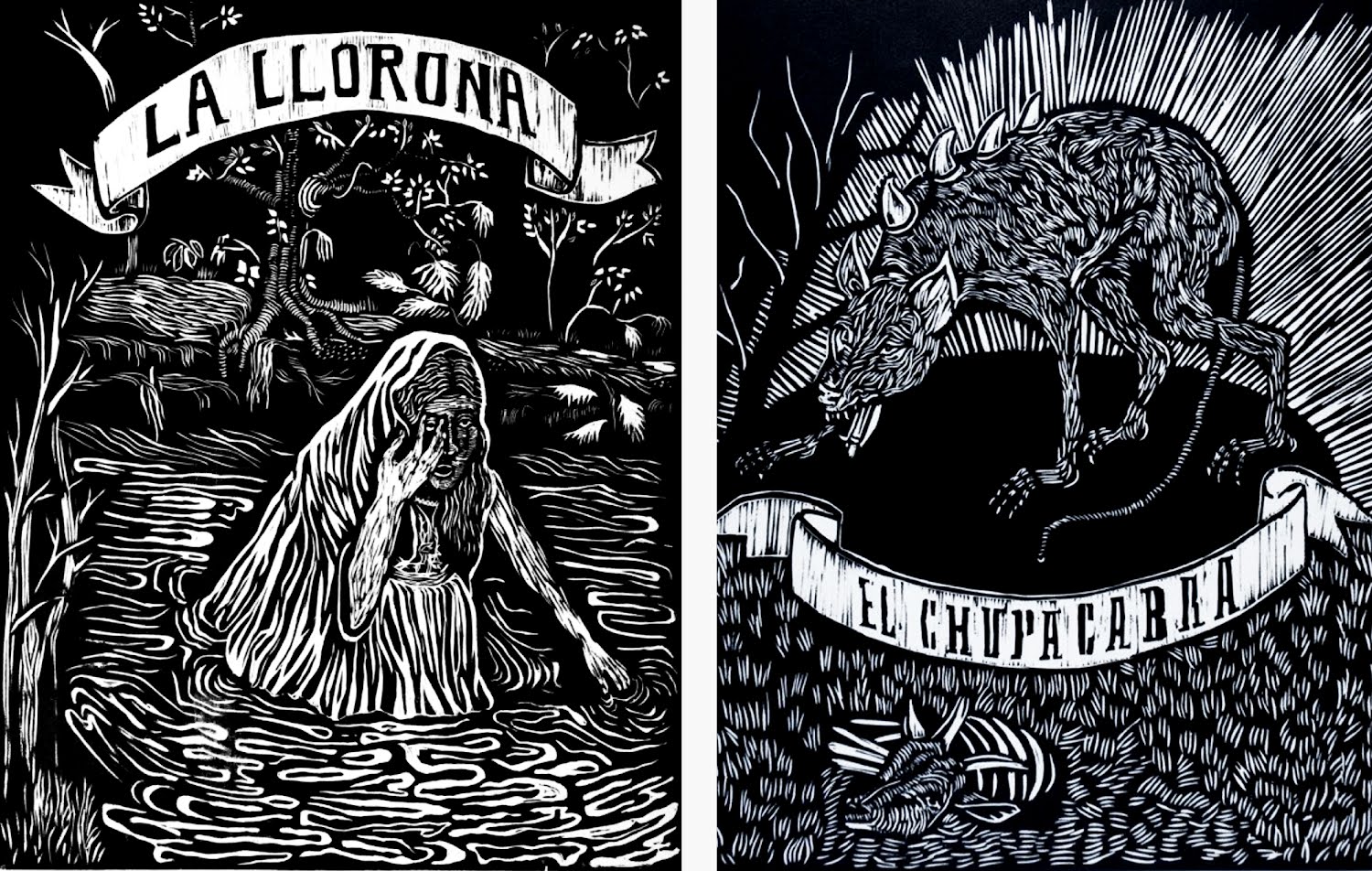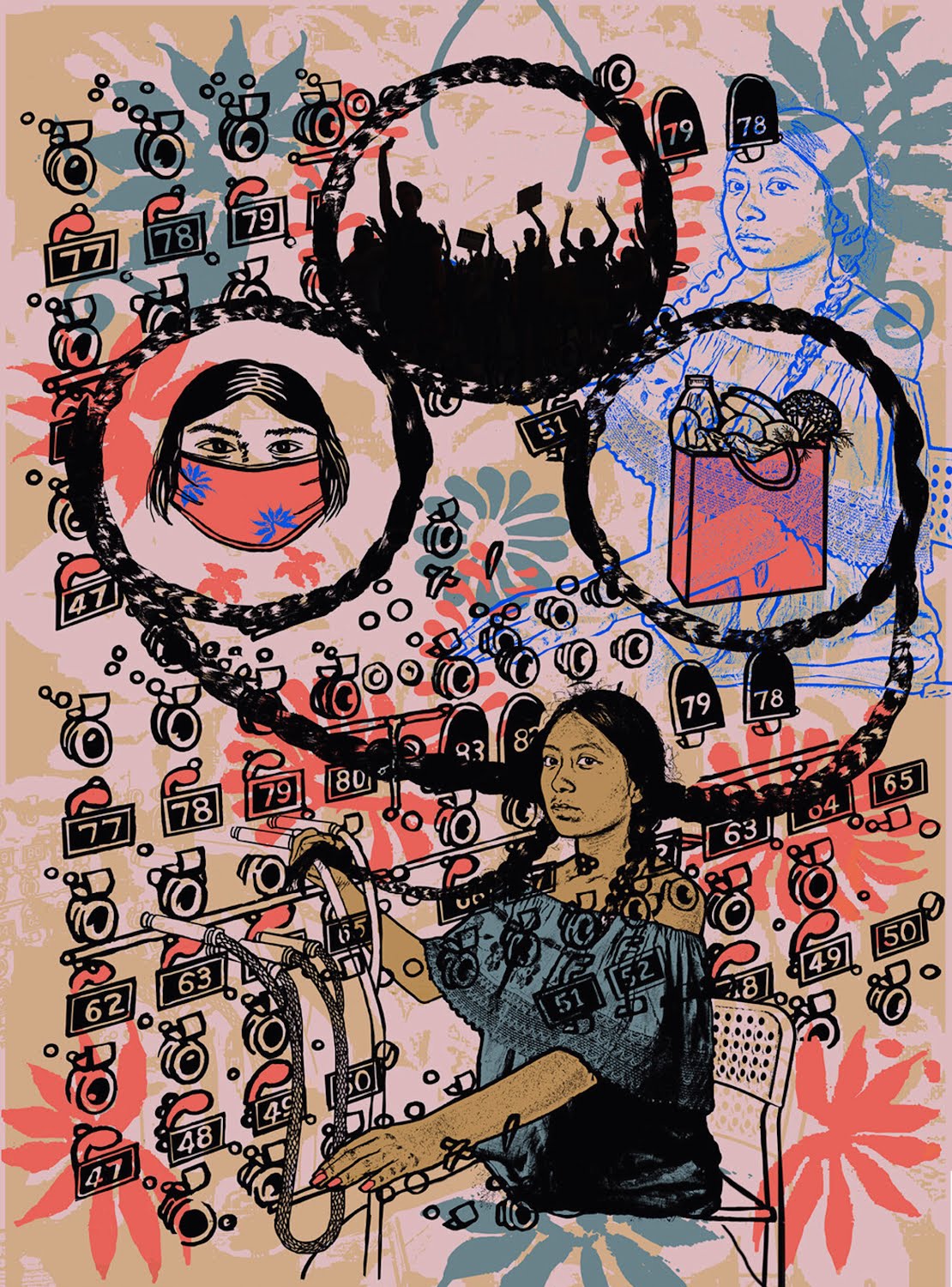 Top: La Llorona & El Chupacabra, woodblock prints, 2014. Bottom: The Connection: Atzquetzali, Screenprint, 27 x 20", 2021
Like so many artists and musicians before her, Tavera is remixing the old to create something new, a crucial step not just in cultural evolution but in keeping traditional stories from fading and losing relevance. Folklore characters like El Chupacabra and La Llorona emerge in gorgeously detailed woodcuts. In a series documenting the upheaval in Powderhorn after George Floyd's murder, an indigenous woman sits at an old-school telephone switchboard, her braided hair connecting a person in a mask with a bag of fresh groceries in a metaphor for the mutual aid networks that emerged at that time – and that existed in the days before the Europeans landed.
Perhaps the work that best coalesces all of these themes is Tavera's take on La Malinche, a controversial figure in Mexican history. She was an indigenous woman taken captive by the Spanish conquistador Cortés in the early 16th century and compelled – through love, calculation, or a sense of survival, depending on who you ask – to serve as his interpreter, aiding him immensely in conquering the Aztecs.
"In Mexico, she was considered a traitor always because many people believe Cortés could have never done it without her," Tavera explains. She sees this woman, however, through a more empathetic lens. "At the same time, she had to overcome the circumstances of her situation."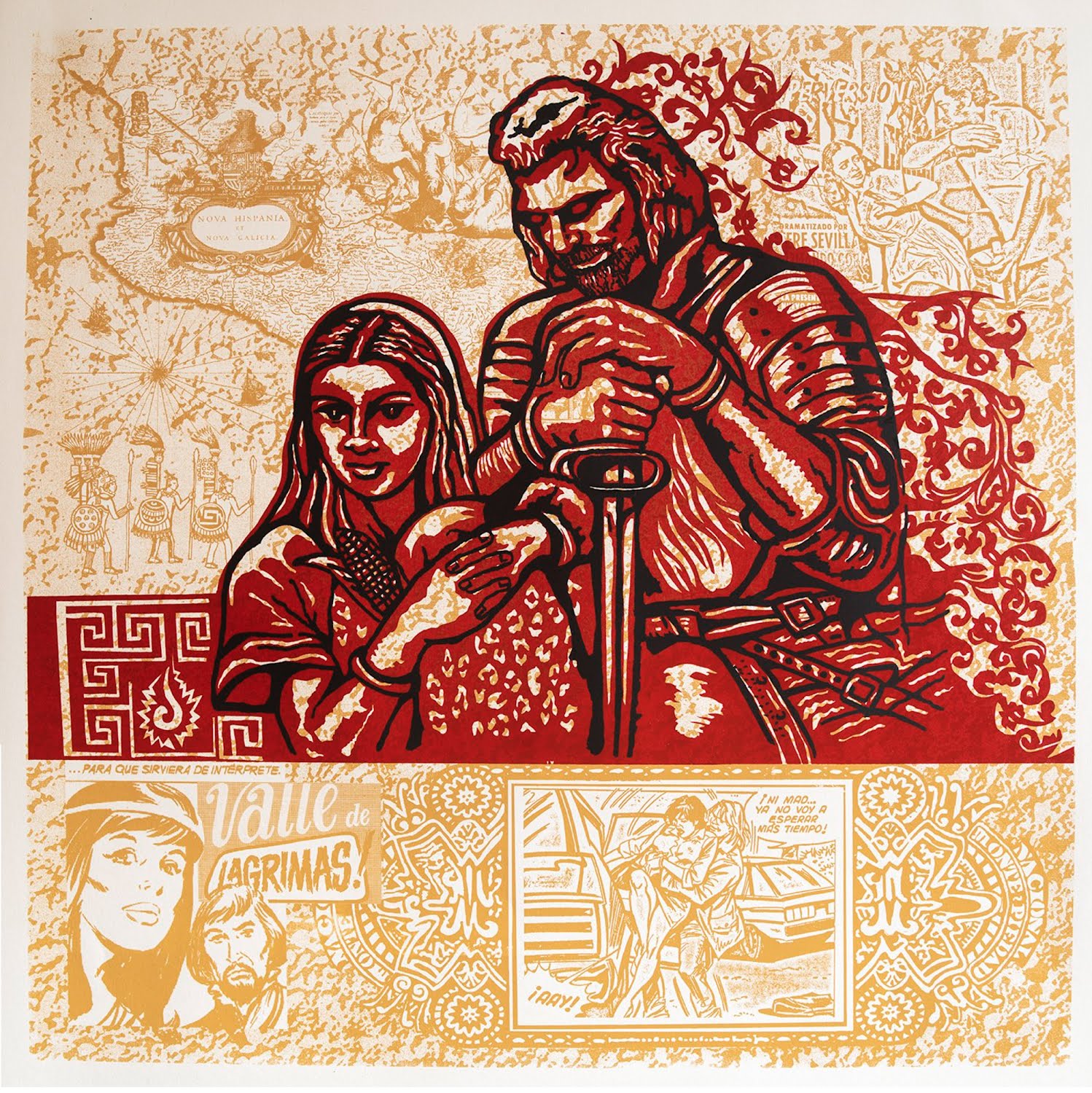 La Malinche Conquistada, Screenprint, 26 x 25.5", 2015
The drawing at the center of Tavera's La Malinche Conquistada is based on a comically romanticized painting by Jesús de la Helguera of a beautiful, young, light-skinned woman hanging on the knee of a pious, somber Cortés. Tavera has surrounded the loving couple with panels of domestic violence culled from comic books she bought on the streets of Mexico City. Behind it all, Aztec glyphs and a map labelled "Nova Hispania." She looks directly at us, trapped as much in her own time as now, in her cultural legacy. The piece was included in an expansive exhibition earlier this year at the Denver Art Museum entitled Traitor, Survivor, Icon: The Legacy of La Malinche, a show which then traveled to the Albuquerque Museum and is currently on view at the San Antonio Museum of Art.
The story is social history on the scale of a single person – in this case, the poor young woman left holding the bag for a vicious and complicated military and political conquest. As Carolina A. Miranda explained in an LA Times review of the show,
"In post-revolution Mexico, a moment of intense nationalism, in which intellectuals and artists were rejecting the European in favor of the Mexican, to be revolutionary was to disavow the Spanish Conquest and the subsequent colonial period, writes Luis Vargas Santiago, an art historian at Mexico's National Autonomous University, in his contribution to the catalog. Malinche, therefore, 'was established as the origin of the mestizo shame, that imperfect stain or original sin the revolution came to erase.'"
And this is precisely where the political becomes personal for Tavera, as Malinche is the metaphorical mother of modern Mexican racial identity. "Now in Mexico I would say that more than 90% of the population is mestizo, which is a term that is not used in the US or in Mexico really, but it means the meshing of the Indigenous and the European together," she explains. After seeing Tavera's print, her mother told her that she too had been considered a Malinchista, a traitor to her people, because she married a white man. "She never even said that to me until she saw this print," says Tavera. "Do you ignore your indigenous side, or do you celebrate it?"
It's a heavy burden, I imagine, to hold the conquest of a continent in your blood. But that's not all that's there. Tavera recently found a photograph of her great-grandfather, Maximino García, standing next to a giant printing press that had actually belonged to his father before him during the Mexican Revolution. Printmaking, it seems, is her heritage as well, and her talent for agit-prop symbolism suddenly makes even more sense. She shows me her own brand new printing press, purchased with grant funding and wedged into a room right off of her kitchen. And fittingly, she is working on a new screenprint to commemorate her great-grandfather Maximino.
"That's been the dynamic that I finally realized: it's just all merging together after a while," she says. As with the many facets of her working life, it all becomes one practice. "It's more about what I'm trying to say than it is my mastery of the craft."
For all our searching after purity – in politics, in morality, in the clarity of who we are through the lens of our ancestry – in the end, culture is a blender. It's a long and well-mingled mess in which we find ourselves. Tavera has the wisdom to find joy in that mixture, to engage with our complicated histories critically and passionately, and to help push the whole thing forward. We would do well to follow her example. Regardless of our own short memory, the past is present, just as surely as the present will soon be past. And us along with it. ◼︎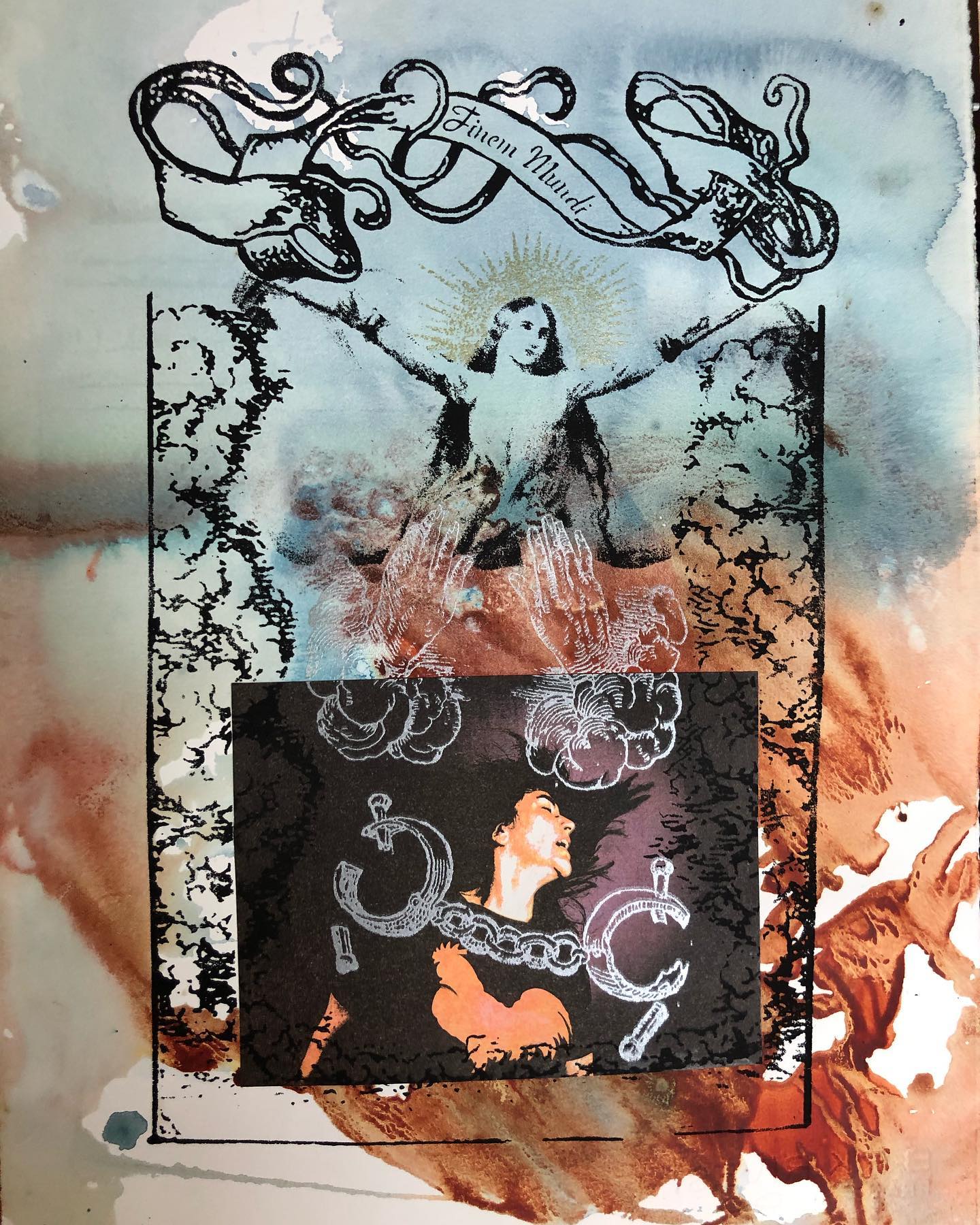 Finem Mundi, Mixed media, 22" x 15", 2022
To see more of the artist's work, visit Tavera's website or follow her on Instagram @tina.tavera.
Banner image: Los Gallos (detail), Screenprint, 12.875 x 16.875", 2018