North, south, east, or west, there's something cool to stop and see any which way you go
Y'all, for real: Summer is going too fast. We've got to start squeezing all the juice out of this August lemon because pretty soon we'll be right back in a pumpkin spice hell of responsibilities again. If you're looking to get out of town for the day, here's a brief, incomplete list of very cool places you can bomb out to see and still be back by bedtime.
We here at MPLSART typically stick to well within the 494/694 loop, so consider this a special venture in more ways than one. Gas is getting cheaper again, school's starting soon, plus vita brevis and ars longa, so let's pack some snacks and hit the road.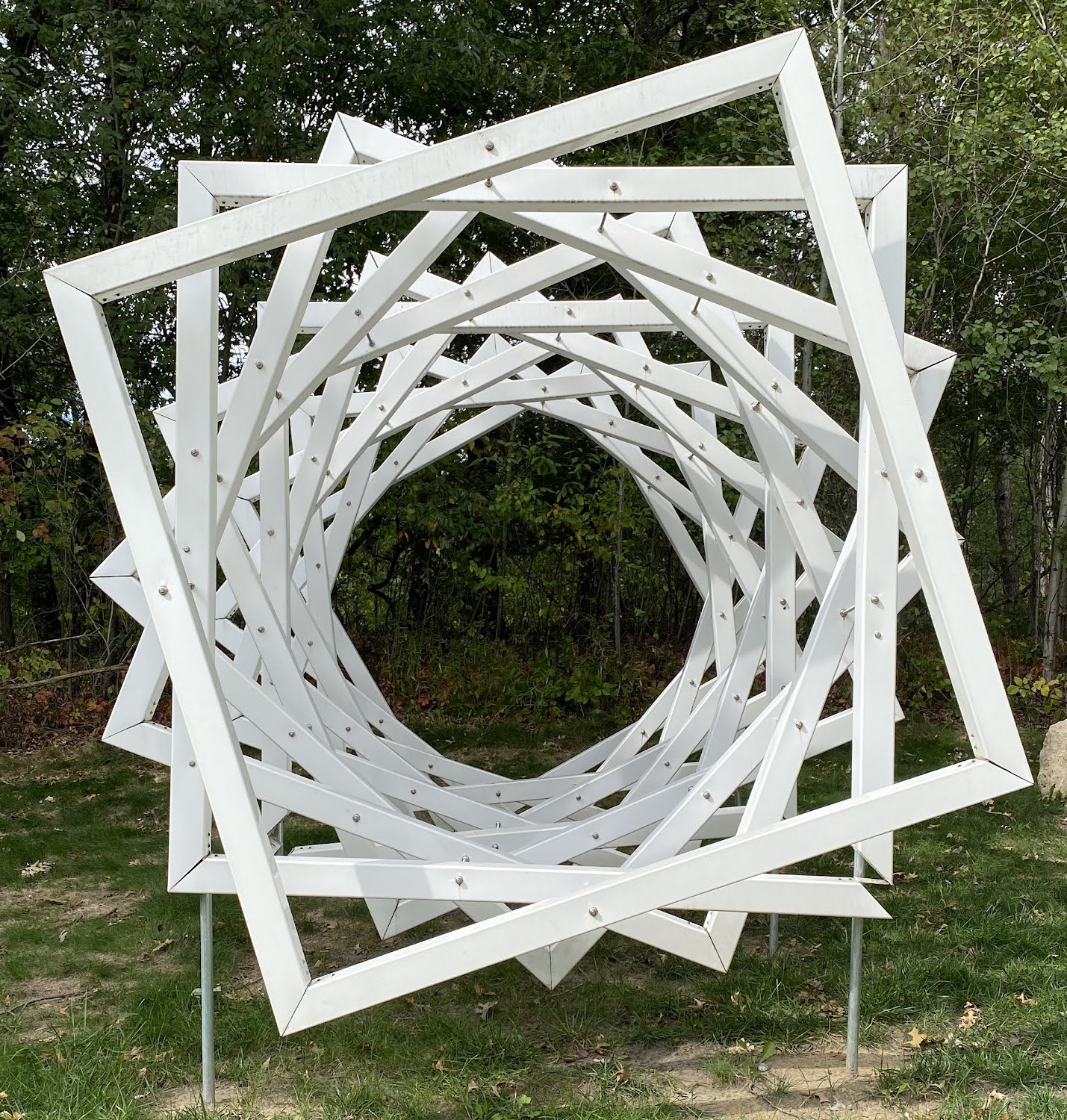 Mark Estlund, Ylem, PVC & steel, 2012, at Silverwood Park
Silverwood Park
We're going to start close to home, at the always enjoyable Silverwood Park, about ten minutes north of Northeast in St. Anthony, MN. Silverwood offers a ton of options – an art gallery, a coffee shop, canoe and kayak rentals, and lots more – but more than anything, it is a sculpture park that strikes a fantastic balance between the two: the sculptures and the park itself. Trees, flowers, birds – proper nature stuff. This place even has an island.
Paths through the woods lead you right past fun, beautiful, sometimes interactive artwork by some of the best working artists in the Twin Cities. I recommend, if you are able, giving the Erosion Machine a spin or two – you might even end up on Instagram.
And starting this week, the art gallery in the Visitor Center will feature gorgeous cut-paper assemblages by Kim Heidkamp. There's just no good reason you haven't been here yet.
---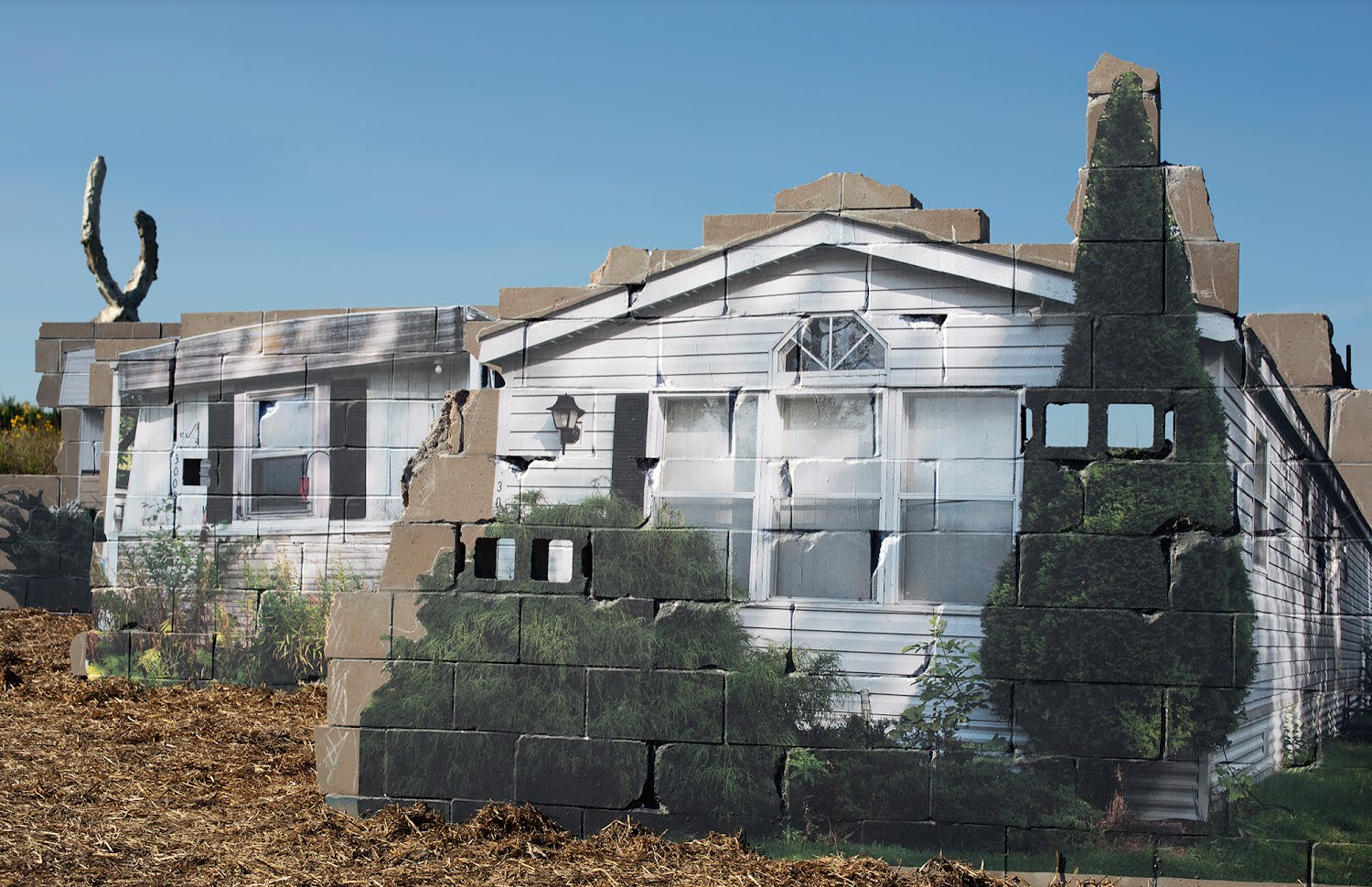 Amy Ritter, Shafer Terrace MHP, Cinder block, mortar, concrete, photographic Xerox prints, 2021, at Franconia Sculpture Park. Image courtesy of franconia.org.
Franconia Sculpture Park
A little further up the road, in Shafer, MN, is the legendary Franconia Sculpture Park. You know it, you love it, but when's the last time you actually went? Personally, it's been too long, and giving yourself a self-guided tour through their 50-acre outdoor museum during the summer is really one of the highlights of living in this state.
They seem to always be rotating new works in, and right now you can engage with works that are funny, colorful, dark, serious, and ethereal, all in a row. Worth a stop every time.
---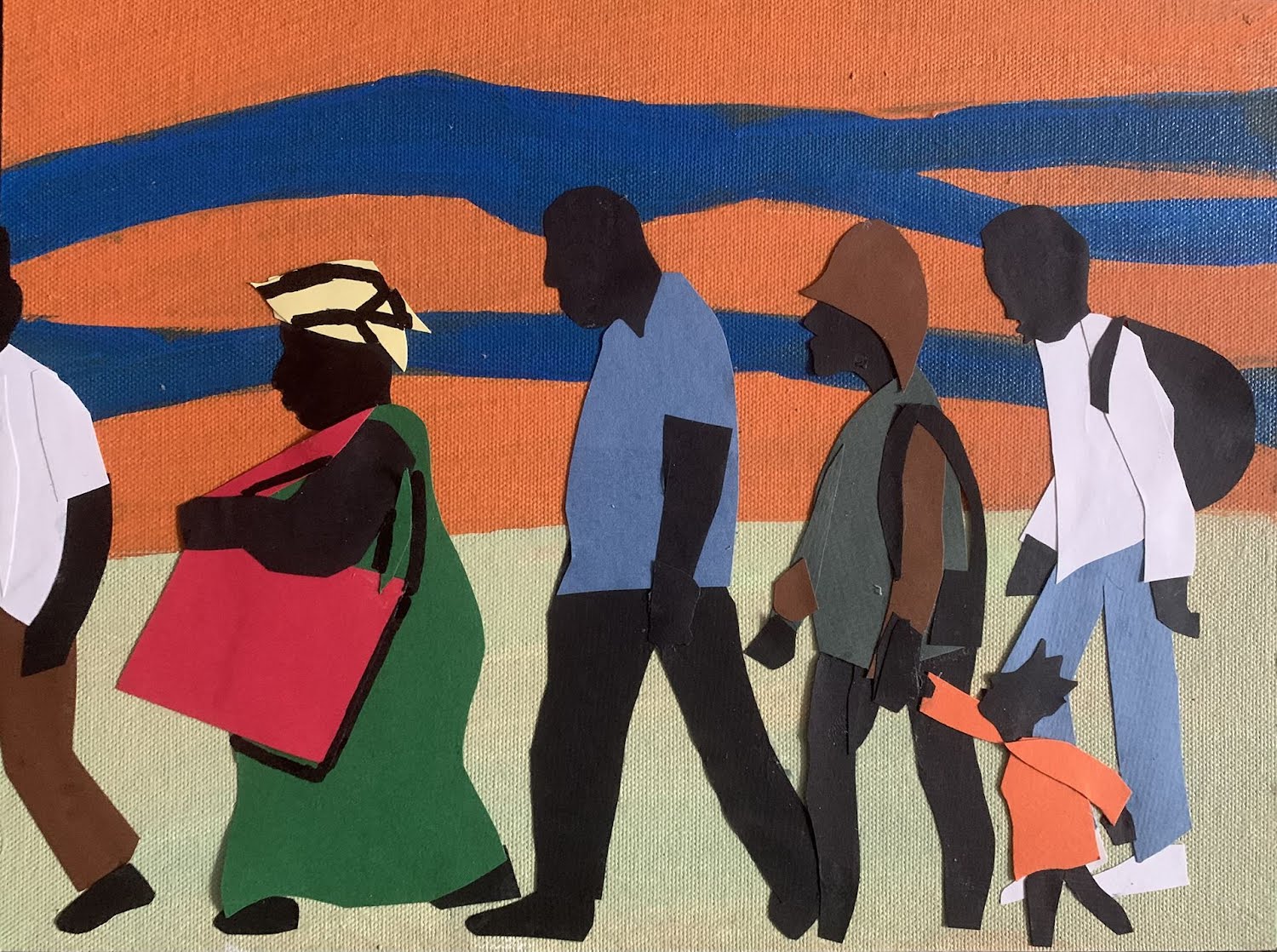 Christopher E. Harrison, Exodus, acrylic & collaged paper on panel, 9 x 12", on view at DAI
Duluth Art Institute
If you're still pointed north and have anything left in the tank, keep hauling up 35 to find the Duluth Art Institute. Housed in a beautiful old train depot, DAI has three galleries to peruse, one of which right now is showing work by Minneapolis-based Christopher E. Harrison.
There are several other galleries you can check out when you're there, and their Art in Bayfront Park fair is happening August 20 & 21. A stop in at Vikre Distillery is always a good idea, if you're into that sort of thing, and they even have a Pizza Lucé up there if you're feeling too far from home.
---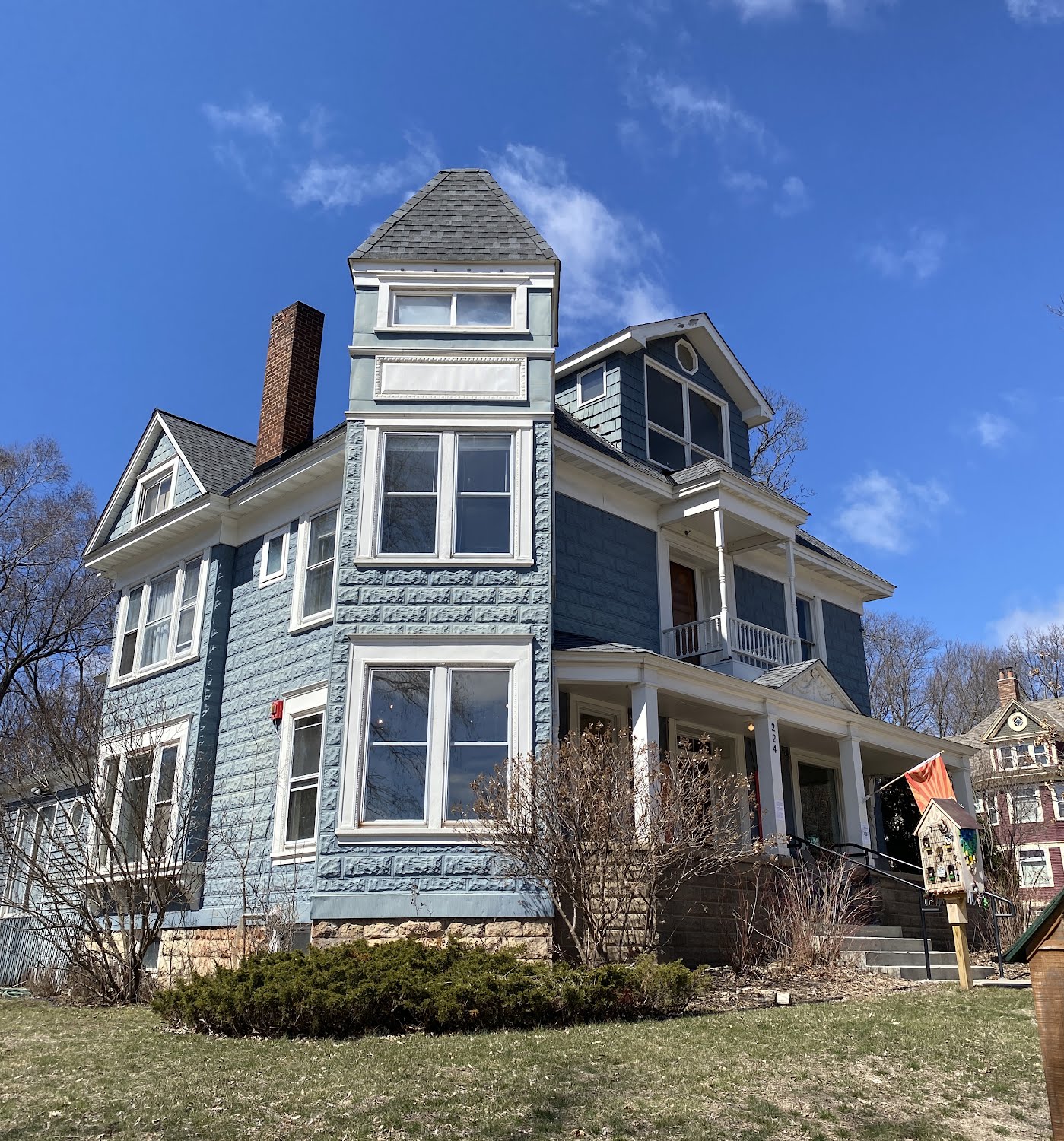 ArtReach St. Croix back in the spring, during a beautiful Jim Denomie exhibition
ArtReach St. Croix
Eastward now to Stillwater, where you can wander down Main Street, rubbing elbows with the thronging masses yearning to eat ice cream and go antiquing. Just up the incredibly steep hill, away from the fray and across the street from the library, stands a beautifully maintained blue house built in 1858, home now to ArtReach St. Croix. Serving fine art in a space with residential vibes, ArtReach currently has up a group show of paintings, photos, sculpture, and pottery from over 50 of their member artists.
If you feel like cheating on Minnesota, skip across the international waters of the Saint Croix River to Hudson, Wisconsin, and stop in at the Phipps Center for the Arts, who also have a members' show up across their five galleries right now, as well as regular concerts and theater productions to take in. Or just pick up some Spotted Cow at the liquor store and hightail it back.
---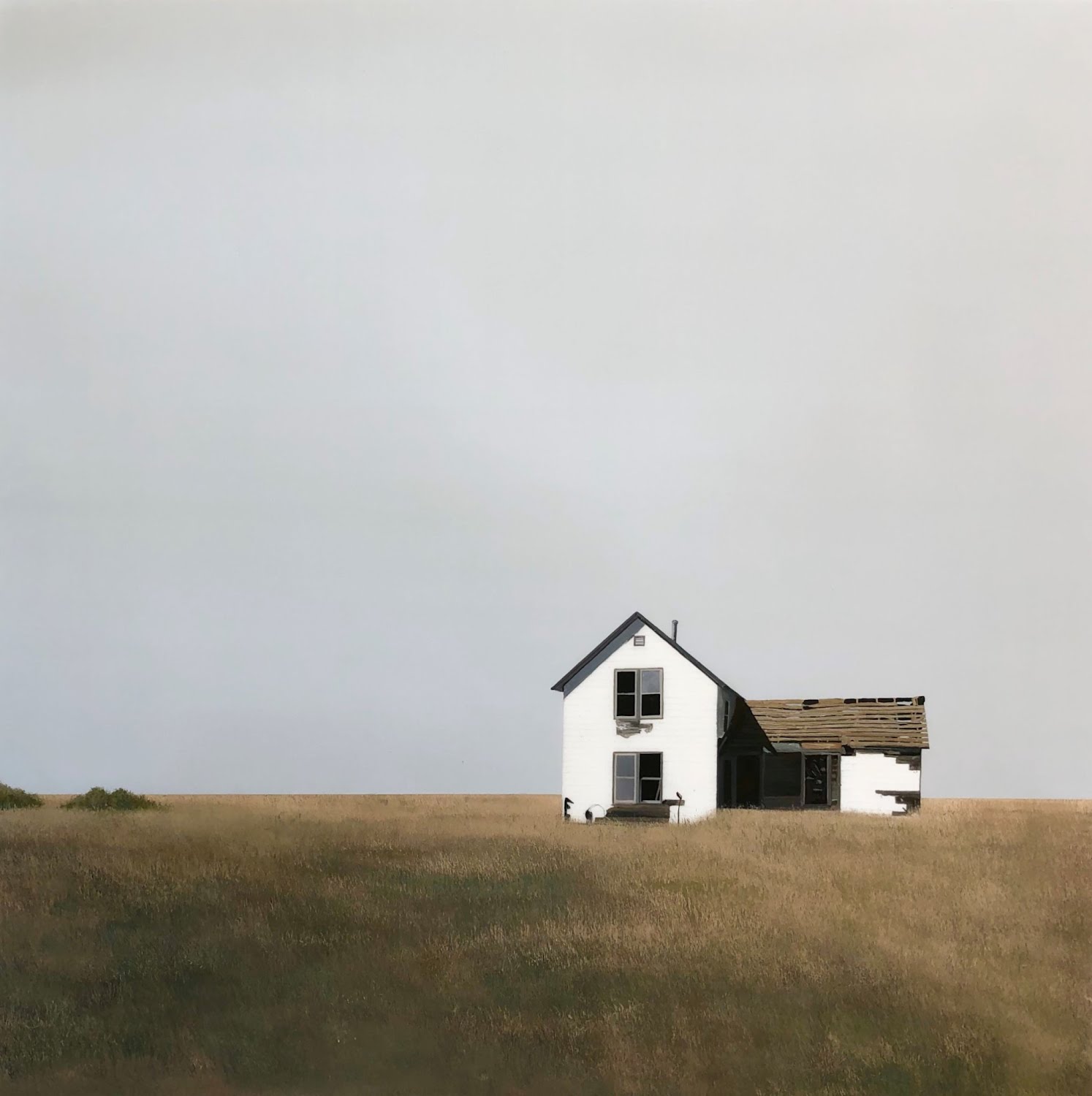 Teo Nguyen, Untitled (B12), acrylic on vellum mounted to aluminum, 50.25 x 50.25", 2022, on view at Burnet Fine Art & Advisory
Hopkins + Wayzata
If you feel like chasing a little more of that summer sunlight, head west. Hopkins is always good for a quick getaway to shop, eat, and take in two floors of art at the Hopkins Center for the Arts. Right now they are showing the intricate geometric abstractions of Gwen Partin and the somber, beautiful textile assemblages of Amy Usdin, along with a collection of work by members of the Minnesota Jewelry Arts Guild.
Then bop over to Lake Minnetonka, meander along the crooked coastline, and drive past all the monster houses, playing the guess their pricetags game. Back to reality, stop in at Burnet Fine Art & Advisory, where Teo Nguyen's large, photorealistic rural landscapes are on view. The skies are empty, the ground is flat, and the barns are beautifully rendered but often barely standing. We can relate.
---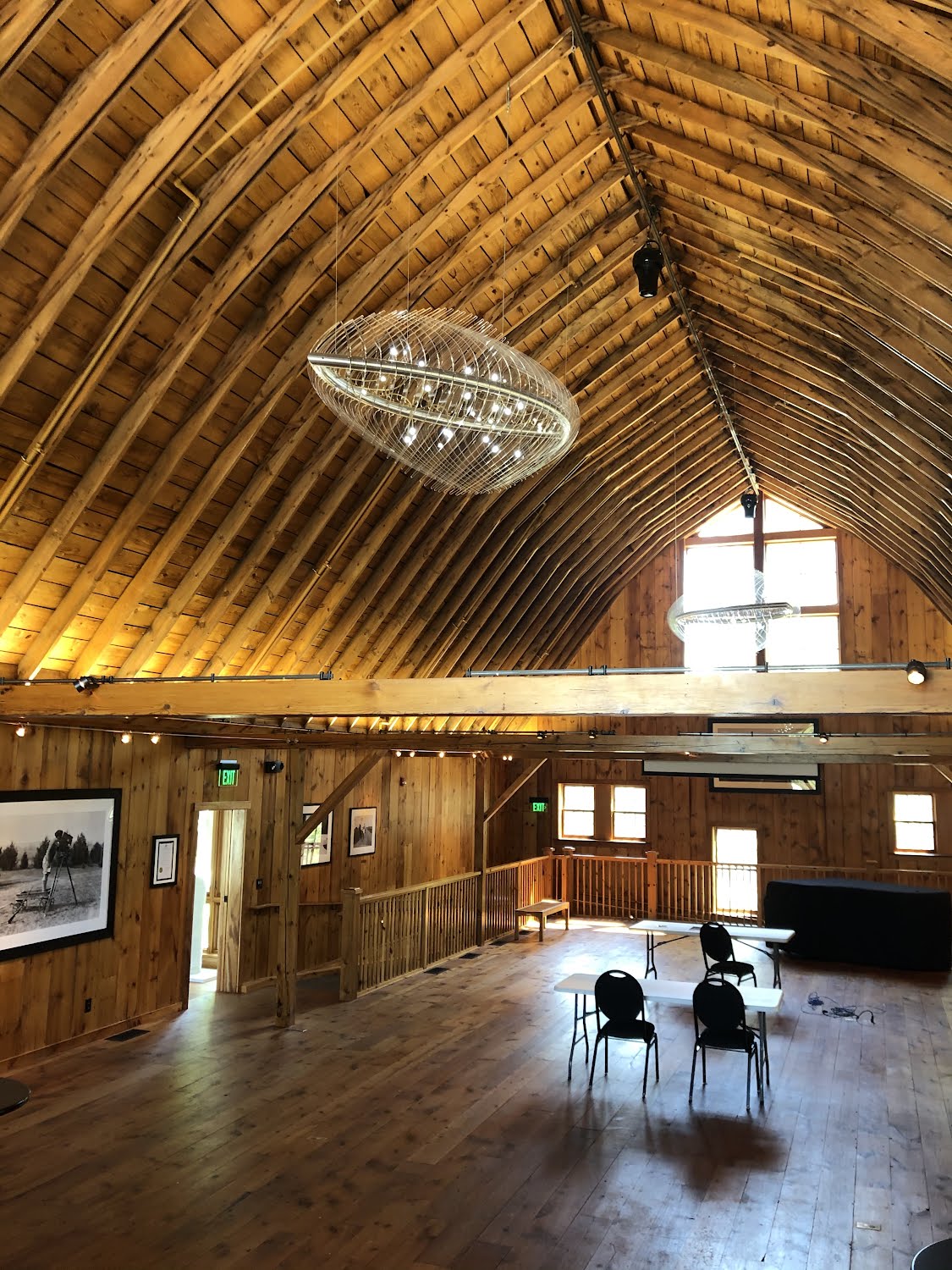 Inside the Historic Barn at the Anderson Center
Anderson Center at Tower View
Looking south, let's take the scenic route and wind our way down through Red Wing, how about? First stop is the Anderson Center, featuring a gallery, an active artist residency community, and a gorgeous campus. Originally built by breakfast cereal magnate Dr. A.P. Anderson about 100 years ago, the Center has some really cool interiors, a dope tower in the center of campus, and a 15 acre sculpture garden with over 30 works. If you pay close attention, you might even get to see the tiny army of gophers that lives out there, darting from sculpture to sculpture and standing around like Montgomery Burns with their little flappy arms.
Get there by Friday if you want to see Modes of Being: Contemporary Abstract Art in Minnesota before it closes.
---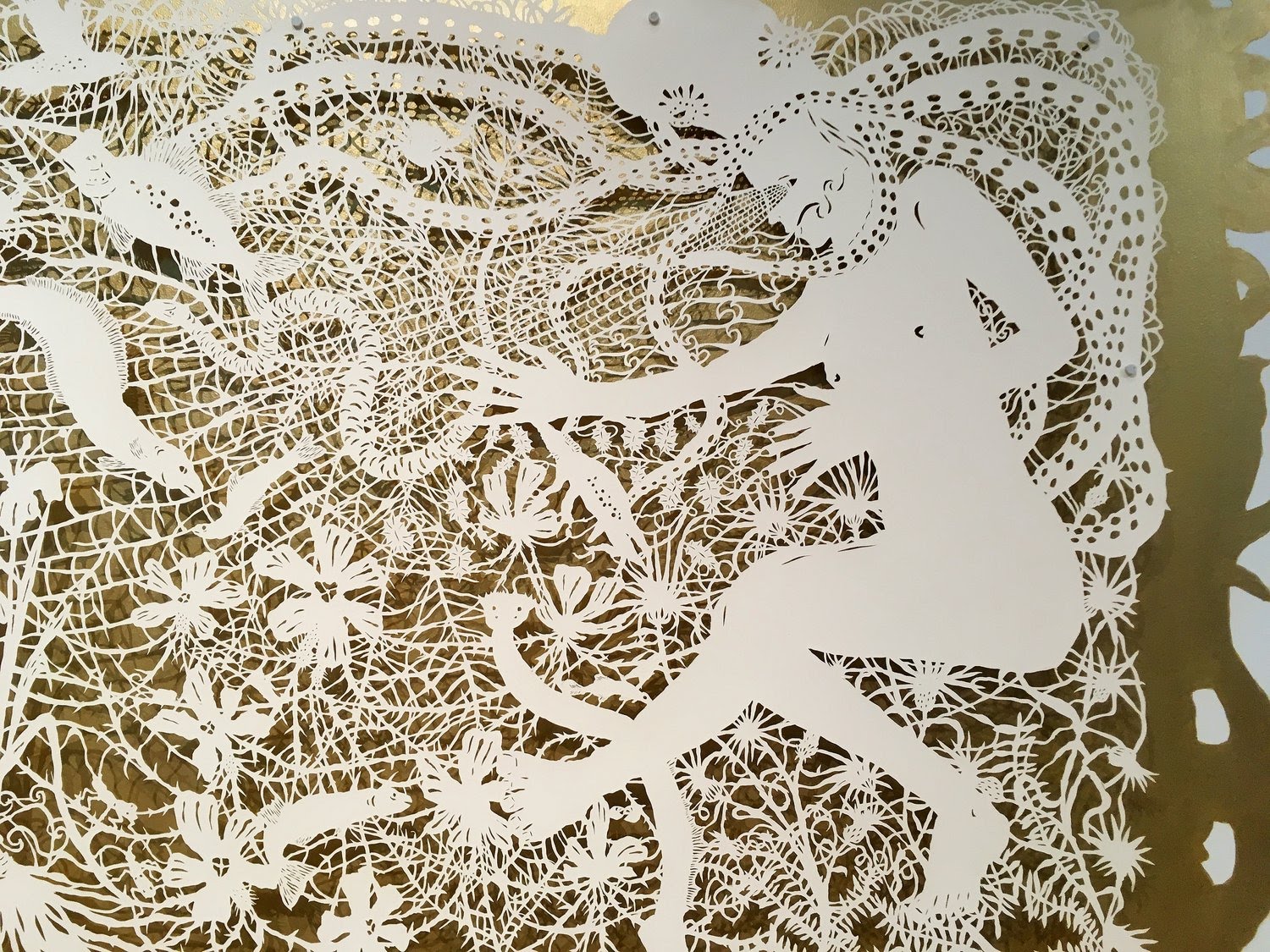 Sonja Peterson, Ghost Ship (detail), hand-cut paper and paint on wall, 2016, on view at MMAM
Minnesota Marine Art Museum
From there, follow the St. Croix River on down to get in the mood for the Minnesota Marine Art Museum in Winona. Devoted entirely to art inspired by water, the MMAM boasts six galleries showing a range of work from Impressionists, Expressionists, Modern European masters, and the Hudson River School to contemporary working artists and artisans. You'll find Paul Cezanne, Pablo Picasso, Max Beckmann, Otto Dix, Wassily Kandinsky, Ernst Kirchner, John James Audobon, and even Washington Crossing the Delaware. Right now, check out Sonja Peterson's intricately hand-cut paper works about flora, fauna, and cultural clashes in an interconnected world.
---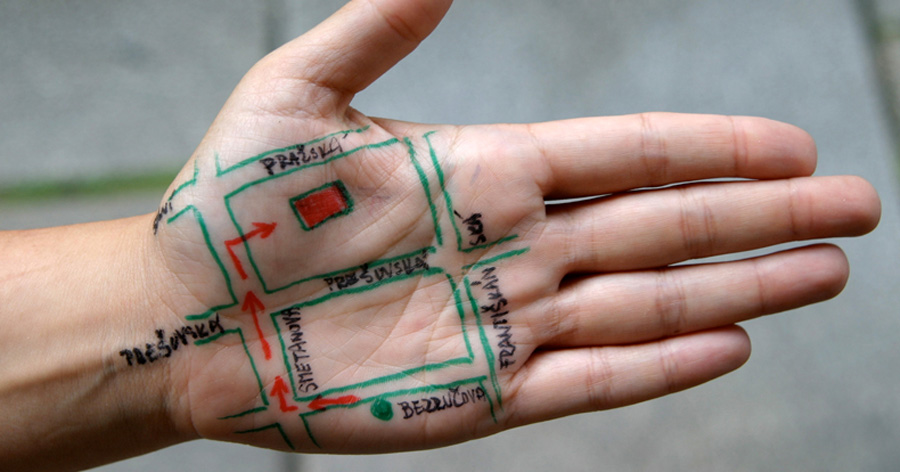 Yumi Roth (in collaboration with Andrew Blackstock and Casey McGuire), Meta Mapa, 2007, on view at RAC
Rochester Art Center
While you're down south, you might as well bomb west from Winona and swing by the Rochester Art Center on your way back. Though parking can be a pain, walking in from the parking garage and through the Mayo Civic Center may help you appreciate one of RAC's current exhibits even more: Walk With Us, a group show of walking-based art curated by John Schuerman and Zoe Cinel. And that is just one of seven exhibitions they have up right now.
---
Woof! That's a couple of days worth of visits at least, and there's so much more out there to explore. The great thing about greater Minnesota is that almost every place that has a stoplight also has an art center or a gallery worth checking out. Hutchinson, Mankato, Minnetonka, Grand Rapids, Park Rapids, Fridley, Bloomington, Lanesboro, White Bear Lake… you're never far from something interesting.
But at this rate, we're bound to be driving home in the dark, so let's pack it in for now. Let us know what your favorites are and where we need to stop next time! ◼︎
Banner image: the author standing inside Tom Riefe's Lighthouse, aluminum, polycarbonate, vinyl, & rubber, 2020, at Silverwood Park.