Logos, Pathos, and Hip-Hop History: Cey Adams at NewStudio Gallery
Posted June 15th, 2022 by Lynne Harper
The pioneering artist and graphic designer brings 40 years of art to Saint Paul, including recent works exploring iconic brands
"'Who knows,' Ralph Ellison had asked two decades before hip-hop, 'but that, on the lower frequencies, I speak for you.'" – Chuck D, Smithsonian Anthology of Hip-Hop and Rap
Celebrating over 40 years of art making, Cey Adams, former graffiti artist and founding Creative Director of Def Jam Recordings, is back in the Twin Cities, and this time he's brought recent work with him for a show at the NewStudio Gallery in St. Paul.
Drawn to graffiti writing, Pop art, and the feel of graphics, when the young Adams learned that Andy Warhol was a graphic designer, he says he was "off to the races." In 1987, art historian Thomas Crowe wrote that though Warhol "grounded his art in the ubiquity of the packaged commodity, [he] produced his most powerful work by dramatizing the breakdown of commodity exchange." Inspired by Warhol, Adams has, throughout his career, also grounded his work in the packaged commodity. His work, however, dramatizes the nature of relations within the exchange, the frequencies of attachment and identity that speak to us on a lower register.
At NewStudio Gallery the collection currently on view revisits and builds upon a previous series of work titled Trusted Brands. Here you will find primarily works on paper that pay homage to the logos and mascots we recognize – RCA, Shell, Hawaiian Punch, Kool Aid, Texaco, Pan Am, Clark, Kodak, Bazooka Gum, Zenith, GE, KFC, Coca-Cola, Mattel, and others. With this series Adams says he is embracing nostalgia, not so much engaging in cultural criticism as simply "honoring the graphic elements." You'll see many straightforward logos here, which Adams has then repeated in additional works that expand his use of media to include collage, giving the logos a materiality, a tactile nature that creates volume and a sense of physicality.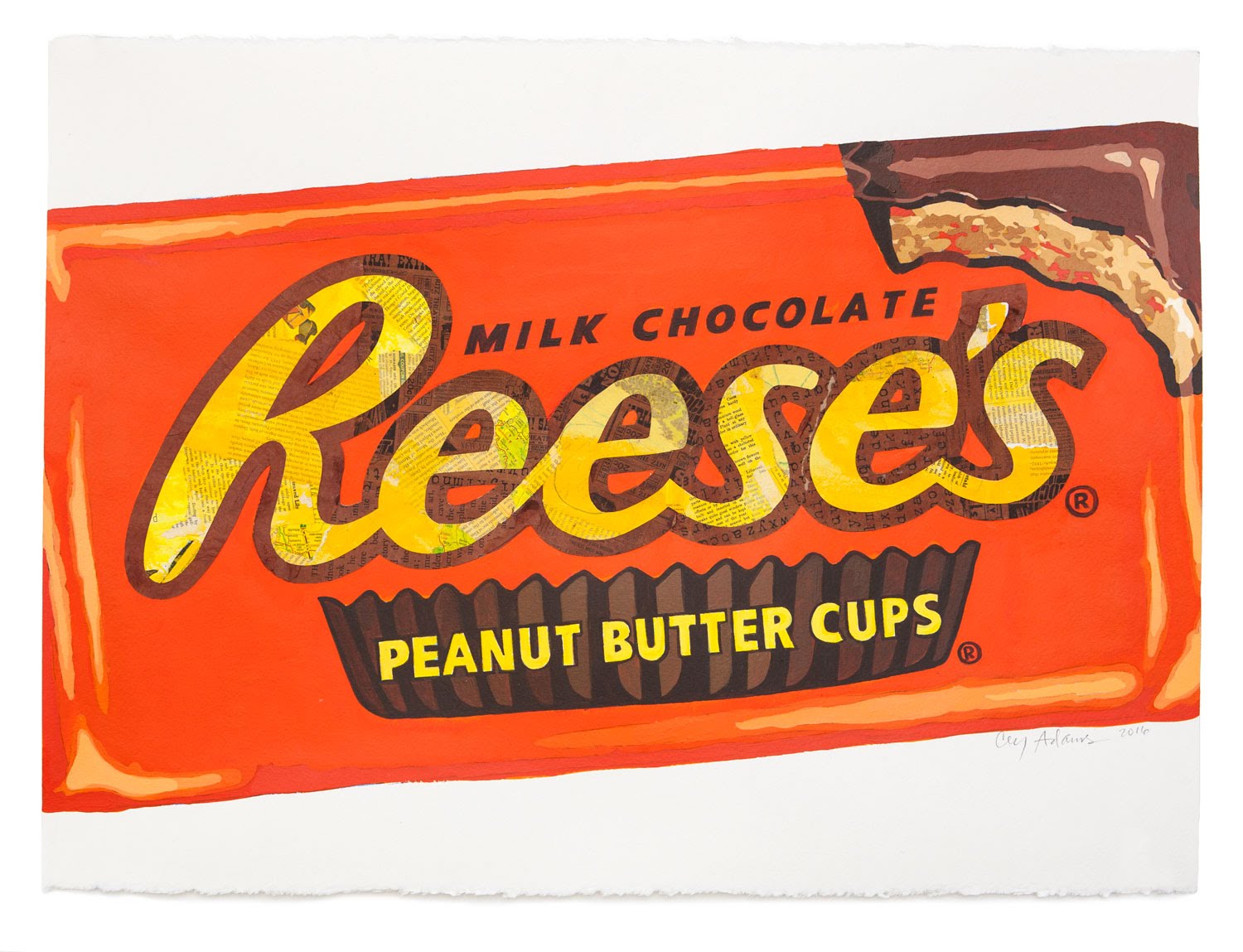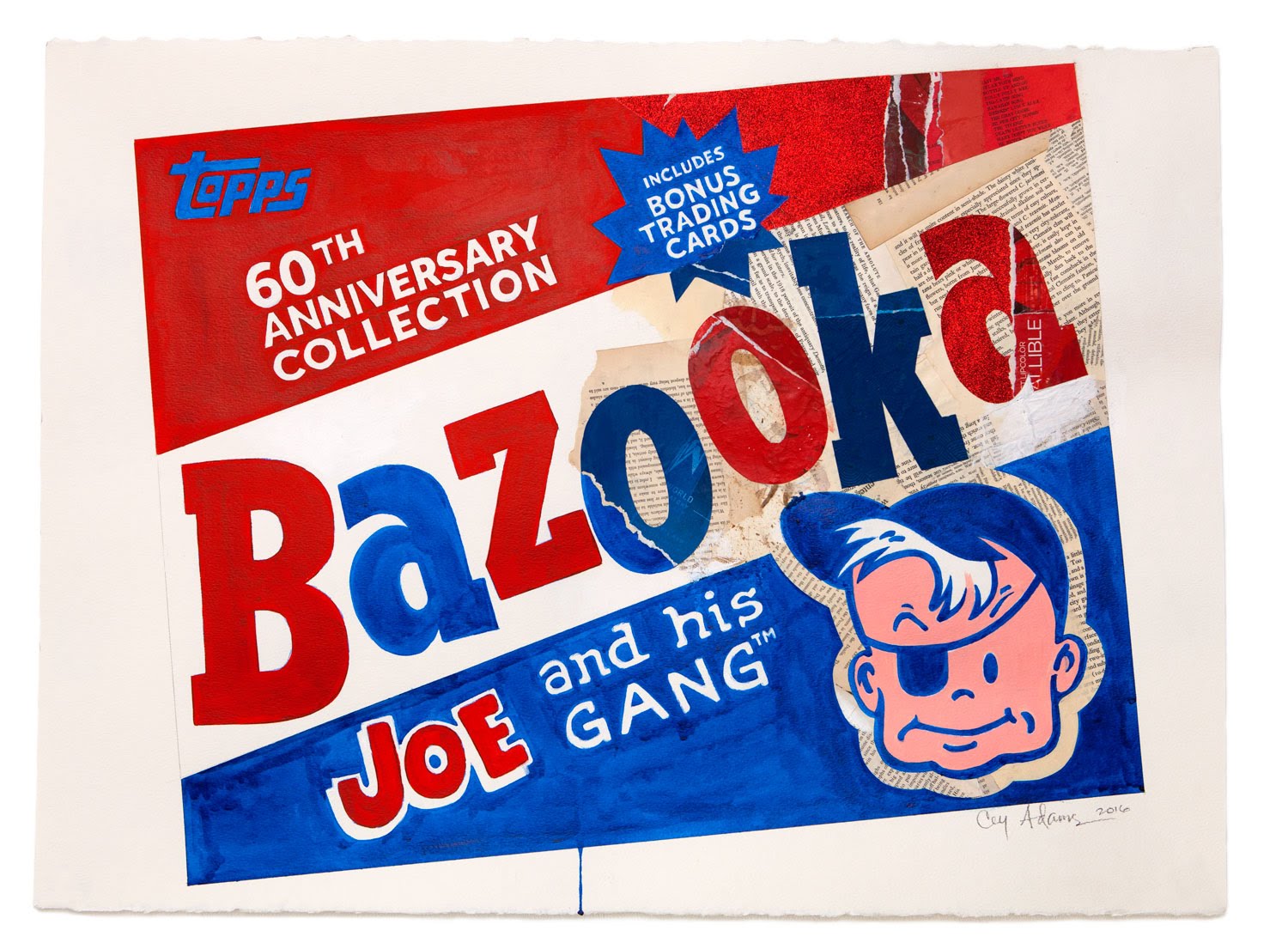 Top: Reese's, 2016. Handmade fiber paper, magazines, acrylic, and acrylic ink on archival paper, 22 x 30". Bottom: Bazooka, 2016. Handmade fiber paper, magazines, acrylic, and acrylic ink on archival paper, 22 x 30".Both images courtesy of the artist's website.
Using handmade and patterned paper, coupons, newsprint, song sheets, and other paper ephemera, Adams has embellished logos with "additional storytelling": RC Cola®, iconic with red lettering on a blue and white background, but a background containing blue scraps bearing stars from the American flag and Warhol's multi-image Jackie Kennedy; Reese's® lettering underlaid with honey jar labels and vintage rain checks; Hot Wheels® with material from the Mattel® archive and cinnamon hot glitter at its tail. Adams likens his creative collage process to "improvisational jazz." One could also liken it to "sampling," one of the foundations of hip-hop; the repurposing of existing music which is then manipulated, edited, chopped up or looped to fit creatively within the work.
Crisp graphic sensibility on some logos is juxtaposed with ones reminiscent of Warhol or Jasper Johns, with a visible artist's hand and paint dripping down the canvas. Also on view are some Beastie Boys and Graffiti City images as well as his iconic "LOVE" graphic, which Adams immortalized in 2019 as a mural on the North wall of the Hampden Park Cooperative in St Paul.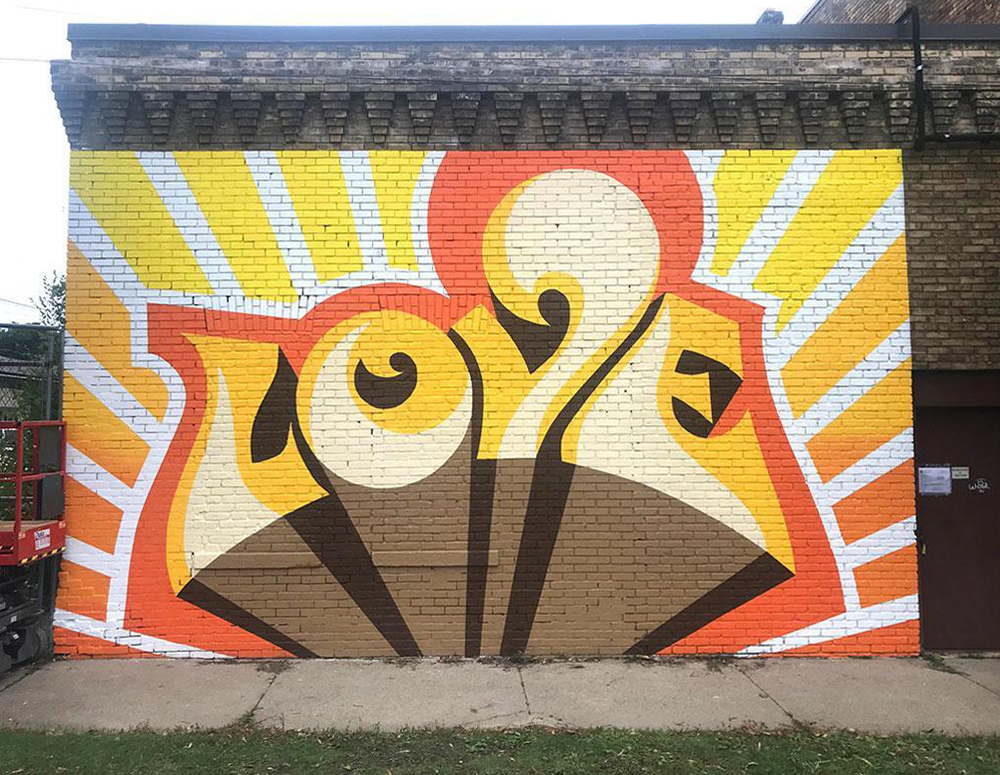 Adams' Love mural in St. Paul, painted as part of Chroma Zone 2019. Image courtesy of Burlesque of North America.
Adams said that as a tagger in New York City in the early 1980s he was "fascinated by graf writing and saw it as calligraphy – I loved the way it looked." In those days, taggers called themselves writers, gathering at a "writer's bench" to discuss their designs and tagging activity in the city. As writers, the goal was to make their name known throughout all boroughs of New York City by tagging their personal logo on every train line. In Adams' book, DEFinition: The Art and Design of Hip-Hop, filmmaker and artist Sacha Jenkins recalls this time, saying: "Writers were the loudest quiet cats you'd ever meet. Quiet in the sense that they were working without microphones. Loud in the sense that that wanted their monikers to have the same brand-name recognition – or volume – that Coca-Cola did." Graf writers achieved recognition by using a particular graphic style unique to them, a style that became immediately recognizable as their own, which, at that time meant recognizable to an intended audience. In DEFinition Adams writes, "If it doesn't speak to you, that's because it's not trying to."
Léopold Sédar Senghor, a Senegalese poet, politician, and cultural theorist who was the first president of Senegal said, "Where orality reigns, art constitutes the writing which allows us to read the metaphysics it transcribes." Graf writing, hip-hop, rap, and breakdancing created a visual and rhythmic language in a lower frequency that transcribe and translate ideas and feeling into recognizable form, a code readable by those immersed in the culture.
Adams's writing and transcription of identity evolved as he dove more fully into graphic design as the Creative Director for Def Jam Recordings, transcribing and creating visual identities for not only the groups signed by the label, but for the audiences buying the albums – a generative cultural feedback loop that, conceptually repeating the logo transcription of graf writing, reinforced attachment to a particular range of ideas and feeling, to certain cultural codes.
In DEFinition, Adams says his goal was to "elevate the art in contemporary Black music to the level of the art in rock 'n' roll." Later he expanded his graphic design practice, creating logos and products for The Chapelle Show, NYC's Hot 97 radio station, Nike, Coca-Cola, and more – a through-line from his graf writing days that continued to transcribe identity into recognizable form.
In 2020, Adams collaborated with the National Museum of African American History and Smithsonian Folkways Recordings to design the Smithsonian Anthology of Hip-Hop and Rap. The anthology, which includes a nine-disc set of music dating from 1979 to 2013, is available for purchase at NewStudio Gallery along with T-shirts designed by Adams – screen printed by St. Paul's Burlesque of North America – and prints of Adam's "LOVE" graphic.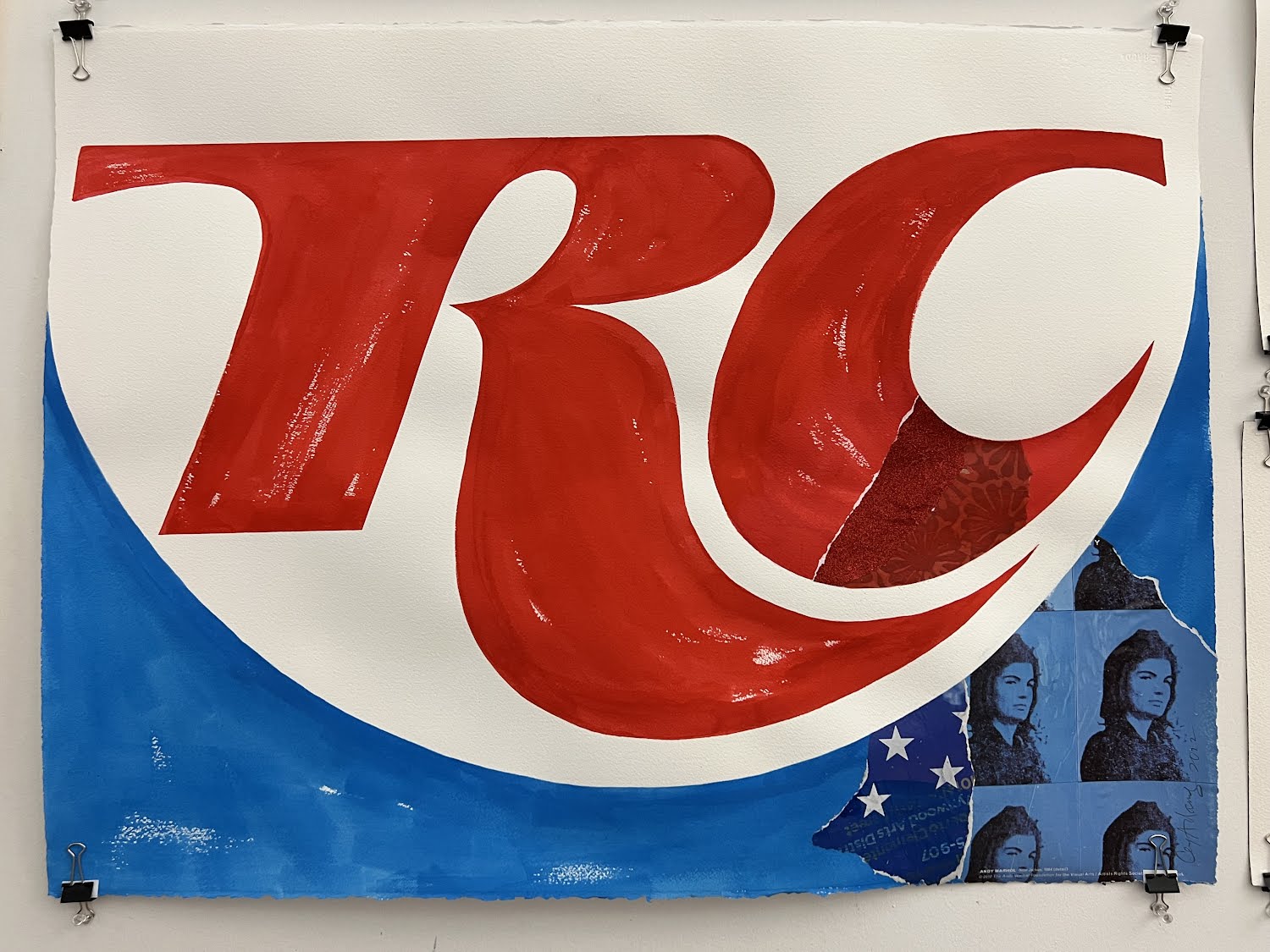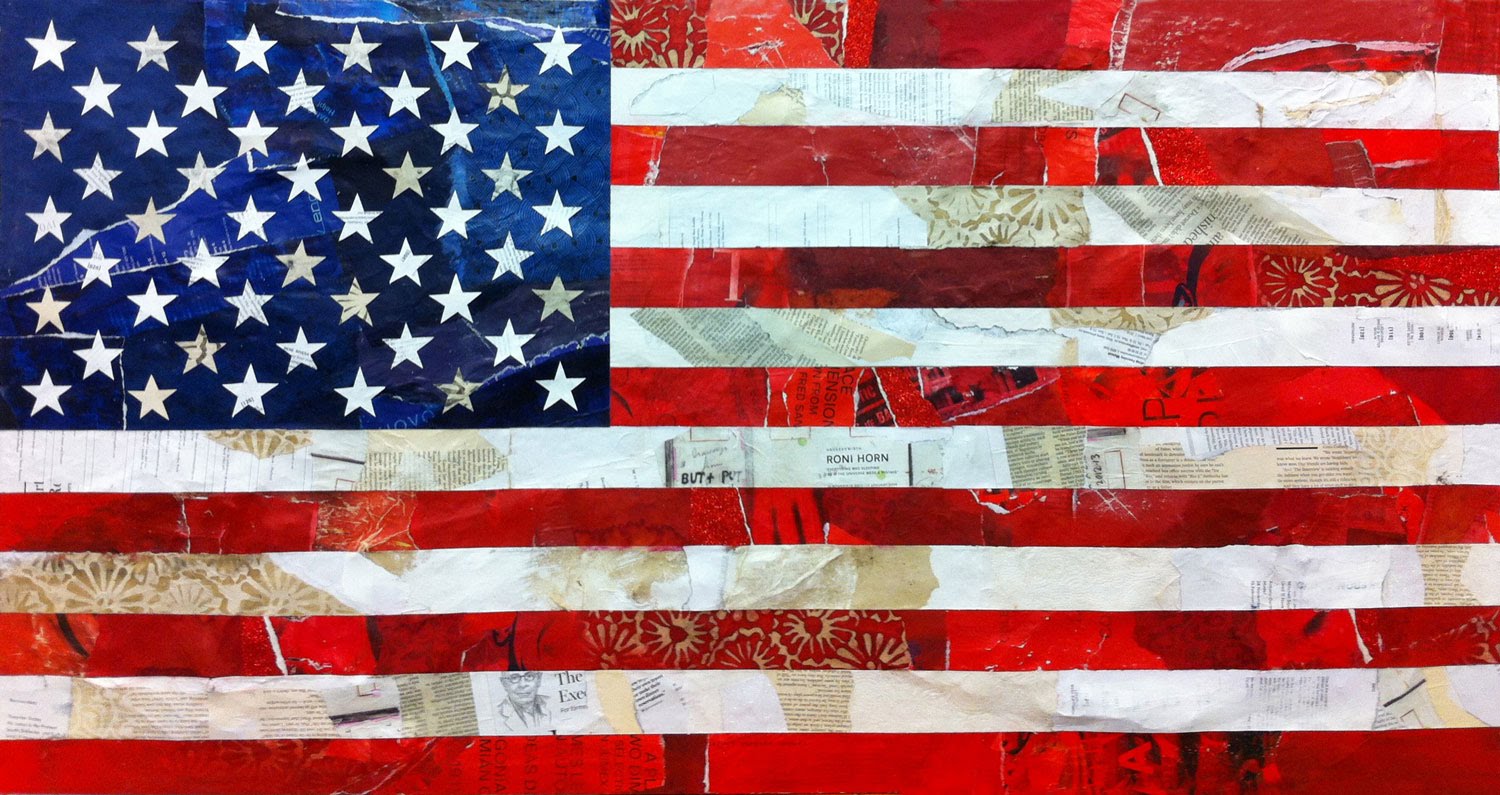 Top: RC Cola, 2012. Mixed media on archival paper. Image courtesy of NewStudio Gallery. Bottom: American Flag, 2014. Handmade fiber paper, magazines, and acrylic on wood panel, 24 x 46 x 5". Image courtesy of the artist's website.
When I sat down to talk with Adams about his show at NewStudio, we spoke about his relationship to logos, branding, and his 2016 work, an American flag series that acts as a "homage" to the Pop art sensibility of Jasper Johns. Feeling that Johns' flag was missing something and recognizing the stars and stripes as a "window for storytelling," Adams saw an opportunity to add his own experience to it. He asked: "What's the number one brand in America?" Distilled to represent a particular set of ideas, the American logo has become a vehicle for a limited and myopic narrative. Adams wanted to expand the range of histories and stories represented, "reclaiming the idea that the flag represents all of America, because that got lost." Using collage as a ground for the stars and stripes that inserts elements reminding us of our larger story, Adams has removed the blue and the red from some flags in the series, using a white palette and a black palette as a device to force viewers to look more closely.
Similarly, the work on view at NewStudio Gallery explores the concept of attachment and the nature of brand loyalty. It repeats this sense of recognition, as transcriptions that speak to us in a particular way, recalling what for many of us are childhood affections: another feed-back loop in which we see ourselves and our history – a recollection of feeling via imagery. ◼︎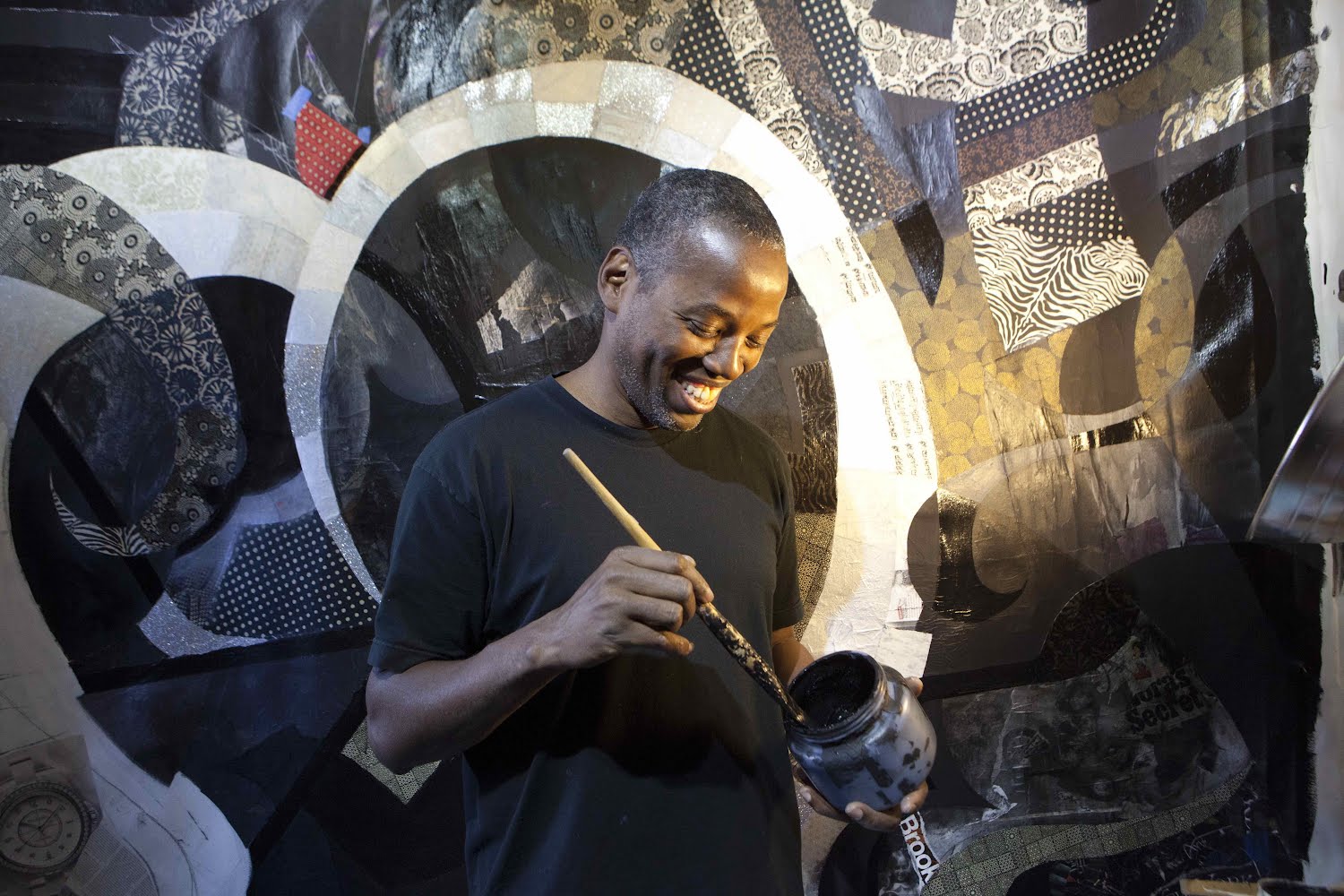 The artist in his studio. Photo by Janette Beckman, courtesy of NewStudio Gallery.
Cey Adams: ETCetera, 40 Years of Art and Design is on view at NewStudio Gallery through Saturday, August 12. Gallery hours: Monday - Friday, 10am - 4pm, or by appointment. For more, visit newstudiogallery.com or follow them on Instagram @newstudiogallery.​
To see more of the artist's work, visit ceyadams.com.
---
We can't do it
without you.
Help keep independent arts journalism alive in the Twin Cities.