The Fearless Artist is present: In conversation with Ta-coumba Aiken
Posted May 23rd, 2022 by Yonci Jameson
Celebrating both a Guggenheim Fellowship and a solo show at Dreamsong, the artist talks about Spirit Writing, Rhythm Patterns, time travel, and the importance of showing up
To converse with Ta-coumba is to bear witness to his paintings. He is a fortune teller, a griot, and a time traveler. Decades are recounted, the present is inspected, and the future impressed upon with Spirit Writing, sounded out in Rhythm Patterns, and epitomized with acrylic paint on canvas. Stories, people and places, learnings and teachings, queries and ruminations are discovered and retold in the coarse edges and fragmented beams of Ta-coumba's work. Our conversation spans what feels like hundreds of topics before I even get to ask him an interview question: African and Indigenous musical traditions, his acclaimed first art exhibition as a 6 year old, activism and police brutality in the late 60's, Roe v. Wade, the Second World Black and African Festival of Arts and Culture aka FESTAC '77, and decking out his live/work studio at the Lowertown Lofts Artist Cooperative – what he calls his "spaceship" – with a La-Z-Boy that no one but him is allowed to sit in. "This world is the same as the world I was in in the '60s," he exclaims. "Like, fuck!"
Ta-coumba is omnipresent at intersections of visual art, spirituality, community, and activism. He has produced some of the Twin Cities' most acclaimed and profound public artworks and installations; muraling on a children's hospital and childcare facility, tiling at a transit center and library, enameling on a music school and housing developments, and engraving into the ground at the Minneapolis sculpture garden as a water-activated shadow etching. "People used to say 'I want to buy some art, when are you doing a show?' and I'm like 'No, wait … I may never do a show!' There have been artists that have never done shows, but they might carve stuff into wood, [into] the corners, different colors, and there's just these sculptures that they put there, for the community to have a healing space, or a quiet space, or a safe space. I was doing a lot of murals that were telling people it was safe to be there," he says.
Ingrained in his practice is a deep embodiment of Black and Indigenous traditions. "Rhythm patterns are basically what every indigenous culture uses to communicate and send a message. That's why I was an African drummer." He's speaking about his technique of repeating patterns, and Spirit Writing, his process of coloration and shape building, both prevalent motifs in many of his paintings. "Drumming and dancing and pounding the ground has always been my way of knowing that I exist. Especially when you really go find some earth and pound it; the Native culture is the same way. So pounding is a rhythm pattern." Ta-coumba begins to sing throaty, undulating tones of an Native chant. "That's the Spirit Writing. Spirit comes in, and with African, African-American it's different kinds of blues. Spirit writing, Rhythm Pattern. They've blended."
"The two styles (Spirit Writing and Rhythm Patterns) have always made me feel comfortable. Of course I mastered realism, pencil, paints, oil. But I've been doing that since I was 3 years old. By the time I was 13/14 I was getting bored, so I started doing things with dots, then I started looking through them. I remember my mother talking about the bible when I said I didn't understand that, she said "read between the lines" so I started looking between the dots, and I started seeing things between the dots. I just looked, first by taking where the dots are not, I'd take a colored pencil and make lines, then I look at it, take a tracing paper and make lines over that, and take it out. It's another style, and there would be faces and things, but a combination between nature, water, trees, the clouds, and the skies weaving between each other in a visual maze. What I call 'Superlative Realism'...the highest degree is the spirit. So I paint the spirit, the furthest out, the furthest you can go."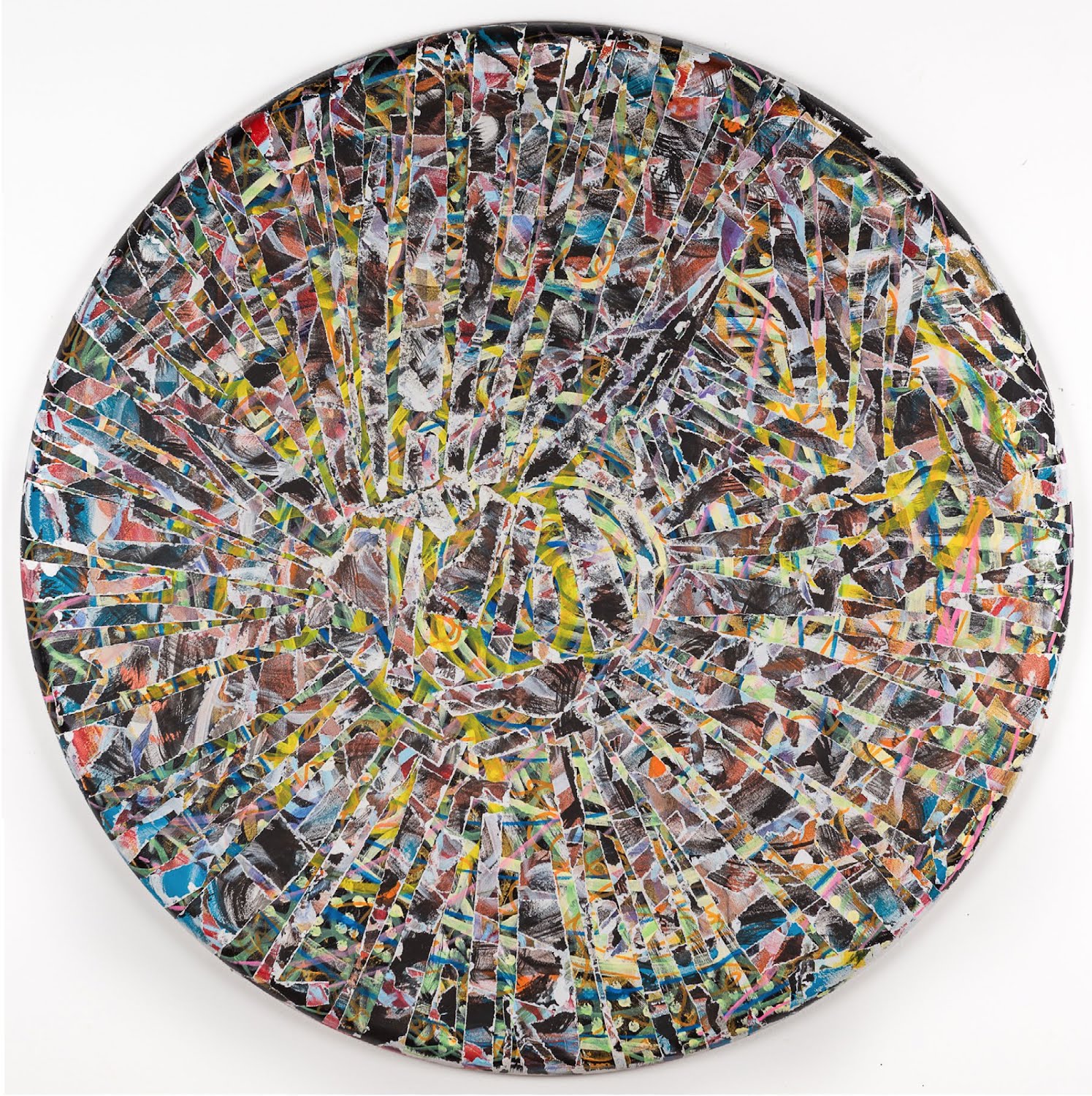 Arrival, 2021 Acrylic on canvas, 36" diam.
No edge or corner is the same in Ta-coumba's work. Pieces like Holy Spirit and Arrival are galactical stained glass – masses of kaleidoscopic slivers and 3-dimensional parallelograms of refracted light. His works are hypnotizing, intensely colorful, and fractalesque, much like his personality and his philosophy. "Each one of us is an individual. We have our own beats and rhythms, and then like a thread, certain people from certain cultures will have similar colors and similar kinds of textures in the thread, but the master weaver takes these things and creates a tapestry. I don't know if I'm a master weaver but I'm training. My paintings and training are these pieces that are like tapestries of life."
"I'm time traveling, not going back so much because going back is not part of our nature. We are history, so we don't have to go back to history. And then going forward doesn't mean credentials, it just means going forward…but you gotta get more knowledge." Having recently been awarded a Guggenheim Memorial Foundation Fellowship out of more than two-thousand applicants, Ta-coumba will be honored in the Fine Arts category, specifically for his knowledge, contributions, and "exceptional creative ability in the arts." Some notable awardees in fine arts include Alvin Ailey, James Baldwin, and Zora Neale Hurston. The formal fellow event will be held this summer, on June 7th in New York City.
"I respect and I am gratefully humbled and appreciative that I was selected for the Guggenheim. My view of the award is that there are some great and amazing people that have received them, and have moved forward to do even more things. It's almost like a key, like you get the Willy Wonka golden ticket. 180 people were chosen, 1 or 2 people are from [the Twin Cities]. I told myself I was going to sit down and research all 180 of them, before I meet them. So the award is just a great honor. I've tried 8 or 9 times, and this was my time.
"But this is a very important, specific thing for many different fields, not just fine arts! I get to meet people in the top of their fields that are scholars, filmmakers, scientists. Oh my god, that's like a treasure chest of people! You can go 'wassup!' and they say 'what's skippy with you?' I've been learning from other artists that have made it – made it, made it – and I was like 'how can I get up there?' and all I got was 'You gotta show up.' And then I started mapping out things to show up places. Did things in Thief River Falls, Orono, Willmar, Kerkhoven, Kellogg, Rochester, there's so many places, McIntosh, Erskine, Fosston, Minnesotans don't know these names. Minnesotans that live here don't know these places."
"Within a year of showing up, I get a Guggenheim."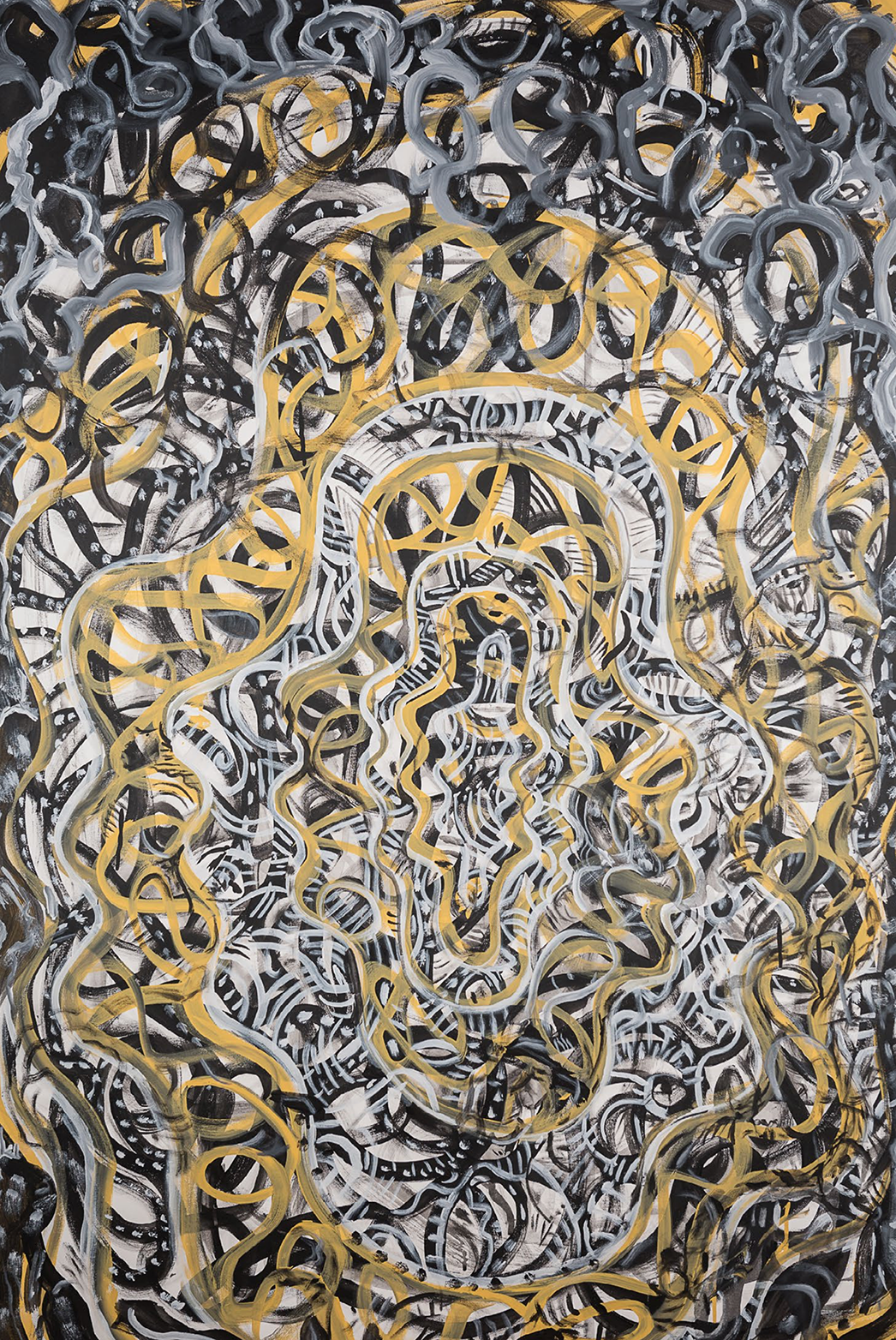 Ripple Effect, 2021 Acrylic on canvas 60 x 40 1/4"
At Dreamsong, Ta-coumba is wearing a shirt that says "The Fearless Artist", and is constantly surrounded by throngs of family, friends, and admirers. "Healthy environment, healthy community, healthy Ta-coumba," he says. "Doing this show, this is my graduation, my hello, my thanks for believing in me. I just wanted to celebrate us. I wanted to celebrate all of us. When I celebrate people it's because I want them to exist, I want them to survive, I want them to be able to navigate. And if it's not my artwork that helps them navigate then it's somebody that's at this show."
Earlier, Ta-coumba had casually suggested that I get opinions from other gallery attendees, remarking that "they know as much as I do!" In the intimate two-room gallery of Dreamsong, it's not hard to overhear the speculations of those both new to and familiar with the work.
"...it's busy" someone states plainly.
"You gotta look at it in sections otherwise it's too much."
"Every time you walk past you see something you didn't see the last time."
"It's dense, and layered."
I am particularly drawn to his Untitled works, a collection of seven 12 x 9 inch pieces where strips and swaths of color contrast against a black background. From one shard peeks a baby-pink eye, lowered, looking with what feels like judgment. From another, the lining of a cell wall is bordered by dotted ribosomes in primary colors. In Crossing Borders, a mass of entwined figures ascend from the south of the canvas while a golden spiral radiates to all four corners. I can't find the words to succinctly translate the way these pieces speak, even though I know there are hundreds.
"I try not to explain anything with my paintings; they got their own voice," says Ta-coumba. "I want people to experience my pieces, and not be afraid when they go in them that they have to define any more than their feelings. Their feelings are the definition." ◼︎
Untitled, 2022 Painted tape on paper 12 x 9"
Awakening is on view at Dreamsong through June 25 with an artist talk taking place Friday June 3rd at 5PM. To see more of the artist's work, visit his website or follow him on Instagram @tacoumba.
Banner image: Upon Her Return (detail), 2021 Acrylic on canvas, 60 x 48". All images courtesy of the gallery.
---
We can't do it
without you.
Help keep independent arts journalism alive in the Twin Cities.