Breathing In, Reaching Out: Aaron Dysart's 'Passage' at Mia
Posted February 16th, 2022 by Mike Curran
In his Minnesota Artists Exhibition Program installation on view through Feb 27th, Dysart transforms the gallery and shifts conversation with movement and light
Each time I enter the Minneapolis Institute of Art I end up getting lost, mistaking one marble hallway for another. I'd like to think it's not my fault — after all, it's dizzying to navigate even a portion of the museum's 90,000-object permanent collection, which covers 5,000 years of human history. But I kept a strict itinerary on my most recent visit, stopping at only one show: Aaron Dysart's Passage, a presentation from the Institute's Minnesota Artists Exhibition Program (MAEP).
The gallery was easy to find because a child's birthday party had overtaken the exhibition space. Children's jumps and laughter reverberated through the polished corridor when I approached. Within Passage, the party had found a playground, its main attraction a series of seven colorful inflatables, or "noodle dancers" as Dysart calls them. With their pointed paper hats, the children mimicked the dancers' movements, rising and falling along with them; they dared each other to dart between the tubes, happily ignoring the black tape that runs along the parquet floor. Yes, the art was touched.
Installation view of
Latitude
. Video courtesy of the artist.
Eventually an adult hollered and the party paraded out. As the room emptied, their shouts were replaced with the whirring sound of the dancers' fans—white noise that coalesced into a chorus, enveloping the space. Only one other visitor remained, squatting in a corner of the rectangular room; I followed their cue and squatted in the opposite corner. For ten uninterrupted minutes, we watched as the nylon tubes slowly collapsed and built themselves up again, before collapsing and climbing once more. I felt my own breath steady, matching the tubes' rhythms. When I rose to my feet and neared the wall label, I learned my breath was tapping into something deeper: the planet's own respiration.
The seven noodle dancers correspond to specific geographies — one a shrubland in northeastern Russia, for example; another a South African savanna — where scientists have established towers to collect atmospheric data. Dysart has plugged the dancers into ten-year datasets gathered from those towers which, among other things, measure the flow of carbon dioxide through these ecosystems. He programmed the lights at each tube's base to turn cooler blue tones when an ecosystem sequesters more carbon than it emits, and warmer red tones when the opposite is true. In this sped-up visualization, every three seconds of gallery-time represents a day's worth of data, meaning two hundred days passed in the minutes I sat transfixed in the corner — two hundred days marked by an impossible number of plants growing and decaying, marked by humans burning more fossil fuels, inflicting further stress on our own lungs.
Honestly, I'm struggling to explain the science. But that's beside the point. Latitude offers many ways in: You can approach it from a scientific perspective and observe how a forest in Ontario absorbs carbon at a greater rate than one in coastal French Guiana, but you can also approach it while wearing a paper party hat, your arms flailing in the air.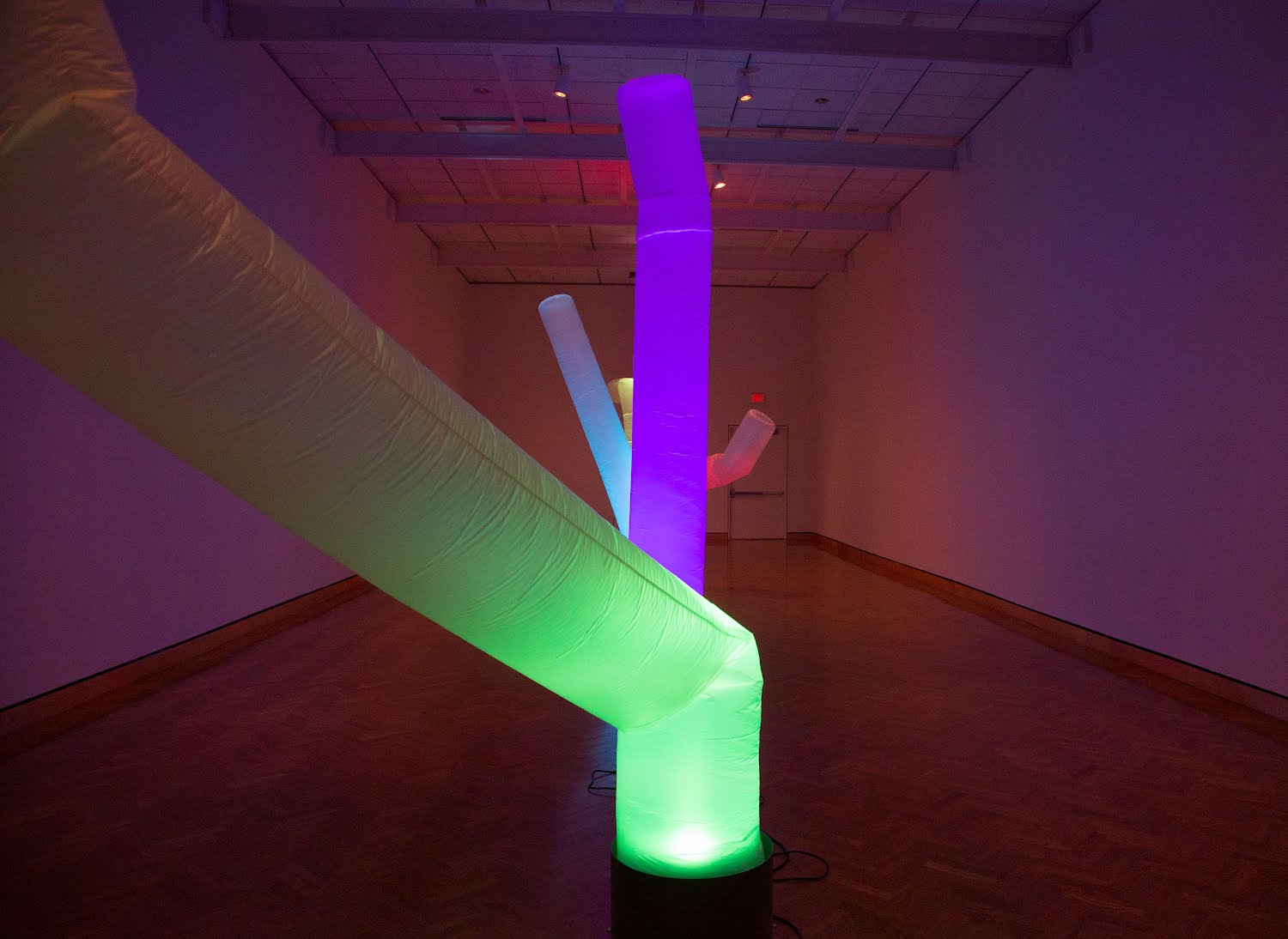 Installation view of Latitude. Image courtesy of the artist.
Dysart spoke of the multiple entry points into Passage on February 6th, when he joined Jessica Hellmann, a climate researcher and the director of the University of Minnesota's Institute on the Environment, and Nicole Soukup, Mia's Assistant Curator of Contemporary Art, for a talk organized through The Great Northern festival. During their wide-ranging conversation, they discussed the need for collaboration between artists and scientists, given the responsibilities of both to illuminate new understandings of entrenched issues. To this point, Dysart shared his frustration with the orientation of existing discourse surrounding climate change: "The first article that talked about greenhouse gasses and its effects came out in 1953 in Popular Mechanics. We've known about this for decades, and we've used the same language [to describe climate change] over and over and over again." Though much of Dysart's work reinterprets heavy data — previous collaborators include lockmasters with the Army Corps of Engineers, workers from the District Energy Saint Paul power plant, and, while developing Latitude, scientists at the Woodwell Climate Research Center — you'd be forgiven if you didn't immediately recognize these sources. "I like to be really underhanded," he told Hellman and Soukup. "I love humor, and I love joy in the way that it can loosen people up." Readily found on the grounds of used car lots or in front of cell phone stores, the noodle dancers are the latest form Dysart has employed to trick us into conversations we might have otherwise grown weary of.
Another spectacle is found in the center of the gallery's smaller room. Dig Down to the Stars features the root bulb of a tree that Dysart salvaged from Environmental Wood Supply, a wood waste dump site in St. Paul that provides much of the city's biomass fuel. Rather than being chipped and burned, Dysart gave this root system a joyful and heartbreaking final chapter; he fixed mirrors to the ends of each cut lateral root, creating the impression of a mirror ball and, as he describes it, "a constellation of stars" thrown onto the gallery walls.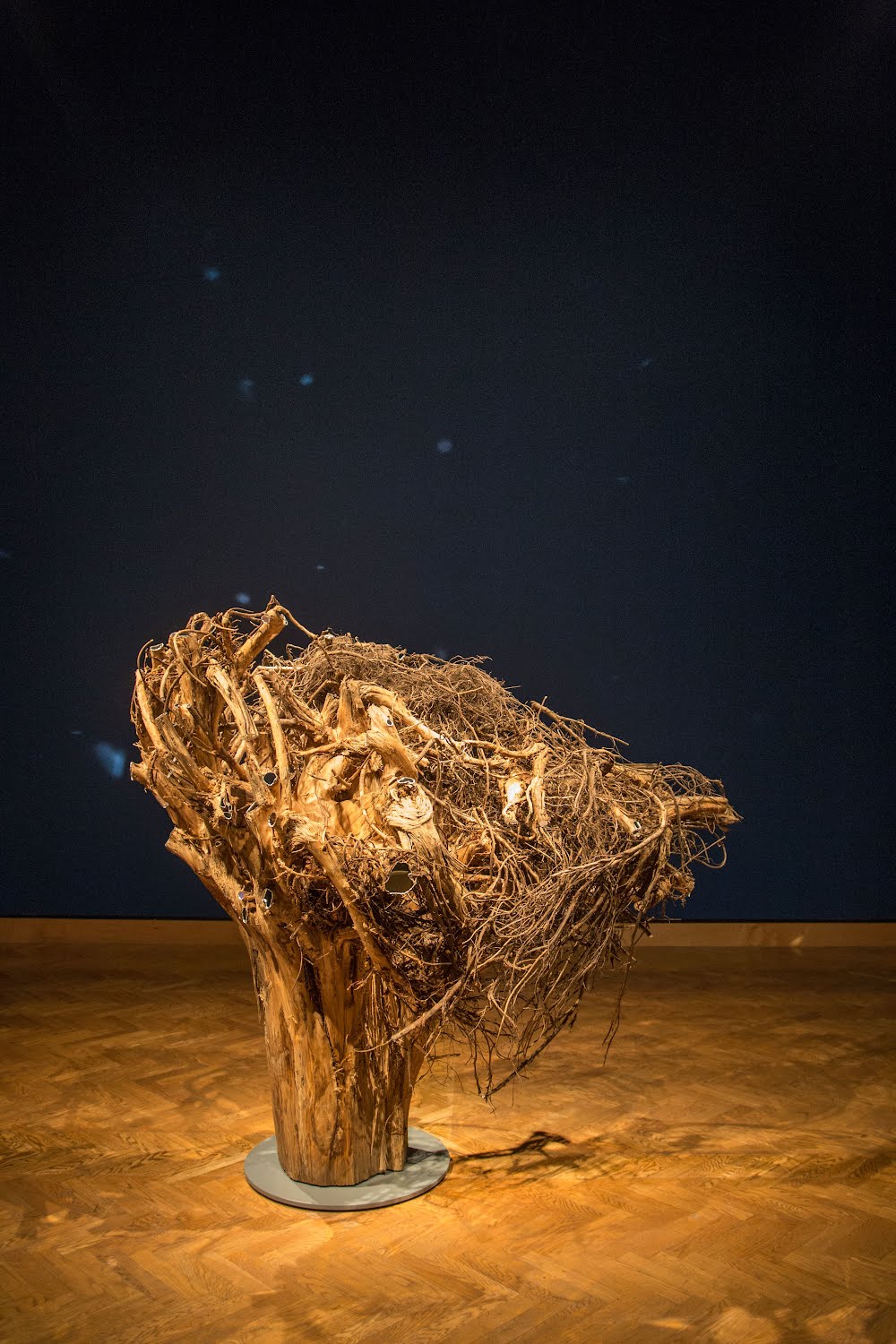 Installation view of Dig Down to the Stars. Image courtesy of the artist.
The mirror ball has been a symbol that Dysart has repeatedly turned to — see Surprise Party, where he transformed one of Mia's rotundas into a spontaneous light show — but Dig Down to the Stars hardly reads as one, in part because its motor runs at just one revolution per hour. While I examined the root, a group of teenagers wandered in and began placing bets on whether it was moving all. "Our number one comment for the show is that the work is broken, because people expect movement to be quick," noted Soukup during The Great Northern conversation. Dysart is aware of this unease, but rather than cede to our expectations — to tease the audience assembled at Mia a bit more, he mentions that he could change the motor's speed at any time from a phone app — he lets Dig Down to the Stars reward slow looking. After standing stationary for a few long breaths, one of the mirrors suddenly caught a spotlight from the gallery's ceiling, temporarily blinding me. This felt something like proof.
Latitude and Dig Down to the Stars share an aesthetic and conceptual language, but their precise linkages aren't clear. Dysart would be the first to admit this. "I like shiny things and colorful lights, and in the end I just try to jam them together," he says. When he builds these objects, he seems less concerned with some predetermined meaning than he does with enjoying the process of exploration and discovery that each project brings. That joy carries over to us; though he doesn't offer any solutions to climate change with Passage, he gives us permission to wander and wonder, to get back in touch with a planet we thought we already knew.
As I prepared to leave the gallery, one of the boys from the birthday party returned, this time accompanied only by his father. "There they are!" he shrieked, pointing to the noodle dancers. He ran to them, not thinking of the precarious future they signaled, but enjoying their falling and rising nonetheless. ◼︎
Passage is on view at the Minneapolis Institute of Art until February 27th, 2022. To see more of Aaron's work, visit aarondysart.com or follow him on Instagram @aarondysart. You can also find a past interview with Aaron regarding his 2015 installation Solar System on our site.
For more on MAEP, visit Mia's website. Jovan C. Speller will be featured in the next MAEP presentation, Nurturing, and Other Rituals of Protection, which will run from March 19 – June 26, 2022.
Banner Image: Installation view of the exhibition Aaron Dysart: Passage. On view at Minneapolis Institute of Art through February 27, 2022. Image courtesy of Minneapolis Institute of Art.
---
We can't do it
without you.
Help keep independent arts journalism alive in the Twin Cities.