'Gradual Ascent': Connection and Care @Augsburg_Galleries
Posted January 26th, 2022 by Mike Curran
Under Jenny Wheatley's leadership, Augsburg University's Art Galleries reoriented its programming during the pandemic, turning Instagram into the exhibition space
In March 2020, we were told — and maybe told ourselves — that our transition online would be temporary. Exhibition openings and artist talks were postponed to some undetermined time when "the spread" had been stopped and we could gather together once more. But, now nearly two years on, our adaptations have become more permanent: wearing masks, working from home, absorbing the occurrence of mass death in every corner of the country, of the world.
We've all responded to this moment's uncertainty in different ways. For her part, Jenny Wheatley, Augsburg University's Coordinator of Galleries & Exhibitions, has had to adapt the programming of a gallery situated on a campus suddenly emptied of its students. To help chart a path forward, Wheatley had conversations with a grief specialist and an art therapist, both of whom explained how people will struggle to grapple with the slow-moving, grueling weight of the pandemic for years to come.
I've long admired the programming that Wheatley has organized at Augsburg. She's a true champion of the university's students, and utilizes her platform to help embed current students and recent graduates in a larger artistic community. After those initial meetings with mental health specialists, she decided to restructure the gallery's programming to explicitly address students' feelings of isolation and grief, "focusing on how the galleries can be a space of respite for people when they return to campus, a place of calm, connection, and care."
To figure out how this restructuring might take shape, Wheatley began to facilitate bi-monthly online gatherings where artists and designers from across the country connect with students from Augsburg's Art & Design Department. "At these gatherings, artists were acknowledging uncertainty and the effect it had on their own situation," she tells me via email. "By sharing how they were processing and finding their way through this time, it offered points of connection to other artists. And as the past years have pointed out, connection can center us during difficult times."
The idea for Gradual Ascent derived from this expressed desire and innate need for connection. The year-long project asks twelve photographers to take over the gallery's Instagram page, sharing their "obstacles, changes, and joys throughout one particular month." Alongside many of the images, photographers have included a reflection about their process or state of mind when making a specific photograph. Now ten months in, the project drops us into the lives of the featured artists, meeting them where they're at; this openness makes Gradual Ascent a joy to interact with.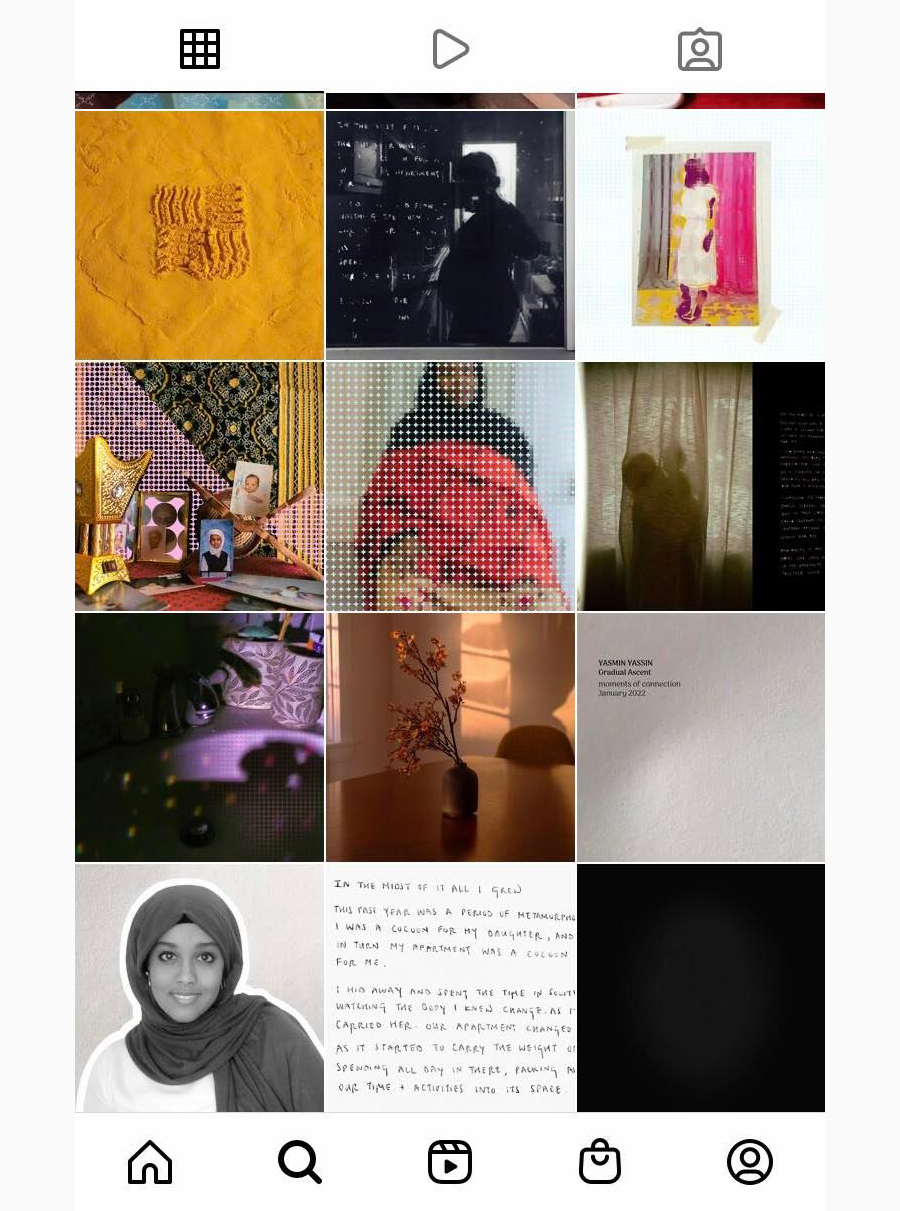 App as exhibition space: recent Gradual Ascent posts by Yasmin Yassin, @yazziz.
Khadija Charif, one of the participating artists, has exhibited extensively around the Twin Cities, with shows at Soomaal House of Art, Yeah Maybe, and the Minneapolis College of Art and Design, among others. Though she has missed the energy of in-person openings, she finds value in the different forms of engagement that virtual exhibitions offer. "The blessing in a virtual gallery lies in the softness and privacy of each viewer," she explains to me. "As an artist, I find it wonderful that I get the opportunity to show my work and let the viewer experience the work however they interpret it, without crowds."
The anxiety that now underlies any social encounter has presented a challenge for Charif, whose multimedia projects often involve her own family and friends as subjects. In the beforetimes, "to shoot a project was simply a few calls away and the gathering of friends," she writes. To counter these concerns, she turned her practice inwards, diving into her writing. "I immersed myself in the language I found comfort in, and that was poetry," says Charif. Combining poems and photographs, her posts for Gradual Ascent reflect this transformation, granting us candid access to an artist expanding and deepening her practice.
The shift inwards that Charif has undergone is echoed by David Baboila, a 2018 Augsburg graduate who recently relocated to Tucson, Arizona, to pursue his MFA. A number of his previous series have been tied to particular geographies — exploring the residential fences and informal boundary-markers of a suburban St. Paul neighborhood, or visualizing how Arizona's desert landscapes embody the violence of border politics. The pandemic drove Baboila to investigate the geography closest to him: that of his own body. "I was able to connect with people all over the world through Zoom, but I felt even more disconnected," he writes. "This lack of connection was a huge force pushing me to consider the body." In the project he shared through Gradual Ascent, he poses — sometimes awkwardly, always endearingly — alongside figures in projected photographs, all originally made by a gay man from Tucson, who passed away without someone to inherit his slides. Incorporating himself into each image, Baboila adds a vital addendum to this appropriated archive — one where he examines his own relationship to masculinity.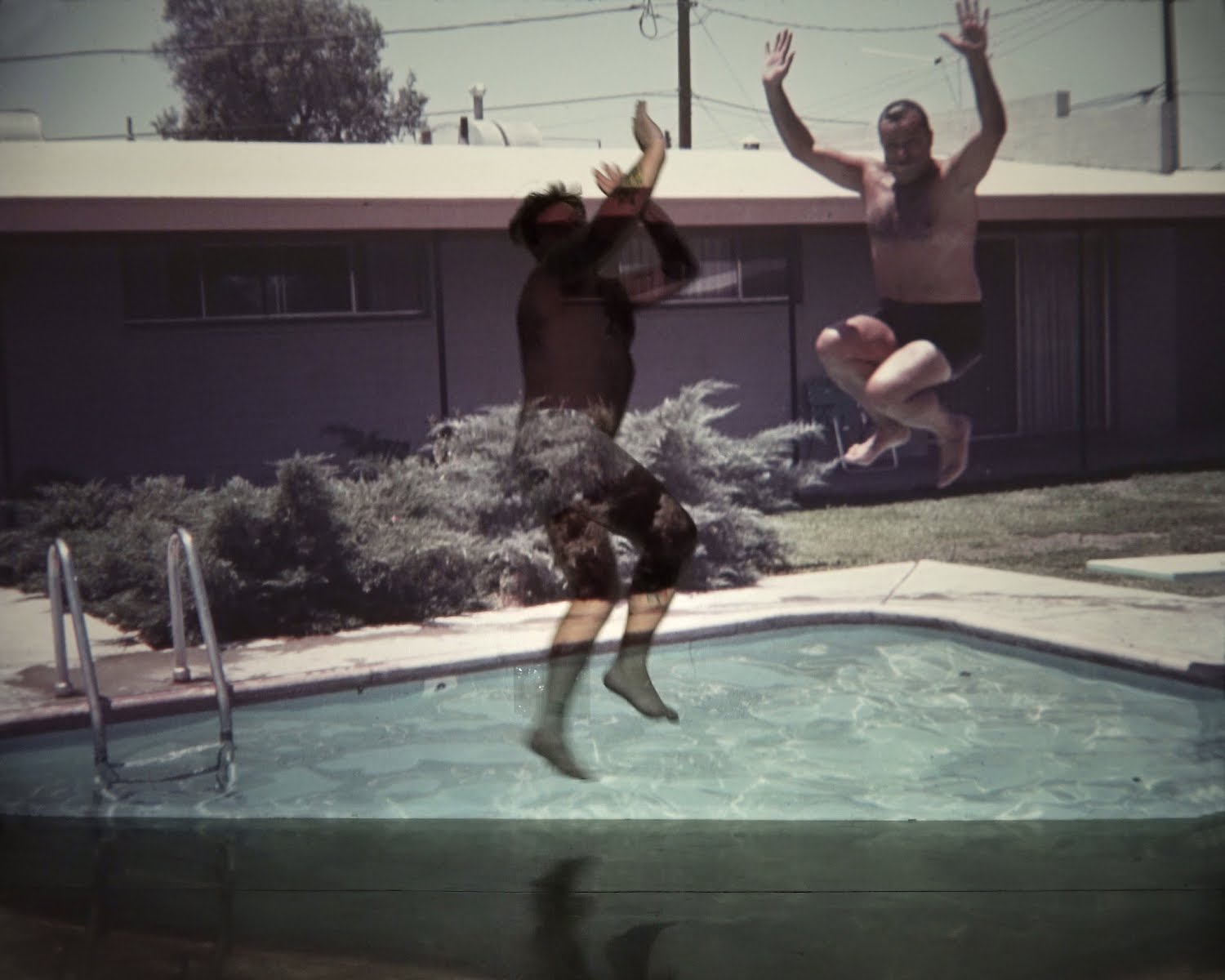 David Baboila's November 19, 2021, contribution to Gradual Ascent. The artist is on Instagram @saint__patrickryan.
As a viewer, getting to witness Charif and Baboila as they sift through new forms and content is a rare privilege. Each of Baboila's posts are accompanied by open questions — about the role of an archive, or the potential of a photograph cleaved from its original context — and meditations on his methodologies. The virtual presentation of Gradual Ascent prompted Baboila to create this larger, process-oriented discussion: "The Instagram posting allowed me to tap into a very intangible element of the work," he writes. "Everything that happens when the camera is not pointed at me, sitting in my studio, working with these archives, and thinking through my experiences and the various meanings held in the archives are as much a part of this work as any 'final' image." With the traditional hallmarks of artistic output — a tidy exhibition, with its associated artist talks and didactic wall texts — largely waylaid by the pandemic, online exhibitions like Gradual Ascent invite us to tap into a different kind of productivity, bringing our attention towards the behind-the-scenes labor that doesn't get celebrated enough within the conventional white cube.
Gradual Ascent has functioned as a year-long initiative to understand how artists are coping with uncertainty and altering their practices as a result. The challenge is now on the galleries and museums that feature these artists to recognize that, in light of our new realities, they too must adapt their operations. As for Augsburg Galleries, Wheatley is done making predictions for what shows will look like in the near future. Instead, she's getting comfortable with the amorphousness of our times, planning programming that not only supports artists and students, but cares for them. "This time has been a practice in slowing down, being flexible, and responding to what is needed in the moment," she writes. "I think it is this perspective more than anything that will guide the gallery programming moving forward, whether in-person or virtual." ◼︎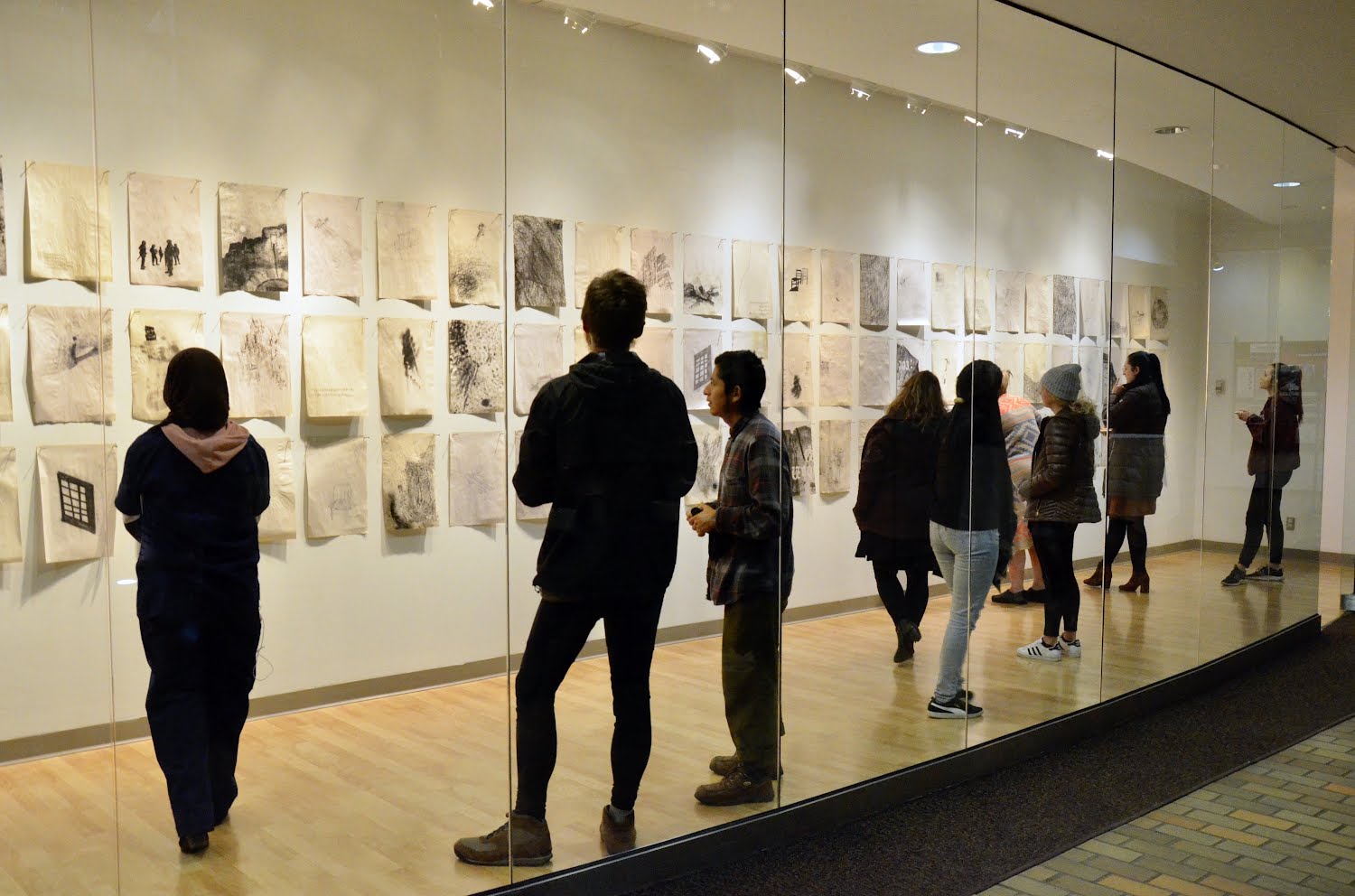 Jonathan Herrera Soto's exhibition Miel y Petróleo / Honey & Gasoline, in Augsburg's Christensen Gallery, just before the pandemic.
Gradual Ascent is on view virtually now @augsburg_galleries. A physical version of the exhibition is scheduled to take place at Augsburg this summer.
Currently on view in the University's Gage Family Art Gallery is Resilience, a group exhibition on view through March 24th. Hours are Monday - Wednesday 10am - 5pm, Thursday 10am - 7pm, and Friday 10am - 5pm.
Also currently on view in the University's Christensen Gallery is In The Midst, a collection of reflections from artists about the pandemic's impact on their practices, on view through March 24th.
For more from Charif and Baboila, follow them on Instagram @blvcknotes and @saint__patrickryan.
Banner Image: David Baboila's November 5, 2021, contribution to Gradual Ascent.
---
We can't do it
without you.
Help keep independent arts journalism alive in the Twin Cities.