Nirmal Raja and Lois Bielefeld collaborate across media to ask how history, nationality, and culture shape individual and communal identity
Artistry is the perfect setting for its new show, On Belonging.
It sits inside the Bloomington Center for the Arts, which in turn sits inside the Bloomington Civic Plaza. Outside the entrance to the Inez Greenberg Gallery, where On Belonging is on view through February 18, Bloomington residents stop by an information desk to ask questions about city government and to pay their utility bills.
Inside the gallery, artists Nirmal Raja and Lois Bielefeld have created a show that explores city life, nationality, and how the place where you live shapes and doesn't shape your identity — in addition to determining where you pay your utility bill. The questions Raja and Bielefeld explore are questions that we encounter every day, though often not in as many words:
What is history? Can history be objective? How does nationality inform identity? How does culture inform identity? What about when nationality and culture collide?
These abstract concepts shape people's lives in everyday and profound ways from borders to belonging, and there are always going to be internal conflicts — of living in a place you don't want to live, of loving a place you don't truly feel a part of, or of trying to belong in a new environment while keeping your memories alive.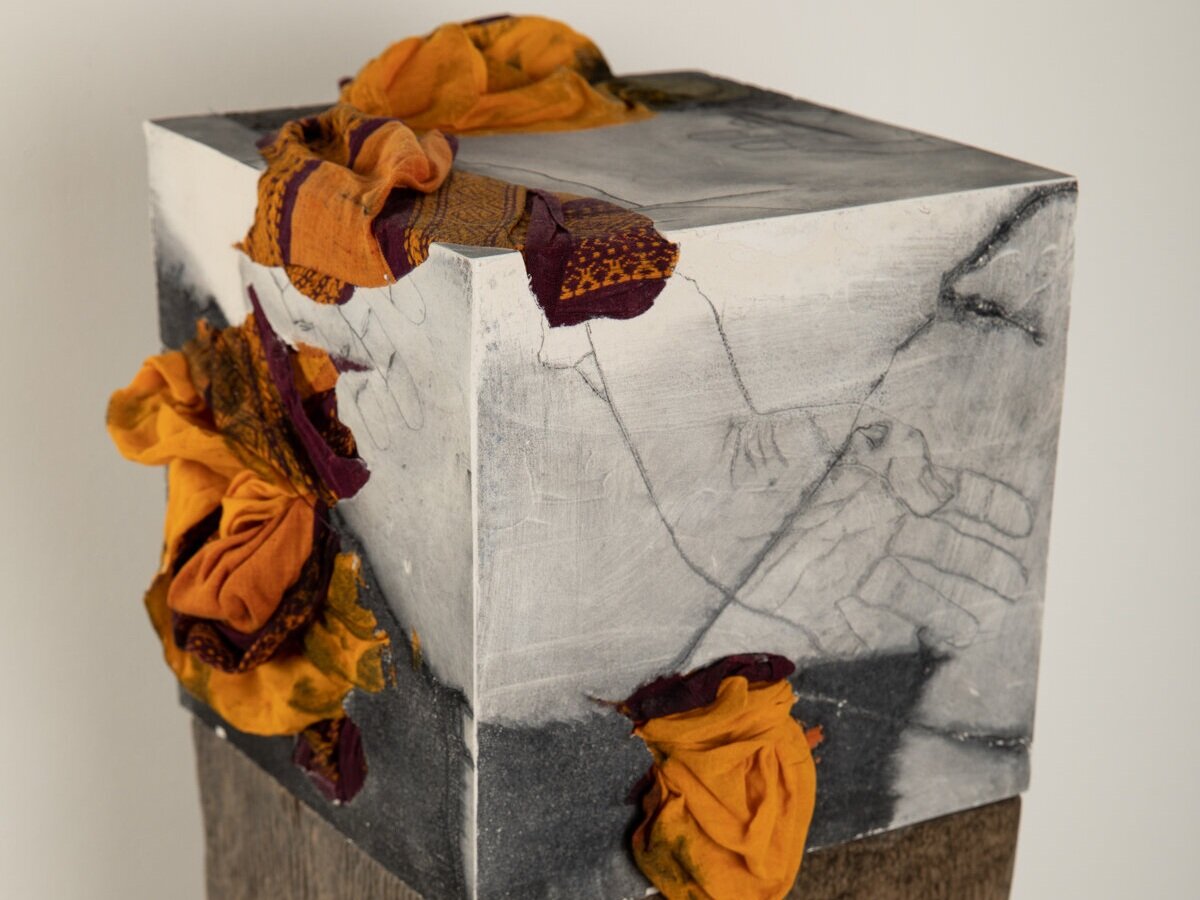 Nirmal Raja, Contained I (detail), collagraph on cast plaster and fabric, 51 x 9 x 9", 2016
Raja and Bielefeld don't pretend to have all the answers. On Belonging appropriately feels like an exploration. The use of gallery space plays a large role. As you enter, voices in the atrium outside mingle with audio from a darkened theater. (Even more appropriately, one of the voices is a man on his phone in the civic plaza, talking heatedly about "open borders.")
A banner with an abstracted timeline of Wisconsin history, a 30-yard rubbing of historical plaques from Milwaukee's river-walk, loops down from the ceiling. You have to walk around it to figure out what you're looking at, and you have to physically duck at one point if you want to walk under it. The banner shows up as well as a prop in a series of photographs, wrapping Raja at times like a cloak, or a serpent.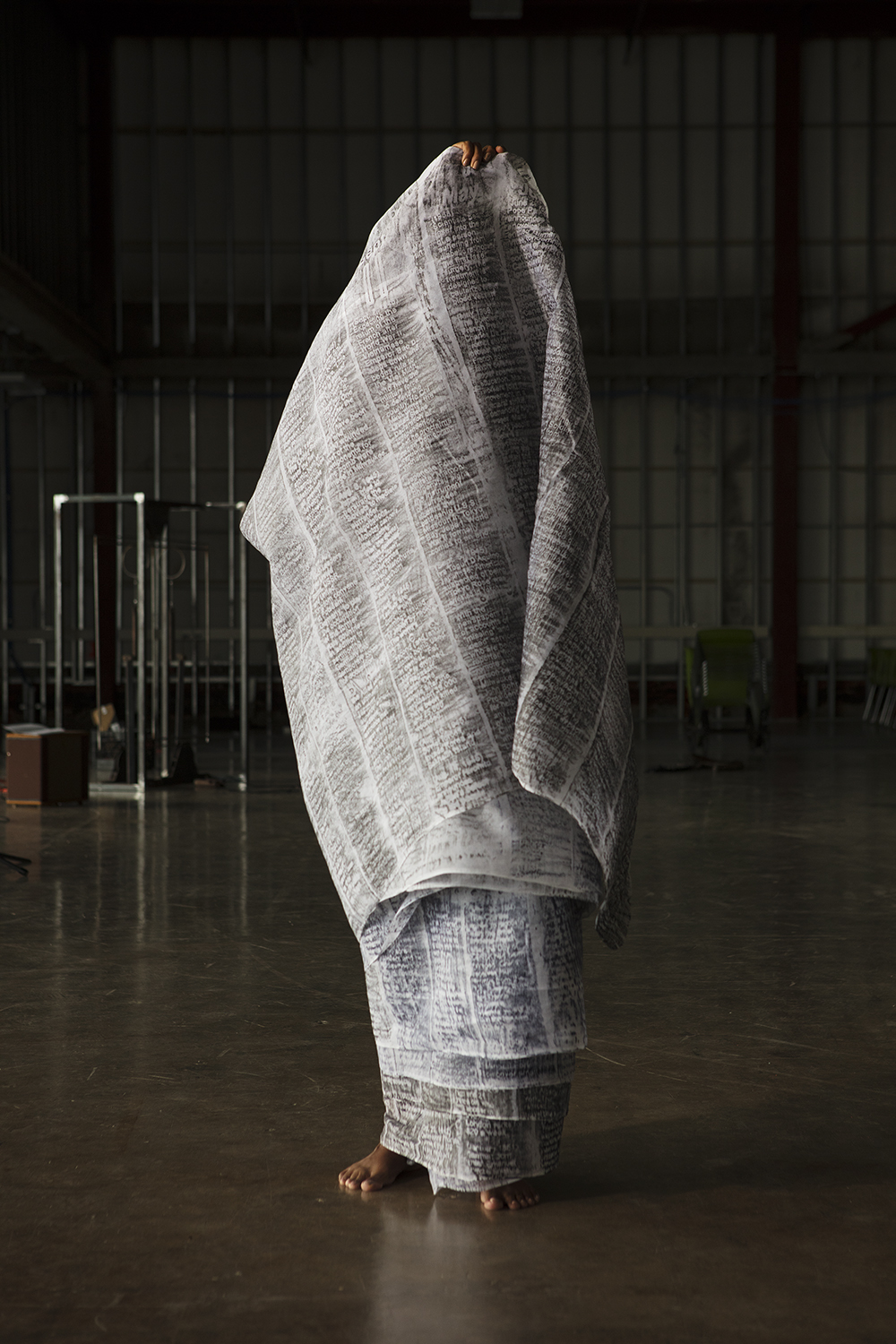 Untitled I, a photo from the series What is recorded | What is remembered by Raja and Bielefeld, 2017
The Milwaukee-based artists also spoke to several different women for On Belonging. Their voices are included in multimedia components that lend to the sense of discovery. Put on headphones to listen. Sit down in a chair, scan a QR code, and get on SoundCloud to hear women interviewed by the artists tell their own histories In Their Own Words, and share their perspectives on History-with-a-capital-H. In one film, women hold up and then slowly let go of the timeline of Wisconsin history. Their voices can be heard while this unfolds, musing on history and identity.
"Memory is another river flowing over the river of time." "History is the part of memory that people decide to jot down." "How much of our identity is tied to geography?"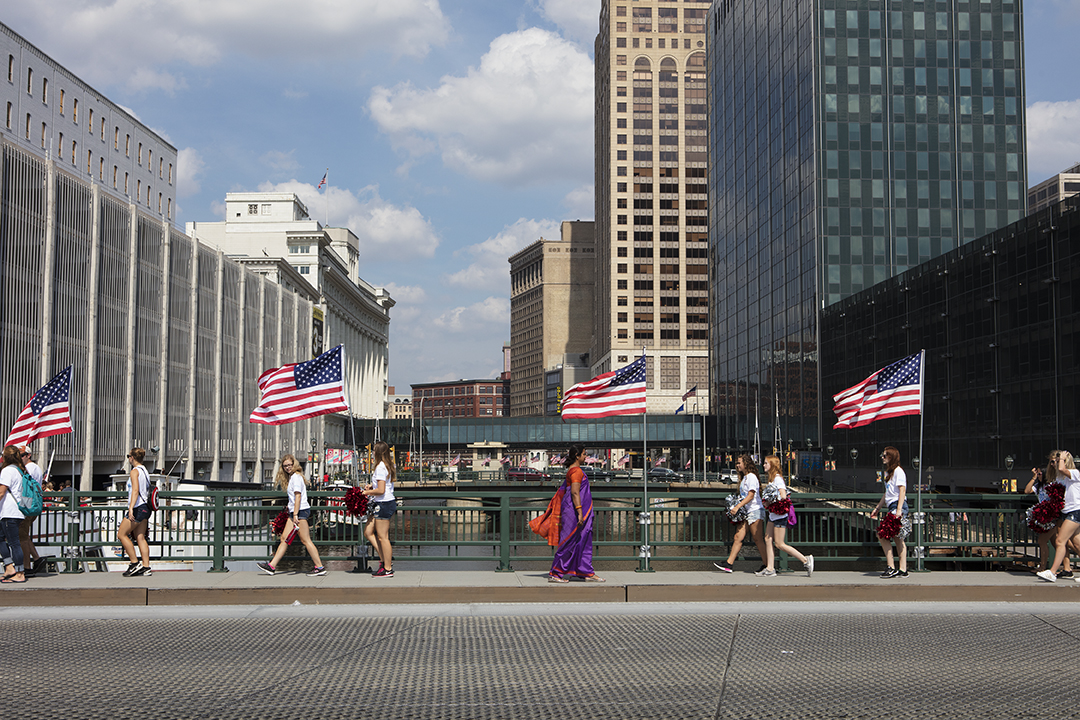 Nirmal Raja & Lois Bielefeld, Downtown - Sari 18, collaboration from the series Reaching Through 5 1/2 Yards | 8497 Miles, 2017.
There is plenty to dive into on the walls of the show, as well. A series of large-scale photographs forms much of the perimeter, and the theme of questioning and investigation is carried out through the staging of these works. In one series, Bielefeld photographed Raja wearing a sari at different locations throughout Milwaukee. Raja is often the only person in the photographs, and the only one who ever really acknowledges the camera. Her gaze and posture differ from piece to piece, inviting the viewer in, directing the viewer's eye, symbolizing her relationship to what's happening in the scene.
The compositions offer layers of meaning, open to interpretation — in the St. Francis Chapel, Raja has her back to the camera and stands next to a pew. At the Oriental Theater, she stares directly into the lens while casually holding a Diet Coke. At the Milwaukee Women's March, she's in the middle of the crowd but looking in a different direction. Sometimes these photographs feel completely staged — just Raja in the space. Other times, the pair seem to have happened on (or sought out) poignant symbolism in everyday Milwaukee, like Raja walking against the flow of a group of cheerleaders. These large-scale portraits surround the viewer, Raja's eyes watching as people take in the show — and Bielefeld's eyes watching Raja behind the camera.
City employees wander in over lunch or as a way to stretch their legs. They end up taking their time, looking back at Raja, Bielefeld, and the women they worked with, truly exploring the works around them — taking longer than you might expect them to as employees popping by a gallery that's down the hall from their offices. On Belonging invites that kind of deep dive, from the various ways viewers can physically interact with the work — putting on headphones, moving around and under certain pieces — to the myriad interpretations that can be drawn from it. It's focused, but not on the nose. The viewer is invited along on the expedition, and then they're invited to return back into the civic plaza, from there into the city and back into their own place within it. ◼︎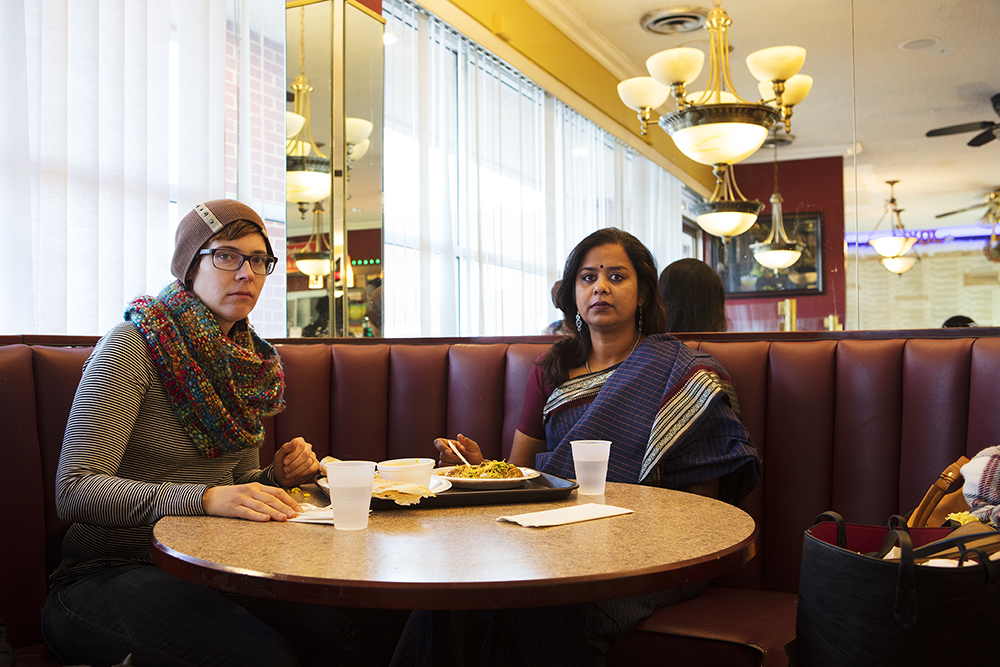 The artists, Lois Bielefeld (at left) and Nirmal Raja, at Bombay Sweets in Milwaukee.
On Belonging is on view at Artistry's Inez Greenberg Gallery through February 18th. There will be an artist talk and closing reception from 6 to 8 p.m. on Feb. 18. Gallery hours: M-F 8am - 10pm, Sat 9am - 10pm, & Sun 12 - 6pm. For more information, visit artistrymn.org.
For more on the artists, visit their websites — nirmalraja.com and loisbielefeld.com — or follow them on Instagram @nirmal.raja and @loisbielefeld.
Banner image: A photo from the series What is recorded | What is remembered by Raja and Bielefeld. Image courtesy of Raja's website. All other images are courtesy of Artistry.