Now on view at REM5 VR Lab in St. Louis Park, the art installation combines VR, video, and a hall of mirrors to reflect on our bodies and souls in the digital age
I'll start with a caveat: I've never seen a Yayoi Kusama infinity room in person. So I can't really compare that experience to Quantum Mirror, a new art installation at REM5, although I'm sure there would be some interesting parallels to draw.
I have, however, played a lot of video games, so when I found the original patent diagram for the Nintendo Gameboy framed in the bathroom at REM5, I knew it was a decent bet that I would like this place. Billed as a "Virtual Reality Laboratory," REM5 has the feel of a swanky arcade. Tucked away in a squat building off a side road in a little industrial strip mall in St. Louis Park, it's a fun spot where you and your friends can book a spacious, lounge-like stall; experience different games, places, and programs through a VR headset; and munch on a menu of pubfare and local craft beer befitting a night at the bowling alley.
But we were here for something else: a proper Art experience — a mixture of virtual reality, digital projection, and mirror-room immersion by Chicago-based artist Adrian Stein, in collaboration with Zac Hall. And I have to say… it was pretty cool.
One piece of advice I got from my mentor back in college was to watch out for that word. "If someone tells you your work is 'cool,'" I remember him telling me, "it probably means it's not challenging them enough." New media artworks perhaps require a caveat to that statement; the newness (and coolness) of the tech itself can be enough to steal your attention entirely. Quantum Mirror is certainly cool, and I imagine for a lot of viewers their take-away may well begin and end there. But the experience of this installation is also visually strange, thoughtfully dark, and a lot more sensorially engaging than I had expected.
The immersive experience begins just past the front lobby, where you are asked to take off your shoes (pro tip: remember to wear decent socks). You enter a futuristic waiting room and sit in chairs in front of two tall, closed mirrored barn doors on the far wall. You are handed a VR headset, and your trip into Stein's world begins.
The experience of a headset is still quite novel for some of us — late-comers as it were to the metaverse. Your eyes and ears are cut off from the natural world, occupied suddenly by a fully digital environment. Disembodied silver hands pop into view, following the movements of your own hands exactly in a bit of motion-capture wizardry created and added to the headsets by the REM5 team themselves. You tilt your neck left and right to take in the scene, you move your hands and point your fingers as directed by the soothing voice in your head. To anyone standing in the corner, you may well look a fool, and there's a vulnerability you experience knowing the real world is still there, just out of view. It's an out-of-body experience that makes you aware of your own body. Fitting, as that's basically what this piece is all about.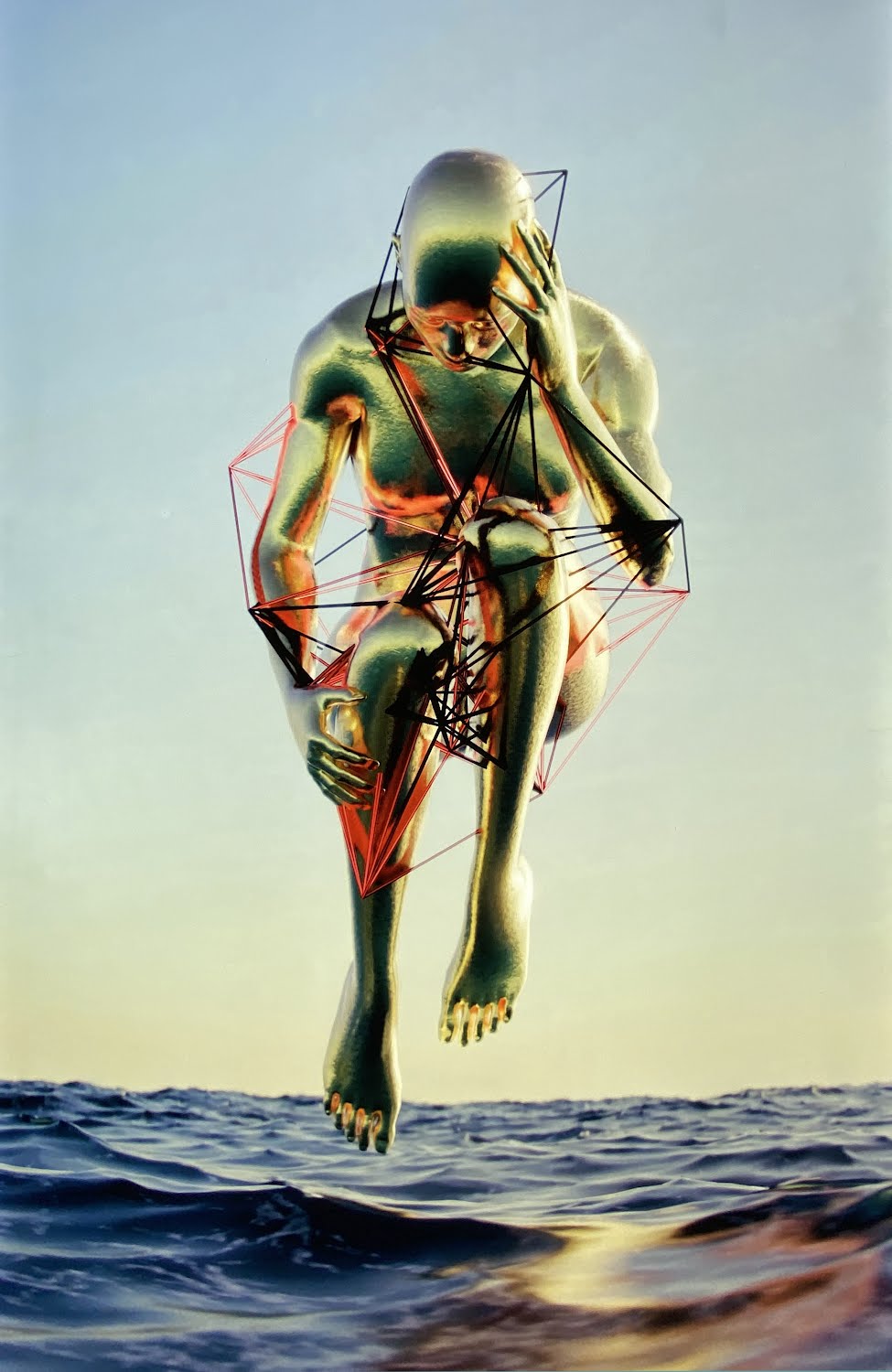 Adrian Stein, Andro Genie #5802, rendered image on a lit LED frame, 2020. Available to purchase at REM5, this image and character also show up in the larger installation.
Kusama first developed her mirrored installations in 1965 as a way to exponentially expand the impact of her polka-dotted sculptures. Over the past five decades, her walk-in rooms — covered floor to ceiling in mirrors — have evolved into ambient, atmospheric meditations on mortality, the cosmos, and, of course, pumpkins. They were also designed to engage the viewer as part of the artwork itself, to turn the audience into its own subject.
Quantum Mirror does the same but takes as its subject not just its audience, our bodies, and our endless vanity but also what effect our digital lives are having on us. "My work is always centered with the body as the subject," says Stein, explaining that this installation is about "thinking of the digital body as a metaphor for prosthetic consciousness."
Inside the headset — filled with rows of simplified human bodies hunched forward seemingly in rote discouragement — the virtual scene provides you with an intellectual framework for thinking about digital identity. It also puts you in an interactive mindset. As you remove your headset and reenter physical reality, the mirrored doors have opened, revealing some kind of bizarre, sci-fi glass chamber, throbbing with video visuals. You enter, hyperaware now of the weight and angle of your footing on the mirrored floor as you move slowly inside, trying to use your senses to make sense of this place.
At the core of this fractallized gemstone, a central pillar of screens plays a longer video of these despairing silver bodies set to a melancholic drone of human voices, a score created largely out of Gregorian and Victorian chants (directed by Stein and produced by sound artist and musician Necatuss). I will spare you a detailed description of the experience, since it is best done cold. Feel free, once you're in there, to indulge your immediate impulse to whip our your phone and take photos — I did just that. But after you get a few good shots, remember to put it down and be present with the piece.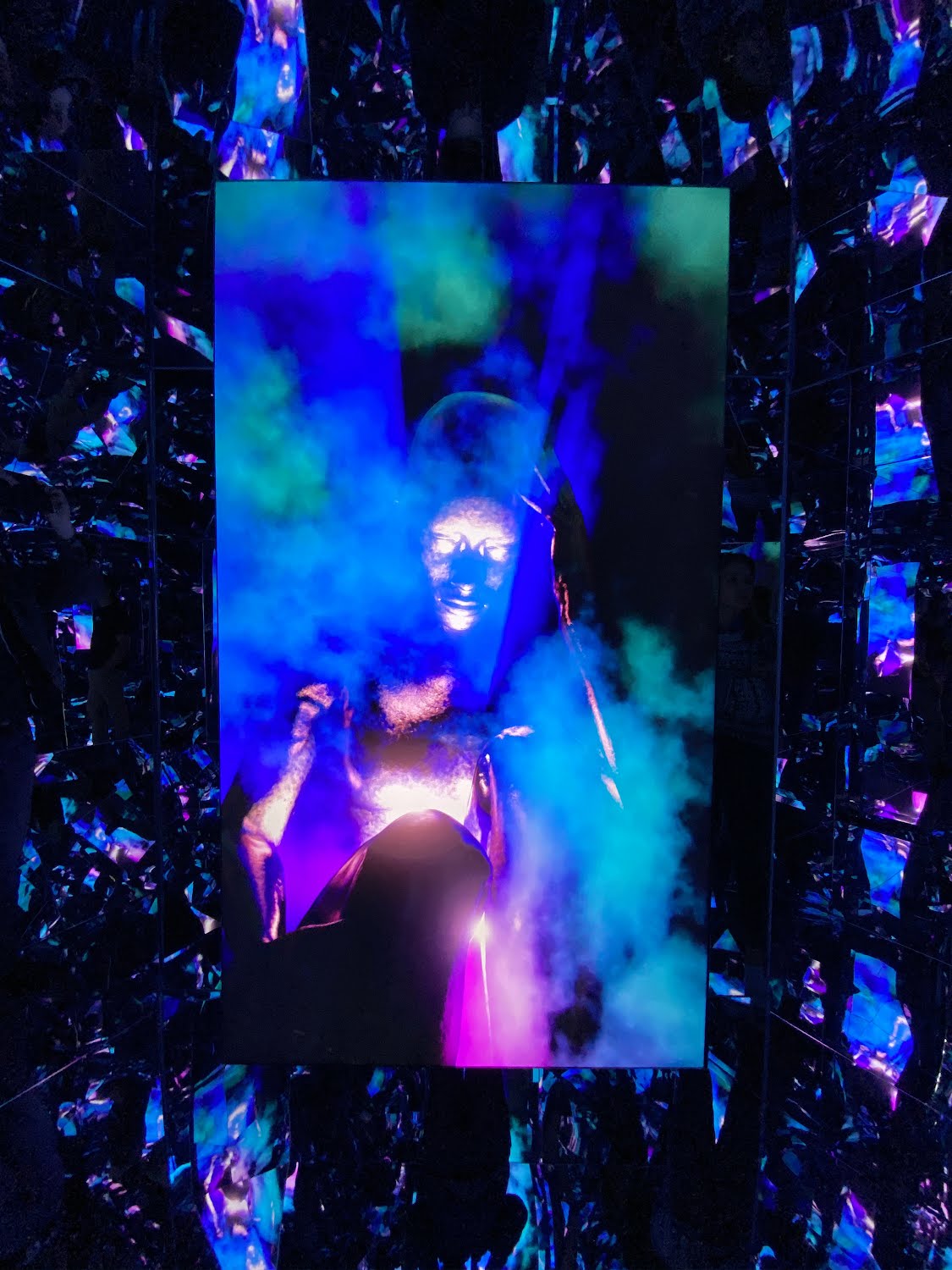 Installation view and still from the video playing inside Quantum Mirror.
Only six people are allowed inside at a time — each $25 ticket buys you a thirty minute experience — and it is a far more intimate affair than other notable immersion experiences currently in town. Unlike the wallpapered warehouse effect of the Immersive Van Gogh Exhibit (which I wrote about here), Quantum Mirror is scaled quite nicely to its subject: the human body.
"Architecturally I designed the room after a toroid, which is the geometric shape of a donut," Stein tells us. "That shape is used to express almost every energetic field in both physics and esoterics." The room's looping shape also connects to the looping (and inescapable) video narrative, to the circular rhythm of the droning soundtrack, and to the seemingly endless depth and distance you perceive in the infinitely reflected mirrored surfaces. Brian Skalak, the Director of REM5, tells us that claustrophobia has not been much of an issue so far for visitors; those with a fear of heights, however, have had a harder time. Look down at your feet, and you'll understand why (also, to my friends out there in skirts and kilts, consider yourselves warned).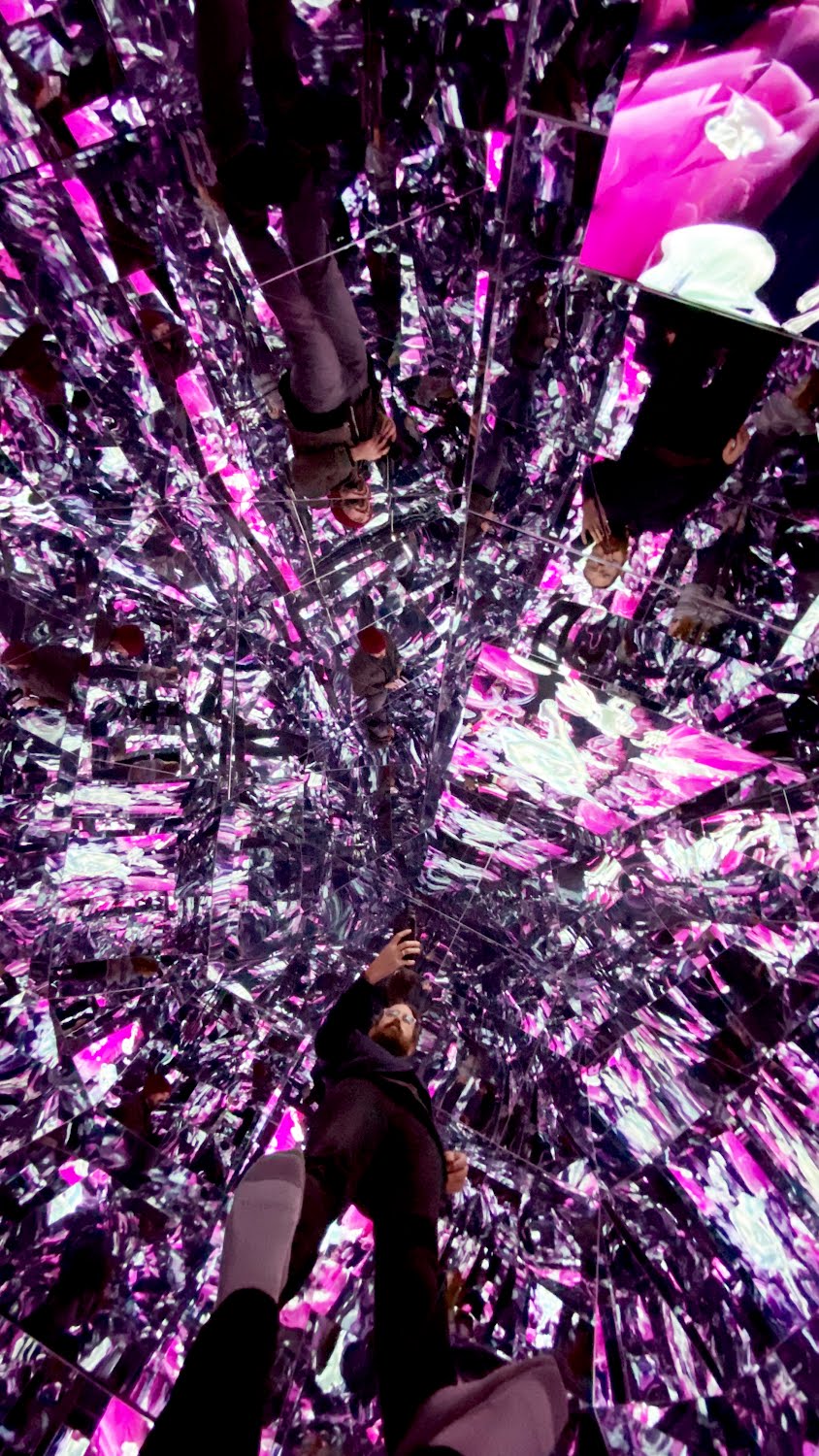 One vertiginous view inside Quantum Mirror, and a reminder to wear clean socks.
The mirrored chamber creates a visual experience that runs full-bleed across your line of sight, and really the only boring part of the entire installation is when you catch your own reflection, normal and unrefracted, in the flat facing walls. I suppose those make for good selfies, though. Quantum Mirror sets its sights almost pretentiously high, billing itself as a meditation on the impact that technology is having on our animal consciousness. The deep thoughts are there, if you want to think them, though cleverly clouded by the marvel of visual wonder and fancy tech. It is an exercise in using technology to criticize our obsession with technology, housed inside a business built entirely around technology. The experience is engaging and unsettling, like a half-hour inside a funhouse Fortress of Solitude. You are born alone, you die alone, and here you are asked to reckon with the fact that you also post on Instagram alone. Our data, however… that's another story. They live on in perpetuity, forming an incomplete and exploitable identity all their own — an avatar, you might say, or a digital shadow. Where this parallel multiverse of ones and zeroes will lead us here in the real world is anybody's guess.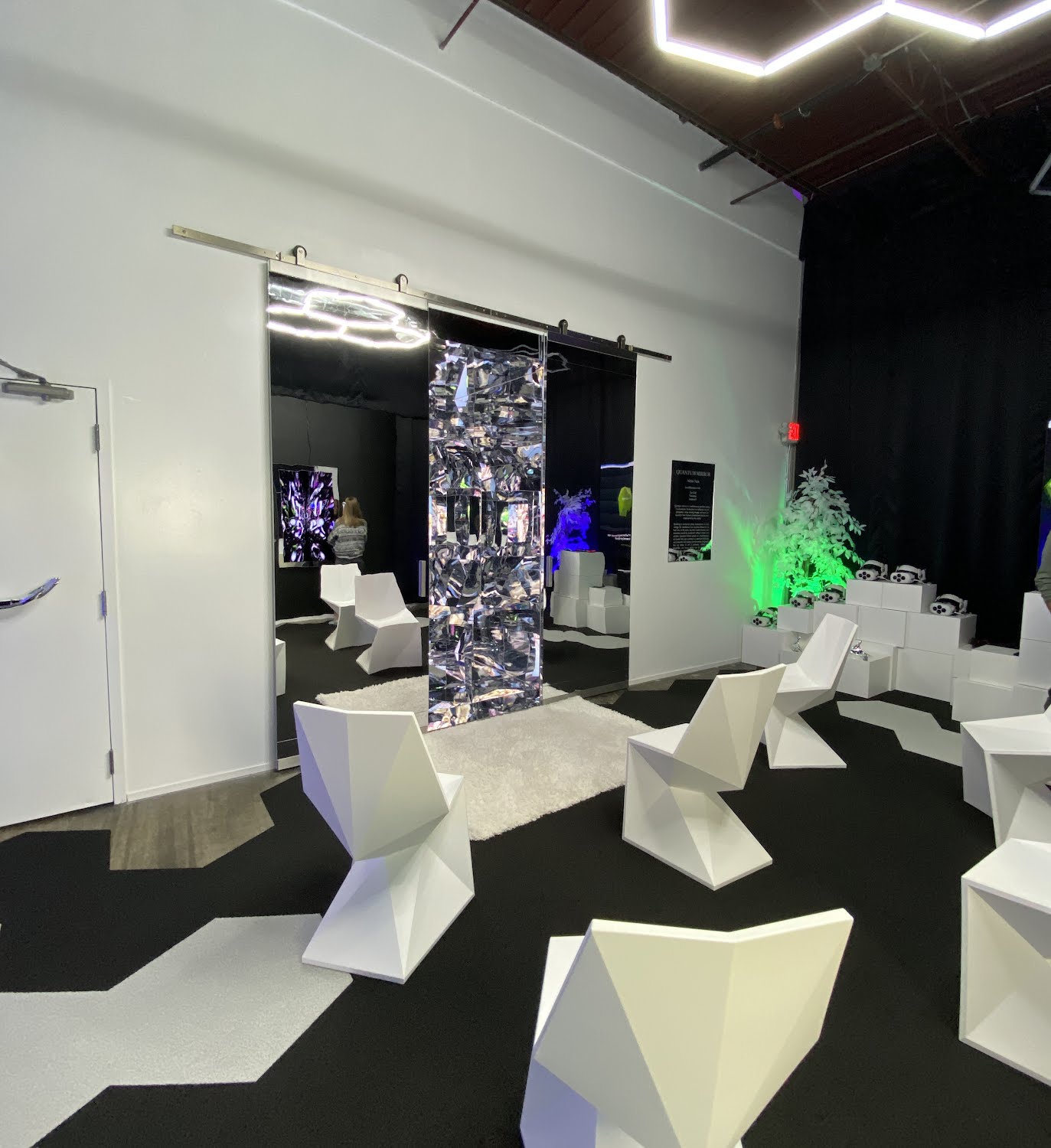 The Quantum Mirror vestibule at REM5, with the portal into the mirrored chamber at center.
Speaking of bodies, there are questions of accessibility that remain unanswered at the moment, primarily around whether the installation can accommodate wheelchairs — not due to spatial limitations but to avoid the mirrored floor from being scratched by anything harder than socks. Skalak encourages visitors to reach out, saying "We will happily field any questions about accessibility."
To their credit, this isn't a one-off foray into the arts for REM5. This installation will stay up at least into Spring of 2022, and meanwhile the company has other plans in the works, including an augmented reality collaboration with Northern Spark, an art gallery for community projects to live inside a WebXR space for the Great Northern Festival, and Tilt Brush VR painting sessions with local artists like Linnea Maas.
Back in the front lobby, on the way out, you might notice an old Nintendo Gamecube hooked up in the corner, a now vintage relic from the turn of the century. It's a funny reminder, like the patent posters in the bathroom, of the obsolescence hot on the heels of any new tech. As with the crude graphics of N64's "Goldeneye" or the clunky flying triangles of Super Nintendo's "Starfox" before it, some day we will look back on these early experiments in virtual immersion and marvel at how relatively little it took to make us marvel. Quantum Mirror stands on its own merits, but it's also worth a visit if only to prepare yourself for what comes next. ◼︎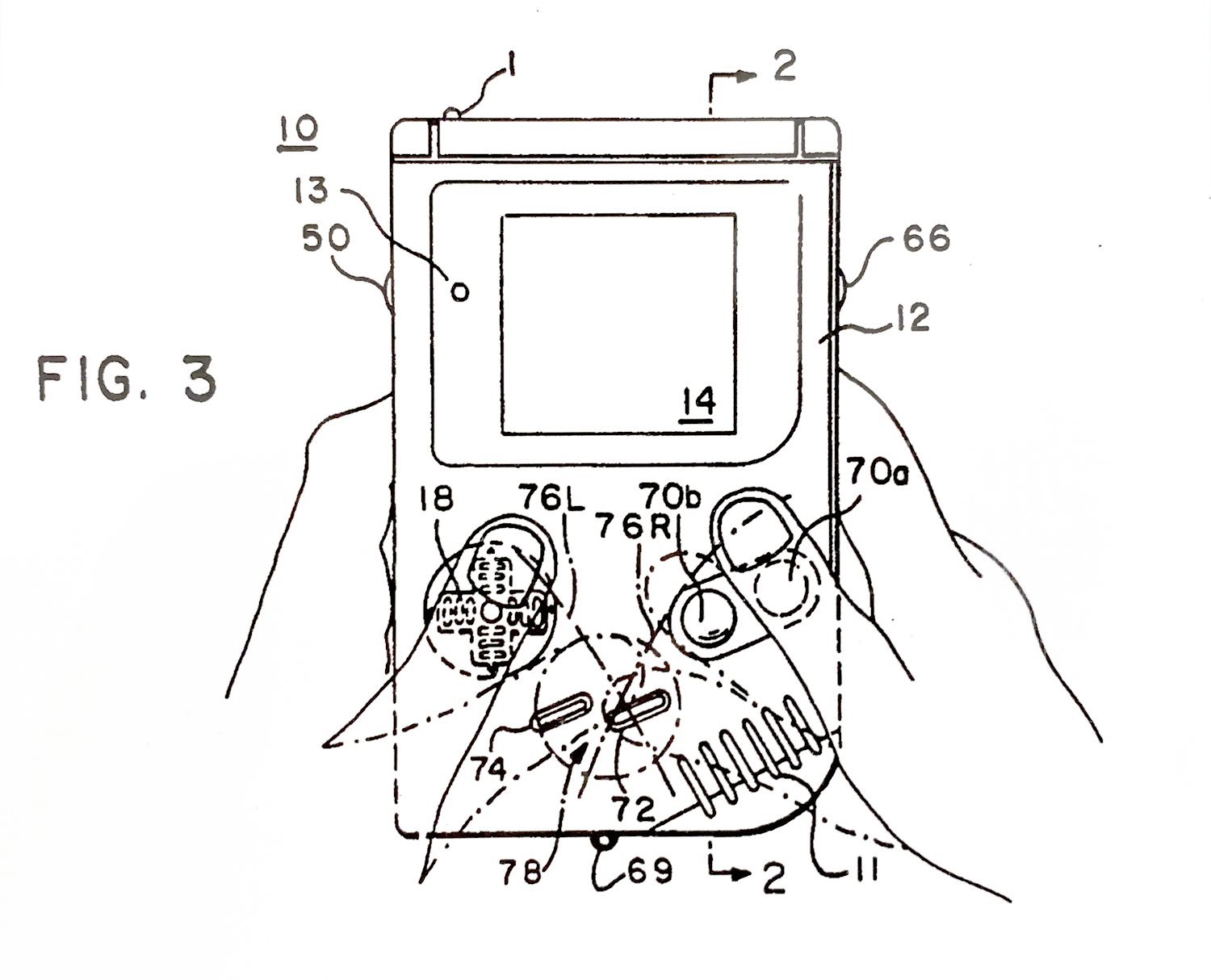 A detail of the framed patent document for the Gamebody, on view in REM5's restroom.
Quantum Mirror is on currently on view at REM5 VR Lab in St. Louis Park. Tickets and more info are available at quantummirrormn.com. For more info on events and attractions at REM5, visit rem5vr.com or follow along on Instagram @rem5vr and @quantummirrormn. To see more of Adrian Stein's work, check out his website or follow him @looneystein.
Use code MPLSART at checkout for $5 off your ticket. MPLSART does not receive any profit from this partnership; it's just a treat for our readers that REM5 has offered.
REM5 is located at 4950 W 35TH St in St. Louis Park, MN. Open to the public Thursday 3 - 9pm, Friday 3 - 10pm, Saturday 11am - 9pm, and Sunday 12 - 7pm.
All photos are by the author.