Throughout ten floors, inside and out, commissioned works from sixteen artists illuminate Minnesota's cultural history (and light up the hallways, as well)
Minneapolis's new Public Service Building, which centralizes office space for 1,300 city employees formerly spread out across half a dozen different locations, is an art-filled dazzler. The care taken towards utilizing the natural light coming from the windows (by lighting designer Buro Happold) gives the building an open feeling, while the lighting design by Michael Cohen on some of the artworks inside adds a dash of whimsy. On each of the building's ten floors there are murals, such as Kao Lee Thao's Threads of Life honoring Hmong traditions, and ceiling-mounted sculptural installations, like Alexander Tylevich's Impressions, made to look like fingerprints. In all, the work transforms the city building into a gallery of contemporary art.
Located at 505 Fourth Ave. S and designed by Minnesota-based architecture firm Meyer, Scherer, & Rockcastle, Ltd. (MSR Design) in collaboration with the Danish design firm Henning Larsen, the building features a glass exterior that acts as a mirror to the buildings that surround it, including City Hall, which sits kitty corner from it.
According to the City's website, the investment in public art, in total, cost $2 million. Working with the City's Public Arts Administrator Mary Altman, the Community Planning & Economic Development (CPED) department, and Project Manager Kirstin Wiegmann was artist Tristan Al-Haddad, of Formations Studio.
It wasn't Formations' first collaboration with the City. Back in 2018, Al-Haddad's orbital sculpture, Nimbus, was installed outside of the Central Library, creating a gathering space and also an outdoor theater on Nicollet Mall. Al-Haddad's new sculpture, Current Conditions, lofts above the main staircase located near the front entrance. It's made up of luminous squiggles that drip like rain droplets from the ceiling. They change color as the light shifts from day to night.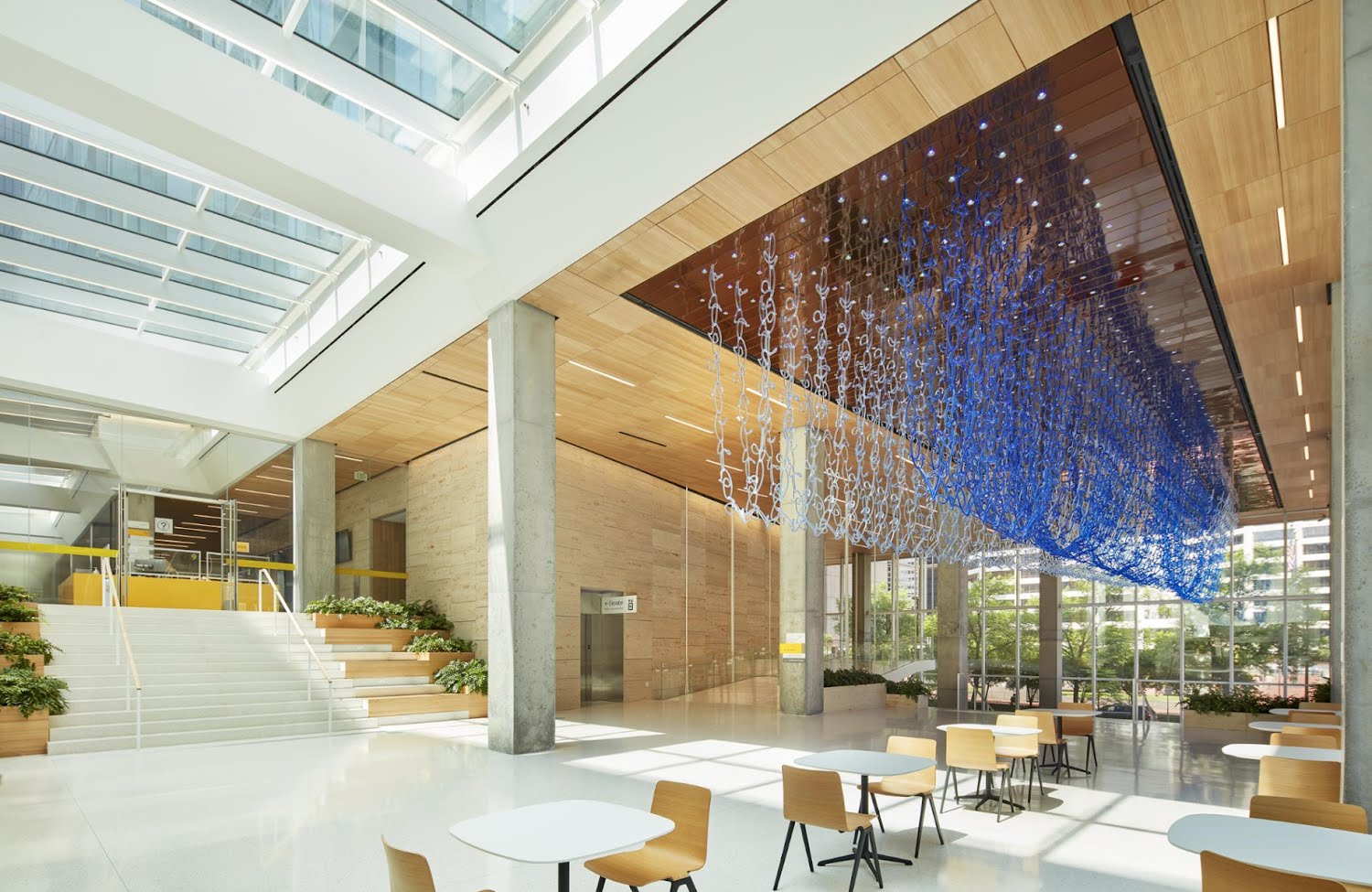 Tristan Al-Haddad, Current Conditions, acrylic & lights, 2020. Image by Corey Gaffer, courtesy of the City. From the City's website: "Current Conditions reflects the changing climate of the City and planet. The shape evolves daily and over time. The 98 chains represent the City's weather conditions. Together they shift across the ceiling from the west side towards the east."
In an artists' dialogue this past Thursday, Al-Haddad said that after applying through the City's RFQ process in 2016, he was commissioned in 2017 and then joined by the other 13 artists and artist groups in 2019. According to Al-Haddad, the first phase of the project included developing a conceptual master plan about filling the building with works that were curated, architecturally integrated into the space, and also had as much diversity as possible. "What we came up with was works that would be part of an art core," he said, using a phrase borrowed from the notion of a building core (i.e. what allows for flow between floors, containing staircases, elevators, electric cables, water pipes, etc.).
The foil to many of the works in the building is the Great Seal of the City of Minneapolis, made in 1967 by Rich McFarland Cut Stone Company, based on a design approved by the City Council in 1878. Originally installed in the Minneapolis Auditorium in 1968, the 33,000 pound stone behemoth depicts a Minneapolis scene by Saint Anthony Falls, with images of wheat and industry. Several of the commissioned artists worked in direct response to the erasure of Dakota and Native American presence in Minnesota reflected in the seal.

Marlena Myles, Indigenous Wealth, ink on vinyl, 2020. Image courtesy of the City. From the City's website: "Minneapolis' early economic wealth developed around Saint Anthony Falls, featured in the City Seal. To Dakota people, upon whose homelands Minneapolis resides, these sacred falls are known as Owámniyomni ('three whirlpools') and represent a different economic meaning. In one oral tradition, the Horse Nation met the Dakota/Lakota at 'great whirlpools' and those horses would bring great economic benefits to the people.
For example, Marlena Myles has created two works that speak to the Dakota's relationship with this place. Her mural Indigenous Wealth shows a scene, like the Great Seal, by Saint Anthony Falls. Rather than industry and activities that take from the land and water, her work reflects Dakota traditions of being a good relative to the natural world.
"As Native people we have philosophies that are opposite of the ways that Minneapolis grew from that site," Myles said at the artist talk. "Native people have a very complex and important story, and all of that is stored right here in this land that we walk on each day."
Myles also created a series of window glass works, which allow light into city office spaces while shielding them from view, using Dakota words that reflect notions of caring toward life, people, and harmony.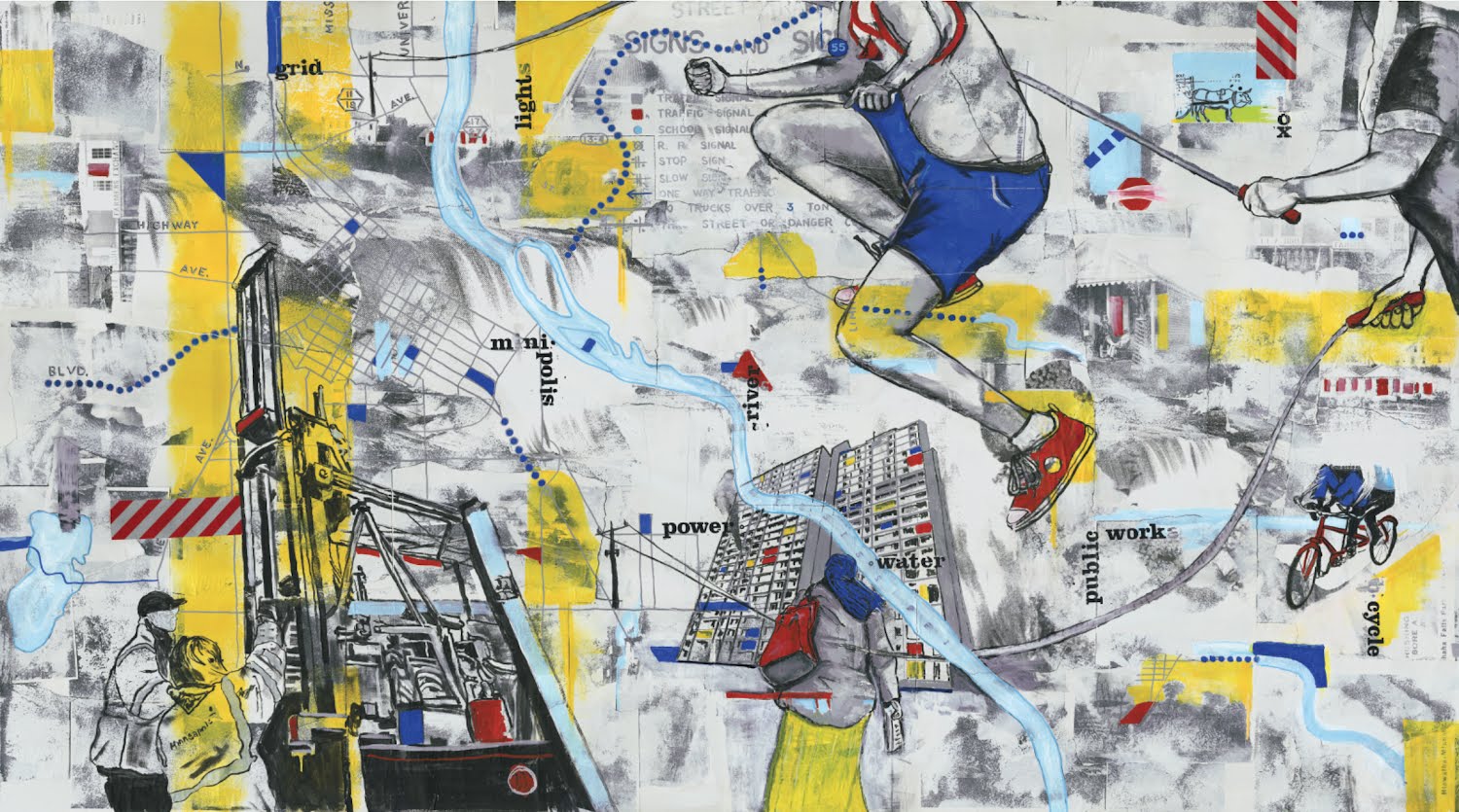 Witt Siasoco, Power and Play, ink on vinyl, 2020. Image courtesy of the City. From the City's website: "Drawing inspiration from the Mississippi River, this mural illustrates how water is the source of our power and play - metaphorically and literally."
Witt Siasoco also points to Saint Anthony Falls for his mural, Power and Play, as he layers historic images of vibrant scenes from Minneapolis life. After touring the City's Public Works facilities, Siasoco reflected, "It was beautiful to see the real structure of the City and the people that make that happen, and they go without applause. In general, this piece is really about individuals' relationship to the gigantic system that is the City, and a love letter to the people that work for them."
Other artists participated in engagement processes with the City workers on whose floors their artwork would end up as well. Rory Erler Wakemup met with City employees who formerly worked at a building near the Mississippi River. "Folks said they would miss the interaction with the river," Wakemup said. His work, Anangokaa (There are Many Stars), is made up of mirrors and starry night lights. It has a watery effect and also dreams of distant futures.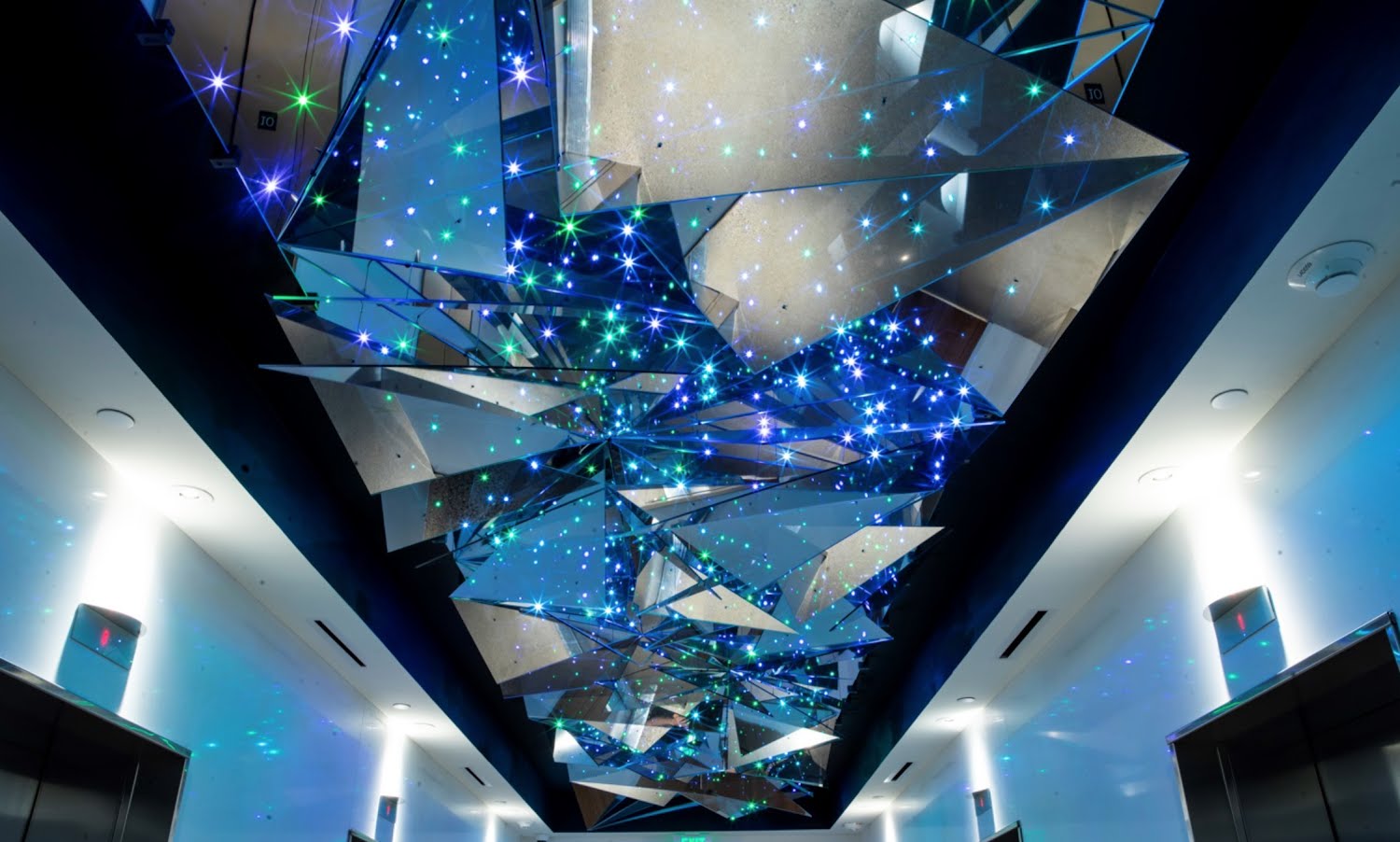 Rory Erler Wakemup, Anangokaa (There are Many Stars), mirrored polycarbonate and lighting, 2020. Image courtesy of the City. From the City's website: "In many cultures, the Milky Way is compared to water and a pathway in the sky. People are a product of the lifecycle of the stars. The relaxing environments of flowing water and the night sky most connect us to the ethereal world and our understanding of the multiverse. This artwork seeks to create a similar tranquil experience for the people in this building."
Another artist, James Brenner, worked with the City's Investigations Bureau to create Balance, 340 glass columns made up of moving lights. Brenner said it became apparent that working with the police department carried with it a lot of anxiety. "Nobody likes to see them when they show up," he said. "They have to stick together when they show up— they have a difficult job." His work uses the scales of justice as a way to tease out the idea that there are many sides to one story. He also wanted to create a sense of calm for the officers passing through the installation each day. Angela Two Stars similarly offers a sympathetic viewpoint bolstering the work of police officers with The Number One Goal.
Futures North (Adam Marcus, Molly Reichert, Daniel Dean, & John Kim) created three noteworthy pieces on the building's windows as well as the skyway. Their designs are bird-safe, in contrast to the debut of Viking Stadium visible to the west, which faced criticism for attracting birds to their death when that building first opened. Lines of Flight, Avian is inspired by migratory bird flight patterns, while Lines of Flight, Human draws on human migration patterns. Finally, Lines of Acknowledgment uses white dashed lines to illustrate Indigenous place names.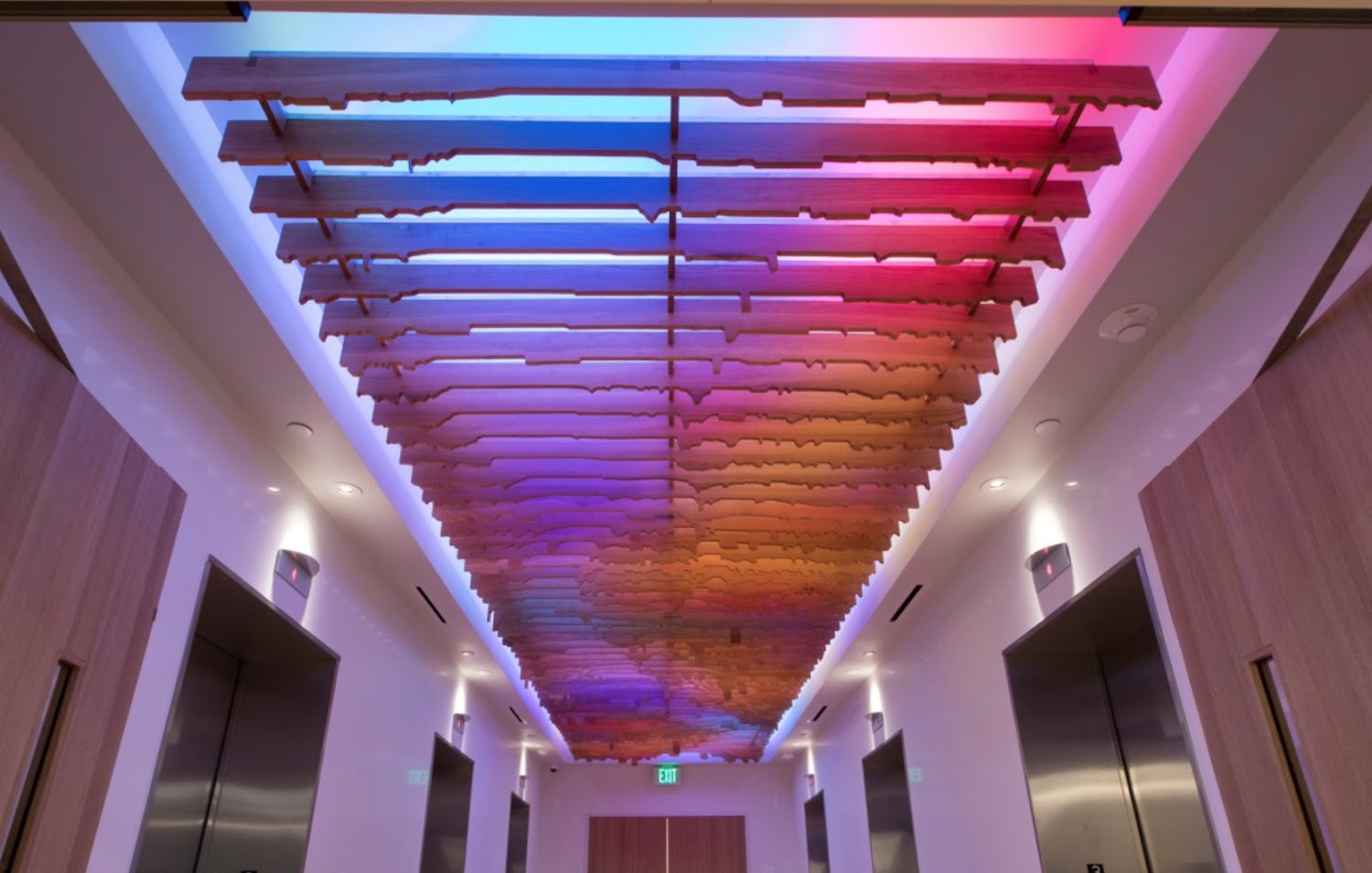 Aaron Marx, Genesis, wood & lighting, 2020. Image courtesy of the City. From the City's website: "Inspired by images of the falls, reflections off the river, and dappled light through trees, the thousands of lights change seasonally and in response to hourly changes of the river volume based on live data."
Many of the projects draw on research about the city's history, transformed into art-making. Aaron Marx's Genesis uses LIDAR data to illuminate Minneapolis's topography, using locally-sourced wood cut from dead trees killed by emerald ash borer. Christopher E. Harrison's Elements, meanwhile, is a colorful abstraction that draws on city planning maps. The artist CRICE researched racist housing policy while also imagining a better and more equitable future for the city. "I felt comfortable making the work for Brown and Black employees," CRICE says. "I wanted them to have something they could relate their stories to — that they were seen in a public space."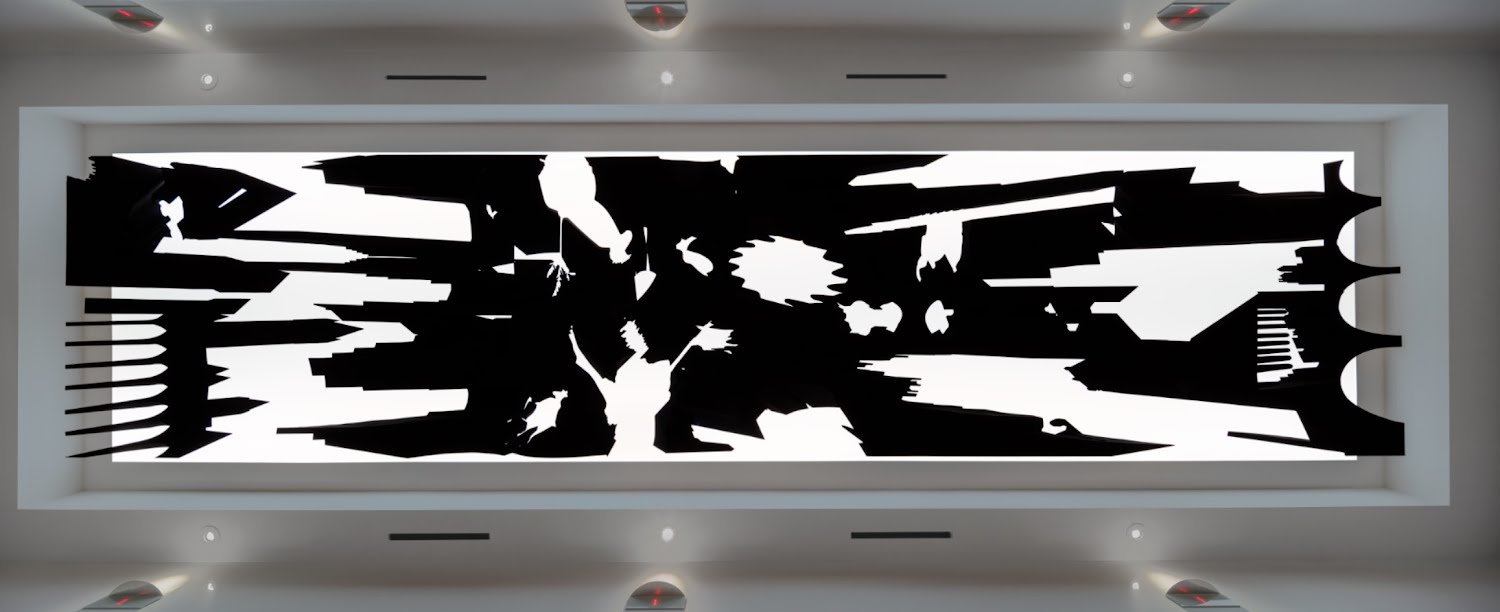 LUCITO (Andrew Lucia and Iroha Ito), Likeness of an Alegory (view from directly below), plastic and fabric, 2020. Image courtesy of the City. From the City's website: "It is composed of over 40 anamorphic silhouettes. Between light and dark areas, profiles are revealed only at specific moments and never in total, rendering the overall composition illegible from any single vantage." Photo Credit: Peter J. Sieger
Other notable works are Constellation by Laurie Borggreve, a hand-made resin, metal, and glass sculpture glowing on the ceiling, and Likeness of an Allegory by LUCITO (Andrew Lucia and Iroha Ito), a black and white installation that contains 40 hidden silhouettes of iconic Minneapolis images. "It is a bit of a Rorschach," Lucia said. "People see things in there that we didn't intend there at all."
In all, the work, even when it leans toward being overly positive about city government, is a noteworthy investment in artists and the importance of art in our daily lives. You can see all of the work this Friday, from 4-7pm, during a public reception. ◼︎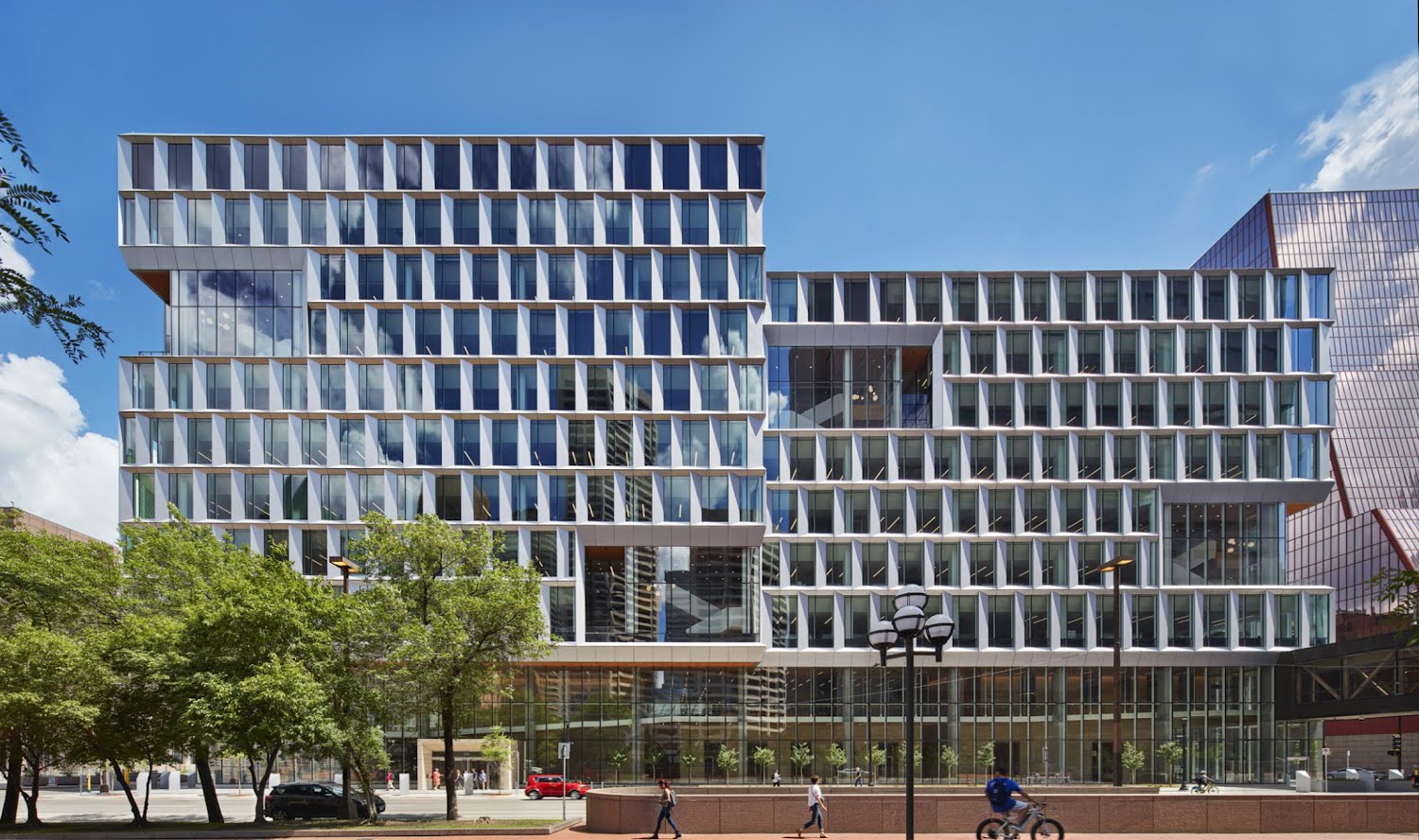 The Public Service Building is located at 505 Fourth Ave S in downtown Minneapolis. The public reception for the artwork takes place Friday, December 10th, from 4-7pm, with remarks at 4:30.
You can view a virtual tour of the works online here. During normal business hours, three of the artworks will be available by appointment only due to their location in the building. The City will be offering other public tours of the art in the future, and you can contact Mary Altman for more information at Mary.Altman@minneapolismn.gov.
Banner image: Futures North (Adam Marcus, Molly Reichert, Daniel Dean, & John Kim), Lines of Flight, Human (detail on exterior windows), 2020. Image courtesy of the City.