Study the Black Matriarchs: A Contemporary Black Matriarchal Lineage in Printmaking
Posted November 30th, 2021 by Yonci Jameson
On view through December 4th at Highpoint Center for Printmaking, this group exhibition pulls from the past, looks to the future, and shows us the present
In the dining room hallway of my grandmother's house there hang two prints of her making, products of a series of printmaking classes led by art educator Bill Slack at Highpoint in the early 2000's. The large, mask-like monoprints are Speak No Evil and Through/Within/Beyond, created using the same template then altered individually. "It was a very interesting process because I had never done anything like that before," she says. It was there, in my grandmother's house, that I was first exposed to printmaking.
As a teen, her love of the arts and culture led me to the Loft Literary Center for poetry workshops and bookmaking classes, the Minnesota Historical Society for exhibits, and eventually, back to Highpoint for their Free Ink Days. Marked by the crude block prints created by me and my younger brother, the walls of our family home are now evidence of a Black matriarchal lineage, and a continuing artistic exploration.
Cornrows, combs, cotton and quilt, braids and barrettes; Objects once relegated solely to Black familiarity become cultural motifs, coalescing with narrative themes of hypervisibility and obscurity. A Contemporary Black Matriarchal Lineage in Printmaking is the first of its kind; an exhibition dedicated to Black women printmakers, curated by Black women printmakers, Tanekeya Word and Delita Martin. "Like our foremothers," Word writes, "Black women printmakers have used the tools in our hands to create visual languages that tell the stories of our past, future, and the in-between spaces within fractal time." Featuring twelve Black women printmakers, the exhibition is on view at the Highpoint Center for Printmaking, a Twin Cities' staple for printmaking and education.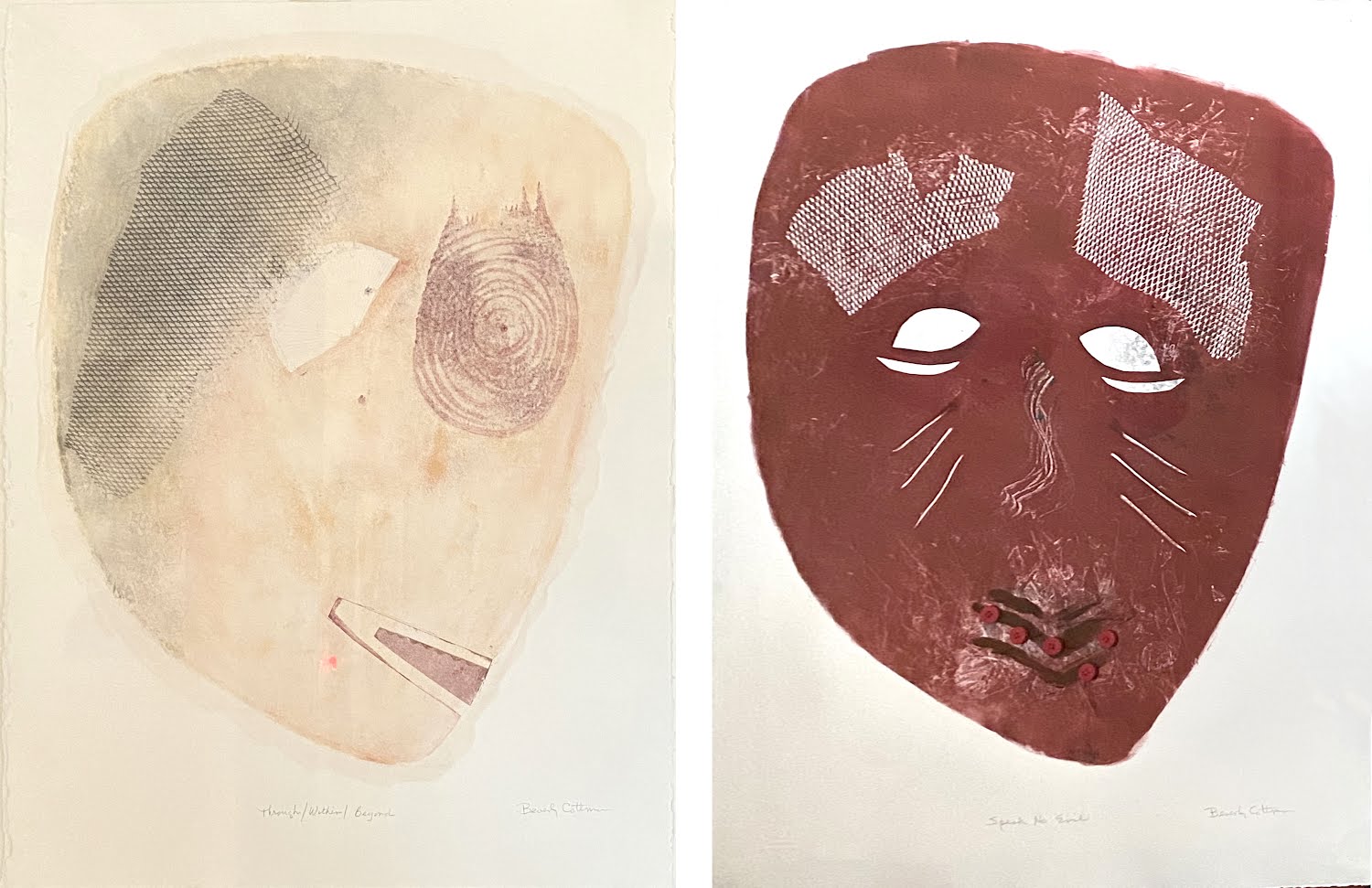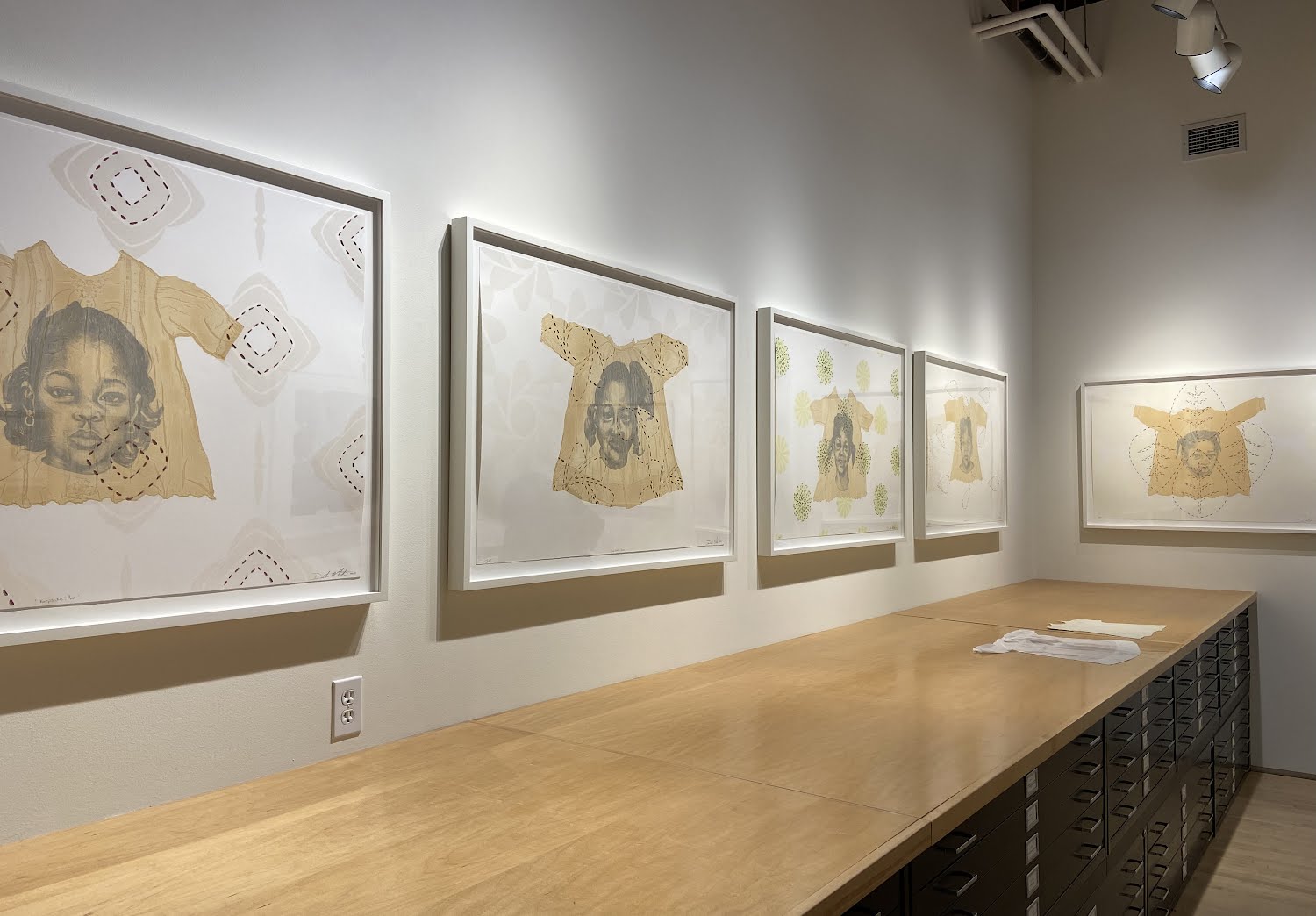 Top: Through/Within/Beyond and Speak No Evil, prints made by the author's grandmother at Highpoint in the early 2000s. Bottom: Delita Martin, "Keepsakes" series, mixed media collograph & lithographs, 2020. Photos by the author.
In the niche between the main gallery and printmaking studios exists "Keepsakes," a collection of prints produced at Highpoint by Delita Martin in collaboration with Highpoint's Master Printer Cole Rogers and other print staff. Christening dresses provide the backdrop for six pencil-like portraits of Black girls, adorned by stitched outlines that mimic naturally occurring geometrics, like flowers and leaves. The christening dresses are on view atop the flat file drawers — their three-dimensionality pressed paper-thin and starched stiff — as artifacts that elucidate Martin's layering of technique, material, and pattern. "I create work that is a reflection of the social and spiritual spaces Black women inhabit," says Martin, citing inspiration from oral traditions as well as vintage and family photos. Though not technically part of the larger exhibition, "Keepsakes" serves almost as prerequisite viewing for the full gallery as it provides perspective on Black interiority and gives context to ideas of contemporary Black matriarchal lineage.
The twinkling, candy-colored barrettes of Althea Murphy-Price's Crowns is an intimate evocation of childhood identity exploration, conjuring the sounds of Black girls running, playing, and moving adorned in clittering and clacking plastic accessories. Sharpe Things depicts tools of personal care that hold, affix, and organize; needles, picks and pins, a rattail comb. Murphy-Price describes a freedom of experimentation with these ornaments, how the sovereignty of determining her own appearance as a child created a realm for her to envision a multitude of possible identities, blending fantasy and reality. Each image was printed by building layers of ink, one on top of the other, creating a glittering texture and playfully suggesting their compositions. "These objects were tethered to my understanding of race, culture, and femininity and they remain bound to an inner impulse and interest in appearance," says Murphy-Price.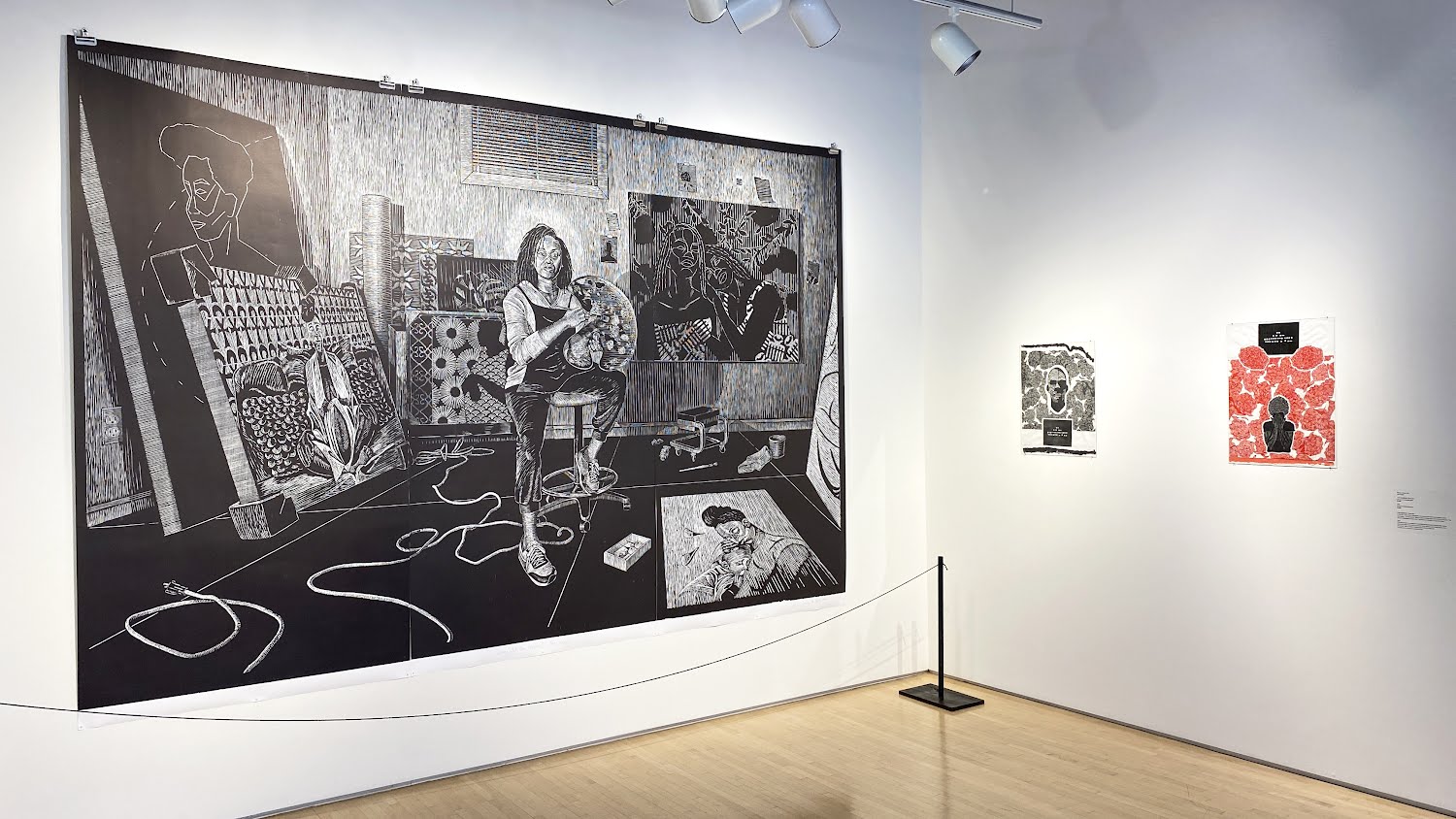 Installation view. At left: Latoya M. Hobbs, The Studio, Carving Out Time: Scene 5, woodcut, 2021. At right: Karen J. Revis, I AM SOMEBODY: Black Man and 2020, both linocuts on handmade paper, 2021. Photo by Russ White.
By Latoya M. Hobbs, Carving Out Time is a 96" x 114" woodcut, composed of five scenes that bestow an explicit interpretation of Black motherhood. Hobbs, a mother and working artist herself, is center, encircled by her own works in various stages of completion, each work a depiction of relationship: a child embraced by a mother, a woman resting her head on another's shoulder, a cross-legged woman cradling her pregnant belly. Subtly imbued in the piece are Adinkra symbols, Ghanaian cultural markings that signify different values and spiritual concepts. Among those etched, duafe, a wooden comb signifying beauty, cleanliness and feminine qualities, and sankofa, taking the form of a heart, symbolizing to "go back and get it," or learning from the past. Hobbs' piece is magnificently intricate, lending itself to the physicality of tree rings, with each line distinctly visible and possessing both a literal and emotive weight from its engraving.
In other traditions, printmakers Stephanie Santana and Ann Johnson employ the use of fabric and alternative materials. "I break all of the traditional 'printmaking rules,'" says Johnson. "I do not print on paper. I take pride in pushing the boundaries of my medium." Her "Auction Block Series," made up of the pieces Octoroon and Chattel examine the narrative of enslavement, moveable property, powerlessness, abuse, and trauma. Both pieces are images of Black women printed onto raw cotton, their gaze shrouded by the wispy white tufts of the plant. Santana's Reclamation is a quilted textile that features an image of the artist's grandmother, repeated six times in a visual incantation. "Photographic images are set against a backdrop of haint blue, known for its use in homes through the American south as a way to ward off unwanted spirits," says Santana. "Making the work is a process of healing and discovery: it allows me to reflect upon my own lived experiences and those of my ancestors, and connect them by creating a visual record."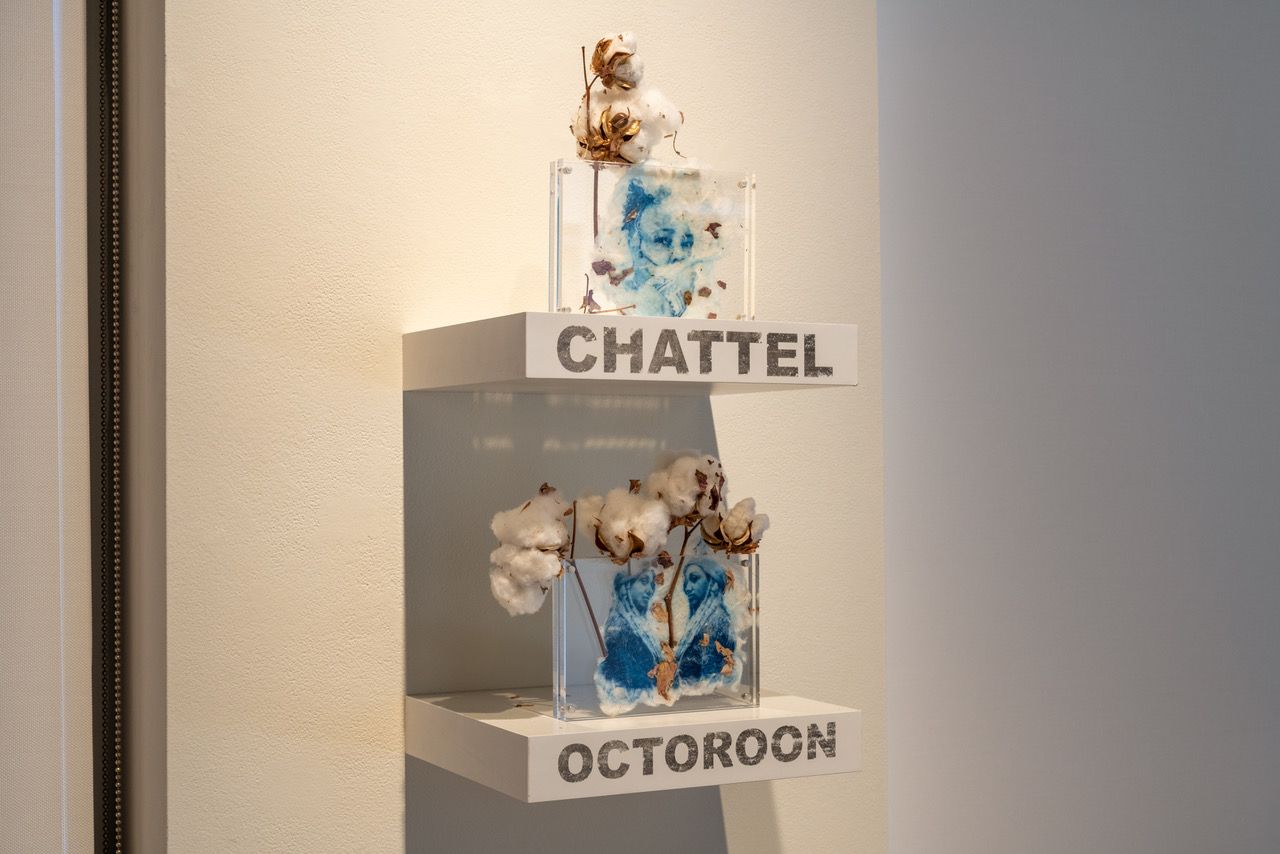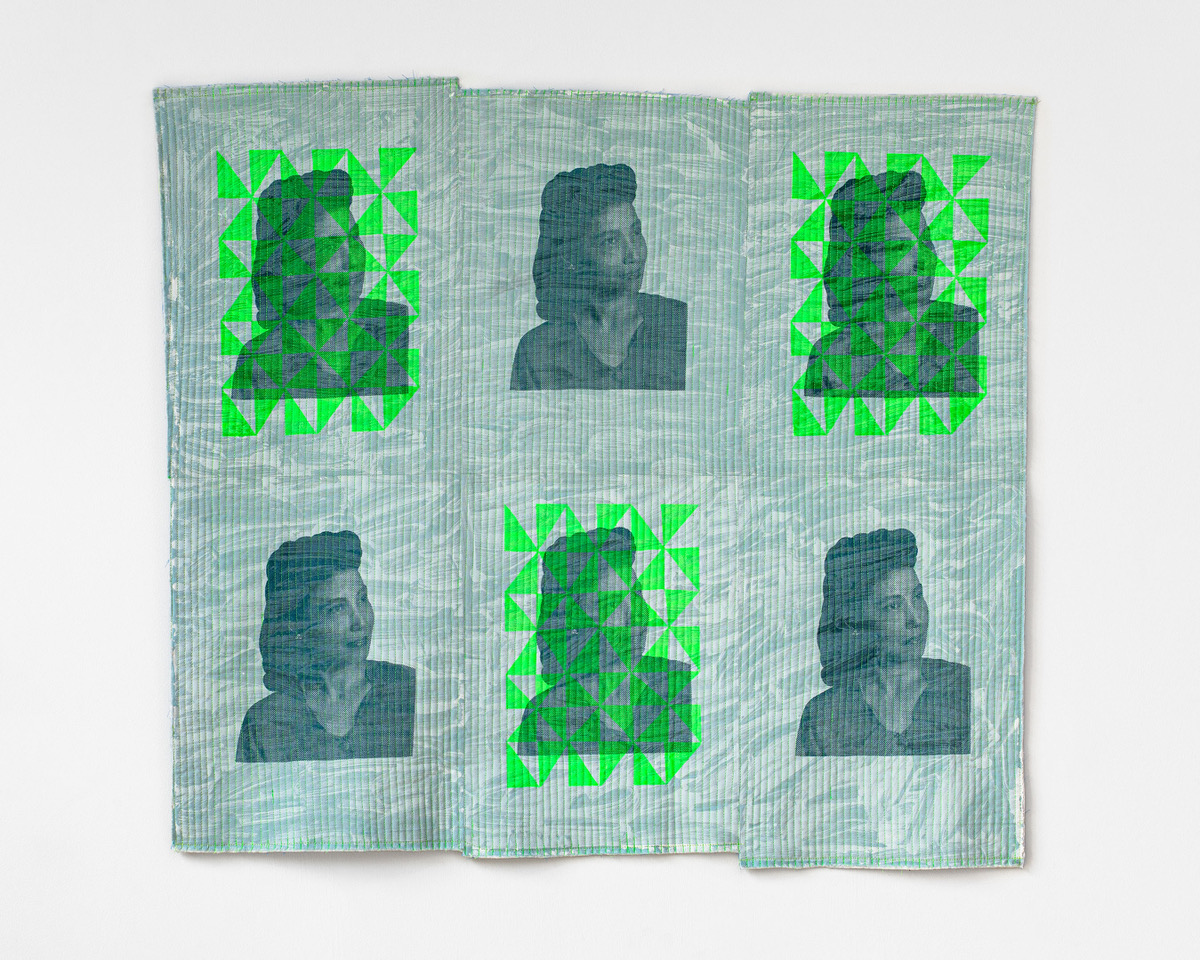 Top: Ann Johnson, Chattel & Octoroon, from the Auction Block Series, intaglio on raw cotton, 2021. Installation photo by Seth Dahlseid. Bottom: Stephanie Santana; Reclamation; screenprint, monotype, cotton textile and batting, machine quilting; 2021. Images courtesy of Highpoint Center for Printmaking.
The works of these twelve artists are connected not only by shared identity, but by the ways in which their printmaking techniques conceptualize, evolve, explore, and preserve the art form. "My lived experience as a Black woman printmaker in the 21st century is reflected in the process of printmaking itself," says Paula Wilson. "I am dyslexic, and printmaking's inverted process was a natural fit for me." Her print, Mooning, is a reverent yet cheekily playful repeating pattern of butts. Or, as described, "two heavenly bodies, the crescent moon and the human ass, exist[ing] as one… a testament to our crude divinity."
I left Highpoint feeling partially like I wasted the experience of the Free Ink workshop being a sulky teenager. But more so, I left feeling affirmed. Intrigued. Inspired. I left marveling at the abundance of our (Black women's) creativity and expression. I was left emotional, struck by the familiarity of the combs, the fractal-esque cornrows, the sight of cotton plants, wood-grain flesh, braids and barrettes, and the Blackness of it all. As Tanekeya Word says, "Stories are being told; are you listening to what Black women are saying, are you seeing what Black women are creating? If you see us, if you hear us, 'you would understand form and line and discipline and order and America*.'" ◼︎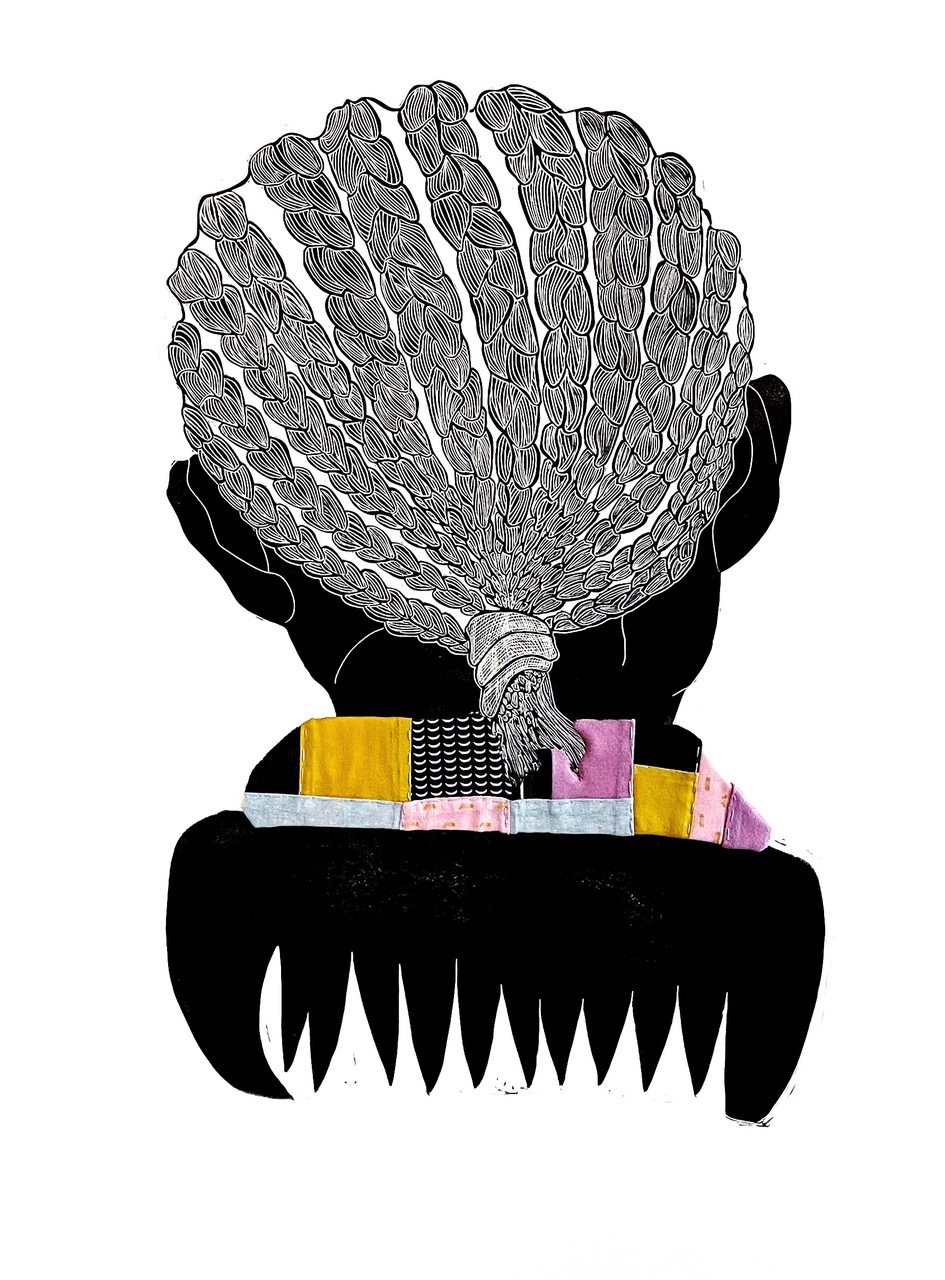 Tanekeya Word; tender: a sisterhood anthem, (B-side) fig. 006; linocut, relief ink, watercolor, ink, gouache, & hand quilting; 2021. Image courtesy of Highpoint Center for Printmaking.
A Contemporary Black Matriarchal Lineage in Printmaking is on view at Highpoint Center for Printmaking until Dec 4th. Gallery hours are Monday - Friday 10am - 4pm and Saturday 12 - 4pm. A 55-page limited edition exhibition catalogue is also available.
*Excerpt from Lucille Clifton, "study the masters," Blessing the Boats: New and Selected Poems 1988-2000, (Rochester, NY: BOA Editions, 2000), 25.
Banner image: Paula Wilson, Locks (detail), relief print.
We can't do it
without you.
Help keep independent arts journalism alive in the Twin Cities.