Lest We Forget: 'Kindertransport' at The American Swedish Institute
Posted August 2nd, 2021 by Sheila Regan
A powerful new exhibition tells the story of Jewish children fleeing Nazi Germany before the outbreak of World War II
It's not often that tears are shed during a press preview for an art exhibit, but that's exactly what happened at the American Swedish Institute prior to the opening of Kindertransport – Rescuing Children on the Brink of War.
It would be hard not to get emotional experiencing this exhibition, which tells the stories of families who had to make the heart-wrenching decision to separate after Germany's "Kristallnacht," November 9th into the 10th, 1938.
Over the course of that night — "The Night of Broken Glass" — hundreds of Jewish homes, businesses, and synagogues were destroyed by rioters from the Nazi party, and 30,000 Jewish men were arrested and put into concentration camps. The Kindertransport (German for children's transport) was a coordinated effort to provide safe haven for Jewish children, housing them in Great Britain as well as France, Belgium, the Netherlands, and Sweden. Staying in foster homes as well as hostels, schools, and farms, more than 10,000 children escaped the concentration camps, even as many of their families waited for the worst to come.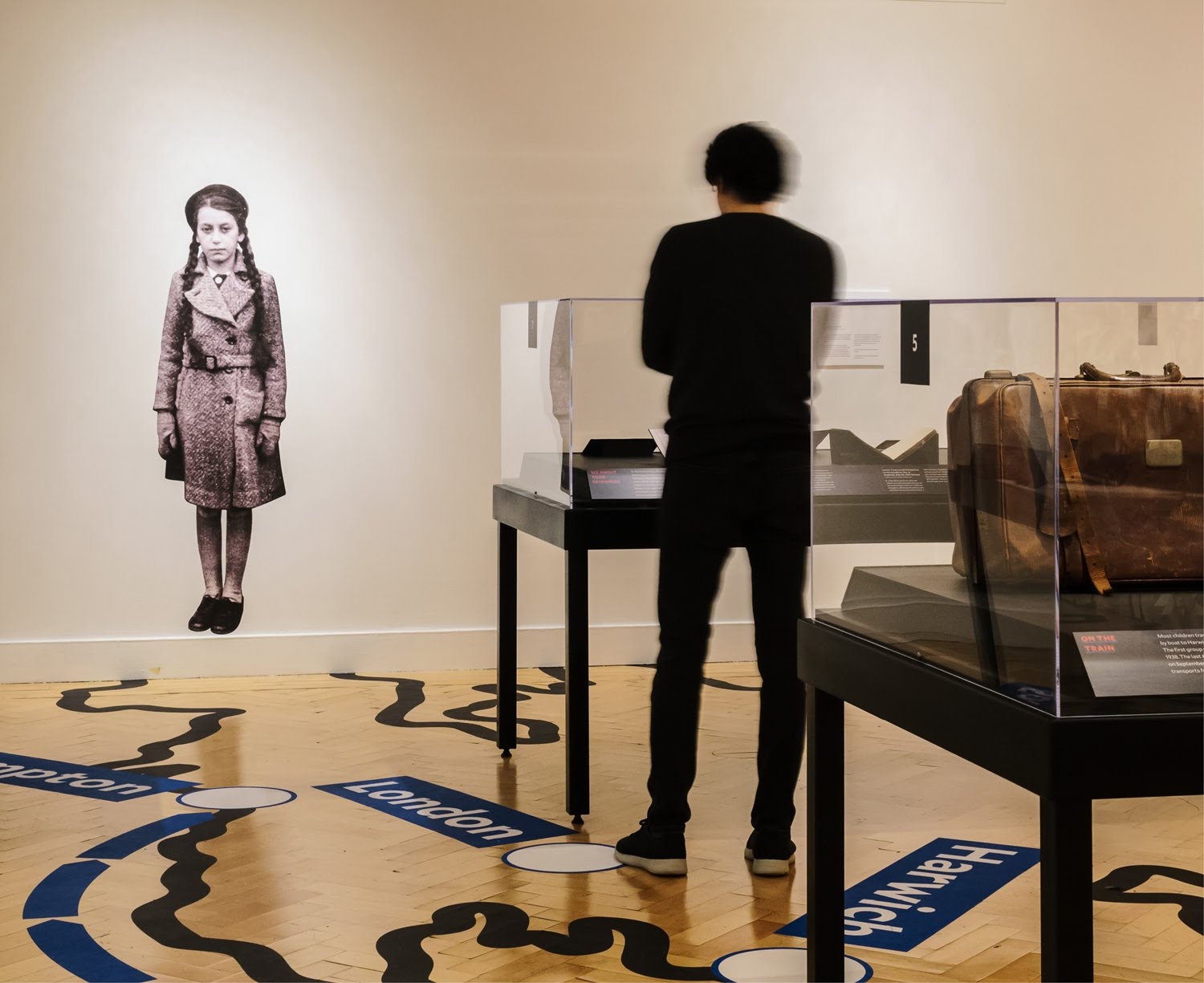 Installation view of the exhibit at the Center for Jewish History in New York. Photo by C&G Partners, courtesy of ASI.
The exhibition, on view at the Osher Gallery at ASI, was created and organized by Yeshiva University Museum and the Leo Baeck Institute- New York/Berlin, and was previously exhibited at the Center for Jewish History in New York and the Holocaust Memorial Center in Michigan.
According to Michael Simonson, archivist and director of public outreach at the Baeck Institute, the Kindertransport came to be when organizations around both Germany and Austria, as well as other countries, began to work together. In England, one organization called the Movement for the Care of Children from Germany and Austria, took about 10,000 children, waiving the normal visa requirements and immigration limits. Other countries took fewer, and Sweden took about 500.
But they didn't take adults. "The world for the most part was very anti-immigrant," Simonson says. "And it was anti-semitic, and no one wanted the Jewish refugees in their countries." The United States, for instance, did not participate in the effort. A Congressional bill was introduced in early 1939 to bring 20,000 children, but it was never brought to a vote.
The exhibition is made up of historical objects, photographs, letters, diary entries, and other ephemera that illuminate the excruciating experience the families went through. You read letters from anxious parents inquiring about how their children are faring in school, even as they manage to suppress their fears about their own safety.
"When you come to good people, who will raise you on our behalf and look after you, try to give your best," one letter states. "Always take care of your little sister Linda and stick together wherever you may be. Do not forget your Jewish roots."
On one wall of the Osher are hundreds of identification tag replicas, representing the thousands of children that made it out of Germany. Thinking about all those children — many who never saw their parents again, is a painful illustration, beautifully executed.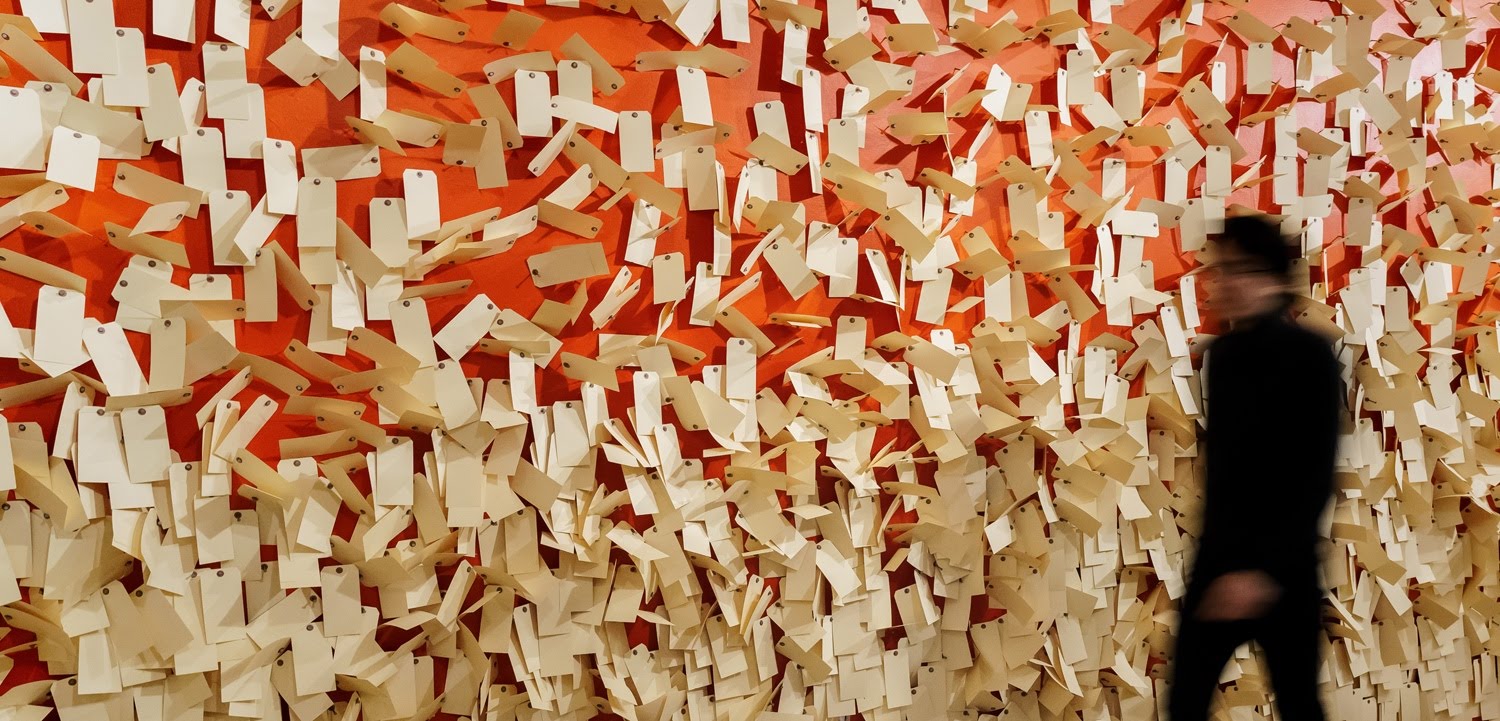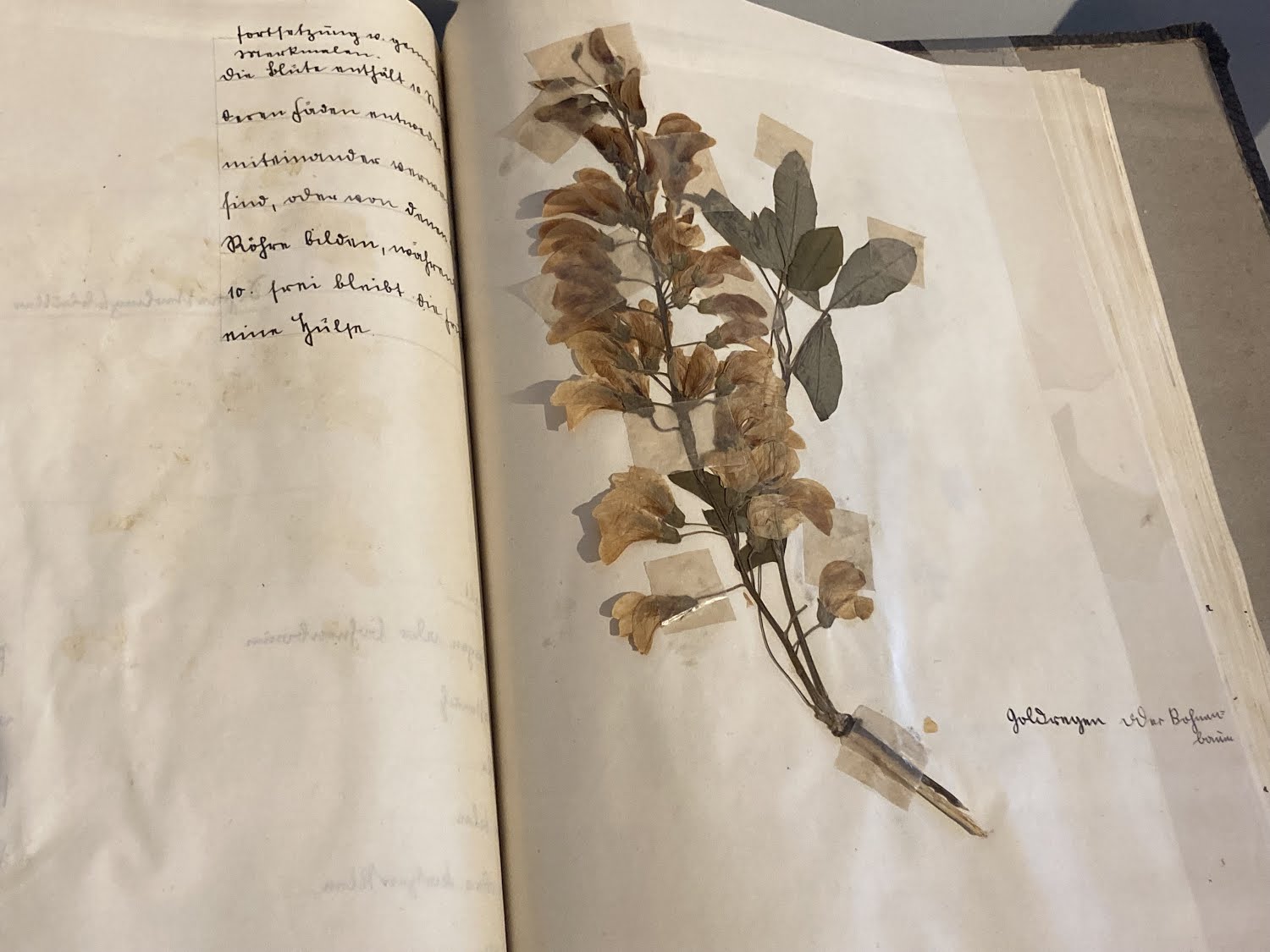 Top: Installation view of ID tag replicas. Photo by C&G Partners, courtesy of ASI. Bottom: Pressed flowers among Benno Black's childhood belongings. Photo by Sheila Regan.
Erin Stromgren, the exhibitions manager at ASI, got tearful as she described opening a suitcase full of memories and keepsakes owned by Benno Black, who left on the Kindertransport away from Germany to the safety of the United Kingdom in 1939. Inside the suitcase was a book of pressed flowers Black had collected with his mother. Next to each pressed flower, you can see her gentle handwriting describing the plant.
Black settled in Minnesota, where he and his family live to this day. Also highlighted in the Turnblad Mansion are the stories of Kurt Moses, who was 11 when he and his younger brother left their small farm in Tütz, Germany to find shelter in La Guette, France, as well as Siegfried Lindenbaum, who was only 9 when he and his brother escaped the small town of Unna, Germany.
Beth Gendler, Lindenbaum's daughter, says for much of her life, her father never talked about what had happened to him. Lindenbaum died in 1993, before the rise of social media and other tools he might have used to share his story with the world, Gendler says. "In fact he never spoke about it at all. We sort of had an inkling of what had happened growing up. He never spoke publicly until he attended a reunion of survivors 50 years later, which is about two years before he died ." After her father attended the reunion, he did a lot of writing and processing, she says. "It's such an honor to be able to share the story."
Besides the stories of the three Minnesotans who left on the Kindertransport, the exhibition in the Turnblad also includes illustrations by Swedish illustrator Stina Wirsén, of a book called The Story of Bodri about the Holocaust, by Hédi Fried. ◼︎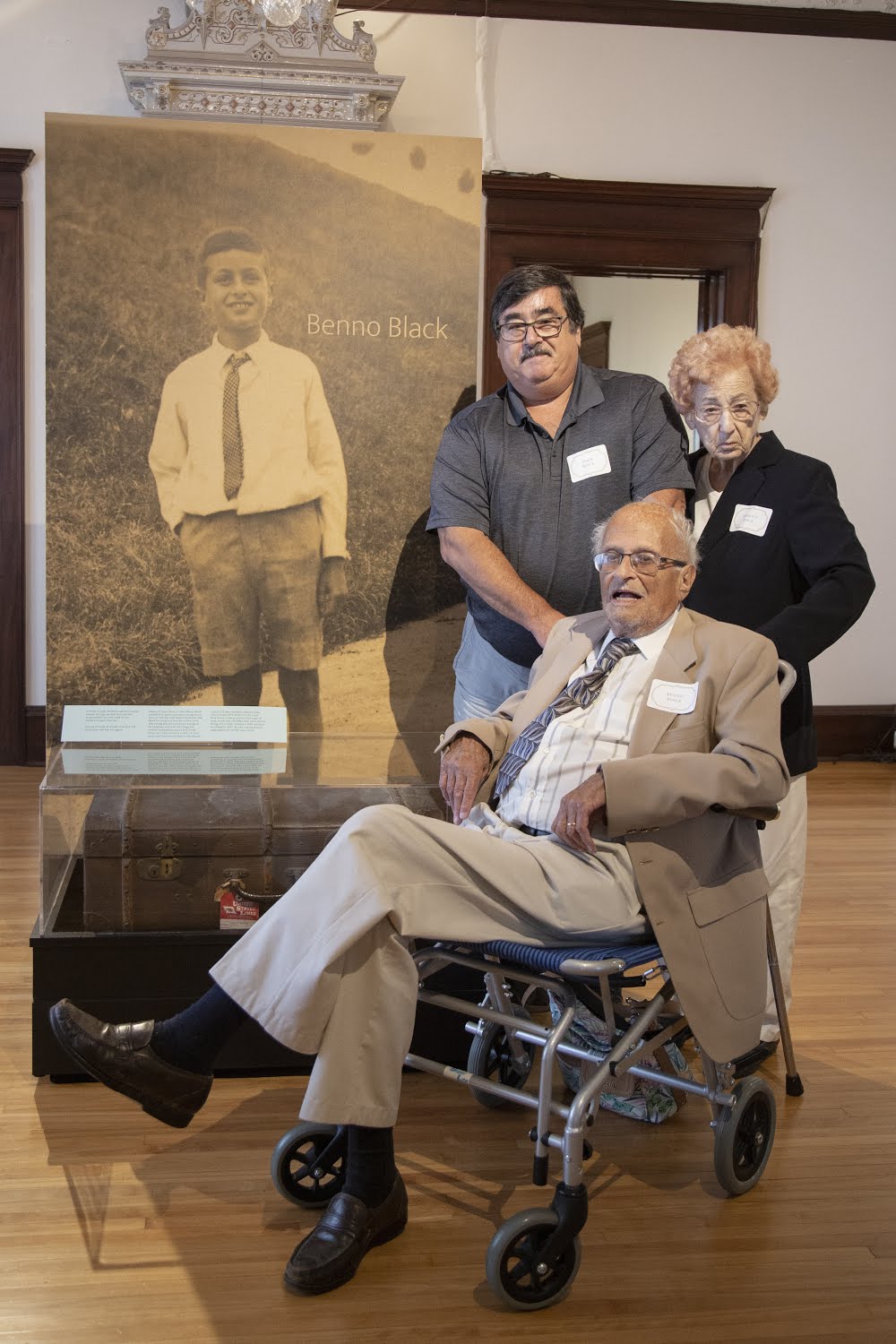 A reminder that this wasn't so very long ago. Benno Black at the exhibition with his family, which now calls Minnesota home. Photo by Jon Dahlin, courtesy of ASI.
Kindertransport – Rescuing Children on the Brink of War runs through October 31 at the American Swedish Institute. There will be several exhibition tours and talks, some given by descendants of the children who escaped. Check ASImn.org for details.
ASI is located at 2600 Park Avenue, Minneapolis. Museum Admission: $12 adults, $8 seniors ages 62 +, $6 ages 6–18 and full-time students with ID. Free for ASI members and children ages 5 and under.
The ASI Museum, Museum Store, and FIKA Café hours are Thursday 10 a.m. to 8 p.m. and Friday through Sunday, 10 a.m. to 4 p.m. For more information and to purchase tickets, visit www.ASImn.org or call 612-871-4907.
Banner image: a map of kindertransport routes across Europe to Great Britain. Photo by C&G Partners, courtesy of ASI.
We can't do it
without you.
Help keep independent arts journalism alive in the Twin Cities.