Art at the Fair: What to see at the Great Minnesota I Don't Know If It's A Good Idea To Get Together
Posted August 25th, 2021 by Russ White
A quick and cautious guide to finding art at the Minnesota State Fair, August 26 - September 6
The year was 2019. The Before times. The State Fair was in full swing, signaling the end of summer with one last long bacchanal of deep fried, sunburnt delight. After a few years in a row of leaving grumpy — staying too long and paying too much — my wife and I had a strategy, and I share it with you now because it holds up in Plague times, too: Go early. If possible, go early on a weekday.
It's a contentious affair, since Fair organizers have thrown out all precautions short of a "strong urging" for masks. It's a reckless calculation on their part, as requiring proof of vaccination or a negative COVID test has kept recent festivals like Lollapalooza from being super-spreader events (although it was responsible for over 200 cases). If you're thinking about going, you've hopefully already performed your own personal calculus around the risks to you and those around you of wading into the sweaty throngs of your fellow mouthbreathing countrymen. It's a lot to consider, although the science behind vaccines, masks, social distancing, and outdoor activities are all in our favor. Whether you want to reward the Fair's lack of leadership with your dollars is another matter.
For those who choose to attend, perhaps our strategy from 2019 will help: we started at 8:30am, with a corndog for breakfast and a beer flight as soon as they opened. 10/10 highly recommend, and no waiting in line! Next stop was the Fine Arts show, and we had the whole place practically to ourselves. After that we meandered across the entire fairgrounds, ate some bites and met some goats, and by noon — just as the streets were growing thick with humanity — we were on our way back to the car. Social distancing was key, even then.
Just like the vaccines, it's not foolproof. If you do go this year, dear traveler, I wish you godspeed and safe air, and I hope you'll make a point of seeking out some art. And, it shouldn't have to be said (for multiple reasons), but wear your dang mask! Certainly when you're indoors! And if you haven't gotten vaccinated, hit up the North End Event Center first and get it for freeeeeeeee. Please. Seriously, Jesus Christ. They'll give you $100.
Okay, everybody grab yourself a whole-ass bucket of cookies and let's either do this thing or at least see what we're missing: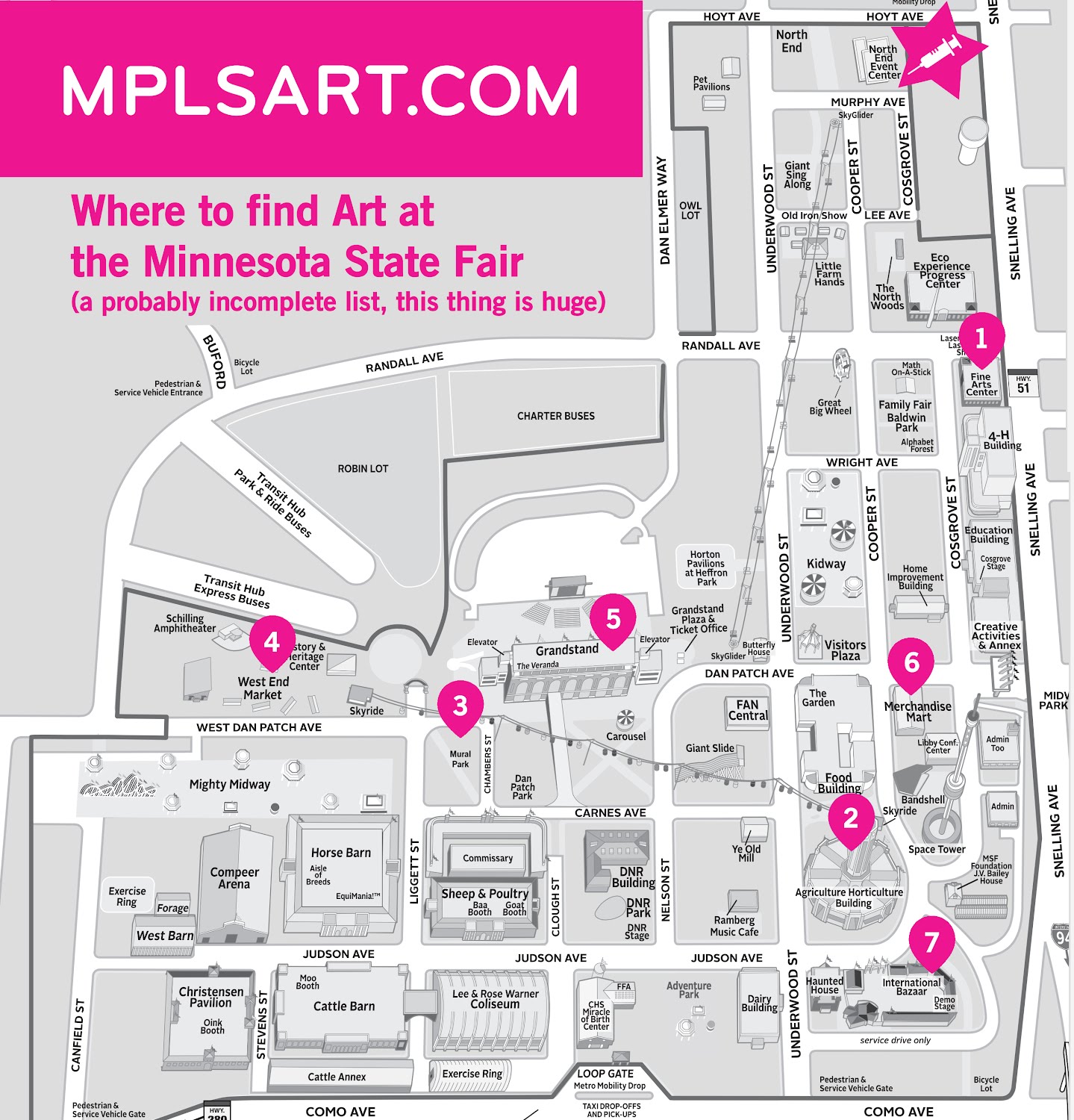 1. The Fine Arts Building
Way up on the East end, at Cosgrove and Randall, is the crown jewel of the State Fair art experience: the Fine Arts Building, with its annual state-wide Fine Arts Competition. It can feel like a proper cattle call in there when it's busy, caught in a current of people shuffling steadily past all 321 works of art. Going early will give you some space to really take it in.
As always, the show this year is like speed-dating the entire state, exhausting and exhilarating. It's a wild mix of media and content, spanning everything from recent political histories to deep cultural traditions. The sheer breadth and volume of image-makers in this state is staggering, even with just a fraction of them all in the same room. It's a microcosm of the Fair itself: bringing people from all different backgrounds together to peek into each other's lives. Rural folks get to see some weirdo art; city slickers get to walk through the barns.
"We hope to curate an experience that nurtures a desire to seek out other arts experiences throughout the year, that this show is a gateway," says Jim Clark, the Fine Arts Building's superintendent.
Both photography and figurative painting loom large in this exhibition, which makes the deviations from that norm all the more memorable. It's always interesting to see which pieces stick in your mind once you exit the building. For those staying home, the full show is online here.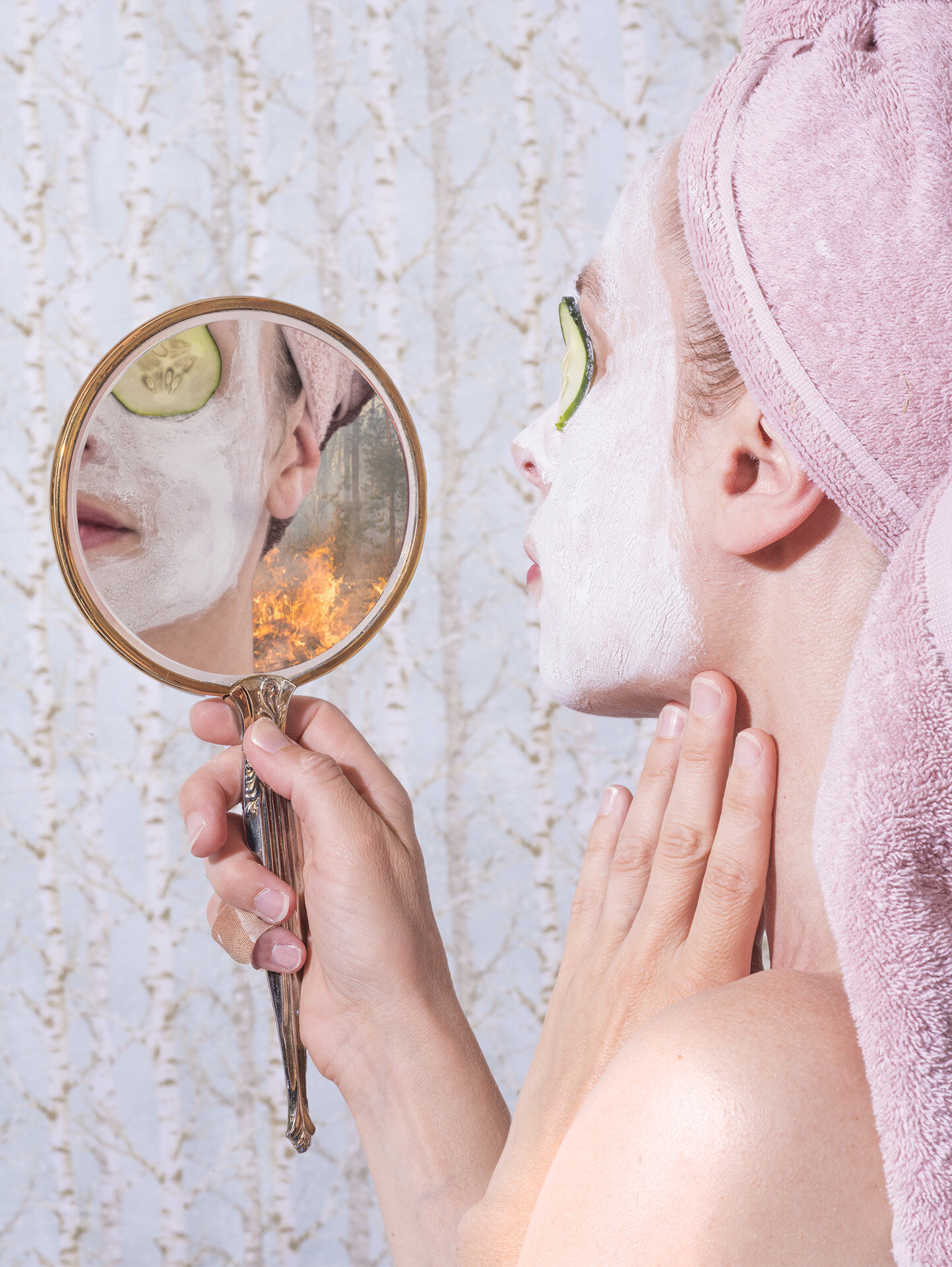 Areca Roe (Mankato), Self Care, archival pigment print. Image courtesy of the artist's website.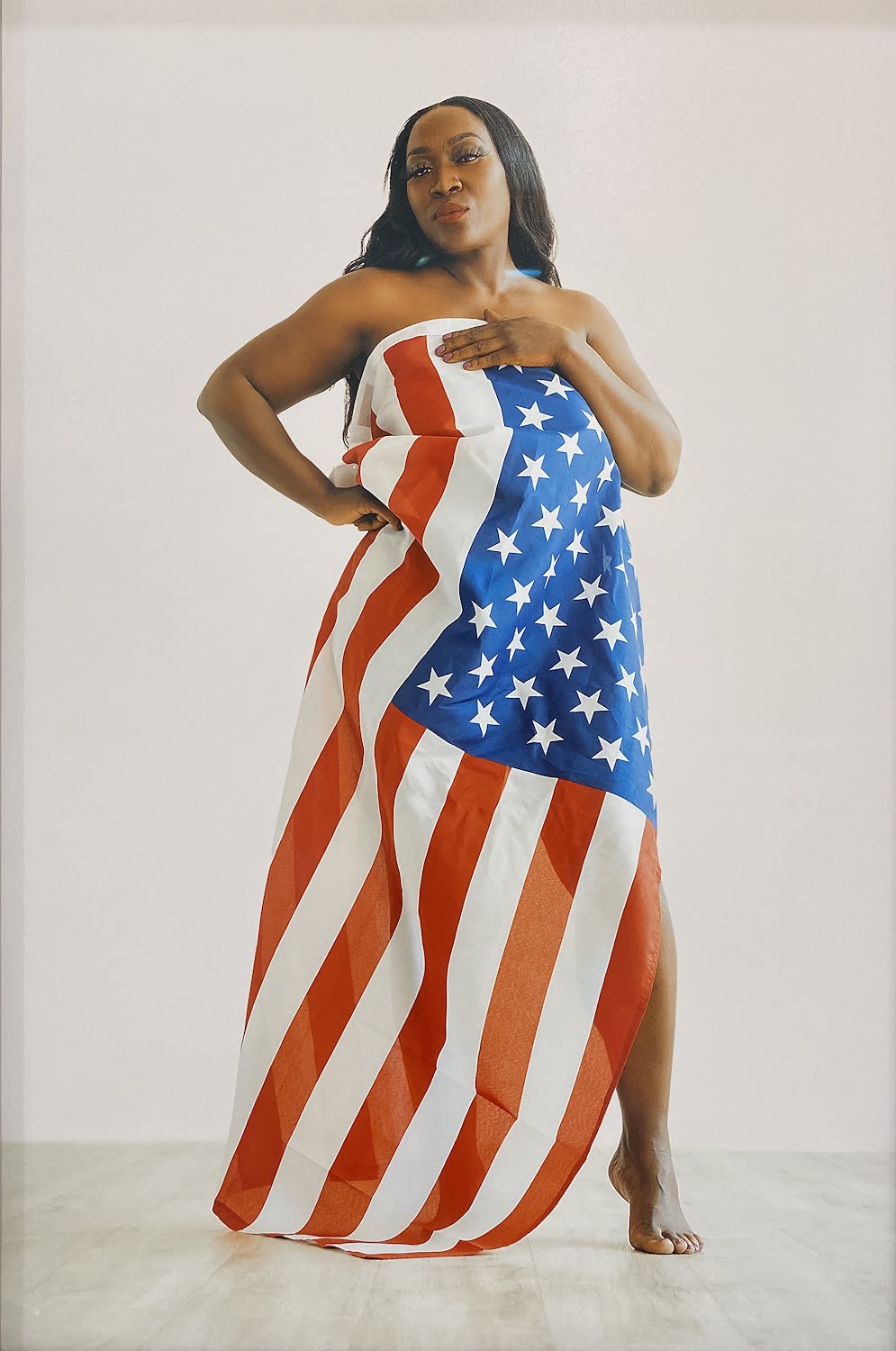 Darius O Holmes (Eden Prairie), Freedom Is A Mindset, July 4th 2021, digital print.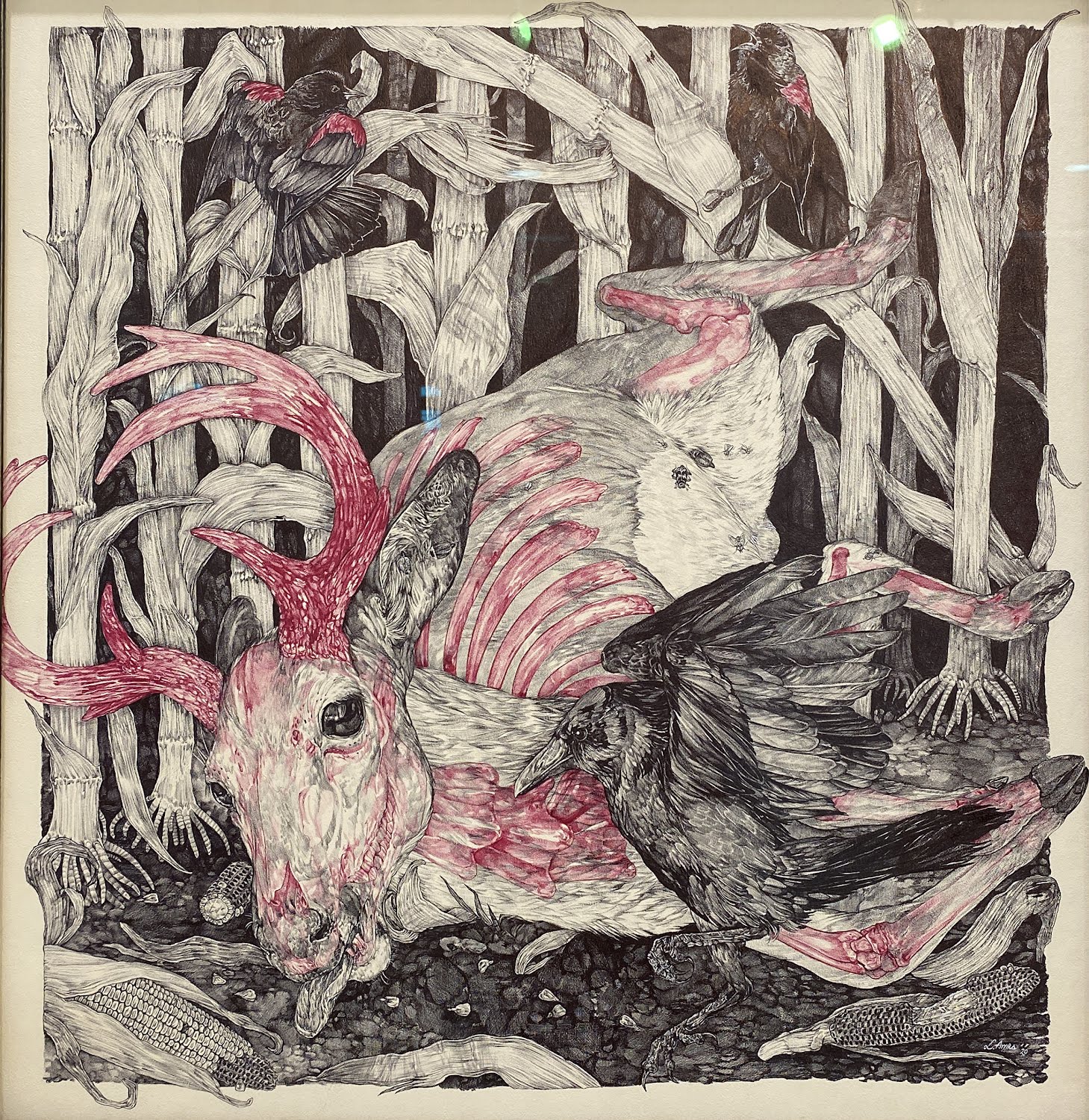 Lexi B Ames (Saint Paul), Huskers, ballpoint pen.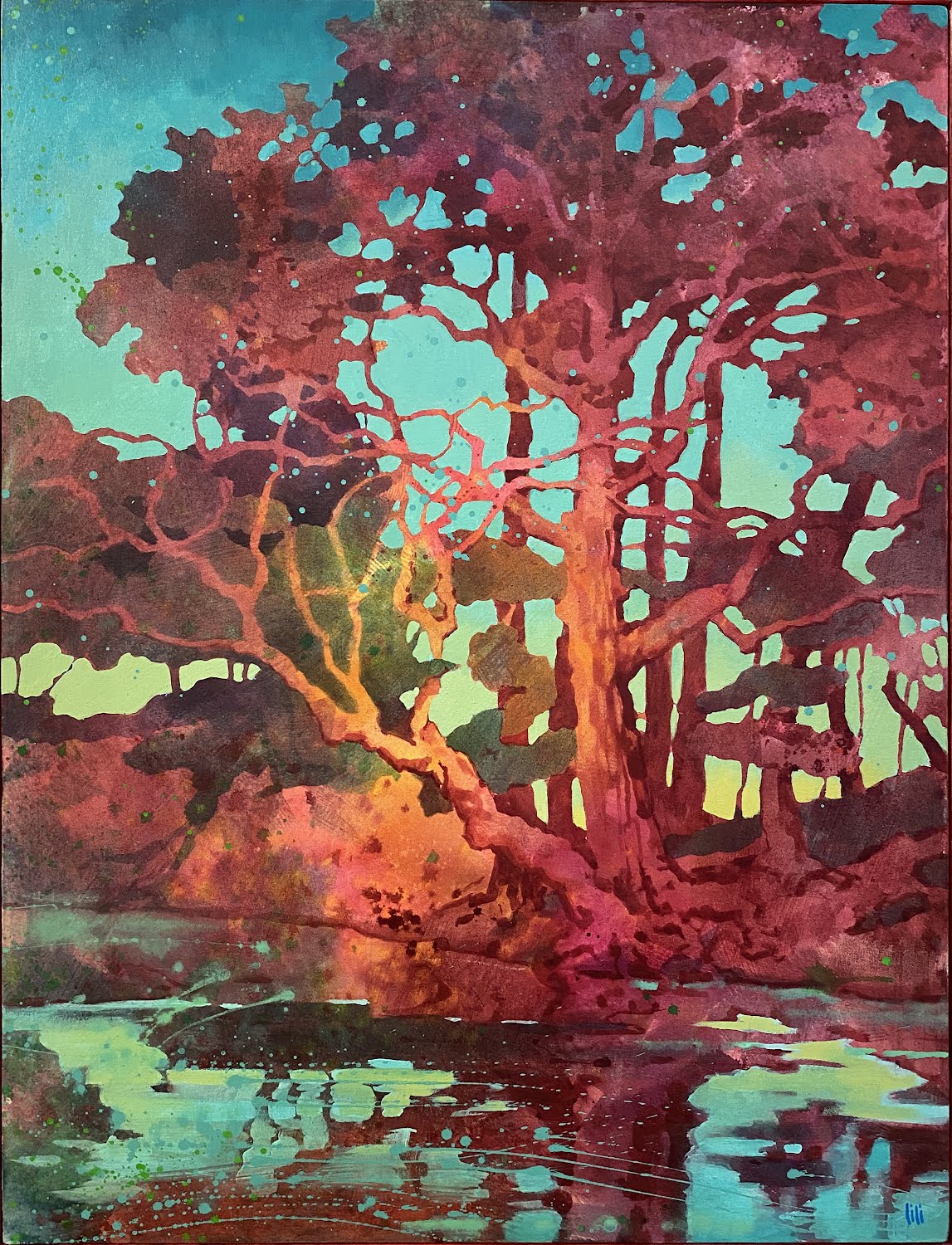 Liliana Lennox (Robbinsdale), Study of Norma Bassett Hall, in Magenta, acrylic on muslin.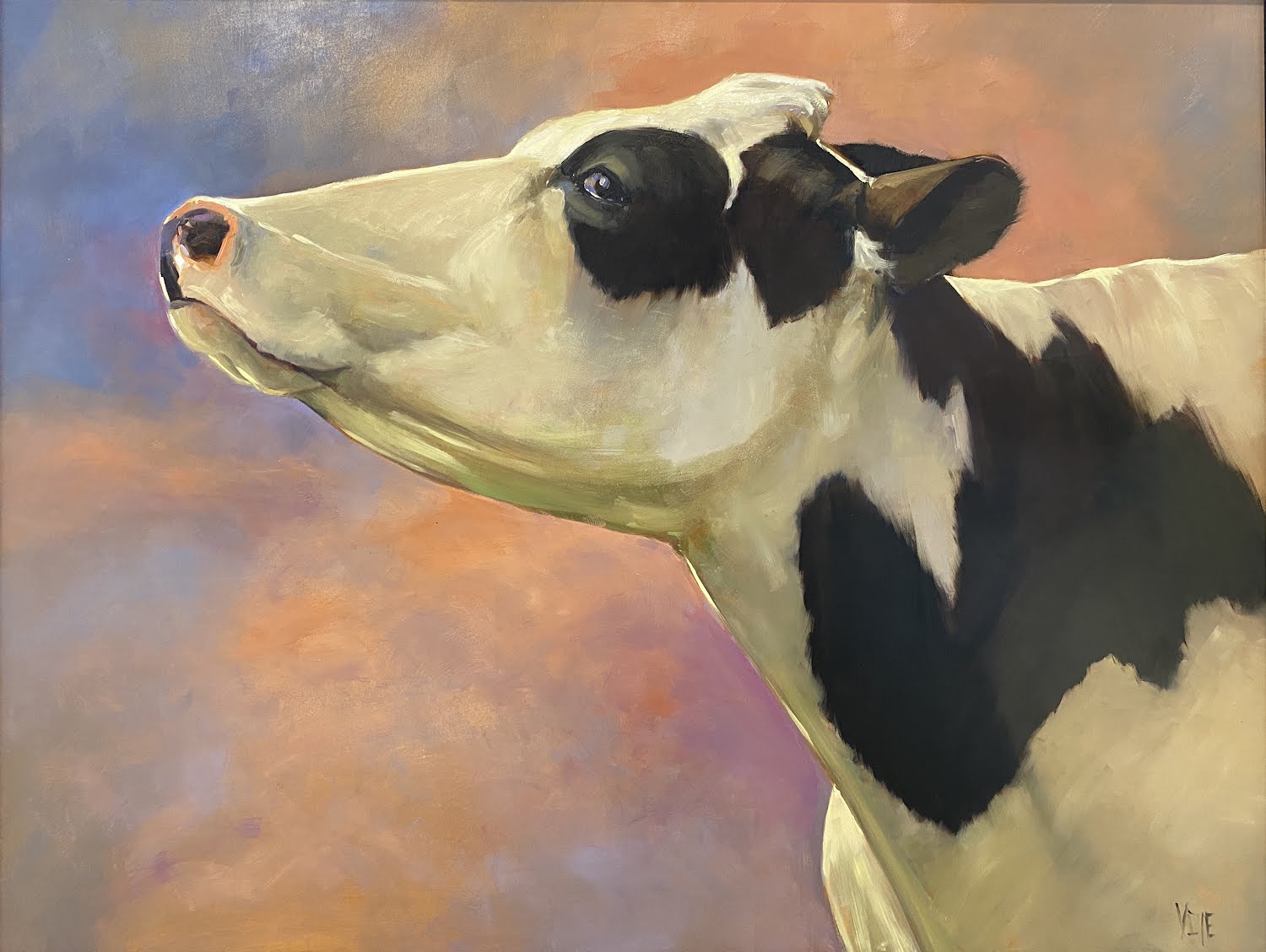 Patty A Voje (Saint Paul), Dairy Queen, oil on board.
Studio:HERE
Also in the Fine Arts Building is the Studio:HERE residency program, featuring a different artist every day turning a corner of the exhibition space into their own personal art studio. Expect painting, ceramics, fiber art, printmaking, and more. Alyssa Baguss has set up a Minnesota Artists Penny Press, with which you can hand-crank a design from one of four local artists into crushed coins, and Andy Sturdevant will turn the studio into his office, so you can watch him lay out books for his publishing imprint and even go on a Zoom call with a collaborator. See, artists aren't so different from the rest of us. Full schedule of artists is:
8/26: Arden Harrison-Bushnell, fiber/embroidery/bead artist • 8/27: Mike Smieja, potter • 8/28: Joshua Bindewald, printmaker • 8/29: April Malphurs, sculptor/glass artist • 8/30: Blair Treuer, fiber artist • 8/31: Niccu Tafarrodi, diorama artist • 9/1: Kristine Heykants, photographer • 9/2: Andy Sturdevant, artist book publisher/writer • 9/3: Scott Krohn, scratchboard/colored pencil artist • 9/4: Christopher Harrison, painting/drawing/sculpture artist • 9/5: Alyssa Baguss, though her Penny Press is active every day • 9/6: Kordula Coleman, ceramicist
---
2. Crop Art
A quintessential State Fair tradition, the crop art is always a blast. Expect a big wall of mostly small works, painstakingly assembled using a variety of seeds and glue, often taking the form of hilarious political commentary or equally hilarious celebrity portraiture. It's inside, and there's often a line, so it's your call whether it's worth the risk to see if the seed is mightier than the sword.
---

3. Joyful World Mural Park
A new attraction this year, the Joyful World Mural Park is further west, just past the Grandstand. Produced by the State Fair in partnership with Forecast Public Art, the project will feature twelve of the best muralists working in the Twin Cities today — Leslie Barlow, Jennifer Davis, Jose Dominguez, Hibaaq Ibrahim, Tom Jay, Maiya Lea, Geno Okok, Shade Pratt, Xee Reiter, Joy Spika, Kao Lee Thao, and Thomasina Topbear — creating work envisioning a better world. Artists will be on site from 11am to 3pm each day, weather permitting, though not all at one time.
Tricia Heuring, who consulted for Forecast to help curate the event, explains: "These are intended to be mini-murals, for State Fair audiences to see up close the process of painting a large-scale artwork. Across the 12 days of the Fair the murals will all be in different stages of the process, some finishing earlier and others starting later. I think that will be an interesting evolution for the audiences. Just because you are there earlier in the Fair doesn't mean you'll only see in-progress murals... It's been a rough year and a half, so the theme of the mural park is Joyful World, giving the artists an opportunity to design something that makes us all feel like better days are ahead."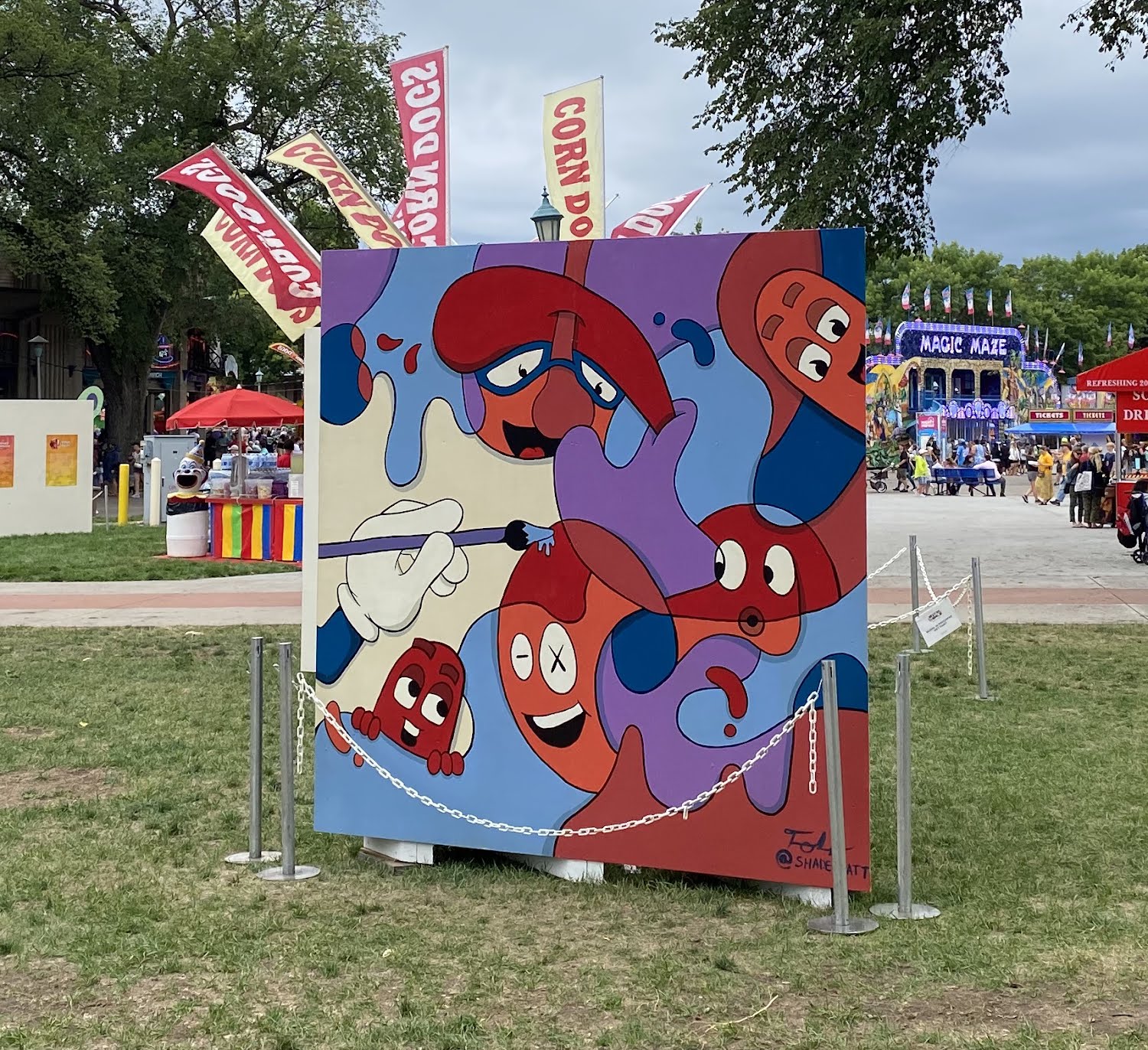 Mural by Shade Pratt (Fola). Photo by Tricia Heuring.
---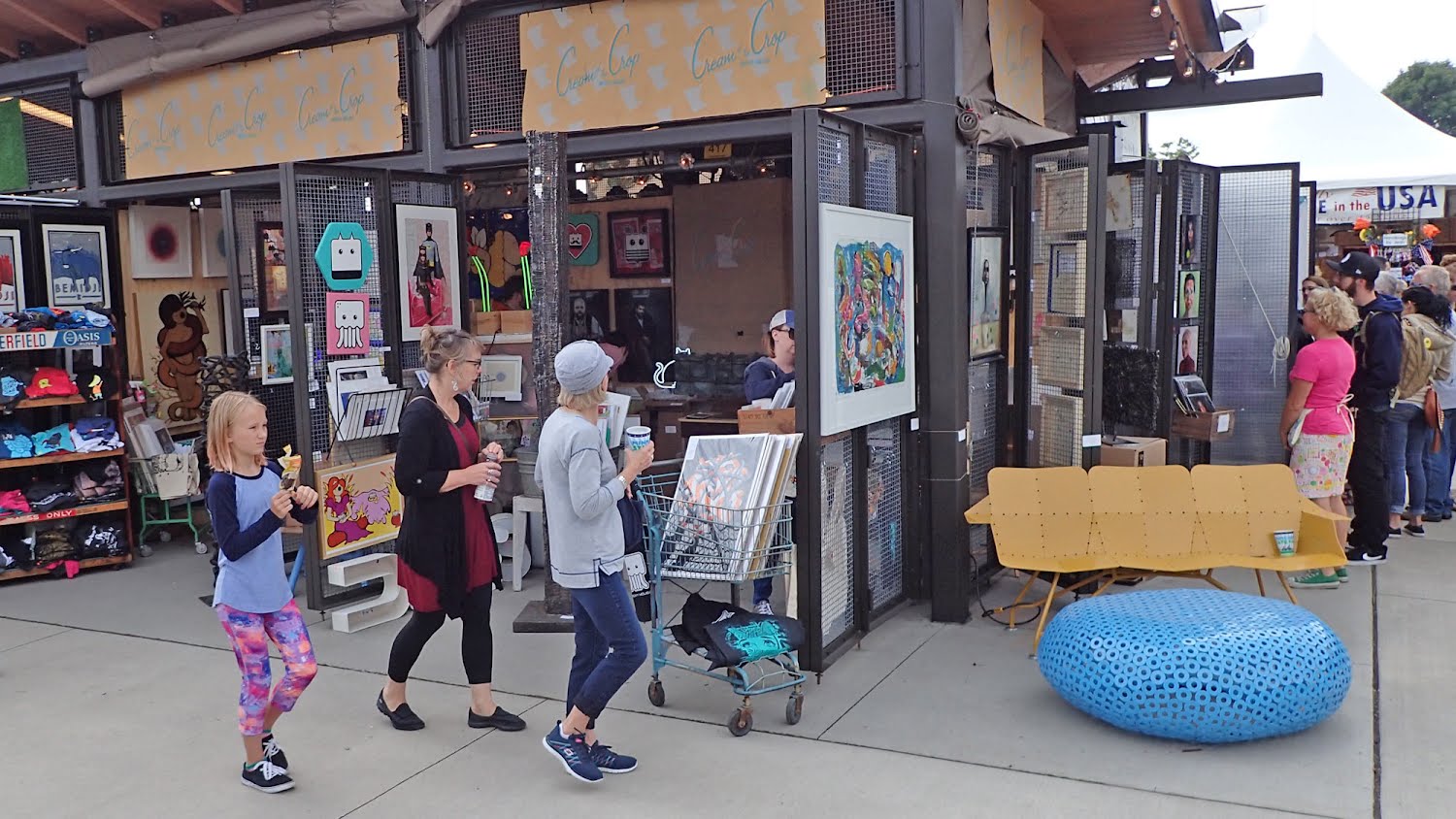 Image courtesy of mnstatefair.org.
4. Cream of the Crop Artists
Just a few steps away, in the West End (open air) Market, stop in at the Cream of the Crop Artists Gallery to do some shopping. Expect a little bit of everything: fine art paintings, sculptures, abstract and pop art, and archival and silkscreened prints, as well as t-shirts, gifts, magnets, stickers, art ties, buttons, caps, you name it. Organized and staffed entirely by artists, it's a fun, safe spot to go digging for your new favorite treasure. Organizer and artist Genie Castro says, "We are open 9-9 daily in the open air of the West End Market. Our amazing booth is fun with artists working throughout the day." Plus, she adds, "We are right by the Schell's stage!"
For those who can't make it, their shop is also fully online at creamofthecropartists.com. With all the money you saved on tickets, parking, and sticked foods, you should buy yourself some art!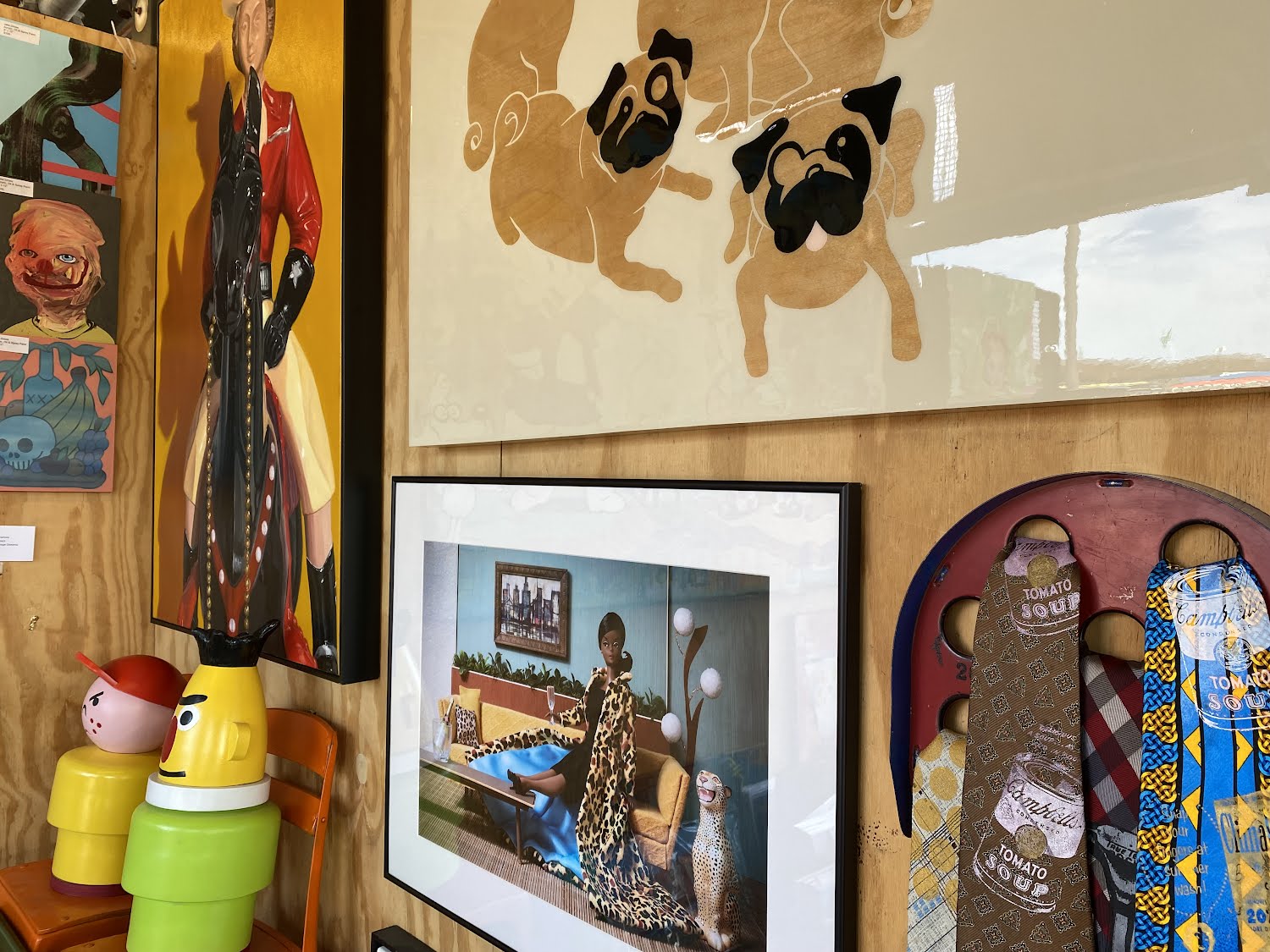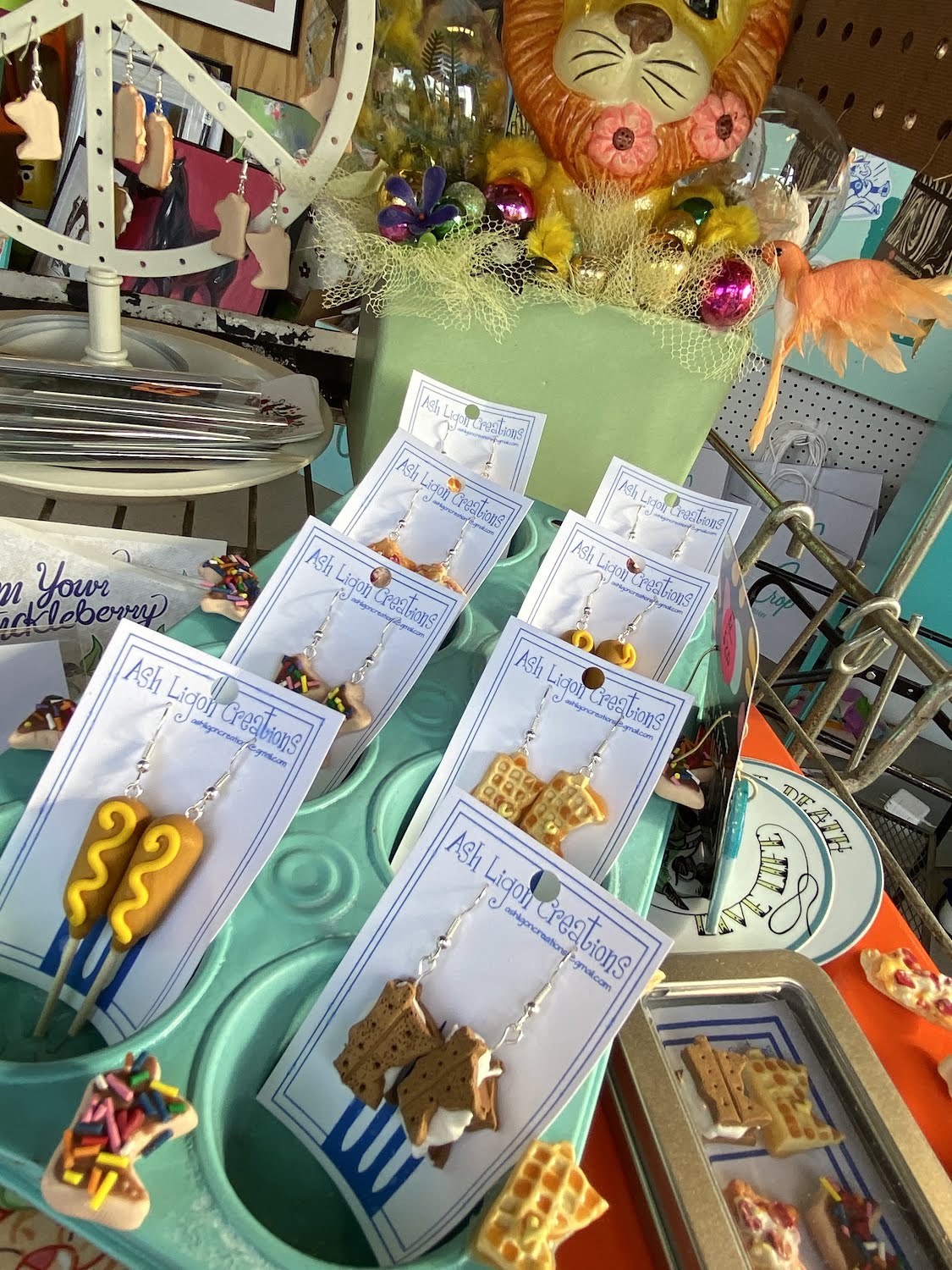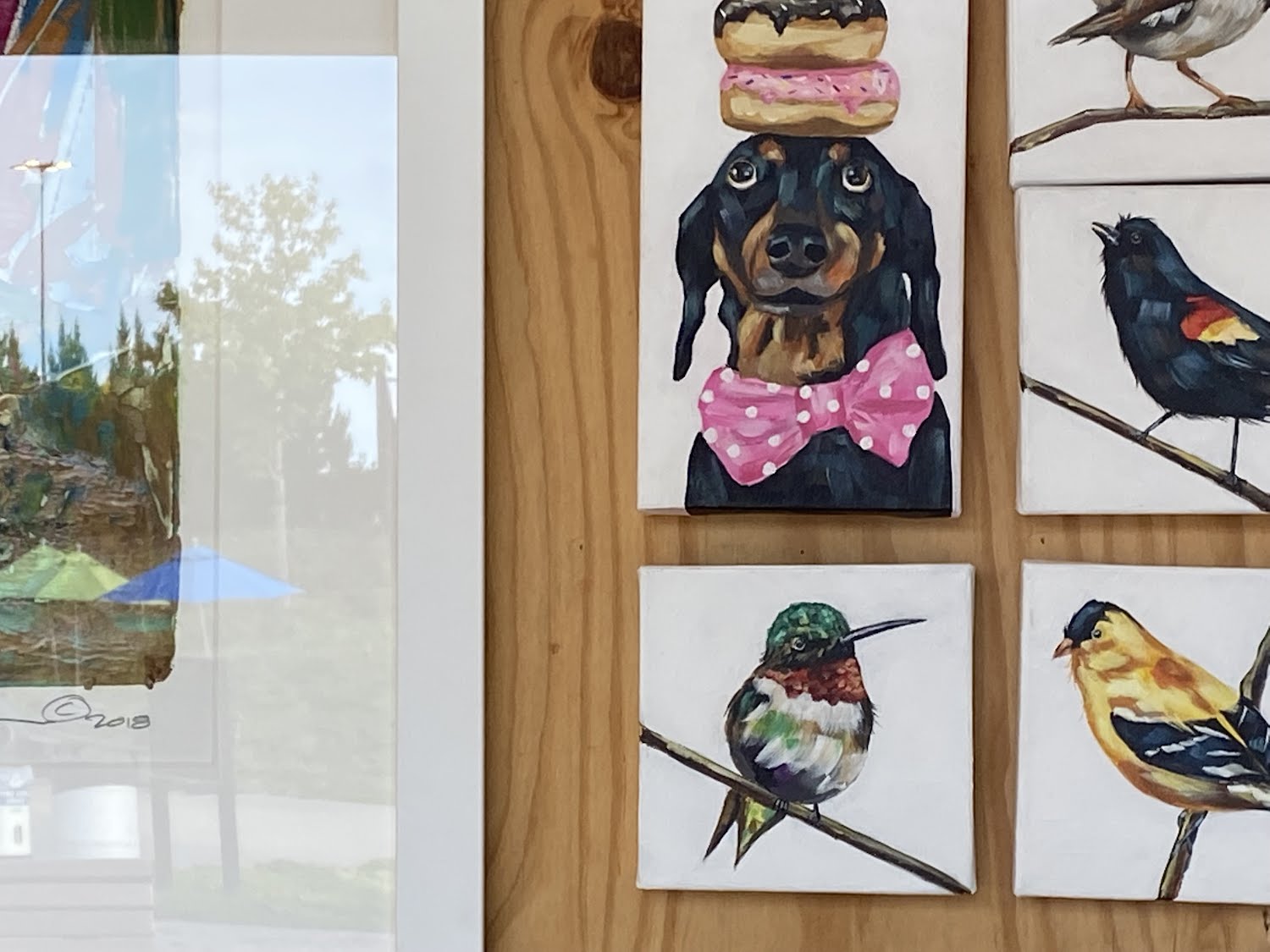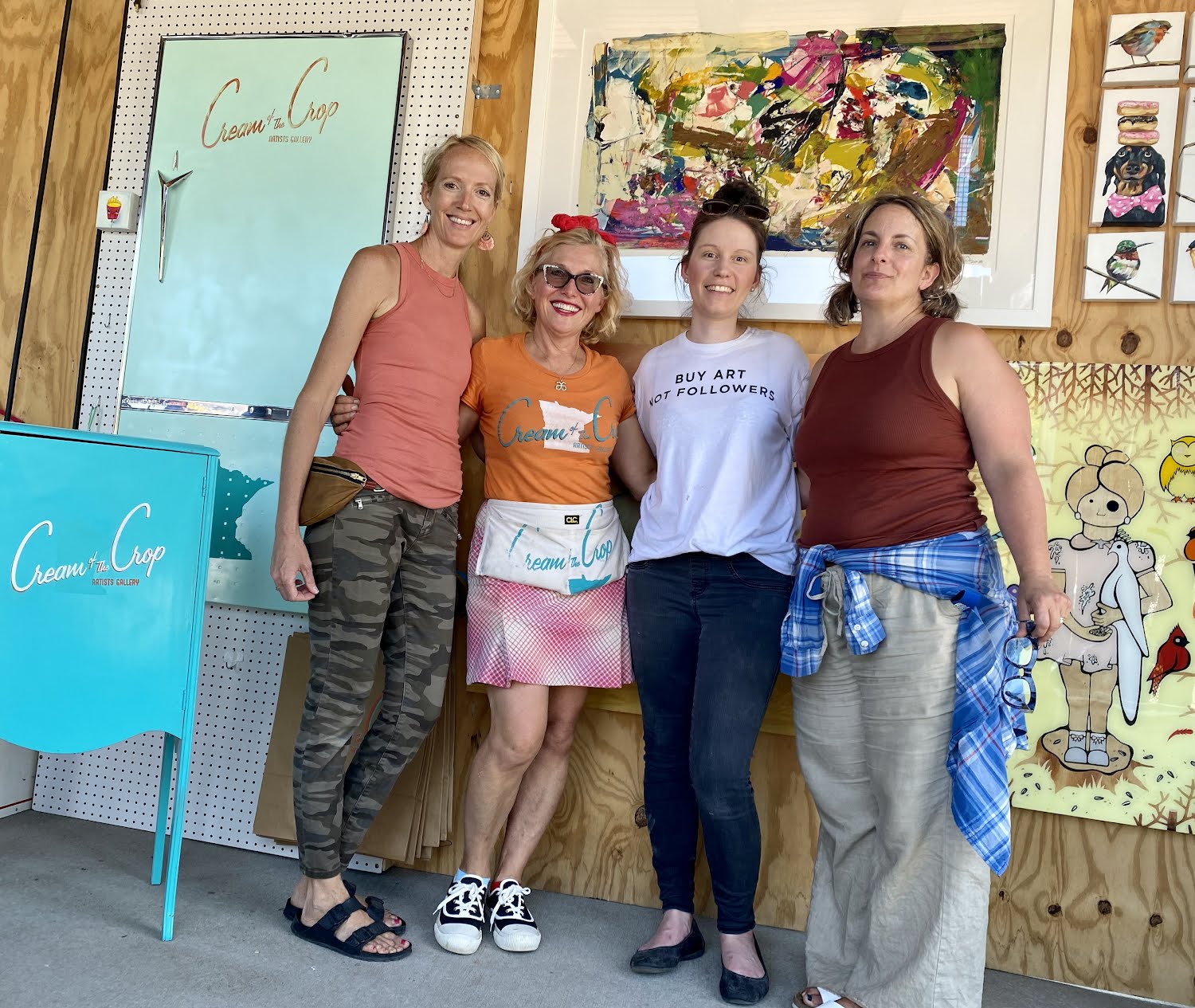 Some booth shots showing the wide variety of treasures available at Cream of the Crop Artists Gallery. Bottom: Genie Castro (second from left) with fellow artists and art-lovers in their booth at the West End Market. All photos courtesy of Genie Castro.
---
There's more art to be had — if you still have the stomach for it after all those cookies — from a variety of vendors at The Grandstand (5), the Merchandise Mart (6), and the International Bazaar (7) (which is also outside). I will leave that up to you, my friends. The sun is getting high in the sky, though, so I vote we bounce.
Be safe out there! ◼︎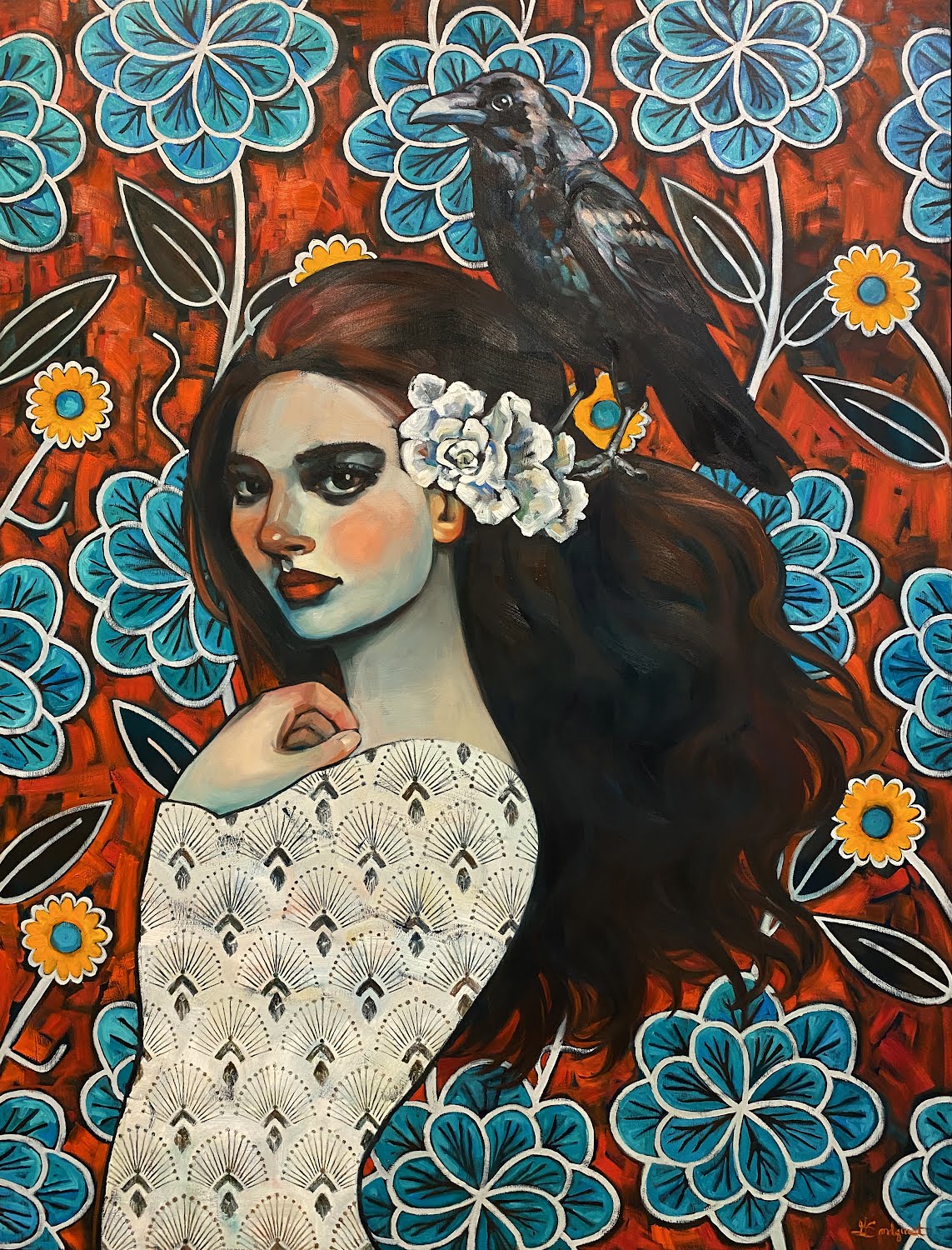 ​Greta J Sandquist (Saint Paul), Becoming Something More, oil on panel
The Fair runs from August 26th - September 6th, from 6am to midnight everyday except Labor Day, when they close at 9pm. For more info, visit mnstatefair.org.
All images are photos taken by the author unless otherwise noted. Article has been updated to include a photo of a Joyful World mural.
---
We can't do it
without you.
Help keep independent arts journalism alive in the Twin Cities.