The Brush As A Tongue: 'When Pattern Becomes Form' at Form+Content
Posted July 15th, 2021 by Sheila Regan
New works by Clarence Morgan, Stuart Nielsen, and Howard Oransky play with bright color and loose marks, while speaking abstractly to our current moment
It's too soon to be able to look at the art coming out of this time with any kind of objective distance, and yet When Pattern Becomes Form, presented at Form + Content Gallery, offers a glimpse. Three artists in the exhibition — Clarence Morgan, Stuart Nielsen, and Howard Oransky — present work that belies neat messaging or easy interpretations. The bright colors of the three bodies of work pop from these paintings, introducing a dialogue made up of patterns, shapes, and abstraction. It's as if, when the edges of our present reality are too wide to fit into clean narratives or realistic representations, then expressionist gestures, subconscious wanderings, and form ground the discourse.
Stuart Nielsen's harlequin patterned figure sits at the center of the gallery, providing a festive and perplexing image to greet visitors as they first enter. The painting hints at the movement of a figure, without explicitly outlining one. Are these the arms of a clown, or perhaps a jester doing an upside down split? The boldness of the patterns against the black background demand attention. Nielsen takes an almost mocking attitude with the work. The world, the painting seems to say, is upside down and there is no response left but to try to laugh.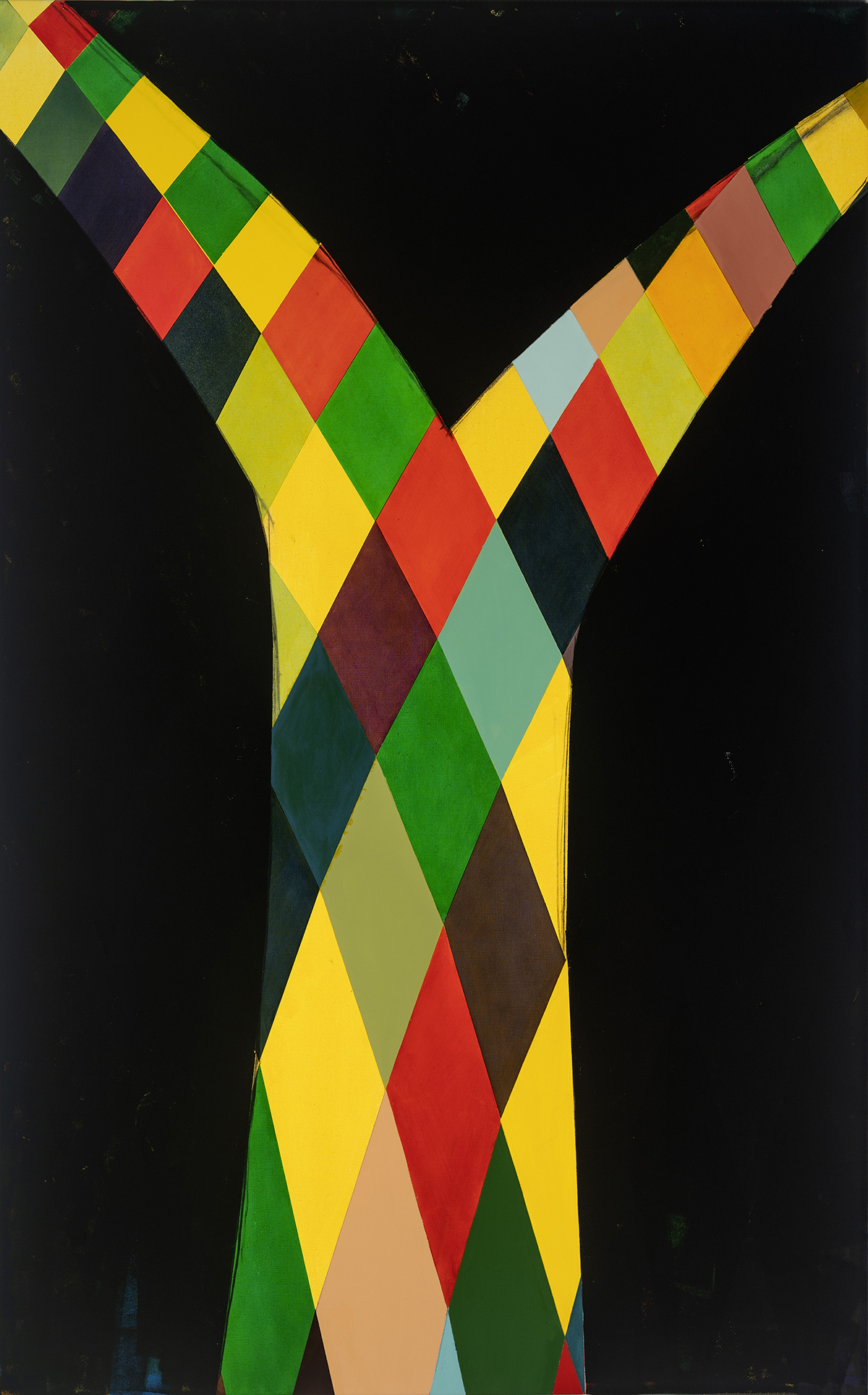 Stuart Nielsen, Brite River, oil on linen, 98 x 66", 2020
In a recent virtual artist talk, Nielsen said he was interested in the Harlequin pattern's history, both in art and also language. "It was originally a malevolent kind of character," Nielsen said, noting its association with hell in its origins in Germanic languages. "And then the Italians sort of turn it around and made it commedia dell'arte." Nielsen also mentioned he was interested in the Harlequin pattern because of its use historically as a kind of camouflage. Indeed, Nielsen's Brite River, as well as the three Brite River studies also on view, suggest an impish shape shifting.
Howard Oransky's series of oil paintings, The Body in Pieces, No. 1-3, similarly hint at the notion of a figure. "They are my idea of figures," he told me on a recent visit. The lightness of his brushstroke, smearing against the canvas in circular motion, summon the impulse of dancing.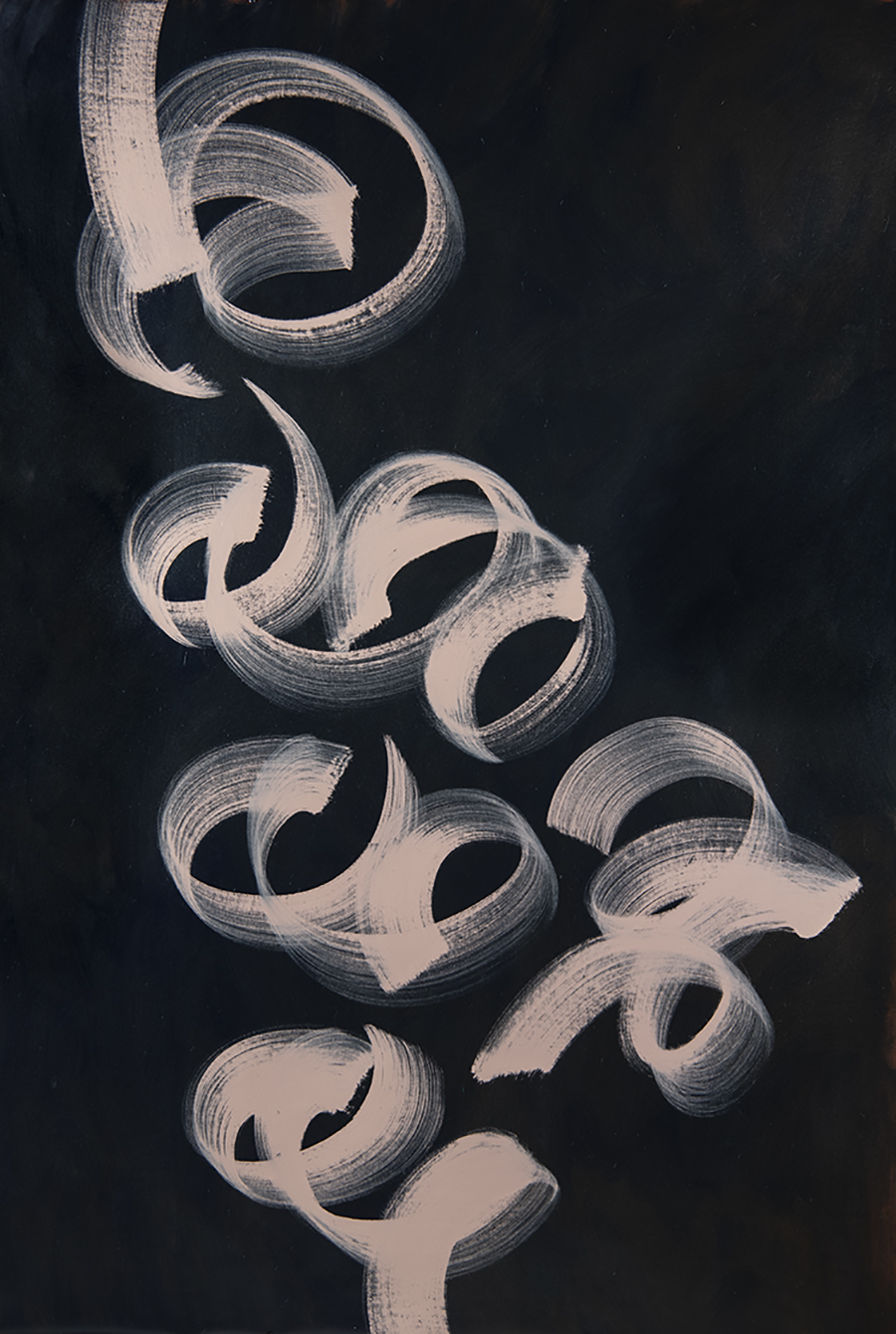 Howard Oransky, The Body in Pieces, No. 1, oil on canvas, 68 x 48", 2020
In his notes about the work, Oransky calls Linda Nochlin's lecture, "The Body in Pieces: The Fragment as a Metaphor of Modernity," an "apt description" for the work. Nochlin's lecture roots her analysis of the nature of fragments in modern art with the French Revolution, a period that bears certain similarities to our current reality.
Think about it: our era is marked by startling inequality between the rich and poor, much like the conditions that anticipated the French Revolution. In the last year we have seen cities burn as part of a reckoning of racial injustice, and the capitol besieged by a far-right attempted coup. In the meantime, Americans have grappled with its past as cities have examined ways to address how racism has infiltrated laws and institutions. In response, states across the country have introduced legislation that bans Critical Race Theory, an academic movement that seeks to illuminate ways American slavery is ingrained into American law and policy. Meanwhile, violence and murders are approaching an all-time high, and human body parts are being found in public places in Minneapolis, including a severed head left on a park bench on Franklin Avenue. We haven't so much left the conditions that anticipated the French Revolution and its subsequent modern era as returned to them.
Nochlin goes on to investigate how the Impressionists utilized a confined frame to create cut-off body parts. The viewer was shown just the knee of a performer, for example, in Honore Daumier's Orchestra during a Performance of a Tragedy. Edward Degas often homed in on a fragmentary view of dancers — in doing so highlighting the power dynamic between his male gaze and the bodies of his female subjects.
Oransky's fragments don't so much grasp for power as let it go. He asks the viewer to slow down, to remember that we are all, when it comes down to it, only human. Each dancing brush stroke in the painting is a breath.
Opposite Oransky's paintings are seven works on paper by Clarence Morgan that utilize layers of graphite, watercolor pencil, marker, and paint. They look a bit like they were created on top of maps and have a sense of wandering in the way the squiggles intertwine with straight lines and right angles.
Morgan's works offer an intuitive cartography. The tension between circuitous pathways and straight lines suggest we are now and perhaps always discovering our route, retracing it, finding a better way, and not necessarily in that order: sometimes these routes are embarked upon all at the same time.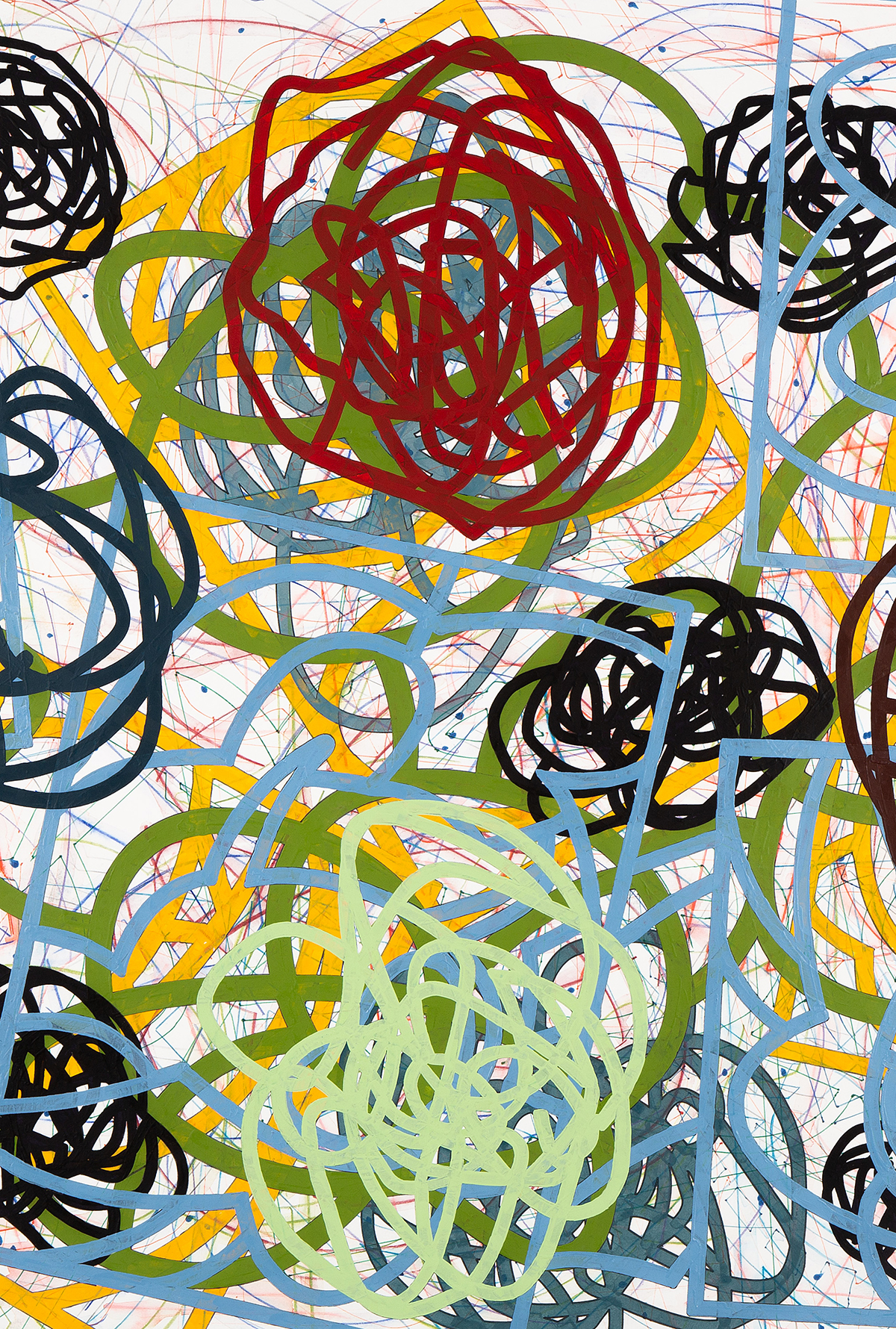 Clarence Morgan; New Levels of Thought (detail); Graphite, watercolor pencil, ink, gouache & markers on heavy watercolor paper; 40 x 60"; 2020
All created in 2020, Morgan's works on paper don't explain themselves to be "pandemic" art, and yet the chaotic energy of his layered hatchmarks, loops, and geometric shapes emulate the experience of the last year of collective angst, fear, discord, and transformation. Some of the titles, like Not that Unusual and Never a Dull Moment, carry with them a sense of whimsy. Others, like Frontiers of Perception and New Levels of Thought, touch on philosophical wanderings. One smaller work, titled Autonomous Zones, conjures areas barricaded by protesters in Portland, Seattle, and in Minneapolis in protest of the police.
Morgan doesn't over-explain his process and resists doing so in his comments on the work. "Pretending I can rationalize through the use of language the reasons why these works insist on making their way into the world remains a mystery," he writes. "Sustaining, but not defining that mystery is what's at stake."
Morgan lets his art speak for itself. The meaning asserts itself in the back part of your brain as you travel through the paint. Like the other two artists, he speaks to our time through a visual language, not a verbal one. ◼︎
When Pattern Becomes Form is on view at Form + Content Gallery through​ July 31st, with open hours Fridays and Saturdays, 1-5pm. If you would like to make an appointment to see the show outside of those times, contact formandcontent@gmail.com. Masks are required.
For more info, visit formandcontent.org. All images courtesy of the artists.
We can't do it
without you.
Help keep independent arts journalism alive in the Twin Cities.