Conduits Through Time: Art objects from around the world and across centuries rub elbows at Revere Auctions
Posted July 26th, 2021 by Bridget Kranz
In a preview of items going to auction July 27th and 28th, decorative arts, jewelry, and contemporary art share space and swap stories
When I want to feel close to my grandma, I put on a silver ring striped with three bands of opal. It reminds me of the countless times I saw her wearing it, where we were when she bought it, even the couple who sold it to her.
I've always been something of a hoarder, and I've never been able to shake the idea that objects are conduits — to our own memories, but also to other people through time.
At Revere Auctions in St. Paul, there is a glass case filled with such objects, and among them an ancient Greek glass amphoriskos — a small, slim-necked jar, only six inches tall, that looks like it could hold perfume. It's positioned on a brightly lit shelf, next to a group of Egyptian alabaster pottery, a few steps away from two first-edition books by Huey P. Newton.
These objects have been brought together through time for an upcoming two-day auction (starting Tuesday, July 27th at 11am EDT) and are currently being displayed at Revere as a preview for the sale. They're surrounded by decorative arts, paintings, prints. An entire living room is set up in the middle of the space with furniture that will be for sale. Co-owner Sean Blanchet pulls up a seat, choosing from a group of eight mid-century modern dining chairs, and talks about the pieces he's most drawn to — including a mysterious wooden figurine being sold as part of a small lot. It looks like a depiction of a person in prayer.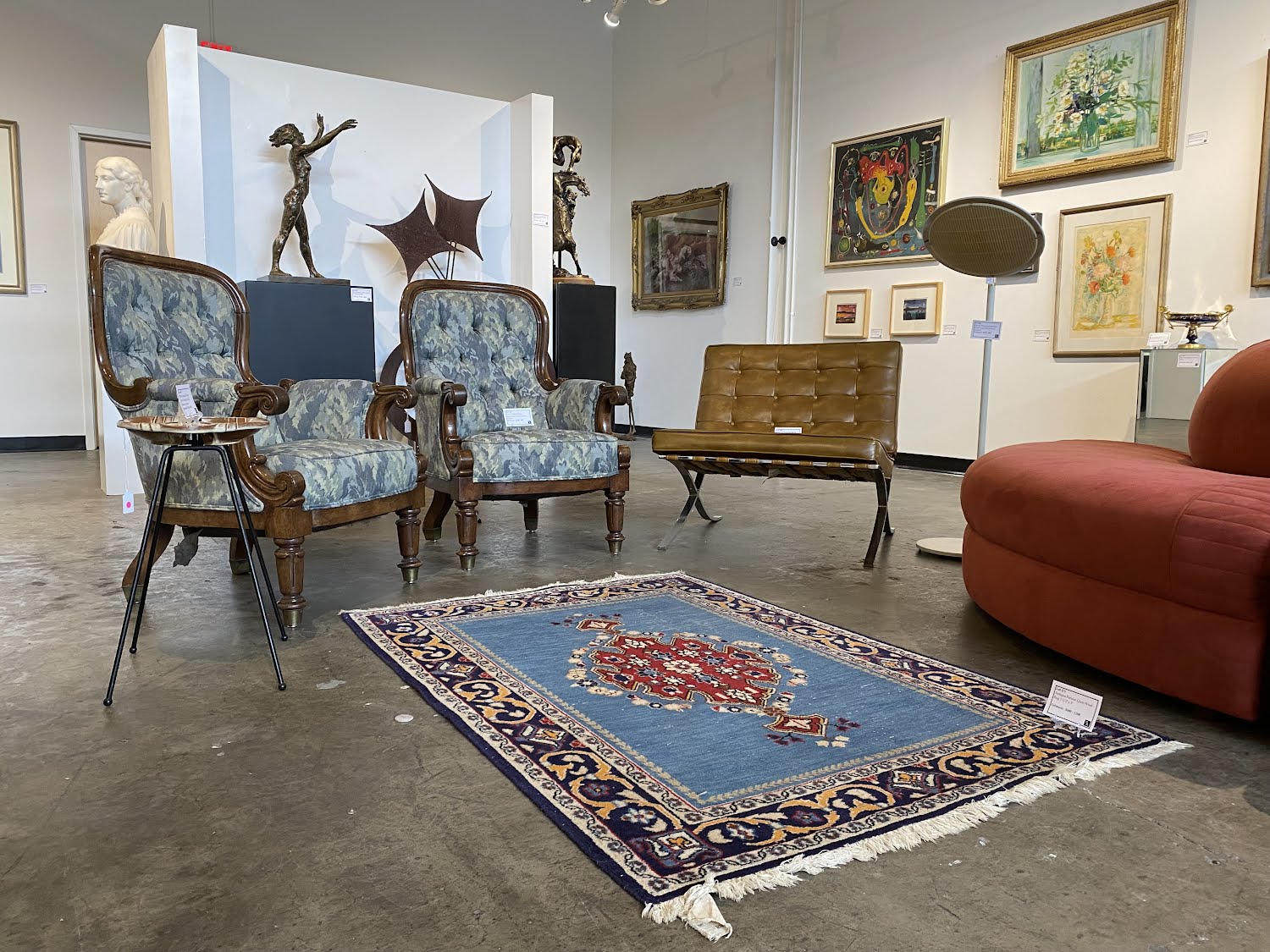 Revere Auctions is located in St. Paul's Priorworks building, located in the Creative Enterprise Zone north of University Avenue. Pictured here, furniture is displayed as part of the preview for an upcoming auction.
Sean explains that he creates lots when pieces are interesting but wouldn't sell for much by themselves. These items are grouped together and go up for bid as a bundle. Not much is known about the wooden figure, except that it was likely carved in Europe around the turn of the 18th century. Somehow, it's made its way to Revere's space in a former industrial building in St. Paul and has found a new home among three jade dishes and a sculpture of Buddha, laughing, surrounded by monkeys.
There's a magic to coming in and viewing centuries-old items up close, holding the kneeling figurine, seeing it juxtaposed with the amphoriskos, or a 1930s wooden cow carved by a prisoner in Maine. On the base of the cow, there's a small piece of paper that says, "And you think you have problems?" Apparently there is a market and collectors for prison folk art, made throughout history. Bidding for this sculpture starts at $100. Bidding for the cryptic figurine and its newfound group starts at $20, and the auction house estimates that the nine-item lot might sell for a couple hundred.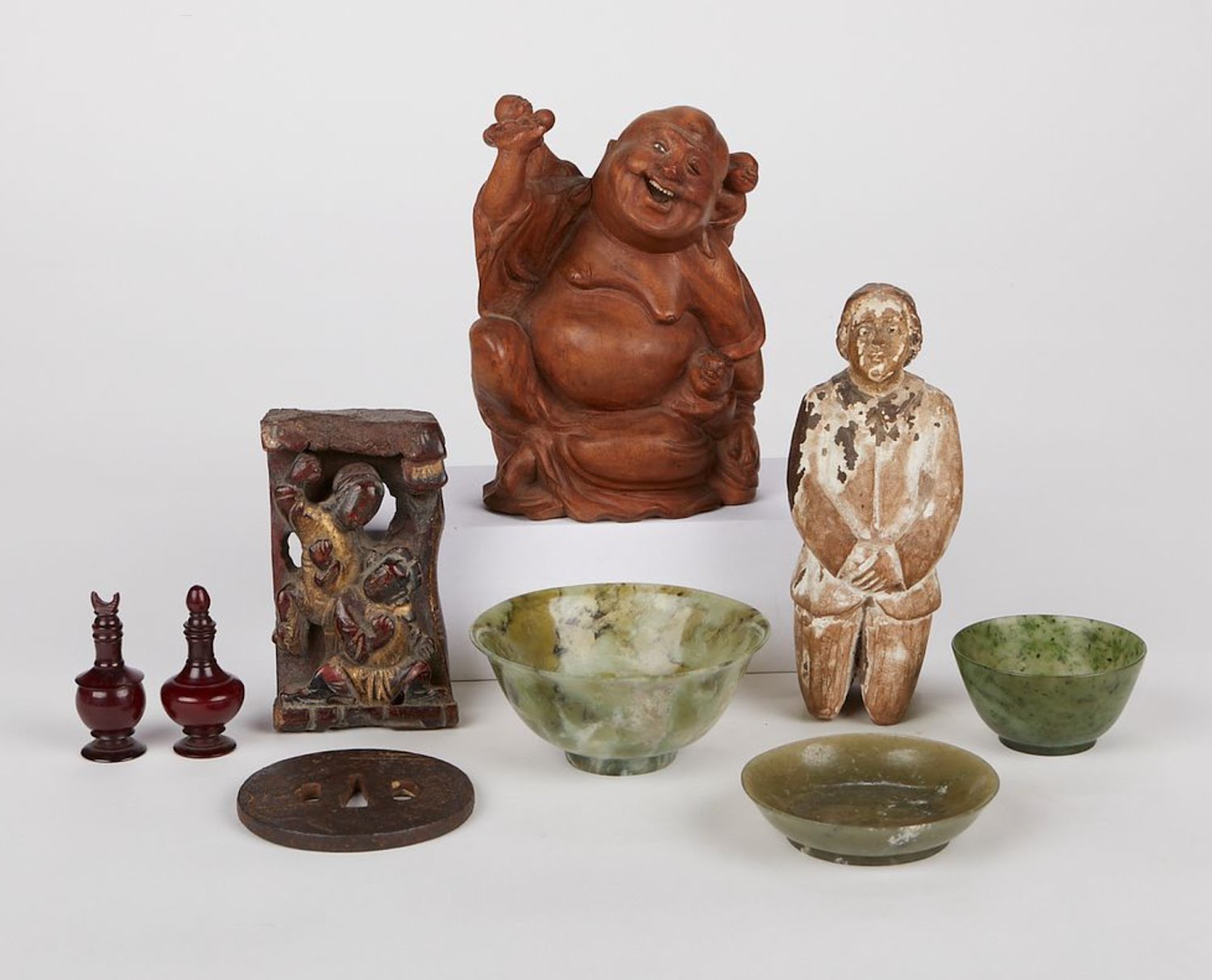 The kneeling wooden figurine, at right, paired in a lot with a laughing Buddha statue, a wooden carving, three jade dishes, lacquered chess pieces, and a Japanese tsuba, or sword hilt. Image courtesy of Revere Auctions.
Sean also singled out a silver bangle from Ancient Rome, two snake heads almost meeting. Putting on the bangle, there was a strong sense of connection — neutral and anonymous, but undeniable. An awe at the ongoing afterlives of objects and a desire to be a part of that history. There's also a disbelief at being able to touch something that would usually be seen from a distance.
Next to the bangle was an almost solid gold 50-peso coin. Someone had turned it into a pendant and placed a ring of diamonds around the metal. They had taken two incredibly valuable things and customized them, in a way I would never have imagined doing, but which also reminded me distinctly of my grandmother — always putting slightly mismatched things together, like sewing yellow curtain fringe along the hem of a dress. It made me curious about the person who had altered the coin in this way, and the person who would purchase it at the auction. Would they keep it as is, or would they take it apart and reset the diamonds? Where had that dress my grandma put together gone after she moved out of her home?
There were paintings, as well — framed, with gallery stickers accumulated on the back. These are likely as the original artists made them, although Sean points out that buyers can sometimes find old paintings underneath newer layers. A William Wegman photo hung in one corner, alert-looking Weimaraners standing cleanly against a pink backdrop. But the most surreal and interesting things to me were the ones that held a little more age, a little more mystery.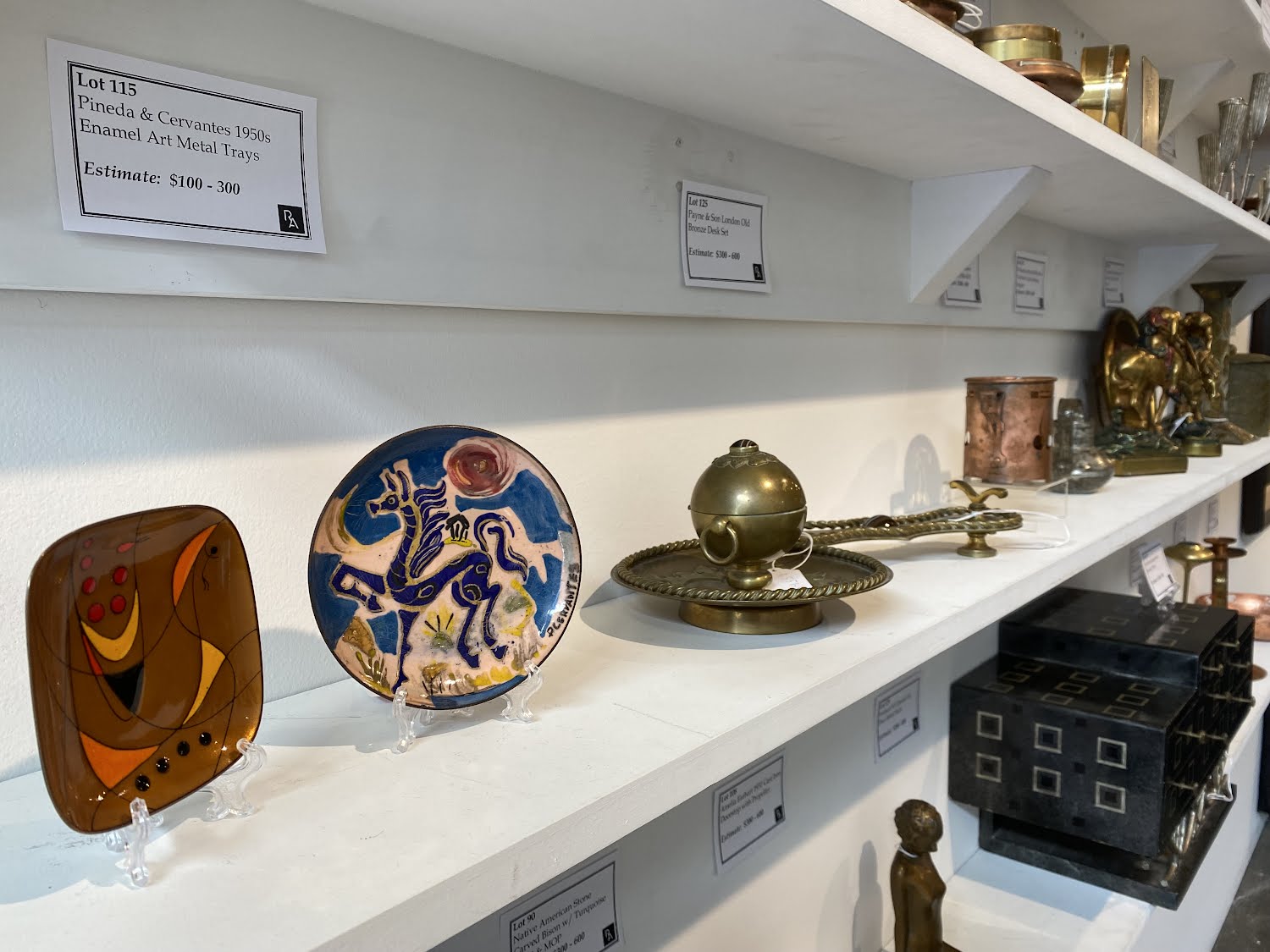 The items in a preview and auction are determined by what the auction house receives from clients, most often individual collectors and estates. Contemporary art trays from Mexican artists Miguel Pineda and Pedro Cervantes are among the items up for bid.
It was impossible not to feel the weight of all the people who had held these objects previously, and the knowledge that many had come from the estates or collections of the recently deceased. These strangers were brought together in one space, awaiting new owners and rubbing elbows in the process to create juxtapositions you wouldn't normally get to see.
Revere has shelves of reference books, and Sean was able to share information as well. While there was mystery, there was also an act of discovery and the feeling of peeling back layers — getting drawn in by something's form, then finding out more about its history. Looking at the amphoriskos, Sean discussed the strong tradition of intricate glass work in Ancient Greece, how artisans made patterns by twisting different colors of glass together, how these pieces were valued as trade items. It was easy to wonder: where had this vase been since it was made? It was easy to wonder about all the lives it had been a part of.
When I hold my grandma's ring, I also think about the parts of her life I never knew. I wear it back to the places we used to go together to bring her there with me, and I take it to new places to show her for the first time.
Holding objects at Revere, being surrounded with history — ancient to contemporary, still living as these items move through the world — I felt a similar sense of connection. Here I was, holding a wooden figurine that a stranger who lived 200 years before me put their time and energy into creating. Here I was, able to bid on and possibly own a piece of Ancient Greece. It is so out-of-the-ordinary, so magical, and yet so suddenly possible. ◼︎
The upcoming auction is divided into two parts: Day 1: Decorative Arts of the World on July 27, and Day 2: Fine Jewelry with a Collection of Fine Modern & Contemporary Art on July 28. The auction will take place virtually, but the items are displayed for viewing at Revere Auctions, 755 Prior Ave. N., Unit 235 C, St. Paul, MN 55104.
The auction house is open Monday through Friday, 10 a.m. to 3 p.m., or by appointment. For more information, or to view a complete gallery of upcoming auction items and starting bids, visit www.revereauctions.com.
Banner image: A lot of seven Modern African, Asian, and Native American sculptures and vessels. All photos taken by the author unless otherwise noted.
---
We can't do it
without you.
Help keep independent arts journalism alive in the Twin Cities.