Sketchbook Artist Profile: Gordon Coons
Posted March 17th, 2021 by MPLSART.COM Editors
The local painter and printmaker (and contributor to the 2020 MPLSART Sketchbook Project) catches us up on his work, his processes, and where he's showing next
Gordon Coons (Lac Courte Oreilles Ojibwa and Ottawa/Potawatomi from Michigan) is a painter, printmaker, and cedar smoke artist. Largely self-taught, he paints in the Ojibwa Woodland style and creates smoke art by burning cedar. He embellishes some of his cedar smoke pieces with 24-karat gold leaf to represent Grandfather in the Ojibwa culture. He also prints with linoleum block.
Coons draws inspiration from his Anishinaabe heritage, and his bright color palette comes from his natural surroundings in the Great Lakes region. "I also enjoy incorporating playfulness in my images, telling stories of relationships between Western and Native cultures, and the connection we have to our shared historical events," he says in his artist statement.
Coons exhibits nationally, and his work is in permanent collections across the country. He regularly shows and wins awards at annual Native American art markets across the country. He also curates exhibits of Native artists. Some of the venues include the Ordway, St. Paul, MN; Dakota Discovery Museum, Mitchell SD; Bald Eagle Days, OCCA EXPO CENTER, Quad Cities, Rock Island, IL; and many other venues. Coons's artwork has been used to support Native businesses, and he also participates in a variety of Native art educational programs in museums, schools, and art festivals. Find more at gordoncoons.com.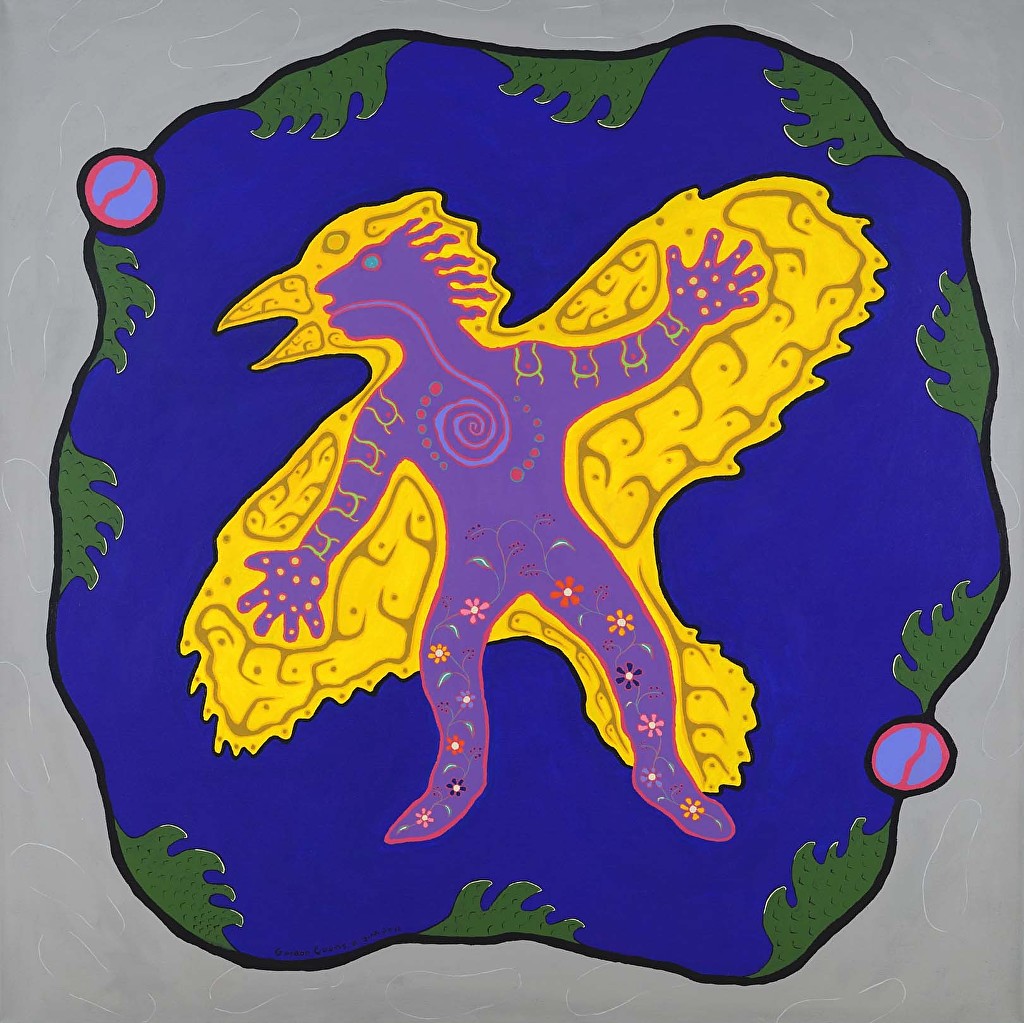 Madeline Island, acrylic on canvas, 36" x 36"
MPLSART: How did you become interested in art? What were some of your early influences?
Gordon Coons: I always created some form of art; I just did not know it was called art. In the native culture, it was something we always did, whether the art was considered a craft or what is now known as art.
In the Ojibwa culture, we grew up with art all around us. Art could be seen on the regalia at our powwows with beading designs, on painted leather works, and vendor stalls at powwows. We shared our art with relatives and visitors.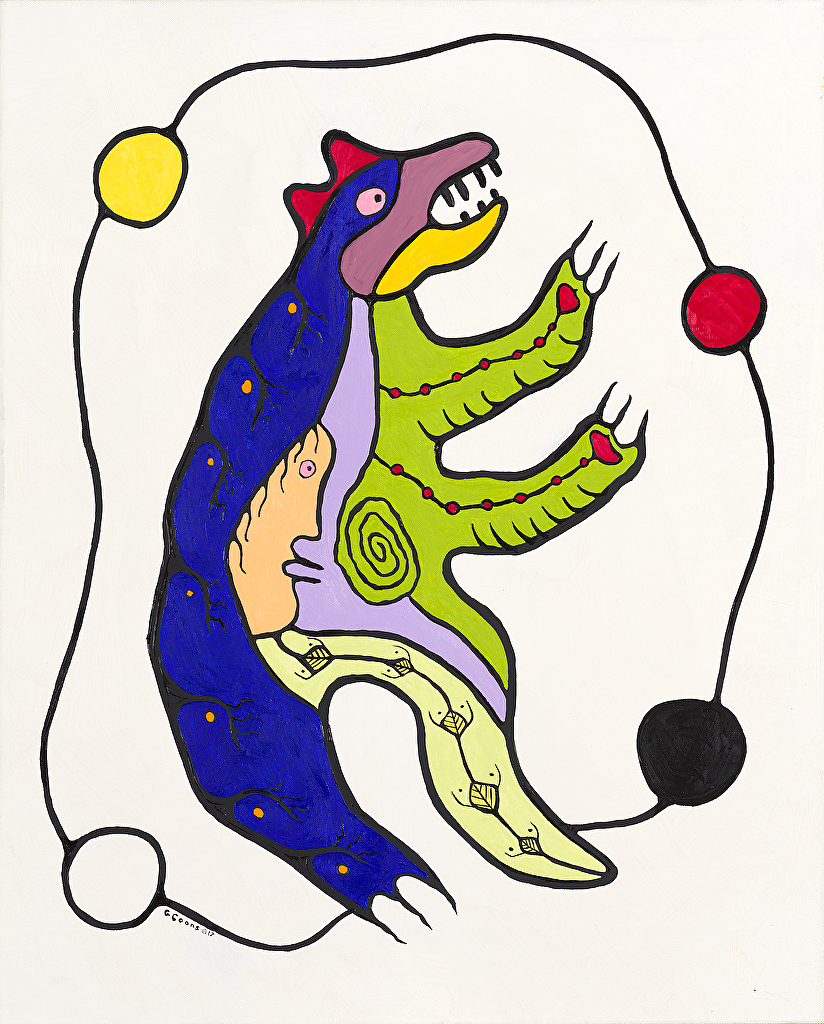 Man Transferring into Healer (No. 2), oil on canvas, 30 x 24"
How did you get involved in the Sketchbook Project? Did it impact or otherwise fit into your pandemic art practice?
I was contacted by Blaine Garrett about participation in the Sketchbook Project. I was honored to be part of this collaboration. It was great to be selected to be included in this fabulous Sketchbook Project with these outstanding artists.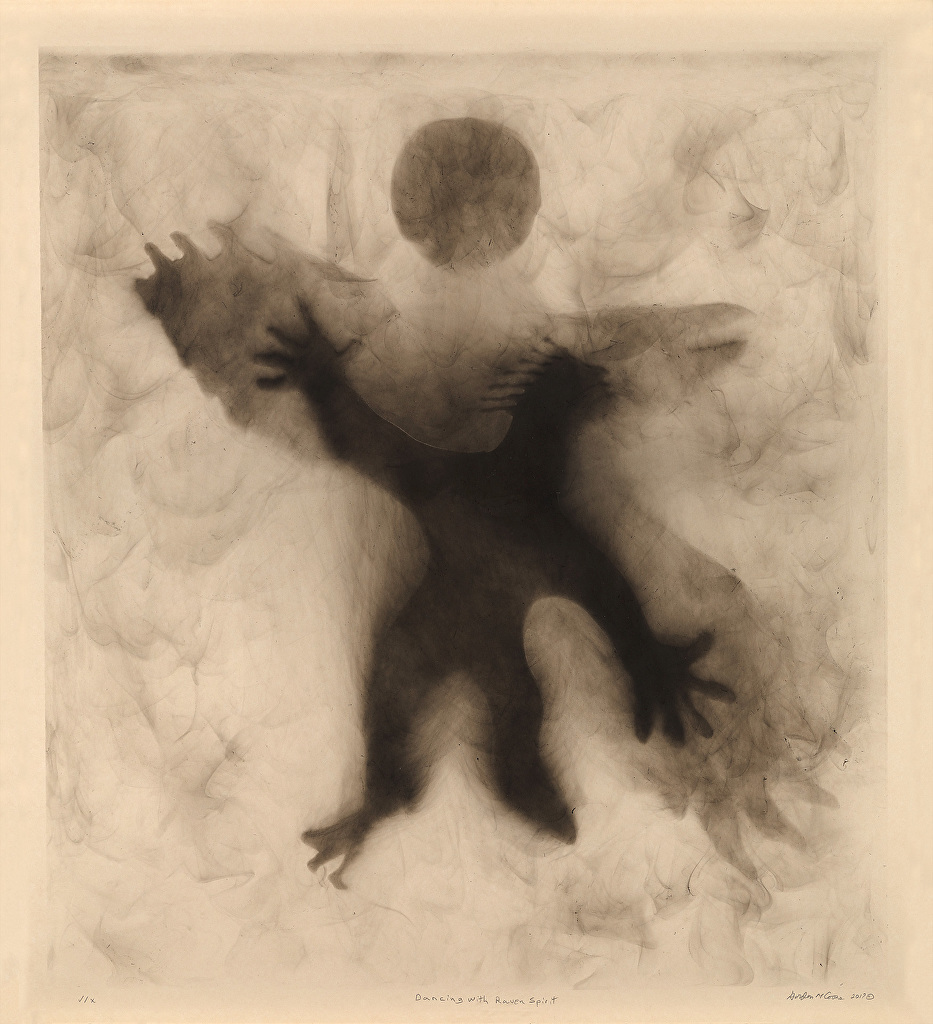 Dancing with Raven Spirit, charcoal on paper, 24 x 22"
Once the pandemic is over and it's safe to venture out once again, what is something you are looking forward to?
The pandemic has kept me locked up in my studio. I miss the opportunity to travel to Native art venues and visit old friends and start engaging patrons again.
I am currently waiting on the season schedule of Native art festivals and I'm looking forward to the confirmation of my late summer/fall 2021 scheduled for Santa Fe Indian Market in Santa Fe, New Mexico; The Great Sand Dunes National Park and Preserve in southern Colorado; The Mississippi National River and Recreation Area in St. Paul; and the Minneapolis Central Library in downtown Minneapolis, MN.
How can people support you and your work?
Currently, I receive my support through my web site www.gordoncoons.com ♦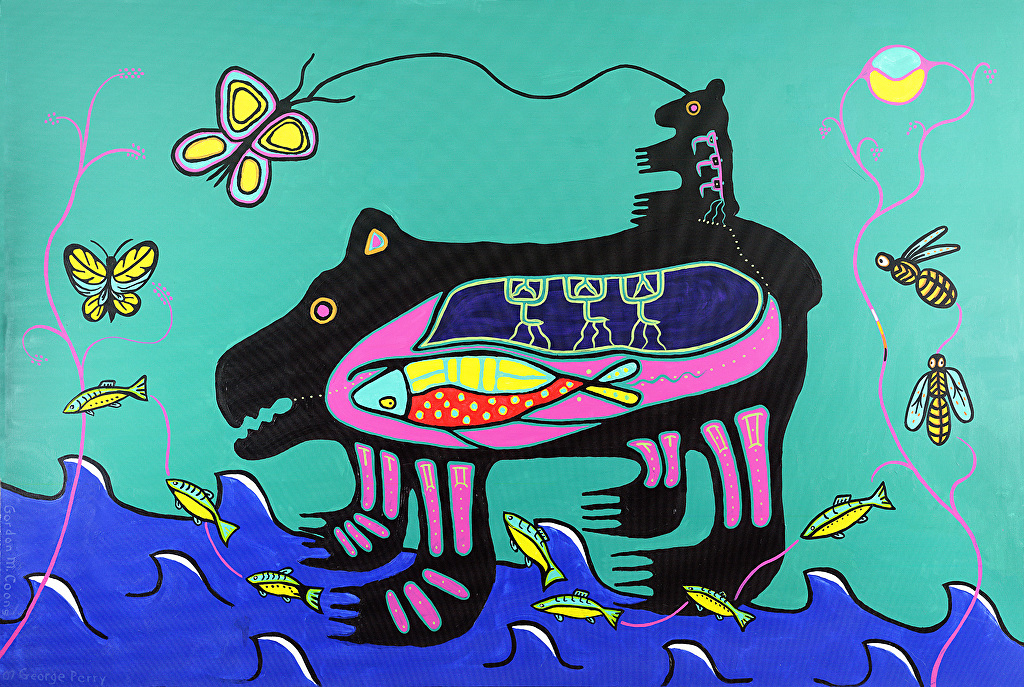 Makwa / Bear, acrylic on canvas, 20 x 30"
Banner image: Native Son (detail), block print, edition of 25, 18 x 18"
---
We can't do it
without you.
Help keep independent arts journalism alive in the Twin Cities.