Sketchbook Artist Profile: Q&A with Lora Hlavsa
Posted February 3rd, 2021 by Blaine Garrett
The local artist, who participated in our 2020 Sketchbook Project, offers insight into her practice and aesthetics behind her work.
Lora Hlavsa (she/her) is a Minneapolis based artist, illustrator, and designer. Her work is informed by intersectionality and inspired by femininity in its various forms. Raised by a Filipina mother and an American father in Minnesota and California, identity has been a core focus of Lora's work, and her bold and colorful pieces aim to convey a multidimensional world that reflects the many layers of the daily human experience. As one of the 68 contributing artists to The 2020 MPLSART Sketchbook Project, we wanted to learn more about her work and her practice.
Blaine Garrett: How did you become interested in art? What were some of your early influences?

Lora Hlavsa: I was fortunate enough to grow up in a home that fostered my creativity from a young age. I've always joked that I am a "professional dabbler," and I think it's because I was exposed to so many different creative practices growing up. I come from a family of creative people, all of whom practice in vastly different disciplines. Between both sides of my family, we have painters, writers, chefs, musicians, tailors, woodworkers, and scrapbookers – and that's just the last three generations.
While none of these practices may be capital "A" artistic mediums, I do think that being exposed to so many different areas of creativity growing up gave me the confidence to continue pursuing past childhood experimentation. Some of my fondest memories growing up are learning to draw with my parents, playing piano with my Grandma Evelyn, or learning to sew with my Lola Saling. That interdisciplinary nature of my creative upbringing has significantly impacted the pathways I've chosen to take as an adult.
People find it surprising that I have a degree in Geography. When I was in school, I wanted to focus on art but lacked the confidence to commit to it full-time. Like many of my fellow Millennials, I had taken out a big chunk in student loans and was on scholarship, and couldn't afford to pursue something that I didn't feel sure I could make money with post-graduation. So I picked Geography, the perfect degree for someone with a myriad of interests because nearly any topic can be examined through a spatial lens. I loved my program but found myself continuing to gravitate towards art and wound up spending my senior year working on a senior honors thesis examining the community impact of murals in the Twin Cities. My fieldwork took me across Minneapolis and Saint Paul, documenting and mapping murals by local artists like Jimmy Longoria and Broken Crow. I suppose it was through this project that I started to understand the importance of art in Minneapolis – and that I could make myself a creative home here.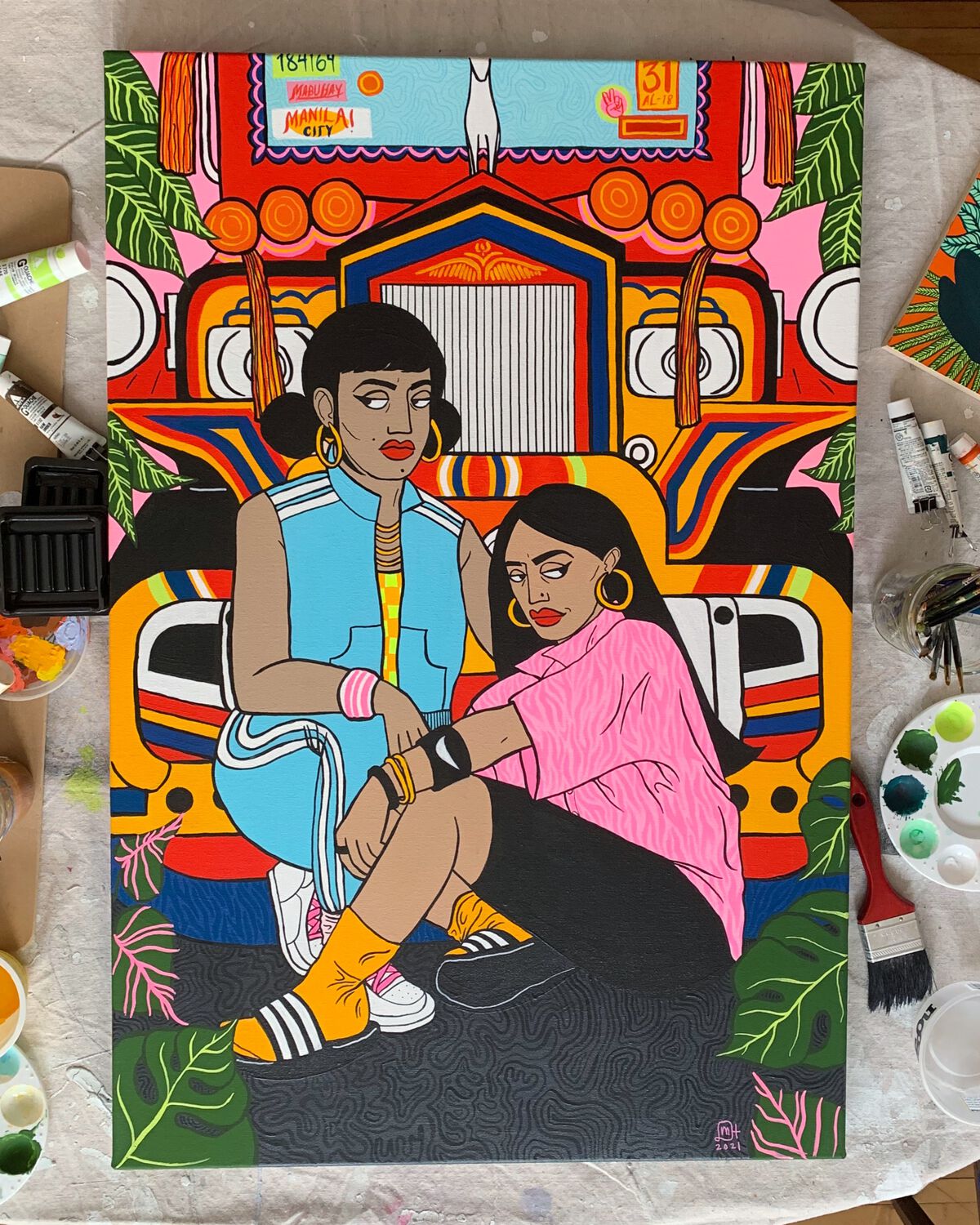 Jeepney, acrylic and acryla gouache on canvas, 24"x36", 2021
BG: Is there overlap between your design work and your artistic practice?

LH: Maybe a little, but I generally regard them as two separate practices. I think of design as more "creative problem-solving" – your client comes to you with something that's plaguing them, and it's up to you to come up with a solution that satisfies all of their needs. You're bringing your skills to the table and using them to create something beautiful – but ultimately to your client's specifications. If you create something aesthetically pleasing but it doesn't solve your client's problem, you haven't really completed the task. Having an artistic perspective is essential to design, but having that strategic skill is an integral part of the process.
On the flip side, my personal practice is wholly my own – and thus a little more emotional and reactive than my design work. In my personal work, I tend to create pieces motivated by my own experience and the things that inspire me. Less thought is given to systems or problem-solving – it's more of an experiment, trial-and-error until I have a reaction to what's on the page.
Sometimes I need to turn that left-brain off and just focus on making. When I'm designing, I spend a ton of time at the computer, staring at files, pushing pixel by pixel until something is just right. Painting gives me the chance to let loose a little, to step away from the screen and create something tangible that exists beyond my email.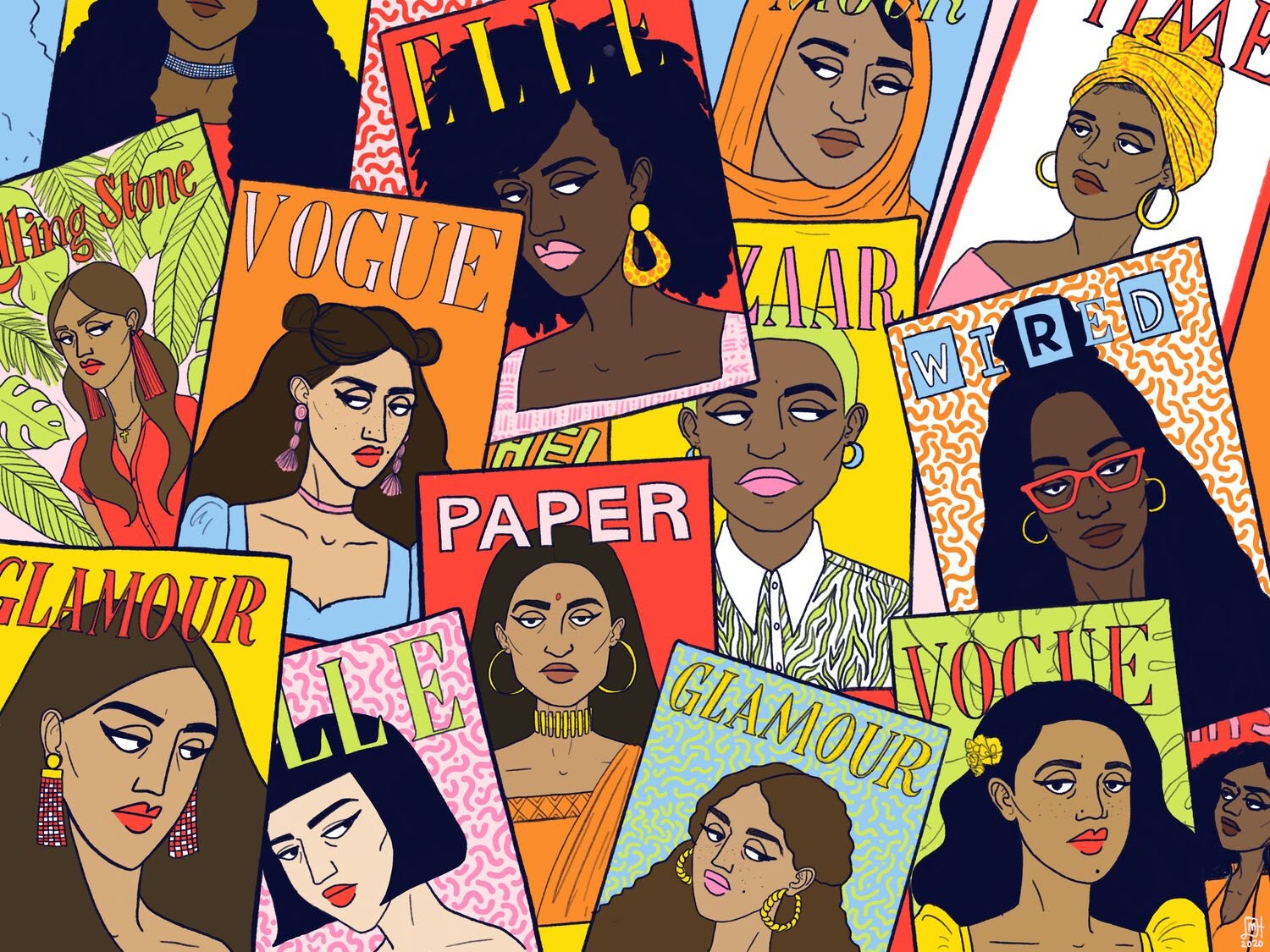 Cover Girls, Digital, 2020
BG: Your paintings contain a lot of scenery and often feel like staged fashion photography. Is this by design? Is there a deeper symbolism?

LH: I'd never really thought about it that way, but I suppose you're right! As a kid, I was hell-bent on becoming a fashion designer. I come from a long line of tailors and sewists on both sides of my family, and growing up in the heyday of Project Runway and Teen Vogue, it was only natural that I felt the draw of the family trade. During my senior year of high school, I put on a fashion show with a couple of other girls for the school talent show and made three or four dresses that my friends modeled in the high school gym. At home, my closet door was plastered with images cut out from editorial spreads and print-outs of fashion illustrators that I really loved. While I abandoned the dream of becoming a fashion designer, I suppose my interest in fashion has remained. My day gig as an art director involves me creating visual concepts for photoshoots, and so I bring a little bit of that work home with me and into my practice as well.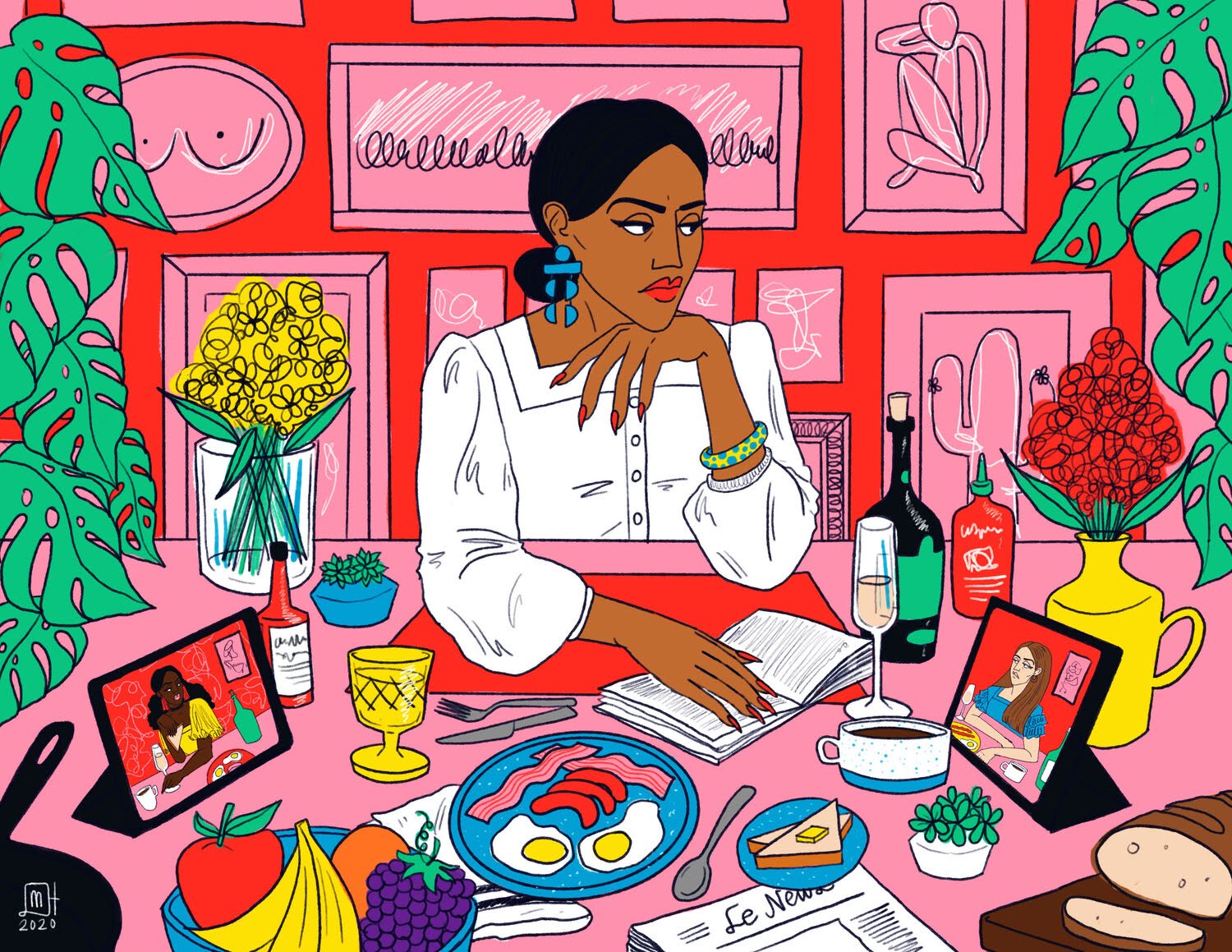 Quarantine Brunch Club, Digital, 2020
BG: How have the events of the last year affected your work?

LH: There is no denying that this year has challenged all of us in various ways, and I am no different. But while I've experienced my share of personal challenges this year, I'm grateful that my art practice has actually flourished in quarantine. I've always considered myself an extrovert and usually spend a lot of time outside the house between work and social engagements. When COVID hit, all of that changed. I needed an outlet to occupy my newfound time at home, so I started devoting more energy to creating art. Having dedicated time and space to just making stuff was necessary to protect my mental health in the early days of quarantine.
I've always gravitated to highlighting women of color in my work. My mom is Filipino and my dad is white, and throughout my life I've found myself in predominantly white spaces, especially since I've lived in Minnesota. Through my artwork, I hope to show a more vibrant and multidimensional world where women from all backgrounds are represented and celebrated as a direct contrast to some of the environments in which I grew up. In the aftermath of George Floyd and the uprising, I knew that representation was more important than ever, and so I've continued to focus on creating work that puts women of color front and center. My work is about the quiet (and sometimes banal) everyday moments in women's lives, but uses color and composition to reflect the chaos and beauty of the feminine experience.
BG: I first became aware of you and your work through this year's C4W show at Gamut where you won the crowd favorite prize. How was that experience and how did it impact your practice?

LH: Cassie at Gamut Gallery has been so supportive of me from the start – I probably would have procrastinated and missed the deadline to submit to C4W if she hadn't reached out to me personally. It was the very first time that I had participated in a show outside of school, and I was so excited to be featured in a gallery to begin with! When I won the crowd favorite prize, I was caught totally off-guard because it was already a huge honor to show with so many local artists that I deeply admire. The painting I'd entered was titled Bisikleta, and felt kind of like a self-portrait: it depicts a woman on a bike, with American and Filipino flags mounted on the rear rack and surrounded by color and plants. To have won crowd favorite for something so personal to me was incredibly validating and, to be honest, helped me realize that I'd found my artistic voice.
BG: What do you hope the audience takes away from your work?

LH: My work on the surface is bright, colorful, and bold, and I hope that it brings viewers a little bit of joy at the very least. But I also want the audience to see that this vibrant world is far from simple and that each piece is telling complex stories with somewhat simplistic imagery. I like to think of my work as a modern-day I-Spy book; there are so many stories to be found in the tiny details, and there's always one more thing hidden amongst the chaos. But above all, I hope that my female-identifying audience sees themselves in my work, especially women of color. At the end of the day, I want my work to feel representative and inclusive. I want women to look at the images of a woman taking a bathroom selfie, or making a mess in the kitchen, or on the cover of a magazine, and see themselves and feel a sense of peace or comfort with a side of joy and humor.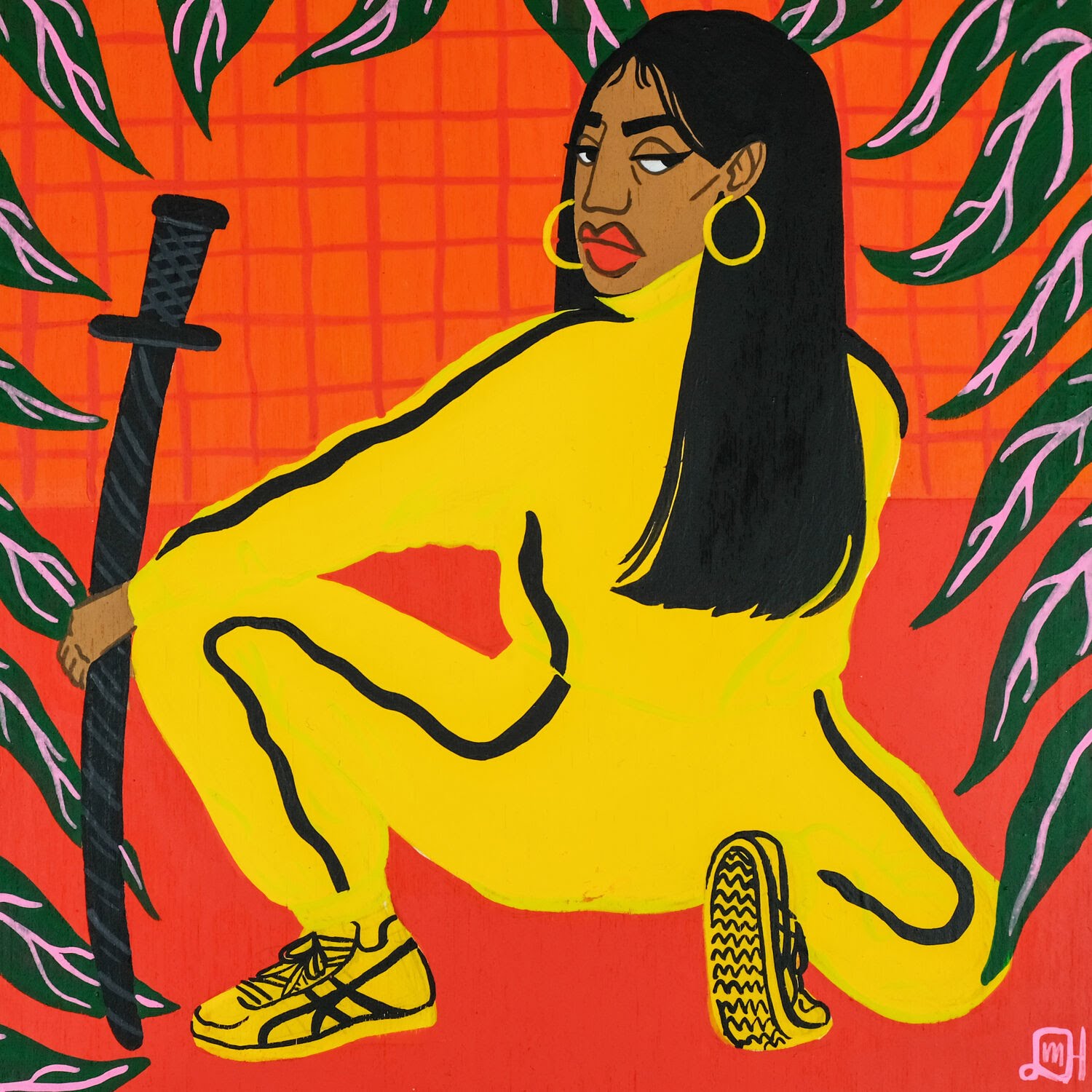 The Bride, acryla gouache on wood panel, 8"x8", 2020
BG: Once the pandemic is over and it's safe to venture out once again, what is something you are really looking forward to?

LH: Honestly, the first thing I'd do is buy a ticket to First Ave's first in-person show. Doesn't even matter what it is – I just want to be in that room again, standing shoulder-to-shoulder with fellow music lovers, drinking a beer, and listening to music as a community again. Before the pandemic, my fiancé and I were probably going to at least one show a week, sometimes at First Ave, sometimes at Turf, lots of times at Amsterdam, other times at hole-in-the-wall watering holes. Live music has been a constant in my life since I moved to Minneapolis and to have gone nearly a whole year without it seems unreal.
I'd also be thrilled to be able to bring my parents to see my work in person at a gallery or a public show somewhere. My dad has always encouraged me to pursue art, even in the times when I didn't think it made sense. My mom has also been a huge influence on my work, and I'm not sure she even realizes the extent of it. But my dad is immunocompromised, and my mom lives in California, so they haven't been able to make it to an in-person event due to the pandemic. It would mean so much to me to share this with them, so I'm hoping that I can keep things going long enough to safely see my work out there in the wild.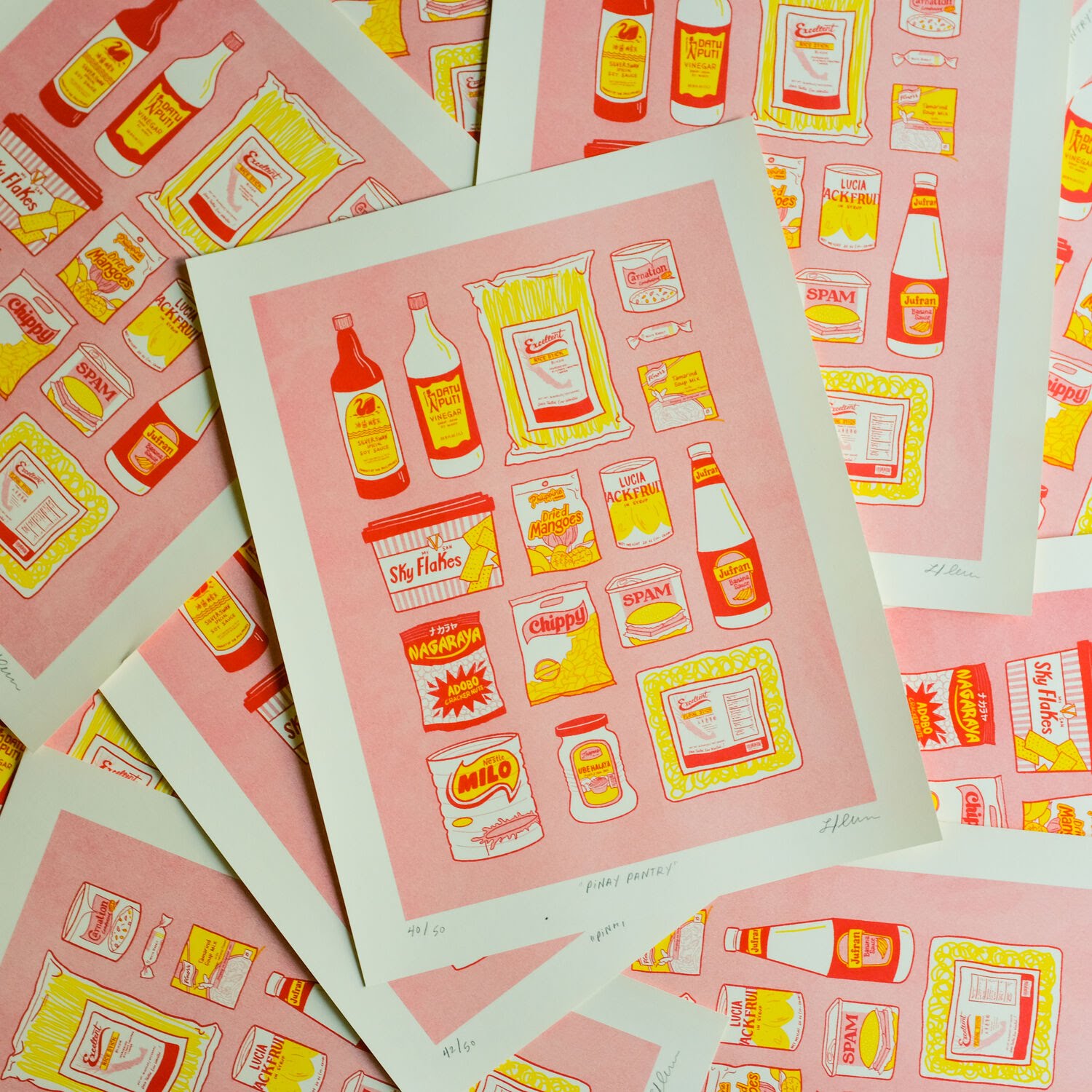 Pinay Pantry, risograph print on paper, 11"x14", 2020
BG: What's the best way people can support you and your art right now?

LH: Well, I'm really looking forward to reopening my online print shop in early February. I've been working on some new prints and other products, which has been a fun yet challenging project to be juggling on top of a full-time gig. When I reopen, I'm hoping that people a) buy stuff or b) share my work online so more people see it!
One project that I'm really excited to release is actually an extension of my Pinay Pantry print. The original print came about as I was reminiscing about all of the Filipino treats and pantry items we had around when I was a kid. We'd go to this Filipino supermarket 40 minutes away in Vallejo and pick up all the stuff we'd need for a month. Here in Minnesota, that stuff is a little harder to come by, so I wanted to illustrate those items as a little reminder for myself. When I printed them, I didn't really expect that people would want to buy them, and I certainly didn't expect to sell out of them. So I started thinking that perhaps I could expand the project to other cuisines as well.
I can only speak to my own experience as a Filipina, so I enlisted a few friends to create a Chinese, Vietnamese, and Japanese version of the print. Each woman provided me with a list of everyday pantry items that they grew up with, and I illustrated them. Like the original Pinay Pantry print, half of the proceeds from the sale of these prints will go to a non-profit or mutual aid fun of each collaborator's choosing. The whole project is now called "The People's Pantry," and I hope to continue to expand it by collaborating with others who have had a similar experience with food.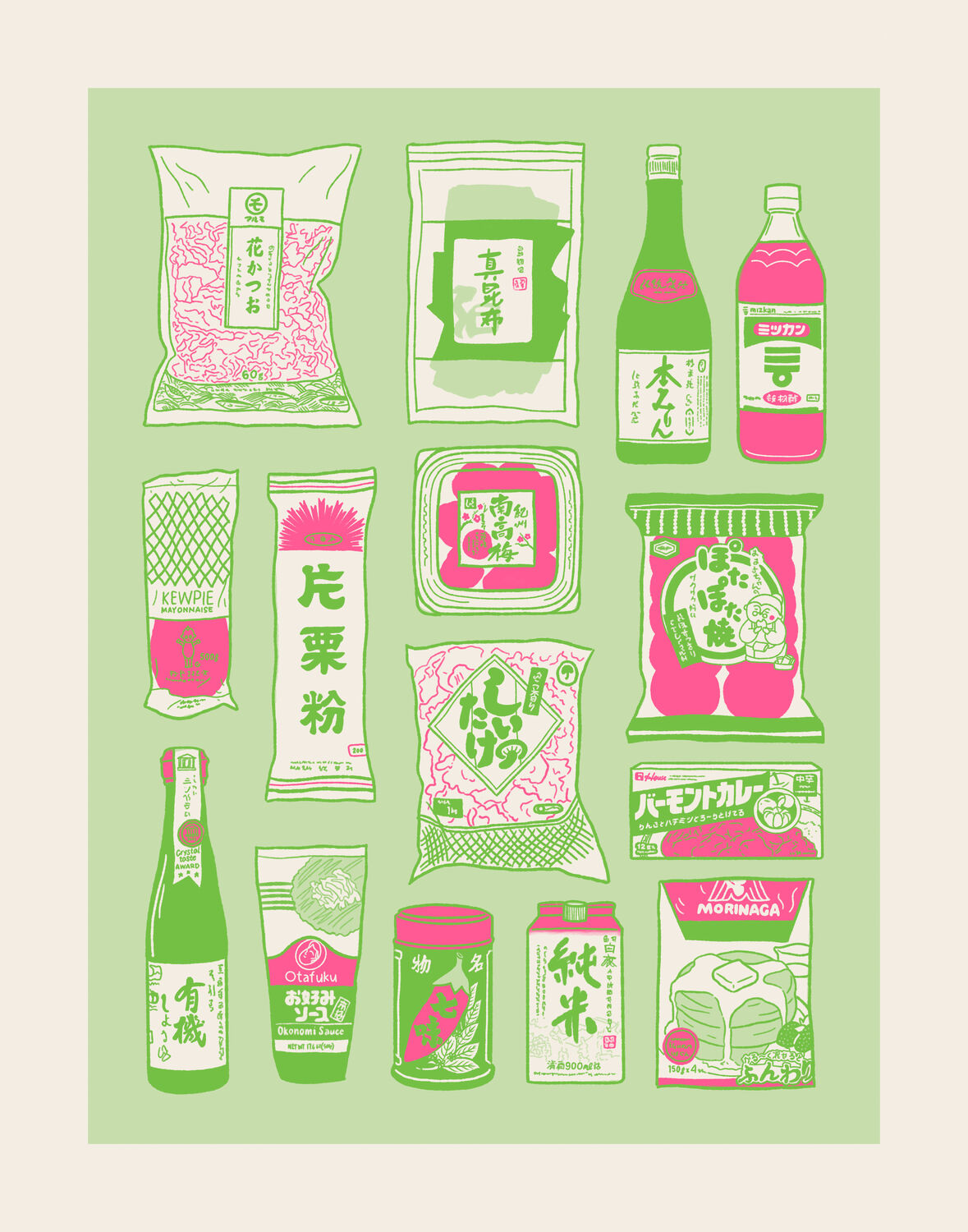 The People's Pantry: Japanese, Digital, 2021
BG: Thank you so much for your time and contributing your work to the 2020 MPLSART Sketchbook Project! I'm really looking forward to seeing what you do next.

LH: Thanks so much for having me! I'm so grateful to be a part of the sketchbook project and looking forward to working with MPLSART more in the future. ♦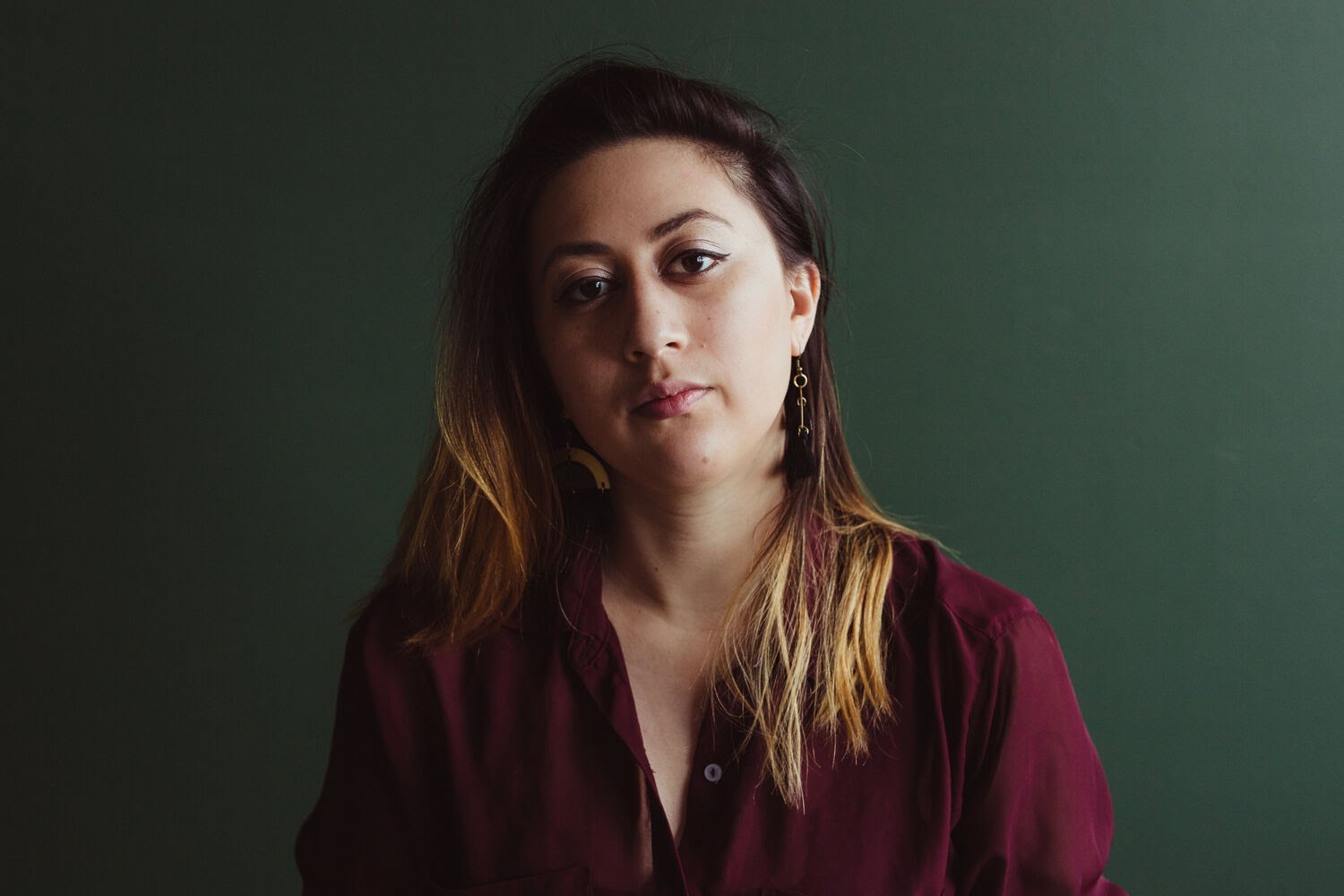 Lora Hlavsa. Photo by Hanna Voxlan.
To learn more about the artist and their work, visit lorahlavsa.com, or follow them on Instagram at @lorahlavsa.

---
We can't do it
without you.
Help keep independent arts journalism alive in the Twin Cities.