Distance Earning: Tips for selling art during a global pandemic
Posted September 17th, 2020 by Russ White
Four months after NEMAA took Art-A-Whirl online, several of its member artists share the lessons they've learned
Article sponsored by our friends at Northeast Minneapolis Arts Association

If you happened to put your ear to the wind back in early April, you might have heard a strange, sad sound: the collective wailing of over 800 artists in Northeast Minneapolis. Art-A-Whirl — the annual open studio crawl that brings 40K+ people into the neighborhood for the Black Friday of local art events — had been cancelled.
But Anna Becker, the Executive Director of NEMAA, the nonprofit behind the art festival, had a plan: move the whole thing online. In the span of a mere month, Becker and local web developer Jeremy Burgeson created ArtAWhirl.org, a website that combines art retail, an interactive map, pre-recorded artist interviews and demos, musical performances, and the ability to order food from local NE restaurants. Since May, the website (which remains active and is still a great place to shop) has clocked over 35,000 visitors, a full 25% of whom were from outside Minnesota. And there have been over $44,000 in sales through the website — a figure that does not include sales made through individual artists' existing shops that were linked to their profiles.
And now NEMAA is one week out from another online sales event, their annual 10x10 Member Fundraiser, which will feature hundreds of anonymous artworks for sale — all ten inches square or smaller, all only $35, launching September 26th at 5pm CDT. (More info on that here.)
Art-A-Whirl Online was, in the relative terms of this ill-fated year, a surprising success. And the lessons learned about online art sales will stay relevant certainly through the rest of the pandemic and likely beyond. Word on the street is that art sales are up, as a means to beautify the homes we're all stuck in, as well as an opportunity to support local makers in tough times.
We asked some of ArtAWhirl.org's top sellers to shed some light on their success with online sales, so that the rest of us might get our boats out into this rising tide.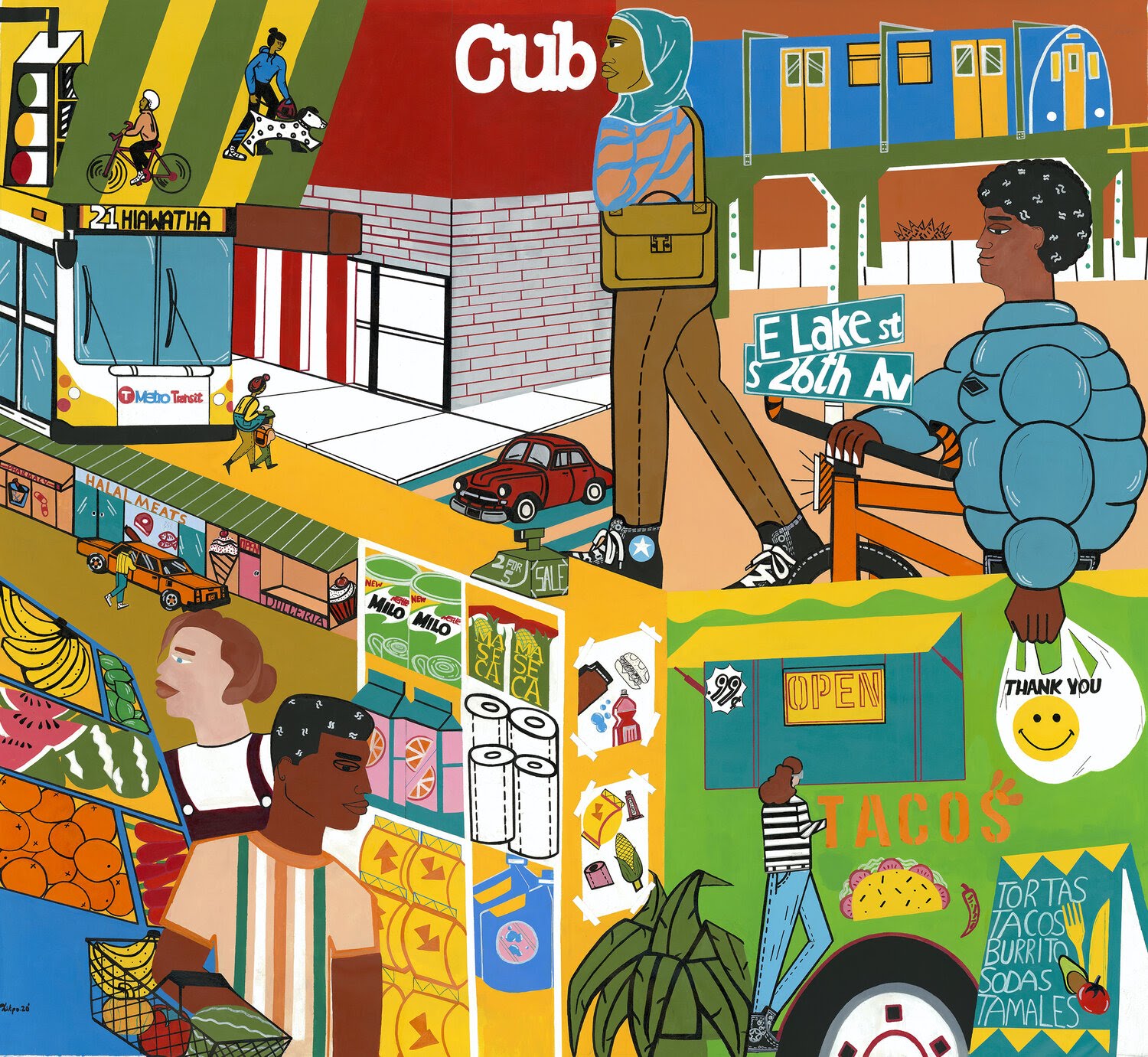 Philipo Dyauli
What strategies do you have for selling your work online?
This year was the first time I sold artwork online, and it was an eye-opening experience. I have a lot of respect for artists that sell items through online platforms. One of the strategies that worked for me was providing a range of price points to accommodate a wider audience while still making a profit. This also makes it less intimidating for newcomers when the work is priced at various ranges.

Another helpful strategy was having enough inventory in the shop to ensure customers have a wide selection to choose from that are ready to purchase so they can get their order right away. With a platform like ArtAWhirl.org there can be a lot of competition, so once inventory runs out, updating in a timely manner is key.

A final strategy is to promote the artwork heavily throughout your social media platforms. Be sure not to take any platform for granted. Social media adds an element of participation and allows you to connect with your audience. It also allows you to use your unique background as an artist so the customer can feel like a part of the artwork they are buying. For instance, if you plan on donating a portion of the proceeds to a local cause or if your artwork is highlighting local issues then let the audience know that in advance.
How has the Art-A-Whirl platform helped?
The Art-A-Whirl platform centralized all orders and keeps track of number of sales on a monthly, weekly, or annual basis. The ability to export this information made the shipping process much easier.

Having tech support available was helpful when setting up my profile and registering for a Minnesota Tax ID.

Art-A-Whirl and NEMAA have large voices in this community and that helped bring art lovers to the website and my profile.

The most helpful thing was the ability to upload all my artwork and information without having to create an entirely new shop through my website. I also appreciated that some of the fees for Art-A-Whirl are donated.
What do you do outside of just listing products that helps engage customers?
Update Instagram, Facebook, Twitter, and website/portfolio with recent artworks.

Include a clear and visible link in your profile and story that leads directly to your shop.

Keep the customers updated on shipping, inventory changes, and clearly communicate the pick-up hours/location.
Do you have any advice for your fellow artists and makers trying to transition to selling online?
It can seem intimidating and overwhelming at first but coming from a self-taught painter, I would highly recommend creating an online shop. The benefits are far greater. Personally, it was a great way to know my audience's preferences when it comes to sales, practicing customer service, and knowing how to price my artwork.
Art-A-Whirl profile • Website: philipodyauli.com • IG: @philipowashere • Northrup King Building, Studio 400
••••••••••••••••

Anna Palmquist • Stargirl Art
When the pandemic happened, and it was time for online Art-A-Whirl, I was in the midst of a house renovation that was taking up all my attention. I'd pretty much given up on my art business because of the pandemic. I was used to selling my work out of various studios in the Northrup King Building. Also, because of my in-person success, my website/web presence was in desperate need of updating. I never seemed to get around to it.
But since the online version of Art-A-Whirl was there, I thought I might as well set up my shop. I'll be honest with you: I threw something together quickly because I didn't have much time (house renovation), and I didn't really expect anything amazing to happen. I didn't even do any social media posts or marketing to let my very few followers know I had a new online shop.
To my shock and surprise, in about a week or so of online Art-a-Whirl, I sold the exact amount of watercolor Moons online that I did in-person at Art-A-Whirl in 2019 (even with a price increase for shipping). That success motivated me to get my online game together. Since then, I have redesigned my website and am planning a social media/marketing strategy to sell online. I'm rolling this out in September/October. Without online Art-A-Whirl, I never would have learned that my Moons sell great online. I also like that a percentage of my sales go back to supporting NEMAA. Without this organization, my art business wouldn't be where it is today.
I'm looking forward to a bright online future where my audience isn't just the Minneapolis/St. Paul area but anyone with internet access. My biggest advice for artists is to not be afraid to try something new to get your work seen. You might be surprised by what happens. And if it's a colossal fail, then at least you learned what doesn't work for you.
Art-A-Whirl profile • Website: stargirlart.com • IG: @annastargirlart • FB: @annastargirlart
••••••••••••••••

Aisha Formanski • Everthine Jewelry
In March when we figured out that the pandemic was going to impact gatherings, I knew I needed to rethink my business model immediately. I had been selling my work primarily at art fairs, and it was clear that these events were not going to continue in 2020. I signed up for a few online marketing courses and jumped in head first. I learned that I needed to start by spiffing up my website with better photography, and implement a strategy to improve my SEO (search engine optimization).
Next I tackled the question, how am I going to communicate with my clients without seeing them at events? I am posting to social media everyday. And I'm sending out email newsletters twice a month. Showing up in your clients' social media feeds and in their email inbox reminds them that you're here, that you're creating. People want to support artists and they are showing up for us.
In addition I'm offering promotions like discounts, free shipping, freebies, and new product launches to create excitement for my clients to check back often. Customers are now welcome to shop at my studio by appointment. This has been great for the person looking for a last minute gift or someone would prefer to pick up their online order.
If you don't know where to start you can check out Springboard for the Arts Work of Art: Marketing, Twin Cities Collective's Social Media Masterclass, and Jenna Kutcher's Online Courses.
Art-A-Whirl profile • Website: everthinejewelry.com • IG: @everthine_jewelry • FB: @everthinejewelry • Casket Arts Building #202
••••••••••••••••

Emily Gray Koehler
The Covid-19 pandemic has presented all of us with unexpected challenges. For many of us in the art world we are asking old questions in a desperate search for new answers. How do I present my art to patrons online? How do I find patrons in the expanse of the internet? How do I encourage them to support me? Unfortunately, there are no magic solutions. It all comes down to hard work.
It may not be the same as attending gallery openings, presenting a portfolio to a curator, or a meet-up for a future commission, but as I sit in front of my computer developing my online presence, it may just be the most important labor I can perform for my art career in this unprecedented time. But, what does developing an online presence mean? For me, it means a multi-faceted approach using as many resources as I can effectively wield. I've had an artist website for over a decade. It has evolved from a rudimentary portfolio page to what is now a central hub containing a shopping cart for art sales, information about me, my process, and my physical studio, email signup options, social media links, events and press, and more. It has taken a long time, a lot of work, some financial investment and trial and error to get to this point. The most important thing for any artist is to have a dedicated website. In addition to my website, I try to use as many resources as I can, all while directing them back to a single place: my website. As an example, I have a page set up on NEMAA's Art-A-Whirl site which I have linked to my website shop. During Art-A-Whirl and for many weeks after my site's analytics reported a significant uptick in activity and sales directed there from NEMAA! While I did not make as many sales as at past in-person Art-A-Whirls, the sales were significant and welcomed.
That brings up the issue of connection. Few of us have a budget to throw at traditional advertising, but we do have access to social media. While it does not solve everything, regularly posting and staying engaged with my two preferred social media platforms has kept me and my work in front of my patrons which is vital in this new digital, stay-at-home world. I create unique posts on my Facebook and Instagram pages multiple times a week. I reply promptly when followers comment and do my best to stay engaged in the wider arts community via social media. I also attempt to use as many diverse resources as possible. As an example, I was planning to participate in the Loring Park Art Festival this summer. When it was canceled due to the pandemic, the organizers began an aggressive social media campaign for its artists. All they asked of us was to send them content. The posts they made on my behalf not only resulted in new followers, but also sales. This would have been a lost opportunity had I not sent them the content they requested. In addition to social media, I maintain an email list to stay connected with my most engaged patrons. I send out monthly emails to my list containing images of works in progress, new works that are available for purchase, awards my work received in the past month, and any exhibitions or shows into which my work was juried.
Selling art online is never easy. Even the most dedicated collectors of my work would still prefer to buy in person. They want to walk up to a piece and see the texture of the hand-pulled print on paper, the vibrant oil-based palate unmanipulated by back-lit screens and pixel conversion, the scale of the print, the smell of the ink. However, we all know that is not possible right now. So, I stay engaged with them through all the virtual resources I have at my disposal, and I remain grateful and humbled by their support.
Art-A-Whirl profile • Website: emilygraykoehler.com • IG: @studioegk • FB: @studioegk • Thorp Building 1618 #137
••••••••••••••••
To experience the now everlasting Whirl, visit artawhirl.org. NEMAA 10x10 opens online September 26th at 5pm; you can also purchase Preview Tickets to get you in an hour early for first dibs on small works.
Banner image illustration by Russ White.
We can't do it
without you.
Help keep independent arts journalism alive in the Twin Cities.