On Murals & Meaning: Q&A with Lissa Karpeh
Posted July 30th, 2020 by Russ White
Painter and muralist Lissa Karpeh, who created one of the letters in the recent BLACK LIVES MATTER street mural, reflects on her public work, her studio practice, and what the past two months have taught her.

The mural along Plymouth Avenue features the work sixteen different artists, organized by the Minnesota African American Heritage Museum & Gallery. Photo by Georgia Fort, from maahmg.org.
What was your inspiration for your Black Lives Matter letter? What did it mean to you to be part of that group of 16 artists?
My inspiration came from thoughts about Black education. I based my letter "E" on the concept of "Black Education Matters" by highlighting books to symbolize education, an apple to symbolize complexities and knowledge, and African elders at the bottom to represent culture within Africa.
Participating in the Black Lives Matter mural felt like finally getting a chance to breathe a little. I was blessed to be a part of this experience and thank Tina Burnside and others from the Minnesota African American Heritage Museum for allowing me to contribute.
You've been doing some other mural work over the past two months. How many have you painted so far? And how has working on large public murals changed your approach to painting in the studio?
I painted two murals. One with George Floyd and his daughter. The second of him in high school. Through painting these murals I was able to step outside my comfort zone. I've never done any public art before, and enjoyed learning throughout this process of making with no strings attached.
Now I'm back in the studio making new work, exploring everything I'm feeling with a deeper sense of experimenting.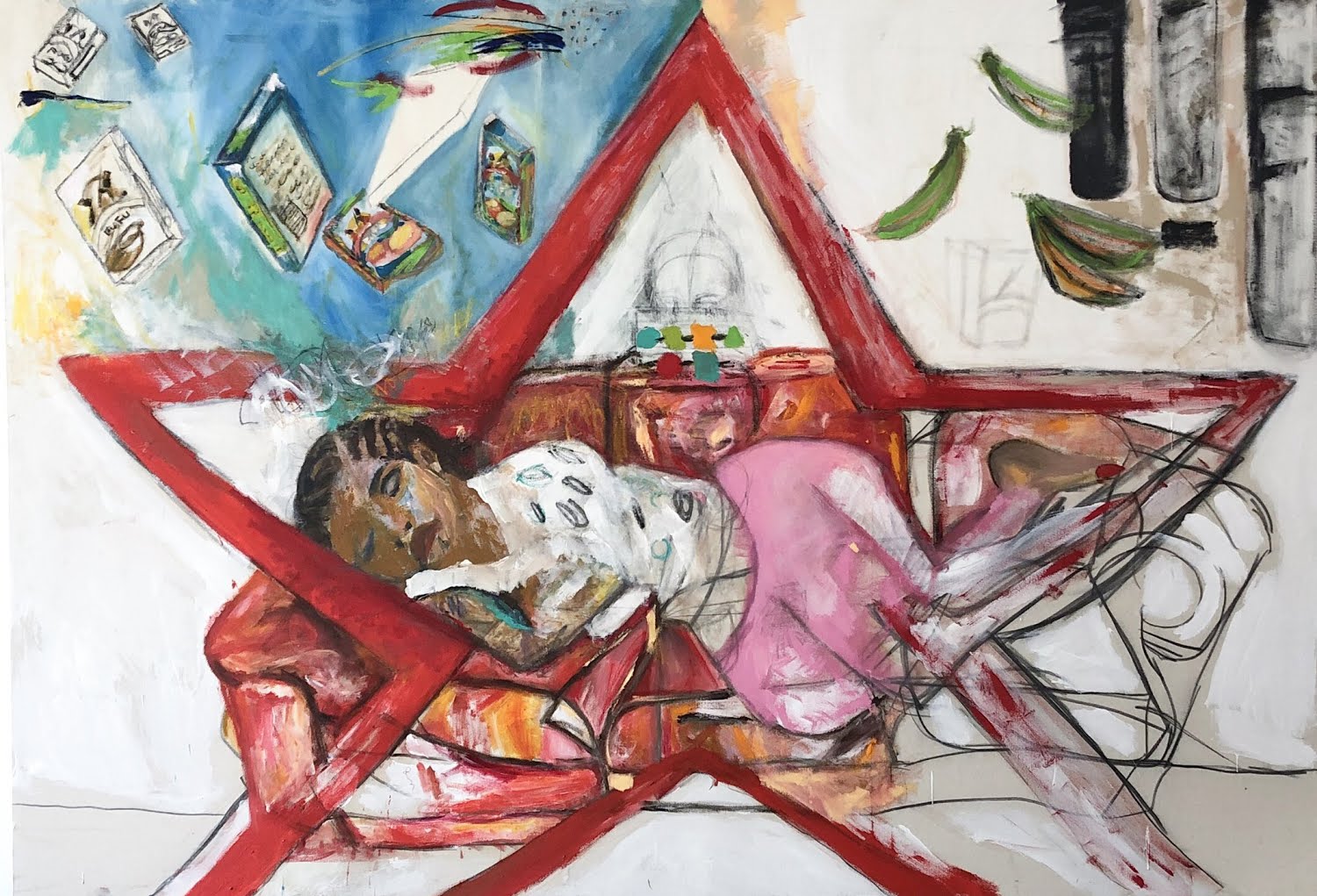 An example of Karpeh's previous studio work: American 9 to 5, oil and acrylic on canvas, 62 x 100", 2018.
You also recently coordinated a mural project for kids — can you tell us more about that?
The mural project was done with youth of color and immigrant backgrounds, titled "Art Of The Times" in response to the fight for social justice. We had 15 youth signed up to participate in painting murals on the looted CVS building near the Cub Foods in Uptown.
Participating youth were ages 7-18 and came from households of immigrant background. They all lived in the cities of Brooklyn Center, Brooklyn Park, New Hope, and Crystal: areas with a high population of immigrant families and little to no creative outlets for youth to engage or experience. After the murals were completed we had a little showcase and invited their parents to attend. Some of the kids were recent graduates from Cooper High School taught by my friend/artist Claire, others were kids from my Liberian Youth Arts program. The project was amazing, and I am happy they got the opportunity to express themselves.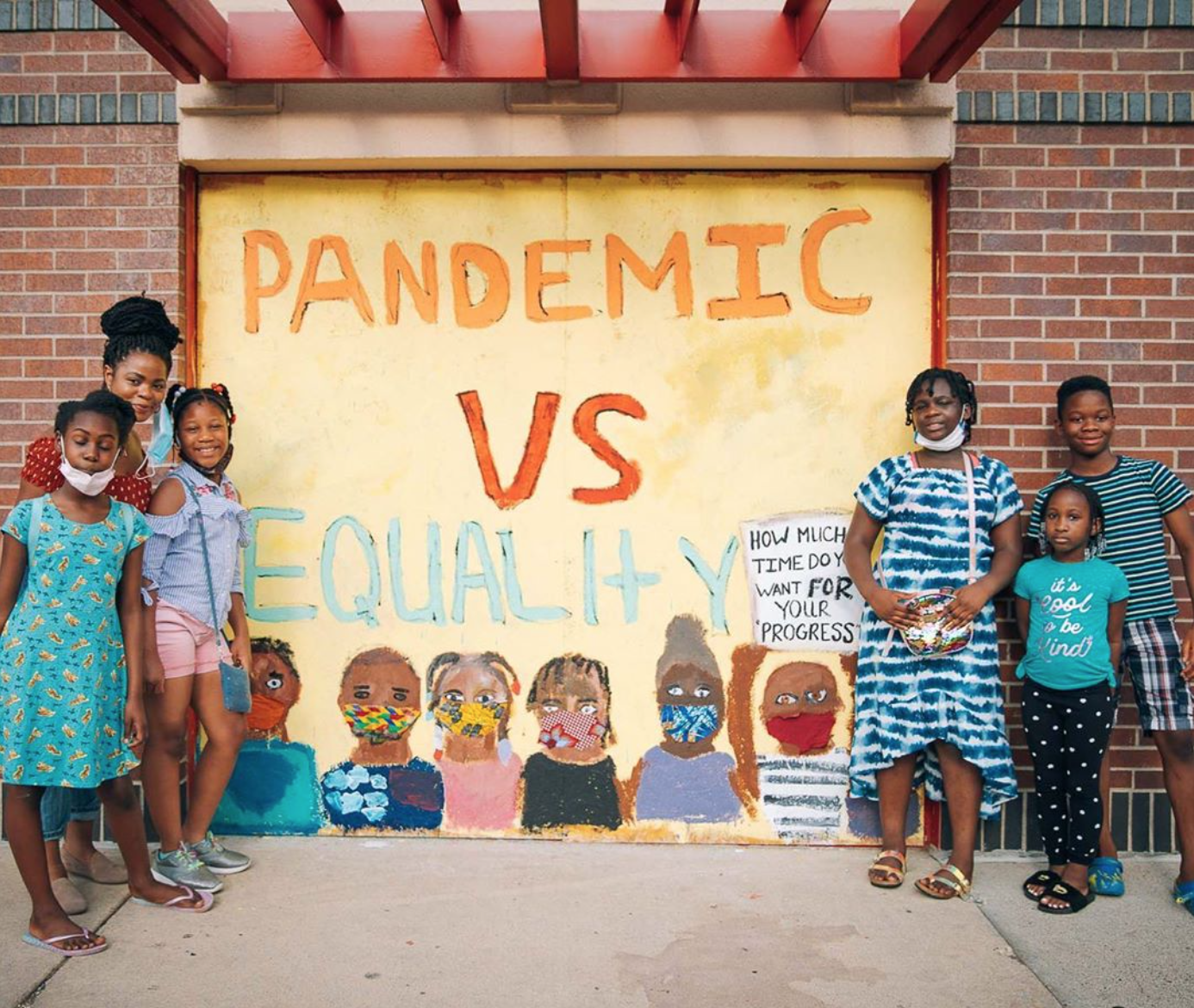 Karpeh, at left, with a group of young muralists and their work. Photo by Sam Wiebe, courtesy of Karpeh's Instagram.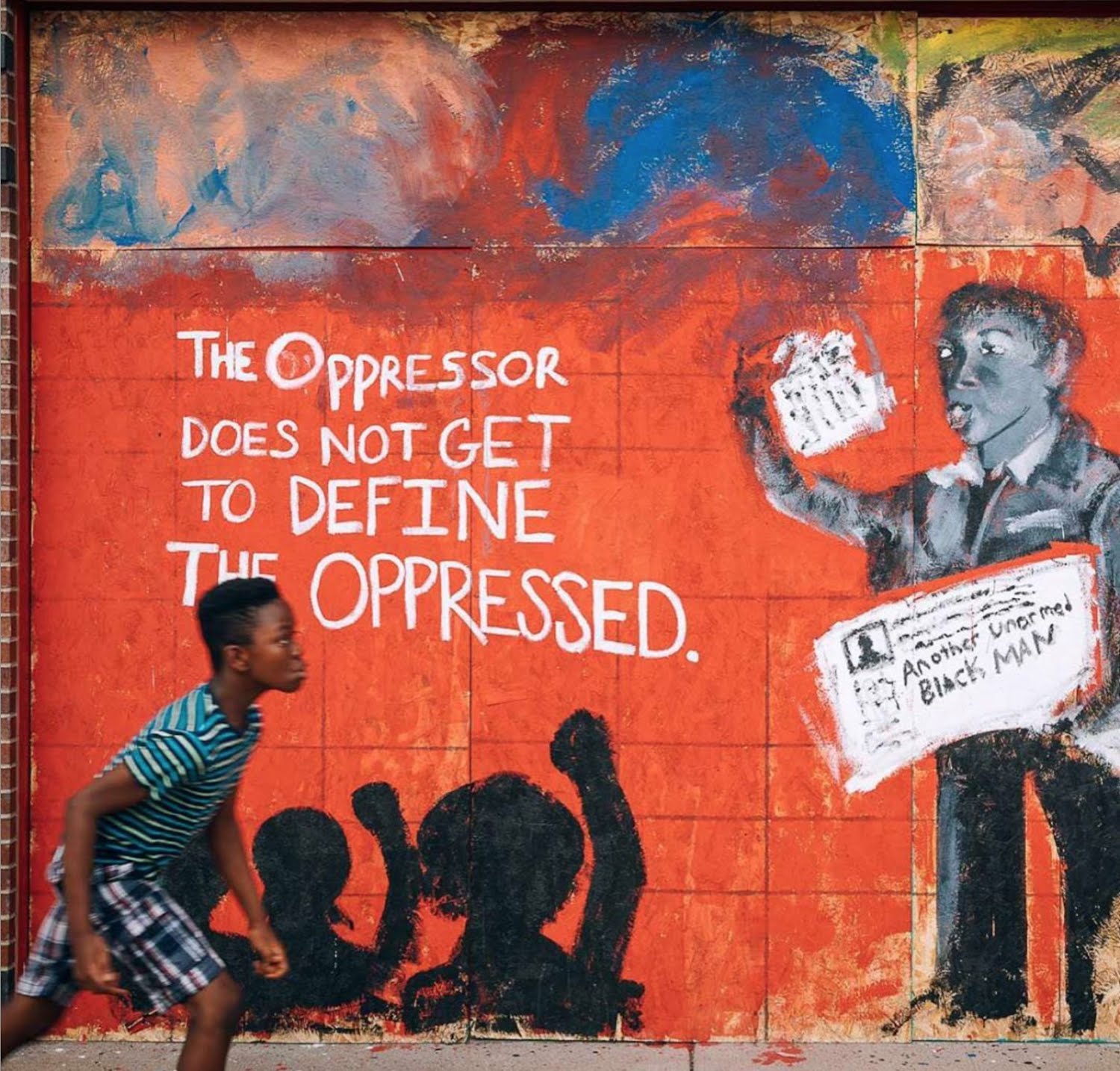 Photo by Sam Wiebe, courtesy of Karpeh's Instagram.
What have you learned about yourself or about Minneapolis since the murder of George Floyd, especially through creating this artwork?
To be honest, I'm slowly still processing everything. However, I think the most important thing I've learned is the definition of community. Since the murder of George Floyd, I learned how to better value and observe the role I play in communities. Especially communities of color, I am learning how to show up, do the work, and ask questions later. When it comes to my art work, I've learned the power of challenging and changing narratives in art. I now have a better understanding on art's ability to provoke, ask questions, answer questions, and explore answers that can be a formula for change. I am also learning how to use art to make a big impact on history during times like this, and how I must pay attention and create work encompassing much more than just my personal experiences alone.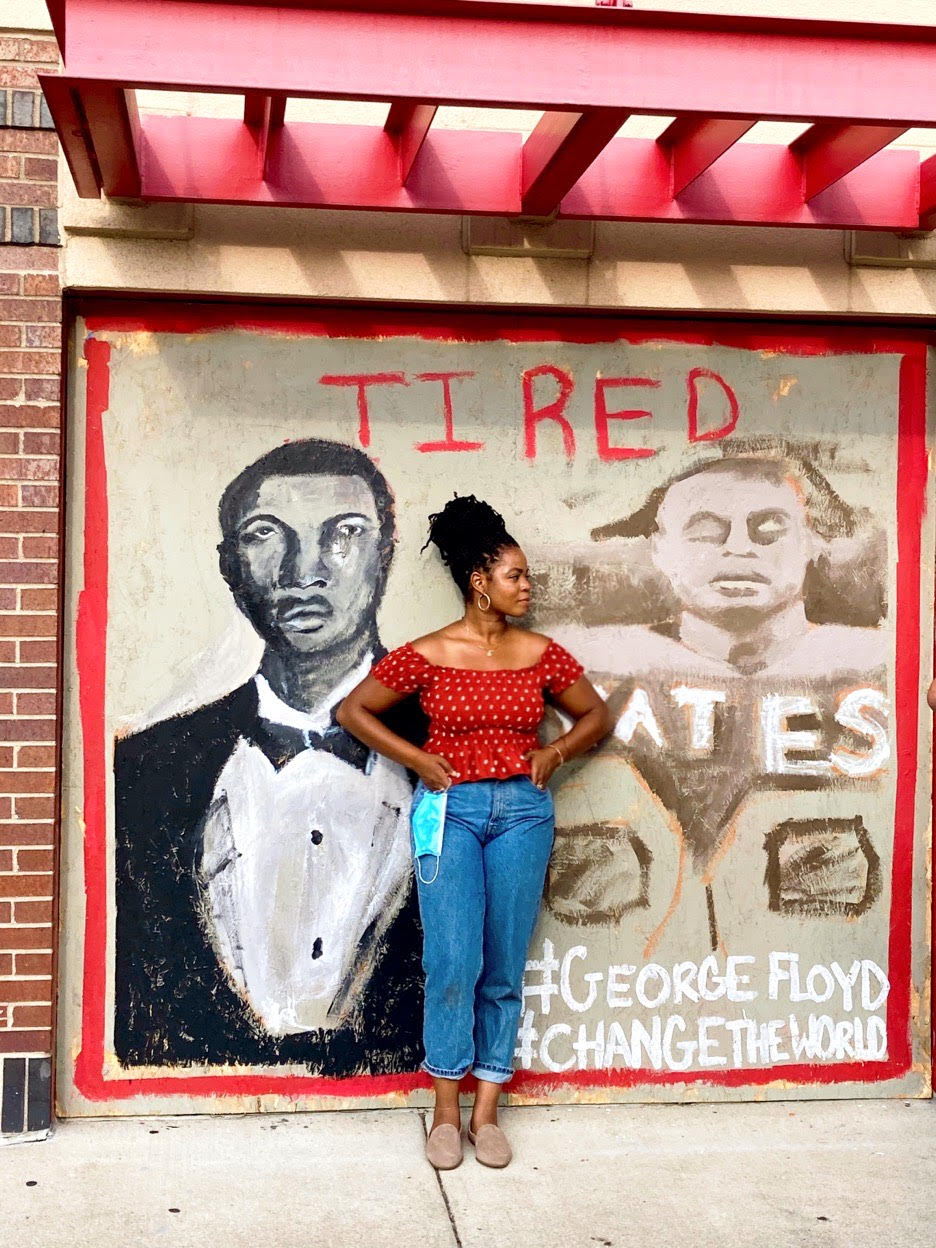 The artist with one of her recent murals. Photo by Sam Wiebe.
To see more of Lissa Karpeh's work, visit her website and follow her on Instagram. Also check out when we visited for #StudioVisitSundays last February. She is also a member of Studio 400 in Northeast Minneapolis. All images courtesy of the artist unless otherwise noted.
---
We can't do it
without you.
Help keep independent arts journalism alive in the Twin Cities.