Off The Wall: Ahnali Tran at Creating Change Gallery
Posted May 7th, 2020 by Bridget Kranz
An upcoming livestream of the Perpich Arts student's solo exhibition at the Creating Change Gallery will highlight her work and the space.
This article is sponsored by the Graves Foundation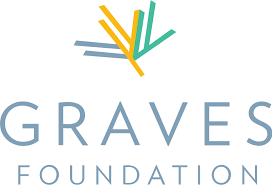 With a new space now carved out for emerging artists in the Midtown Exchange Building, it has been up to Ahnali Tran to figure out how to fill it.
A senior at Perpich Arts High School in Minneapolis, Tran has spent the last four years thinking strategically about getting paintings off the wall — for example, by hanging work from the ceiling and asking visitors to circle it. However, an upcoming exhibition at the Creating Change Gallery will be her first time developing and promoting a solo show.
For the project, Tran has partnered with Ryan Stopera, one of four teaching artists working as mentors during the gallery's pilot year. Located in the John and Denise Graves Foundation office, the space was started by the nonprofit earlier this year with the goal of supporting young artists' development. The opening of Tran's exhibition on May 8 will also be viewers' first introduction to the gallery itself.
Due to the COVID-19 pandemic, the event will take place virtually, with Tran bringing guests on a walkthrough of the physical space and answering questions via livestream. As she prepares to graduate from Perpich, Tran noted that the show at Creating Change is also a kind of culmination of her last four years of work — drawing largely on a portfolio entitled Healing the Halves & Quarters.
For Tran, the "healing" in the collection's title comes from both the process of making art and the ideas she explores through her media — notably her experience of being mixed race and Southeast Asian American.
"Putting things down through art is very powerful to me, especially the idea of creating a homeland away from homeland," said Tran, noting that this exploration has also led her to install work in a more physical way. "It's the idea of being mixed and not having a place that feels quite right."
She added that her work has also been a way to delve into intergenerational trauma, which she said she's seen manifest through language and cultural barriers within families. For people who came to the United States from Southeast Asia, Tran noted that a lot of this inherited trauma stems from the violence of the Vietnam War.
"I grew up in a very assimilated family," she said. "There's a lot of untapped post-immigration trauma that can only be recognized through the progression of time. My grandparents have only recently begun to really open up about their own struggles with immigration."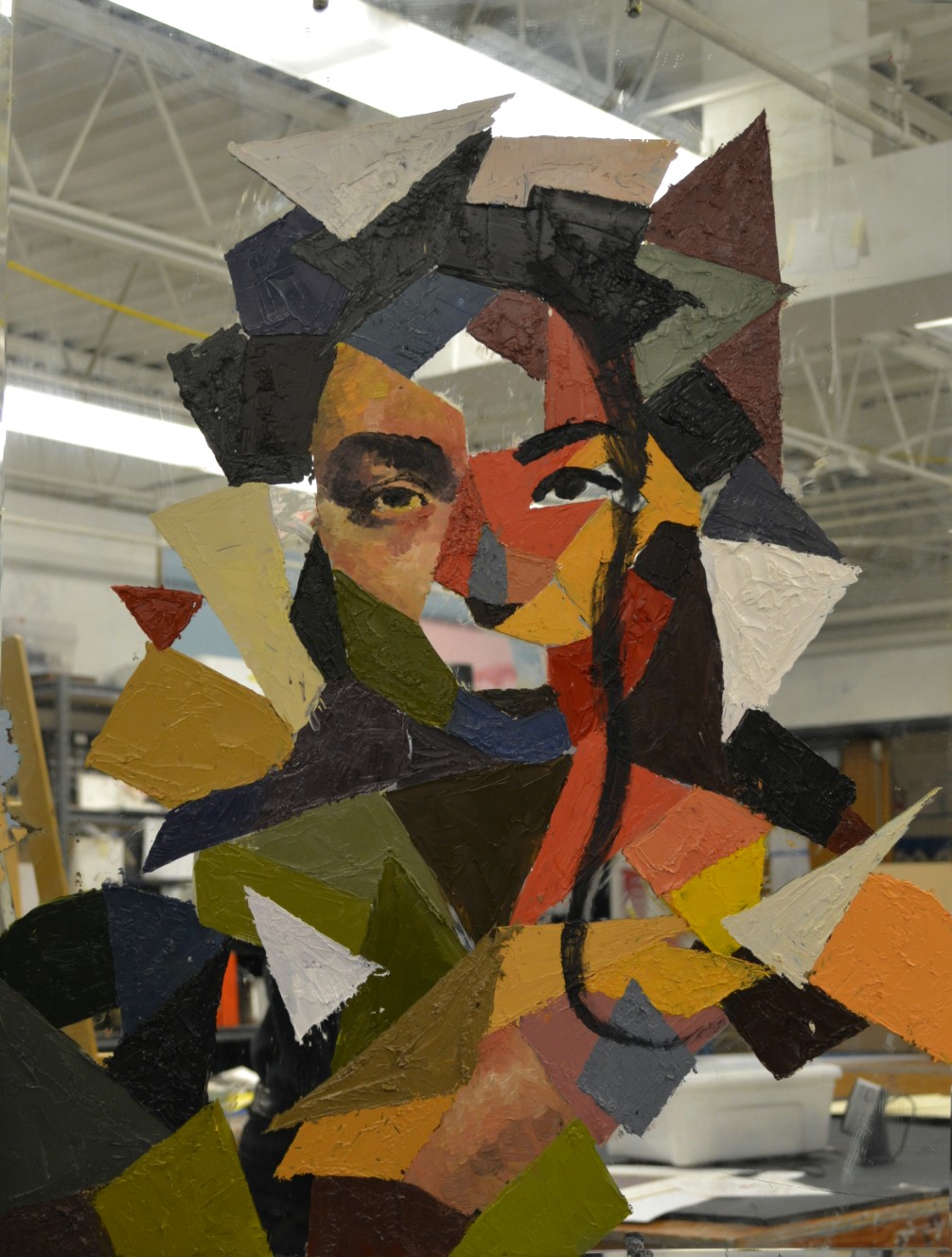 In the Mirror this Morning, oil on mirror
Demanding a physical presence
Favoring two-dimensional media — including oil, acrylic and ink — Tran attempts to get creative with the surfaces that she uses and the way that she hangs finished pieces. With work that explores the creation of a new homeland, she has also focused on carving out physical space for her art on display. Painting often on plexiglass, she then hangs it from the ceiling as opposed to mounting it on a wall.
"It demands a physical presence in a gallery," she explained. "There's the idea that, 'I need to avoid this hanging piece of glass.' It captures the air inside the glass and around it, and there is a very literal feeling."
The thick plastic is also an interesting barrier — it can divide a room, while still leaving everything in view. Although it's transparent, plexiglass is thicker than traditional drawing surfaces. In one piece from the collection called In the Mirror this Morning, there's an almost complete portrait drawn in blocks of color with a few key pieces missing and the eyes two distinctly different styles — one heavily shaded, one drawn with as seemingly few lines as possible. Mouth, forehead, earlobes and heart are filled in by whatever happens to be on the other side of the plexiglass surface; the piece is automatically shaped by whatever room it's in.
Creating change in context
As with the portrait, the show itself is inevitably formed by its context. While the foundation made the decision to continue funding the gallery's pilot exhibition, and while Stopera and Tran opted to move forward with a virtual opening, COVID-19 played a large part in shaping some of Tran's newest works, which will also be included in the exhibition.
"I'm currently working on a piece with a tarot card theme — this one is around the Six of Pentacles," explained Tran. "The card itself reads on themes such as charity and wealth … [the piece] captures the idea of wealth during the pandemic and who's getting treatment, whose lives are worth more than others."
Stopera added that a surge in anti-Asian racism fueled by the virus has been a factor in his regular discussions with Tran and the direction some of the work for the show has taken. Having recently produced a book centered on Asian-American stories, he said he was able to share some of his past work with Tran and use it as a conversation starter.
"Having that shared experience, especially in the current context, has been really helpful," said Stopera, while noting that the work in the show is all Tran's. "I haven't pushed too much, I've just opened up those ideas and affirmed those things, so that she can work on what speaks to her."
Chúc mừng năm mới, watercolor on paper.
Intergenerational collaboration
Even after the duration of Tran's three-month exhibition at Creating Change, Stopera added that he hopes to be able to collaborate with his current mentee in the future. With Tran likely headed off to pursue a post-secondary art degree and Stopera continuing his work as a professional photographer, filmmaker, and educator in the Twin Cities, he noted that future collaborations could be an interesting way to work together across age and medium.
"You just don't see as much intergenerational collaboration now, and I think it's important to have more spaces like that. I'm learning from her and I think older folks don't always see what they can learn from people younger than them," added Stopera. "This whole time, I've had my eyes open to that."
Now, Stopera and Tran are also learning together while preparing for the virtual opening. Tran will give a tour of the space and host a question-and-answer via Facebook Live on Friday night, before looking ahead to the summer. In addition to wanting to do another virtual walk-through and artist talk during the show's run, Stopera said he hopes that by the end of the exhibition, there may even be the possibility to have individuals walk through the show in-person.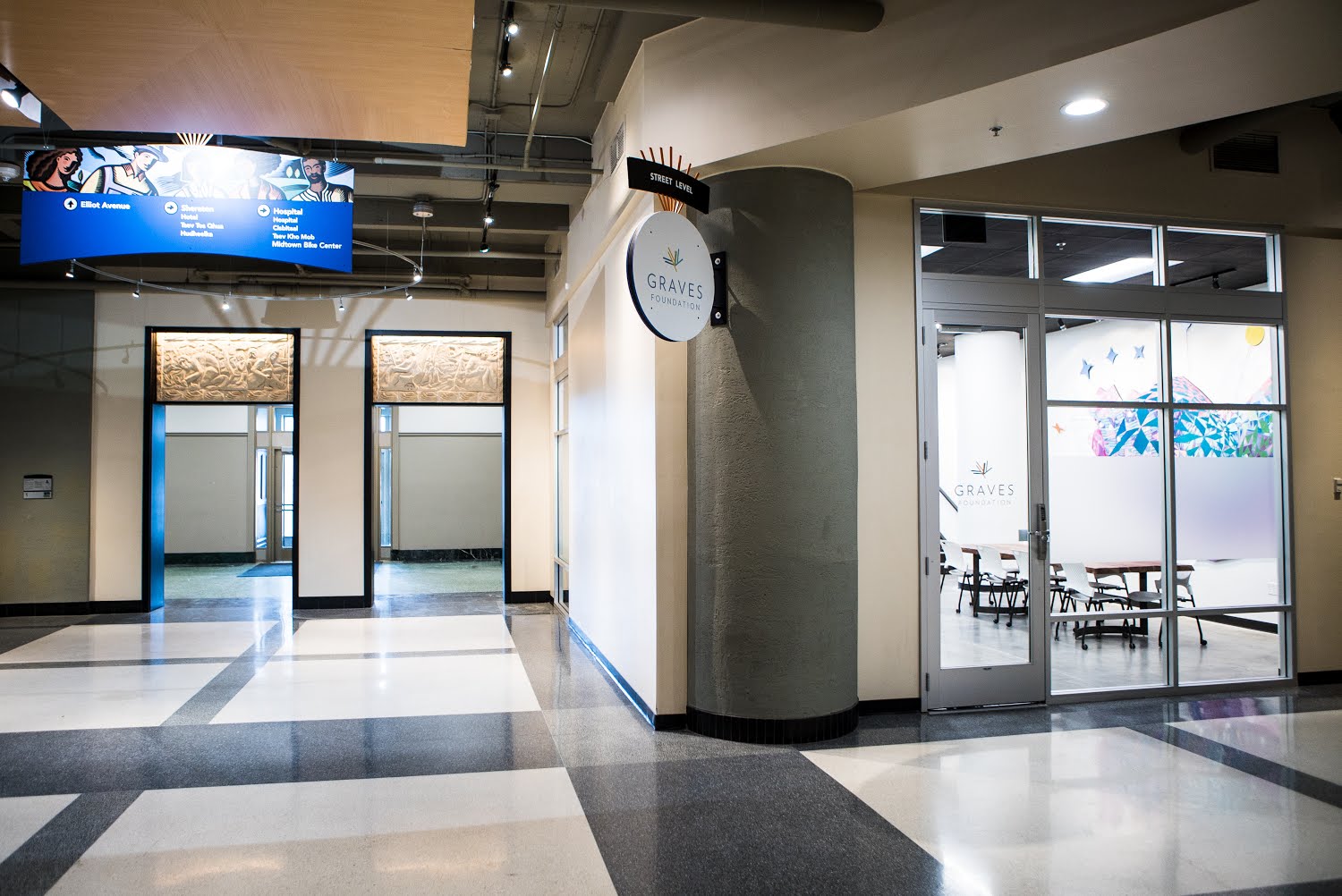 The entrance to the Creating Change Gallery at the John and Denise Graves Foundation office in the Midtown Exchange. Photo by Ryan Stopera.
'Almost more observed'
In the meantime, the camera is adding one more dimension to the space of Tran's work. As a slight silver lining, she hoped that people would be able to see her pieces with greater clarity and focus from home — rather than in the midst of an opening — as she walks them through the new place she's created and communicates some of the physicality of the work.
"There's an ability to have an ongoing and designated dialogue about the work and the space," Tran added. "In a way, it seems like the work is almost more observed — since it has to be through a different lens."
The opening will take place on Friday, May 8, from 7 to 8 p.m. A livestream can be found on the John and Denise Graves Foundation Facebook page. More information on Creating Change can be found on the foundation website or @creating_change_gallery on Instagram.
More information on Tran's art can be found on her website or @tranworks on Instagram. All images courtesy of the artist.
---
We can't do it
without you.
Help keep independent arts journalism alive in the Twin Cities.