Cultivating 'Curiosity'
Posted March 4th, 2020 by Bridget Kranz
After a chance meeting, two local artists teamed up to help unblock other people's creativity
Curiosity Studio co-founders Ashley Mary and Lauren Callis refer to their artistic partnership as a "love story."
Ashley, a painter and graphic designer, had been working out of her studio on the second floor of the Northrup King Building for a few years when Lauren and her business, An Upcycled Closet, moved into a nearby space in the summer of 2018. While making the rounds to meet her new neighbors, Lauren knocked on Ashley's door and the pair soon connected over a shared interest in how creativity and wellness overlap.
"We got to talking about my background in art therapy, and at the time Ashley was finishing her master's degree and creating curriculum around the foundational blocks of Curiosity Studio," explained Lauren. "She was seeing what it looks like to create some sort of learning environment for adults that promoted play."
Ashley added that, as a graduate student in the Minneapolis College of Art & Design's graphic design program, her thesis had centered around this concept. After connecting with Lauren, who came from a clinical art therapy background prior to starting An Upcycled Closet, she noted that the idea for a play-centric workshop model became far more complex.
Outside of discussions for a new joint venture, Ashley would also frequently seek Lauren out for help on murals. It was over one such project at the nearby Dogwood Coffee that the pair began making plans in earnest. Curiosity Studio was becoming a reality: a place where anyone — friends, strangers, clients, and customers; artists and non-artists alike — could come to play in the world of art-making.
Over this past summer, Curiosity Studio had its soft launch and, in the fall, the business hosted a number of corporate retreats along with a test of an eight-week course out of what is now Ashley and Lauren's joint studio space in Northrup King.
Starting this winter, the duo is ready to roll out their curriculum in full — a series of eight-week workshops, group retreats, and other experiences that they note are tailored to try and answer a recurring question: How can art-making be a part of your personal wellness?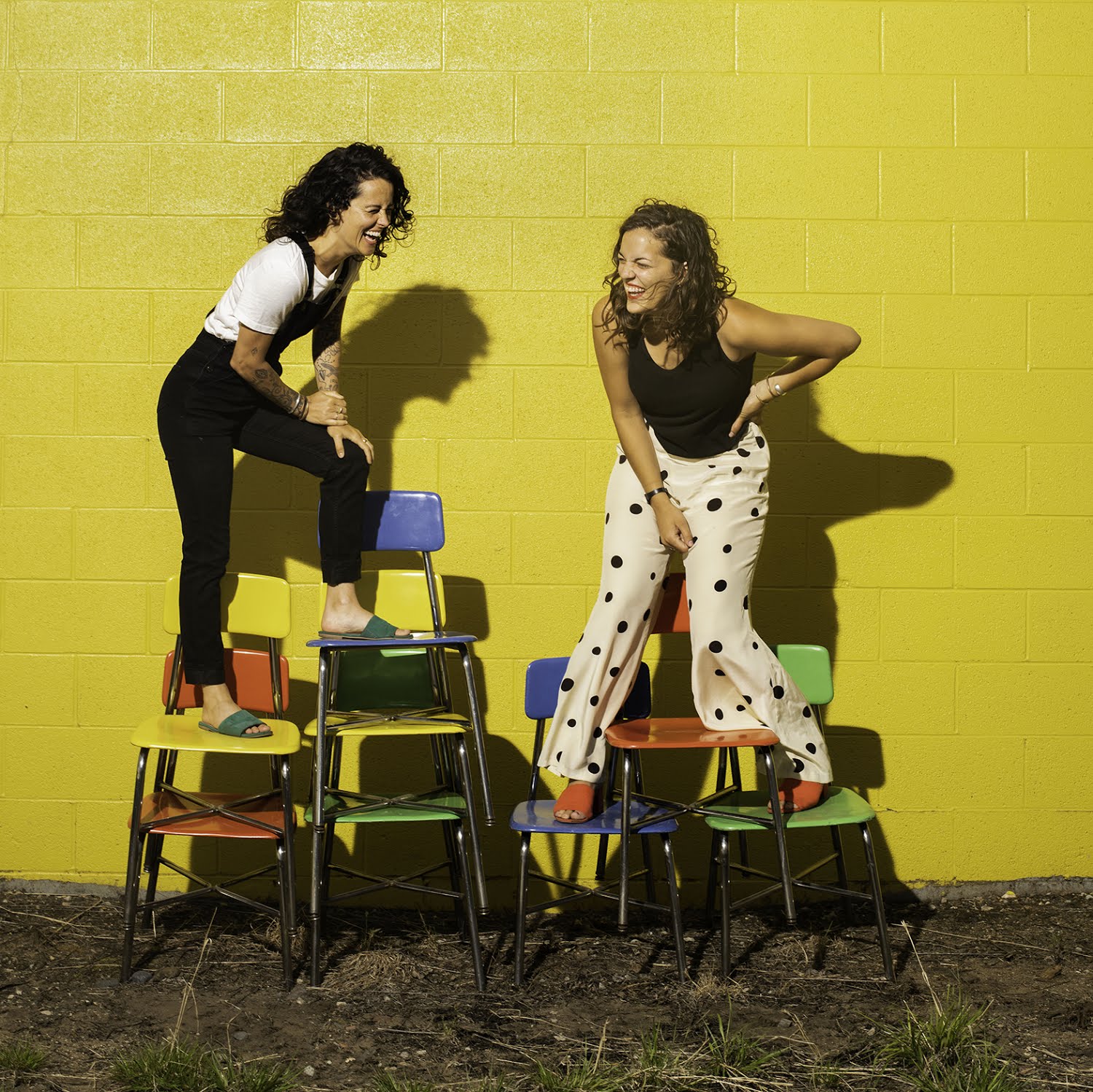 Ashley Mary (left) and Lauren Callis Erickson. Photo by Graham Tolbert.
"How do you get started?"
Outside of Curiosity Studio, Lauren's business An Upcycled Closet sells secondhand goods and offers classes on mending, sewing, and sustainable clothing practices. Ashley works frequently on commissions for murals and paintings, as well as product design in partnership with other businesses. These connections to clients and communities gave the two a network to tap when first building up their new business.
Most importantly, both artists were already established as creators. The central question they sought to answer with Curiosity Studio was one they were getting asked all the time by their peers, who looked to them as experts in the field.
"Because of the spaces we work in, we've had lots of people initiate their conversations on creativity with us," Ashley explained. "Time and again, we're getting the same sentiment: 'How do I get started?'"
During the fall, Ashley, Lauren, and their group of rotating instructors worked primarily on retreats and corporate group events — which included both on-site experiences and instances where a group would come in and work with Curiosity Studio at its homebase in Northrup King.
Starting in 2020, Lauren explained, the business is going to be rolling out more of its bread-and-butter two month workshops, which are open to anyone who wants to enroll.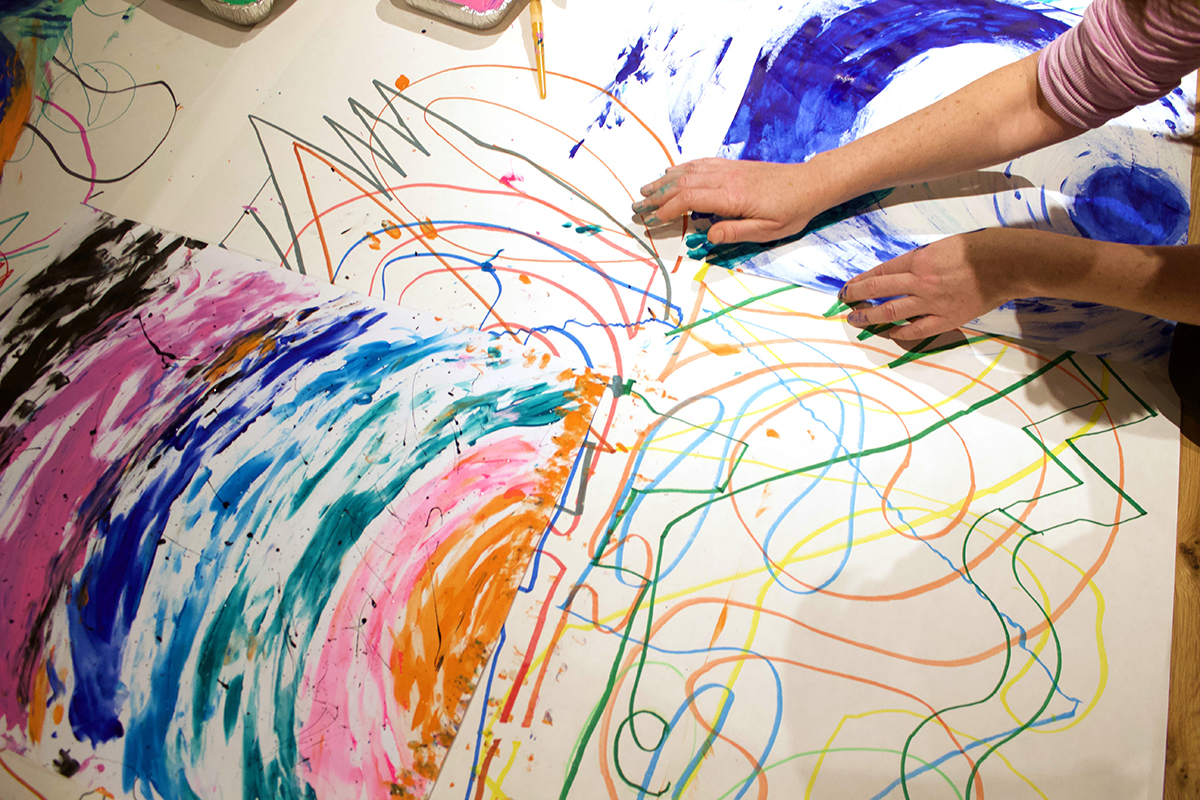 A Curiosity Studio participant getting messy in the making. Photo courtesy of Curiosity Studio.
Centering classes around a topic
While the exact structure and curriculum is still being adjusted as Curiosity Studio continues its first year in business, the current model includes 8-week courses, one-day workshops, and one-off events. The longer courses meet once a week and are centered around a theme, with two-week chunks focused on different topics within that theme.
"The theme can be a number of things. It could be a word, like 'delight,' or it could be about slowing down or perfectionism or play," explained Lauren. "That is then informing what tools and what skill sets we use in our artist's toolbox for what practical things we'll be teaching."
Each two-week period will also have its own instructor, which the co-founders said they hoped would provide an array of perspectives for participants. Unlike a traditional art class, Lauren added that participants might not always leave with what they consider a finished product. The focus for Curiosity Studio, she said, was more on the process.
Coming from an art therapy background, she noted that she was particularly interested in the role that practicing creativity could play in overall health and wellness.
"All of this is based on the fact that art is inherently therapeutic," says Lauren. "You're moving, there's a lot of body awareness, there's a lot of higher-level thinking that has to happen in our frontal lobe."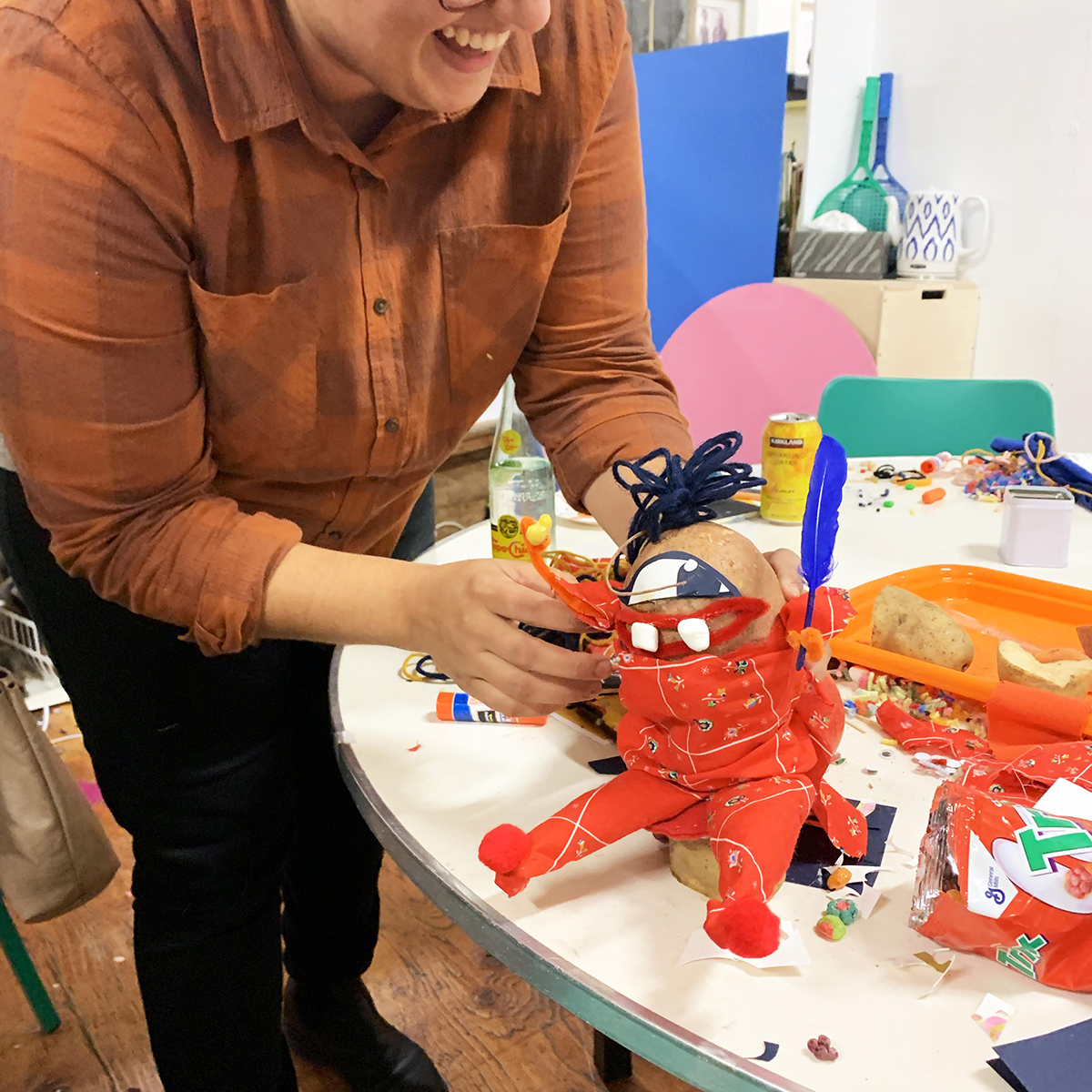 Another participant works with paper, pipe cleaners, fabric, and doo-dads to dress up a potato. Photo courtesy of Curiosity Studio.
"We're giving people permission"
In a recent workshop at athletic clothing store Lululemon, the studio brought massive sheets of paper and asked participants to paint with their whole bodies, at one point even holding brushes between their elbows. Tempera colors were put into bowls not palettes, and organizers made sure the space was big enough for people to really move around.
"We're breaking down some of the barriers people have to utilizing art and really anything for the first time," said Lauren. "We're trying to figure out how it's something they can give some space to in their daily lives."
With many of the planned activities, Ashley and Lauren said participants will ideally be able to replicate them at home — again comparing keeping up with a creative practice to working out or getting enough sleep.
"It is sort of a muscle and mechanism. If it's left untouched, it gets a little rusty," said Lauren. "A lot of the programming we offer, it's some confidence-building. We're giving people permission for something that they already can do in their own spaces."
To that end, the studio is also planning to offer classes at a range of price points — from eight-week workshops that can run a few hundred dollars to one-off events or First Thursday open studio sessions every month at Northrup King. They'll also continue to work with organizations on retreats or other group events either on- or off-site.
For any experience, Ashley and Lauren also emphasized that they hope participants not only get unstuck creatively, but also form connections with others in the community — perhaps meeting in the studio building the same way the co-founders did a couple years back.
"People want a way to make friends," added Lauren. "We're making sure we're doing this in a community setting, making sure that we're honoring the relationships that are being built in this space as just as valuable as the art that's being made."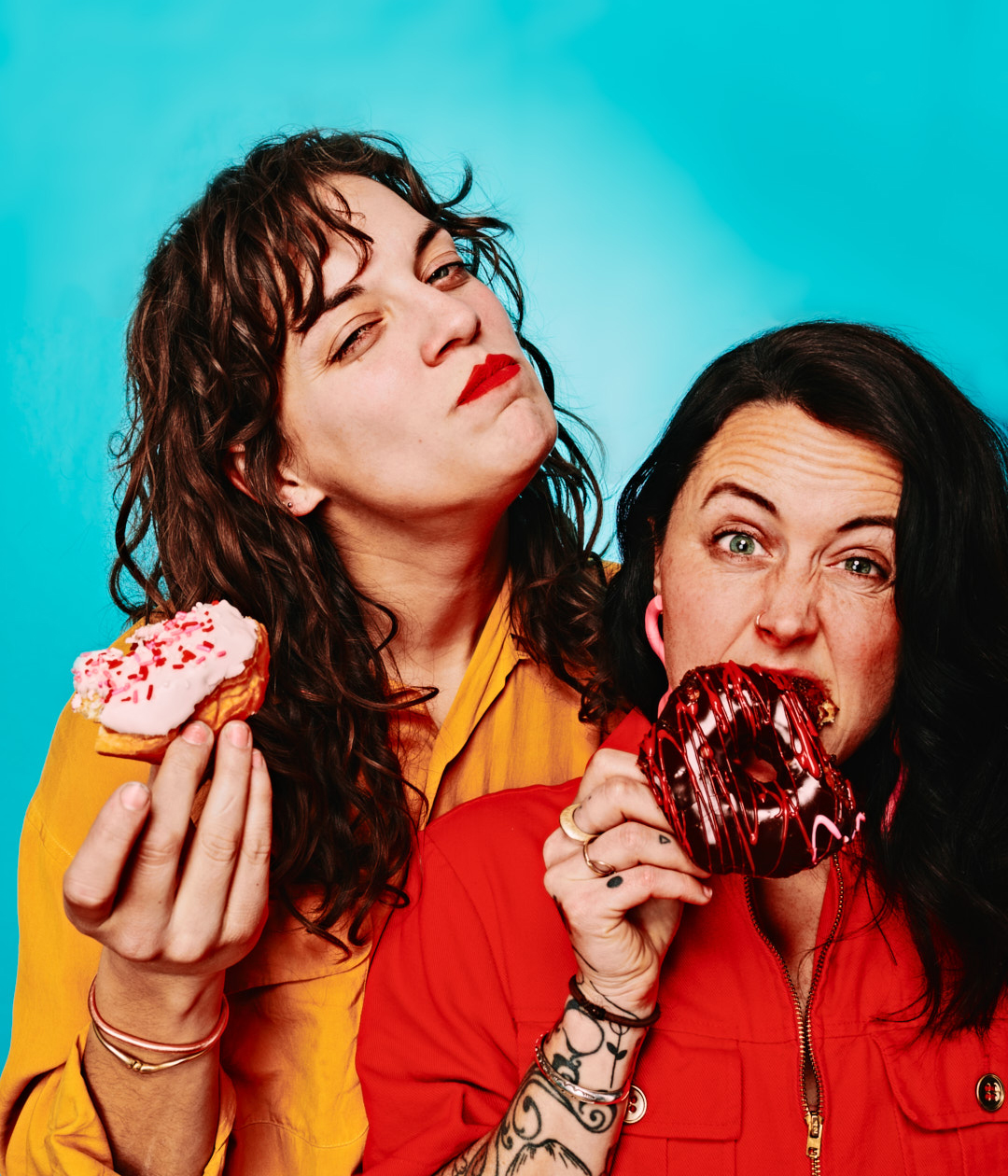 Lauren Callis Erickson (left) and Ashley Mary. Photo by Graham Tolbert.
For updates on Curiosity Studio and information on upcoming events, visit curiositystudioclass.com or follow along on Instagram @curiositystudio_.
Banner image by Graham Tolbert. All images courtesy of Curiosity Studio.
---
We can't do it
without you.
Help keep independent arts journalism alive in the Twin Cities.