The Gallery of Babel: Language, culture, and the Arab Imaginary at The M
Posted September 25th, 2019 by Russ White
'History Is Not Here: Art and the Arab Imaginary' is on view at The Minnesota Museum of America Art through January 5th, 2020.
The first thing to greet you at History Is Not Here, only a few feet into The M's main gallery space, is the jowly, mustachioed face of Thomas Friedman. The popular New York Times columnist has been a prominent voice in Western punditry for the past two decades, offering expert analysis both to the public and to policy-makers alike on global trade, military intervention, and foreign policy in the so-called Middle East. He is affable, confident, and — according to Maymanah Farhat, one of the show's curators — "notorious for always getting it wrong." Co-curator Heba Y. Amin agrees: "His reporting is incredibly inaccurate."
Friedman shows up as one half of a video installation by Cairo- and Chicago-based Hamdi Attia; the other half is an Egyptian doppelgänger of sorts — a widely popular television preacher named Amr Khaled, who has apparently modeled his public speaking style after Friedman's. The piece, Two Performances.Ram, jumps between footage of the two speakers, translating Friedman's English into Arabic subtitles and Khaled's Arabic into English.
It's fitting that Friedman (a Minnesota native, no less) is the first to greet visitors to this exhibit: we probably have it all wrong, too. That the show opens with a profoundly ill-informed talking head subtitled in a language most Americans can't read perfectly crystallizes the miscommunication and misunderstanding about Arab identity this exhibition is addressing.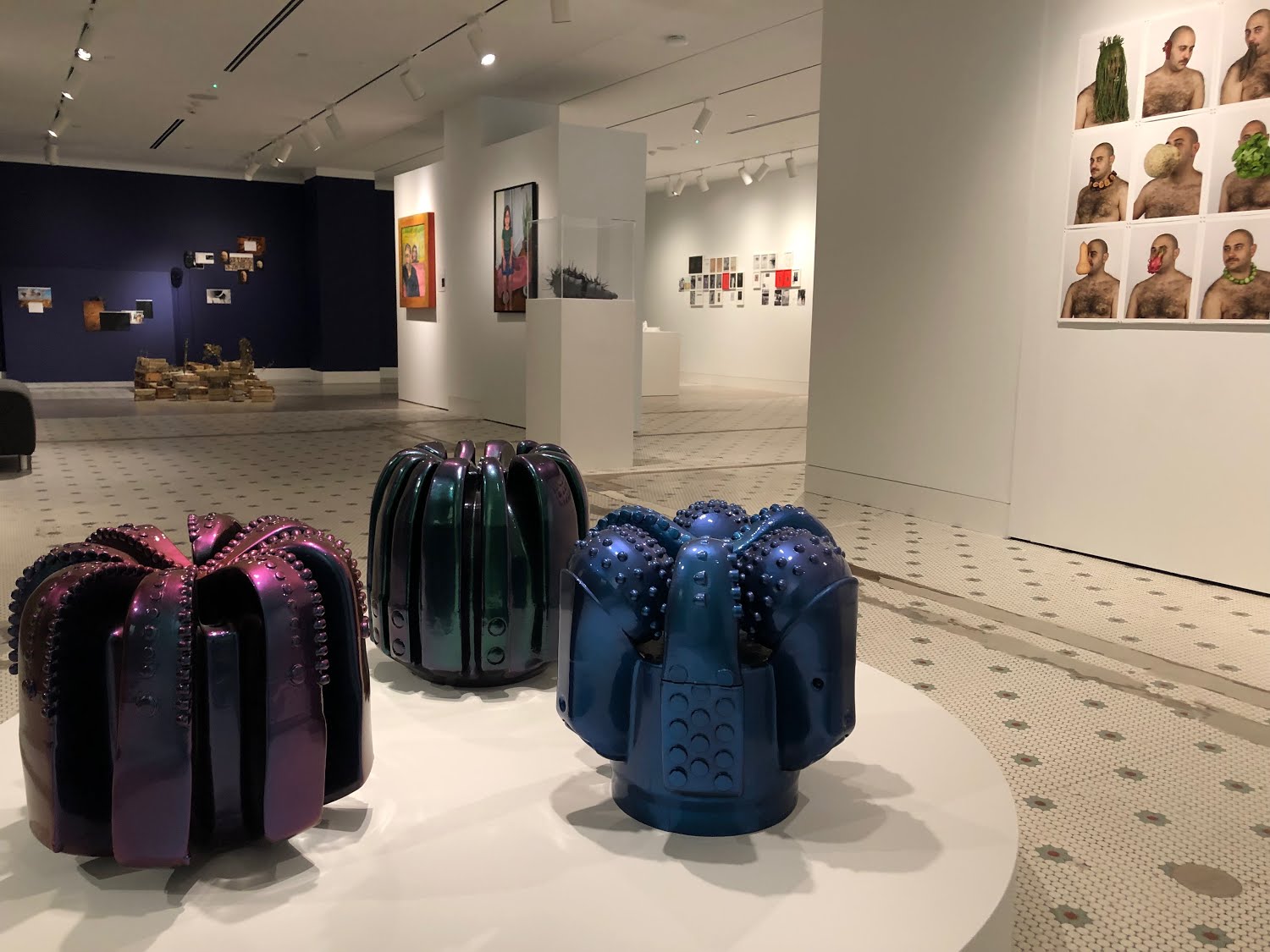 Exhibition installation view. Foreground: Monira Al Qadiri, Spectrum II, 3D-printed plastic sculptures, 2016. Photo by the author.
History Is Not Here presents works by seventeen artists from all across Southwest Asia and North Africa, several of whom also call America home. Organized over the past two years by art historian Farhat and artist/educator Amin, the show consists of artists who have been featured in the pages of Mizna, a biannual art and literary journal now celebrating their twentieth year in print (Amin is also Mizna's current Curator of Visual Art). The journal is published by the St. Paul-based Arab-American nonprofit of the same name, whose mission, according to Executive and Artistic Director Lana Barkawi, is "to provide our community a complicating narrative about who we are."
"This is not a show about artists who identify themselves as Arab," explains Amin, "because in fact some of our artists aren't Arab. It's not a show about artists who identify themselves as necessarily 'Middle Eastern,' because that's a descriptive geography that was imposed on the region. So it's really important to understand the mix between how geography was defined, how historiography is written, and how identities are relayed. That's really what we're trying to question."
"What is culture," Farhat adds, "if it's not imagined by many different voices?"
The curators offer no Arab monolith, no singular voice but instead a chorus of wildly different styles, subjects, and media. There may be no history here, but there is humor, vibrancy, sensuality, urgency, and above all, individuality.
It is a reflection of the real Arab world: a massive conglomeration of countries, cultures, and languages, some of them lumped under an "Arab" umbrella by the outside world simply because of geography. This is one half of what the curators term "the Arab Imaginary": the concocted fables of Western understanding, perhaps best seen in the terrorists and taxi drivers of Hollywood pablum. The other half of this Imaginary comes from the Arab world itself: it's what these artists show us from their own perspectives. Massive oil rig drill bits are reimagined as pearlescent pottery, a Kalashnikov rifle becomes a literal crutch, and in a haunting black and white short film, a lone woman waits on a Palestinian tarmac with a bouquet of flowers for Amelia Earhart, who never shows up. The film, by Emily Jacir, is itself a historical mashup, a bit of high concept romance noir in which East never quite meets West, at least not before the flowers wilt.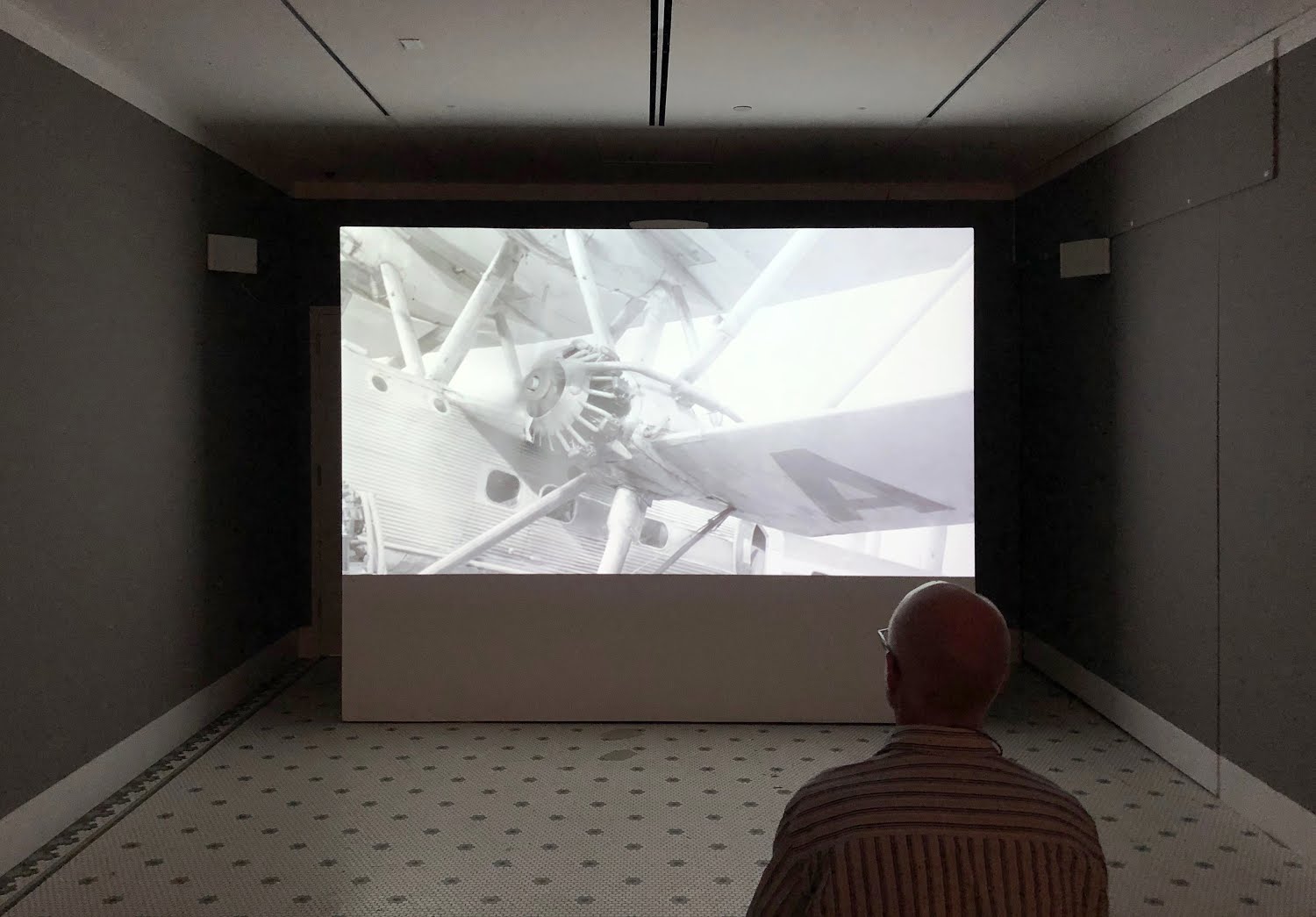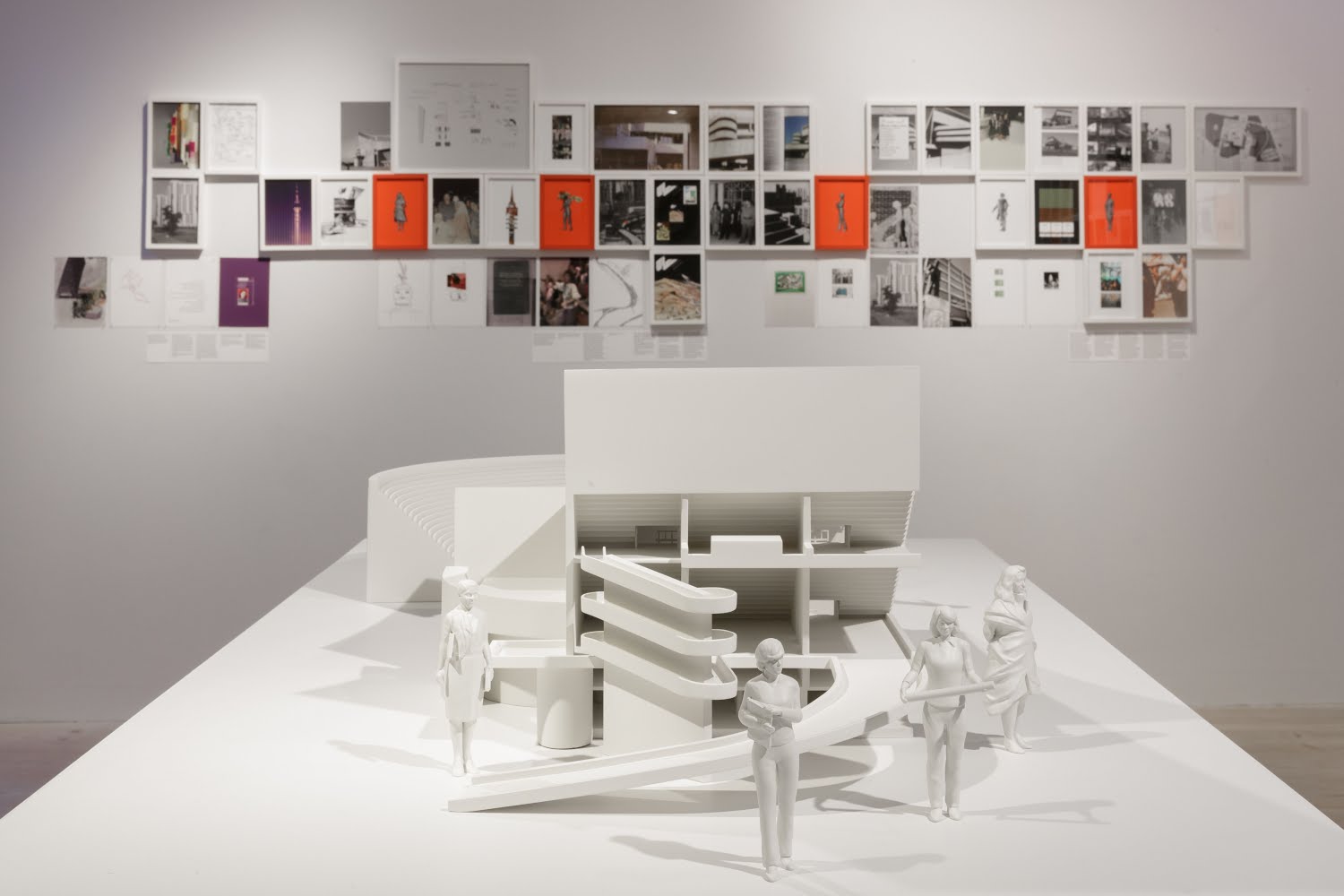 Top: Emily Jacir; Lydda Airport (installation view); single-channel video, sound; 2009. Photo by the author. Bottom: Ala Younis; Plan (fem.) for Greater Baghdad; two- and three-dimensional prints, drawings, archival and found materials, and model; 2018. Image courtesy of the artist.
One stand-out in the show is a series of photographs by Raed Yassin: two dozen self-portraits of the artist, shirtless and hirsute, holding different vegetables in his mouth or wearing them around his neck. The produce are commonplace but not indigenous to Europe or North America — foreign transplants that have been welcomed to Western dinner tables more readily than the people who originally farmed them. The series is absurdly funny and playfully erotic but confrontational in its melancholy. Yassin's eyes look back at us from behind the lettuce, broccoli, and starfruit, alternating between a twinkling "come hither" glance and something much more deadpan. (Look for a billboard of Yassin's images to show up at the intersection of University and Vandalia in the coming weeks. You won't be able to miss it.)
Language forms a through-line in the exhibit, from Friedman in Arabic and Khaled in English to Zineb Sedira's Mother Tongue, a meditation on migration's effects on the artist's family: three generations of women who all speak different languages. Words and voices pop up in several other works as well, but this fascination with linguistic multiplicity is perhaps best expressed through a collection of small, scrappy drawings of ziggurats by Walid Siti, an Iraqi-Kurdish artist based in London. The sketchy scaffolds of black and white strokes on brown paper form teetering triangular structures, clearly referencing the Tower of Babel. It is an ancient story — evident in Sumerian and Assyrian mythologies as well as in the Genesis narrative — treating languages as a curse, a barrier inflicted by the divine as punishment for human hubris. This mythological Arab monolith, here scrawled repeatedly in crayon and acrylic by Siti, was struck down by the Almighty, scattering humans far and wide and confusing them with a thousand tongues. The curators have turned that myth on its head, celebrating that confusion. Complicating the narrative, as Barkawi said.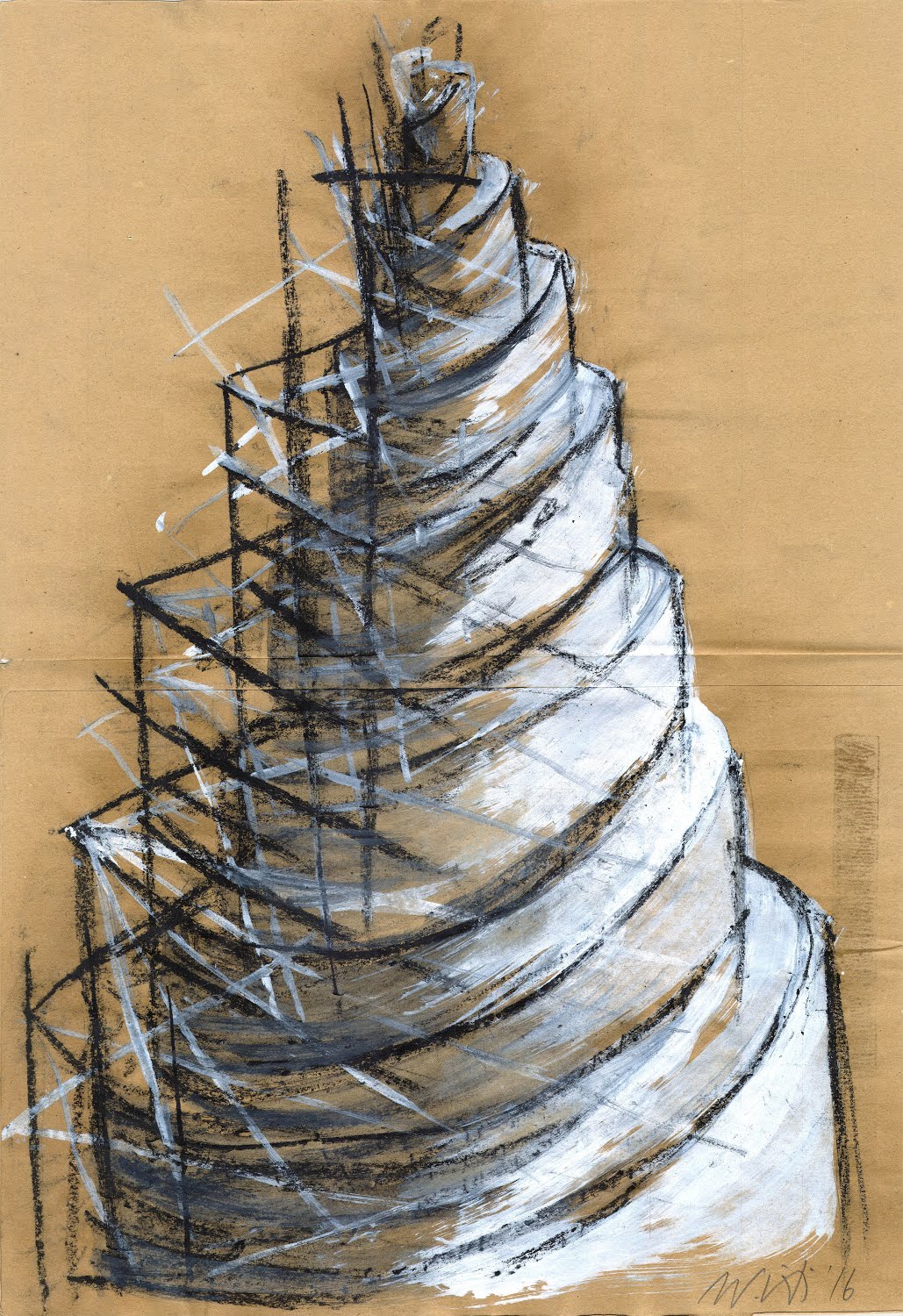 Walid Siti, from Tower Series, acrylic and crayon on paper, 2016. Image courtesy of the artist.
To be human is to be confused, and my guess is that many Minnesotans of European heritage will be initially puzzled by this show, as was I. It is in many respects foreign — full of references, characters, and alphabets unknown to many Americans. And, if we're being honest, the language of contemporary art is not always the most accessible either. But the work here is entirely human, speaking with a multitude of tongues, voices, and bodies. It tells the stories of heroes and villains, of children and parents, of women overshadowed, of artifacts plundered, of people reckoning with histories that have been stolen from them piecemeal, plundered for museum collections and op-ed columns, and critiqued by fools like me, a monolingual American with an expired passport.
In truth, the world is a vast and cacophonous place. Installing a slice of that world inside a museum invariably recontextualizes the objects in question, be they contemporary paintings or stolen antiquities, sometimes for better and sometimes for worse but always through a lens. The title of this show remains an enigma, but I think it applies, in part, to museums themselves. The idea that history is not here — a hard personal truth for any migrant — is also true for an art exhibition. Although you can learn a lot from engaging with this show, don't expect a singular history lesson or a definitive cultural anthropology. It's more complicated than that, if you can imagine.
History Is Not Here is on view at the Minnesota Museum of American Art through January 5, 2020. Gallery hours: Wed-Sun, 11am-5pm; open 11am-8pm on Thursdays. Admission is free. For a full list of programming related to the exhibition, visit mmaa.org.
Banner image: Raed Yassin, Self Portraits with Foreign Fruits and Vegetables (detail of installation view), 24 inkjet prints on paper, 2011. Photo by the author.
We can't do it
without you.
Help keep independent arts journalism alive in the Twin Cities.