Art At The Fair
Posted August 21st, 2019 by Russ White
A completely nonexhaustive guide to finding art at the Minnesota State Fair, August 22 - September 2
Okay, you've made it: the annual end of summer pilgrimage to Falcon Heights. You have come to feast on sticks and go on rides, to eat and drink and eat again, to stroll through barns and buildings and concerts and markets, to throng en masse with your fellow Minnesotans in the last glorious moments of sweaty summer heat.
Oh yeah, and to take in some art, too. Grab some fried pickles, let's do this.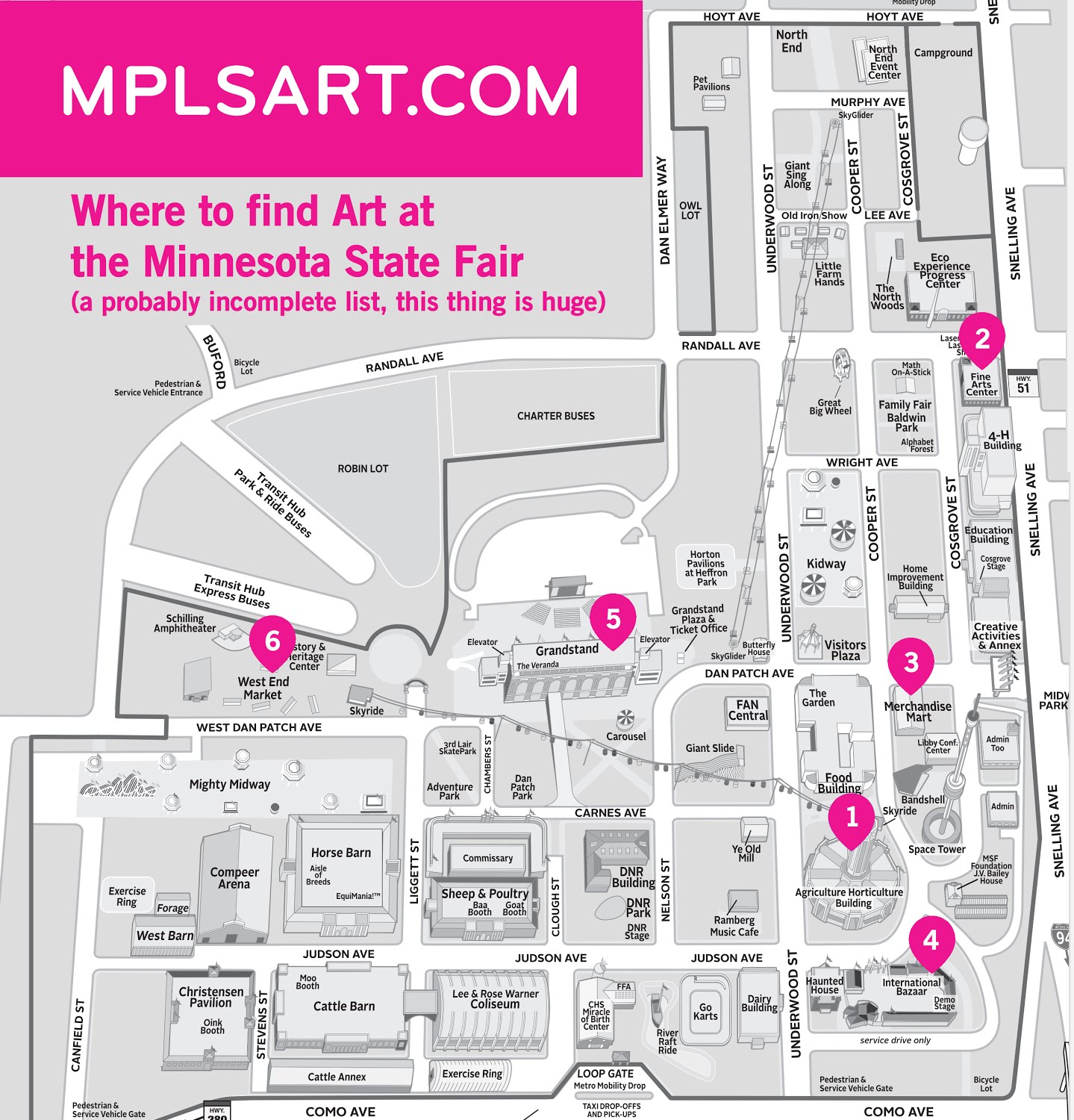 First stop: Agriculture Building
We're gonna start with one of my favorite features of the whole Fair: the hallway of vintage seed, flour, and grain bags. Shown annually and culled from Farm Crops Superintendent Ron Kelsey's collection of over a thousand old bags, they form a wall-sized rainbow of faded sackcloth. The vintage designs feature great typography and beautiful illustrations, although some showcase our long, grievous history of using Native Americans as corporate mascots. The whole display connects the agricultural roots of the State Fair to the contemporary art and craft you are about to discover. Most importantly, they'll put you in a visual mood.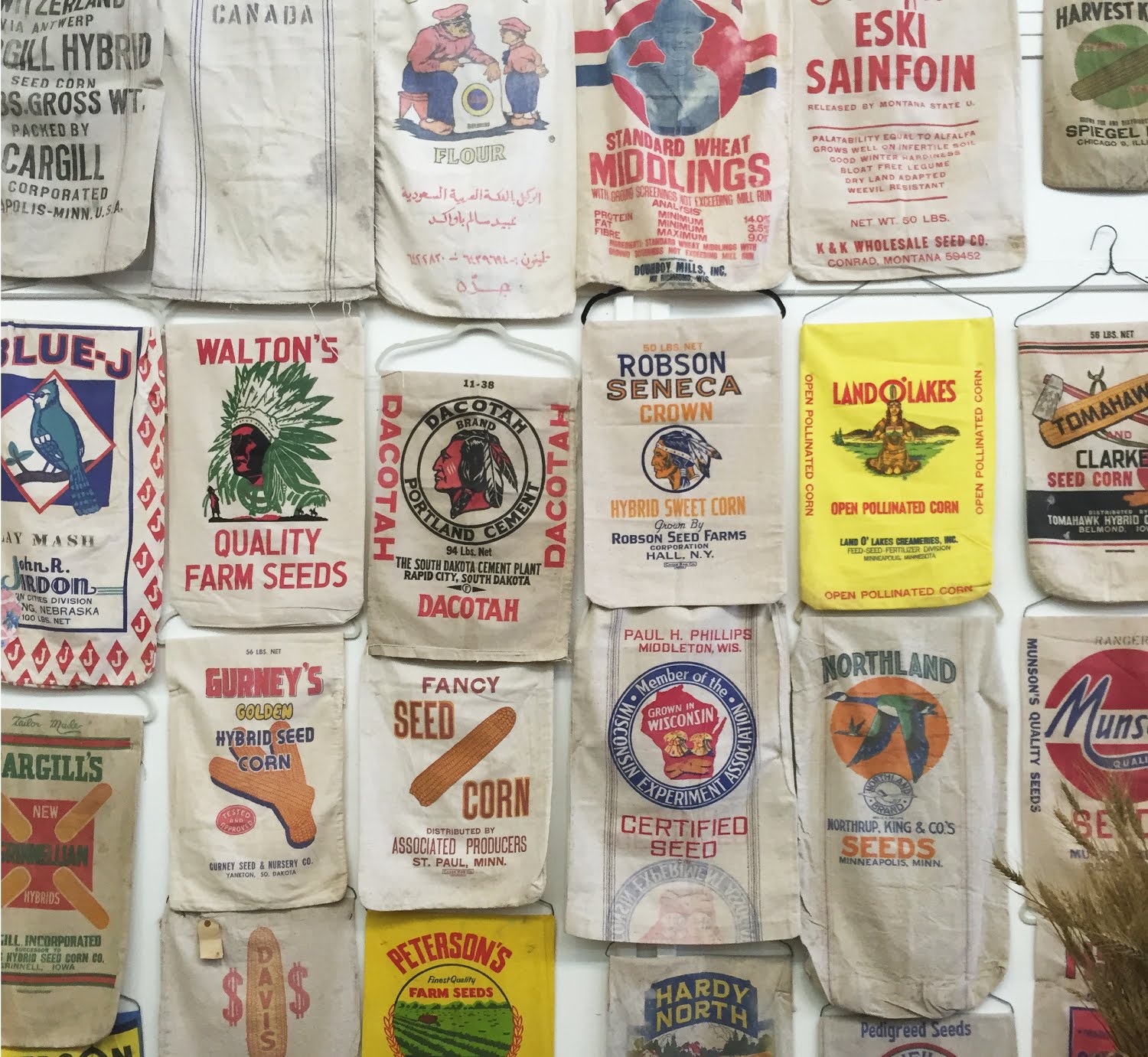 The flour, seed, and grain sacks in the Agriculture Building. Photo by the author.
Next up: another favorite, Crop Art. It never disappoints. Intricate craftsmanship, biting political commentary, gorgeous compositions, terrible puns... Crop Art has it all, and it's all made of seeds. Insane. Not to be missed.
Back outside and up the street! Okay, maybe stop for another bite of food first, but eat that shit outside because we're about to enter the mother lode:
2. The Fine Arts Center
Home to the 108th annual Fine Arts Exhibition. Out of 2727 statewide entries, the show's eight jurors (one for each category of medium) picked 334 pieces of art.
It's a mighty labyrinth of white walls and gallery nooks, packed full of some of the best art in the state, a staggeringly large group show laid out with great thought and care. Best to go during the week when the crowds are thinner and you can spend time with the work. You're bound to find something you love, something you hate, and a whole mess of work in between.
You'll also find a live artist making actual artwork. Studio: HERE is a one-day residency program inside the Fine Arts Center, hosting a different artist each day of the Fair. It's basically a live action diorama, giving a glimpse into the studio practices of painters, photographers, ceramicists, and sculptors. Local ceramic artist Katayoun Amjadi will be set up on August 24th, for instance, demonstrating slip-casting and assembling her porcelain chickens. Local bronze sculptor Nicholas Legeros will take the helm on September 1st and bring the bronze casting process to the fair. Expect a demonstration in wax sculpting, wax investment, a bronze pour, and a final patina. "The only step I will skip is the burnout of the wax," he says, "as that would stink up the building." Full schedule of artists posted below.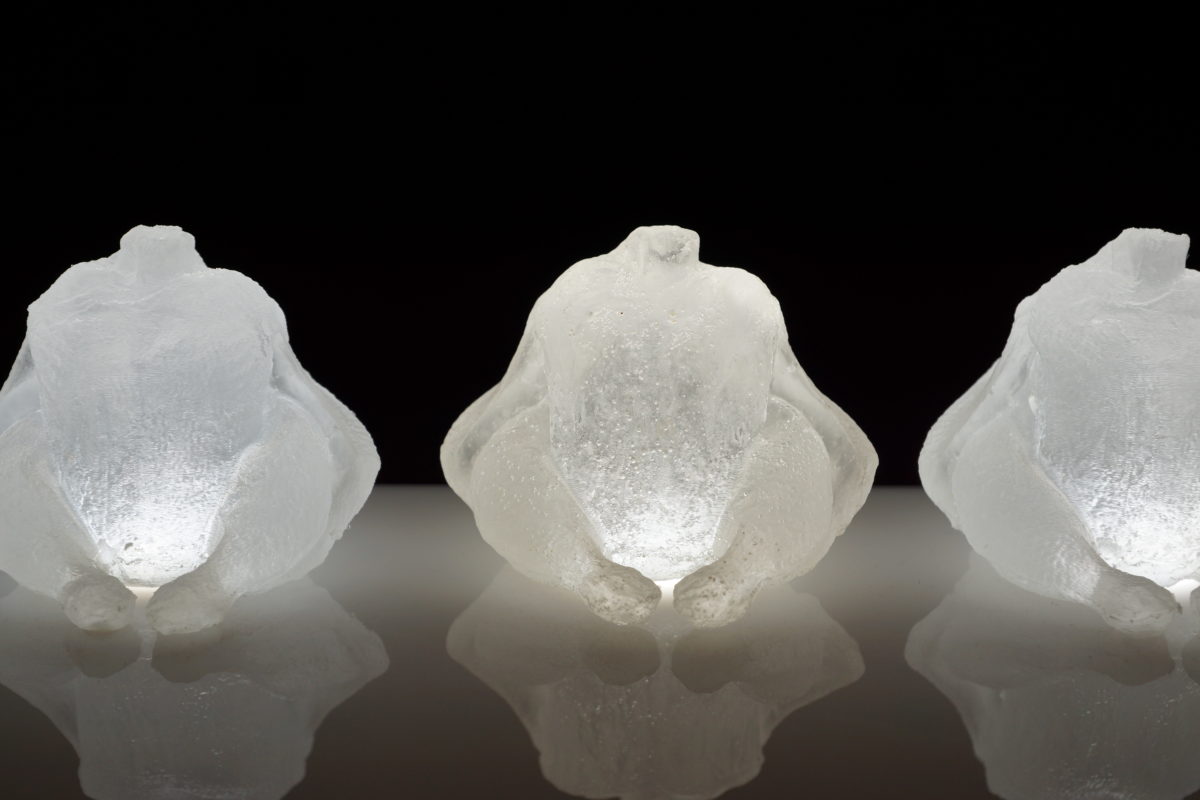 Katayoun Amjadi, Chicken & Egg (detail), 2018. Courtesy of the artist's website.
Back out into the world now, breathe in the fresh air... ahhh, it smells like kettle corn. Let's mosey. There are artist and gallery booths set up in the Merchandise Mart (3), the Grandstand (4), at the International Bazaar (5), and in individual booths along the way. But we're headed all the way to:
6. The West End Market
Here, among the booths of boutiques, gifts, and crafts (don't miss FOCI's glass art booth here, too), you will find Genie Castro and her legion of local artists manning the Cream of the Crop Gallery. They've got bagged prints and framed originals, hand-printed t-shirts and tintype photos, wearables, collectibles, and one-of-a-kind bits of brilliance from over two dozen makers, all of whom take shifts working the booth as well, so you'll have a chance to buy art from actual artists. Castro is the art director and concierge at Betty Danger's Country Club, so expect a well-curated array of funny, weird, and wonderful. And if you haven't dumped all your money into a deep fryer yet, you can mostly certainly find something cool to spend it on here.
Okay, that's probably good, right? Let's go meet some goats real quick, get a $2 ice cream cone at the Dairy Building, give a wave to Princess Kay, and see if we can remember where we parked…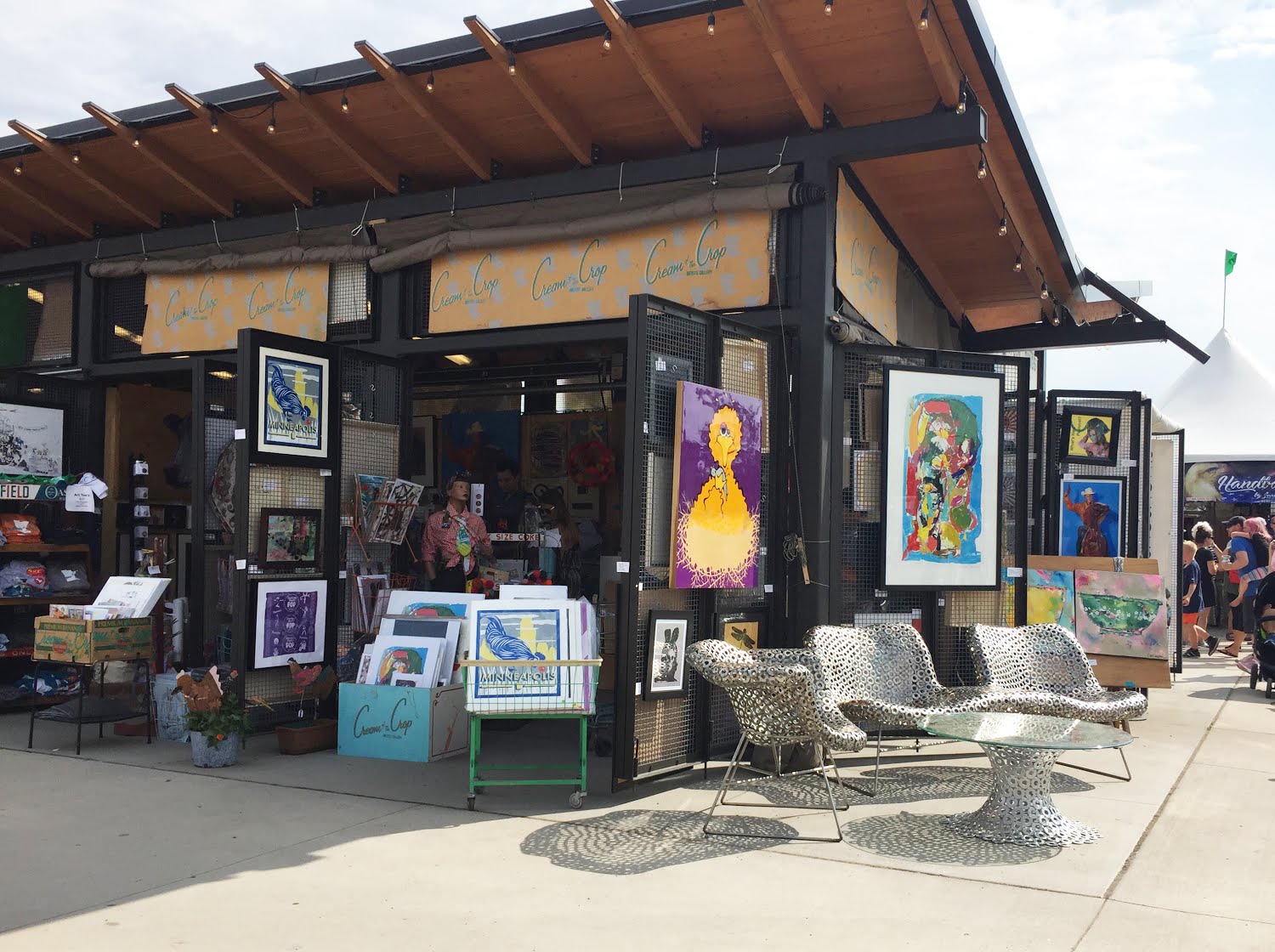 The Cream of the Crop Gallery at the West End Market. Photo courtesy of Genie Castro.
Click here for a full list of art at the State Fair.
Studio: HERE artist schedule:
August 22 Polonia Odahara Novack, mixed media sculpture • 23 David Gilsvik, oil painting • 24 Katayoun Amjadi, slip-casting ceramics • 25 Claudia Danielson, photography & printmaking • 26 Kristi Kuder, paper pulp/wire sculpture • 27 Amanda Pearson, glued thread • 28 Claudia Trepanier, watercolor • 29 Gordon Coons, reduction block printing • 30 Eric Ketelsen, drawing • 31 Toni Dachis, repurposed paper / collage • September 1 Nicholas Legeros, bronze sculpture • 2 Karen Brown, ceramic sculpture
Banner image courtesy of Wikimedia Commons.
---
We can't do it
without you.
Help keep independent arts journalism alive in the Twin Cities.