New in Northeast: CIRCA Gallery reopens this weekend
Posted July 16th, 2019 by Russ White
Ahead of the inaugural exhibition at CIRCA's new location, Gallery Director Krista Anderson-Larson talks past, present, and future.
After a year-long hiatus between locations, CIRCA Gallery is reopening in Northeast Minneapolis, taking over the gallery space recently vacated by Public Functionary. A fixture in the Minneapolis art scene for nearly three decades, CIRCA left their longtime North Loop location last summer after their building ownership changed hands.
Now reopening this Saturday with a large group exhibition, CIRCA has positioned itself in a well-known and much-loved space right in the heart of the city's Arts District. We got up with Gallery Director Krista Anderson-Larson to get the scoop on what they've been up to over the past year and what to expect in their latest incarnation.
RW: CIRCA Gallery has been around for almost thirty years, but for those who may have never heard of you, what is CIRCA all about?
KAL: CIRCA's mission is to provide awareness, inspiration and appreciation for contemporary art, while supporting sustainable practices for artists.
We represent primarily contemporary, abstract artists whose careers range from emerging to established from all over the country. We believe that having original art in life – whether at home, in the office, or at a gallery – significantly impacts a person's disposition, productivity, and outlook. We connect individuals, corporations, architects, designers, and collectors with the artwork best suited for their needs, while hosting exhibitions at the gallery featuring engaging installations, performative programming, and skillful curating.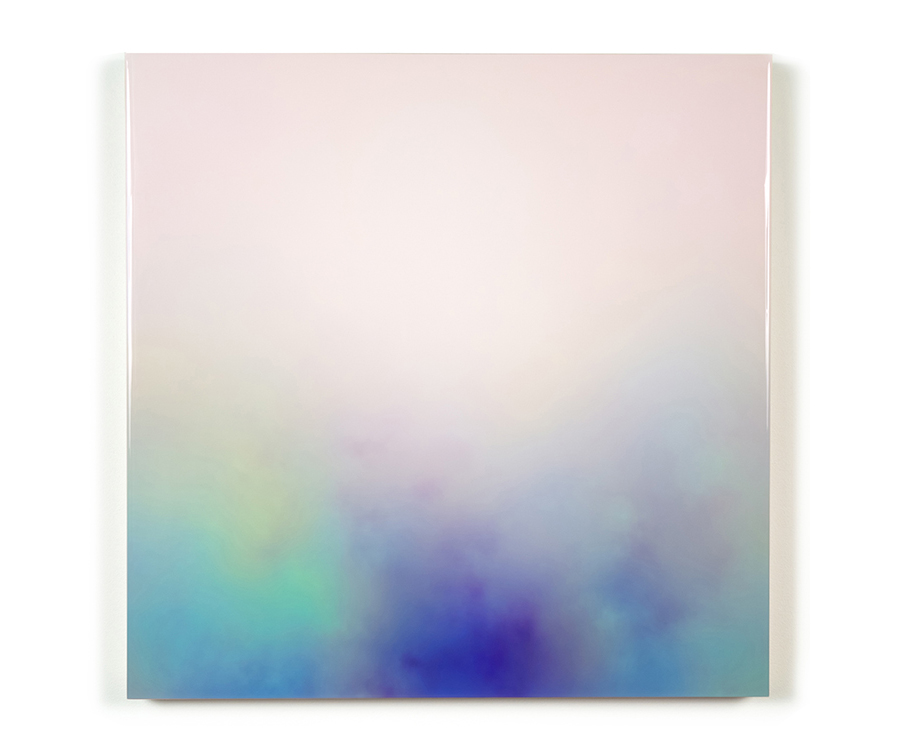 Timothy Schmitz, Ethereal #042017PTSP; Multipass UltraChrome pigment inkjet, resin, on stained and coated cotton rag, mounted on KomaCell floating panel; 23.5 x 23.5 x 1.5"
You all have been closed for almost a year now, having moved out of your North Loop location in August 2018. What have you been up to in the meantime?
I wouldn't say "closed" – we've been very busy running the many other aspects of the gallery, along with finding a new physical space so that we can resume exhibition programming. While there is much to do in the day-to-day communicating with artists and clients, and of course selling work, the search for the perfect new home for the gallery was our main objective during this transitional period.
Even in the absence of a brick-and-mortar, Circa maintained a presence on Artsy.net, a gallery platform for online art sales. Have you found that more collectors are buying online — particularly larger, pricier originals? Do you see this changing the way galleries, especially those in the Midwest, place work?
We're just coming up on a year since we first partnered with Artsy, so it is difficult to make conclusions or statements with certainty without more time spent with the service. However, Artsy has helped us to connect with an audience of collectors from around the country that we may not have otherwise reached. The tides are changing—albeit slowly—in the art market to lean more towards online sales, and I'm glad that we jumped on board relatively early in the game because it has already paid off. But the main preference is definitely still viewing artwork in person; this is a huge deciding factor for many people, and we can't deny its importance. One of the many reasons we are happy to be back in a brick-and-mortar space!
Now that you're set to reopen in Northeast, with a juried group exhibition titled NORTH//EAST no less, how do you think being in the Arts District will affect your programming and curation? Do you expect your audience will change much?
The opening juried show has been a great way to connect with the community we're entering by inviting them in to exhibit in our space and kick off this next chapter with us. Our programming will be shifting a bit, but not specifically because of the neighborhood—we have been anticipating bringing in more engaging programming and working with artists of varied disciplines since we left our North Loop location. We're looking forward to expanding our reach in this new location, bringing our existing audience with us (some of whom have been supporting us for the past 29 years), and adding in the new faces that come with the neighborhood.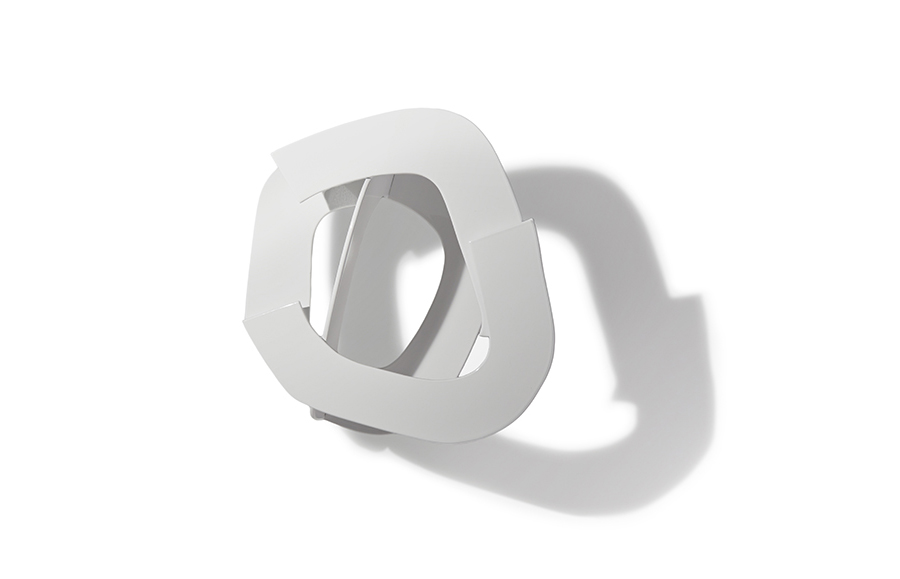 Ann Ledy, Deconstruction of a Circle in White II, painted aluminum, 12 x 12 x 6.25"
The space you are moving into was home to Public Functionary for seven years. What does it mean to you to be moving into a space with so much history and energy, and how will you make it your own?
Public Functionary is an amazing entity that was very creative in this space, and we're glad to be honoring their history by first and foremost keeping this an arts space. As we saw when we were searching for our new home, it is really tough for galleries to find spaces that are financially sustainable. It's all too easy for spaces to flip for retail or office space, or even sit empty for months on end. We're so grateful to be here and look forward to adding to the history of the space with the voices of our artists too. We've made a few cosmetic updates to the space and are bringing in CIRCA's minimal, sleek aesthetic that we've come to be known for.
Finally, what can we look forward to in this inaugural group exhibition?
We had over 150 applicants for this open call with an overwhelming amount of great work from artists locally and nationally. The show features work from 22 artists, most of whom are local to Minnesota but a few from Florida, New York, Wisconsin, and California. It's all amazing work, but we have some particularly great sculpture and installation pieces that you should be sure not to miss!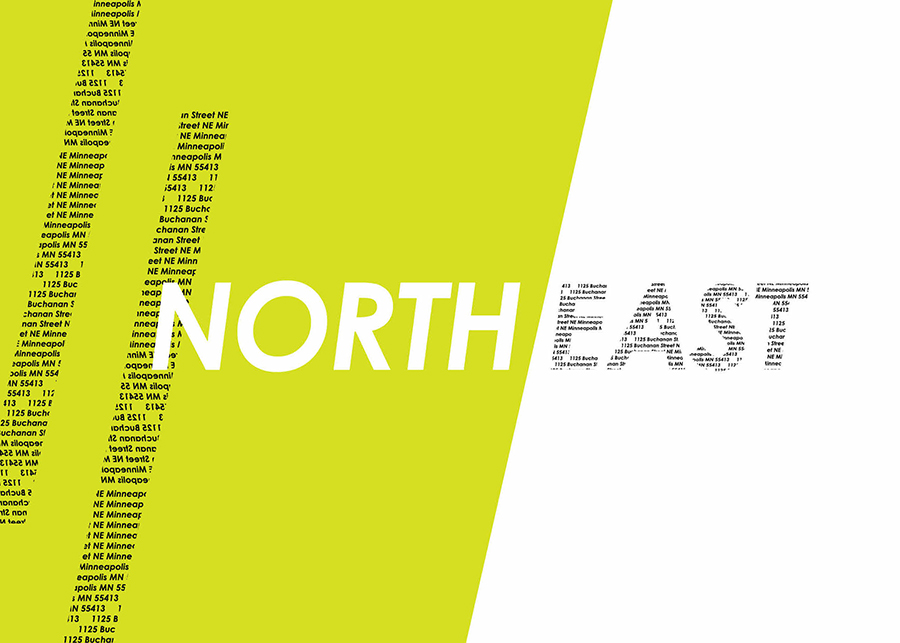 NORTH//EAST opens Saturday, July 20th, at CIRCA Gallery's new location, 1125 Buchanan St NE. For more info, visit circagallery.org.
Banner image: Laura Stack, Fluere #28 (detail), ink collage on paper on panel, 20 x 20"

We can't do it
without you.
Help keep independent arts journalism alive in the Twin Cities.