NCECA's 53rd annual conference, Claytopia, hosted this year in Minneapolis, is just around the corner. For some, this offers a fresh and expansive glance into an art medium often riddled with preconceived notions. One of the artists helping challenge that relationship is Idaho transplant and ceramic artist Peter Ronan. A resident of Northern Clay Center's Anonymous Artist program, Ronan's work centers around using function and self-exploration to create a tangible yet cognitive representation of queer culture.
For some creatives, the need to define themselves by one specific medium can help hone their craft. For Ronan though, uniting the various nuances of his identity and embracing the in-betweens is at the heart of what makes his craft so uniquely niche. Working towards the idea that an artist can blend self and craft into one art form, Peter's personal evolution was transformative for the vitality and vibrancy of his own work.
"Justifying your need to work and your practice to people can be exhausting," Ronan explains. "A lot of people base your success on money and selling things. It's always this monetary success. That's great, but it's not my motivation for my work. If that happens, I'm happy with it, but it's more that I'm making the work because I feel this need to make it. It's this cathartic, almost meditative experience. I see art as a way for self-healing."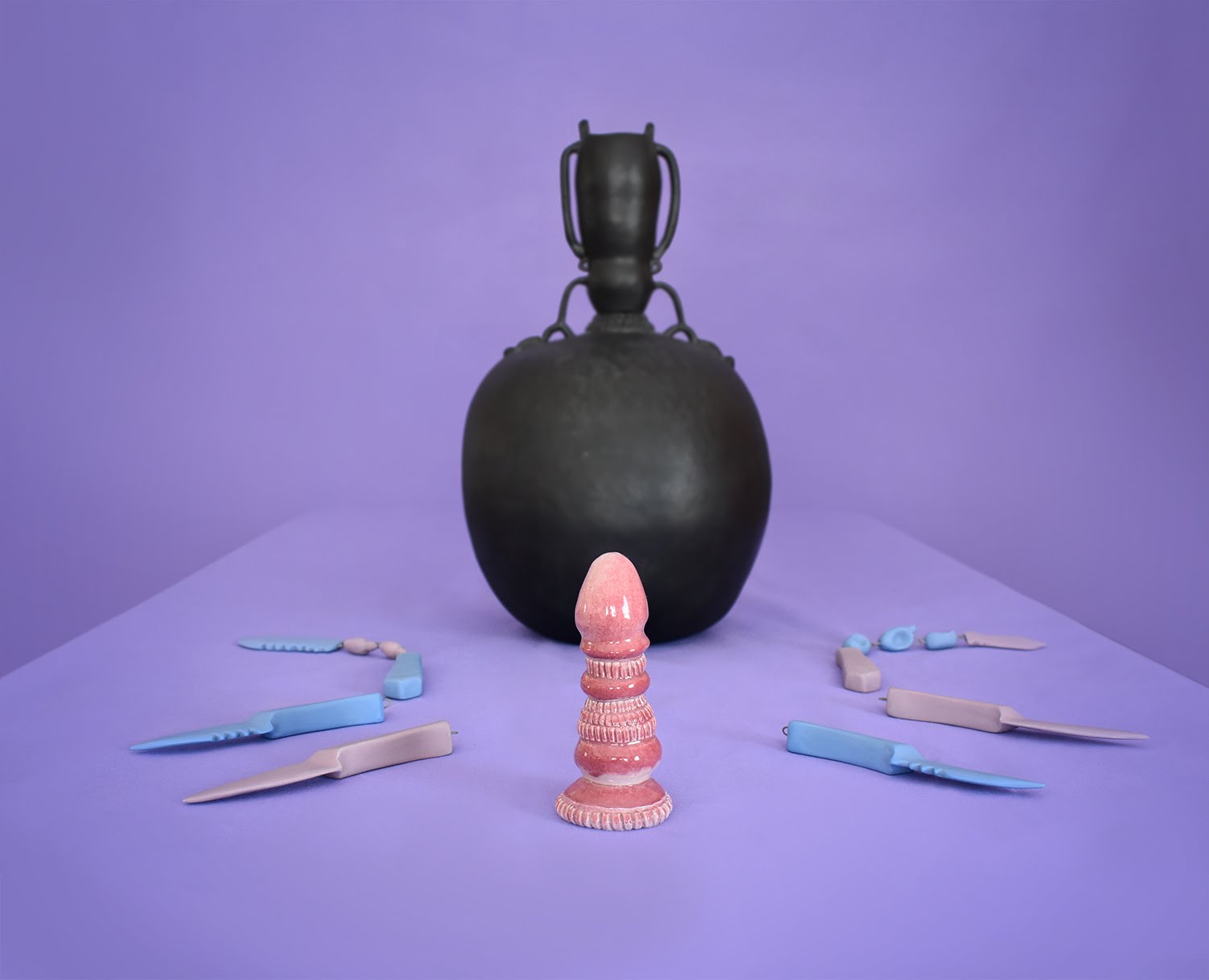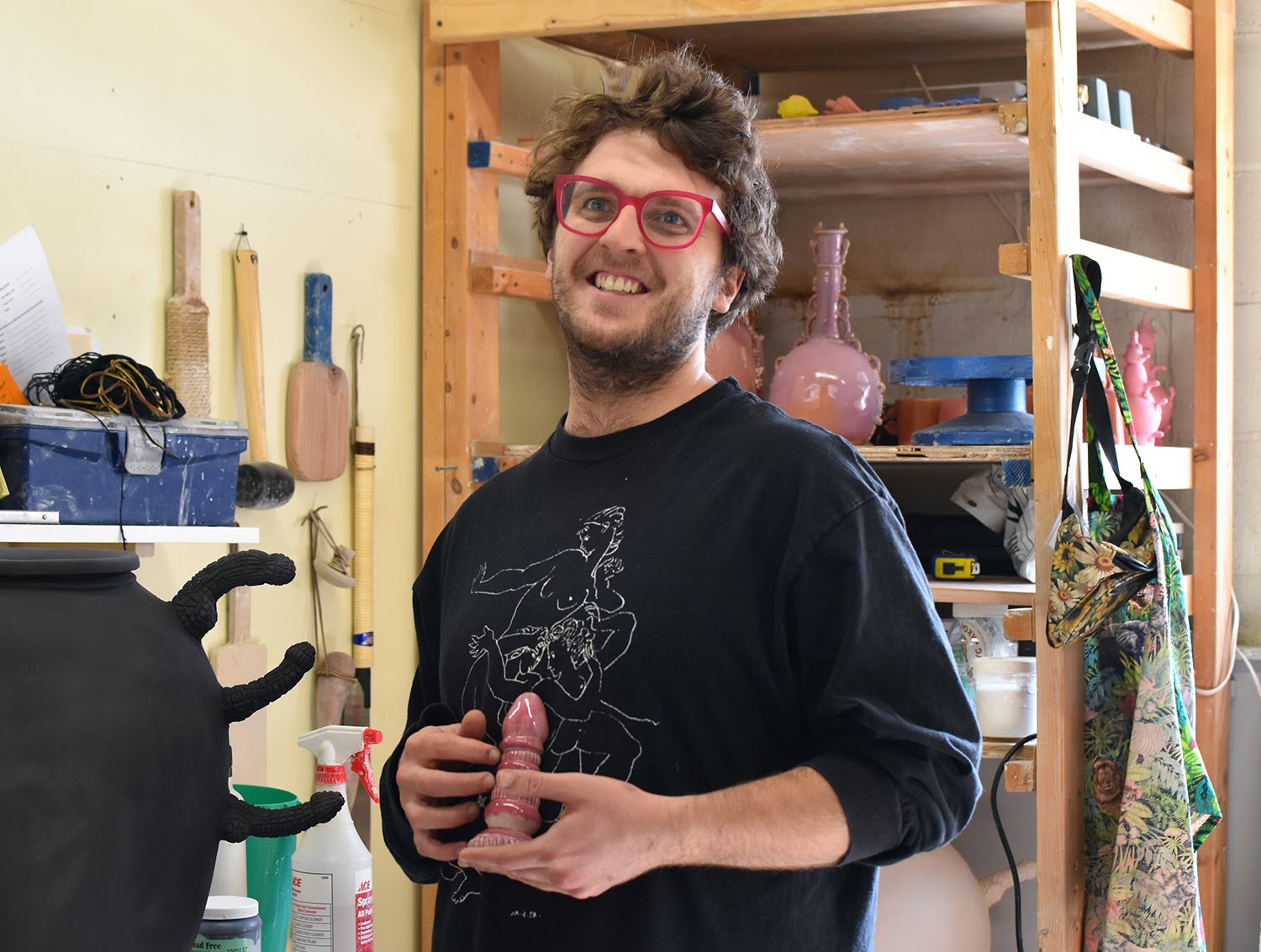 Top: A collection of Ronan's recent ceramic works. Bottom: The artist in his studio. Photos by Katie Garrett.
Identifying as both a queer individual and a craft-person, Ronan discovered that by unearthing parts of himself previously kept more silenced, he also liberated his artistic style, forming objects and vessels that became explicitly queer in nature.
"The work before this current work fell within the queer context, but it was a little more subtle. Whereas these latest objects are obviously phallic. It's not my intention to be 'in your face' with this work, but it is kind of inevitable. It is progressing. These objects are more direct and the evolution of the work is becoming more direct."
In Ronan's previous work, carving techniques and extractions of the negative space in the clay obscured the phallic shapes in his pottery designs. Much like Peter's own self-identity, this newer body of work isn't afraid of a little provocation.
"To me, it's obvious. But maybe that's my mind as the maker. The representation of queer culture is sort of like my personal experience and my personal understanding. It's in hopes that it can speak to a larger queer — and hetero — audience. You see the piece, and you're going to have some sort of reaction. You can choose to see it as these phalluses or you can see it as a beautiful pot. I think that's the interesting duality."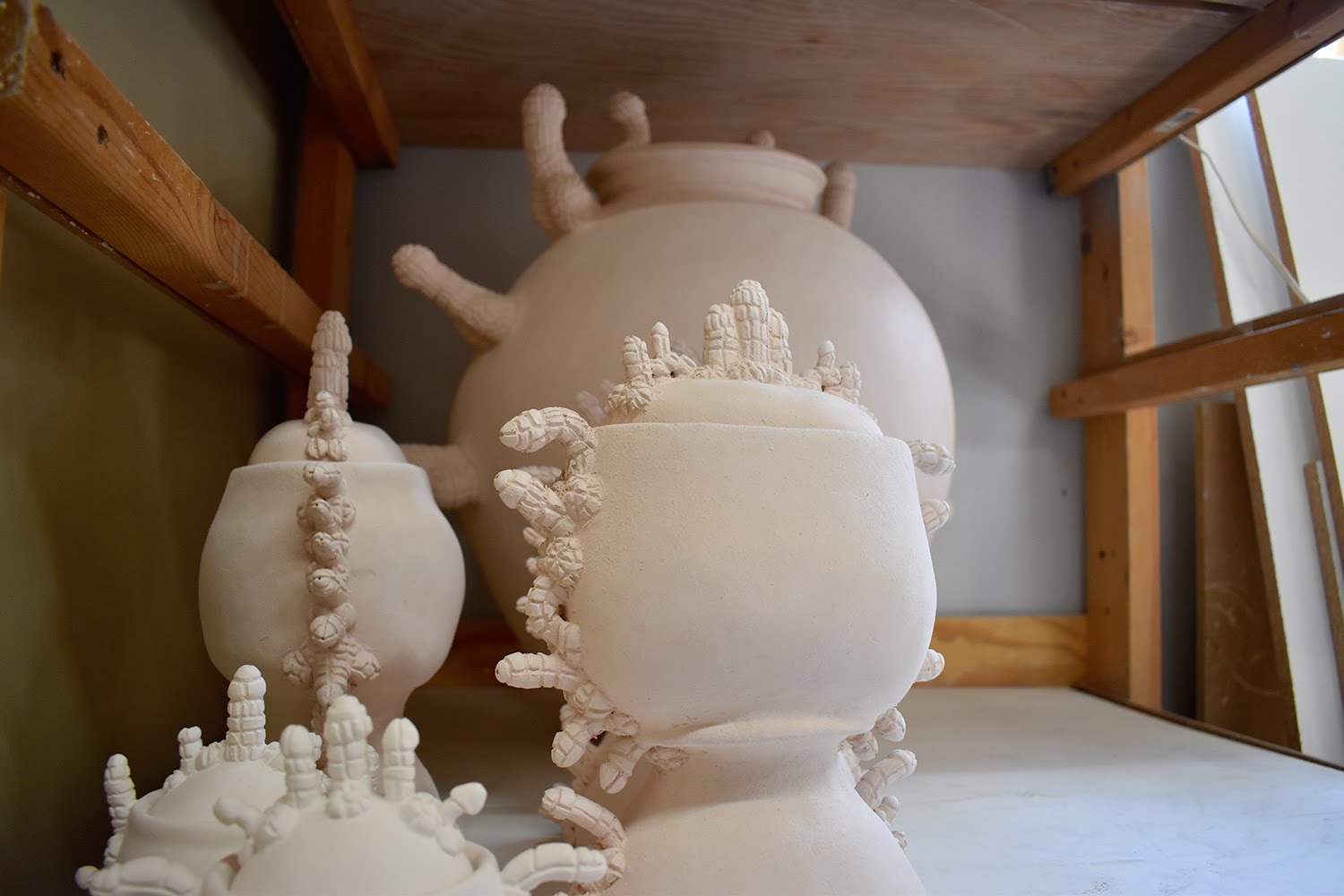 Photo by Katie Garrett.
Ronan's work ranges from ornate, functional vessels he likes to imagine "weird queer stuff going into," to homages to a past, a way of understanding and revisiting his experiences through another lens — a visual search for closure. Moving away from the commodified versions of ceramic art, Ronan's work explores a less sterile interpretation of art, specifically art within the context of homoeroticism. Although it may not be the first art form that comes to mind when one considers the trajectory of homoerotic art, Ronan explains that it definitely fits under the umbrella.
"I think there's a history of queerness and craft as a whole. Academia has made this heavy distinction between art and craft, which to me is unfortunate. I think humans want things to be black and white but there's a lot of in between spaces. I equate being a craftsperson similar to being queer. It's not like 'the other,' but there is a level of that. A lot of people want to put themselves in the singular context — I'm an artist; I'm a potter; I'm a painter — it's this one thing. I identify in a number of different ways, and I'm a number of different things. I appreciate that level of totality. I don't choose to make those heavy distinctions between craft, art, fine art. My primary material is definitely ceramics, but I'm interested in how ceramics, pottery, and functionality can exist outside of the specific ceramics context."
Interested in dismantling the binaries of narrow narratives through ornate and bright form, Ronan's work explores dualities such as fantasy vs. reality; art vs. craft; tragedy vs. comedy; masculine vs feminine.
"We have this concept around gendering everything, and it translates into inanimate objects, within life and art. We often want to equate those roles as one for one. But it goes back to the idea of the in-betweens and nuances within individuals. These pieces I've been making toe the line between this traditional sense of 'this is feminine; this is masculine.'"
While working on his BFA, Peter explored much of his work through the gaze of what he referred to as "craft shame."
"In school I was very much in the closet and I was trying to make this work that was talking around the general shame I was feeling towards my identity by reframing it around the shame I felt as a craftsperson. The work was this preemptive attempt to talk about external reasons and present my visual response. I have a really complicated relationship to shame. In my mind, it's a very powerful motivator, but it's not always productive or healthy."
Allowing his work to be more flexible and straightforward in its narrative, Ronan introduces a larger spectrum for interpretation. This concept of being flexible to the changing needs and expectations of the ceramics community is similarly reflected at the NCECA conference. While he's attended the conference in the past, this will be the first time Peter is at the hub of the action, having a studio within the walls of the Northern Clay Center.
Playing host to a weekend-long arrangement of exhibits, wholesale markets, and panel discussions, the NCECA conference sets out to engage regional, national, and international artists, curators, and creative thinkers to explore and celebrate the roots of ceramic work while pushing against the traditional perception of ceramic art. Showcasing a wider range of more nuanced and radical forms, the conference hopes to reshape audience perception of what the future of ceramic arts can produce.
"The interesting thing about this conference is that it is very inclusive. More so recently there's been a push for more diverse work, especially [from] POCI and queer [folk]. There are specific shows that are expanding the breadth of the ceramic field. For a long time, the main people were the classic white, presumably straight dudes. In my career as a ceramist, the first NCECA was like the first push for more inclusivity and diversity within the field. We really have to showcase the entire spectrum of what's out there instead of this narrow thing."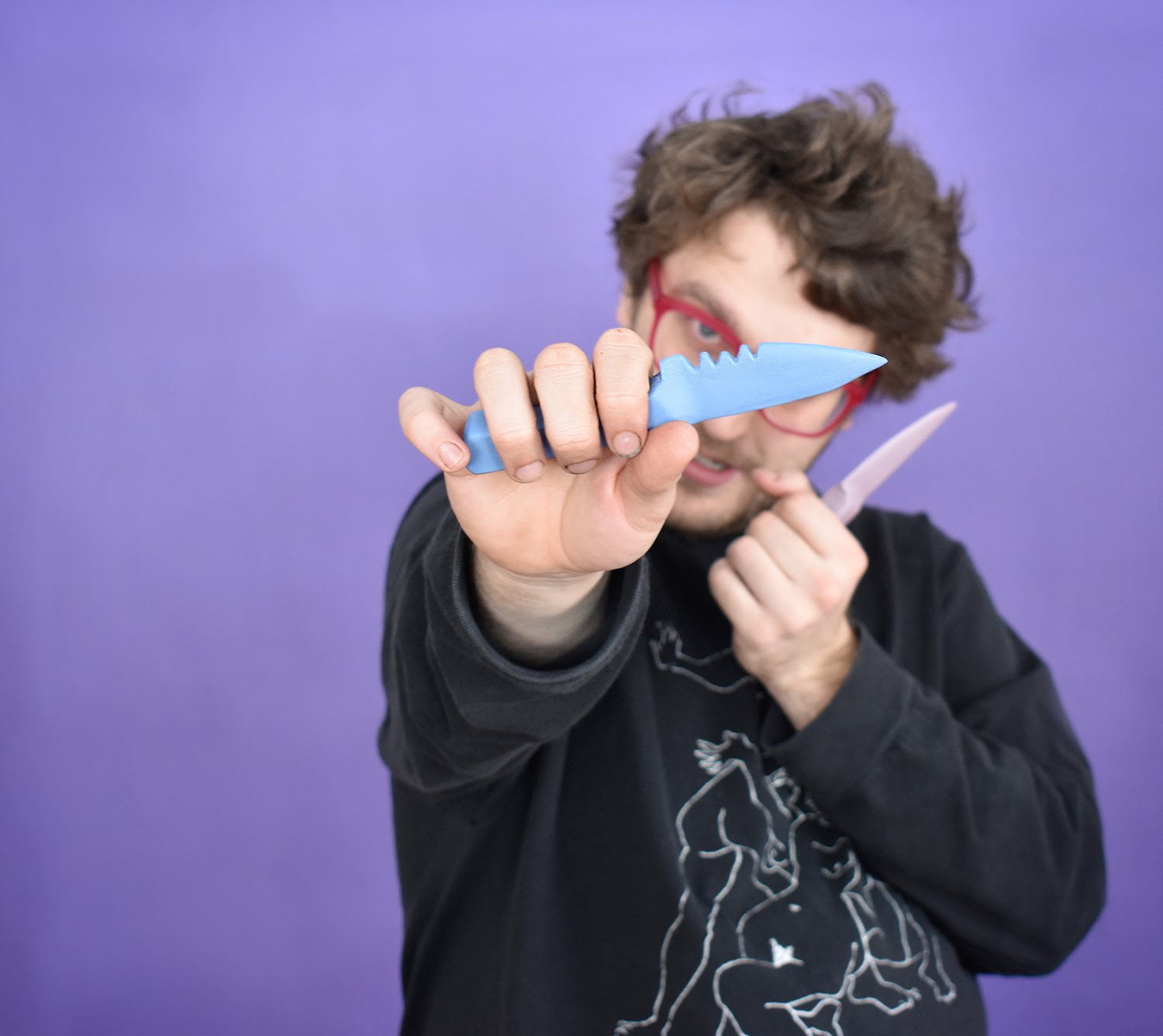 Photo by Katie Garrett.
Stop by the Northern Clay Center, 2424 E Franklin Ave from March 27 - 30, for a glimpse into Peter Ronan's studio work.
——
His open studio show is part of 'Claytopia', the 53rd annual conference for NCECA (National Council on Education for the Ceramic Arts), happening March 27–30, 2019 in MSP.