Currently at Two Rivers Gallery at the Minneapolis American Indian Center, the work of Native artists Tamara Aupaumut and Jeremy Pomani have been on display since November and will be on view through February 8th. Two Rivers focuses both on giving emerging Native artists a place to get off the ground with an exhibit and on providing a community space in the basement of the MAIC. Aupaumut, who is tied to the Stockbridge-Munsee Community Band of Mohican Indians, Oneida Nation of Wisconsin, and Brothertown Indian Nation, has worked in this space for the last year, creating work for this show and helping curator Maggie Thompson with hanging other exhibitions at the gallery. Pomani is a Minnesotan artist of Navajo and Chippewa heritage who also has cerebral palsy and whose works depict memories from time spent with his family in Hawaii, Texas, and Colorado. He is also involved in Rise's Art Speaks program, where he works with an art therapist.The two bodies of work stand far apart in their differences but make for a colorful, lively exhibition together. Aupaumut's work includes pottery, paintings, and other mixed media, while Pomani's collection consists of abstract designs whose colors tease the mind.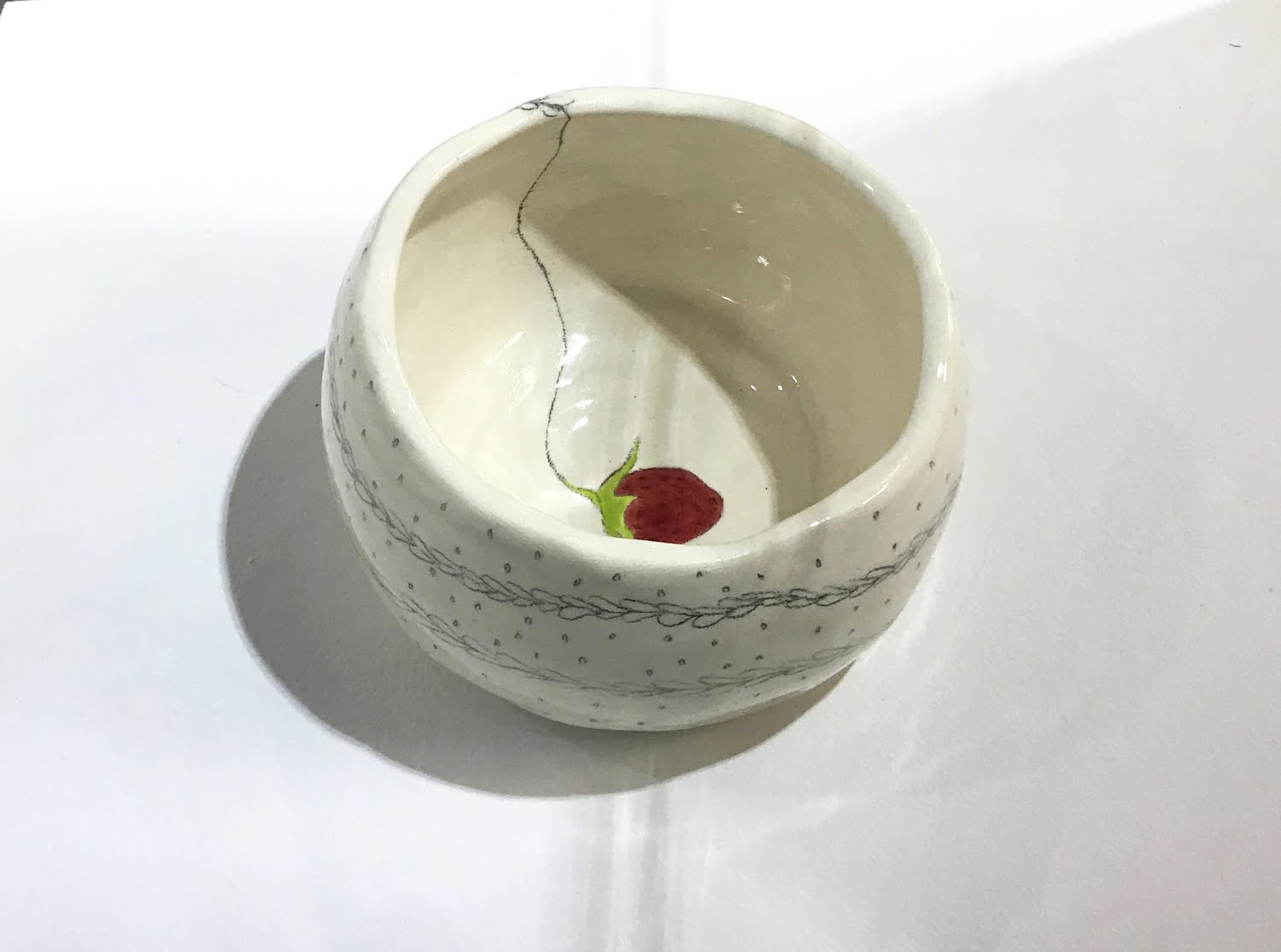 One of Aupaumut's "strawberry bowls"
My visit starts on Aupaumut's side of the gallery, with her surreal paintings and clever pottery. Her two small pots are described as "strawberry bowls" and both feature elements of braiding — one is a warm, earthy red color with a fat, matte braided rim; the other features sweet, gentle little lines of thin painted braids that encircle the white bowl, entering the rim and trailing down the inner part of the bowl to the base, where it connects to a pinkish painted strawberry. In the placards beside both these works, Aupaumut describes how her strawberry bowls incorporate elements of braiding to "embody perseverance." "The braid symbolizes Native women," she says, "the strawberry, the fruit of her body." The amount of energy, time, and careful craft it takes to make something out of one's womanhood seems to be a theme here. How one can make a craft out of survival. Aupaumut's bowls embody a sweetness and a sadness, but also strength and determination. They are, after all, bowls, and bowls are meant to hold whatever is given them.
The element of braiding is also found in her piece Pequot, which is a long, dark braid of horsehair knotted into a noose. The piece is a startling contrast to the bright aesthetics of the other works in her collection, but its motivation is the same as the little strawberry bowls. Her description of this piece is long, telling the story of one of her ancestors who was murdered, a Pequot woman named Katherine Garret. A servant of a white reverend in 1738, she was executed for killing her own child, a newborn that Aupaumut seems to imply may have been the child of the reverend. Garret spent her life refusing to give up her Pequot identity, despite rigorous assimilation and conversion practices targeted at Pequot people at the time.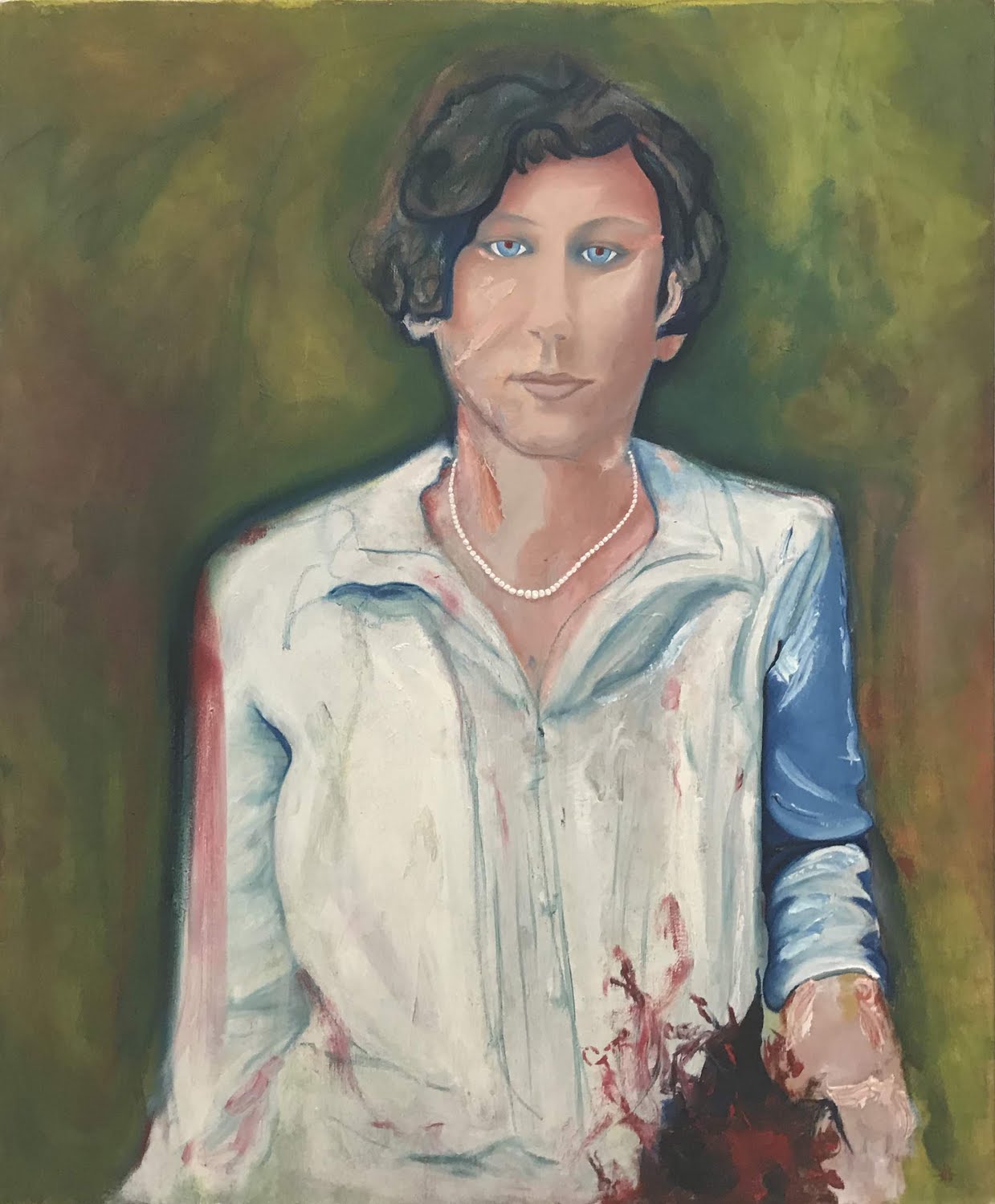 Tamara Aupaumut, Verna, acrylic on canvas.
The rest of the paintings in the exhibition seem to reflect how Aupaumut deals with dark knowledge like this story. Perhaps her most mysterious piece, Verna, is a large portrait of a woman. This one is also about an ancestor of Aupaumut, her deceased grandmother whose hands she's told she has. This is the only explanation provided about the painting, that the woman is dead and that she's Aupaumut's grandmother, that Aupaumut now paints her with the hands that are supposedly so similar. There's a big red blotch, violent, blood-like, near her waist, and Verna's eyes have red pupils. It's a somewhat sinister portrait, and it's hard to read the expression on Verna's face. It's not serene, just steady, as if she knows Aupaumut paints her, and there's something unspoken there that only Aupaumut could hope to understand. Aupaumut's work seems to deal in fleshing out this trans-ancestral gaze, all that's within it, and how it spreads itself over history and distance to the present.
Pomani's work, too, is shrouded in a veil of some kind of mystery, even though his abstract works are, for him, rooted in past experiences, fond memories, and favorite places. Pomani's collection is made up of a series of abstract pieces, which utilize paint, crayons, and imprinted shapes to create small images bursting with color, movement, and texture. He uses color indiscriminately, making each image different from the last, all vivid and fresh and intriguing. None of them have titles — all are simply numbered Abstract Series # — which doesn't help the viewer understand what memories or places the artist depicts. But it also suits the practice of marking a memory or a vision of a place down onto paper. Memories, feelings towards places we love or places we've been, are only ever imprints that swirl in our minds.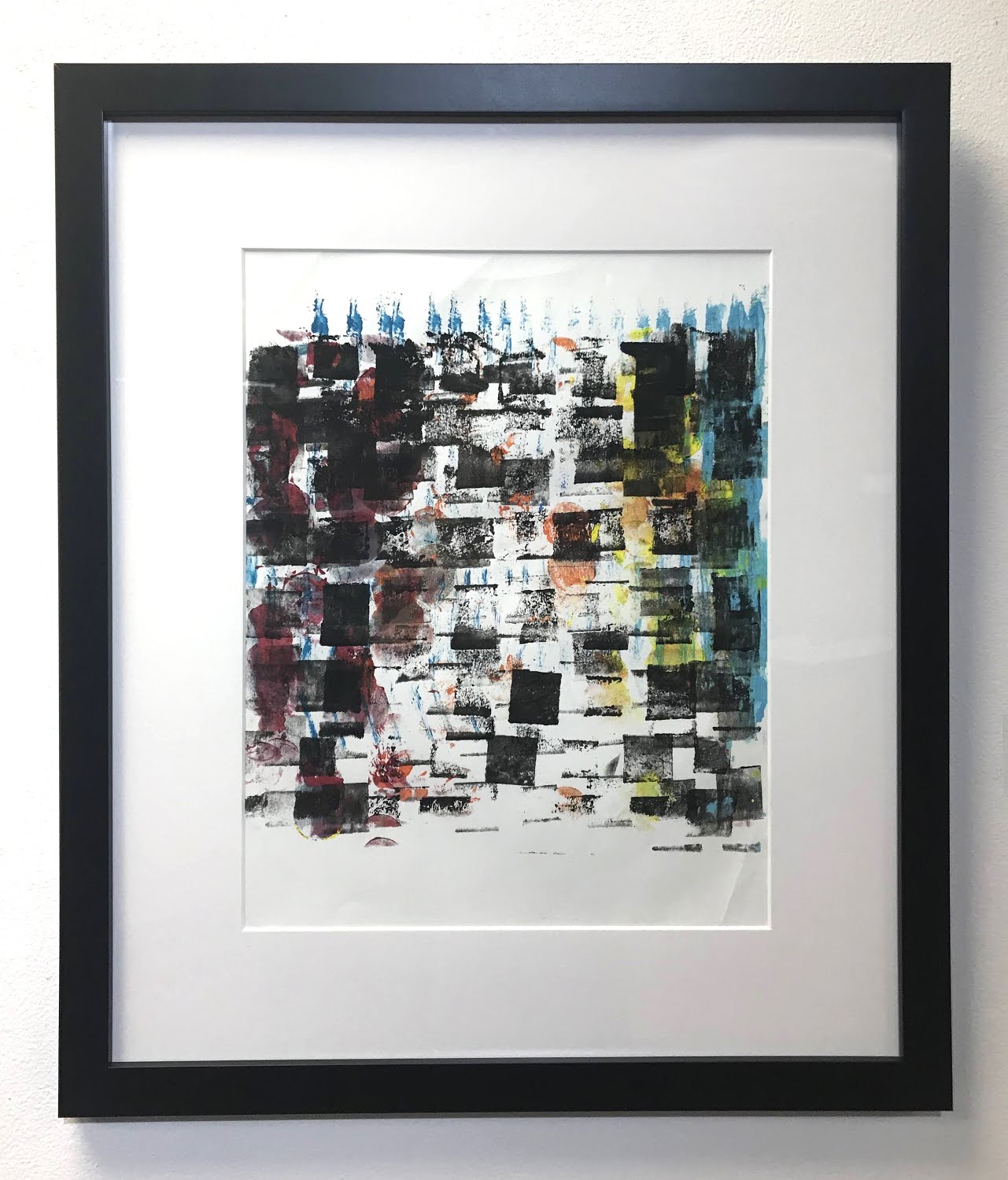 Pomani's works really depict a warmth and a closeness, even in their abstractness. They have a magnetism to them that firmly roots them somewhere, even if we don't know where. Pieces like Abstract Series #13 and Abstract Series #13 are full of layered imprints, resembling the kinds of tracks one sees in the snow, tire and shoe tracks gone over and over one another. Abstract Series #6 and Abstract Series #7 are twins of each other, like the folded images you'd make in elementary school, where splatters of paint are folded together on the page to make a colorful rorschach-test image. While most of the other images in the collection are blurry with layered color by way of scratchy crayon lines or choppy imprints, these two blotty pieces are stark with solid, heavy spots of color against the white paper. They dare you to see something in them, but whatever you find is never really there.
Make a visit to Two Rivers Gallery at the MAIC to see the hazy, joyful images that Pomani collects on his pages, and the provocative, personal narratives that Aupaumut constructs. The show is open through February 8th, with gallery hours Monday - Thursday, 10am - 4pm. More info can be found at tworiversarts.com.
All images courtesy of the author.