Violence and Joy: Explosion*s at Burnet Fine Art & Advisory
Posted November 3rd, 2018 by Raina Belleau
Luisa Fernanda Garcia-Gomez's 2-D and 3-D works explode with color and meaning, on view through November 3rd
Luisa Fernanda Garcia-Gomez's mixed media works on paper flash and dazzle like invitations to a birthday party, their abstract forms a cacophony of pattern and color. An inattentive viewer might interpret the title of this body of work, and the show itself, Explosion*s, as a reference to a festive fireworks display. However with a bit more diligence they would discover that these explosions are those of a city wracked by violent conflict. Growing up in Medellín, Colombia, Garcia-Gomez's statement for the show describes what it was like to grow up with the constant threat of random and inexplicable violence, often in the form of unpredictable explosions.
Garcia-Gomez's ink, marker, and watercolor abstractions rotate around a motif of circles, dots, expanding geometric rays, and Op Art-like checkerboards. Their mixed pastels and hyper-saturated hues at first come across as joyous and playful, reminiscent of the colors impressed upon the eyes after a flash of light or of walking indoors after blinding sunlight. Within the context of the artist's background, it becomes easy to extrapolate that the shapes and colors are the sensory after-effects of one of the explosions that give the works and the exhibition their titles. The majority of the works are around 19 x 15 inches, giving them a personal and intimate feel, each its own isolated experience. The sheer volume of works, however, is daunting — over thirty in total, they reflect on the fact that the conflict impacted not only individuals but an entire country and culture.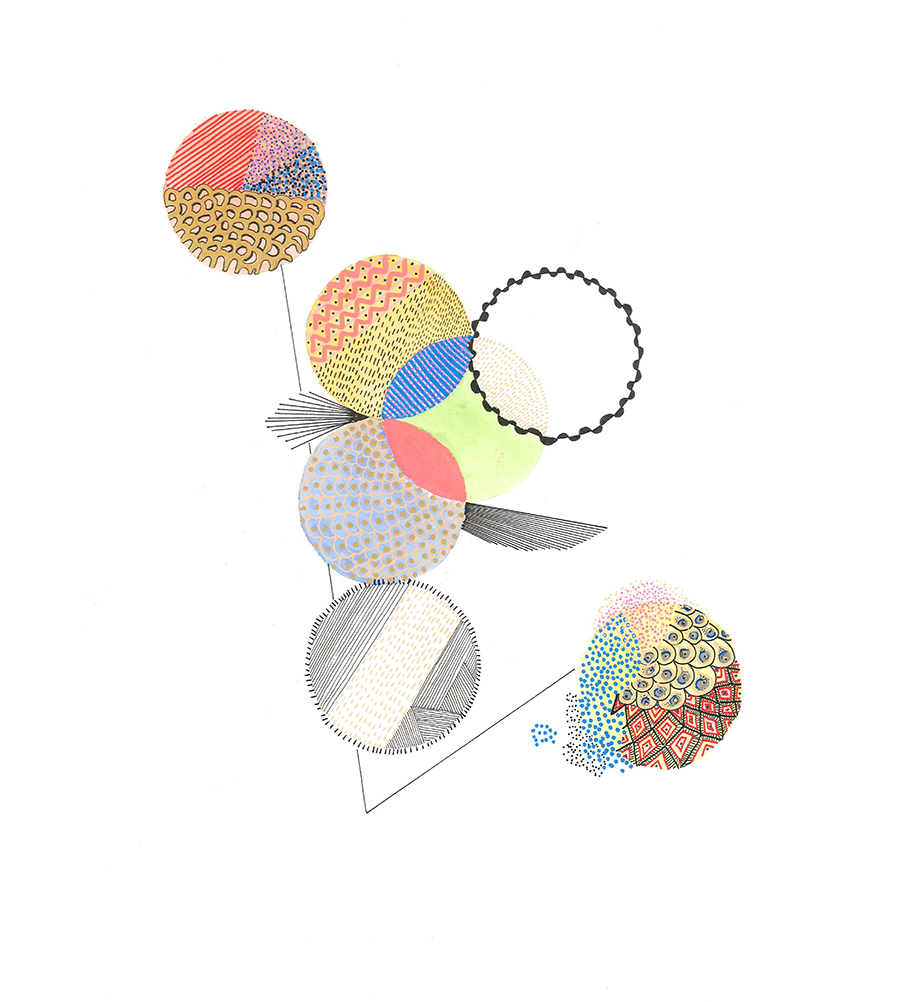 explosions #1; pen, marker, and watercolor on paper; 21x18"
The artist is very aware of the fact that her experience is a shared one. Her color palette, easily taken as festive, is highly intentional in its raucous tones. "Due that my artistic work has political bases, it is very important for me that the people involved in the historical context and who were victims of violent events [are not made to] feel like victims again," Garcia-Gomez explained. "That's why my work is based on abstraction and not on the representation of the event as such."
It is also no accident that the works have a jubilant air about them or that they could be mistaken for confetti-striken parties. Garcia-Gomez describe daily life in Medellín as a constant embrace of the moment where there was nothing more important than spending time with the people you loved, both friends and family. "Part of what people, who have never lived in the midst of a civil war don't know is that life does not stop," she emphasized. "There were days when you had your friends nearby and the next day they were gone. We all lost someone during that time. That's why during those difficult times we danced all the time, we tried to spend the most time with friends and family. Life was super fun and super sad all the time."
This duality is ever present in Garcia-Gomez's work. Each composition is buzzing with frenetic energy, bouncing between chaos and order, exuberance and disfunction. "We lived in a constant party; dark humor was our strong point and we tried to live as intensely as possible. That is why there is intensity in the marks of my drawings; the vivid colors represent these explosions of happiness and sadness," the artist elaborated. "It was a long party at the end."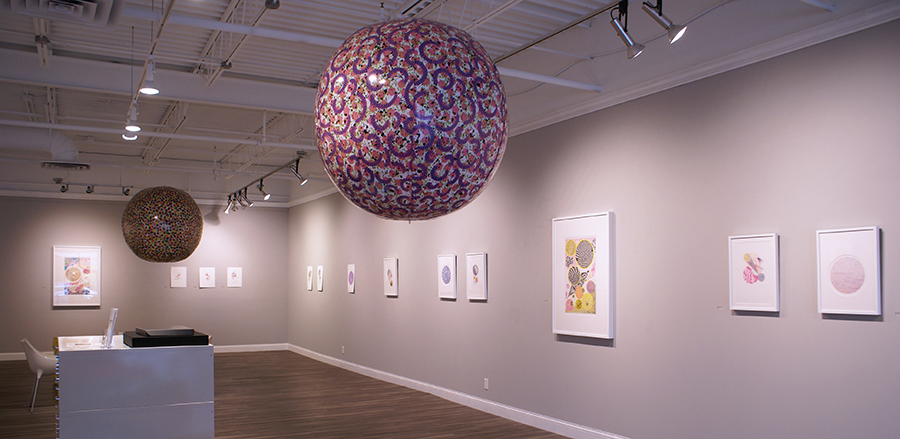 Installation view.
Floating in a line down the center of the gallery are three large inflated spheres of vibrant digital pattern. These sculptural elements draw on the circular elements present in each mixed media explosion and are particularly reminiscent of explosions #31 and #4, which resemble tests for color blindness. These three pieces mark a new way of thinking for the artist, whose interest both as an artist and as a designer has been focused on handmade techniques and traditions. They've also impacted how her works interact with her viewer. "With the inflatables I want the viewer to feel in one way or another immersed in the experience of negative and positive space existing within the drawings," she said. "Through them, I try to reflect the tension that can exist in the artifact of a bomb."
The artist's intentions for Explosions Inflatables is palpable in the gallery, but the installation's layout seems to be actively fighting the three sculptures. A more impactful height for these works would seem to me to be around chest height or eye level, somewhere where they would necessitate movement on behalf of their audience, forcing the onlooker to change their course in accordance to the object — the explosion dictating the habits of those around it. Instead they are hung at a height that suggests they are a mere inconvenience, high enough to walk under, but also so as not to interfere with several large works by other artists that remain on the gallery floor.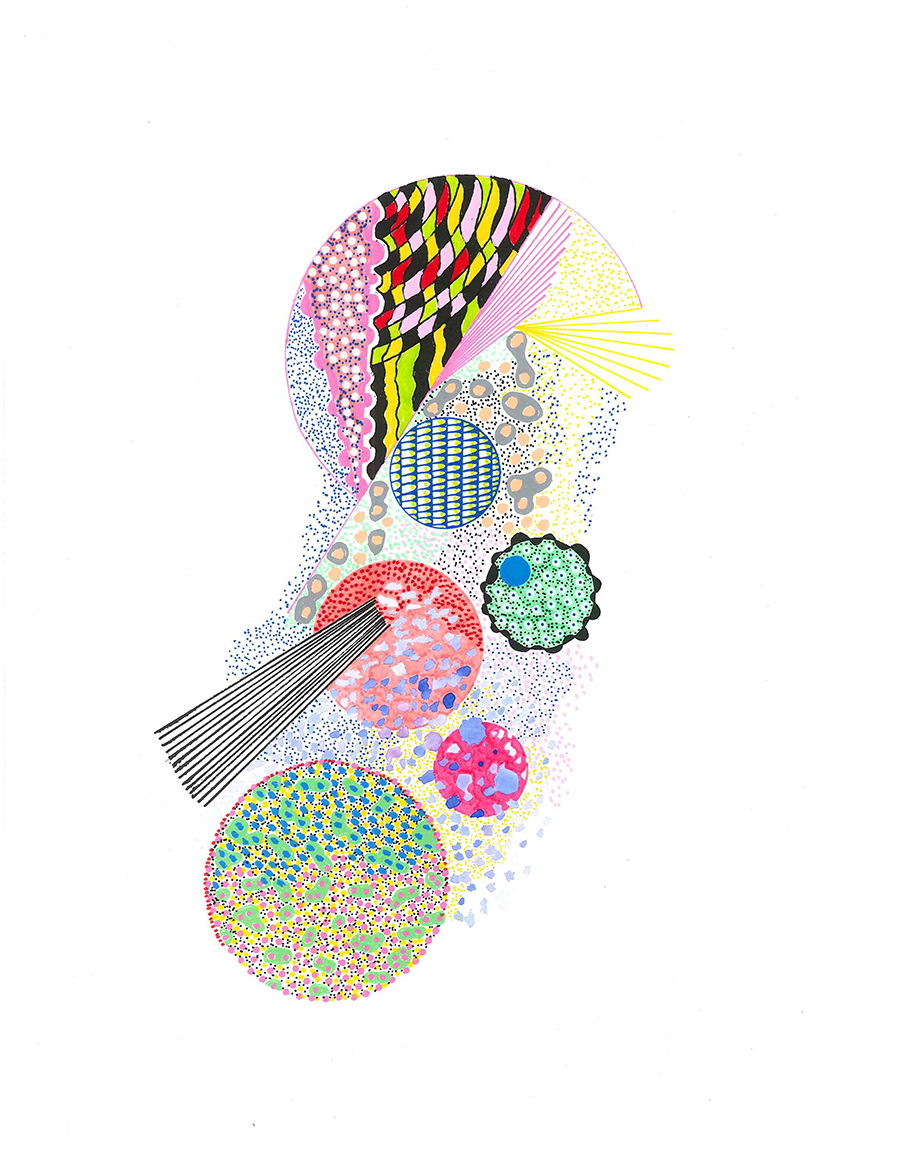 explosions #11; pen, marker, and watercolor on paper; 21x15.25"
Similarly, all of the wall-mounted works are hung along the same line of sight across all three of the gallery's walls, creating a metronome-like repetition that undermines the work's content and concept. If the works had been hung more sporadically, clustered and dissipating, the installation might better highlight the themes of random violence in an urban conflict zone and move the abstractions away from planned party and toward their more disruptive and disturbing content.
Despite the shortcomings of the installation, Garcia-Gomez's body of work demonstrates a keen and empathic awareness of both personal and cultural trauma. Her ink, marker, and watercolor abstractions walk a thin line between happy-go-lucky and post-traumatic. Works like explosions #22 reflect an immediacy of both the work's creation and of raw emotion, drawing an experience from the past into the present. The works embody a way of living many of Garcia-Gomez's viewers can only imagine. Hopefully after experiencing her work, they will be able to close their eyes and imagine more vividly, as light traces impressions of color across the inside of their eyelids, the aftereffects of a nearby explosion.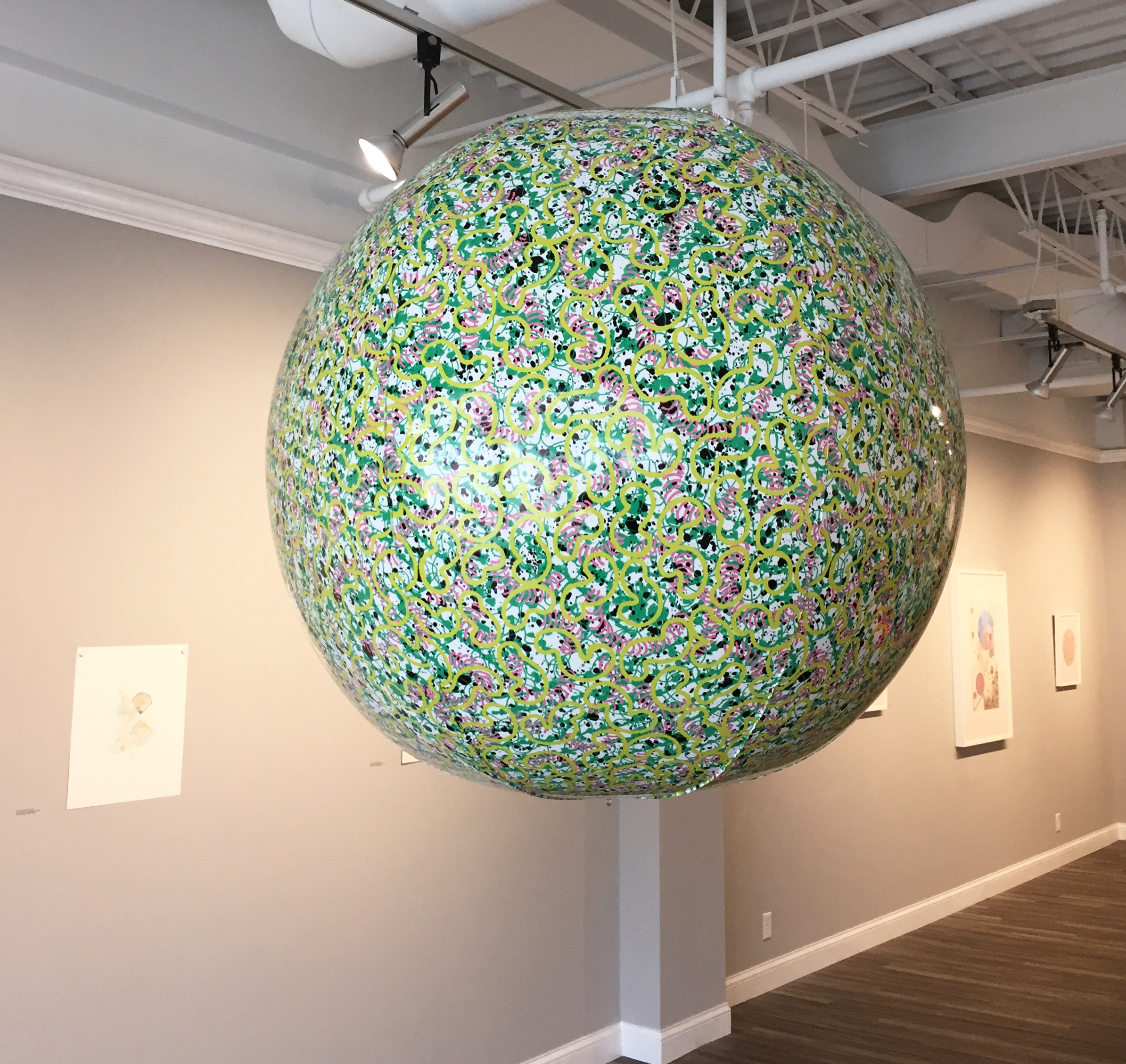 Explosions Inflatable, digital print on inflated form. Photo by the author.
Explosion*s is on view at Burnet Fine Art & Advisory through November 3rd. Gallery hours are Tuesday–Saturday 11–5pm and by appointment.
All images courtesy of the gallery, unless otherwise noted. Banner image: explosions #4; pen, marker, & watercolor on paper; 21 x 18"
---
We can't do it
without you.
Help keep independent arts journalism alive in the Twin Cities.