Containing Multitudes: Stephen King, Jackson Pollock, and the Making of a Young Artist
Posted July 17th, 2018 by Bridget Kranz
Teenage painter Jackson Duin and his father catalogue their @artworldexploration throughout the Twin Cities and beyond.
"Do you know the characters' names?" Jackson asks. "There are a lot. There's Mike, Will, Dustin, Lucas, Eleven, Hopper."
We are on the topic of the television show Stranger Things. At the age of 14, Jackson Duin is a pop culture expert. He is also a painter, and it's becoming clear that the two go hand in hand. As we talk, Jackson shares some of his recent work.
"I have one called January Embers. Have you seen that one?" he asks before going to grab it from his room.
"That one he took specifically from a book," his father, Nathan Duin, explains.
"Did you tell her what book it's from, Dad?"
Jackson brings out a small, fiery red painting. Ridges of acrylic reach off the canvas, forming a small mountain range. He took the title from a love poem written by one of the children in Stephen King's novel It.
"Let me introduce the characters to you," he offers, and then recites, with encyclopedic accuracy, the full names of all the primary characters. "It's over 1,100 pages long. It's also been made into a miniseries from 1990, and a movie from last September."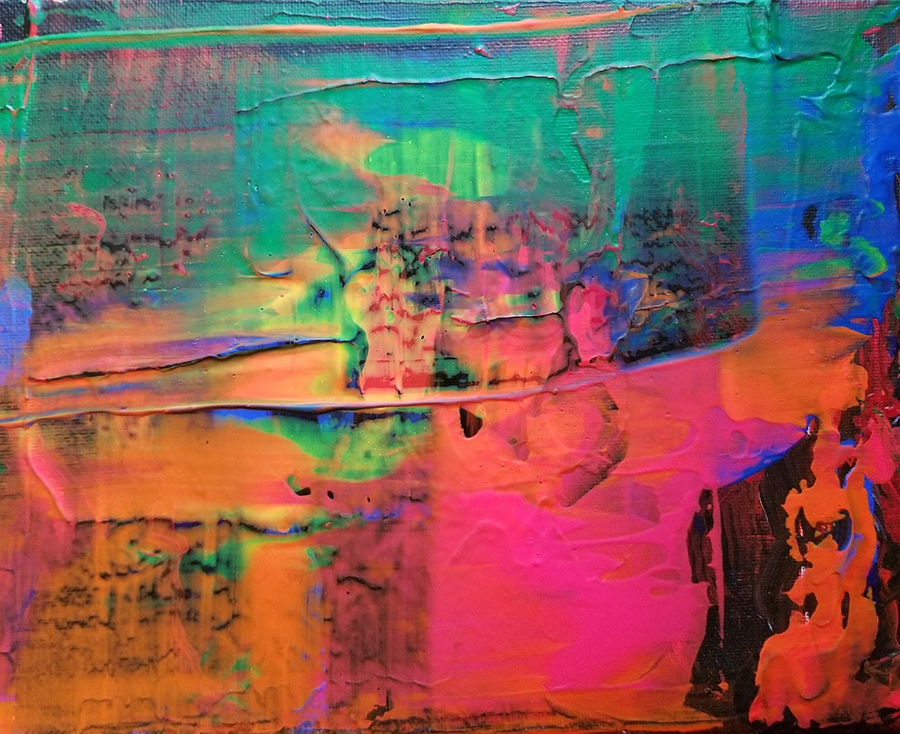 Jackson Duin, Invisible Threads, acrylic on canvas
Jackson's paintings are abstract and textural. He makes no sketch beforehand and rarely has a fixed idea of what he wants the finished piece to look like. However, it's evident that there's a high level of thought, creativity, and artistic intuition present. Indirectly, he draws constantly from things that have resonated with him: the intense red of January Embers seems to come from the character Beverly Marsh's red hair; the titles of other paintings come from songs he enjoys. But, at the end of the day, his textural style of abstraction is distinctly his own.
A distinctive style and a clear voice are qualities that are important to both Jackson and Nathan when viewing art, which is something they do often. They've been frequenting galleries and museums together since Jackson was a toddler.
"He took to it immediately," Nathan recalls. "It was almost like a party trick where I would be holding him at family gatherings, and he would pull out his Nuk when he saw art and say 'art.' Then he would put the Nuk back in. He recognized something as art when he was pre-memory."
By the age of four, he had memorized the layout of the Walker Art Center, no small task for most adults. When his grandparents came to visit in 2011, he led them on a complete tour of Absentee Landlord, curated by John Waters. He was seven.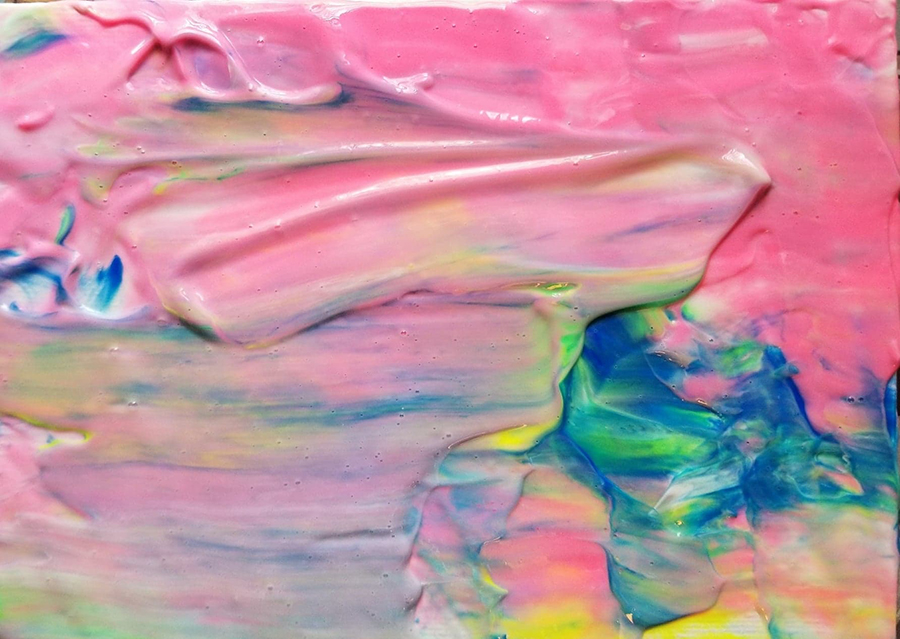 Jackson Duin, Pink Dream, acrylic on canvas
Nathan recalls the moment he formed his own relationship with visual art. It was in college, when he saw Number 1 (Lavender Mist) by Jackson Pollock, his son's namesake.
"[Art] was always interesting. But when I saw Lavender Mist at college, then it became profoundly interesting," Nathan explains. "Then I would seek it out."
A few years ago, Nathan and Jackson began documenting their gallery visits on Facebook, posting pictures of art that stood out to them. In 2016, they created the Instagram account @artworldexploration.
"It made sense to put them all in the same place," Nathan says. "The people that follow @artworldexploration might then find out about things they hadn't previously known about, which is essentially the point. Try to let people know about shows we've seen that we really like."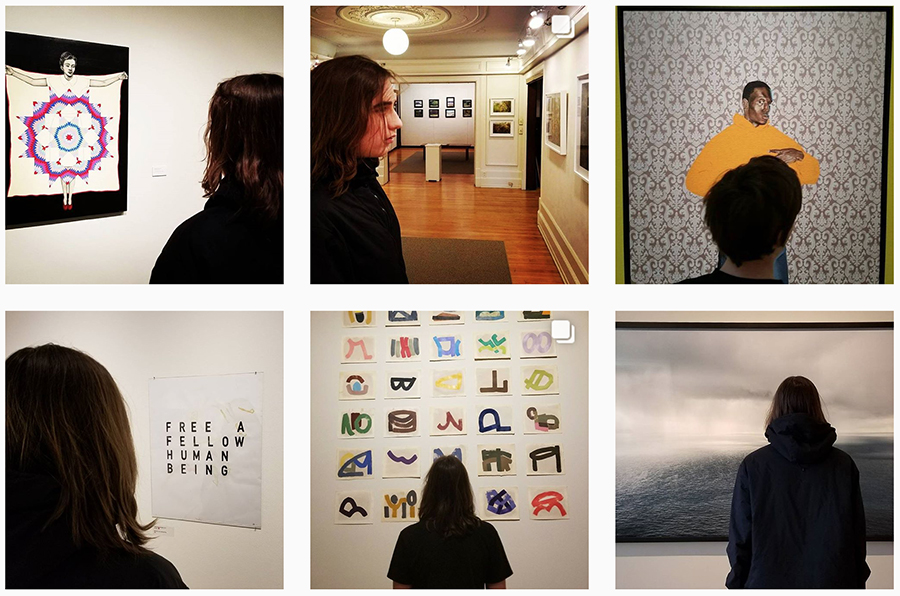 A sampling of the Duins' Instagram feed, showcasing work they've seen in the Twin Cities
When viewing work at galleries, the two don't often try to articulate their reasons for liking something or not, although they do tend to gravitate towards the same things. Both have spent countless hours studying art, making art, and talking to artists; they go by feel, using past experiences as a reference when viewing new pieces. The most important thing to them is that the work feels distinct and fully formed.
On the whole, Nathan believes the art on display in the Twin Cities is of a very high quality. He credits this to the fact that there is still limited gallery space; while this can make it hard for some talented artists to get their work on view, it also helps ensure a high standard.
"There are an unusual number of galleries, I think, per capita," he explains. "But there still aren't enough spaces for everybody to show. So when somebody does get into the show and we really like it, we want other people to know about it and go see it."
Typically, it's Jackson who ends up deciding which works they feature on their Instagram. When he forms a connection to an artwork, he spends time with it, and Nathan snaps a photo.
"I either notice that he's pausing on something for an extended period of time," Nathan says, "or he'll say 'I want a picture of this one.'"
Sometimes on these visits, Jackson will draw direct inspiration for his own work. After seeing a piece by abstract painter Carmen Herrera, featured in Adios Utopia at the Walker, he did a series of paintings replicating her clean lines and flat swatches of color, blocking out areas of the canvas with masking tape as he worked.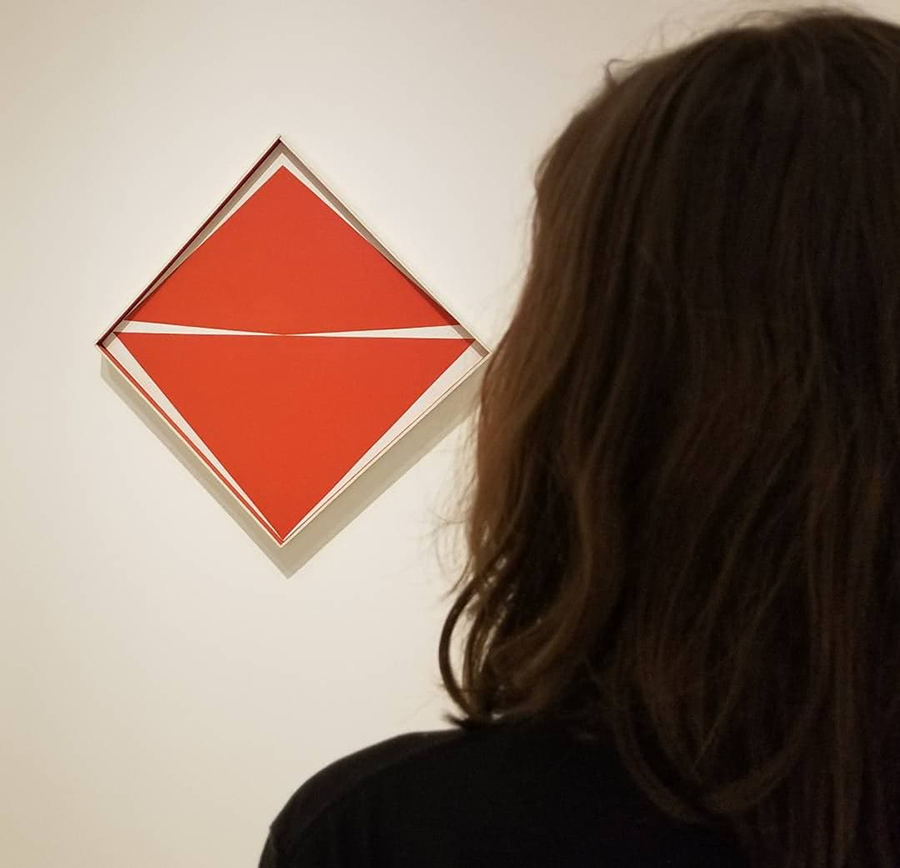 The younger Duin with work by Carmen Herrera at Adios Utopia
This kind of tactile process fits in with Jackson's other work. Often, he will drag a squeegee or a ruler across his canvas, blurring the paint. Sometimes, he will dip a string in paint and press it onto his work. His experimental and physical techniques have led to lot of "happy accidents."
"Every once in a while he'll discover something almost accidentally, and he likes how it looks," Nathan observes. "And if he doesn't like how it looks, he paints over it. The cool thing about that is sometimes those have been the ones he likes the best, because you can see other things peeking through."
When it comes to colors, Jackson always gravitates towards the bright ones. "I think bright is better than dark, you know?" This summer, he will have his own opening at Frameworks Gallery in St. Paul, showing alongside painter Susan Solomon.
Before we end our conversation, Jackson finishes describing as much of It as he can without spoiling the plot. He then recommends a couple of television shows, particularly The Loud House. Although the majority of the conversation has been focused on art, he is compelled to mention these interests, as well. As his father explains, Jackson doesn't make categorical distinctions about what he likes and doesn't like, whether looking at art or consuming other media.
"He has no boundaries whatsoever with art, literature, music," Nathan says. "He likes Wham! every bit as much as he likes Motörhead." This makes for interesting experiences in the galleries and a diverse range of influences on Jackson's paintings. The young man's myriad interests mix and culminate in a wonderful artistic accomplishment—the distinctive style that he brings to his paintings.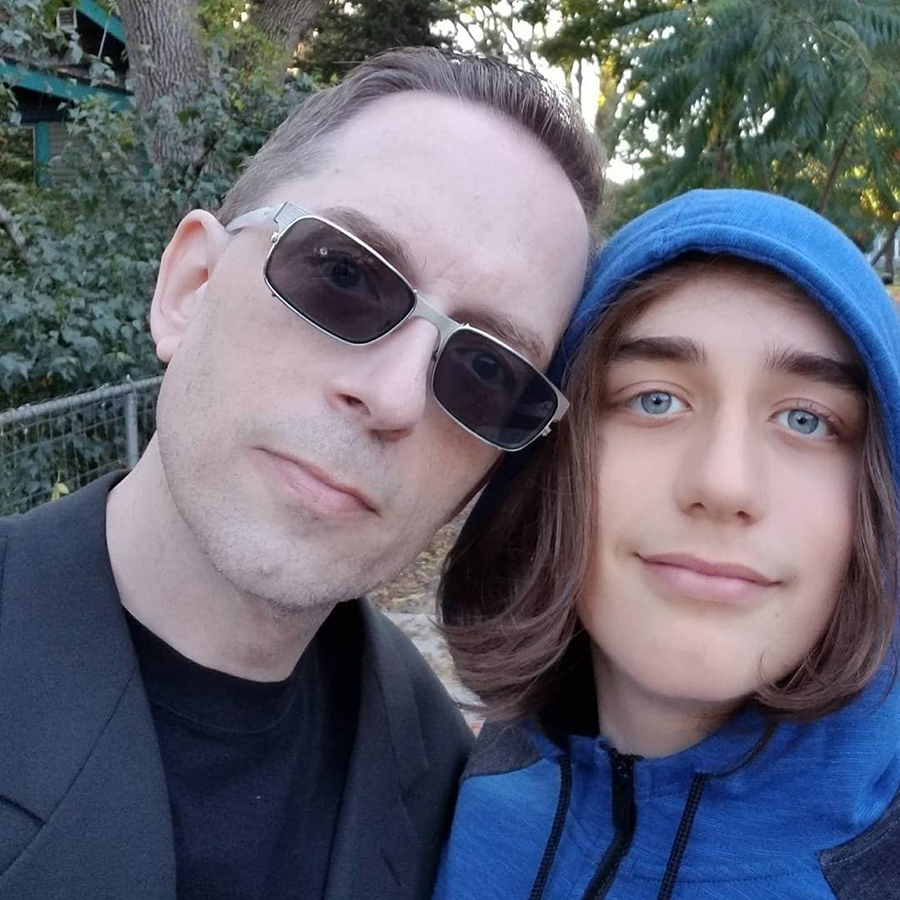 Nathan and Jackson Duin
Nathan and Jackson can be found on Instagram as @artworldexploration. Jackson's paintings can be found at @jacksond2004, and his artist interviews can be found at jacksond2004.blogspot.com. Jackson's show with Susan Solomon Another Shade of Summer at Frameworks Gallery opens July 28th, with a reception from 7-9 p.m.
All photos courtesy Nathan Duin.
---
We can't do it
without you.
Help keep independent arts journalism alive in the Twin Cities.