Carry On Homes, a large public art installation featuring the stories of Minnesota's immigrants, will open as part of Northern Spark this June.
A pair of candle holders. A stolen beer bottle opener. Handmade shoes with holes in the bottom. A calculator.
No two immigrants have the exact same experience when they travel from their homes to a new country, nor do they carry the same objects on their journey. Regardless of what those items are, each immigrant carries pieces of their home, their soul, to give them strength as they discover their new communities. Things that stick with them through countless packing and unpacking, self-doubt, and self-discovery.
After rediscovering a diamond paperweight that he had carried with him through his journey from China to Minnesota, artist Peng Wu decided to explore the stories of his immigrant friends through objects that had followed them to the United States. In collaboration with photographer Shunjie Yong, Minnesota immigrants were given the opportunity to share their stories and the pieces of their homes they had kept close to their hearts and suitcases.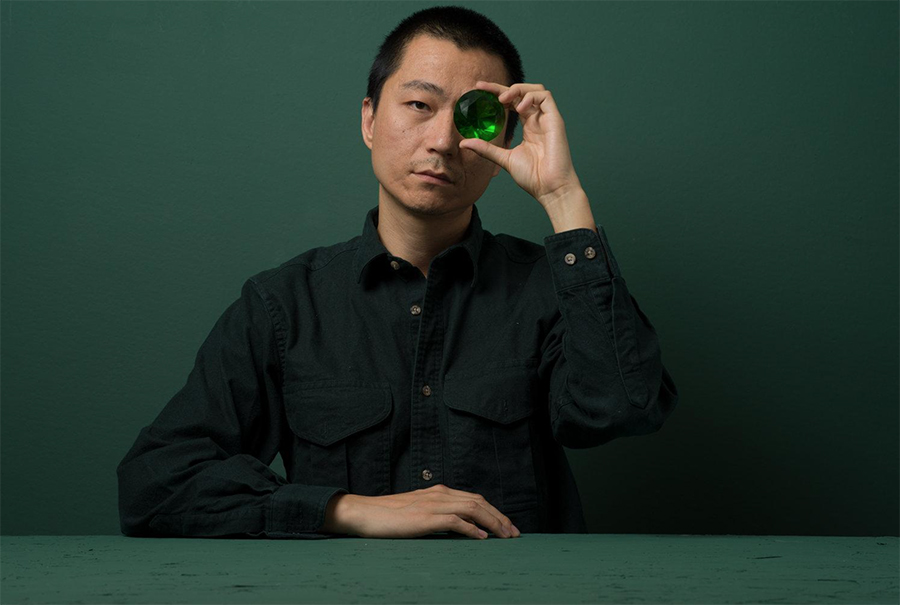 Lead artist Peng Wu with his carry-on object, a glass paperweight. All photos courtesy Carry On Homes
As a self-defined social practice artist, Wu rejects the idea that an artist has to be confined to one or two preferred media and instead works to be an advocate for marginalized groups in whatever format inspires him the most. His time as a graduate student at the Minneapolis College of Art and Design led him to form connections with the four other artists that would build on this photography project to create a multi-functional community gathering space, called Carry On Homes.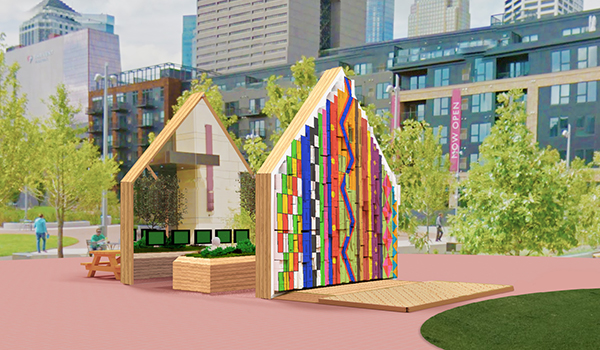 About 130 donated suitcases will be used to create the pavilion's walls, with one of the walls painted to represent the patterns on traditional clothing worn by immigrants in Minnesota. Opening in June, this public art installation will be built in the Commons park in downtown Minneapolis, thanks to a grant awarded by the Creative City Challenge. It will transform our local landscape to highlight the commonalities between immigrants and non-immigrants alike, through opportunities for storytelling, community conversations, and various artistic performances.
The pavilion can be considered a home for all, with two walls disappearing to give way to space for candid and thoughtful conversation, sparked by the stories of eight Minnesota immigrants.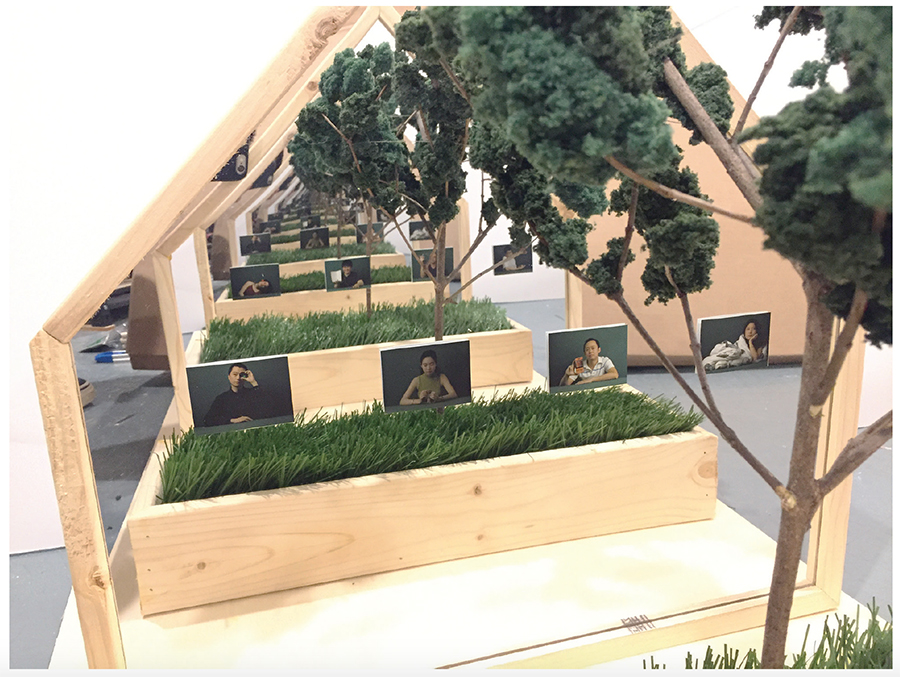 The interior of the installation, featuring photos and stories
Photos of these individuals will be showcased on two walls, separated by a reflecting garden and encased by sculptures built using repurposed suitcases. The subjects' stories of migration and the meaning behind their carry-on items will accompany these images, either through posted text or motion-activated audio recordings.
"It's a project, but it's also a response to the current political situation," said Wu. "We feel that the term immigrant has been contaminated socially and culturally, so we want to use true stories to somehow activate empathy between humans. Exchanging these stories is key, and this project is a powerful tool to be used against this ideology that has been created."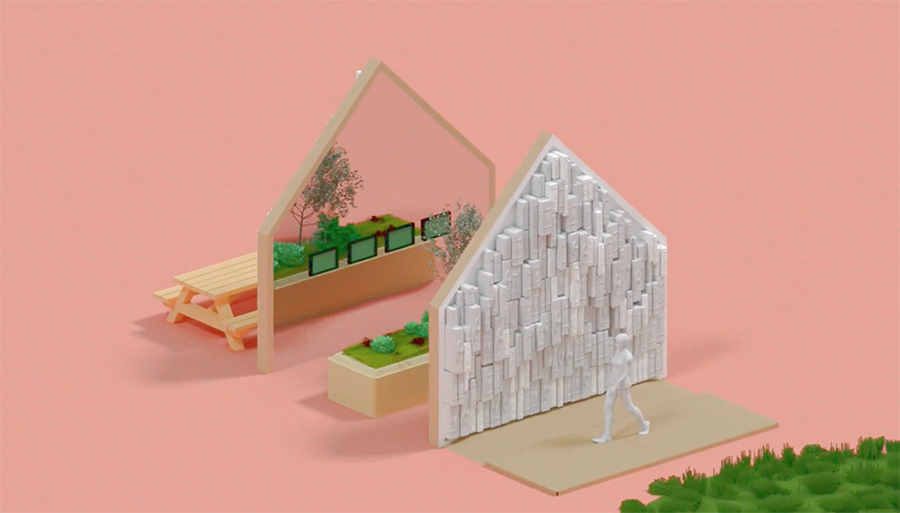 Digital mockup of the installation
Along these same lines, suitcases have become symbolic in the journey of immigrants, representing the transfer of their lives from one place to another. The donated suitcases will line the outside walls as a metaphor of commonality; regardless of what your journey has looked like, you are welcome here. You share similar experiences with other immigrants in our community, and this is a place where you can connect with others because of them.
With commonality being the central theme of this project, it's interesting that a kaleidoscope of five distinct artists from five different countries are the ones putting it together. Connected through Wu, each one of them contributes to the project with their diverse skill sets.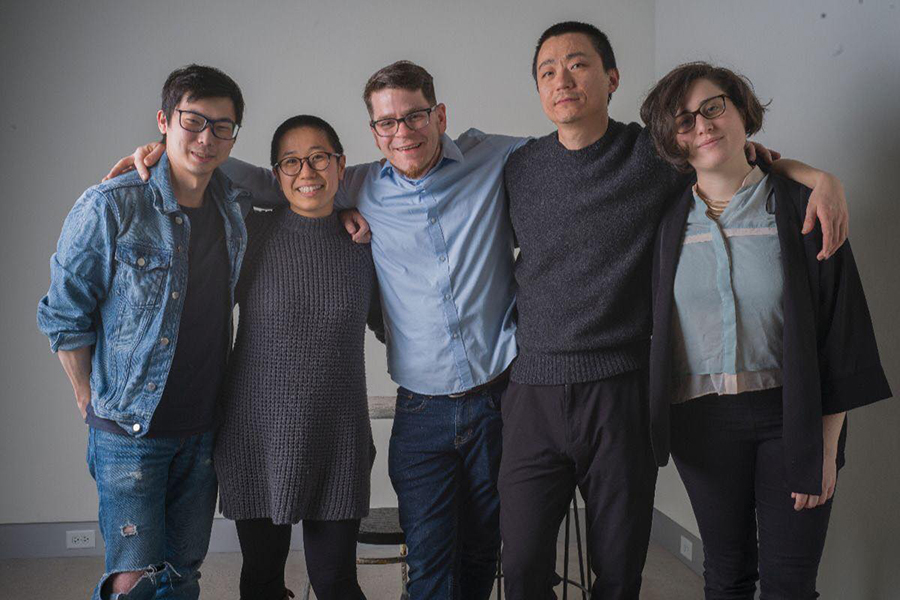 Project participants, l to r: Shunjie Yong, Aki Shibata, Preston Drum, Peng Wu, & Zoe Cinel
Cofounding the Carry On Homes photography project with Wu — even before the project manifested into a plan to build an actual structure — was Yong, the portraitist that has captured images of these immigrants. Believing that the quality of a photo is a result of the intimacy between photographer and subject, Yong and Wu first took portraits of immigrant friends and later moved on to other members of their community.
"This project has become a small community that is built on strength. Participants [might not have known] us before, but came to visit us, lent us their voices, shared their stories, so we [could] be heard," says the duo.
Running community engagement efforts for Carry On Homes is Aki Shibata, whose artistry can be found within the events she creates. Following the ideology of the Fluxus art movement of the 1960s, Shibata utilizes the structure itself as a platform to gather a wide range of people together in one space to create an impactful series of events that also promote a worthy cause. Her events will range from musical performances to open-door community dinners, where 100+ neighbors will be able to share a meal in this gathering space.
Capturing the planning and effects of the project is Zoe Cinel, an immigrant from Italy passionate about digital media installation art and videography. She is compiling footage to create an entire documentary highlighting the project, as well as working with Shibata on community engagement efforts.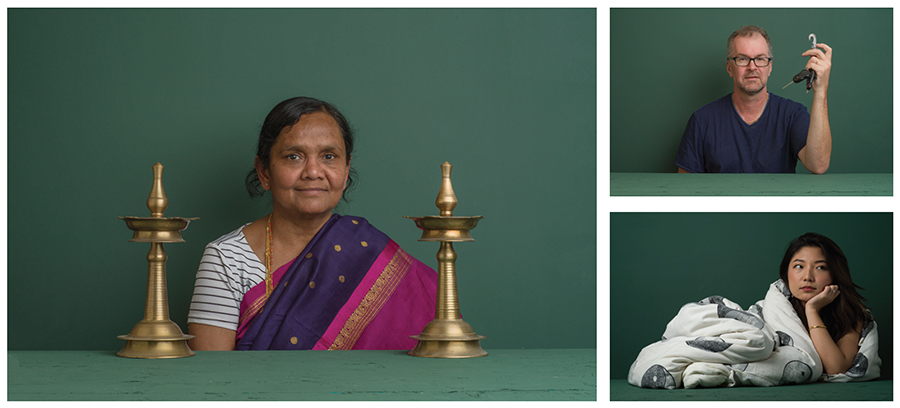 Some of the people whose stories this project will tell
These events will be hosted in a physical structure thanks to project manager and fellow artist Preston Drum.
"This isn't just a pretty piece of artwork to engage with like you might do normally," Drum says. "It's an opportunity to stop and either do some personal reflection or turn to the person next to you and have a real, meaningful conversation."
Drum will be coordinating efforts to build the 12 x 12' structure on the 45' long pavilion as well as working with a local master gardener to develop the reflecting garden that will occupy the space between the two walls.
"There are five of us coming from five different countries, and we're all trying to bring our perspectives to this one thing," said Wu. "Sometimes we are chaotic, but we are all still able to find this element of camaraderie where we can end up with an amazing project that looks like this."
All are welcome to participate in this project's exhibition, whether that is through attending the opening ceremony, spending time in the reflection garden, attending community engagement programming, or writing their story of migration down on a card that can be hung outside the structure.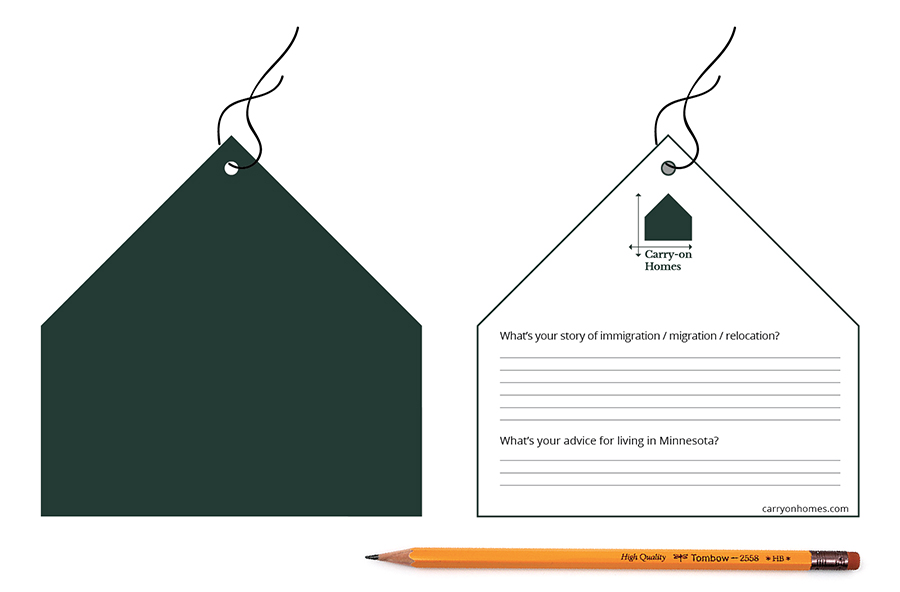 You can stay updated with Carry On Homes and the artists behind it on Instagram (@carryonhomes), Facebook, and the photography project's website.
The pavilion will open with the Northern Spark arts festival on Friday, June 15 at 9:00 p.m. at the Commons park and will run through the end of the festival.
As the largest project any of them have ever worked on, it was important for this team that the multi-functional structure lasted longer than its summer exhibition run in the Commons park. Luckily, you can still visit Carry On Homes at the Indigenous Roots cultural center this fall.