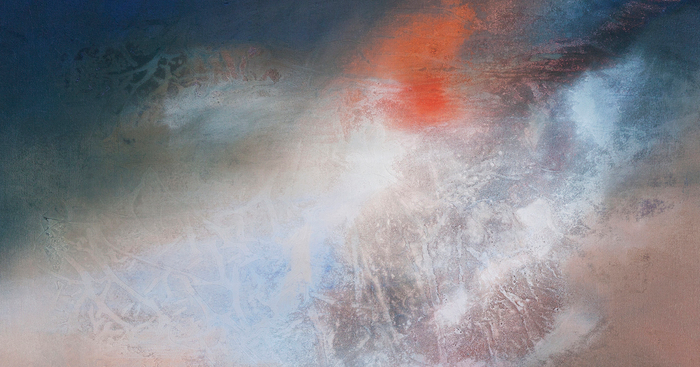 Take Me To The River: A Profile of Artist Annie Hejny
Posted May 26th, 2017 by Andrew Ellis
Local painter Annie Hejny draws more than just inspiration from rivers and lakes, combining water, soil, and ceremony to create her acrylic abstractions.
Article sponsored by our friends at Northeast Minneapolis Arts Association

I'm standing with abstract painter Annie Hejny at the top of an old wooden staircase that is blocked by a chain. The stairs lead down to the Mississippi River underneath Minneapolis' beloved Stone Arch Bridge. Those chains are usually meant to deter people from entering, but hey, why not live a little? She steps over with ease, and I stumble over, immediately realizing the probable reason for the chain: the boards that would make up the middle of the stairway have found their way into the dirt underneath. She makes her way across easily as I carefully put my boots on the remaining pieces of wood to get down the path.
We're there so she can collect water from the river and some of the earth on the shore to use in a future painting. This part of her process is what she calls honorable harvesting. As we follow a path that's been made by constant foot traffic, she takes in her surroundings.

"I'll choose a location for my project and go out to that site, whether I've been there before or not," she explains. "It's a new experience every time. So I first have to prepare myself and kind of calm myself down. And I do that by having a short walk through the woods to get to the riverside."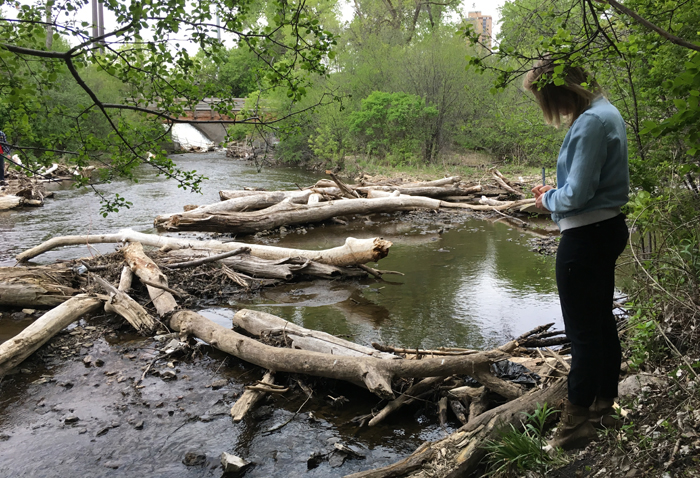 She has a backpack and two pails with her. One is for harvesting water and the other I soon find out is for picking up litter, and there's enough here to fill it up. It's one of her ways of giving back to a place from which she's about to receive.
The water and earth she gathers from this area will turn into another unique piece of abstract art, mixed with acrylic paint to create Hejny's moody, ethereal paintings. She's only been focusing on this kind of art in the past few years; art wasn't even her focus until she was an undergrad at St. Thomas pursuing elementary education.
"I feel like I really only dreamed of becoming a professional artist in the last five to ten years," the 28-year-old recalled later after we returned to her shared studio at the Casket Arts Building. "That dream started when I was an undergrad and had to add on a second major."
Hejny veered from her main area of study and started taking art classes at St. Kate's, and after one class she was hooked. She was surrounded by all different forms of art when she was younger and always preferred to be alone creating things. But she never imagined she could make it her profession. And so far she has no complaints.

"I love the lifestyle it provides. I love the engagement with the community I get to have," she explains. "It's such a rich necessity for our culture, and for ways of living. And I choose to be immersed in it all the time, every day."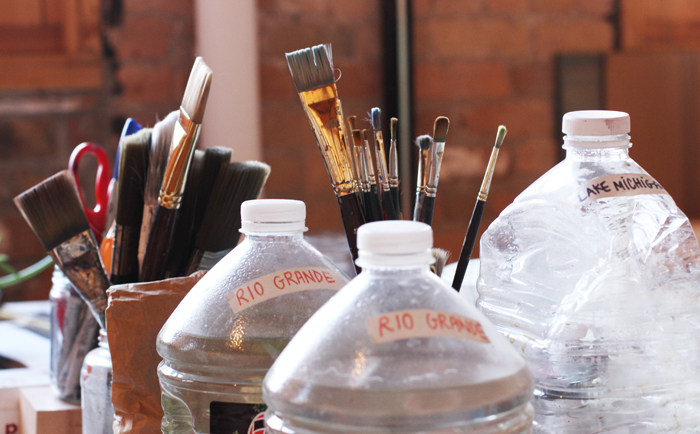 Hejny's studio in the Casket Arts Building
Back at the shoreline, after a little walking through the wooded area, including a bridge with a great view of both ends of the river, she finds a spot that she likes. She starts by unpacking and setting out all the tools she's going to use: a gardening trowel, a plastic garbage bag for the dirt, a notebook, and some ceremonial objects.
Before she does anything she performs a ceremony. She usually brings "something that I can burn as sacred smoke," she explains. "So, whether sage, Palo Santo, or incense to offer an initial introduction and blessing to the river. And then I have a journal with me and I start writing about the river, either a message to the river, for the river, or something that I'm doing to connect with the river."
She also documents what's going on around her. That could be everything from notes about the weather, time of day, colors she sees, and more. "It's usually pretty brief," she says, adding that she also takes photographs for future reference as she's imagining what the painting could look like.

She then takes one of her pails and walks across the river on some fallen logs. She finds the right place in the middle and begins harvesting the water. She never takes more than she needs unless she's preparing for the cold months or has taken a longer trip outside the city. She goes back to her workspace on the shore, puts the half-filled bucket down and prepares to gather the dirt. She spreads out the plastic bag and begins shoveling several scoops of dirt into her bag. Again, she never takes more than she needs. When she's done, she sprinkles some tobacco onto the ground to give back to the earth from which she took.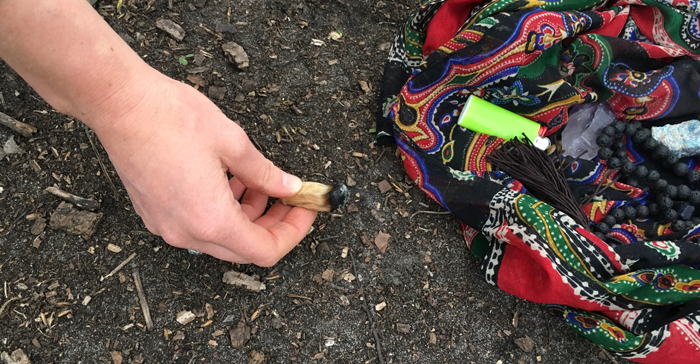 The artist burns wood as part of her honorable harvesting process.
These ceremonies come from many different places. Recently she's been inspired by a book called Braiding Sweetgrass by Robin Wall Kimmerer. "She's an indigenous woman and an ecologist," Hejny explains. "And so she is bringing this whole perspective of science and spirit that is something I totally resonate with. She is the one who introduced me to the honorable harvest."
She's also inspired by Zen Buddhism, Yoga teachings, different native cultures, and other artists as well. Some ceremonial aspects she also creates herself. "I'm creating this to be my own."
After she got her teaching license, she realized teaching in a public or private school classroom wasn't the way she wanted to reach kids. Three months in LA as an intern with TOMS One For One taught her the corporate environment was not for her either.
She moved back to the Twin Cities for another year in which she waited tables, saved money, started painting in her dining room, and got more involved in the arts community. She applied for different art shows and attended many exhibit openings.
"I tried to set up a schedule and a lifestyle where I could have art making, art experiencing, and then the job," she says. "I had to go to work."
The turning point in her artistic career would be a move to Chicago for a year in the fall of 2013 that happened on a whim. She got another job as a waitress but was determined to get into the Chicago art scene, securing an internship at Jackson Junge, one of the local galleries whose owner and wife had roots in Minnesota.
"I just thought it'd be a good way to expand within the midwest," she says. "And at the same time I really didn't have a lot of experience."
She's kept in touch with them and now has gallery representation there. The overall experience for her in the Windy City was not only positive but also very important as she learned a lot about who she is and the environment she prefers.
"That's where I started realizing how much I needed nature and needed water in my life," she says. Whenever things got crazy she'd bike over to Lake Michigan as an escape.
Living in the Windy City was also a turning point for her style. When she first started painting she was working realistically: specific cityscapes, buildings, and streets. She was still paying attention to her environment, but it materialized on her canvas in a different way. She noticed the city was full of abstract art, and she decided to push her style in that direction: her buildings turned into abstracted lines and squares. Then a realization hit.
"I realized I was painting about water," she says. "And I wanted to add the intentional materials of using the actual river water and actual earth to paint about the environment."
When she moved back to the Twin Cities in the fall of 2014, it was time to get serious about being a professional artist. She started renting her studio space, reading more artist biographies, buying more art materials, and consciously paying attention to how she was drawn to art. She also got involved with the Women's Art Resources of Minnesota (WARM), enrolling in its mentorship program that pairs an emerging artist with an established, mid-career artist. Luckily, Hejny found a mentor who was as dedicated to the mentorship as she was: Deborah Foutch, a mixed media artist also based at Casket Arts.
"I took the mentorship really seriously," she says, "And every meeting Deborah and I had together I had an agenda, I had questions, and I had done research. I was ready to go for our one-on-ones."
She says Foutch was her "accountability buddy." In between each one-on-one, she set her mind to work hard so she could show how she was progressing as the mentorship went on. Just as it proved immensely helpful for her, Hejny says a resource like WARM is very important for female artists. It gives women the opportunity to build their voices within their art practice, providing opportunities for exposure at the same time.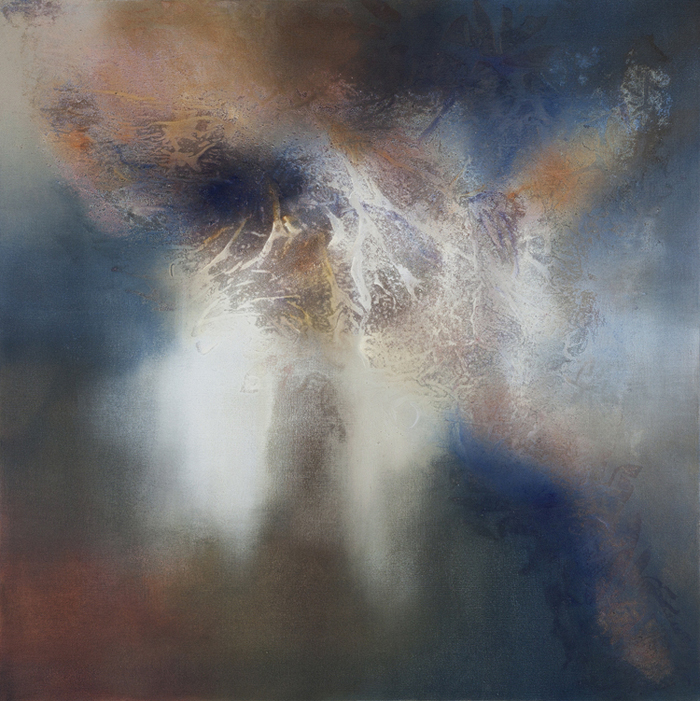 River River No. 3 acrylic, collected Mississippi River water & sediment on canvas; 36 x 36"; 2016
When one uses the the natural world to create their pieces, it's impossible to ignore topics such as climate change and what's happening to the environment. The change is something she has noticed firsthand as she documents the state of the local ecosystems she visits.
"I walk the river in all seasons, and in the winter it has not been as frozen, as cold, as snowy as in years past," she says. "So I'm looking and noticing physically what's happening a lot with our environment."
It's during these turbulent times that she's felt the activist part of her come out in different ways. During the recent Water Action Day at the capital she cleared her schedule and went to participate. Among the training was a lesson on how to properly talk to your legislator. And she thinks her work can help be her voice.
"I'm just one part of that conversation," she says. "And I think that turning it into abstract paintings is a really unique way of being a voice."
She wants to be an example and model others can follow, because she can't do all the work on her own. Everyone has to do their part to clean up our rivers. And she hopes that if she talks about it and how it matters to her art and everyone's well-being, then maybe things can change.
"I hope that I will spark a different type of thinking and decision-making as consumers," she says.
As she progresses in her career as an artist, she's also gaining experience as a curator by turning her home garage into an art gallery called gallery three. The idea was conceived two years ago out of her need as an emerging artist to show her work and get feedback on it. She cleaned it all out and renovated it into a brightly-lit, three-wall exhibition space.

"It feels really good to provide a space for underrepresented artists," she says, "and artists who are maybe wanting to experiment with something different."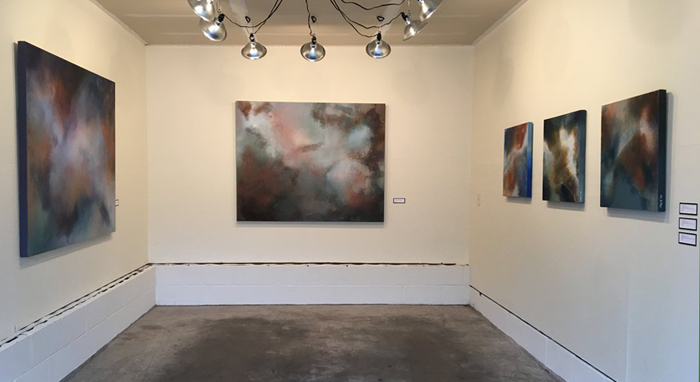 Water Commoning installation at gallery three
Her last event at gallery three had a great draw. It was held on a cold, wet day in April for Earth Month, and she collaborated with Camille Gage of Fierce Lament for an exhibit centered around environmental awareness. They selected two female artists with an age gap of over 50 years, which resulted in a very diverse group of supporters.
"It was a freezing cold day, and we had a fire going," she says. "The artwork was incredibly sophisticated and the art talks that the artists gave were so eloquent, but it's in a garage. So it's this beautiful experience in a very alternative environment."
She wants to do at least one more gallery three event this summer, but she's also also going to be spending some time southeast of the cities in Lanesboro at an artist residency. She'll be living and working in a studio apartment above the St. Mane Theatre right in town. She'll spend the entire month of August immersing herself in the community.
"It's all about community engagement," she says. "It's mostly about how will the community get to also experience my paintings and my artwork. So we'll be doing an event at the Root Riverside, pouring and painting together."
Not only will they be learning to paint with her, they'll be partaking in the honorable harvesting process as well. It all ends with a goodbye showcase during the last week of her residency.
"I can't wait to see and meet the community there," she says.
Hejny is always thinking about the future. She wants to go to the headwaters of the Mississippi River at Lake Itasca for a look at the source of the river. She also has plans to try working with different materials, such as natural dyes and textiles, to be as organic as she can. But no matter which media she explores, painting will always be her forte, her way of channelling the energy of the rivers she visits.
As she puts it, "I'm trying to bring the earth's voice forward."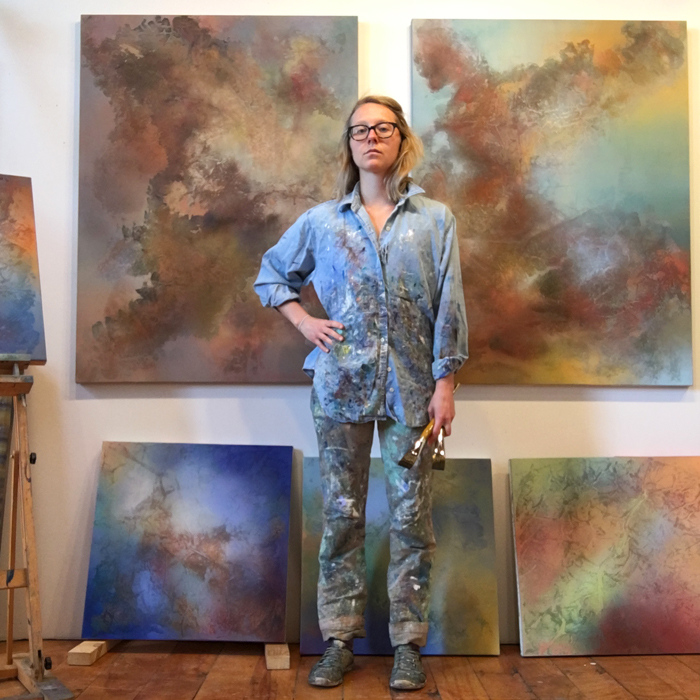 The artist in her studio
Annie Hejny's work can be seen in the upcoming exhibit Our Water: River Paintings by Annie Hejny, on view May 31st - September 8th at the Mill City Clinic Gallery of the University of Minnesota, 901 S 2nd St, Minneapolis, MN 55415. For more info, visit annie-hejny.com.

Banner image: River, River No. 1 [detail]; acrylic, collected Mississippi River water & sediment on canvas; 36 x 36"; 2016
---
We can't do it
without you.
Help keep independent arts journalism alive in the Twin Cities.