Local photographer Steve Ozone captures interior lives in exterior settings at Form + Content.
Art revolving around identity may sometimes be seen as insular, but I welcome being led into someone else's world. The ability to say something about yourself and the viewer by sharing that world is part of the magic that happens. Steve Ozone's Interrupted Landscapes, a show of photographs opening this Saturday at Form + Content, has that magic in abundance.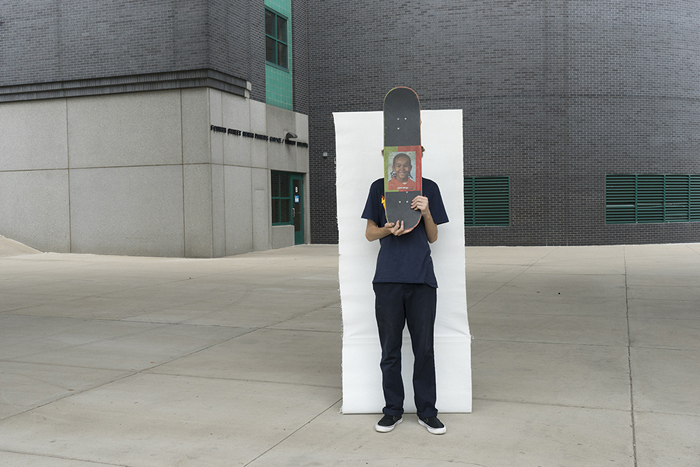 Ramp C, Archival Pigment Print, 19 x 27", 2016
As a Japanese-Chinese American, Ozone used his personal history as a jumping-off point for this body of work. Originally started as an examination of Japanese Americans, this series evolved into a visual exploration of all immigrants. Ozone engages the immigrant experience and captures the connections between his subjects' stories and their new environments. In a sense, there's an attempt to weave the two together, people and nature, but there's also a clear divide between them.
The term "landscape" here doesn't just refer to greenery but to these immigrants' surroundings, indoor and outdoor, manmade and otherwise. Many of the subjects are framed within a white canvas backdrop — a nod to Ozone's background in commercial photography, taking portraits and shooting housewares for Dayton's — as a way to separate the subjects from their landscapes. This white border isolation forces the viewer to focus on the person but also hints at a clean slate, a blank canvas onto which the immigrants can expand the American part of their story.
These bodies mixed in with all the natural green landscape give the work an escapist feel. There's an urgency to know their story but also the story of the background. Where are the animals going? What building is this? How awesome is this green cave?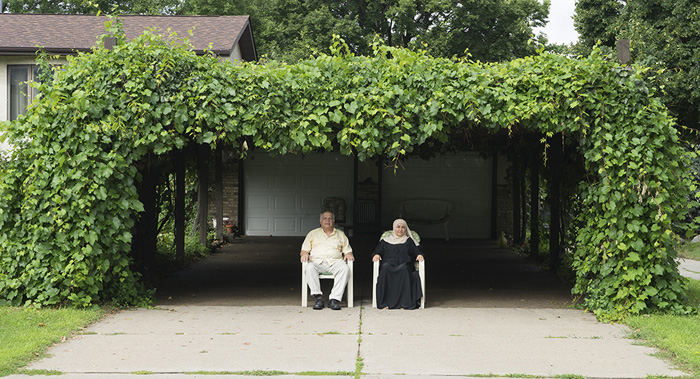 Haffat and Fariza #2, Archival Pigment Print, 12 x 18", 2016
In one photo taken in Northeast Minneapolis — an area historically popular with eastern European immigrants — a young Polish couple, one an immigrant and the other Polish-American, situate themselves within their Northeast community, showing that direct connection to history and community. Diving into his own identity, the artist not only photographs but interviews the subjects about their own immigrant stories.
I find myself getting lost in the expanse of the green landscape, a type of visual elixir. It pulls me in immediately past the interrupting bodies into the stuff that makes up the background, whether it be a garage or a field. The green doesn't look back at you either, so there's a safety in focusing on it and not on the people. The real interruption is their clothing keeping their natural selves from nature.
There are two elements at the core of these images: first, the green body of landscape, wide and calling. I feel myself begging to be wrapped up by it. The next sensation involves the story of these very real people: the world they inhabit and what's behind the earnestness in their eyes. The elderly couple in the green cave mirror my grandfather's routine of sitting in his garage from sun up to sun down, waving at neighbors and anchoring the neighborhood. The re-creation of community and home in sometimes hostile lands is what humans have been doing since the beginning. Interrupted Landscapes connects us to these greater historical human stories.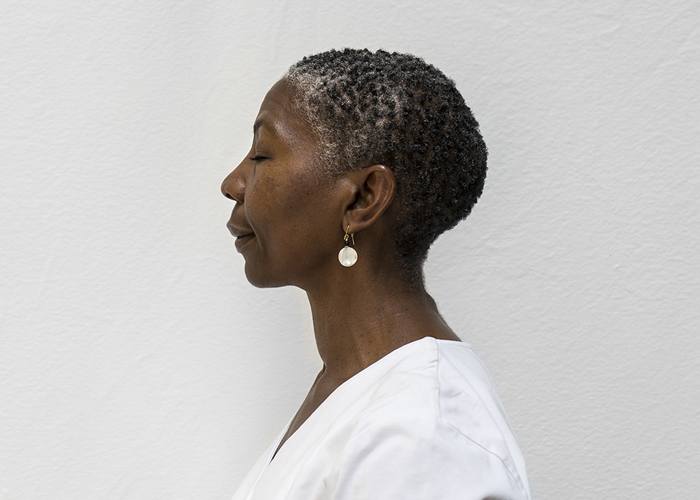 Betty, Archival Pigment Print, 19 x 27", 2016

--Valerie Déus

Interrupted Landscapes opens this Saturday at Form + Content Gallery in the North Loop and will be on view during gallery hours through Jan 21st.


Love great content such as this? Please consider leaving a tip.